A surprising baby gender reveal party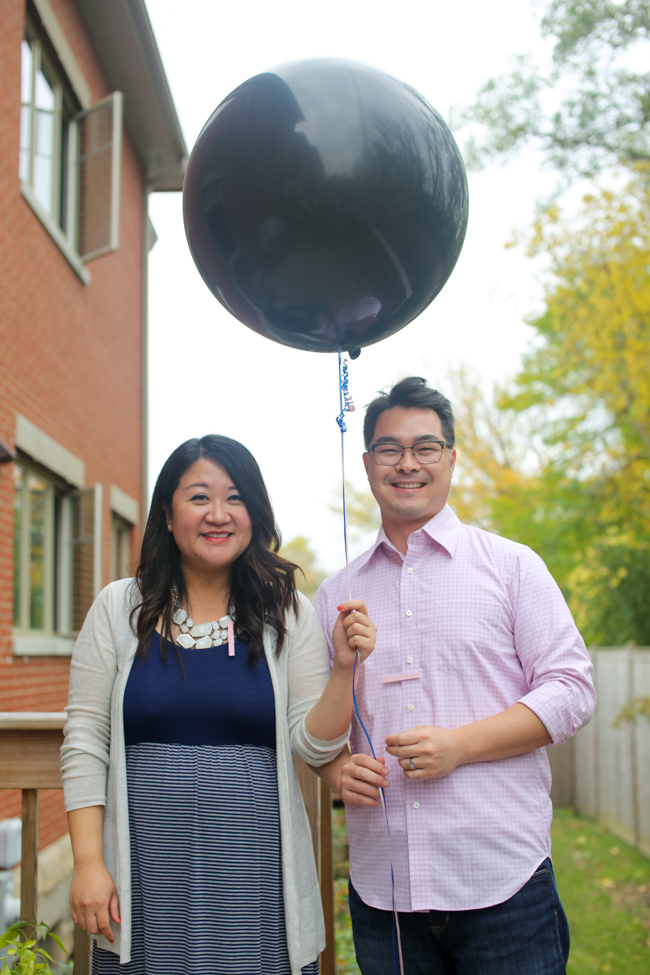 If you read our last post, you witnessed our raw emotions when we found out that we were becoming new parents in our pregnancy announcement video. Now we want to share with you the gender of our baby!  We waited 20 long weeks to find out, and I was completely surprised at my reaction. I seriously thought I didn't have a preference, but turns out I did…and so did Joe!  But I can honestly say that after having some time to chew on things, we are genuinely happy about the results.
Instead of immediately finding out the gender of the baby at the Dr.'s office during our 20 week ultrasound, we decided to throw a little shin dig.  All of our family was not around, and that was a little sad, but it was definitely nice to be able to celebrate and find out the news together with a few of our good friends.  So at the Dr.'s office, we asked for 3 sealed envelopes…yes, three…haha. One was for the balloon store, the second was for the baker, and the last one was for us, just in case! Can you see we have trust issues?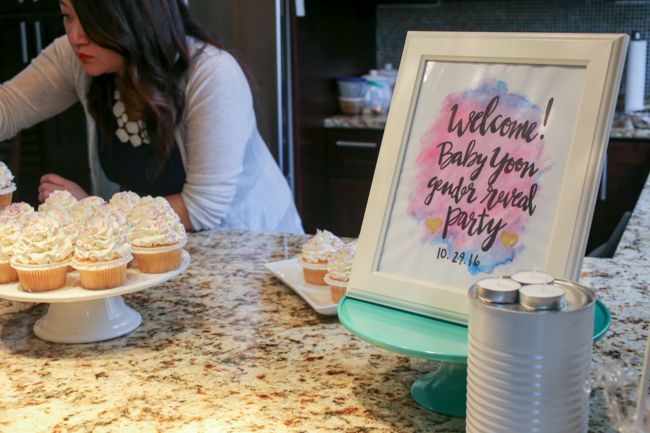 We originally thought about doing the standard cake reveal thing, where you cut open a mystery cake that's either pink or blue inside, but Joe wanted something more "immediate" and grand, so we decided to go with a balloon pop reveal.
So we took our first sealed envelope to Party City, along with two different containers of confetti and asked for them to fill a big black balloon with the pink confetti if it was a girl, or the blue confetti if it was a boy.  Side note: if you want to do this for yourself, I think the best confetti for this type of thing is sold at Michael's because we soon found out that it's actually really hard to find confetti that's either just pink or just blue!  Plus, it's the tissue paper kind that doesn't have sharp corners, so it makes it less risky to fill inside of a delicate balloon.
We took some measures to prevent any slip ups from happening at the last minute by asking them to hide the color of the unused confetti in a sealed paper bag so we wouldn't have the surprise ruined for ourselves when it was time to pick up the balloon.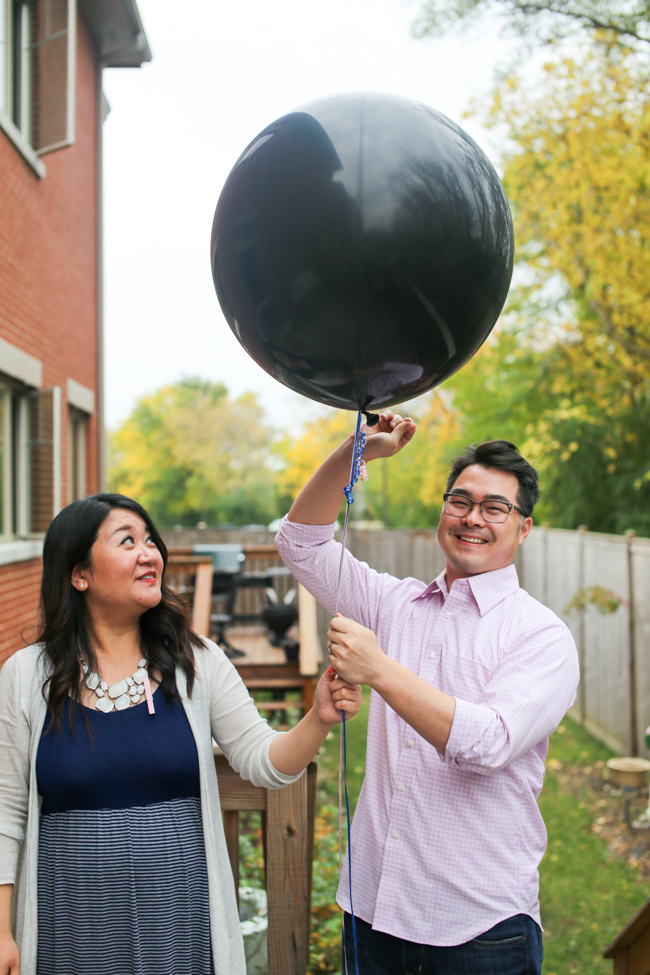 I think the low-key party was a success and all our guests were kept in suspense until the last moment when it came time for the big reveal. I think the balloon made things more dramatic and fabulous. Shout out to our friend James Park for shooting all the photography and capturing our hilarious facial expressions. You can see more details of the party and watch all of our reactions in our Gender Reveal Party Video BELOW:
WATCH OUR GENDER REVEAL PARTY VIDEO HERE:
For a fun activity, upon arrival, we made guests select either a pink or blue clothespin to wear to represent their guess, and we promised the winning team would earn a prize.
The decorations were simple and DIY because I didn't want to do anything too fussy.  Thankfully I love to draw, and Joe is my in-house graphic designer ;).  We ordered catered Korean food because ever since I became pregnant, the thought of cooking makes me want to poke my eyeballs out… and I know I probably shouldn't say that being that I'm a chef, but that's real life folks!  I did make the effort to whip up some pink and blue coated rice krispy treats as a party favor, and that was a nice personal touch.
For dessert, we did end up ordering mystery cupcakes from Whole Foods with the help of our second sealed envelope. We wouldn't allow guests to touch them until after the balloon pop because they contained either pink or blue frosting inside as well.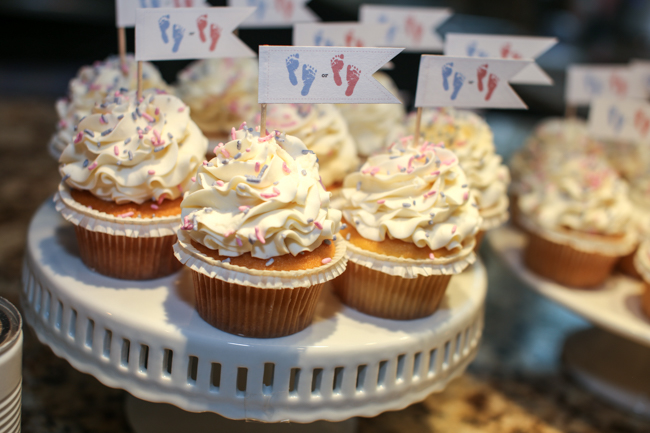 We called these cupcakes our "backup," just in case something went wrong with the balloon, but before Joe took the first bite, I jokingly questioned, "What if it's a different color than what was inside the balloon?"  Luckily everything matched and we were all good…although we did crack open the third sealed envelope when we got back home…haha!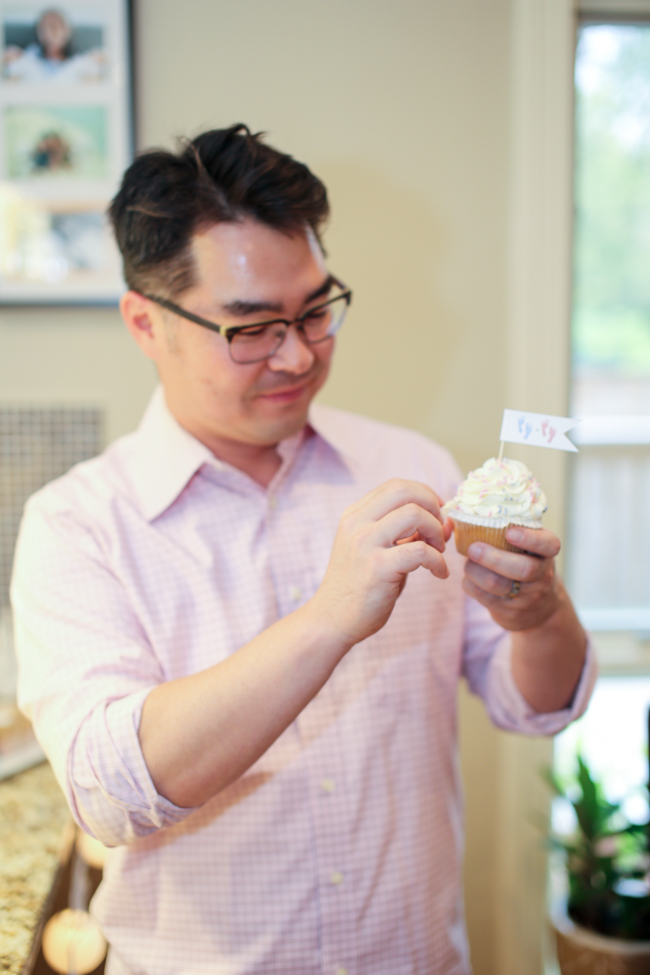 I honestly never thought I'd be someone who'd go through the trouble of doing a party like this just to find out the gender, but pregnancy has been surprising me every step of the way!  I highly recommend unapologetically making a big deal out of each stage as it comes. These little celebrations make great memories and it's awesome to get your friends and family involved to join the excitement.
Right after the party, we were sure to send a video clip to our impatient families of the reveal moment…and now we get to share it with all of you!  It's been rewarding documenting our journey so far and we can't wait to continue to capture more crazy, exciting and precious moments.