Dduk Guk (Korean Rice Cake Soup – 떡국)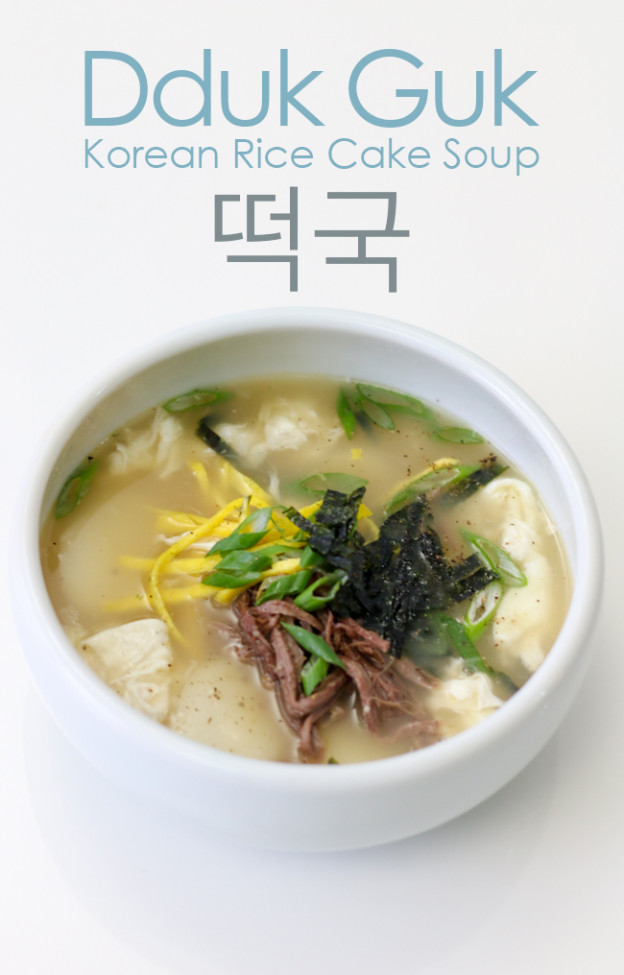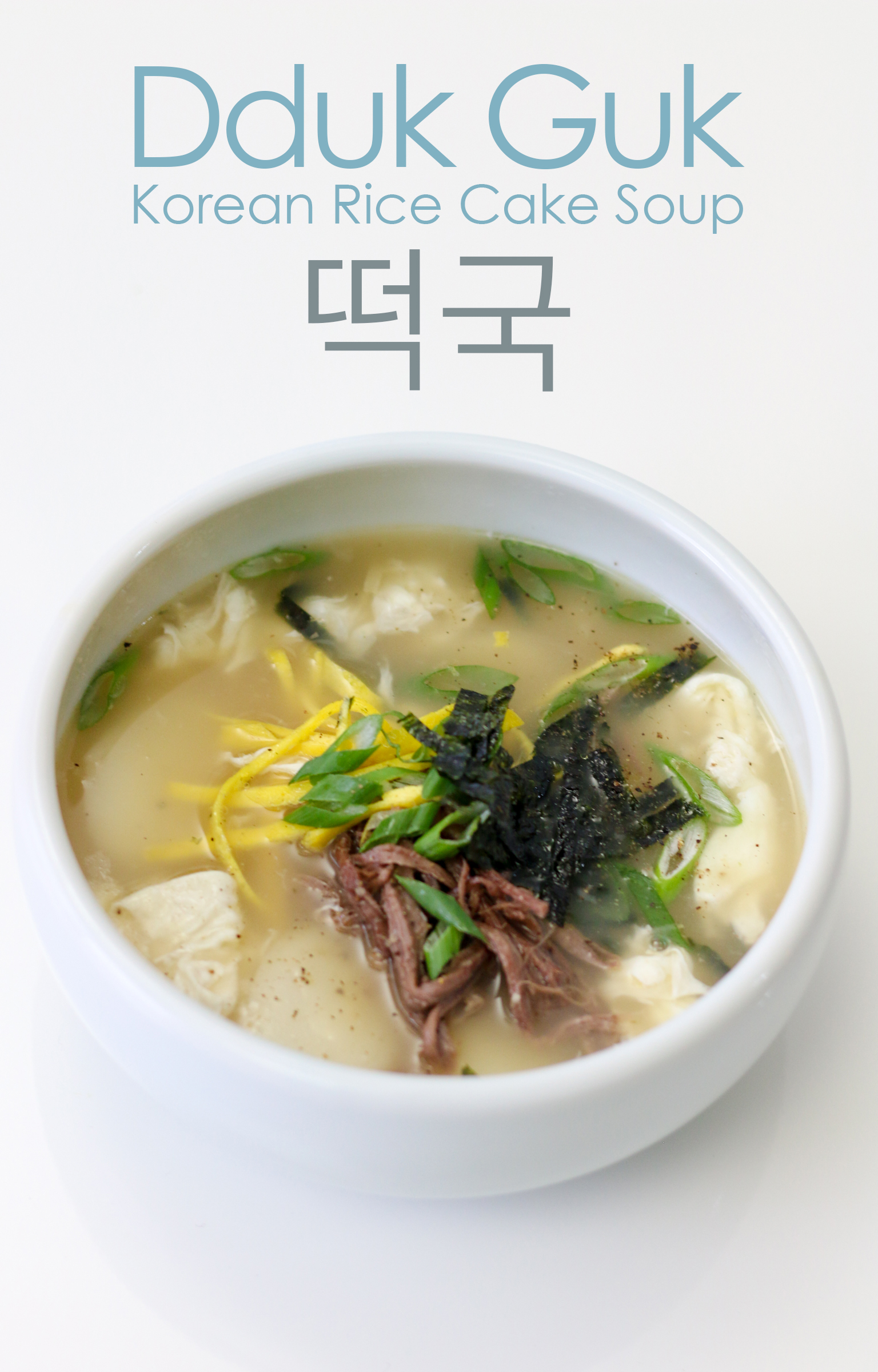 I would say that Dduk Guk is one of those dishes that I take for granted.  I've eaten it for New Years Day almost every year for my entire life!  It's a Korean tradition, and to me, it just doesn't feel like the new year without it.  Usually to save time, it's made with a simple anchovy broth that takes only minutes to make.  But on New Years Day, it's more of a special thing, so it's usually cooked the real deal way… with a savory beef broth that has been simmering for hours.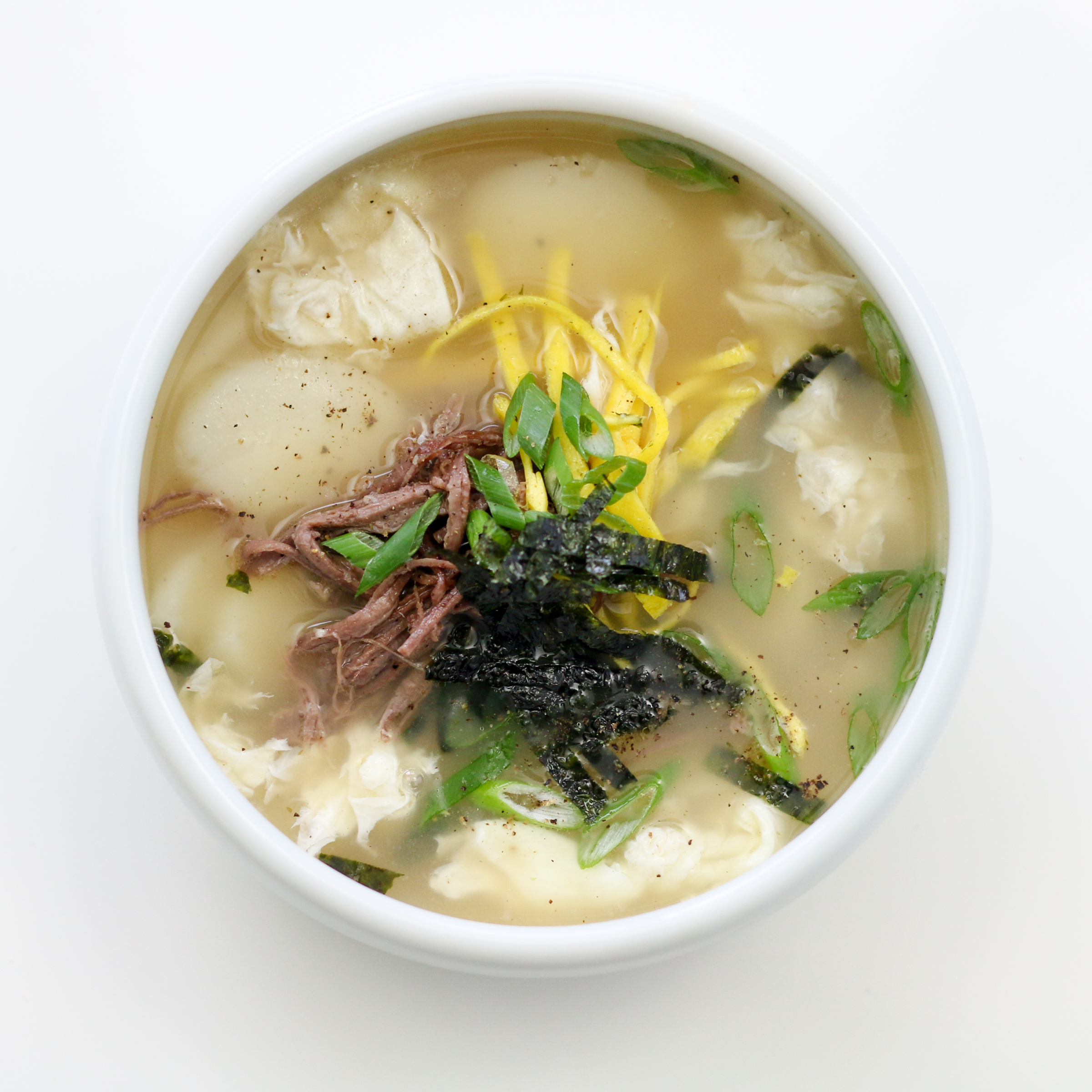 I like to use beef brisket because it acts like a two for one.  You first cook the broth with a slab of beef, and when it gets tender, you shred it apart, season it up, and add it to the top of your steaming bowl of soup as a garnish.  And speaking of garnish, that's the best part of Dduk Guk… all the tasty "decorations" on top.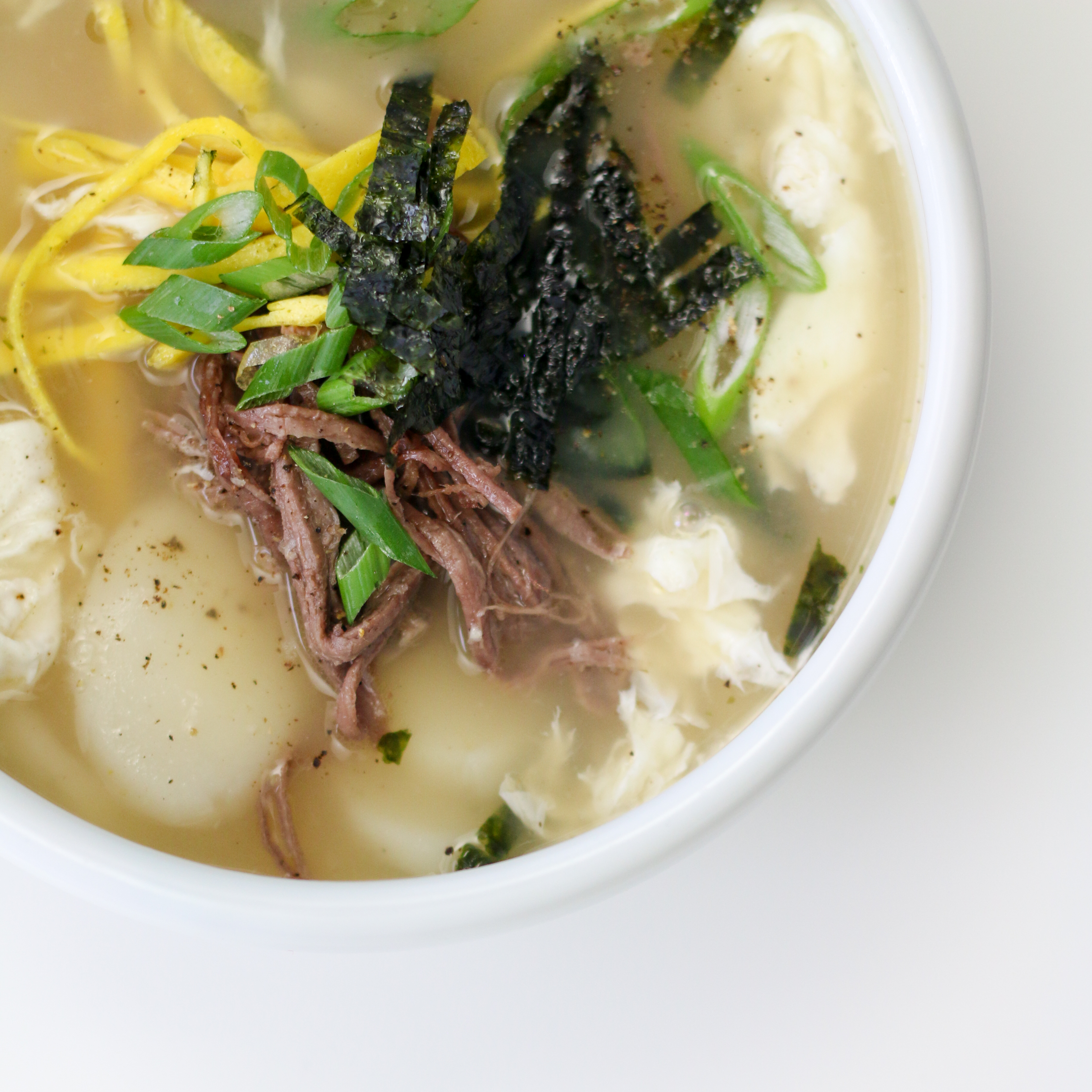 You can make variations of this soup just by simply adding dumplings, and then it will become Dduk Mandu Guk or Rice Cake Dumpling Soup.  But for this recipe, I wanted to go with the classic and keep it simple.  All you need is a side of kimchi.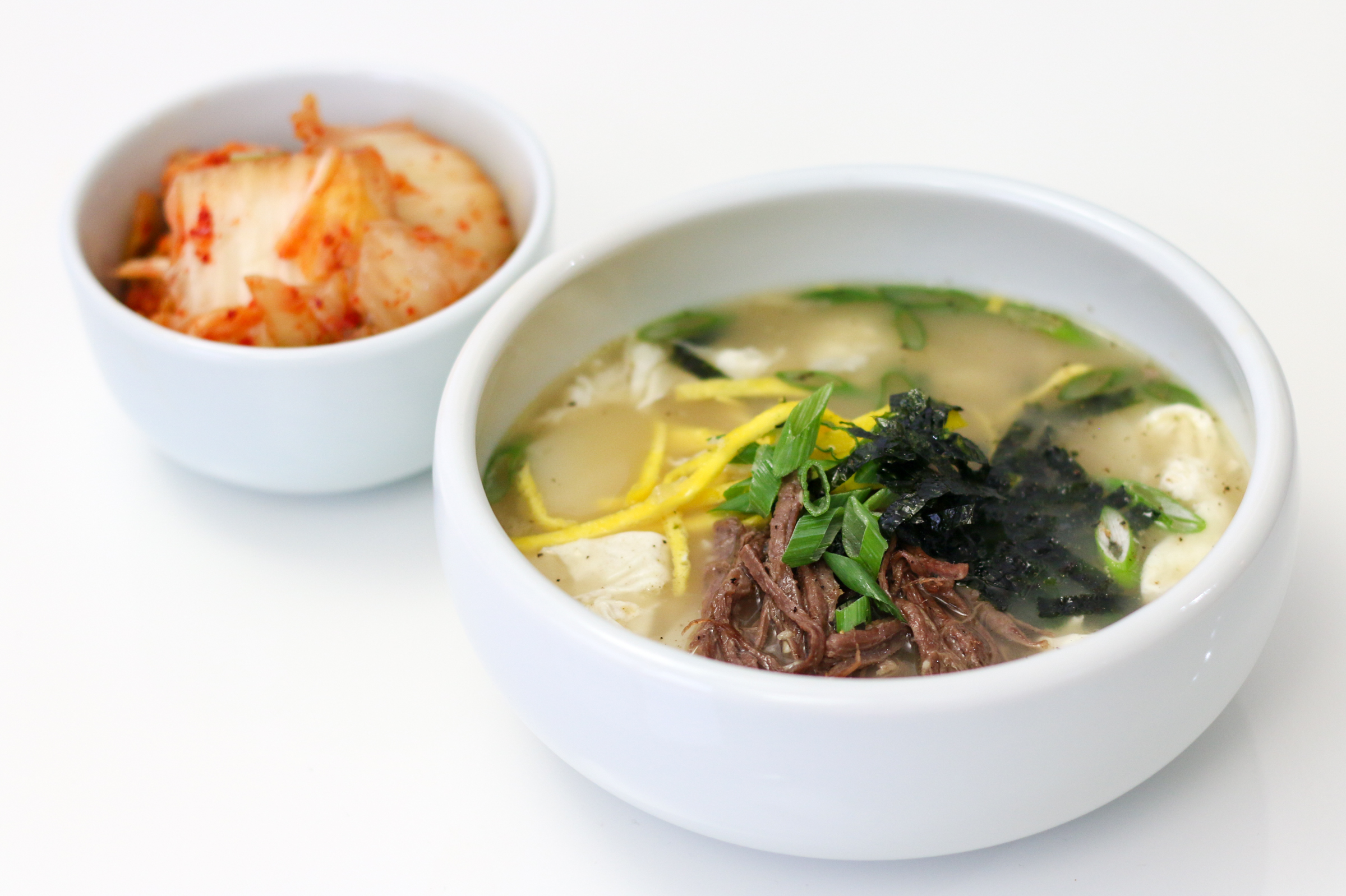 I feel like you can actually taste the love in this soup, kind of like the concept of eating homemade chicken soup when you're sick.  It's warm and nurturing and feels like a hug for your soul with every bite.  Okay… I'm getting carried away here, but you know what I mean.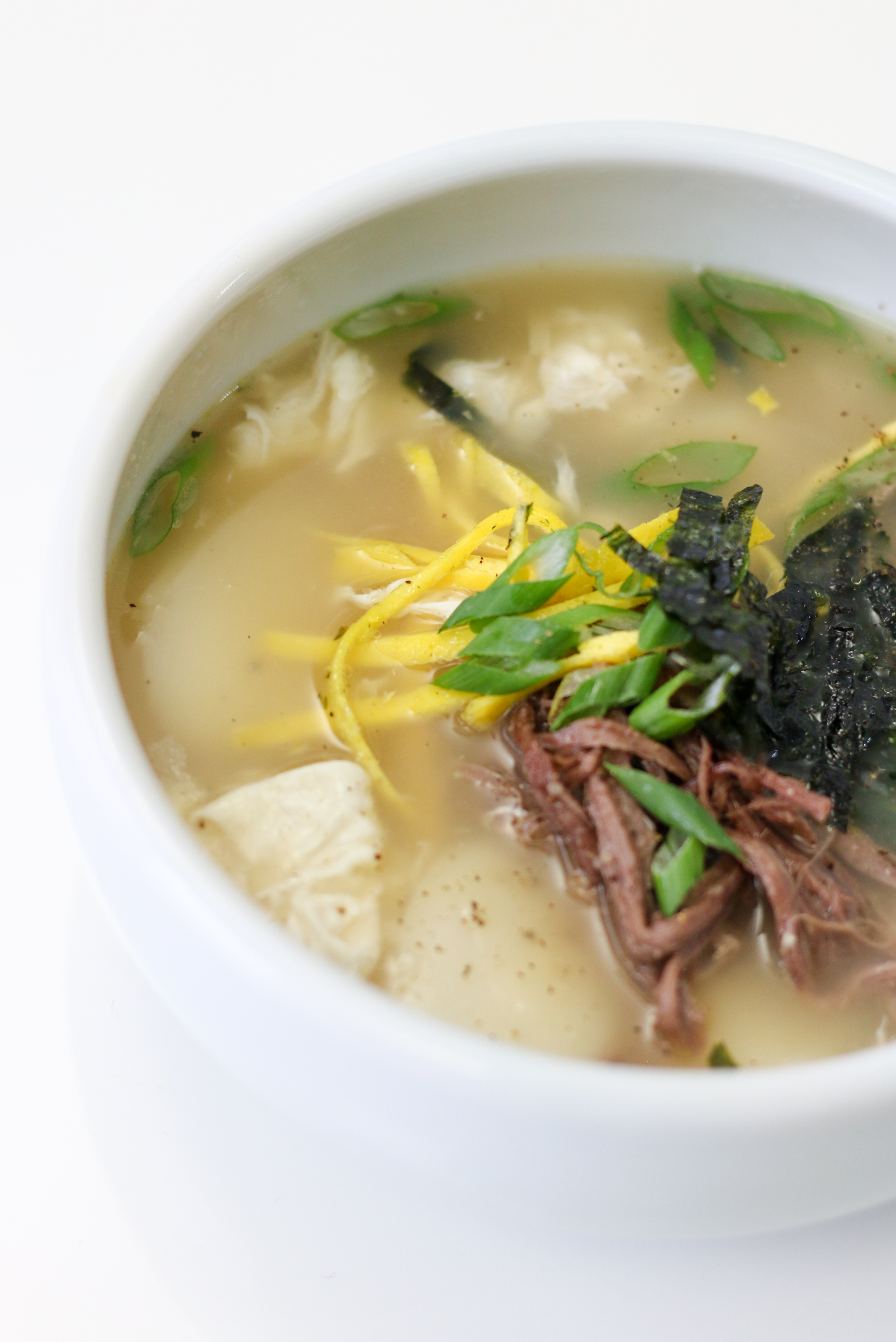 There are different ways to make the broth.  Some people are hardcore and do the whole boiling beef BONES for DAYS kind of thing.  That's when the broth will be more of a milky white color.  I'm not that far advanced yet, nor do I have the patience for that.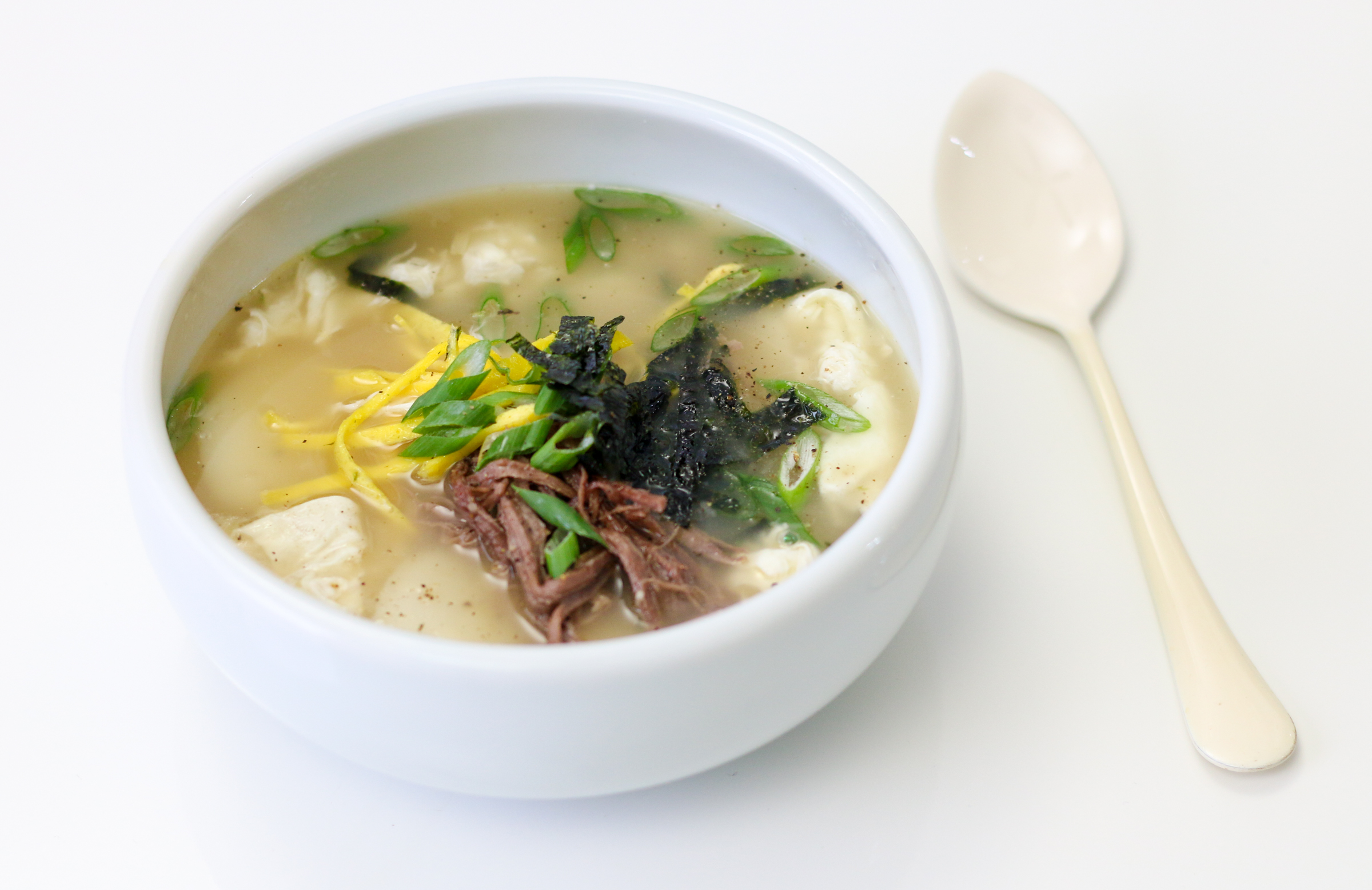 But no worries because there's no sense of "skimping" in this broth.  After I made this soup for our video, Joe and I sat at our counter, with the cameras off, just licking our bowls clean.  It's beef broth at it's best, laced with soft and slightly chewy pillows of rice cakes.  You can see how I make this comforting bowl of Dduk Guk in EPISODE 2 of Bits & Pieces SEASON 4 Below:
WATCH EPISODE 2 SEASON 4 HERE:

The base of the broth is so simple because it's just beef and onions.  But the important thing to know is that you need to invest in soup soy sauce, which is designed specifically for Korean soups.  Don't try to be a rebel here and pour regular soy sauce into your pot… it will have a different taste.  I know it's not really my style to demand of you to buy such a specific ingredient, but the good news is that once you buy soup sauce, you can make a ton of other Korean soups with it too.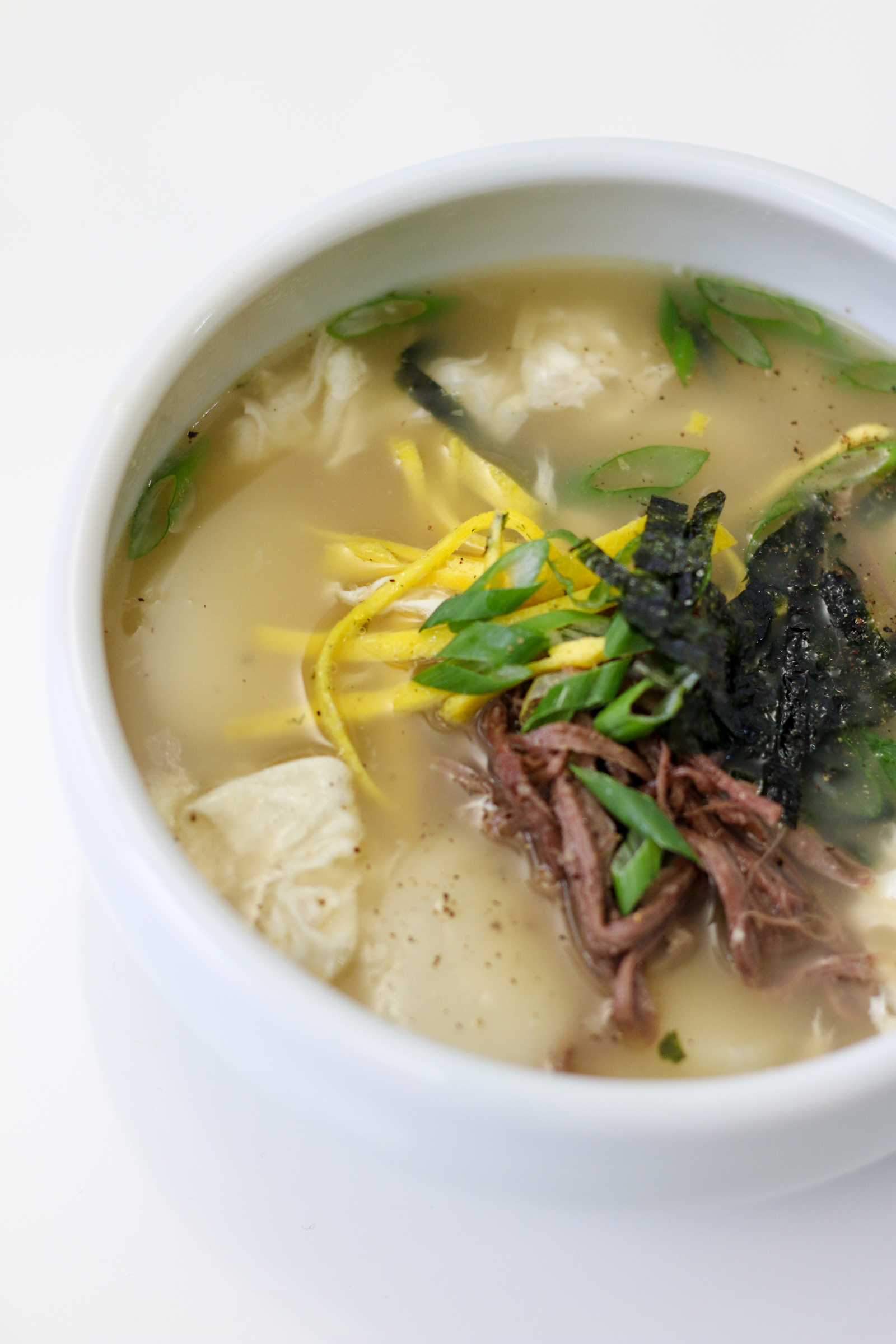 The rest of the garnishes for Dduk Guk consist of eggs, sliced scallions, and dried roasted seasoned seaweed / laver, also know as gim in Korean.  Nowadays they sell this stuff almost everywhere, even at Costco, where I bought mine!  For the rice cakes, you will have to go venture into your local Korean market.  You can most likely find it in the refrigerated section.  Sometimes it's in the freezer case too.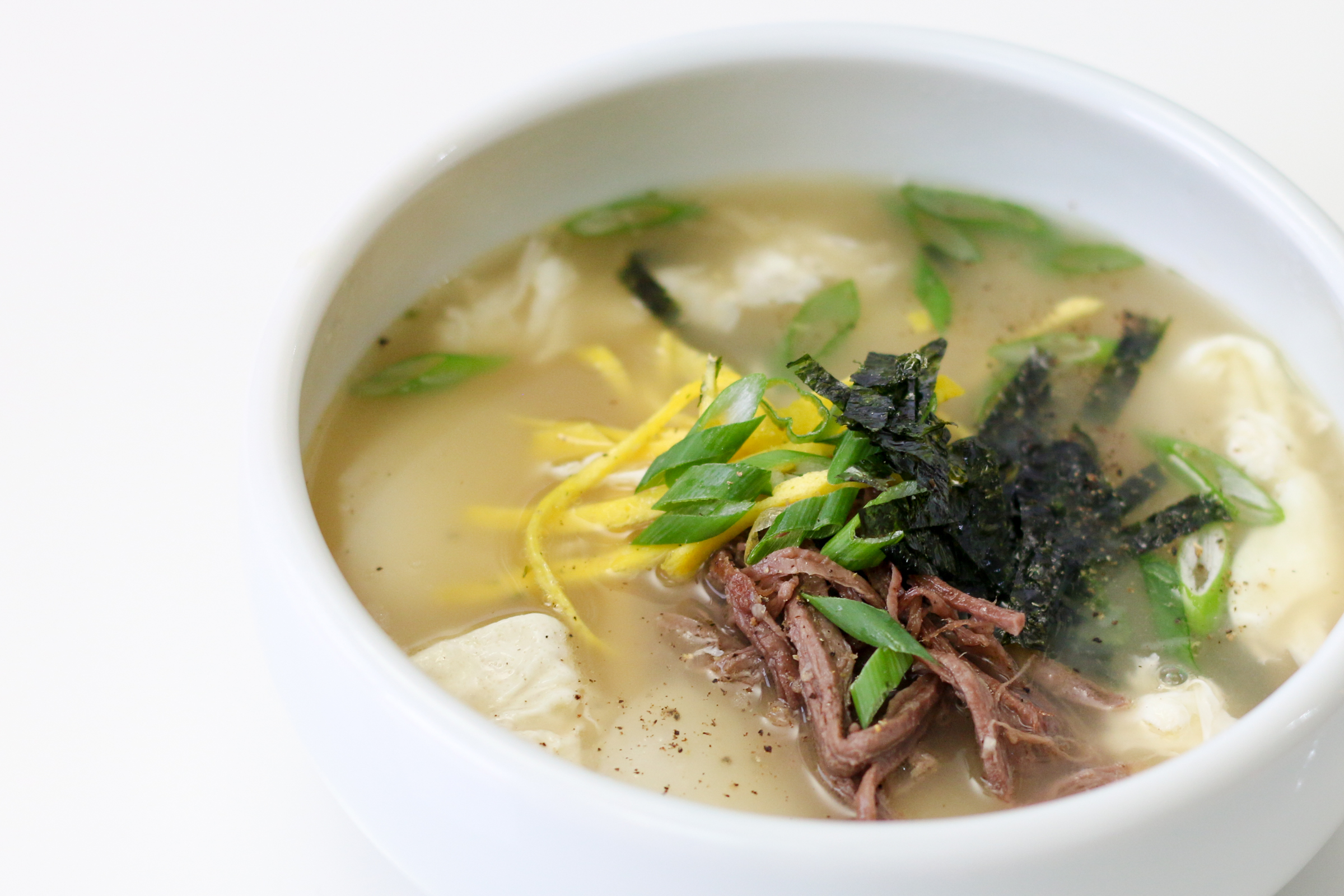 Just think of it like pasta and you'll be fine.  Dduk is made with rice flour and cut into different shapes.  It has no taste on its own but it does absorb flavors well, so that's the good part.  Kids tend to love Dduk because of the soft texture.  In fact, my niece in Korea wanted to eat NOTHING else but Dduk Guk the entire month we were there! But really, who could blame her?  One bite, and you'll know why.  Have a happy new year everyone!  Cheers!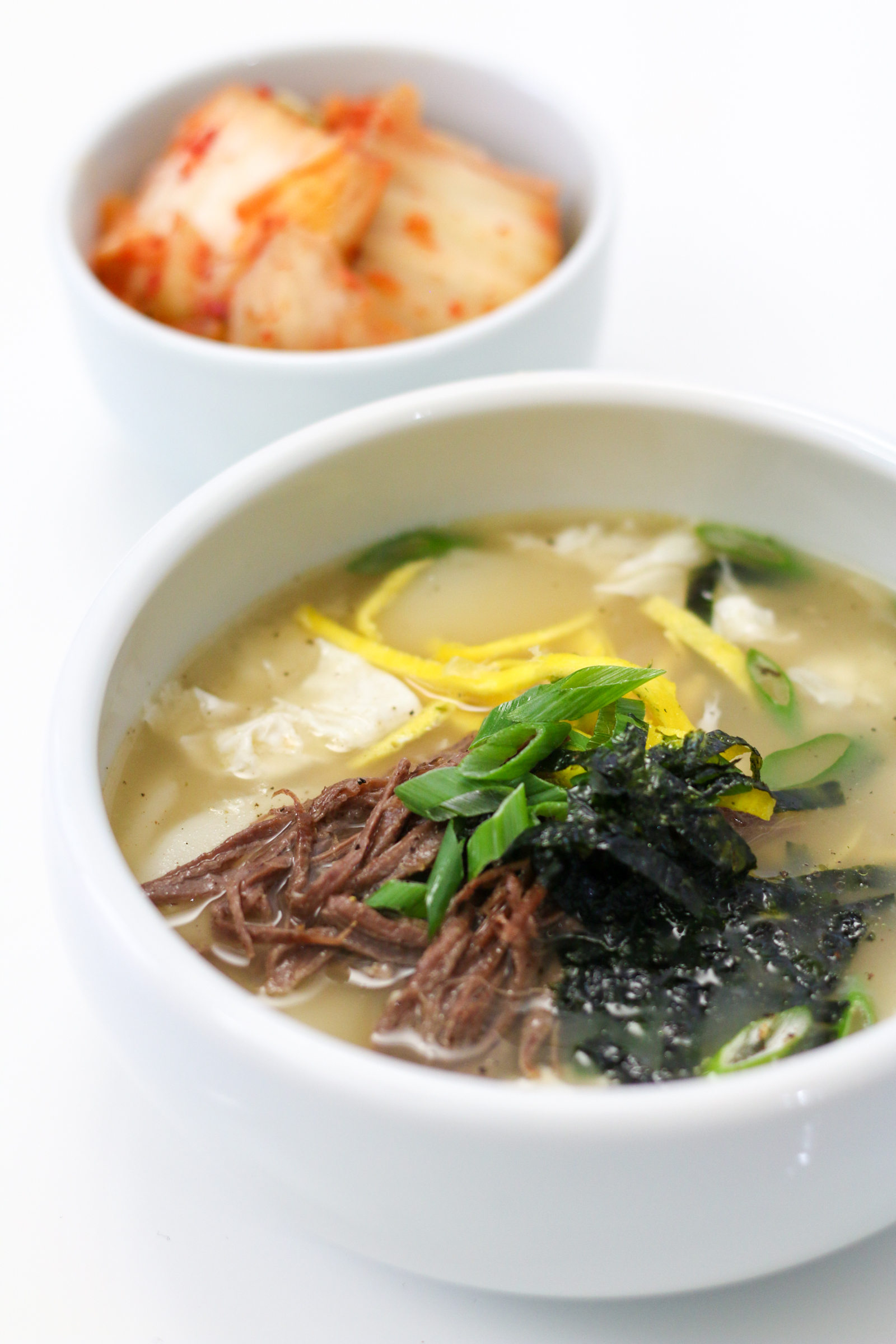 If you enjoyed this VIDEO, SUBSCRIBE to our COOKING SHOW CHANNEL HERE.  It's FREE! : Chef Julie Yoon
If you want to follow us on our journey, SUBSCRIBE to our VLOG CHANNEL HERE. It's FREE! : Our Yooniverse

Dduk Guk (Korean Rice Cake Soup - 떡국)
Dduk Guk or Korean rice cake soup is classic and comforting. It's the best way to celebrate the new year!
Ingredients
Beef Broth:
12 cups (3 quarts) cold water
½ pound beef brisket
1 medium onion, peeled and halved
8 cloves of garlic, peeled and left whole
3 scallions white and pale green parts, (dark green parts reserved)
2-3 tablespoons Korean soup soy sauce, or more to taste
Salt and pepper to taste

Garnish:
Cooked beef brisket removed from the broth, thinly shredded
1 clove garlic, finely minced
1 teaspoon sesame oil
Salt and pepper to taste
2 eggs (or 1 egg for every 2 people)
Thinly sliced scallions (from the reserved dark green parts)
Crumbled or thinly sliced gim (dried seasoned seaweed/ laver)
4 cups sliced dduk, Korean rice cakes (or 1 cup per person), soaked in a bowl of cold water for 20 minutes
Instructions
Place the cold water, beef, onion, scallion ends, and garlic in a large pot, cover and bring to a gentle boil. Skim off the scum that forms with a spoon or ladle, and discard. Reduce the heat to a simmer. Simmer, covered, until the meat is tender enough to shred easily, about 1 ½ - 2 hours.
Meanwhile, work on your garnishes. To make the egg garnish, separate the yolks from the whites. Whisk the yolks. Heat a lightly oiled small nonstick pan over medium low heat. Pour the yolks into a thin layer, by spreading it with a spoon. Cook each side, but do not brown the egg. Slice your omelette into thin strips. Lightly beat the whites and set aside.
Remove the cooked meat from the broth and cool slightly. Shred the beef into thin strips and combine well with the minced garlic, sesame oil, salt, and pepper to taste. Slice the scallion diagonally into thin strips. Slice your gim (roasted dried seaweed) into thin strips, or crumble into pieces using your hands. Set everything aside.
With a skimmer, remove the vegetables from the broth and discard. Return the broth to a boil. Stir in soup soy sauce, salt, and pepper to taste. If cooking for less than 4 people, scoop out some broth into a smaller pot to cook your rice cakes and save the rest of the broth for later. You do this because the rice cakes tend to release starches into the broth. You can always freeze any leftover broth!
Drain the soaked rice cake slices and boil in the broth until soft, but not mushy, usually about 2-4 minutes, or until they rise to the top. Slowly stream in the egg white to form ribbons in the soup. Turn it off the heat once the egg is cooked. Ladle the hot soup into individual bowls and garnish with some of the seasoned shredded beef, egg yolk strips, sliced scallions, and gim strips.

TIPS: If you want to add mandu (Korean fresh or frozen dumplings), you can add them in along with the rice cake slices, stirring gently so they don't stick to the bottom of the pot. Boil until all of them float. You can also cook the dumplings in boiling water separately, and add to the soup when the rice cakes are cooked. This will keep the soup from becoming too thick from all the starches being released into the broth.

STORING TIPS: Keep any leftover uncooked dduk in the freezer to help it last fresh longer. It's best not to have any cooked leftover dduk for the next day, so just make enough for what you will eat in one sitting.