Thanksgiving Dinner for Two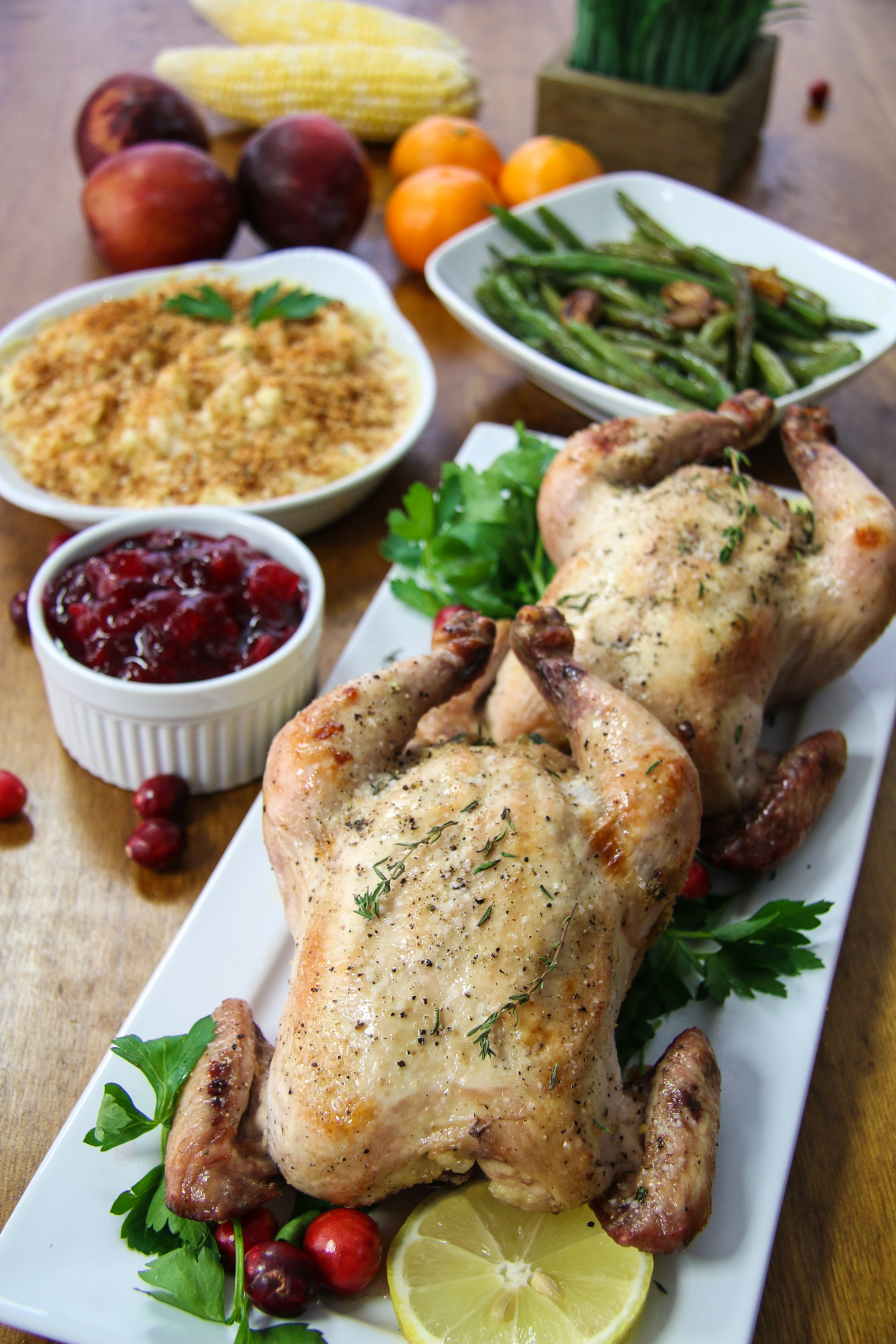 Making a Thanksgiving dinner for two sounds daunting and not worth the effort, right?  It's hard to imagine wanting to put in the energy to make a million side dishes, or roast a whole turkey for just two people.  And yet you still want those familiar and comforting smells to fill your home!  Ugh…so what do you do?  I think I have the solution for you.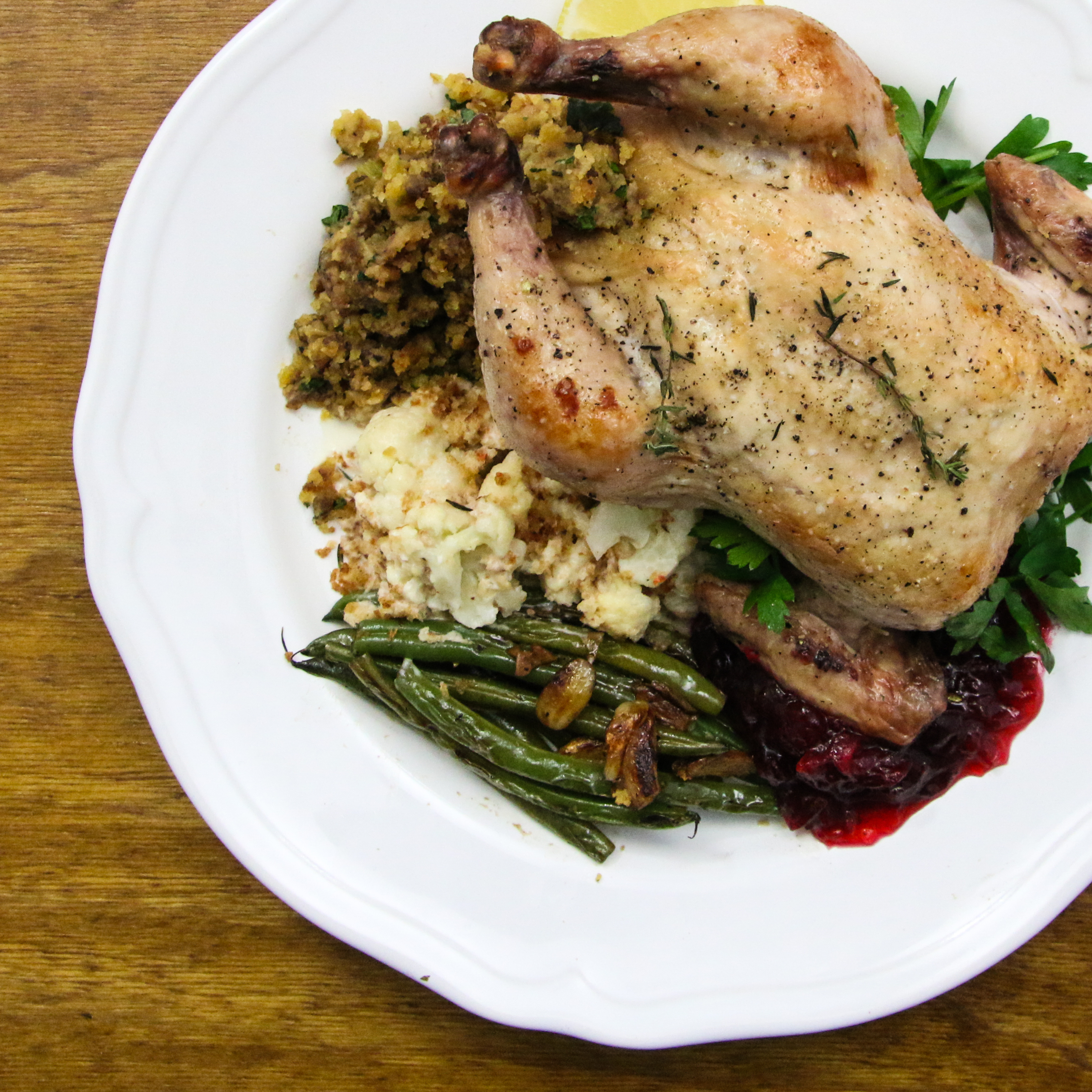 When we first moved out to California, we weren't able to "go home" for the holidays, so we were on our own, JUST THE TWO OF US (cue Will Smith).  At first I decided we would do the restaurant thing (gasp).  It was unreasonably warm that day, and since I didn't have any cooking to do, we donned our shorts and flip flops and walked to a local coffee shop.  We sat outside and sipped our iced coffees…in silence.  My guess was that people were home COOKING.
It made me SO SAD that I got up immediately and decided we were going to the grocery store, and I was going to cook for us after all.  Since I didn't plan out our feast for days in advance, I just grabbed what I saw there, and that was Cornish game hens.  Perfect!  I knew they would look like miniature individual turkeys, filled with stuffing, but take less time to cook.  And of course I also had to bust out a few easy sides.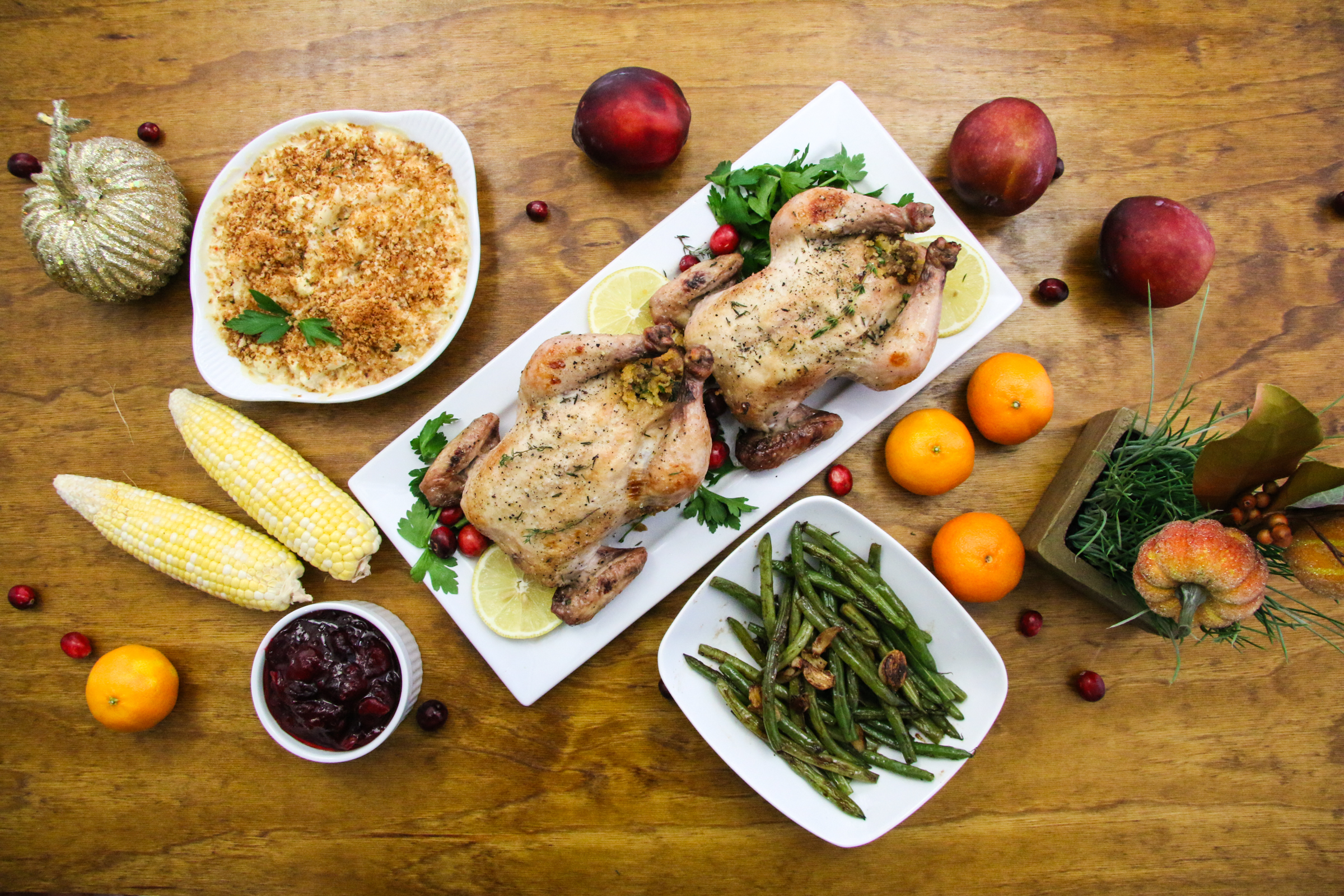 It did take the rest of my day to cook everything, but we were so happy in the end, and it was totally worth it.  So today, I wanted to recreate that meal that I remember and look back at so fondly.  But you can see how I make all of these easy and scrumptious dishes in EPISODE 3, our "Thanksgiving Special," of Bits & Pieces Season 2 below:
First things first.  If your birds are frozen, like mine were, be sure to defrost them in the fridge for at least 2 nights, or maybe longer.  Or you can do the cheating thing like I did and dunk them in a bowl of cold water for a couple hours to speed up the process.  But you want to make sure those suckers are completely thawed.  Then rinse them inside and out, and pat them dry well.  The drier they are, the better they will brown.  If they go into the oven wet, they'll steam instead, and look a little pale.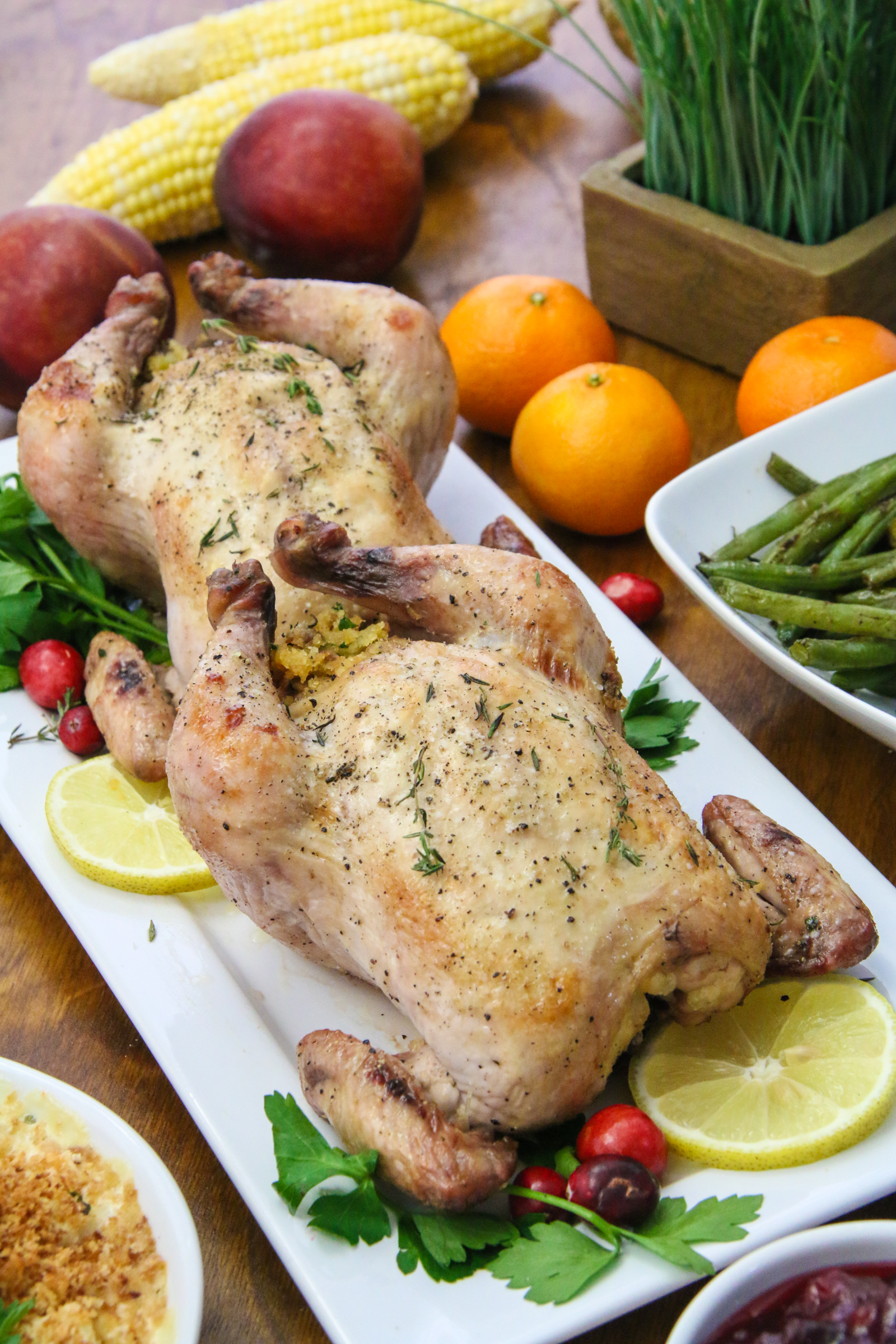 Since Cornish game hens have good flavor on their own, I knew I could keep the seasonings simple with nothing more than salt and pepper.  But you can go to town with them and add spices and herbs too if you wish.  Their skins crisp up in the oven if you give them a chance to brown without any oil first.  They render out their own fat and baste themselves!  You could probably share one hen if you wanted to, but who doesn't like Thanksgiving leftovers?  So go ahead and make two while you're at it anyways.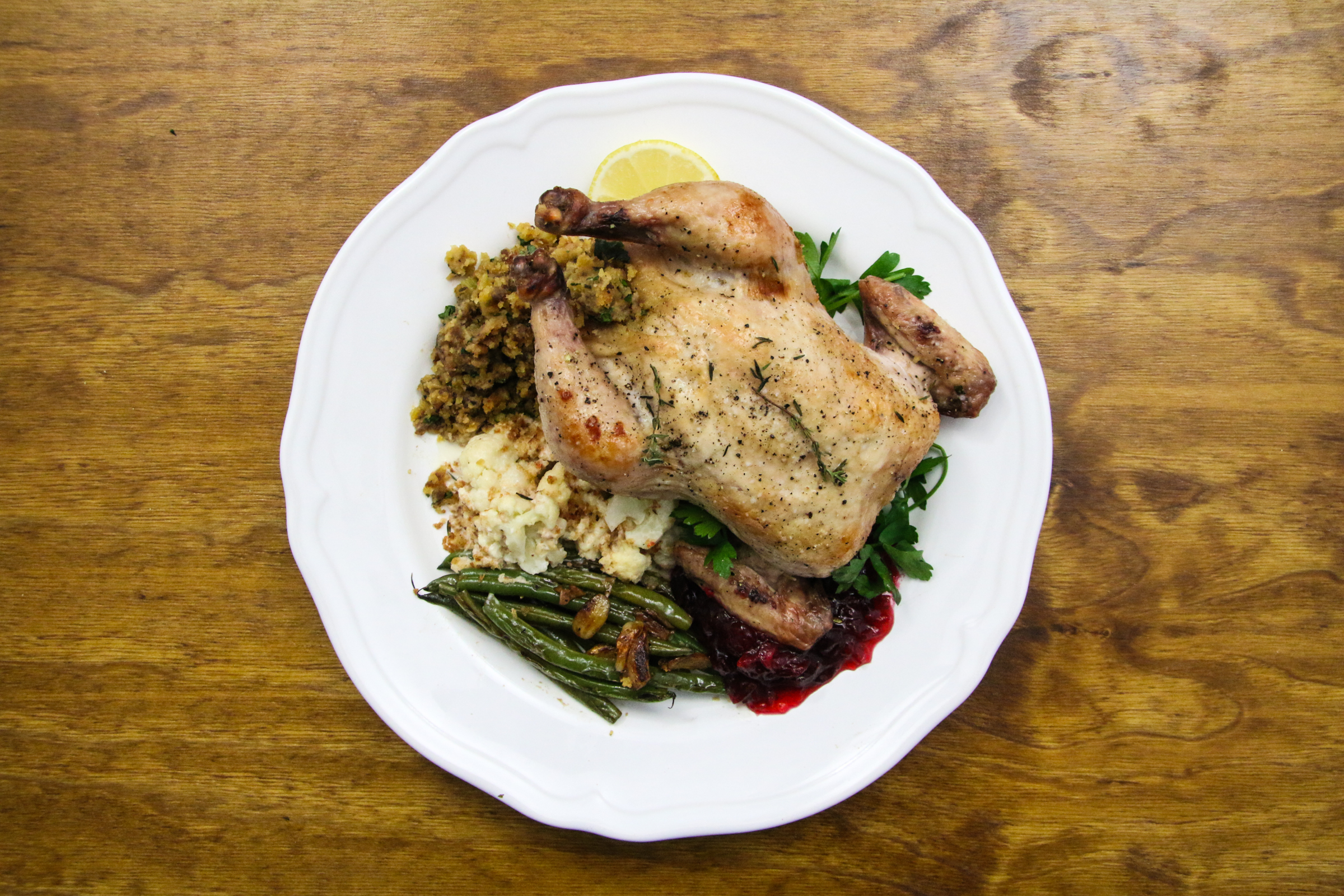 And what's "turkey" without stuffing and cranberry sauce?  So I made a cornbread stuffing with hot Italian sausage, and all those traditional aromatics like celery, onions and thyme.  When you stuff your birds, they really look like mini-turkeys.  So adorable!  When they cook in the oven, the smells put you into a trance.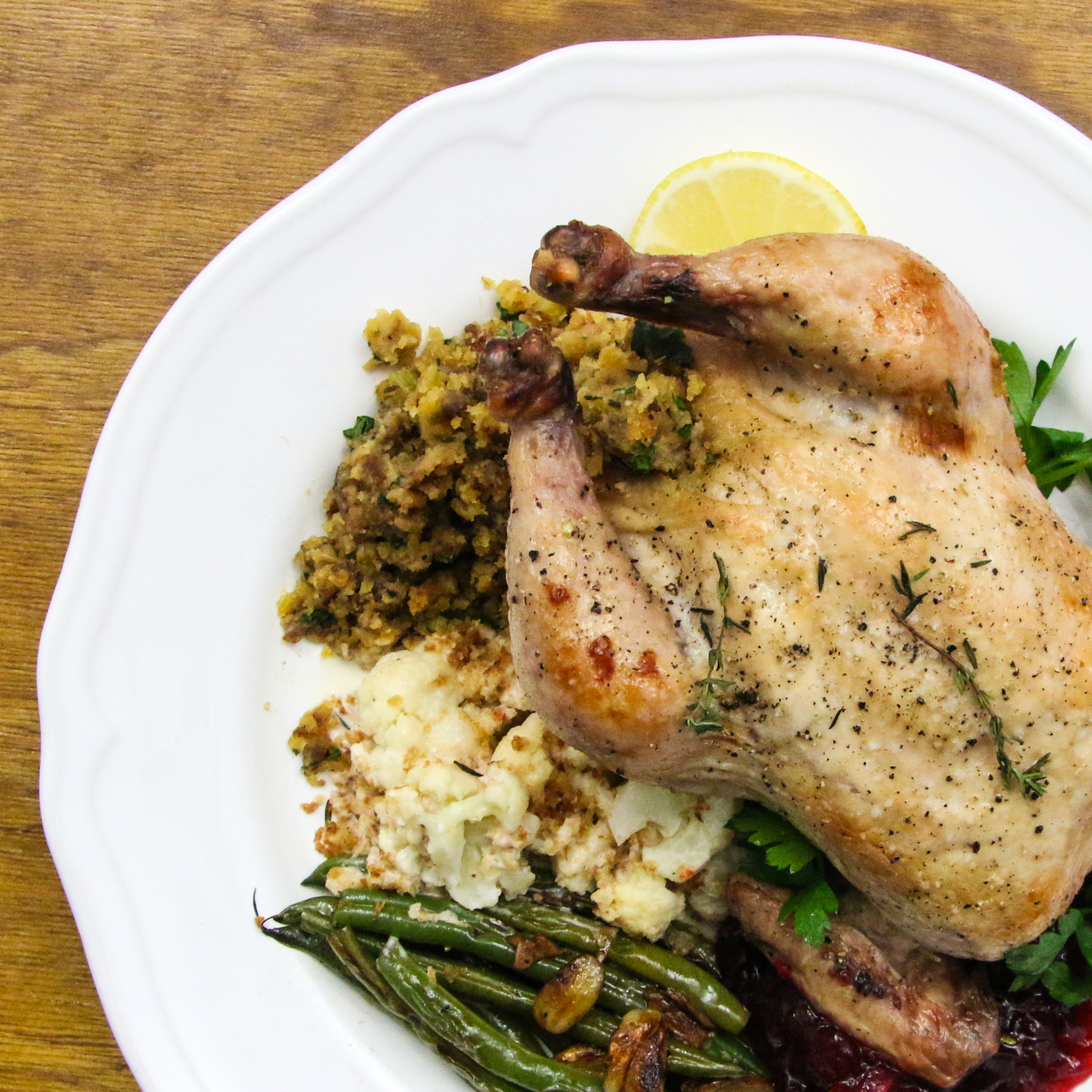 The cranberry sauce couldn't be any easier.  It's almost a crime not to make it.  It's a wonderful sweet and tart condiment that pairs well with the rich savory taste of the birds.  There's no need for gravy.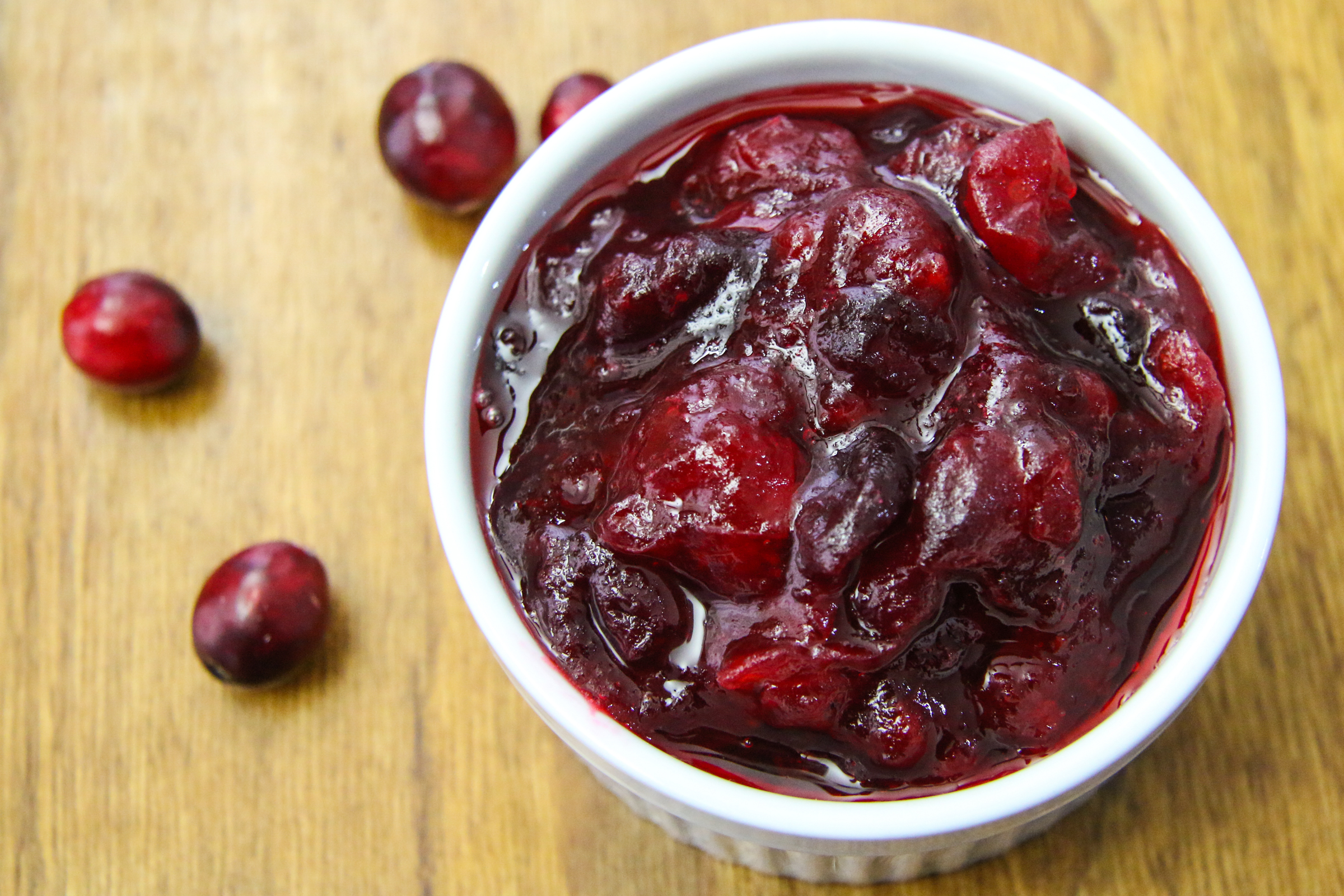 And even though I didn't want to sweat to the oldies making a ton of side dishes, I still opted to make just a couple more.  I wanted to "cover my bases" with flavors and textures so I wouldn't feel like we were "lacking" anything.  I wanted a creamy component, which I made in the form of a cauliflower gratin. You mix together a couple ingredients and boom!  Creamy and crunchy with a crispy topping.
Lastly, I made easy speedy garlic green beans.  They're seasoned simply, but are the perfect last savory crunchy veggie that rounds out the meal.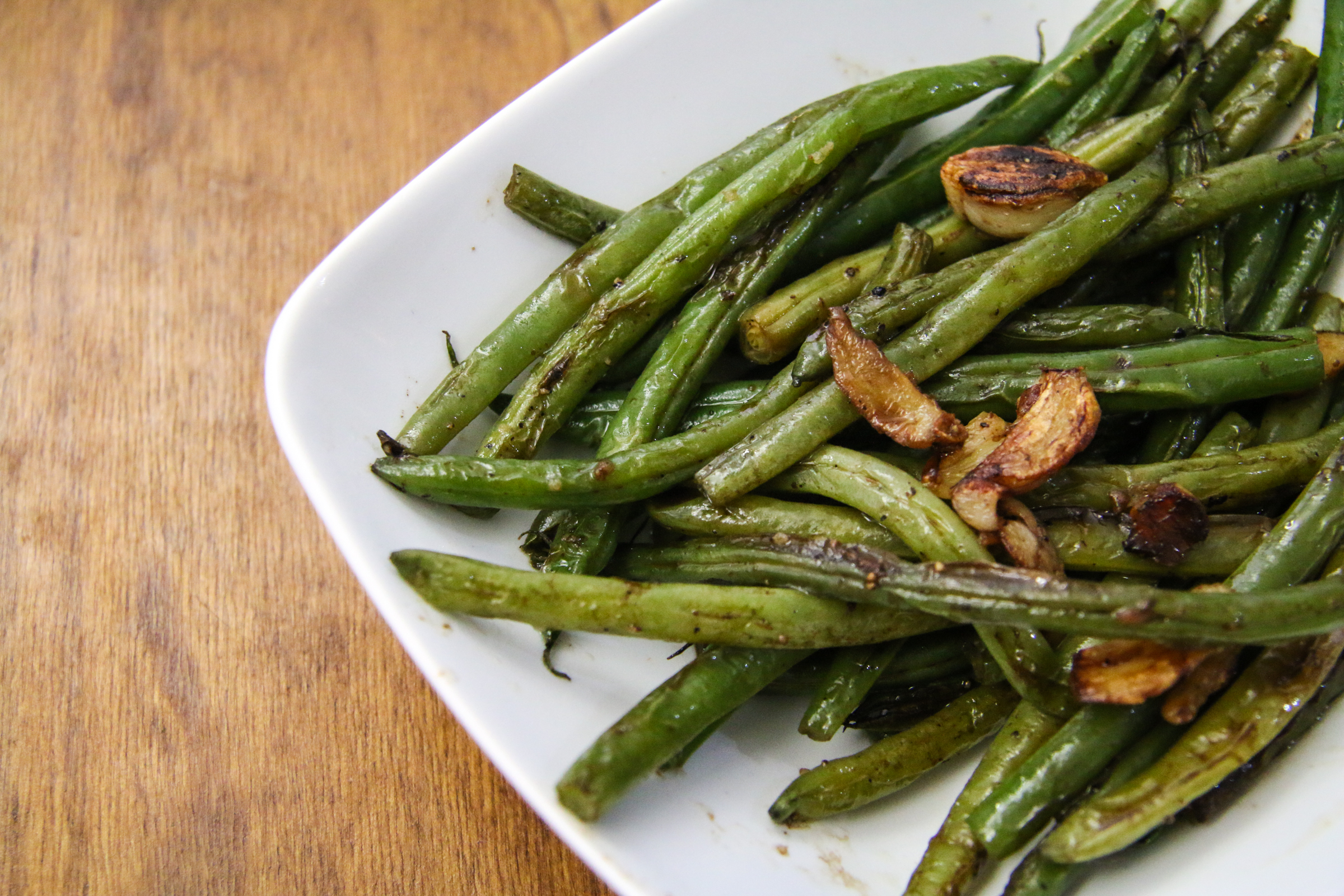 So if you're making Thanksgiving dinner for two this year, I hope I provided you some inspiration.  But truth be told, you can make this and eat this on a casual weekend too.  This dinner is simple yet special, and you definitely don't have to wait for a holiday to make it!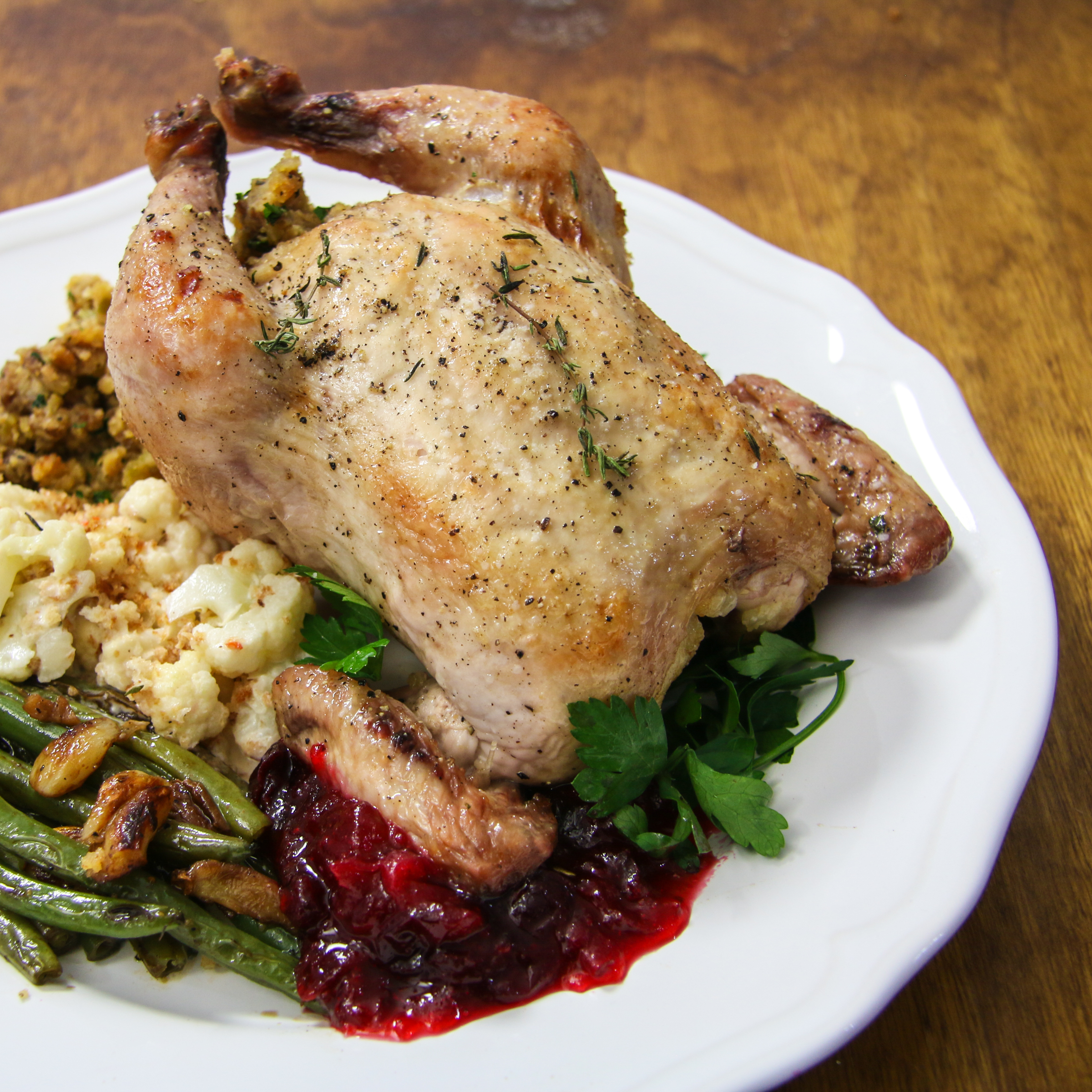 And let me just say that I'm thankful for you, because you took the time to read this entry and watch our video.  Let me know in the comments what you're thankful for, because sometimes it's nice to be reminded.  Happy Thanksgiving!