Corn Chowder with Sausage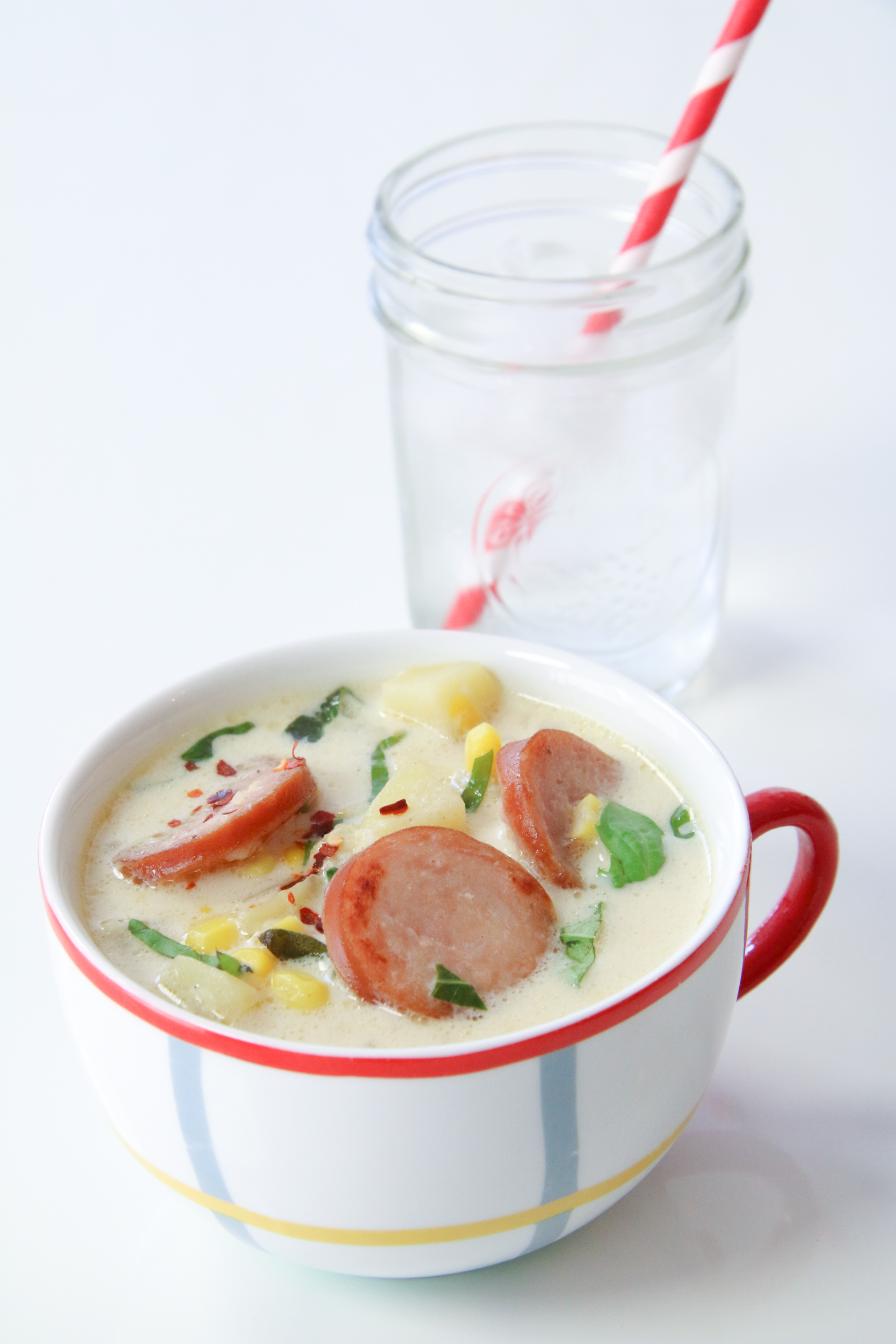 When my husband and I first moved to Chicago, he jokingly told me that I better start coming up with a lot of corn recipes.  He's originally from here, so I guess he knew what he was talking about, because he was right!  Everywhere I look, there's corn in my face.
But especially now, the sweet summer corn is especially abundant.  It's so juicy, sweet, and dang cheap!  I knew I had to take advantage, and whip up a special corn chowder, even in the midst of a hot summer.  
The best part of this recipe is that you'll feel like you're doing something noble by utilizing every piece of the corn, including the cobs!  And you're not just throwing them into the soup for decoration.  There's actually so much flavor that's extracted from there that they are an ESSENTIAL part of the chowder.
So sorry folks, if you're planning on making this with frozen or canned corn, let me just stop you right there.  This time I am actually FORCING you to use fresh.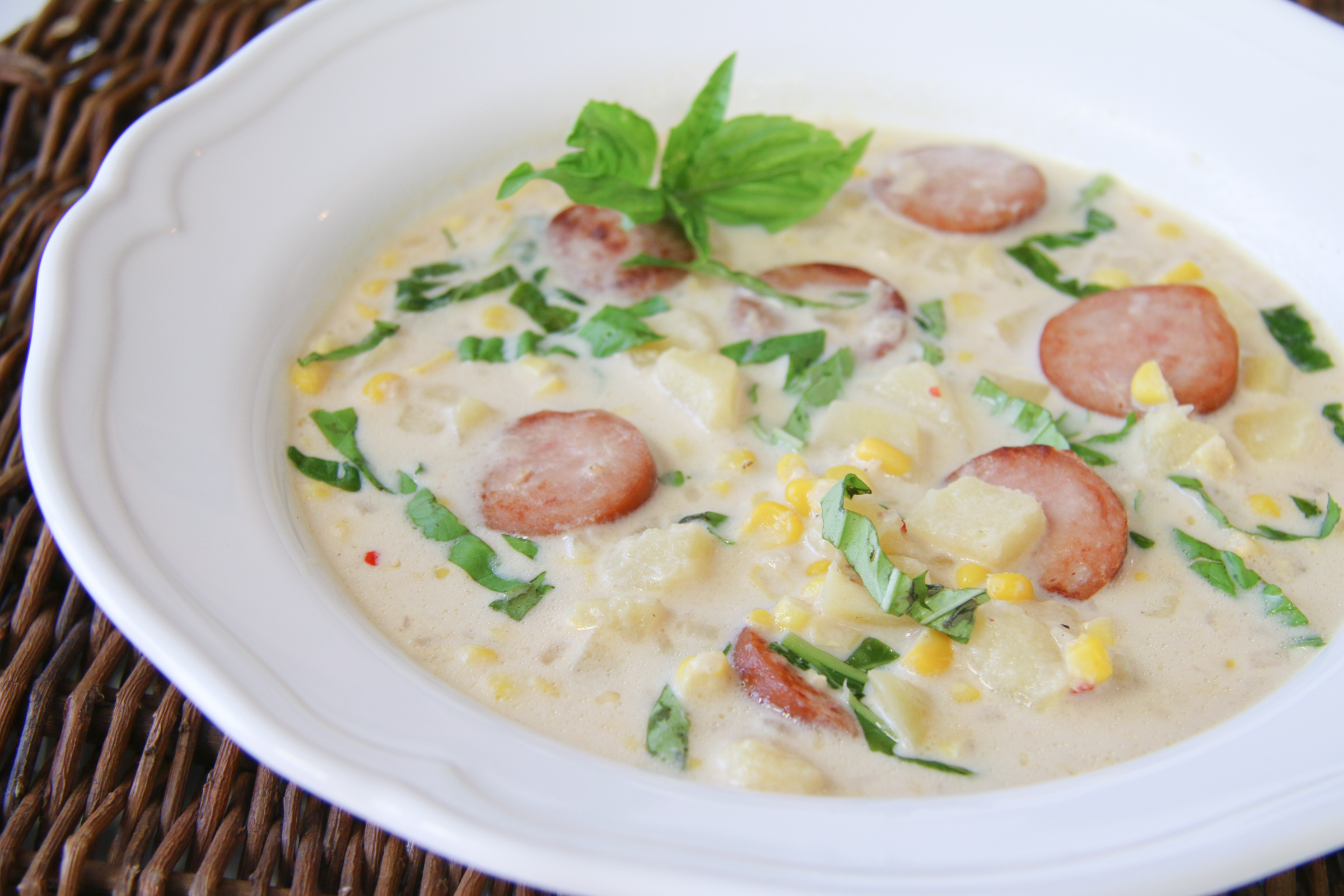 The corn juice that comes out of the cobs is EVERYTHING. Once you taste that first spoonful, you'll know exactly what I'm saying. And what's up with the sausage?  Well, I just always have kielbasa in my freezer.  I've already told you that tons of times.
But I just thought it made sense especially since it's salty and smoky, which I thought would go so well together with the sweet corn.  Not to mention, it reminds me of Chicago too, since Chicago is all about their hot dogs and sausages.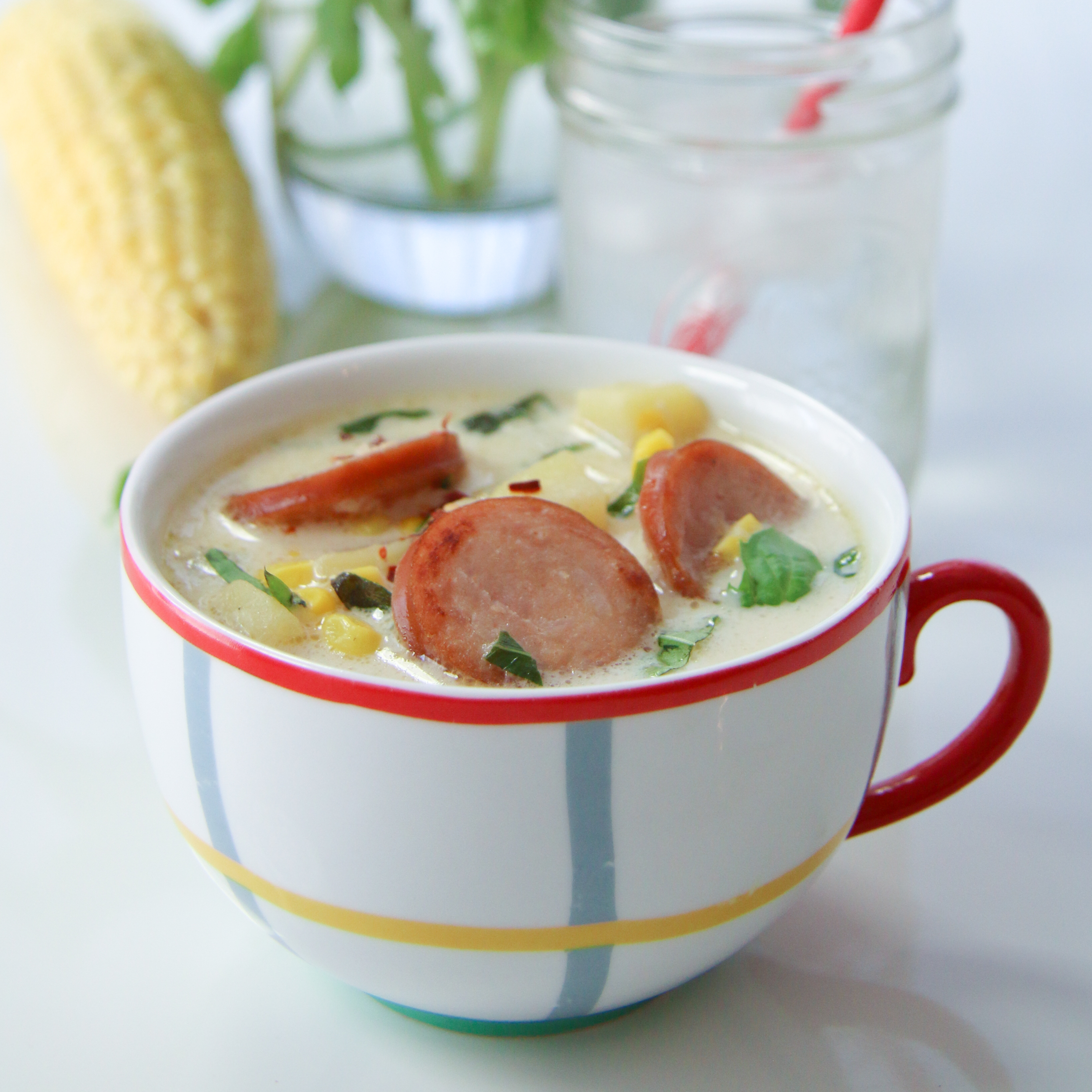 Then I throw some potatoes into the mix, along with a punch of fresh basil, because life is better that way.  The potatoes help thicken up the broth, and the basil adds that fragrant aroma and pop of color.  It all seems so simple, and it's super easy to make.  But don't be fooled.  The flavor is complex and it will surprise you.
One bite, and I think you'll find yourself wanting to make this every summer.  You can watch how I pull it all together in EPISODE 18 of Bits & Pieces:
I still can't get over how much flavor comes out of boiling some corn cobs in milk.  It's so fascinating!  The key is to make sure you season well, in every step.  Bland food is bland food no matter how much stuff is going on in it, so be sure to taste and season as you go along.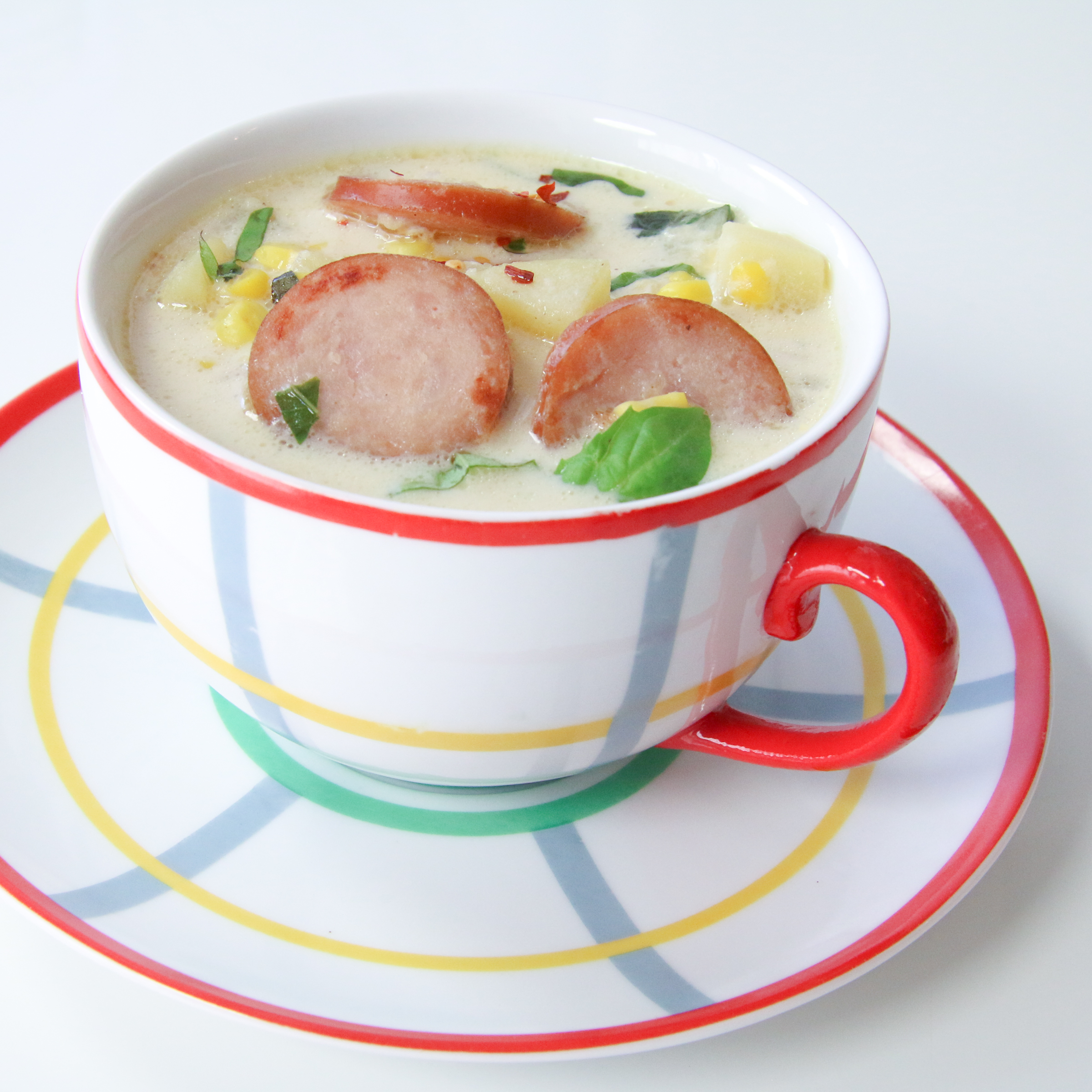 Can you use any other kind of milk besides whole milk you ask?  My answer is no, but at the same time, it's not like I'll ever know!  Whole milk adds that thick creaminess and taste that you can't imitate with lesser fat milks.
I know I usually use what I have on hand, which would normally be skim milk, but this time I went out and purposely bought whole milk just for this.  Totally worth it.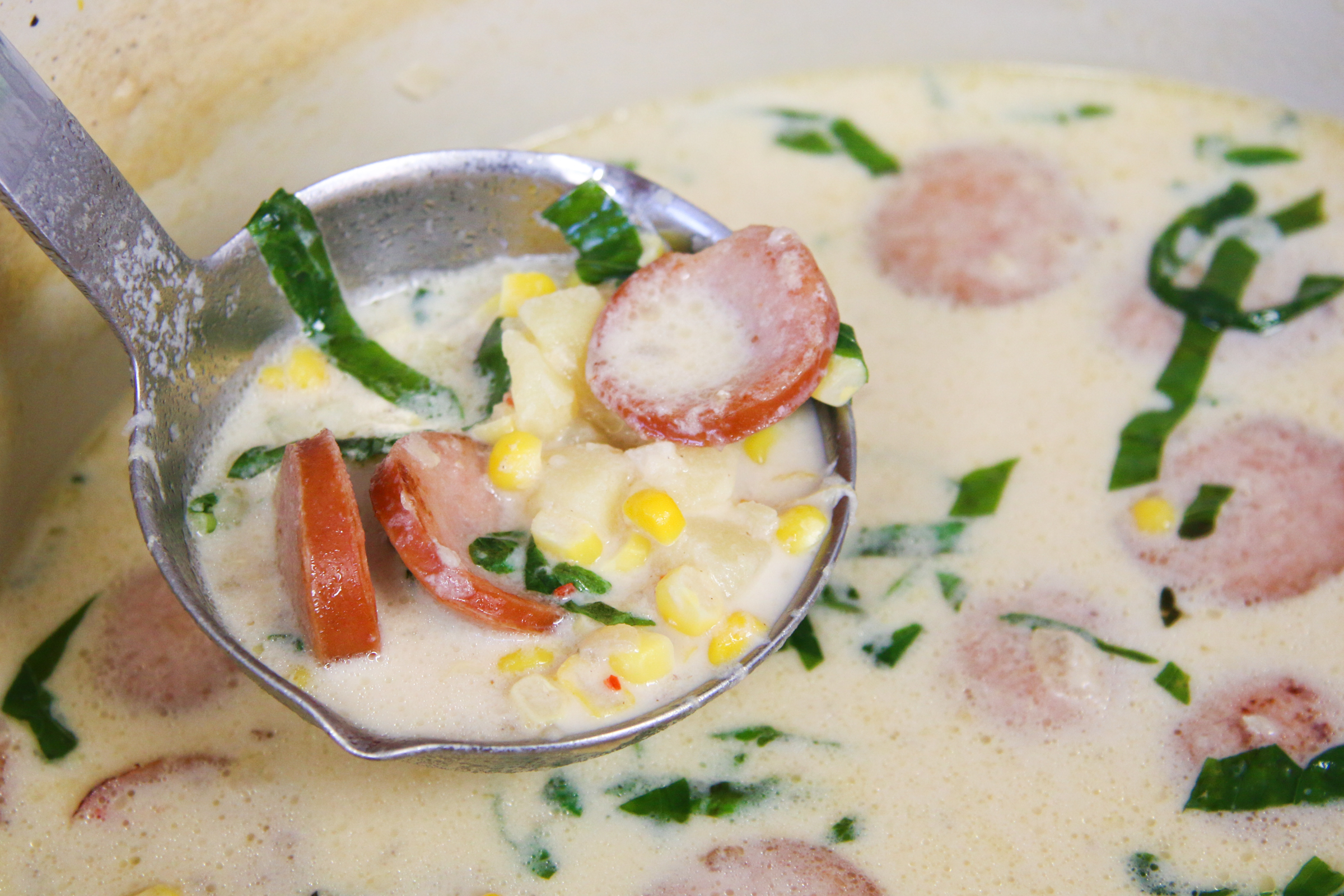 I also wouldn't suggest omitting the basil at the end.  I know sometimes it's a pain and a waste to go out to buy fresh herbs.  But, although it might seem like an after thought in the recipe, it's not.
It's the ONLY real pop of color in the otherwise off-white creamy soup, and it adds this aroma and freshness I think you NEED in this chowder.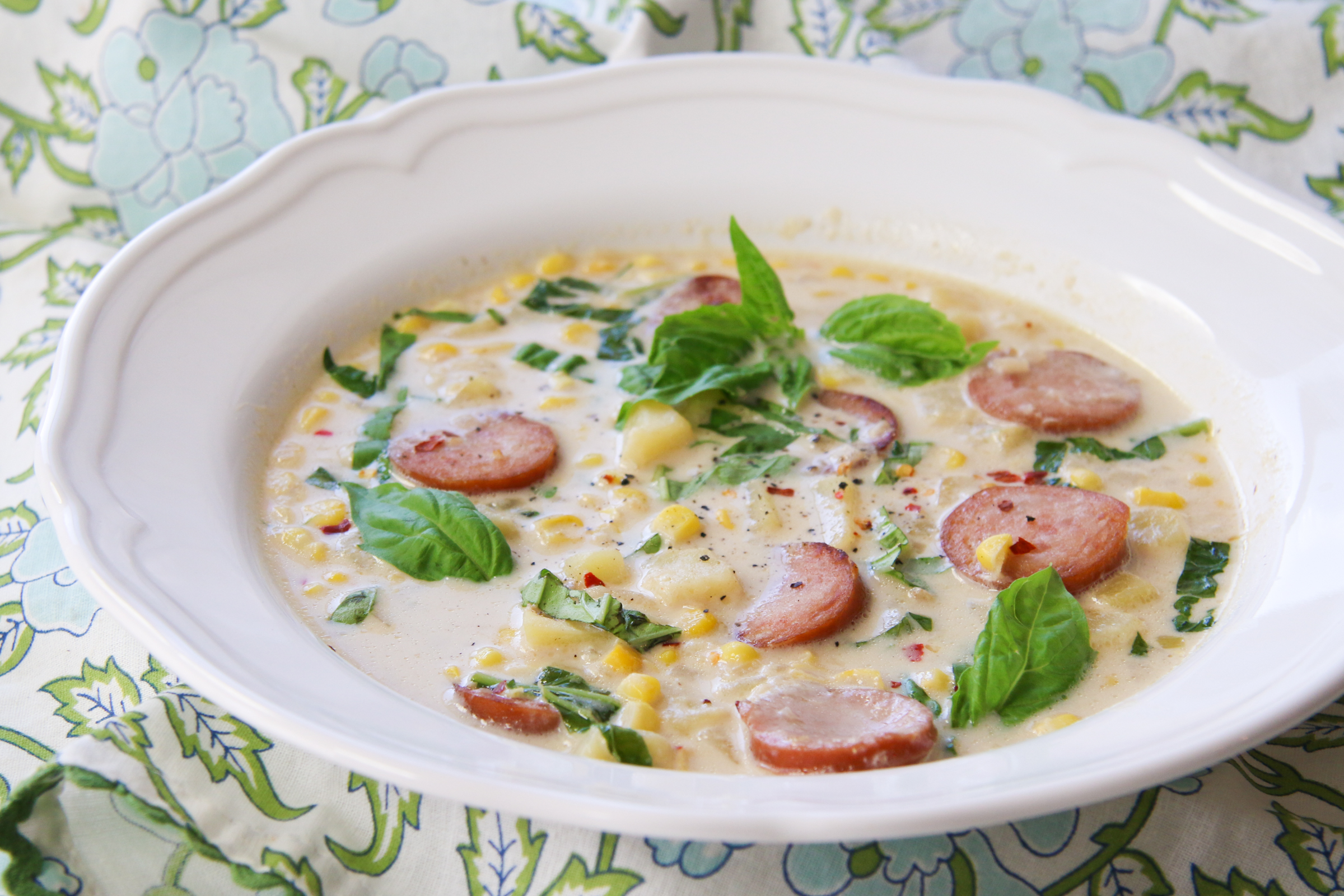 I wasn't sure if Joe would like this chowder, because you know he's not a fan of creamy things.  But I know he likes sausage, so I thought if I added it to the mix, he would automatically like it.
So that part is true, and the creaminess doesn't bother him because this ends up being a cross between a hearty chowder and a regular brothy soup.  So it feels a little lighter, which is kind of nice for the summer.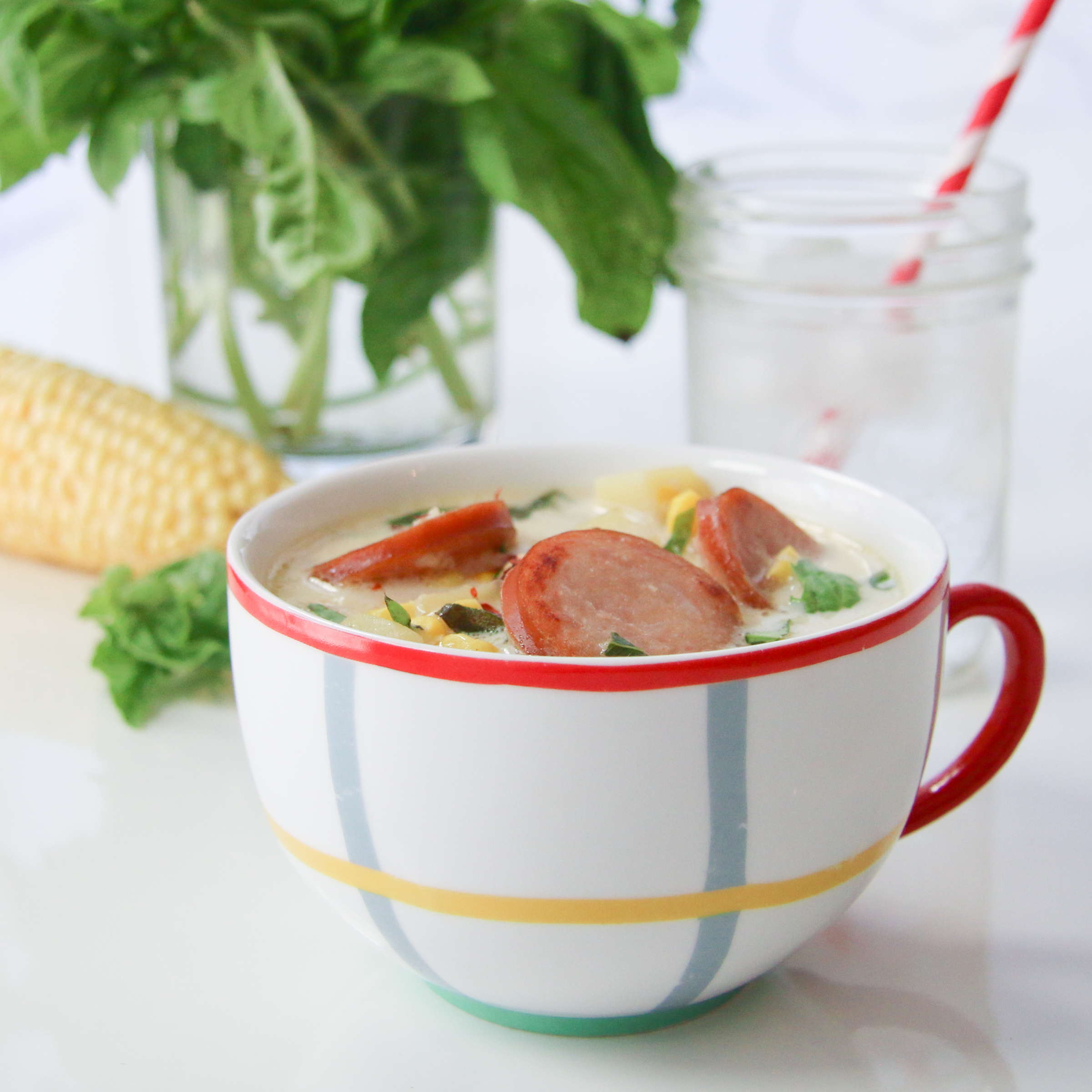 But if you are part of the traditional chowder fan club and crave a thicker consistency, then just scoop up a couple ladles of the broth, cooked potatoes, and corn kernels and give it a whirl in the blender. Then you can add it back to the pot, and the chowder will automatically thicken up like magic.
The first time I tested this recipe, I actually did it this way, and Joe liked it!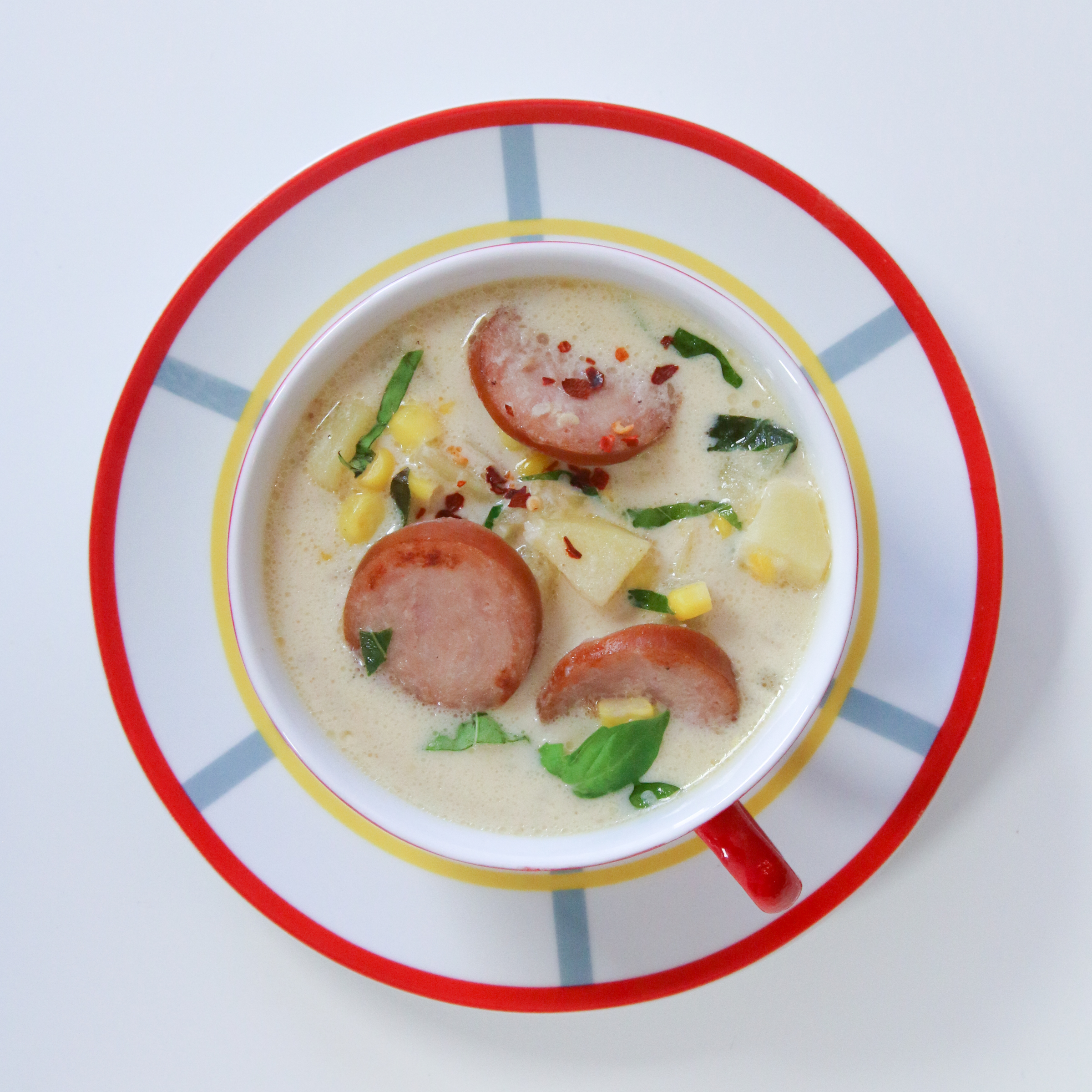 But this time, I didn't feel like dirtying a blender and adding another step, so I skipped that part.  So the choice is up to you my friend. And feel free to add any extra veggies that you want.  I think zucchini or summer squash would be excellent in here.
So take a break from all the cold salads for a bit and snuggle up with something a little more satisfying this summer.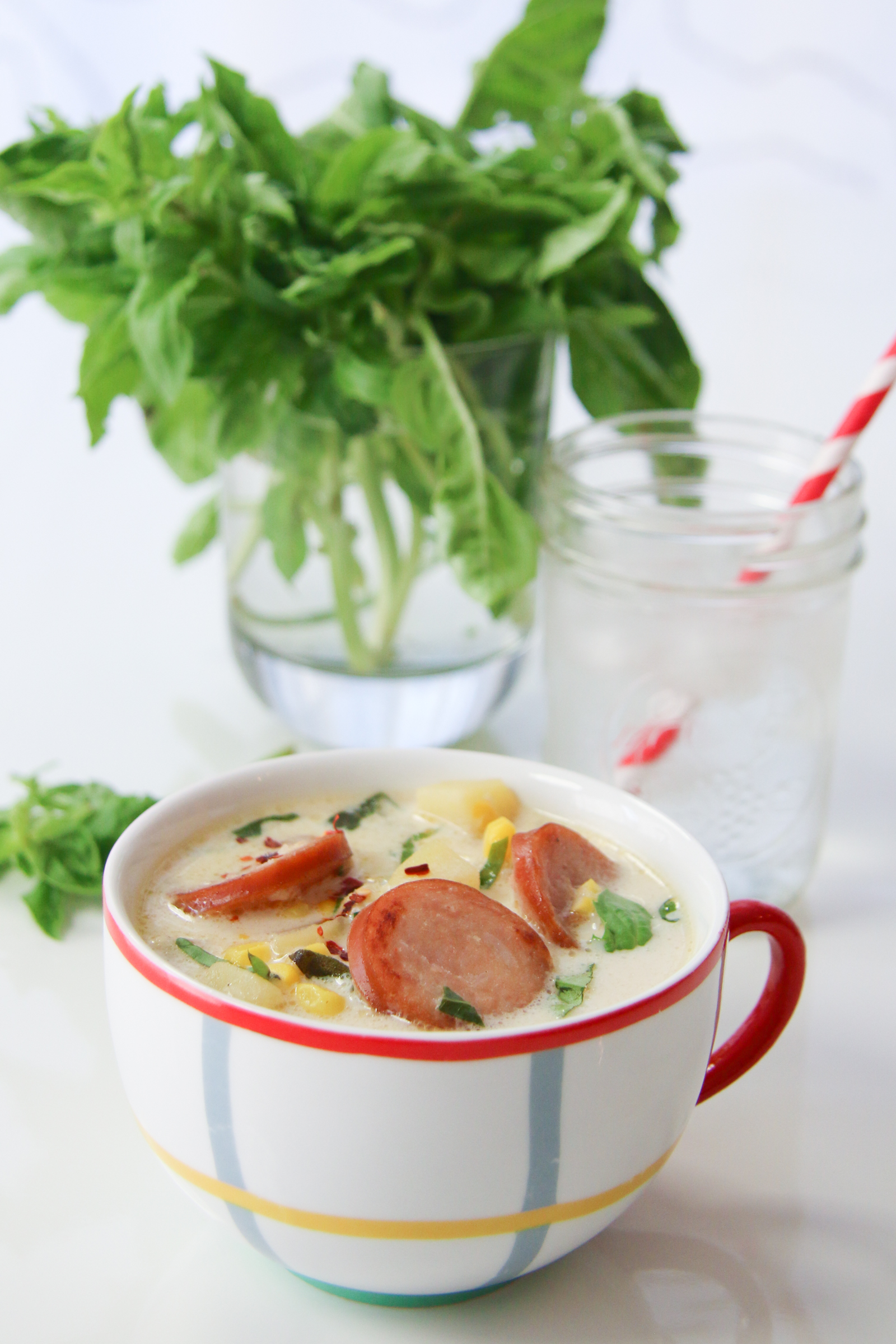 Corn Chowder with Sausage
Using sweet summer corn on the cob at it's peak is what makes this simple chowder so special. Adding sausage and fresh basil just takes things to another level.
Ingredients
12 oz kielbasa, sliced
2 tablespoons unsalted butter
1 medium onion, finely diced
3 cloves garlic, finely minced
4 ears of corn, kernels shaved, and cobs reserved
4 medium Yukon gold or any yellow potatoes, peeled and diced
4 cups whole milk
2 cups chicken stock
½ teaspoon crushed red pepper flakes
Salt and pepper to taste
Fresh basil, cut into ribbons
Instructions
In a large wide soup pot, saute kielbasa until lightly browned. Remove to a plate. Add butter to the pot, along with the onion and garlic. Season lightly with salt and saute for a couple minutes, until translucent and fragrant. Add the corn and potatoes. Season well with salt and pepper. Saute for a couple minutes in the butter.
Add milk, chicken broth, red pepper flakes, and corn cobs. Season again with salt. Cover and bring to a boil, but watch it so it doesn't bubble over. Once it comes to a boil, reduce to a high simmer for 10 minutes, or until the potatoes are cooked, stirring occasionally. Remove the cobs and discard. Use a wooden spoon to lightly smash some of the potatoes against the pot to thicken the broth more. You can also scoop out a couple ladles of chowder into a blender, puree it, and pour it back into the pot if you want it even thicker.
Add back the sausage and cook for a minute more. Taste for seasoning and adjust with salt and pepper if needed. Finish the soup last minute with the fresh basil, and top each bowl with more fresh basil at the end. Serve immediately. Keep any leftovers in an airtight container in the fridge for up to 3 days.