Kale Salad with Garlic Croutons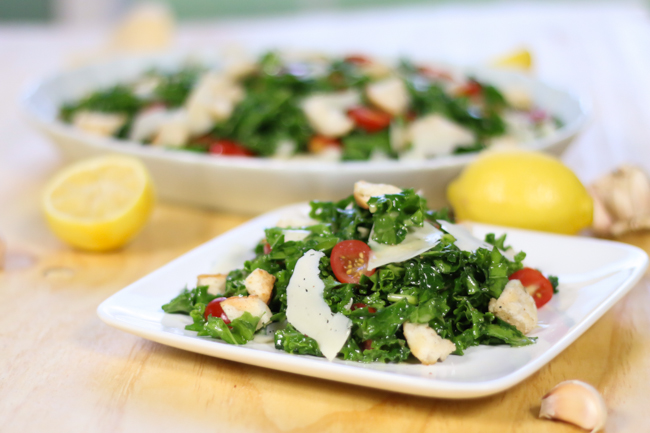 Don't you feel like eating a salad right about now?  I know I sure do.  I've been eating Thanksgiving leftovers all week and I'm filled to the brim with butter.  Time to detox!  But for those of you who fear healthy food, don't worry, there are yummy garlic croutons involved.  Crunchy, olive oil-drunk, garlic kissed homemade croutons.
Everyone's doing the kale thing, and I've always been in love with it, so I thought it was the perfect time to post a kale salad recipe.  That, and the fact that I somehow ended up with 4 blooming bunches in the fridge.  The best part of this salad is that the leaves are so hearty that they can take a beating and still come out looking fresh and cheerful.  
But because the leaves are so strong, and slightly bitter, they do need a little massage with a drizzle of olive oil and salt first, in order to break down the tough fibers.  Then, they are left to sit in a citrusy bright vinaigrette.  When you eat kale raw this way, the once tough and bitter greens turn soft, silky, and delicate.
It's a great "make-ahead" salad especially during busy holiday entertaining times when you're looking for a healthy and tasty side that can be made early on in the day.  That works perfect for me, because the thing I try to avoid when I have guests over is being a crazy hostess.  You can see how I make this low-stress scrumptious salad in EPISODE 5 of Bits & Pieces:
This lemony, honey touched salad is super tasty and pretty healthy, so it's a definite win-win.  And as always, feel free to jazz up this simple salad with anything your little heart desires, from dried fruit, to nuts, to chicken, shrimp, or steak!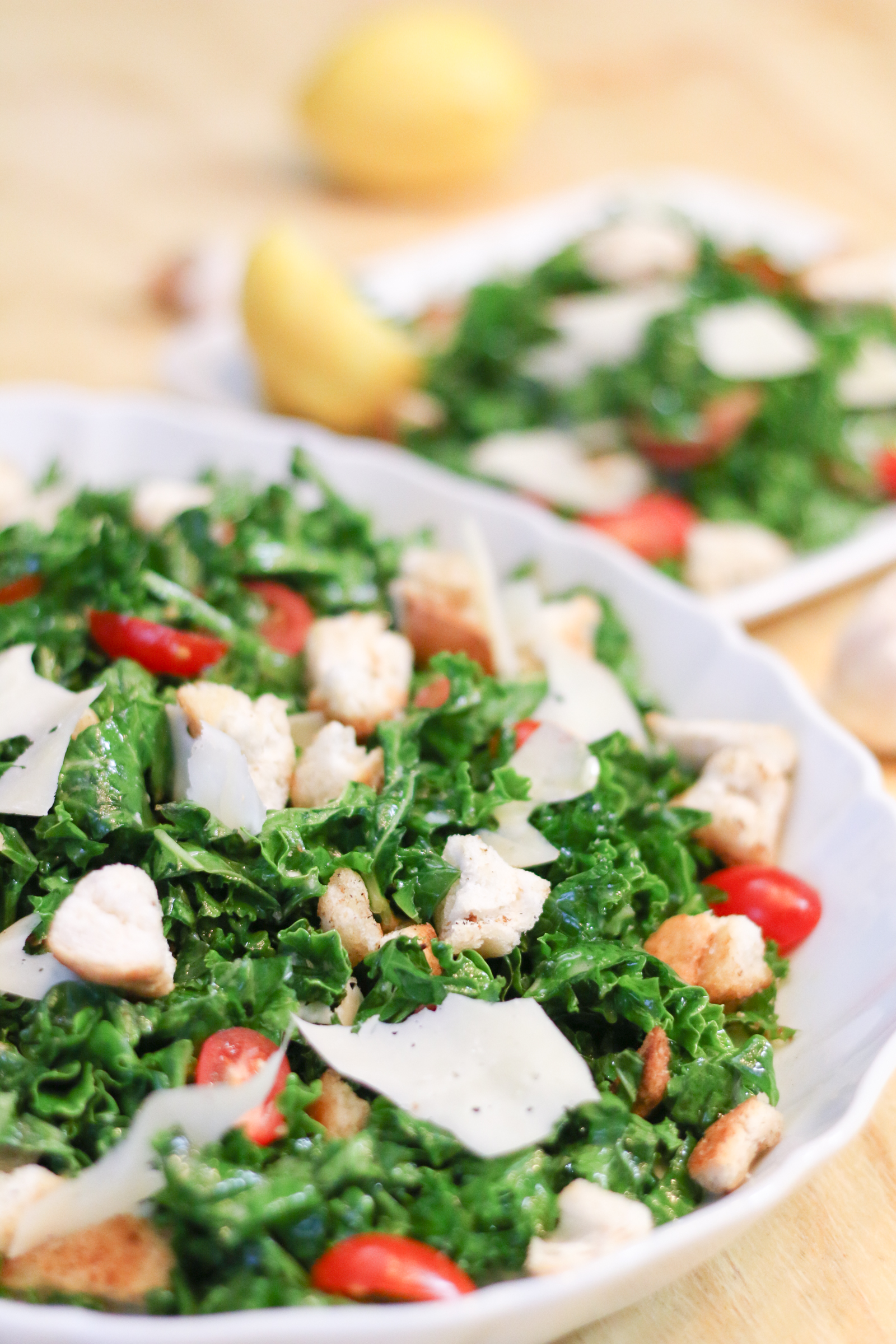 It's basically a blank canvas, so feel free to bust out your creativity or use what you have on-hand.  But I really enjoy the simplicity of eating it with just juicy sweet grape tomatoes, and shavings of Parmesan Cheese.  Speaking of which, it's best to think of the Parmesan Cheese as another component of the salad, rather than some kind of decoration.  The salty pungent cheese adds another layer and dimension of flavor.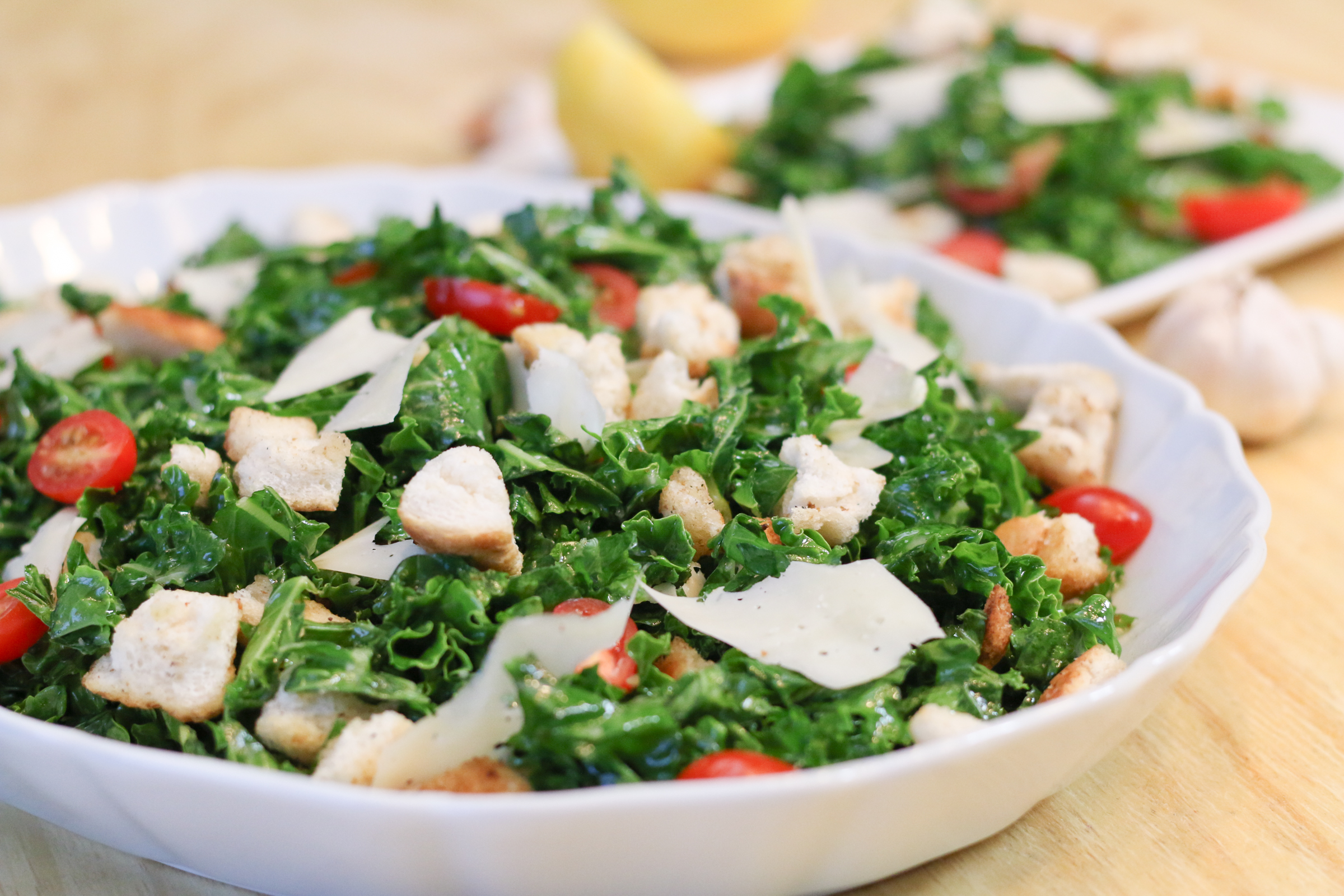 I've made this salad for Thanksgiving and it was a hit.  I made it early on in the day and let it chill on the table until dinner time.  Just remember,  if you're going to do the same thing, leave the croutons off and scatter them on at the last minute, to avoid them getting soggy or stale.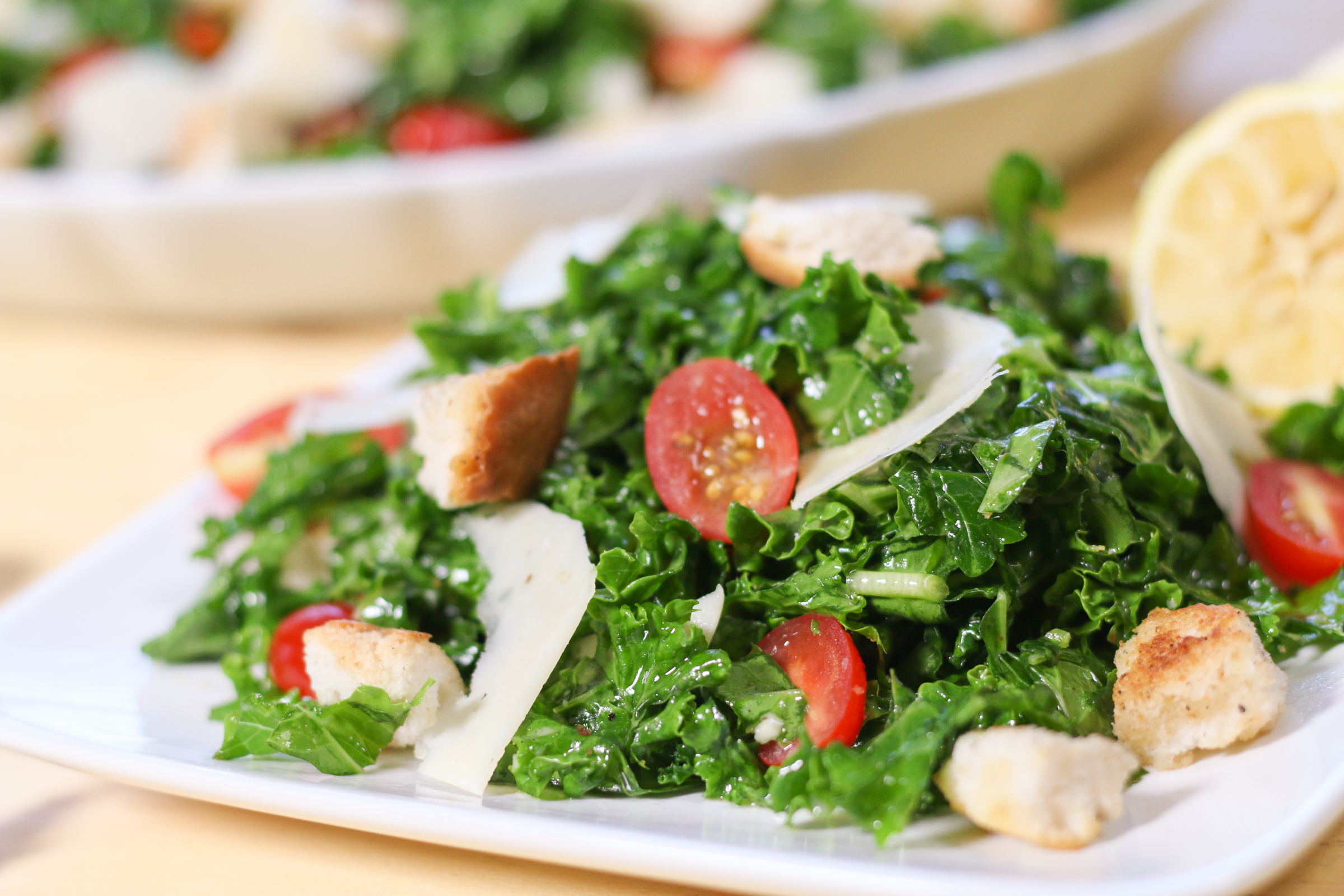 And speaking of the croutons, try your best not to eat them all in one sitting when they come straight out of the hot pan.  It might be a good idea to make some extra, otherwise you'll end up with nothing to put on your salad.  Remember, you've been warned.

Kale Salad with Garlic Croutons
When you take the time to massage your kale salad first, the leaves become soft and silky. It's a bright healthy salad with crunchy garlic croutons. Win-win.
Ingredients
For the Kale Salad and Dressing:
1 bunch of kale, tough stems removed, cut into ribbons
1 cup halved Grape Tomatoes
Shavings of Parmesan cheese
1 clove of garlic, minced
Zest and juice of 1 lemon
1 tablespoon Dijon mustard
1 tablespoon honey
¼ cup olive oil
Salt and Pepper to taste

Drizzle of olive oil for "massaging" kale
For the Garlic Croutons:
Olive oil for the pan
2 cloves of garlic, smashed
3 slices (½-inch thick), day-old Italian bread, cut into ½-inch cubes
Salt and pepper to taste
Instructions
Place kale in a large bowl. Drizzle with a small amount of olive oil and a sprinkle of salt. Use your hands to lightly "massage" the kale, helping to soften it. To a small bowl, add minced garlic, lemon zest, lemon juice, Dijon mustard, and honey. Stream in olive oil slowly while whisking until combined. Season with salt and pepper to taste. Drizzle kale with two-thirds of the dressing and toss well. Let the kale sit for at least 5 minutes to soften.
To make the garlic croutons, coat a large saute pan with olive oil. Smash 2 cloves of garlic and add it to the cold oil. Bring the pan to medium heat. Cook the garlic, tossing well, until it becomes golden, and very fragrant, about 2 minutes. Remove the garlic and discard. Toss in the bread cubes and cook, stirring frequently, until they are golden, crisp, and have absorbed all the oil. Sprinkle lightly with salt and pepper. Remove from the heat and reserve.
Taste the salad and add the remaining dressing if needed. Top with the tomatoes and croutons. With a vegetable peeler, make Parmesan shavings and place on top. If making salad ahead of time, do not garnish with croutons until right before serving or they will get soggy.