Chopped Kielbasa Stir-Fry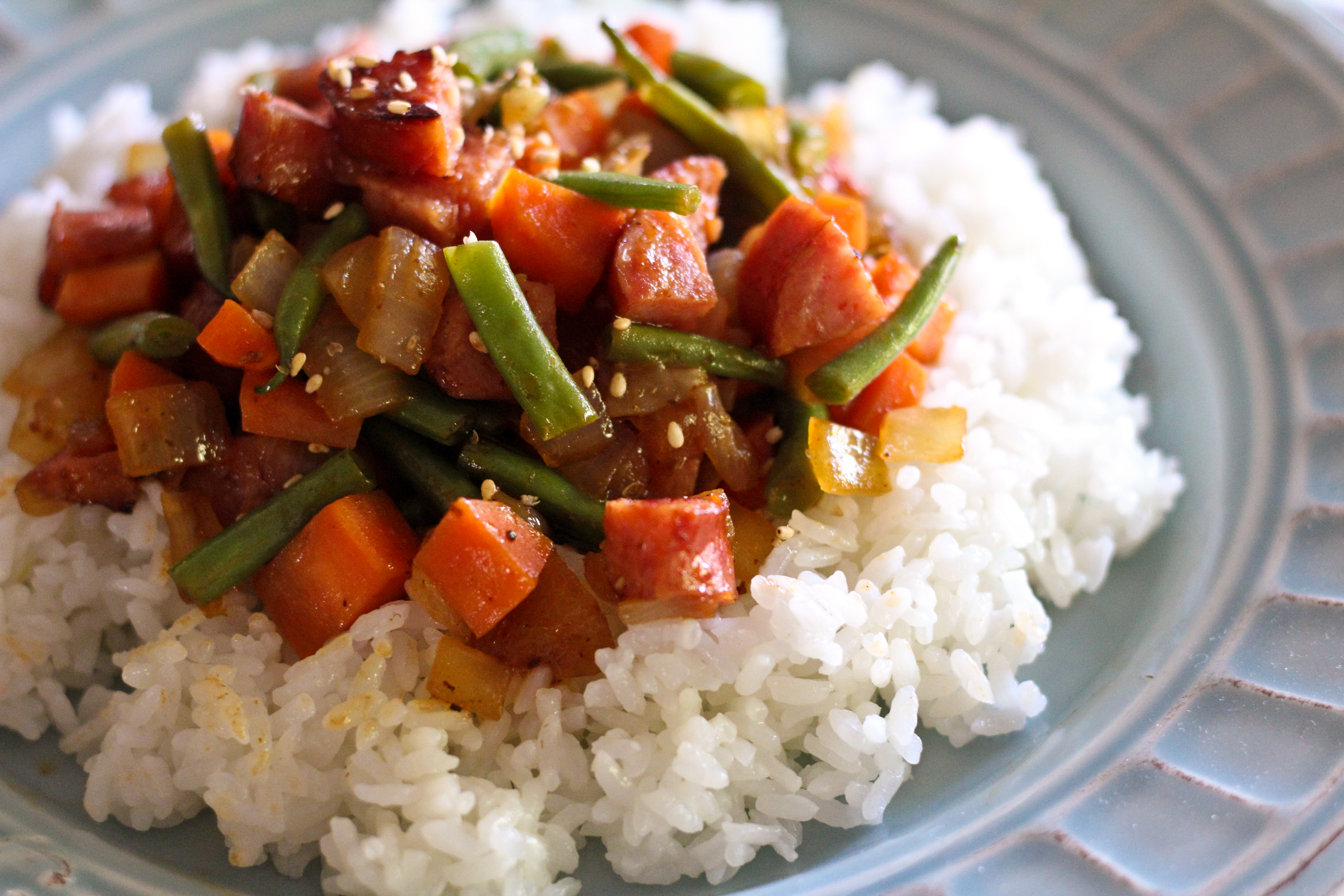 I like keeping kielbasa in my freezer to have it on-hand for the days where I don't feel like thinking about what to cook…and this happens a lot.  I tend to buy it and freeze it, because it's like my emergency ingredient that's ready for me at any time I need it.  Once frozen, it thaws out pretty quickly too.  I just leave it on the counter for a few minutes and it becomes soft enough to chop through in a jiffy.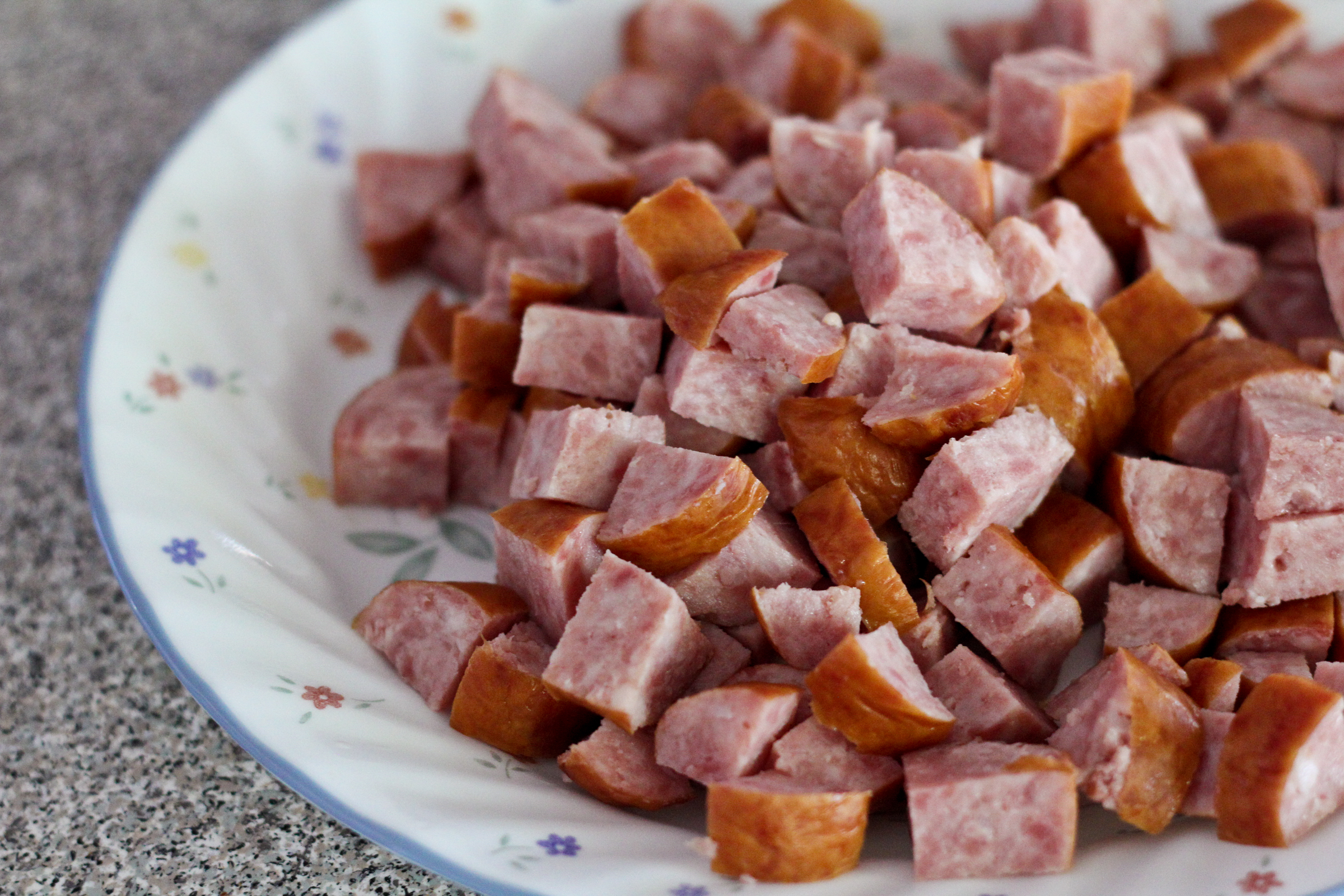 When you saute kielbasa, the fat from it renders out and automatically becomes a seasoned oil that flavors anything else you cook with it, hence the secret to my kielbasa and potatoes skillet recipe.
Well this time, we're eating kielbasa chopped up and over rice.
It starts out with some chopped onion and carrots.  The sweetness from the onions and carrots balance out the saltiness of the kielbasa.  Then I always like to add something green so I can feel a little healthier about my life.  I used string beans this time, but you can just always use frozen peas, shelled edamame, broccoli, or anything else that won't get too "watery" when you cook it.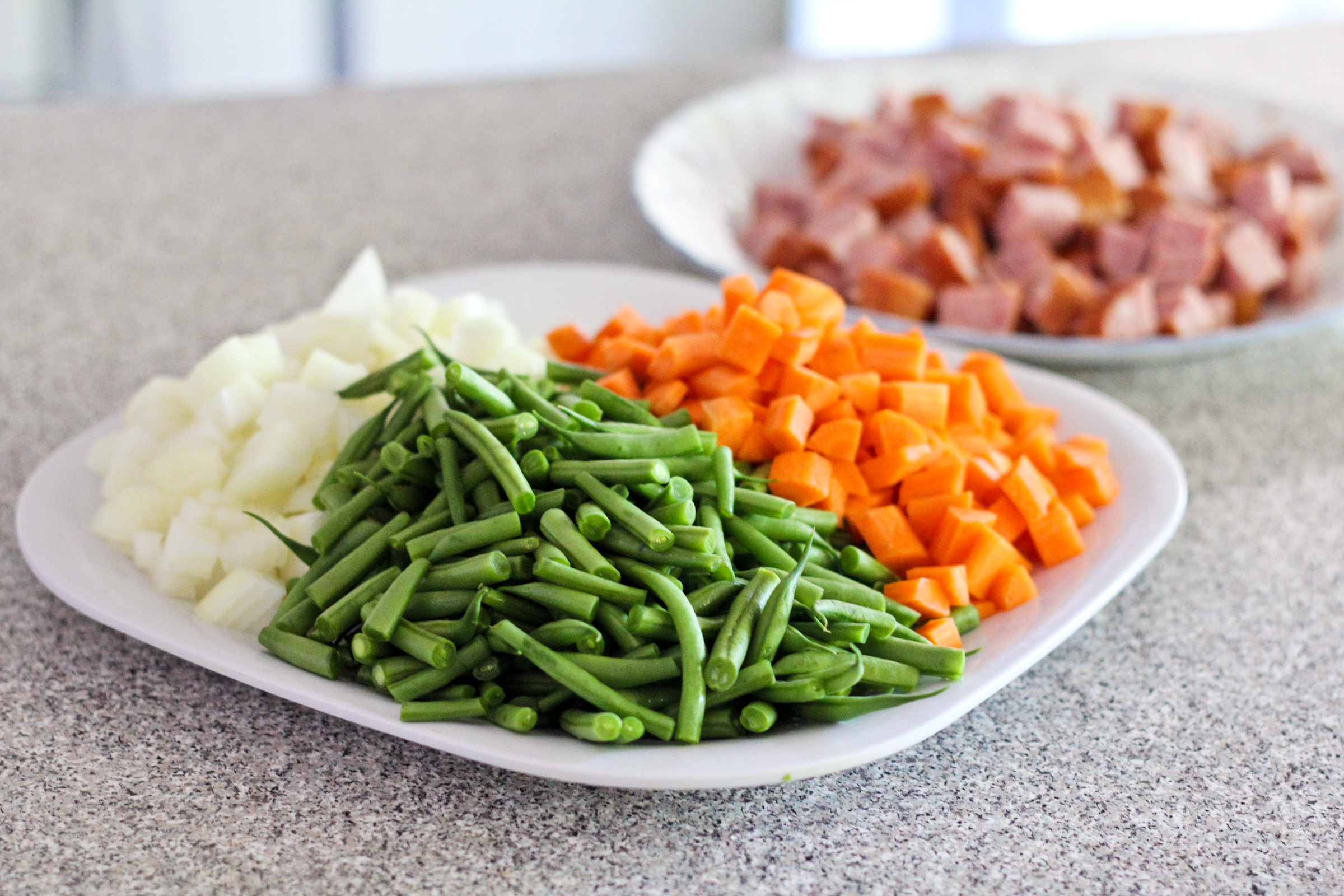 Next, you throw your chopped kielbasa in a large dry pan and cook it over medium heat.  You don't want the heat too be too blaring high because your sausage might burn before the fat has a chance to render out, and you want that oil, aka flavor.
See? That's what you want.  Use a slotted spoon to remove the cooked kielbasa, but keep the rendered oil in the pan.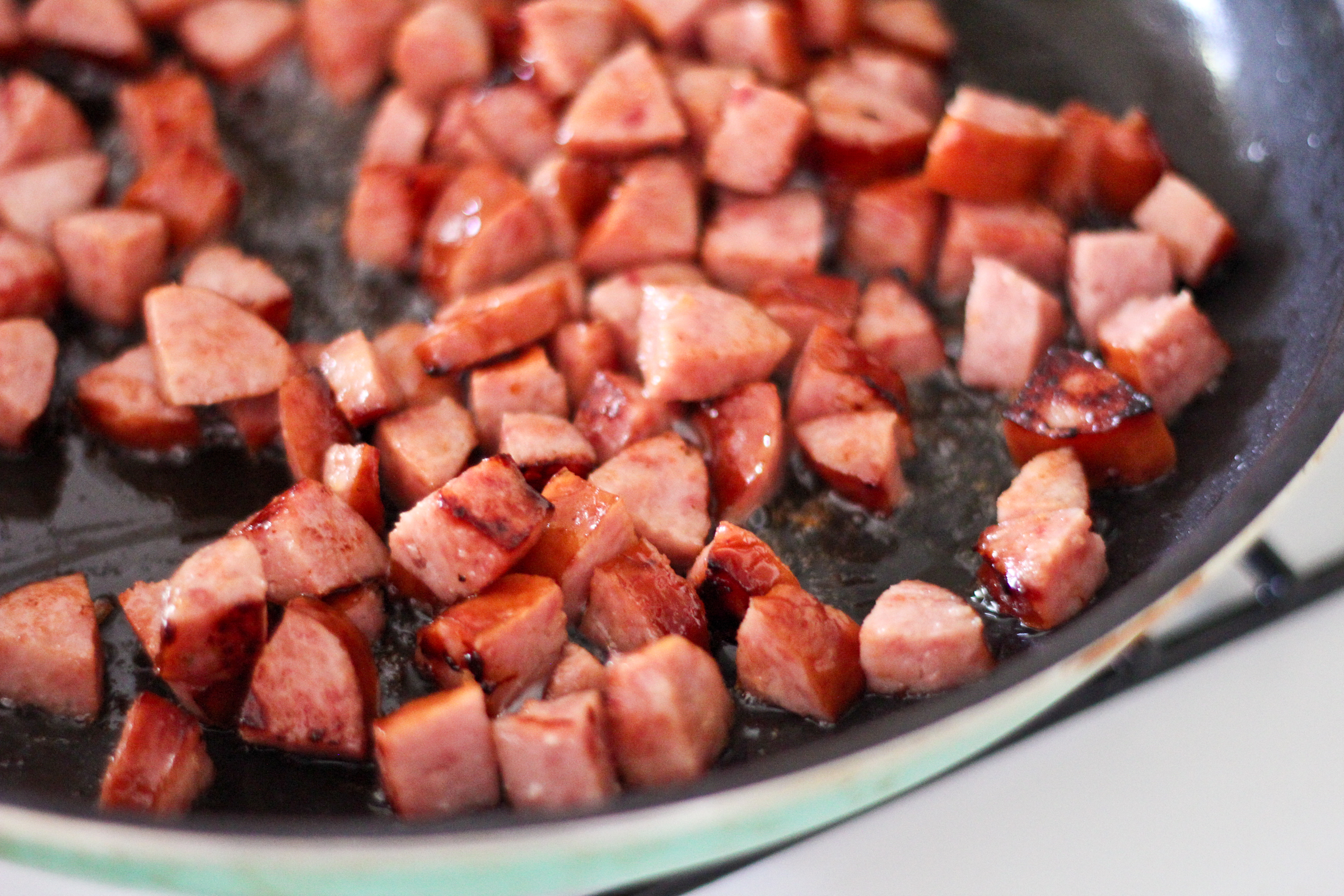 To your kielbasa oil, add your chopped veggies, all at once.  That's why I like to dice everything up approximately the same size, so it cooks evenly.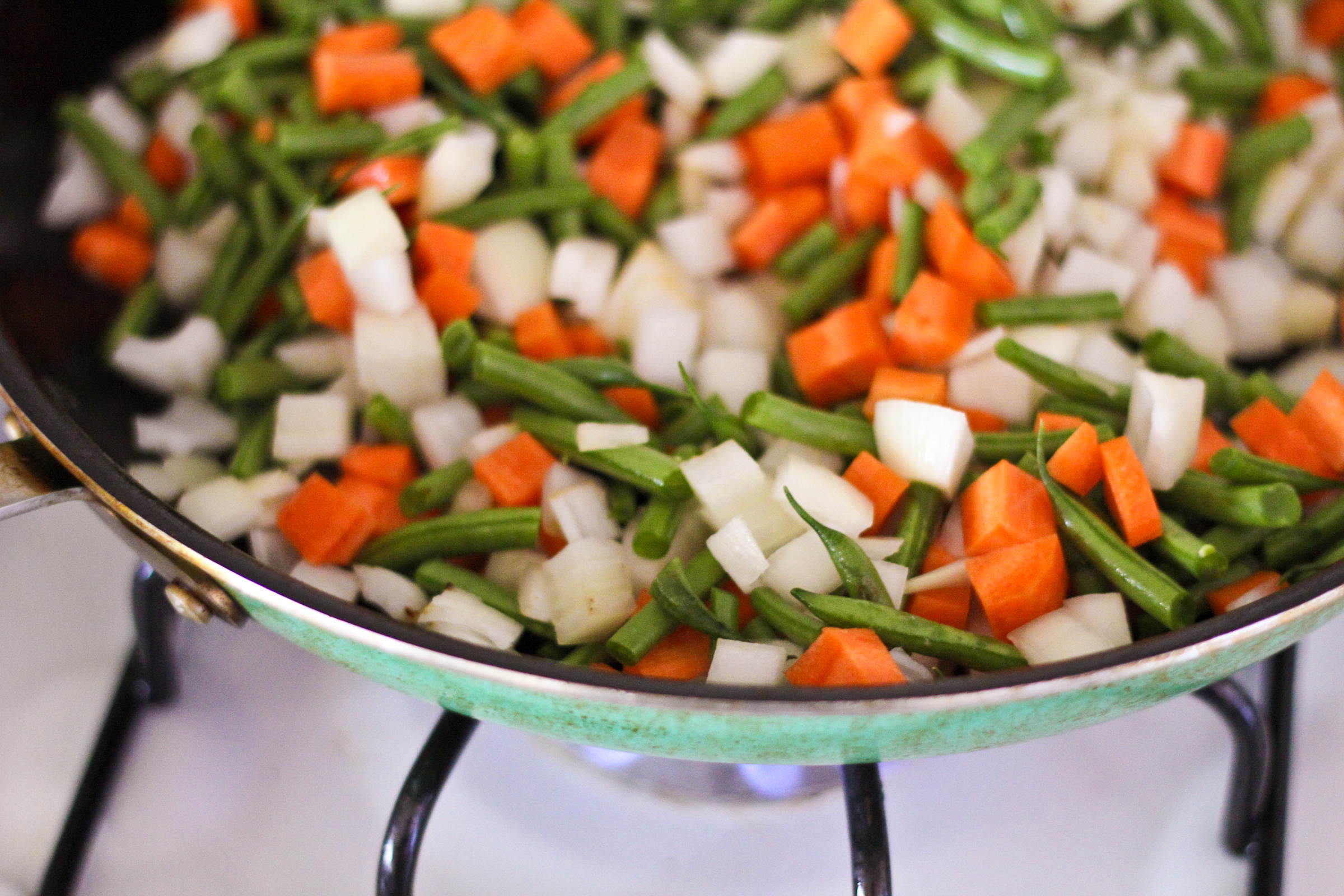 At this point, season with a touch of salt and pepper, but remember that the kielbasa is salty too, so don't go to crazy town with the seasoning.  Cook the veggies until they are crisp tender.  You don't want them to become too soft and mushy.  I think that's the key to stir-fry… texture.  Your veggies should have a little bite.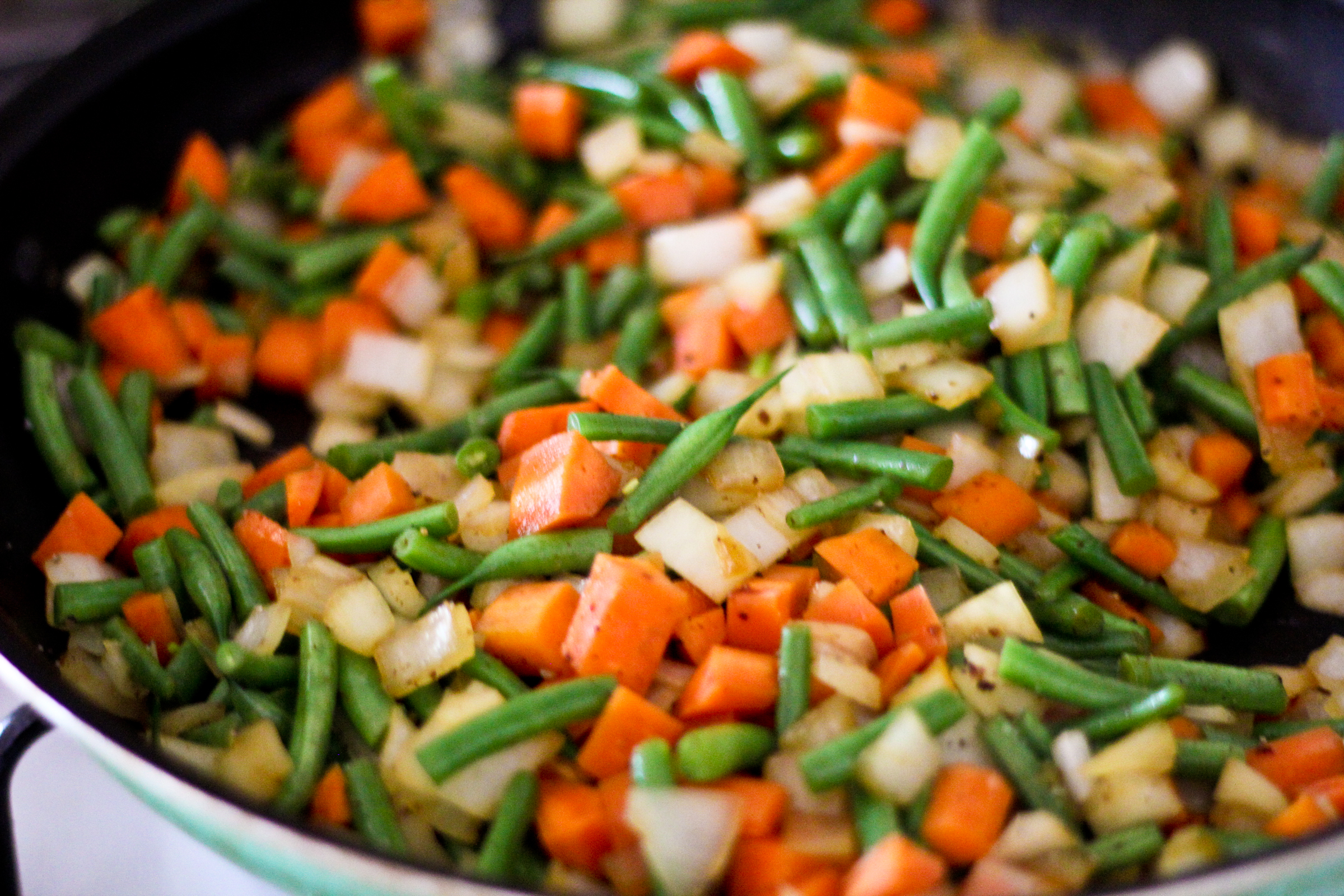 Add back your cooked kielbasa and give a little toss.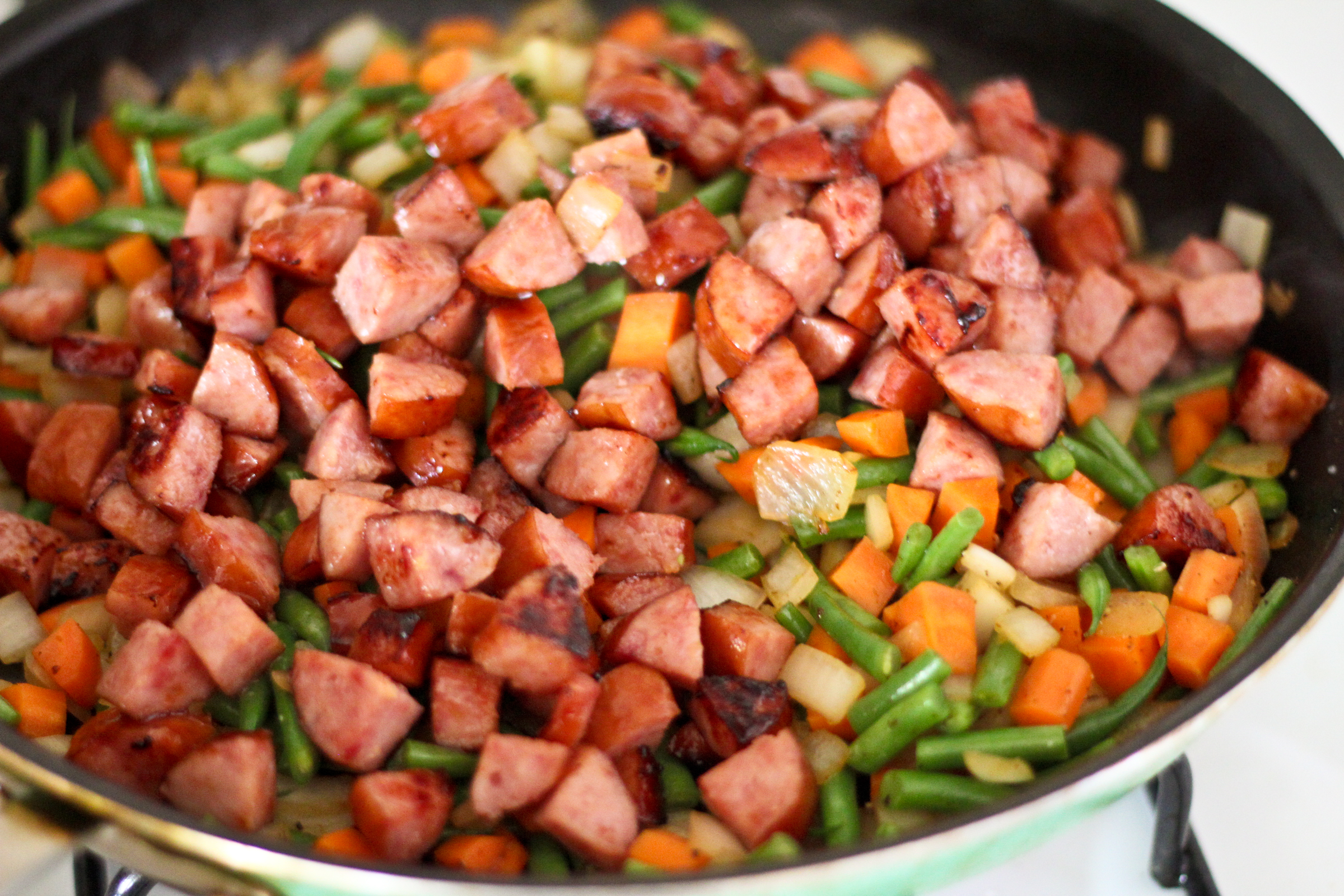 And then here's the secret ingredient: ketchup!  You need about two good squirts, but if you want it more tangy, add more.  Why ketchup works is because it's sweet and tangy at the same time.  The acidity from the vinegar and tomatoes cuts through the fatty richness of the kielbasa and brightens up the flavors.
But if you don't have ketchup, squirt in some lemon or lime juice and add a drizzle of agave, honey, or maple syrup instead.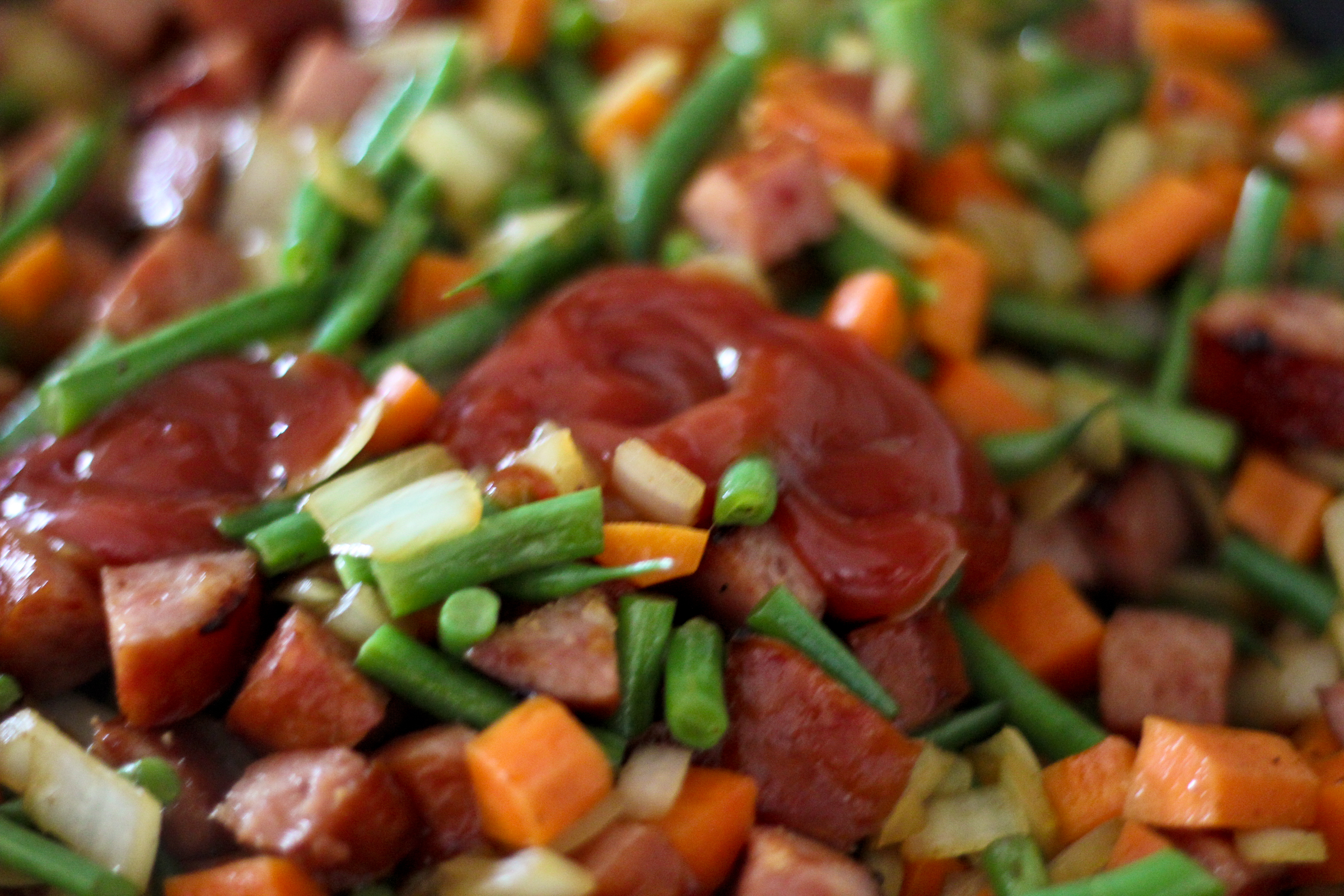 You can also add any kind of hot sauce, like sriracha, if you like.  But if you want to keep it kid-friendly, or more mild tasting, leave it out, and let everyone drizzle hot sauce on their individual plates.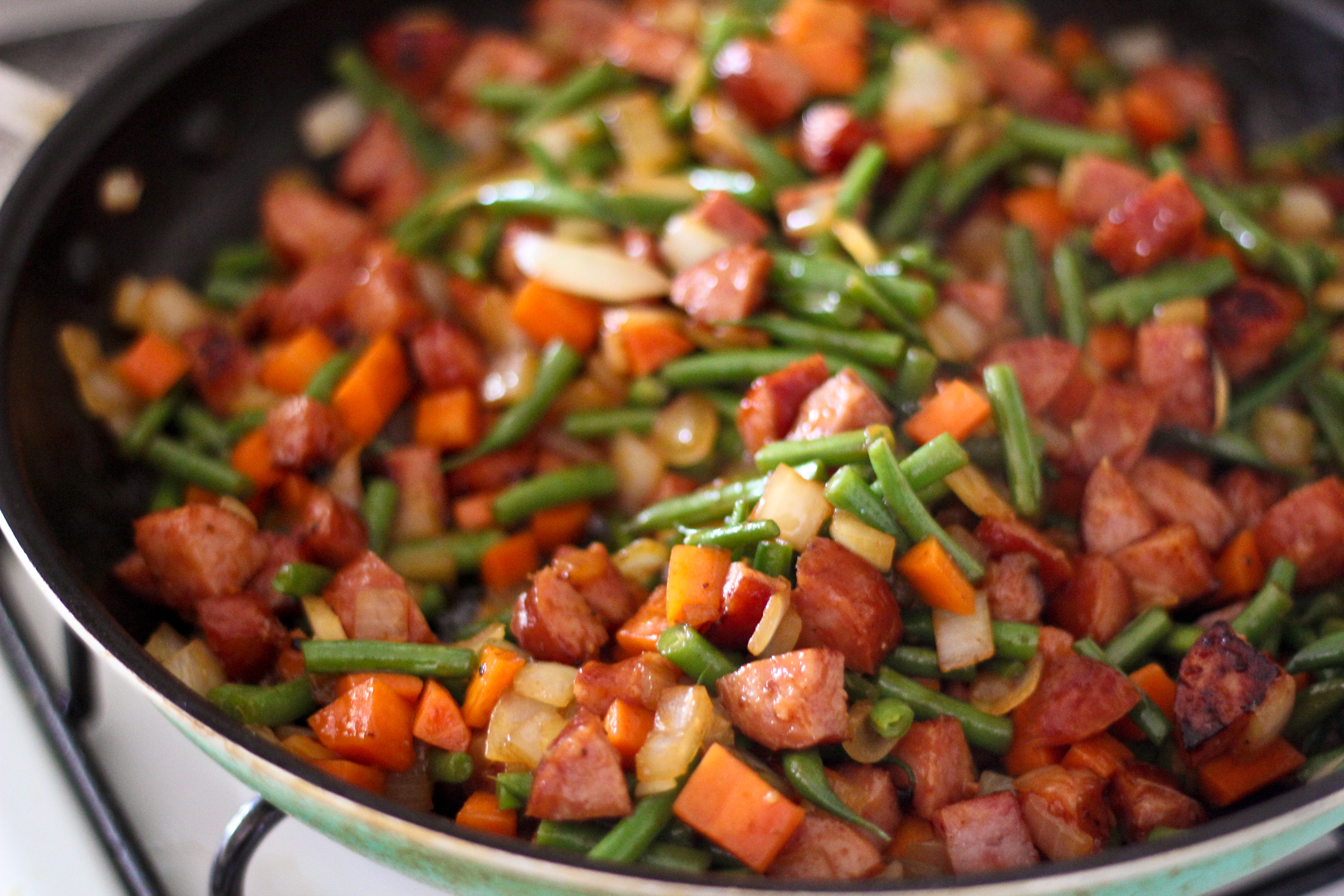 And then all you have to do is serve it over a bed of rice (or quinoa).
And by the way, don't be concerned for me my friend.  I don't really consume this much white rice in one serving.  This photo was staged for food styling purposes.  Now you know my secrets.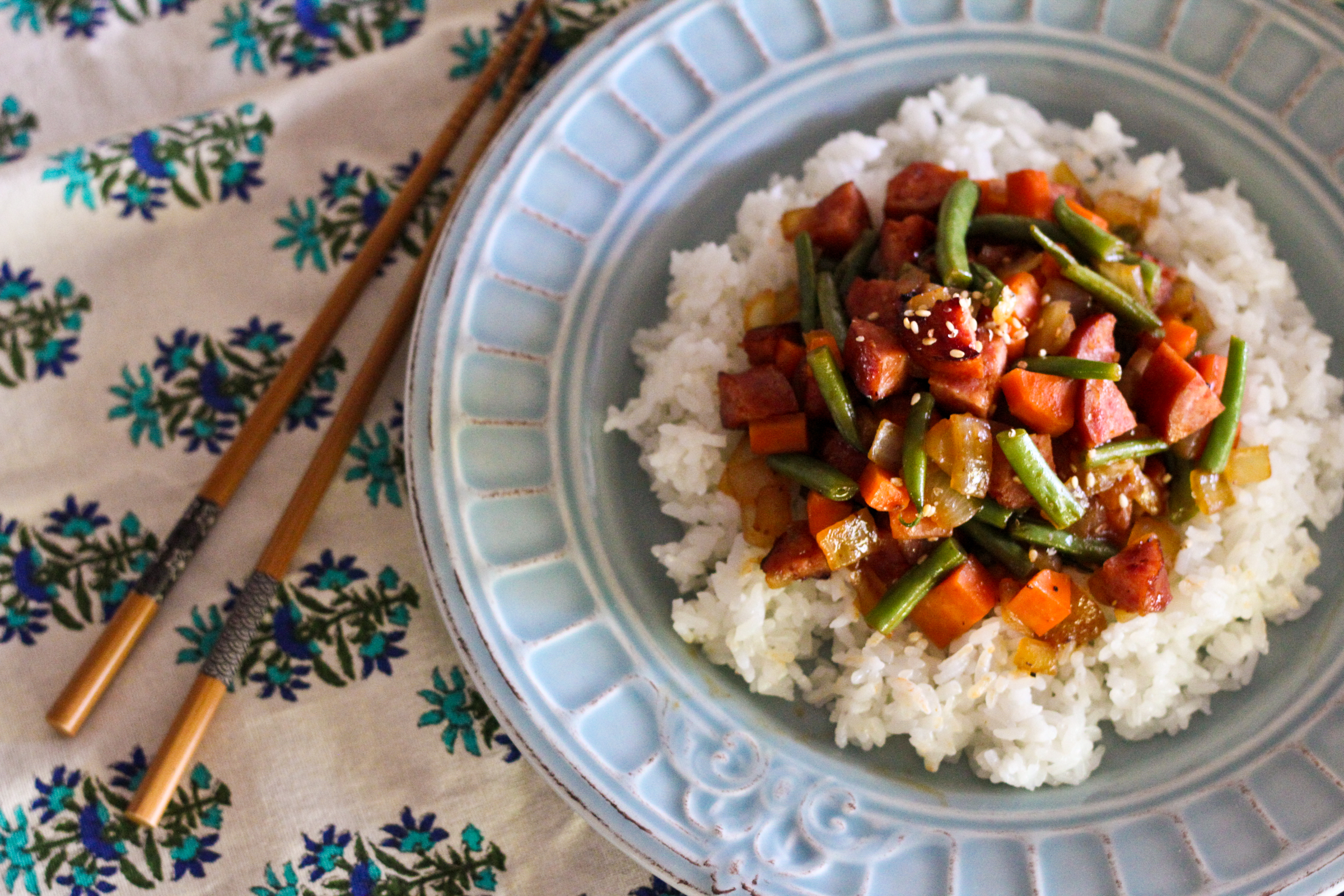 And there you have it, a no stress savory and tangy stir-fry in a flash.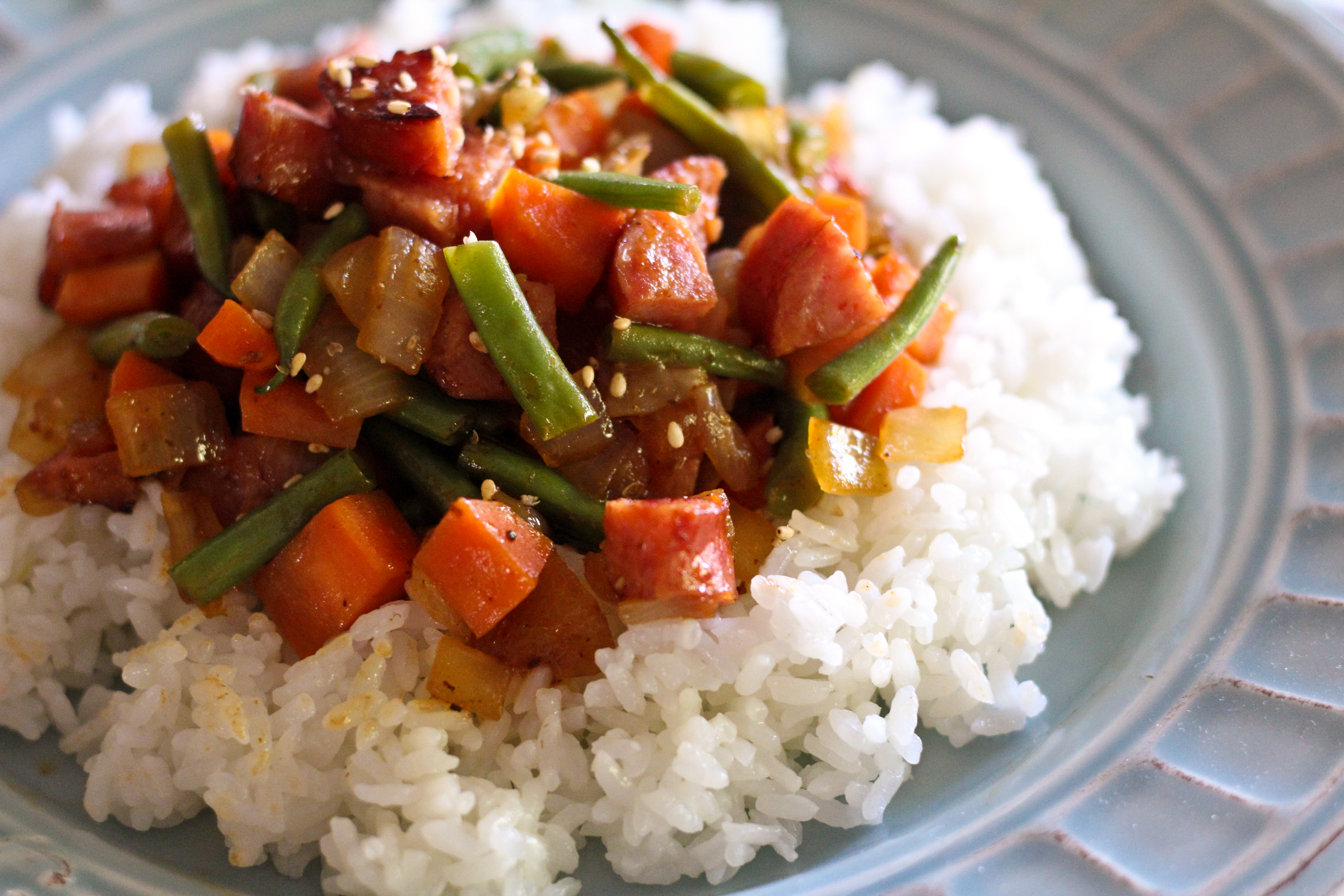 Oh yeah, and contrary to what my pictures might be depicting, you probably wont want to use chopsticks to eat this.  It will be too annoying.
Well…actually, I chose to eat this with chopsticks, because I enjoy picking up each teeny tiny piece one at time like some kind of weirdo. But the hubs was having none of that nonsense, so he busted out a fork, which is probably a better idea.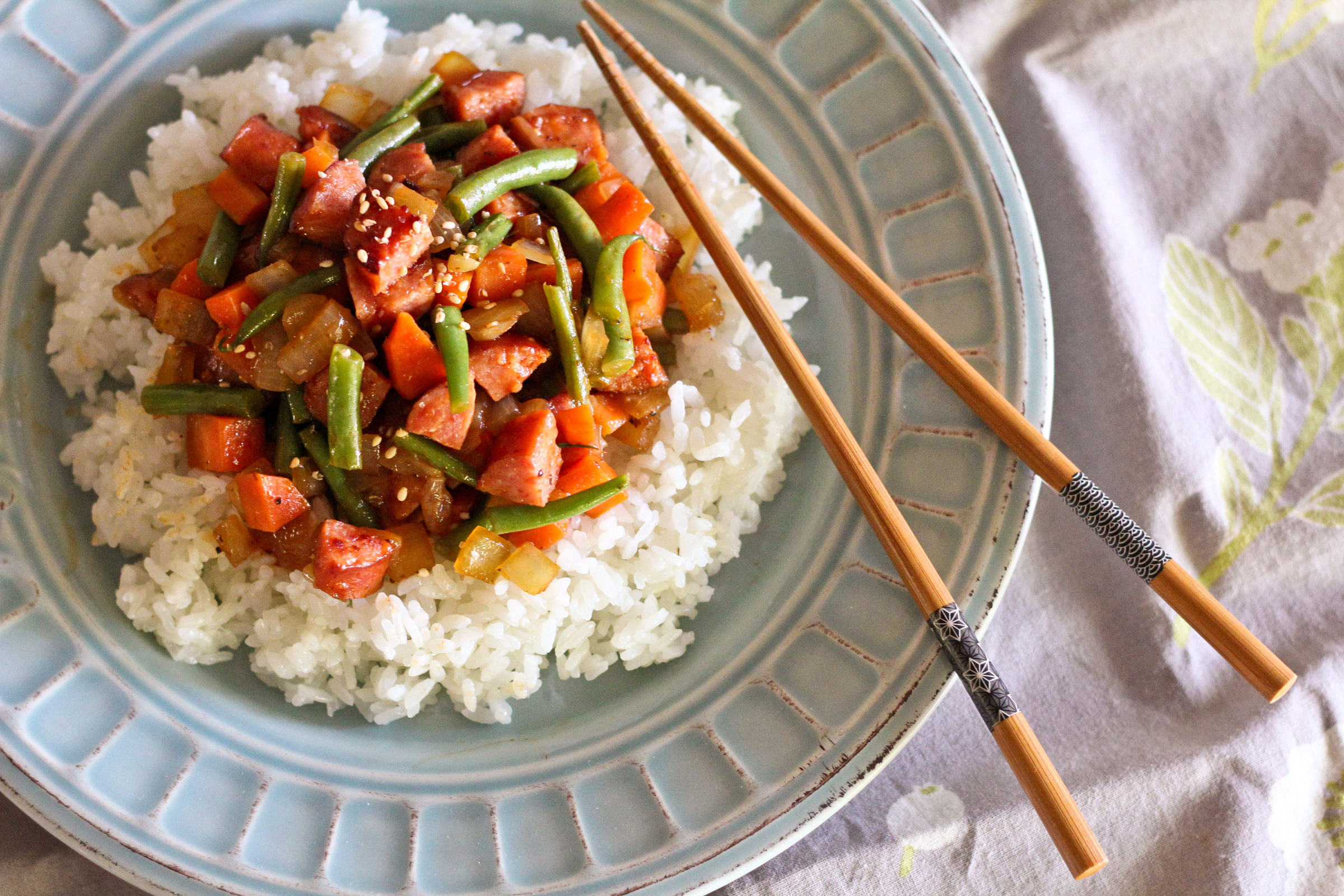 But however you decide to indulge, your mouth will be happy, so next time you go shopping, grab some kielbasa, store it in your freezer for a lazy day, and keep this recipe in mind.

Chopped Kielbasa Stir-Fry
Forget the bun. You can use kielbasa sausage and ketchup in this savory and tangy stir-fry.
Ingredients
1 lb kielbasa
1 diced onion
2 medium sized peeled and diced carrots
2 cups trimmed string beans, cut into 1" pieces
2 squirts of ketchup
Instructions
In a large dry pan, add the kielbasa and cook over medium heat until the fat gets rendered out and the kielbasa is cooked and slightly browned. Remove kielbasa with a slotted spoon to a plate, but reserve the rendered oil in the pan.
To the kielbasa oil, add onions, carrots, and green beans. Cook together until crisp tender. Add a little salt and pepper, but use a light hand.
Add back kielbasa and toss together. Squirt in ketchup. Toss for a minute more. Serve over rice. Drizzle with sriracha or any hot sauce if you want a spicy kick. Serve over a bed of rice or quinoa.