Lemon Chicken Pasta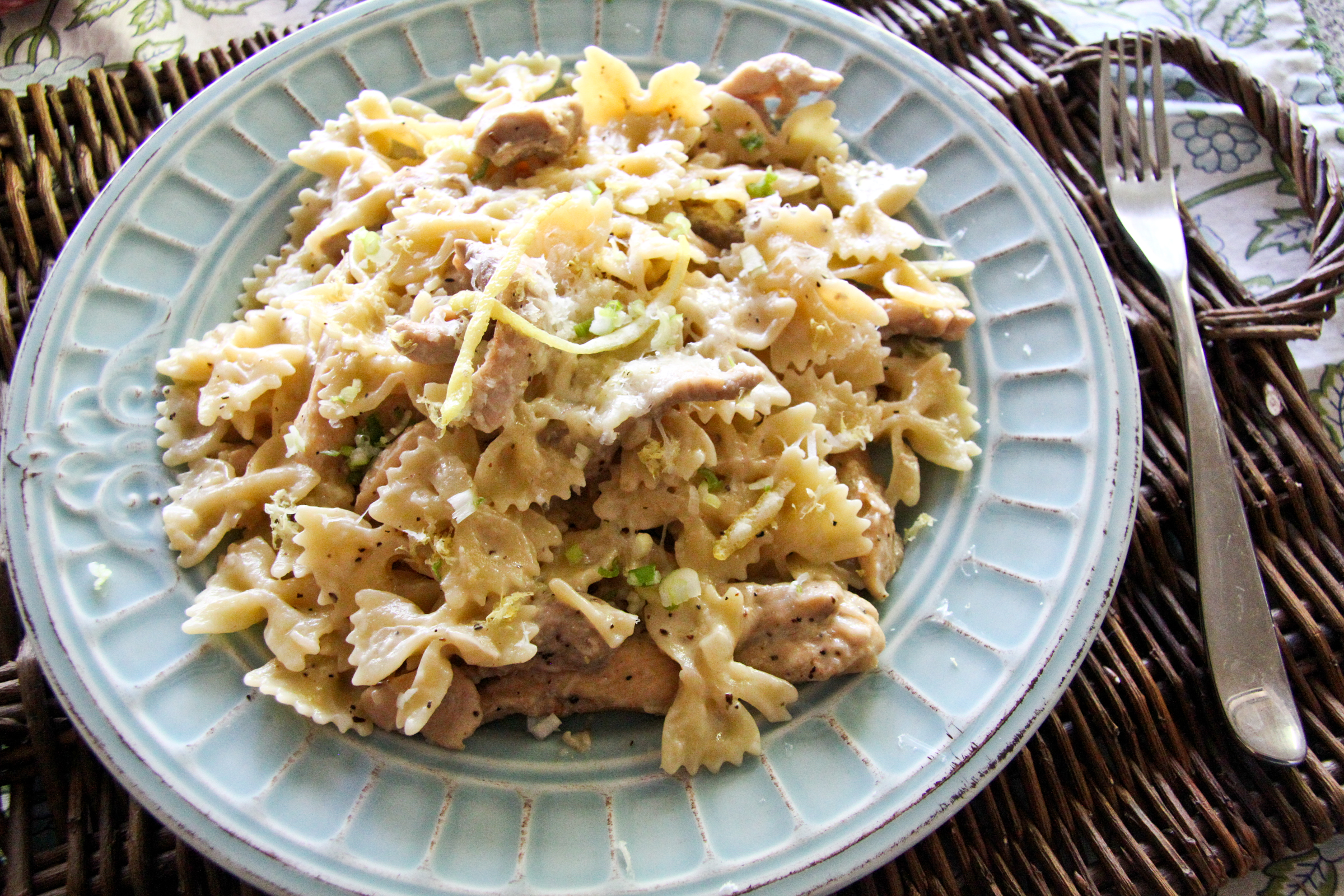 Too bad that I'm already married because if I could marry lemons, I would.  That little squirt of acid brightens up so many dishes and punches you in the face with fresh flavor.  You all know that chicken and lemon taste good together.  So add some pasta, a touch of cream, and grated cheese.  Now you've got something hearty enough to satisfy you through the cold winter, but remind you of the summer.  
By now you probably heard me mention a few times that the zest of a lemon actually has more lemon flavor than the juice itself.  Yeah it's weird, so it's worth taking the time to invest in a fine grater, like a microplane, so you can zest to your little heart's content.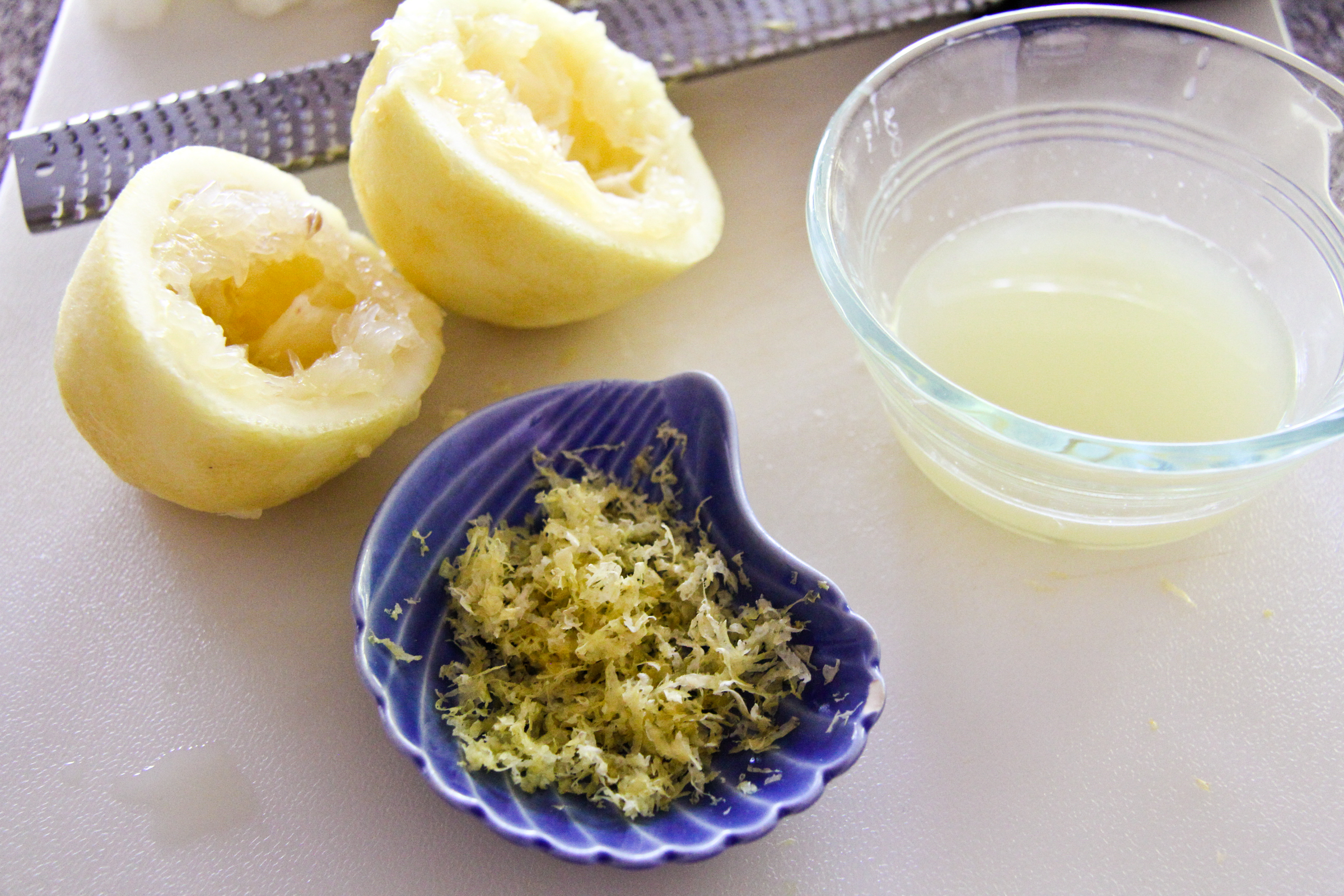 The cool thing about owing a fine grater is that you can use it grate cheese too.  I usually buy blocks of cheese, not pre-shredded.  Not only is it cheaper to shred your own, but I feel like it melts/ tastes better.  My recipe calls for pecorino romano, but if you only have Parmesan, just go with that.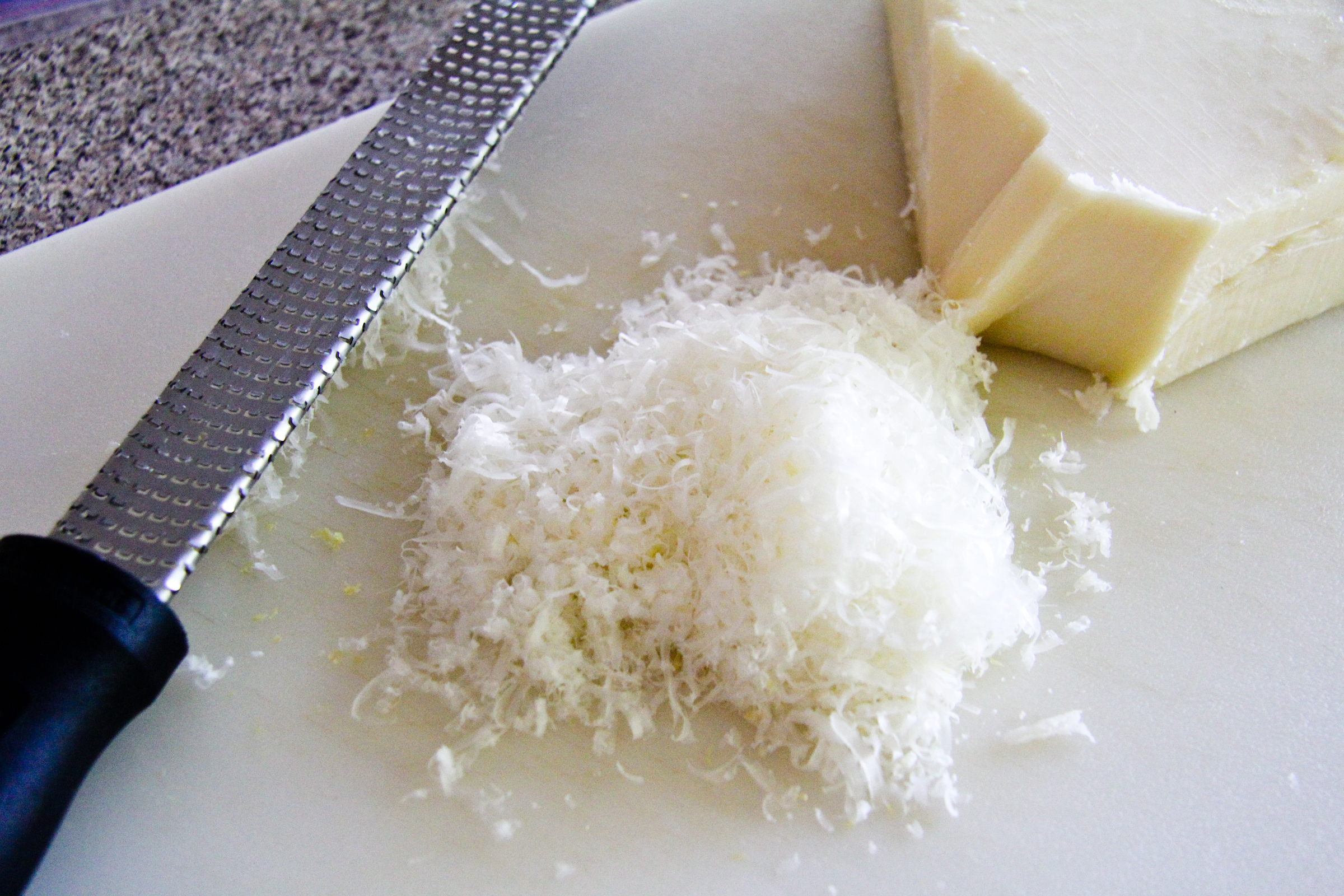 Okay friends. Let's pause for a moment to talk about the chicken.  If you really don't like dark meat, then fine.  Go ahead and use chicken breasts, but I will warn you right now that it won't be as good.  White meat tends to dry out quicker and have less flavor.  That's why you will notice that whenever I use chicken breast for any recipe, I usually marinate it, beat it, dredge it, or season it up big time.  But fine, go ahead and be difficult if you must.  It's all good.
Cut your boneless skinless chicken thighs into strips.  If you like chunks instead, go for it.  I just like the look of the strips.  Then dice up an onion.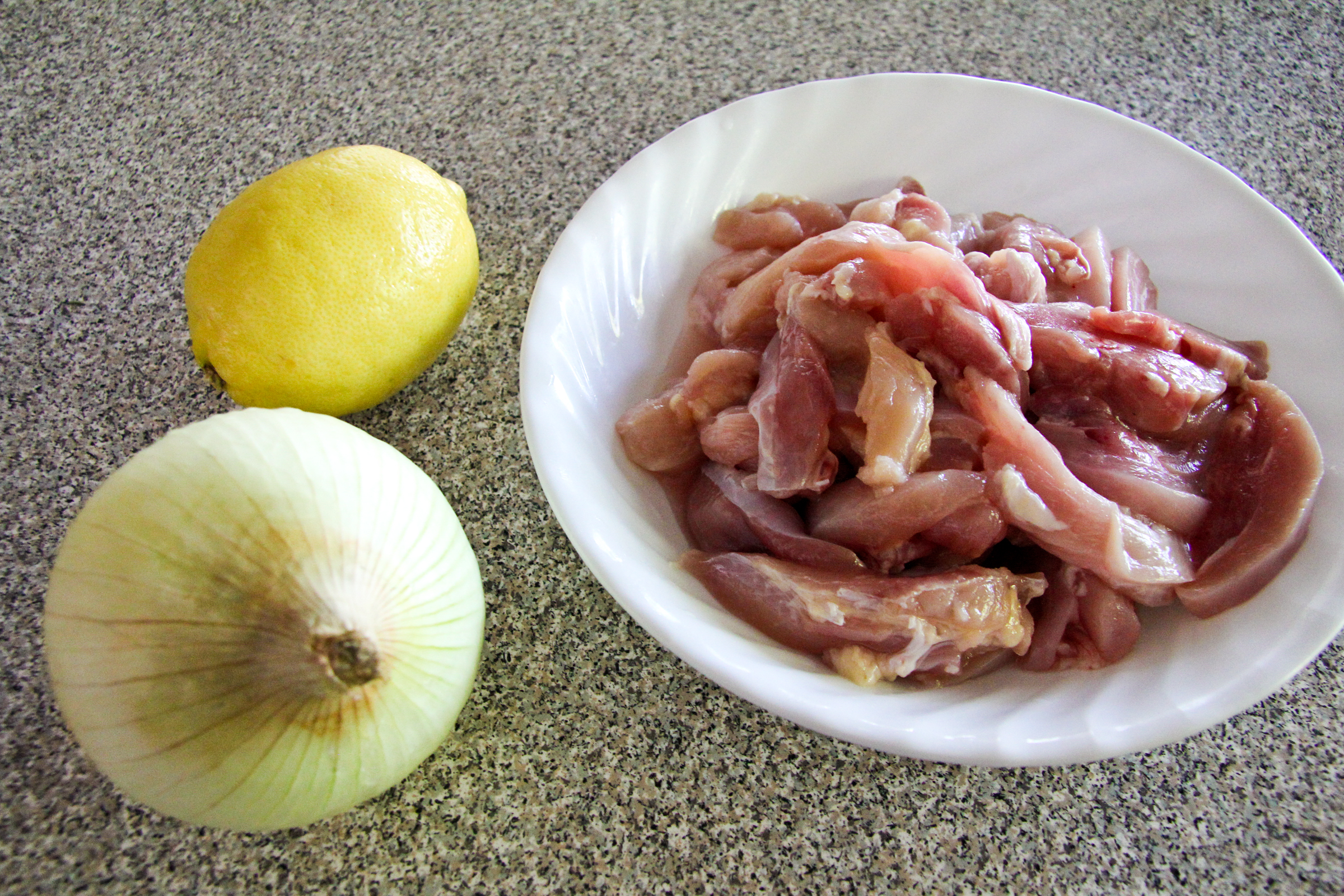 In a LARGE pan, the largest one you own, saute the onions with a touch of salt and pepper and then add your chicken. Don't forget to season that too.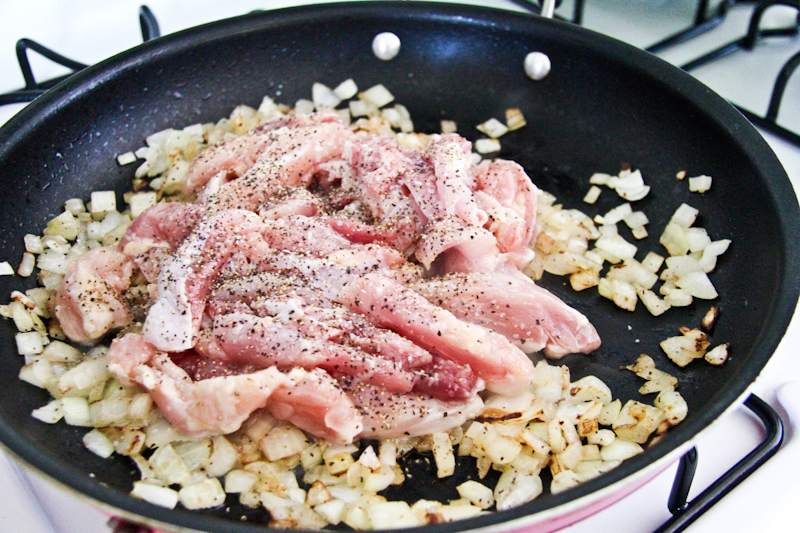 When your chicken is cooked through, add some chicken broth.
Meanwhile, you better be multi-tasking buddy, or you're just wasting time.  You gotta make sure to have a large pot of SALTED boiling water next to your pan and cook your farfalle pasta until it's al dente, cooked, but still slightly firm.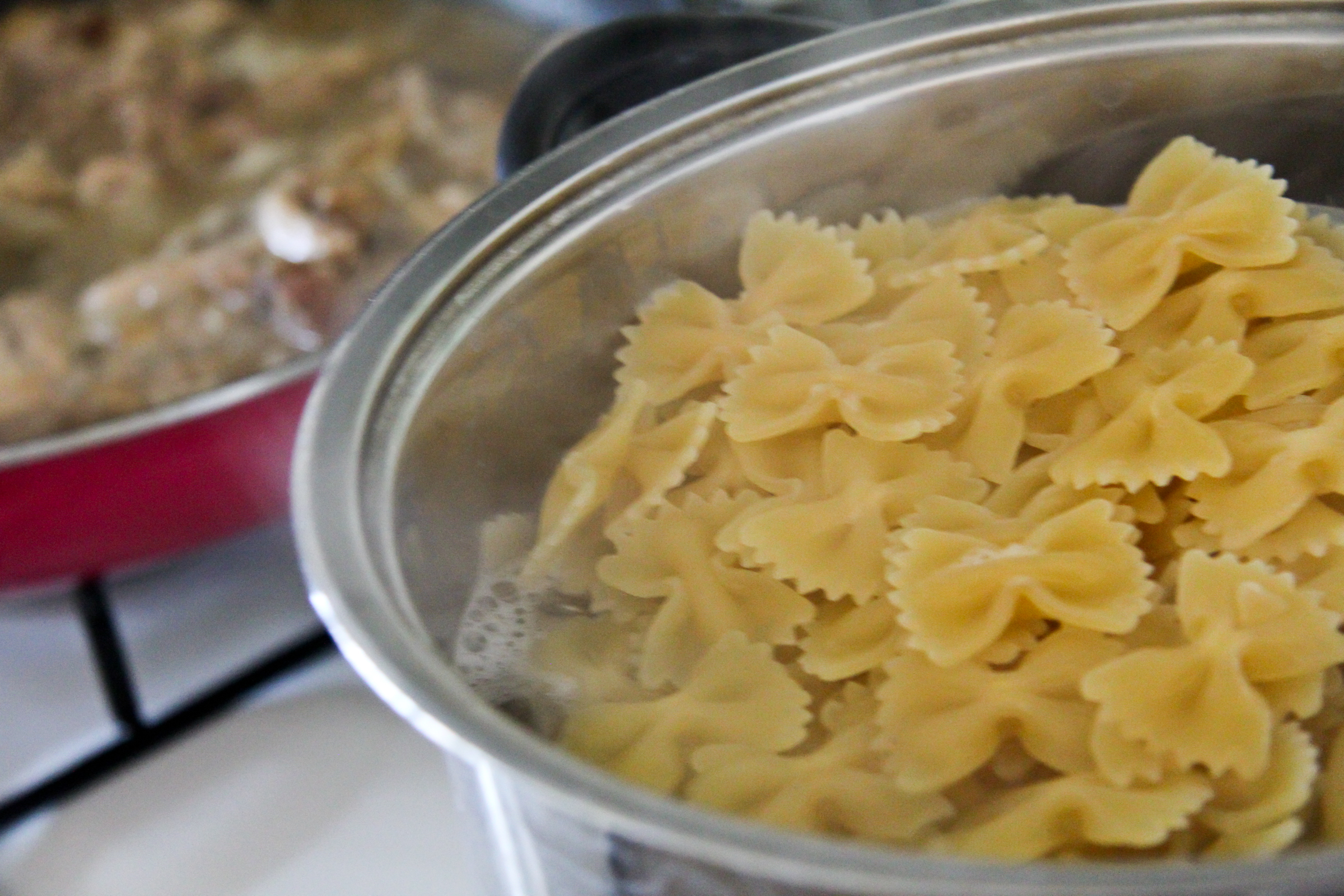 When your pasta is cooked, scoop out ¼ cup of the starchy salted pasta cooking water.
Pour it into the pan with the chicken.  This is your glue.  With this little bit of starchy water, you will have an easier time making the sauce stick to your pasta.  Aha!  Now you know why all those chefs on TV do this.  It's not nonsense.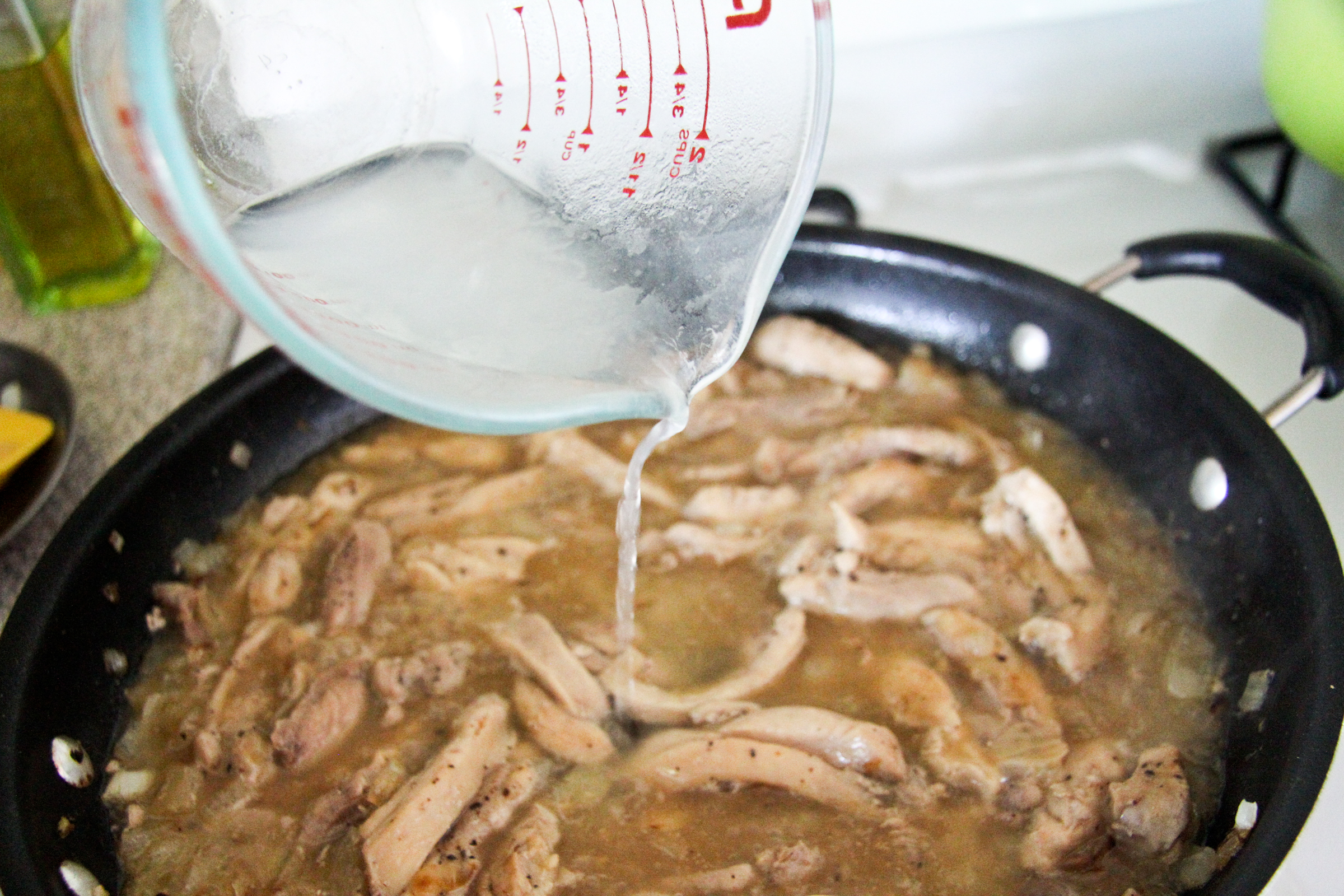 Then, invest in one of these handy tools called a spider.  It helps you scoop things out of pots and into pans without using a colander… one less large object to wash, which I'm all about since I do the dishes around here too… which by the way…isn't that unfair? Thoughts?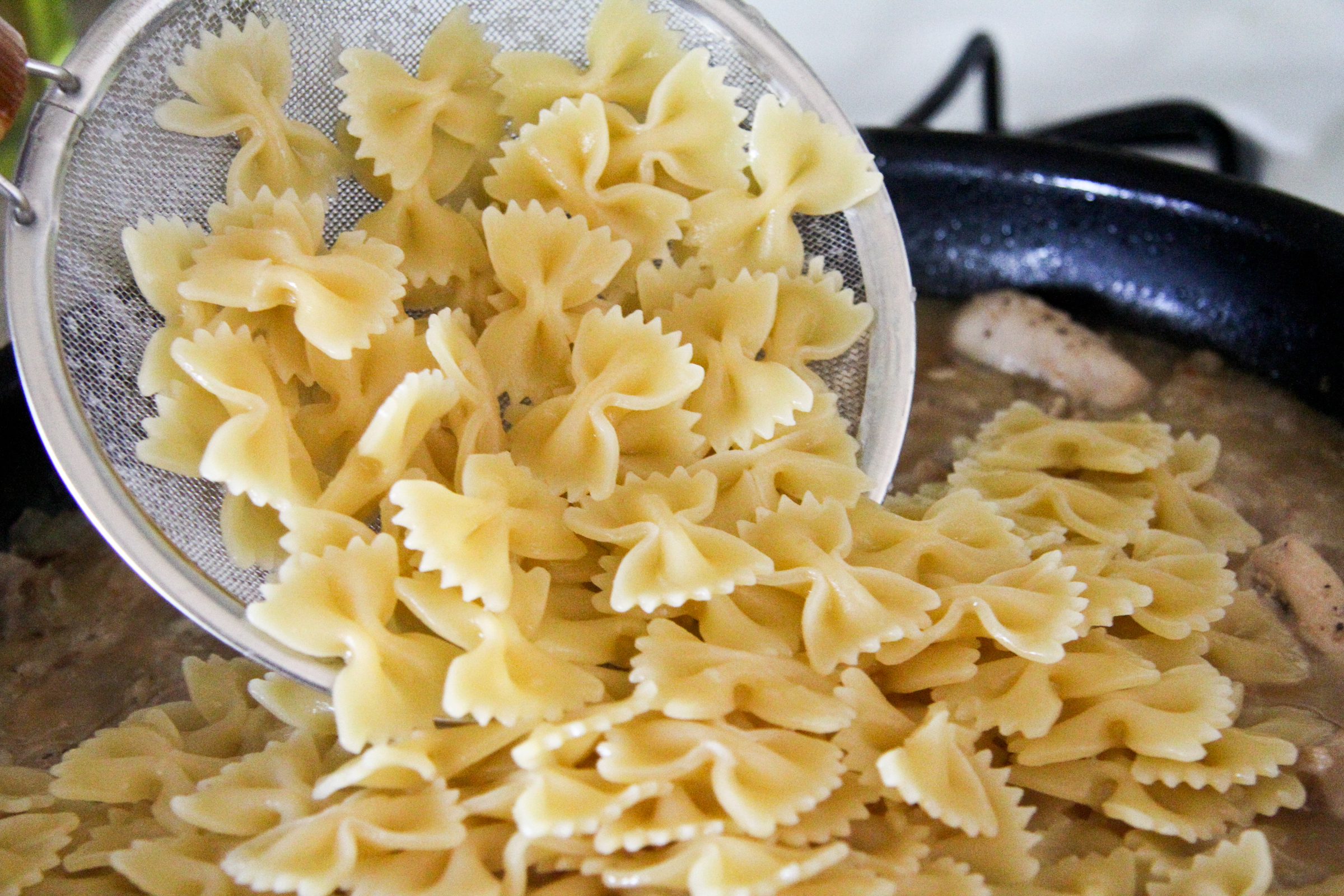 Then toss the pasta around to give it a chance to drink up the sauce.  Next, add the cream.  You don't need too much.  It can still taste velvety and rich without using a lot.  Moderation is key.  Let's all be mindful of our New Years resolutions now.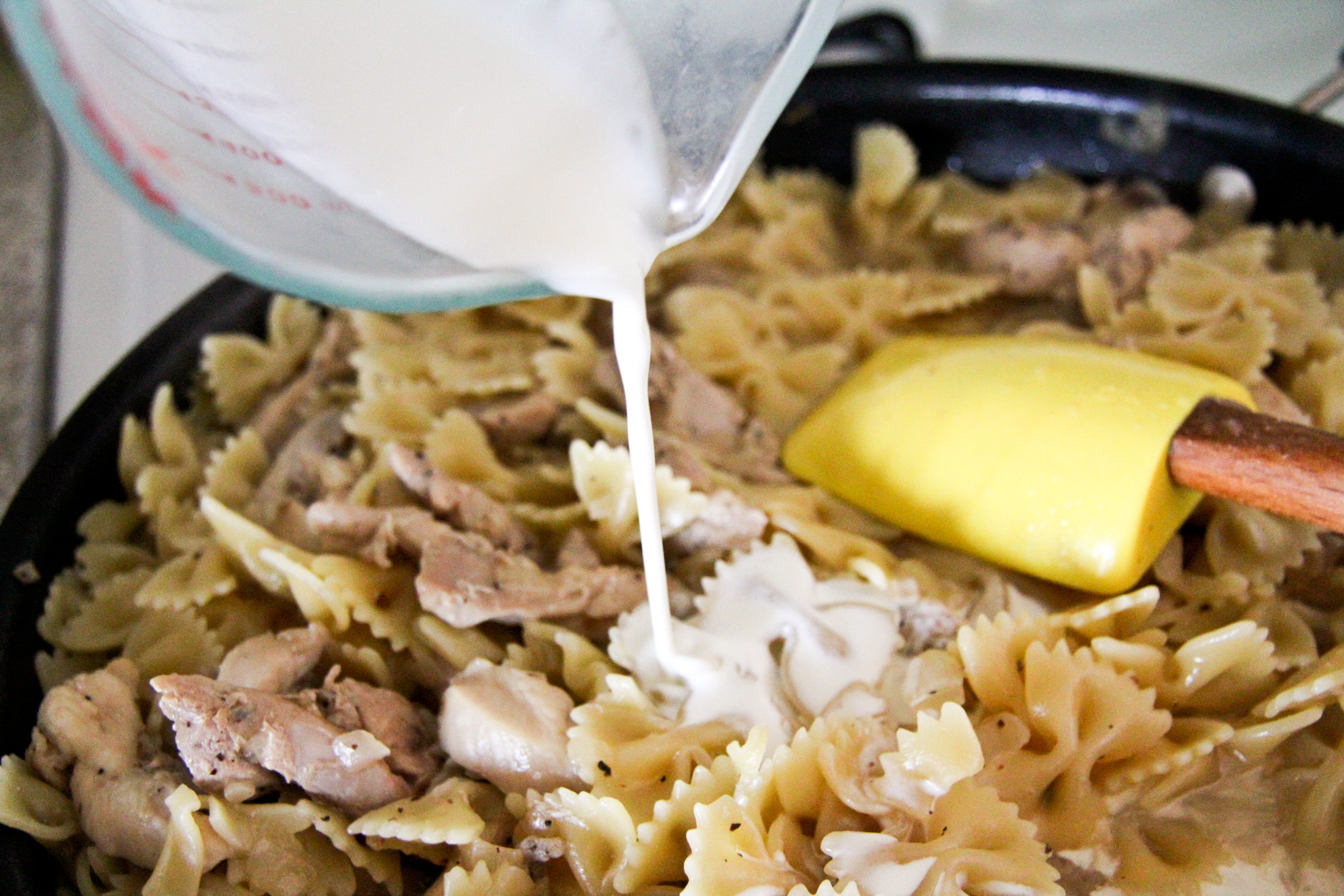 Now you add the cheese.  Hey, what can I say?  Things taste better with cheese.
And you finish it off with the lemon juice and zest.  Mix everything well.  Taste it.  Then you can adjust the seasonings with salt and pepper if necessary.  But if you season everything properly along the way, most likely, you won't need anything extra.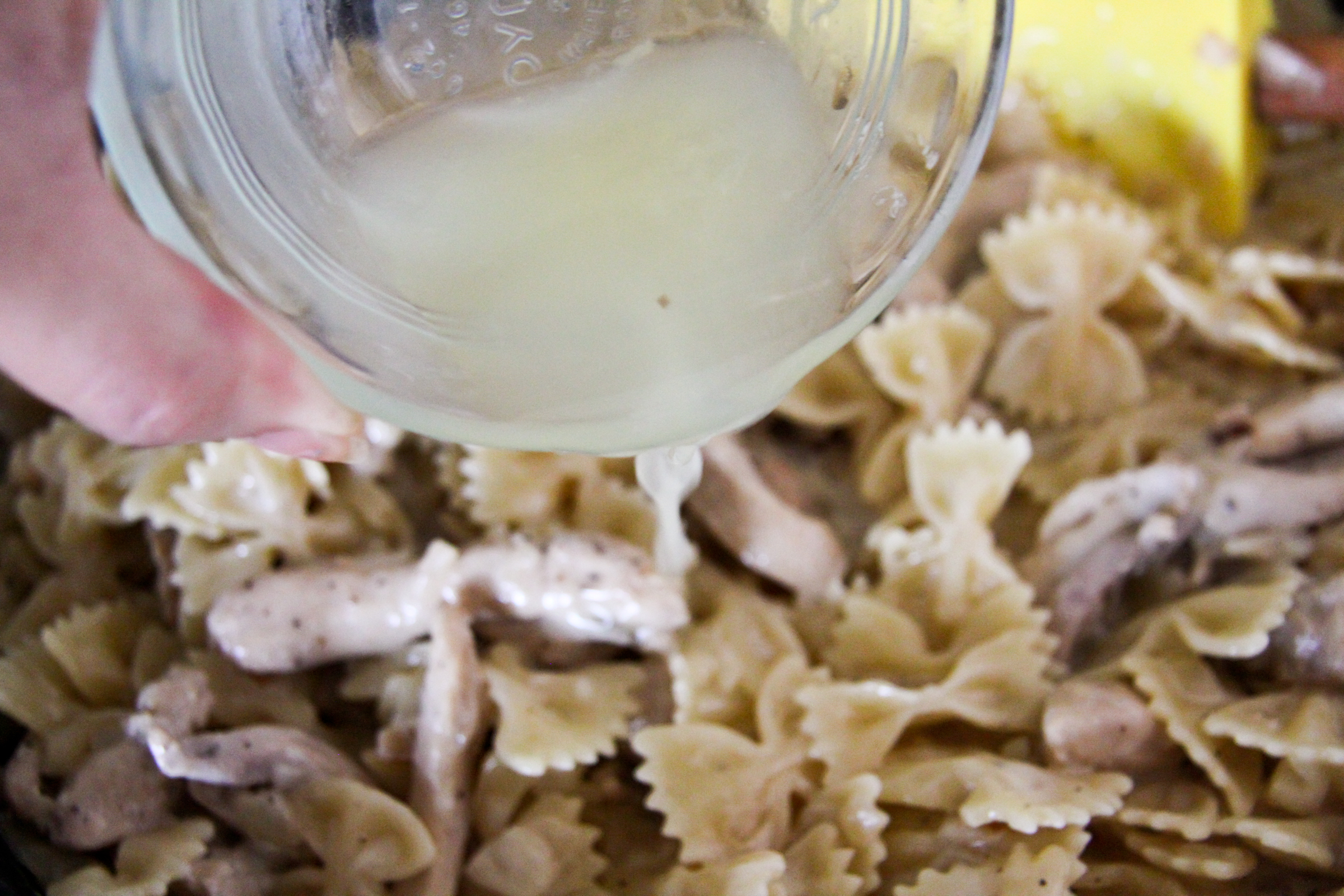 Seasoning correctly takes time.  But the more you cook, the more you'll realize you can cook things on point without it being bland or too salty.  I'm sorry if I'm talking to you like you're a beginner cook if in fact you actually cook like Bobby Flay.  I really don't know who my audience is yet.
Anyways.  If you want to be fancy, you can garnish with strips of lemon zest, or even some chopped fresh herbs for a little color.  As the pasta stands, the sauce gets thicker and clings onto the pasta for dear life.  Every bite should be flavorful, comforting, and bright.  Add more fresh lemon juice on top if you really want your taste buds to say "wowzas!"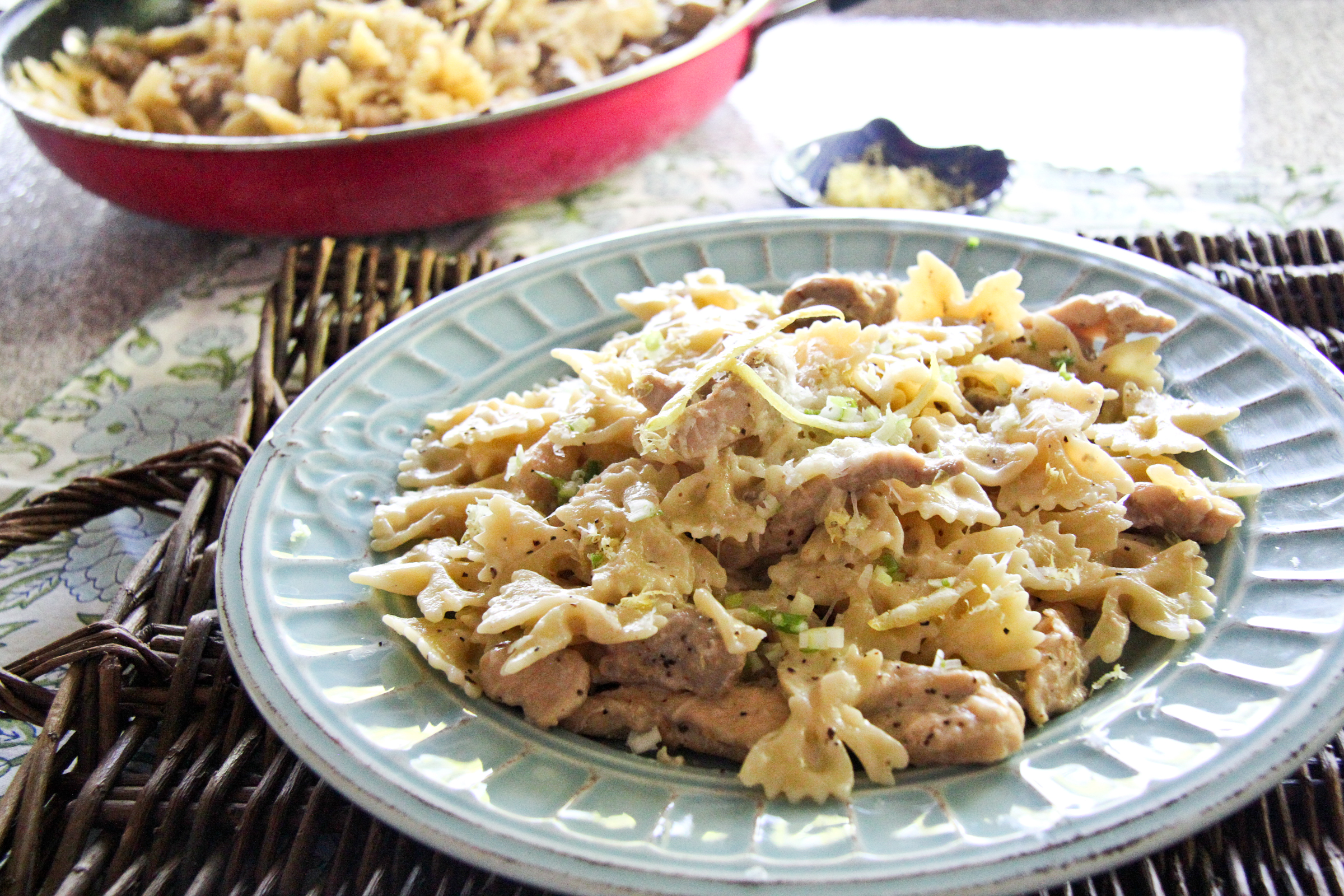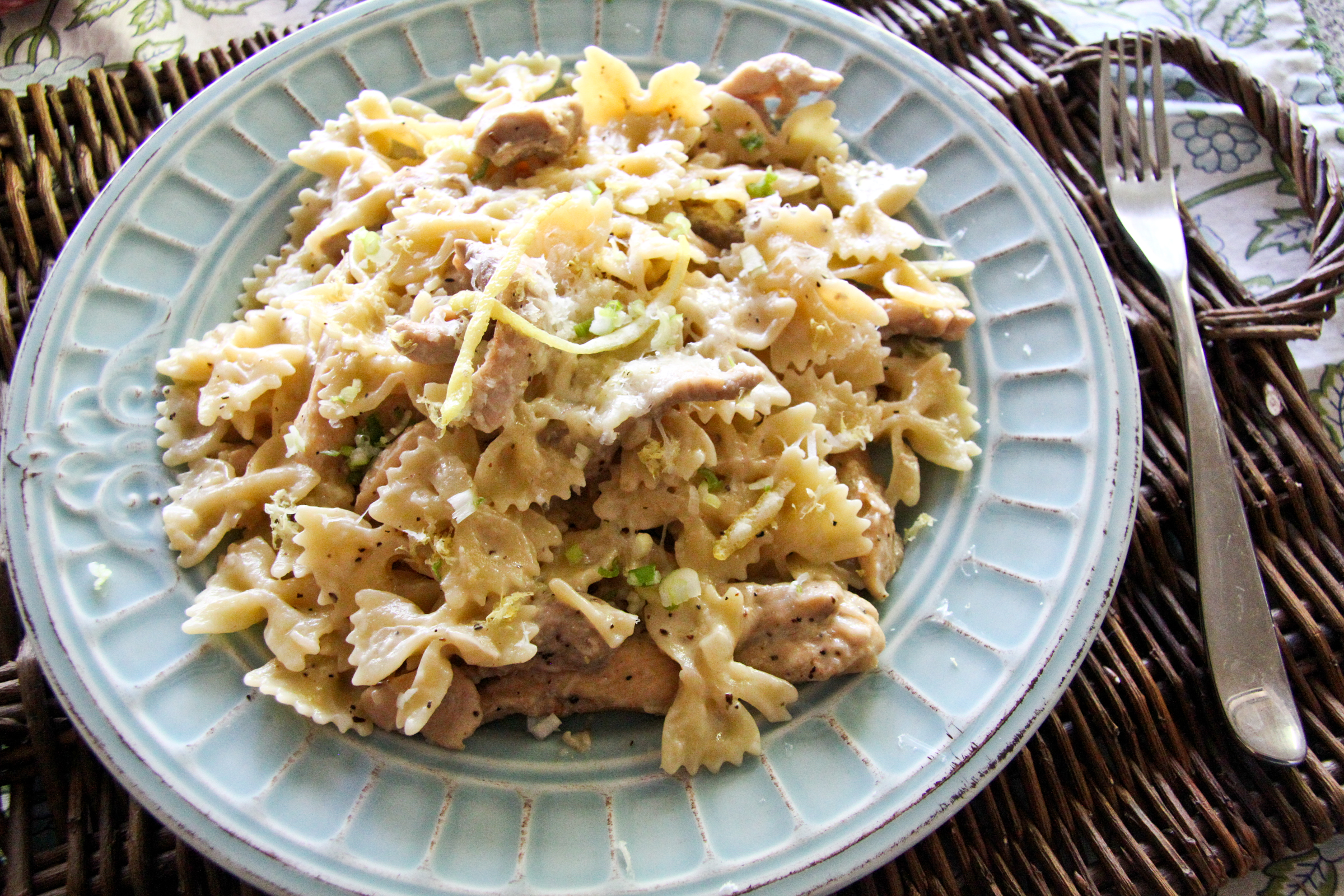 It's creamy, bright, hearty, and satisfying.  When you close your eyes, you'll feel like you're at a picnic outside on a warm summer day.  Okay, maybe not, but whatever.  Just make it.  This pasta dish is kind of a nod to or a different version of my mushroom orecchiette with cream recipe, so be sure to check that out as well.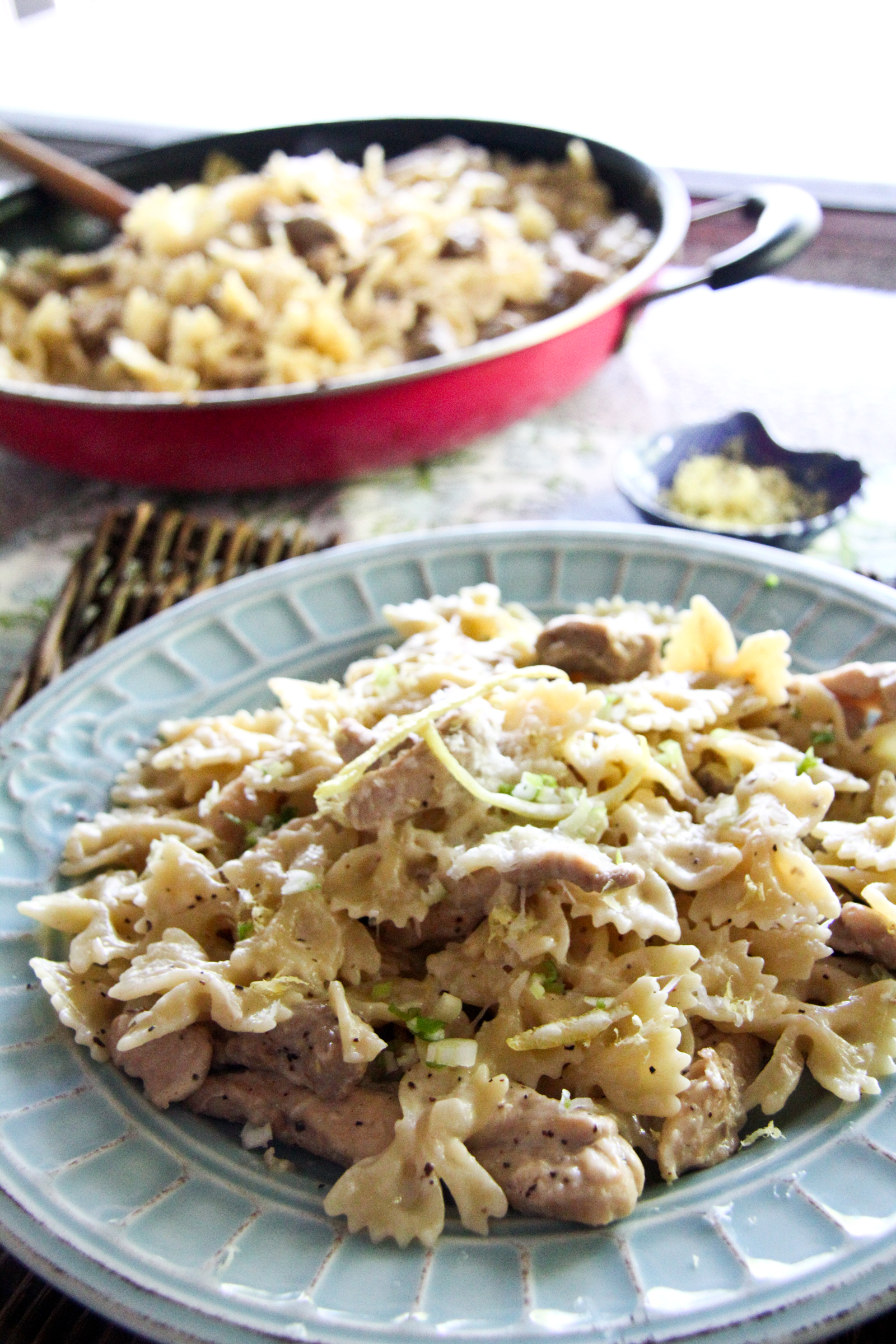 If you want to make this lemon chicken pasta for more people, just double the recipe.  If you want to make it vegetarian, substitute the chicken for veggies, or add more pasta.  And if you want to add veggies in addition to the chicken and pasta, go for it.  Just make sure to adjust the seasonings, and try not to use vegetables that are too watery, or it will dilute the flavor of your sauce.  I would suggest adding broccoli, asparagus, or frozen peas.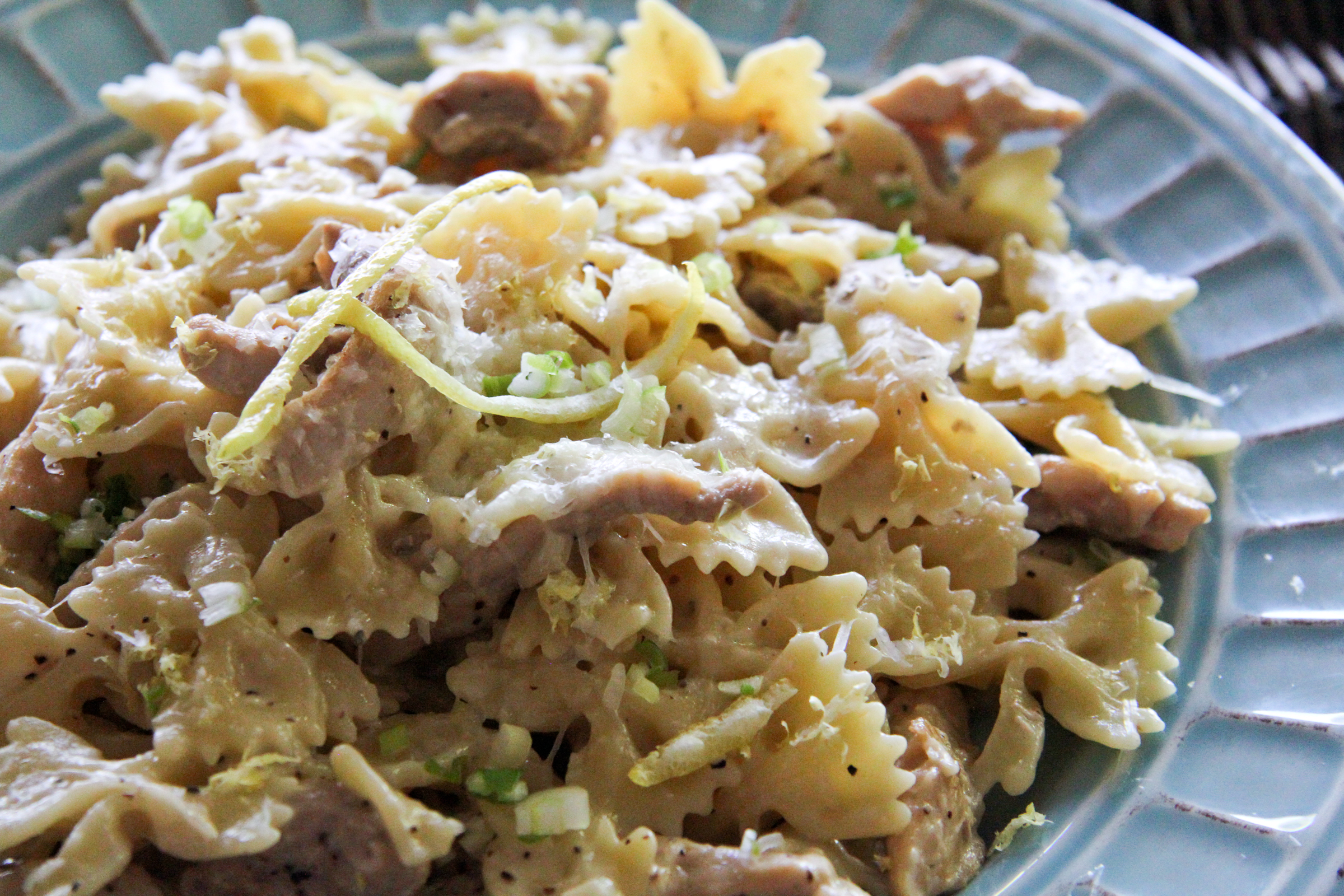 But then again, let's face it.  I'm not gonna be in your house, hovering over your shoulder as you as you make this, so do whatever you want.  Just give it a try and make it your own.  Go ahead and add red pepper flakes, or even Cajun seasoning.  Really, anything would be good.  You can't go wrong with lemon, chicken, and pasta, so grab a fork, have fun, and stay warm through this winter!

Lemon Chicken Pasta
Chicken and lemon go hand in hand. Just add some pasta and see what happens.
Ingredients
½ lb farfalle pasta (half a box)
4 boneless skinless chicken thighs
1 onion, diced
1 lemon, zested, and juiced
1 cup chicken stock
¼ cup pasta cooking water
¼ cup heavy cream
⅓ cup pecorino romano cheese (or Parmesan), grated
Olive oil
Salt and pepper to taste
Instructions
Cut the chicken into strips. In a large pan, saute the onion with some salt and pepper until softened and slightly browned. Add the chicken. Season again. When cooked through, add the chicken stock.
Meanwhile, in a large pot of salted water, cook the the pasta until al dente, (cooked through, but still slightly firm). Scoop out ¼ cup of the starchy cooking water and add to the pan with the chicken. When the sauce is reduced by half, add the drained pasta to the pan and toss well. Add the cream, cheese, lemon juice, and lemon zest. Mix well and cook for 1 minute more. Taste and adjust the seasonings with salt and pepper if necessary. Feel free to garnish with more lemon zest or fresh herbs when serving.