Easy Tortellini and Meatballs
It's after the holidays and you're probably craving something light and healthy right about now. We've been trying to be more conscious about what we consume as well. That means we've been eating lots of fresh veggies and less carbs. But just in case you need a break from all that healthy eating and crave an easy and satisfying recipe to comfort your soul, here's my almost non-recipe for tortellini and meatballs.  
Eating this reminds me of my childhood, when my sister and I ate Chef Boyardee after school. And although it's not a meal from a can, it's almost just as easy to prepare because, oh yes my friend, this recipe uses refrigerated pre-made tortellini and frozen meatballs! I figured I gave you a more complex recipe last time, so why not ease it up a bit today?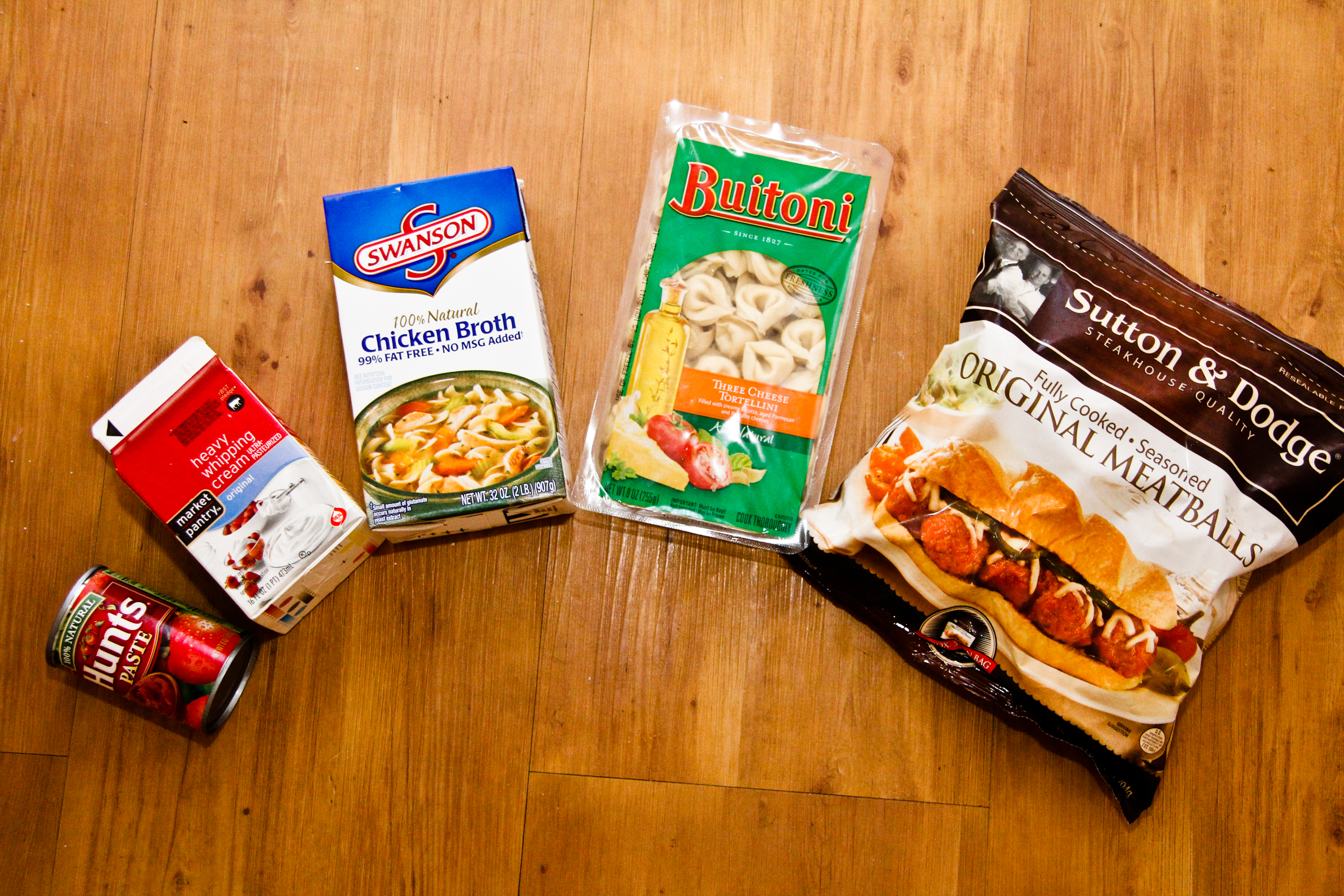 You know what was the inspiration for this recipe? A trip to Target. Yup, I found all of my ingredients for this recipe there. First of all, never let me go inside of a Target holding a basket rather than a cart. I never learn. I ended up lugging my stuff and waddling all the way to the register again. Secondly, go check their refrigerated and freezer sections.  That's where you'll find all the fresh pastas, including the cheese tortellini I picked up.  And you can grab any brand of meatballs of your choice.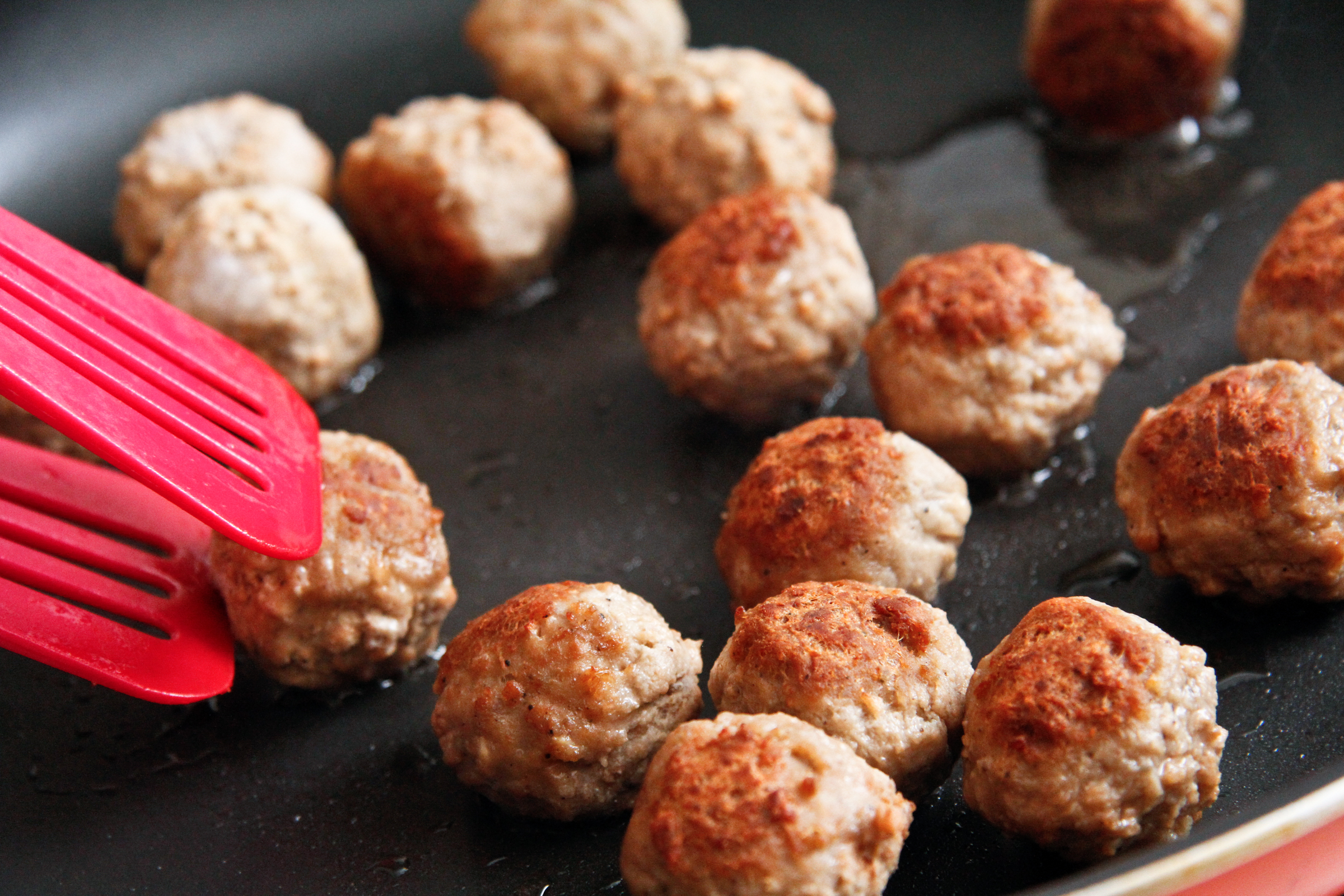 You brown those meatballs in a large pan with a little oil.  Since the meatballs are frozen, yet fully cooked, technically you can skip this step if you want.  But I always prefer browning meatballs before cooking them in sauce.  It's just my style.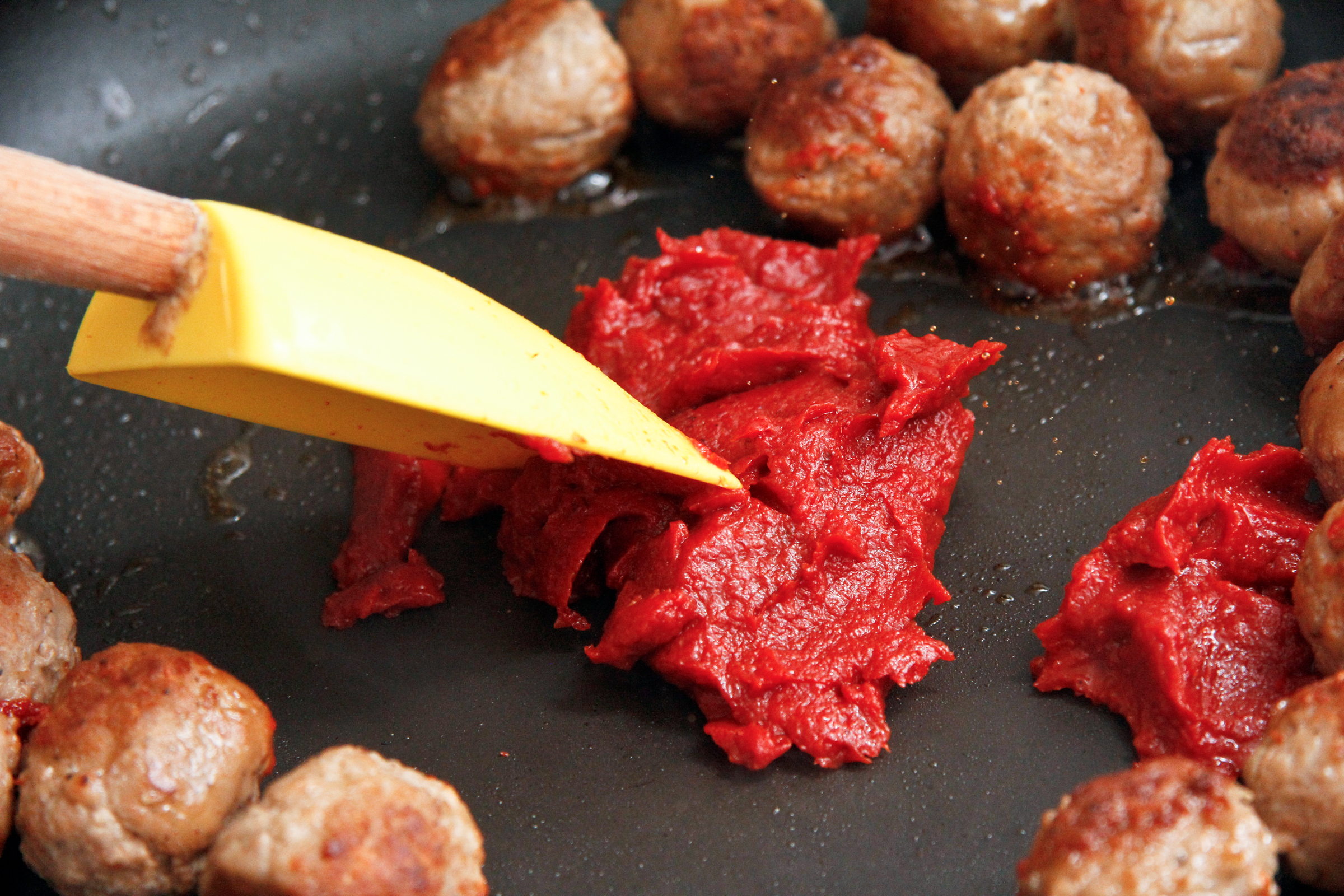 Next you add about half a can of tomato paste and cook it for about 30 seconds or so.  This is your instant tomato sauce.  I usually keep a couple cans in my pantry just in case.  Tomato paste is very handy!  It's like ultra concentrated, thick sweet tomato flavor.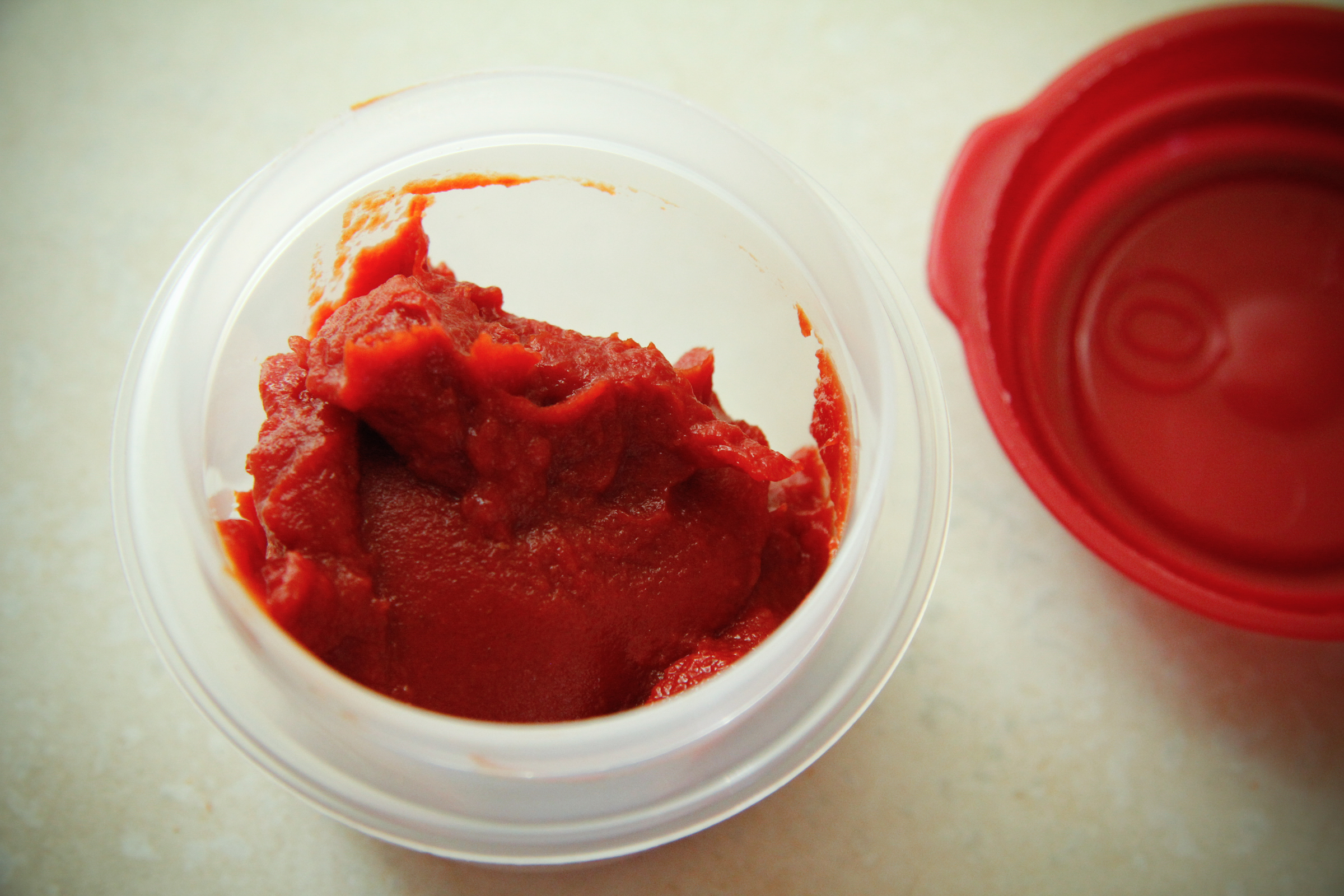 You can store any leftover paste in a small container and keep it in the fridge for another use.  Or you can just buy tomato paste in a tube and use what you need.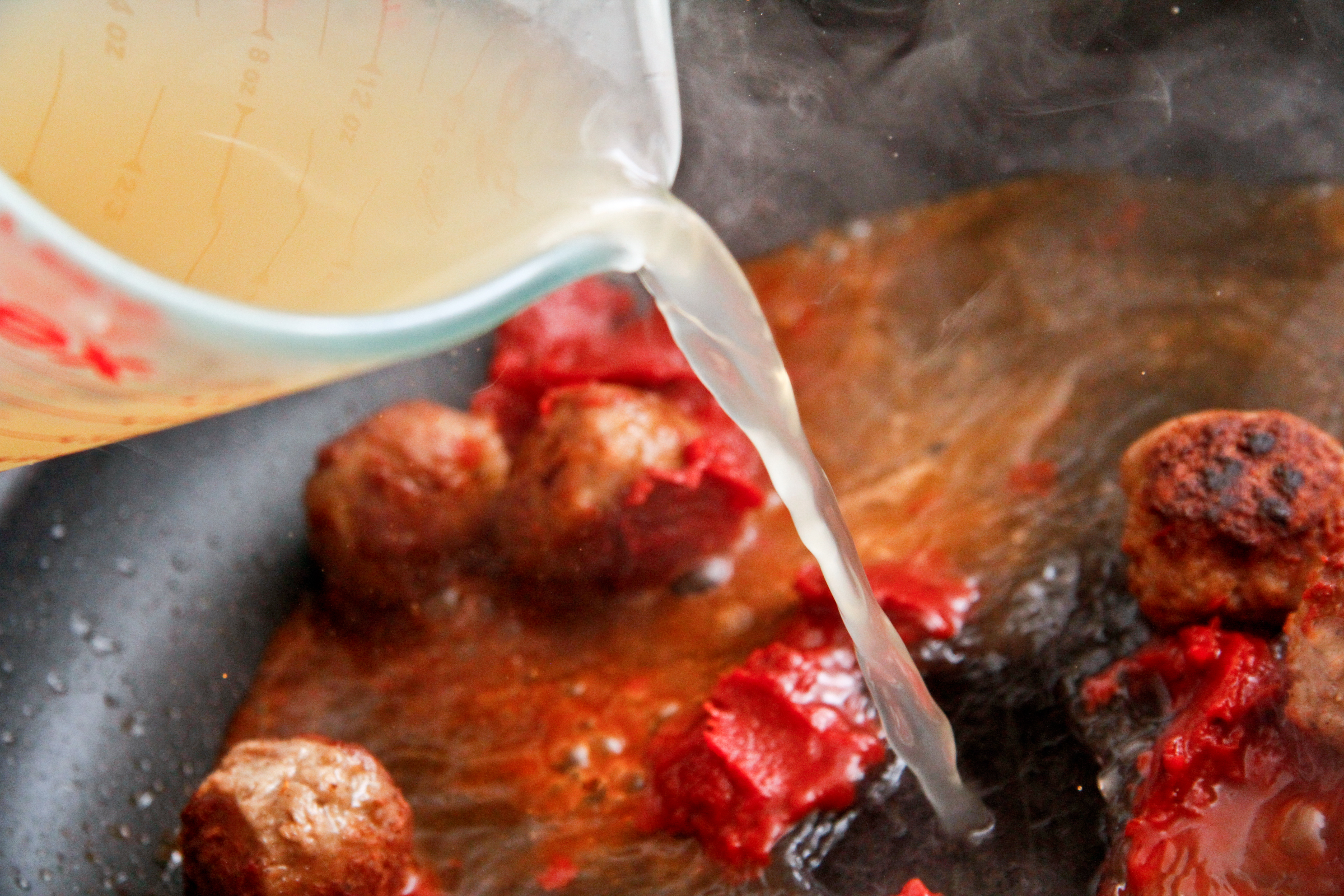 Then you pour in some chicken stock and stir the tomato paste until it is well combined.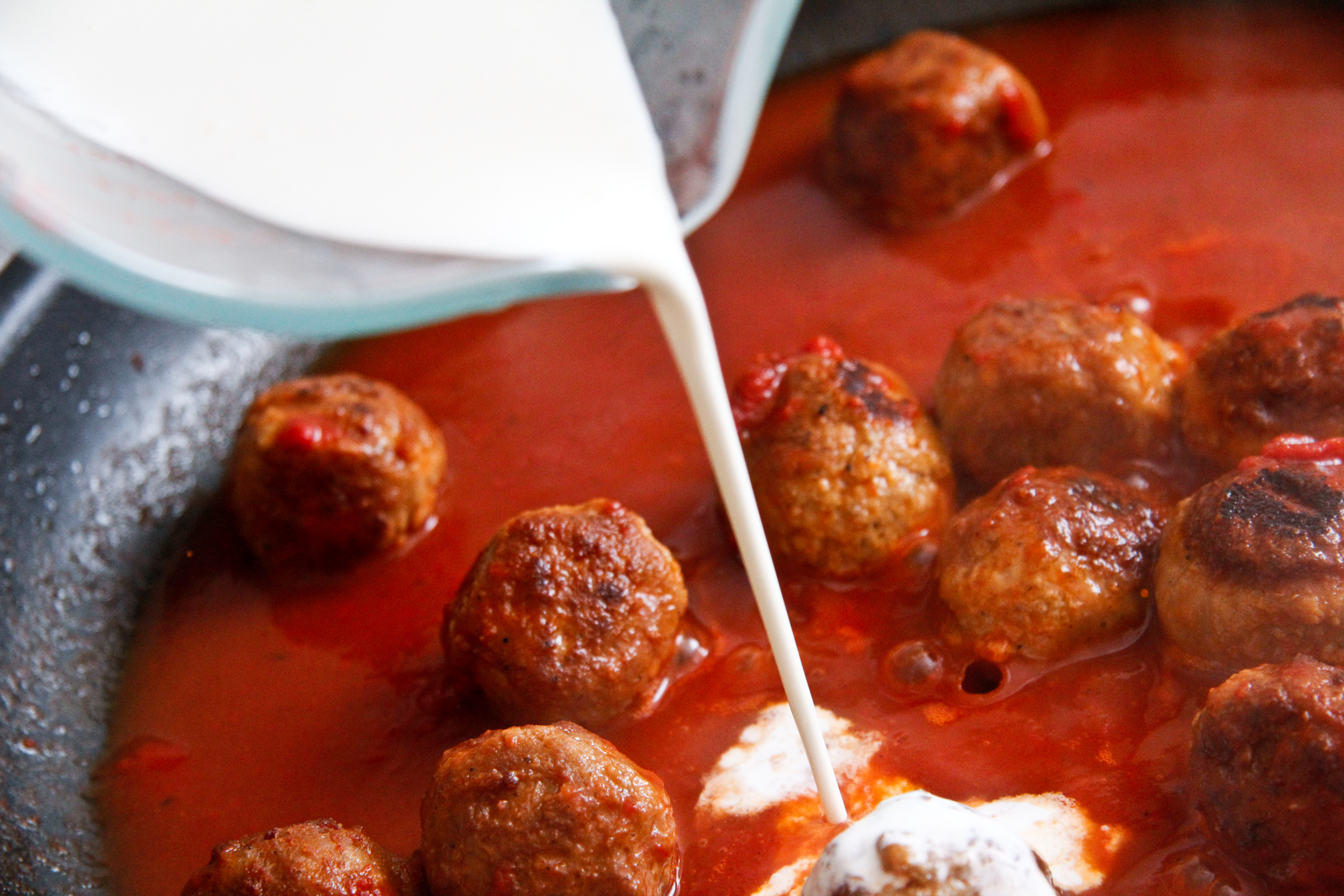 This is where you add ¼ cup your cream.  A touch of cream makes the sauce so luxurious and silky smooth.  But if you want to keep it light, do without it.  And if you want to make it more "grown up," add a splash of wine or vodka!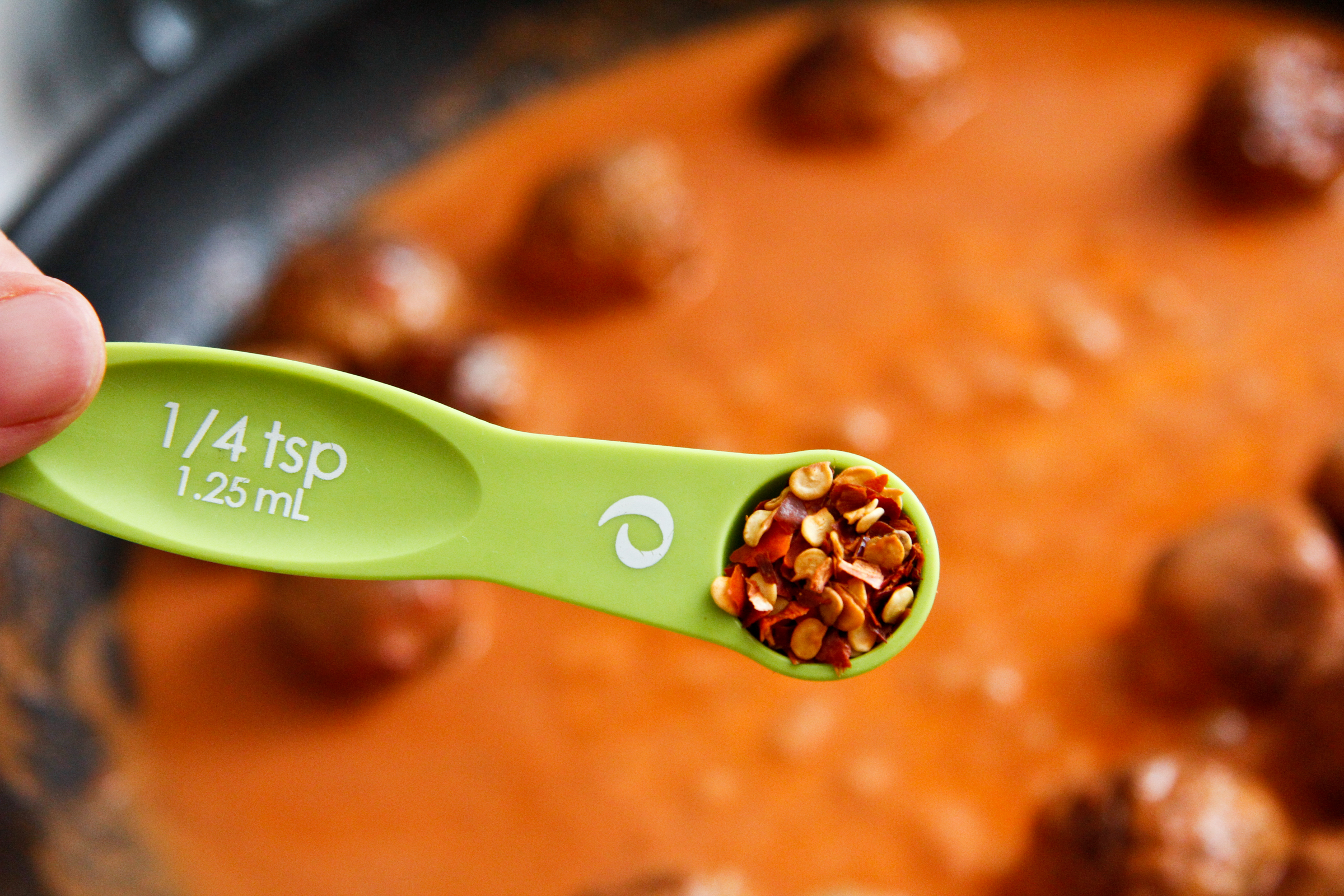 Of course I must throw in my crushed red pepper flakes.  I cannot live without a little kick in my tomato sauce!  I'm sorry if I use red pepper flakes in all my pasta recipes.  I got influenced from the Italian chef I used to work for who kept a whole ramekin of it next to her salt, and tossed it into everything!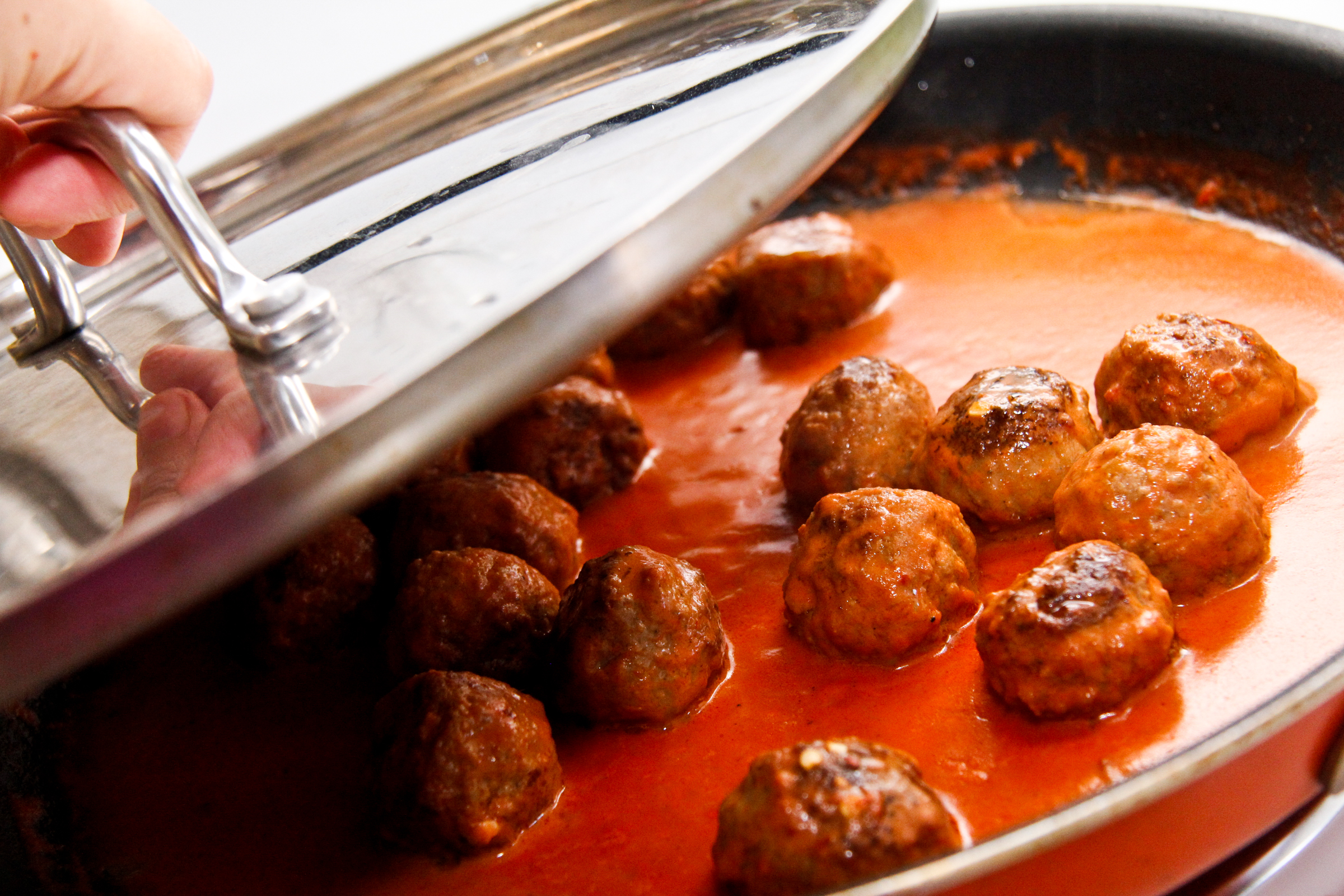 Cover the pan with a lid and simmer on low.  Do this to allow the frozen meatballs to be fully heated through.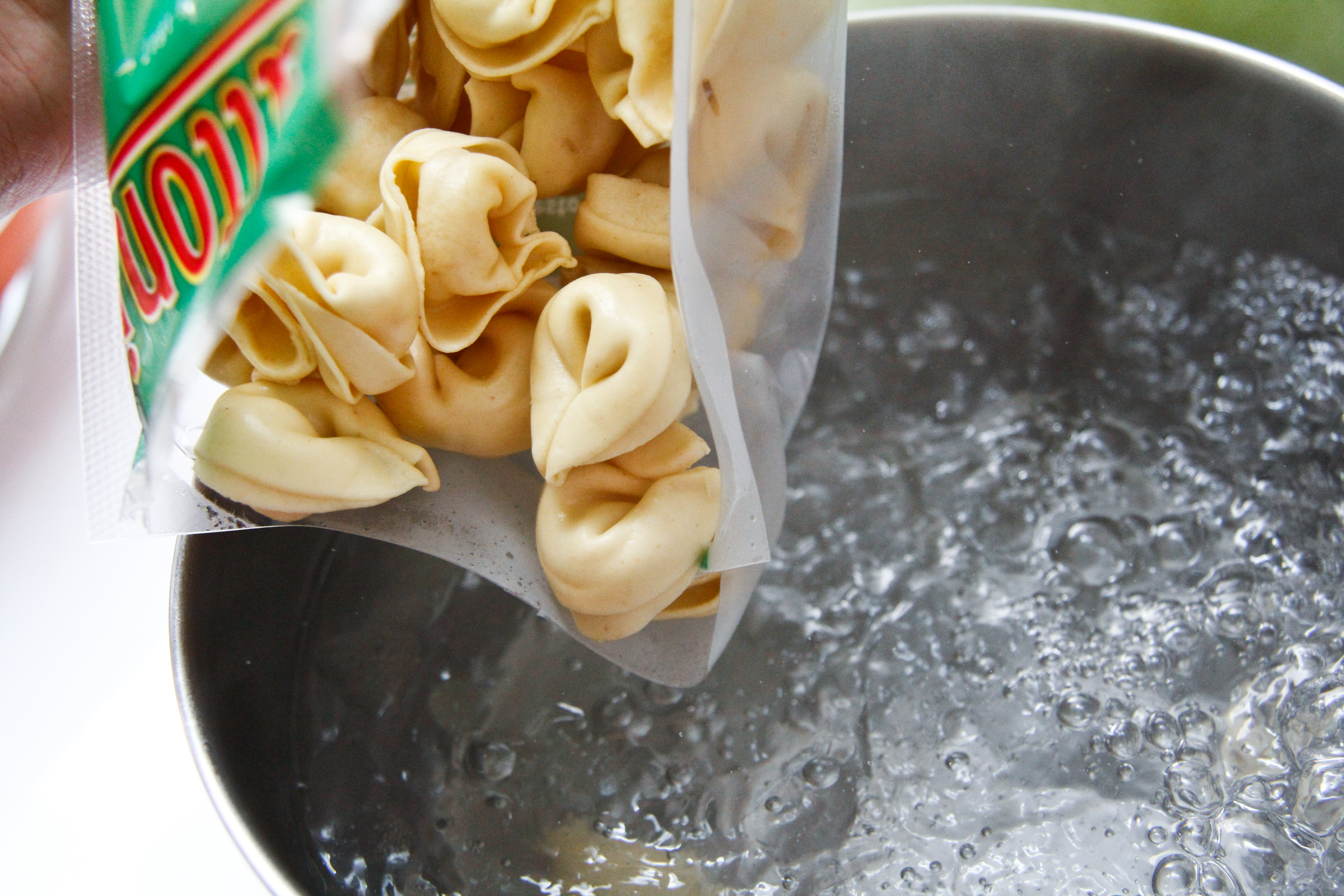 Meanwhile, grab a large pot of salted water and drizzle in a little olive oil.  Add your fresh tortellini and cook them according to the package directions.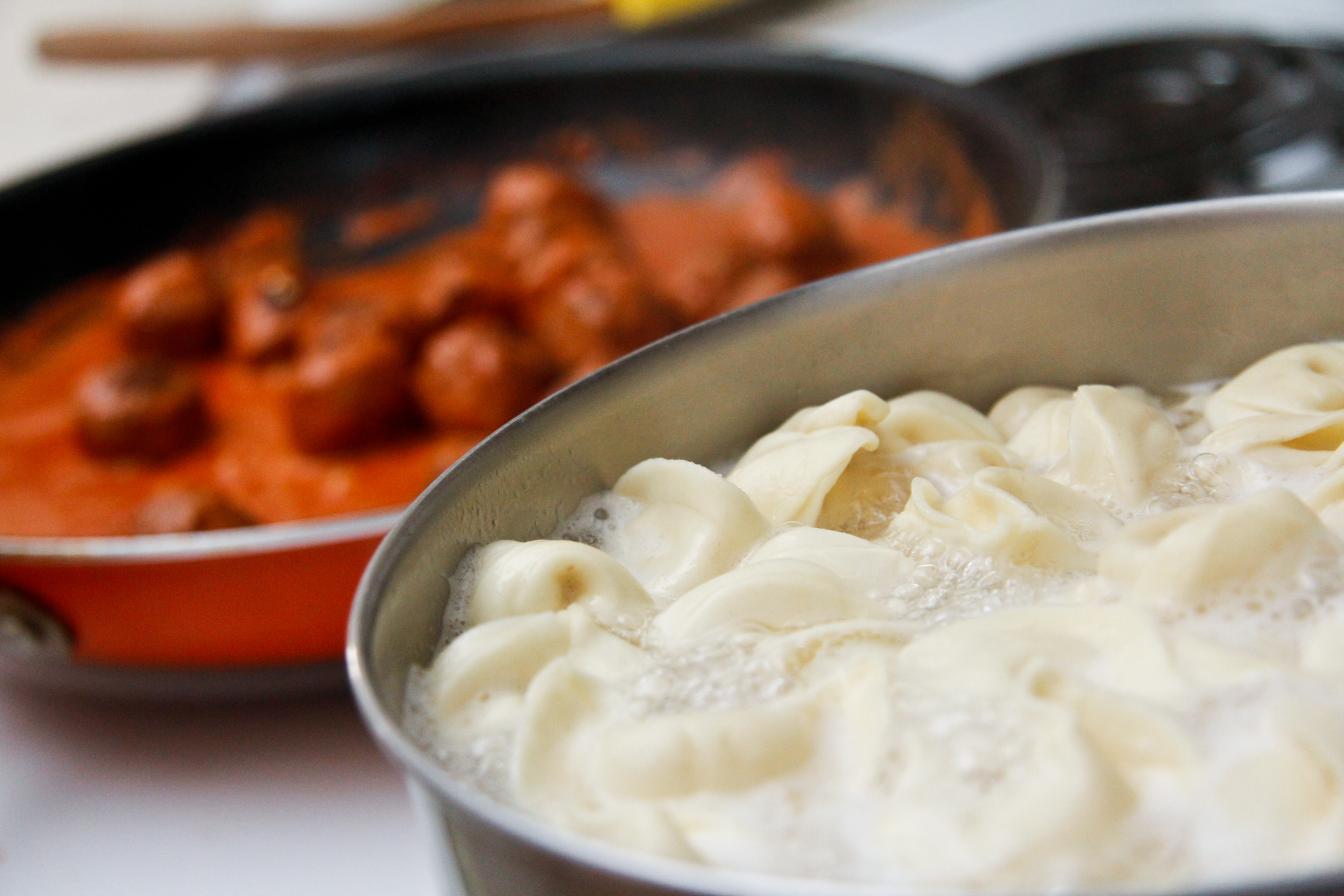 I usually can tell that they're done when they all float to the top.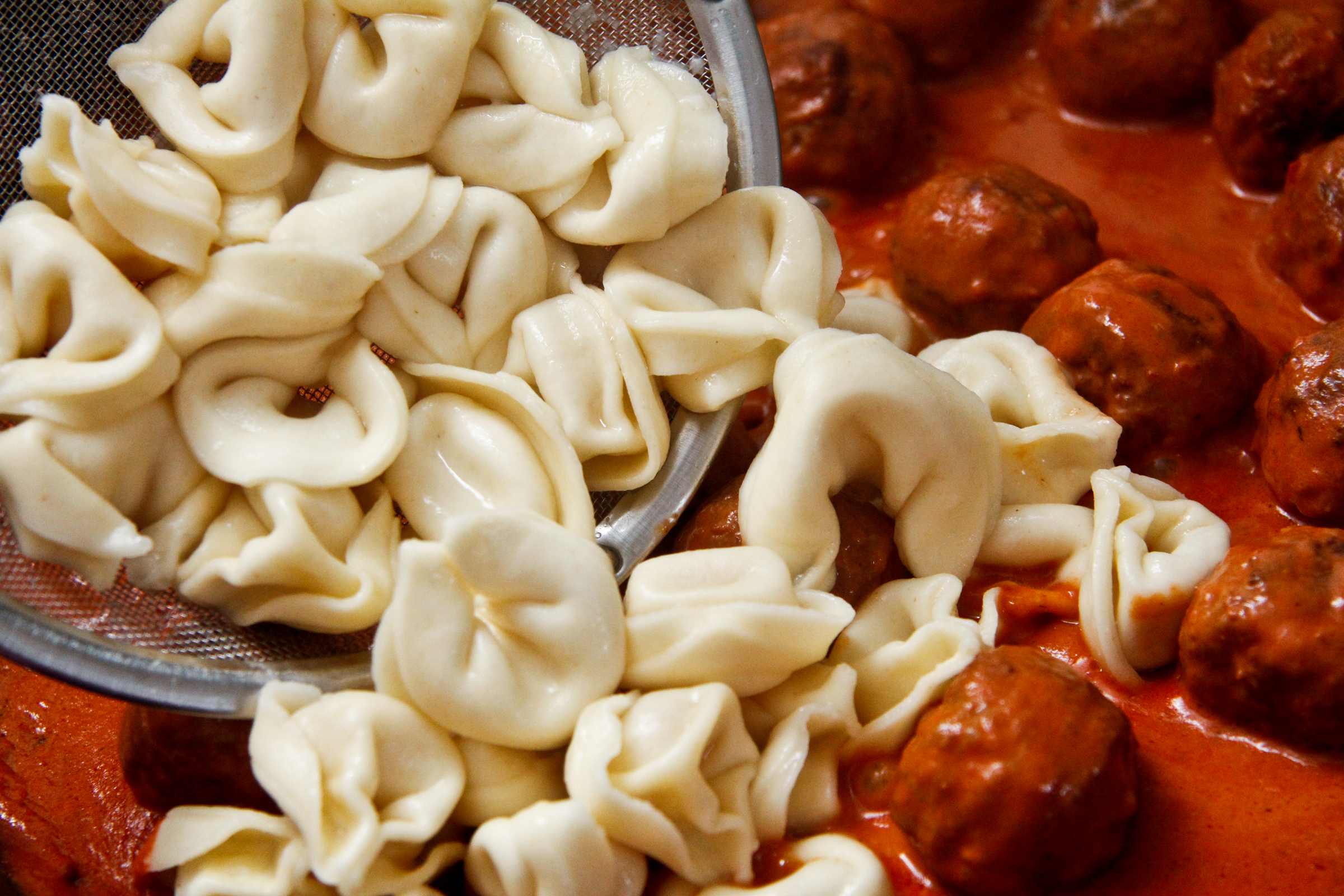 Drain, and add them to your sauce.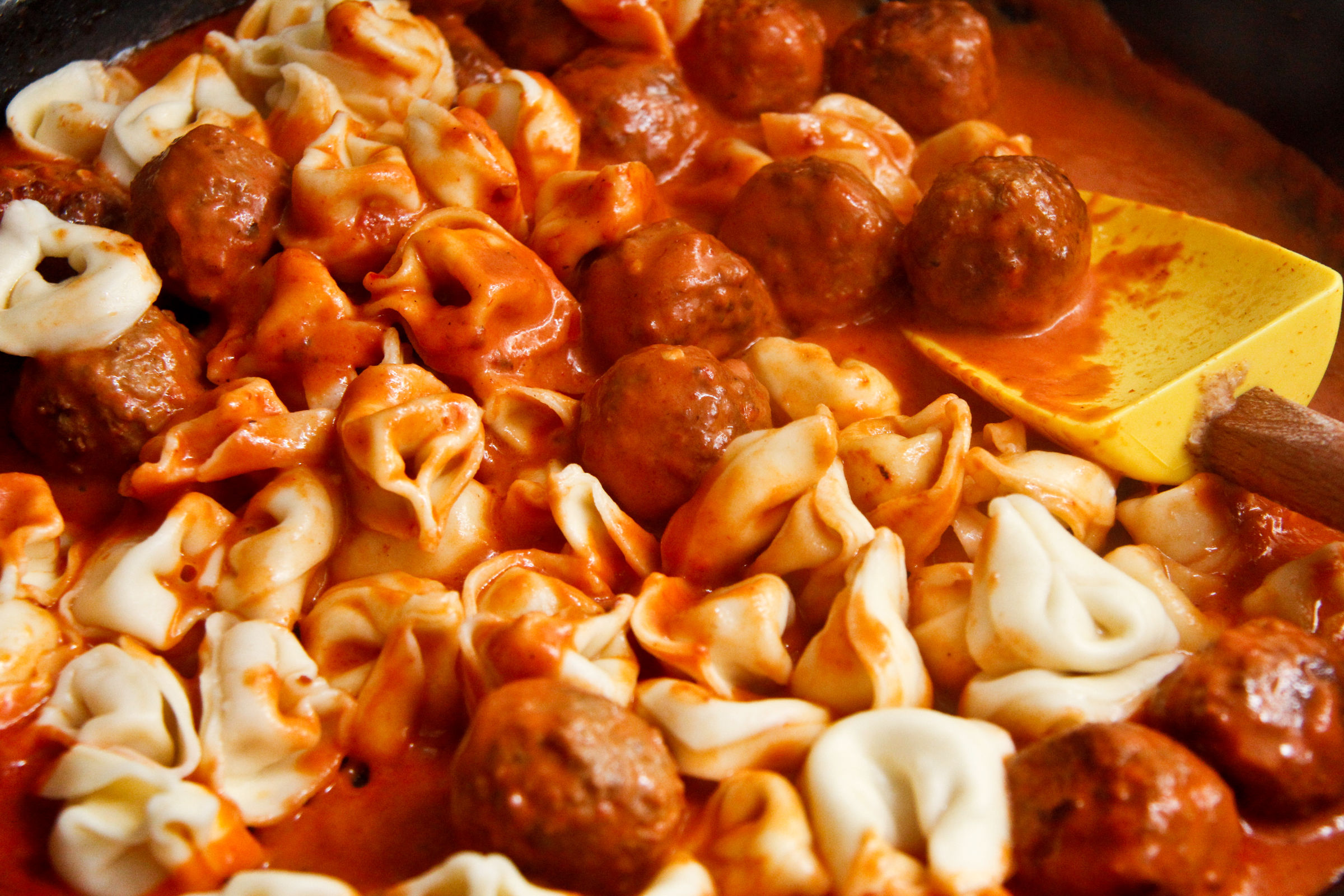 Turn, toss and coat well.  At this point, feel free to garnish with fresh herbs or add any spices or seasonings of your choice. YUM!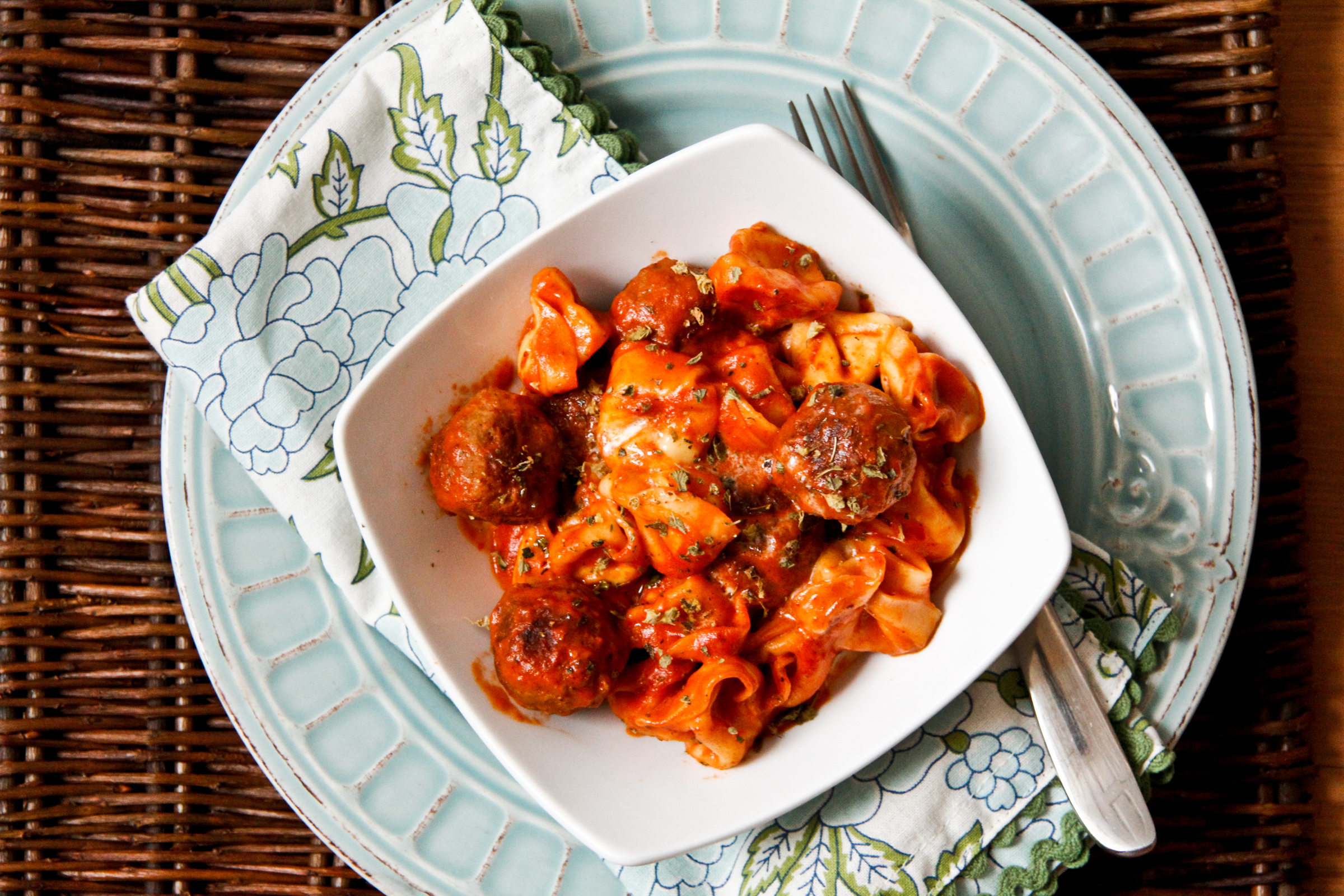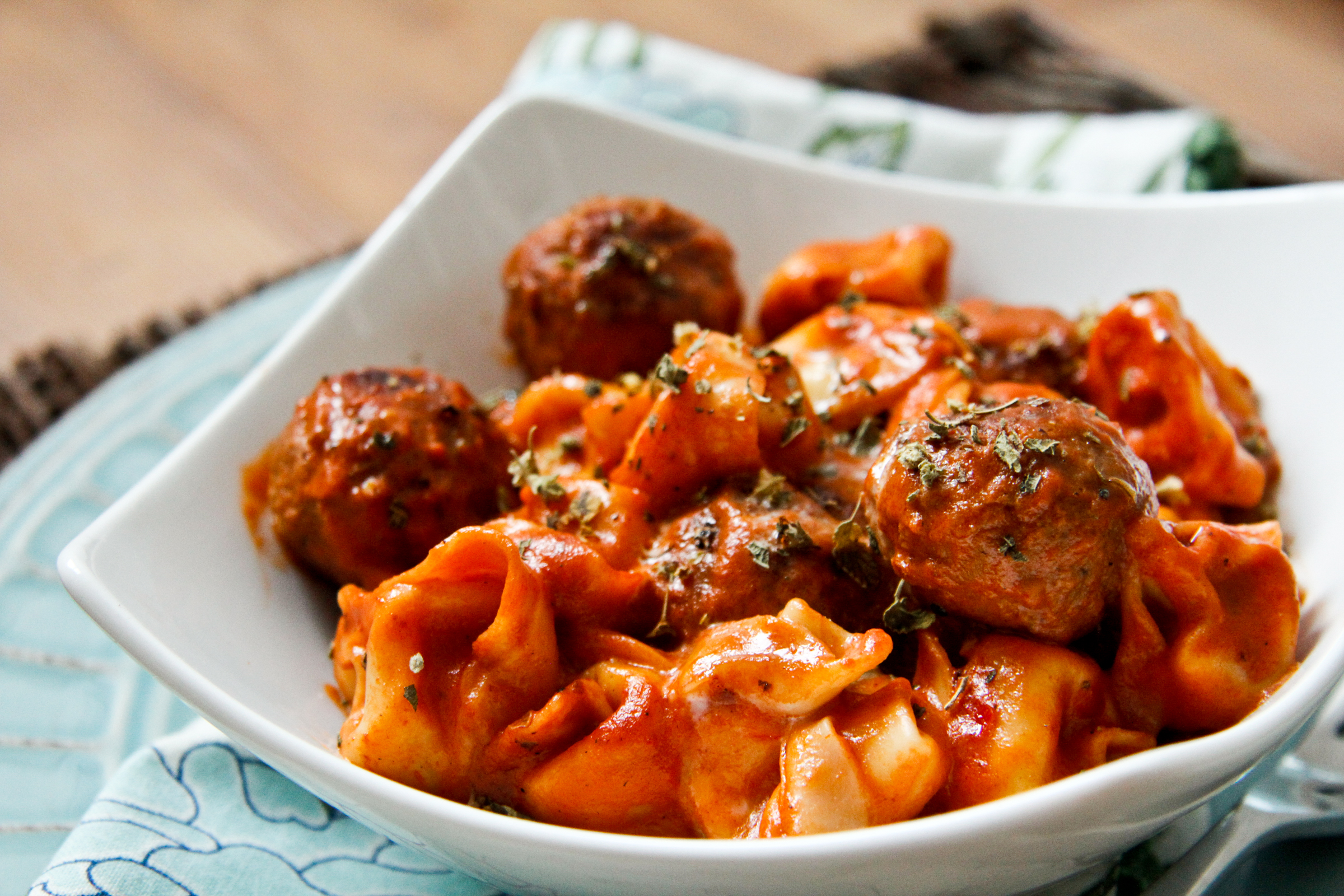 The beauty of this dish is that you can keep both the tortellini and meatballs all in your freezer.  Then when you're too tired to cook, or in need of a quick and tasty meal, they will be ready for you.  Neither ingredient even needs defrosting!  All of the sauce ingredients, minus the cream can also be stored in your pantry.  So it's a meal that's waiting to happen whenever you need it.
I mean, come on.  What's better than cheese, beef, tomato and cream?  But if you made a resolution to eat better, then simply enjoy this dish in moderation.  Pair it with a huge green salad and go easy on the dessert.  Done.

Easy Tortellini and Meatballs
Keep a few staple items in your freezer and pantry and you can whip up this comforting dish at a moment's notice.
Ingredients
1 9 oz package of fresh cheese tortellini
½ a 6 ounce can of tomato paste
1 cup chicken stock
¼ cup heavy cream
¼ teaspoon crushed red pepper flakes (optional)
Salt and pepper to taste
Frozen fully cooked meatballs (as many as you want)
Instructions
Brown the frozen meatballs on all sides in a large pan with a little olive oil. Add the tomato paste and cook for 30 seconds. Add the chicken stock while stirring until the tomato paste and chicken stock is well combined. Add cream and optional pepper flakes.
Simmer on low with a lid on until the meatballs are fully heated through, about 5-10 minutes. Taste and adjust the seasoning with salt and pepper if necessary.
Meanwhile, bring a large pot of salted water to a boil. Add a little olive oil. Cook the tortellini according to the package directions. A way to tell that they're done is when they all float to the top. Drain and add tortellini to the sauce. Coat and serve.
TIP: Feel free to add any seasonings or herbs that you want, such as garlic powder, dried oregano, fresh thyme, or parsley.