Nutty Cranberry Granola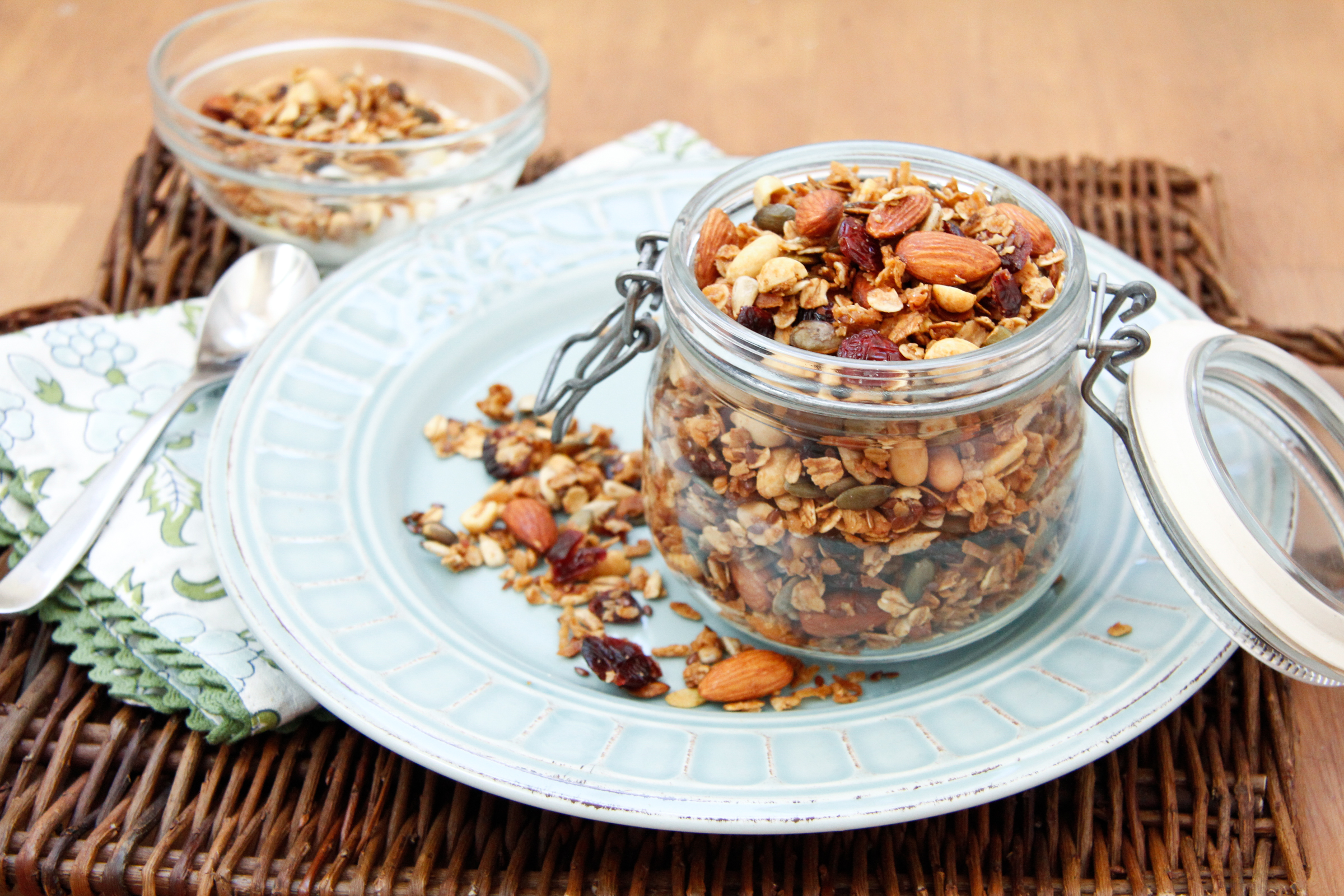 Around this time of year, I get amused by the countless chocolates, cookies, and treats, wrapped in some kind of festive holiday packaging, available at every store. I have to admit, when I'm shopping for gifts, although it is pretty tempting to reach for that Santa Claus mug filled with Hershey Kisses, I always stop myself. I find that you always get a better reaction from people if you give them an edible gift that you made yourself.  
And although I'm not at all against making desserts, what about making something people can enjoy for breakfast? One day, my friend Vanessa and I decided that we wanted to make granola. The funny thing is that we had both been wanting to make some for a while, but were too lazy to go out and buy all the separate little ingredients required to make it. But after we shopped for everything together, and rummaged through my pantry, it ended up being kind of a fun and nice activity to do with a friend. And the best part was that we got to split our batch and have yummy toasty granola to eat with our yogurt in the mornings.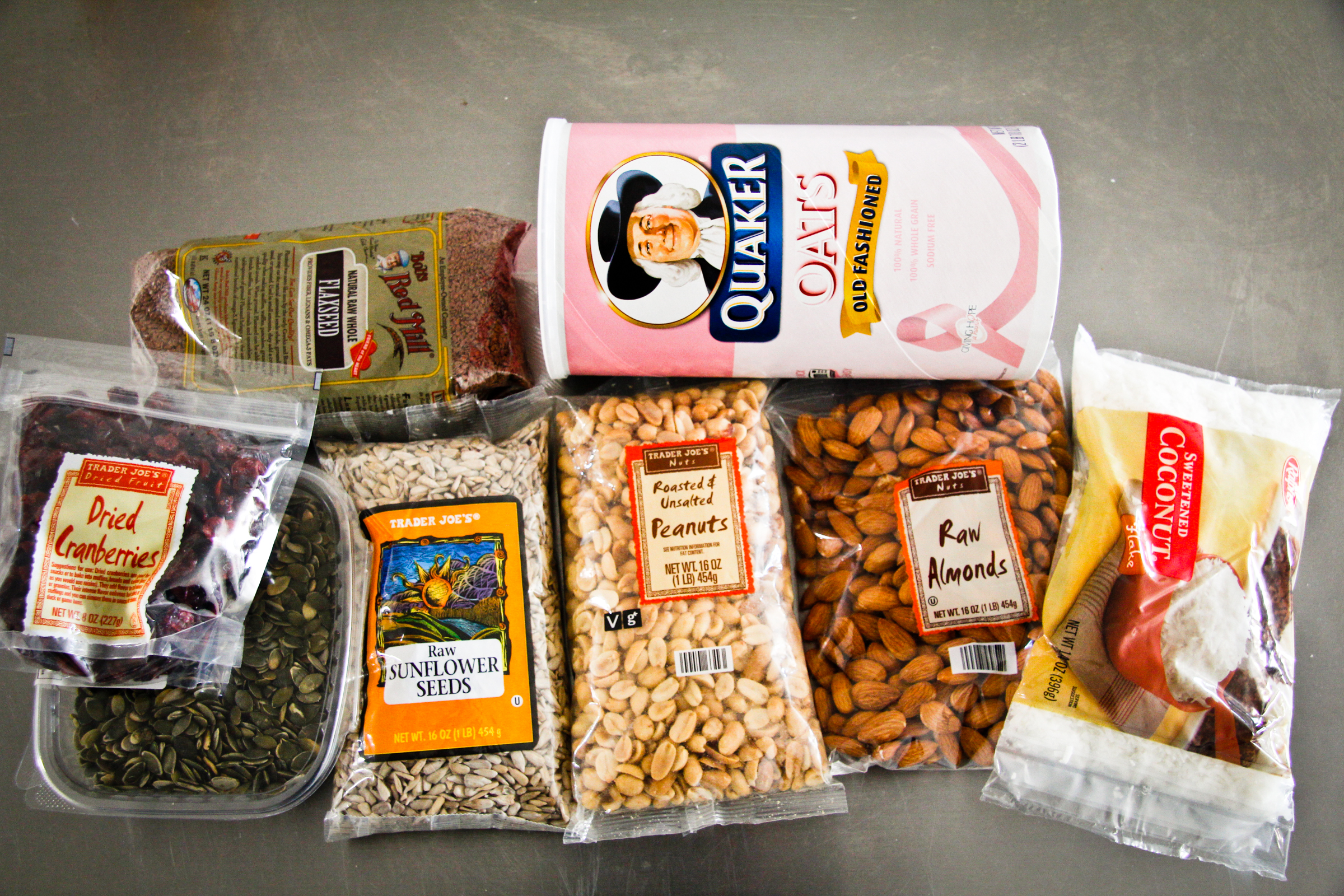 Even after sharing our batch, we both ended up with a lot of granola, so this recipe is perfect for gifts! Just find some pretty glass jars or good quality tupperware and you're in business! If you want to make this granola for your nut allergy friends, you still can! Just double up on the oats or use anything that might be texturally interesting, such as wheat germ or flax seed. This recipe is quite forgiving so don't be afraid to play with your food. Use whatever you want, or omit what you don't want. Trust me, I won't mind.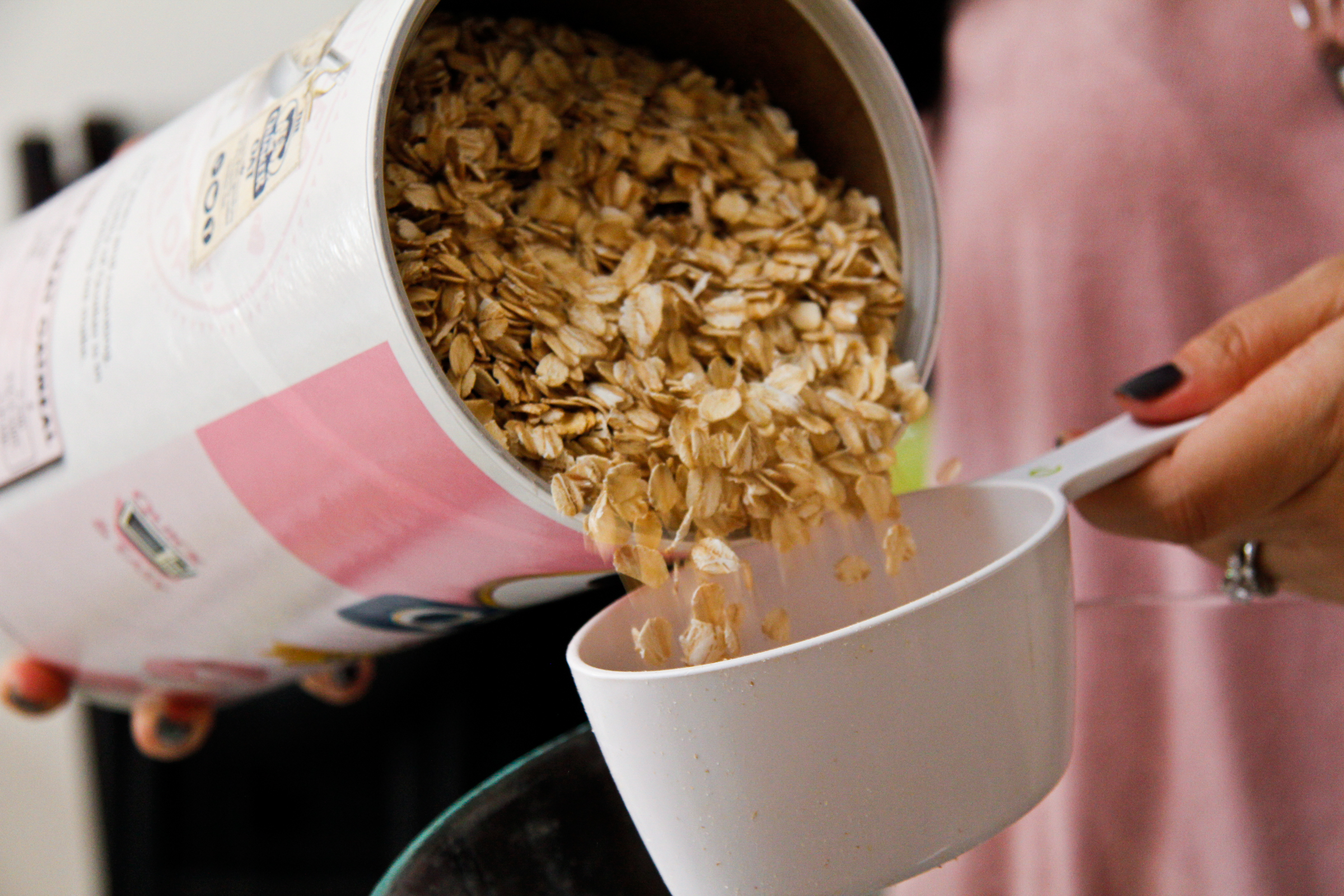 It all begins with a large bowl and some oats, and lots of them.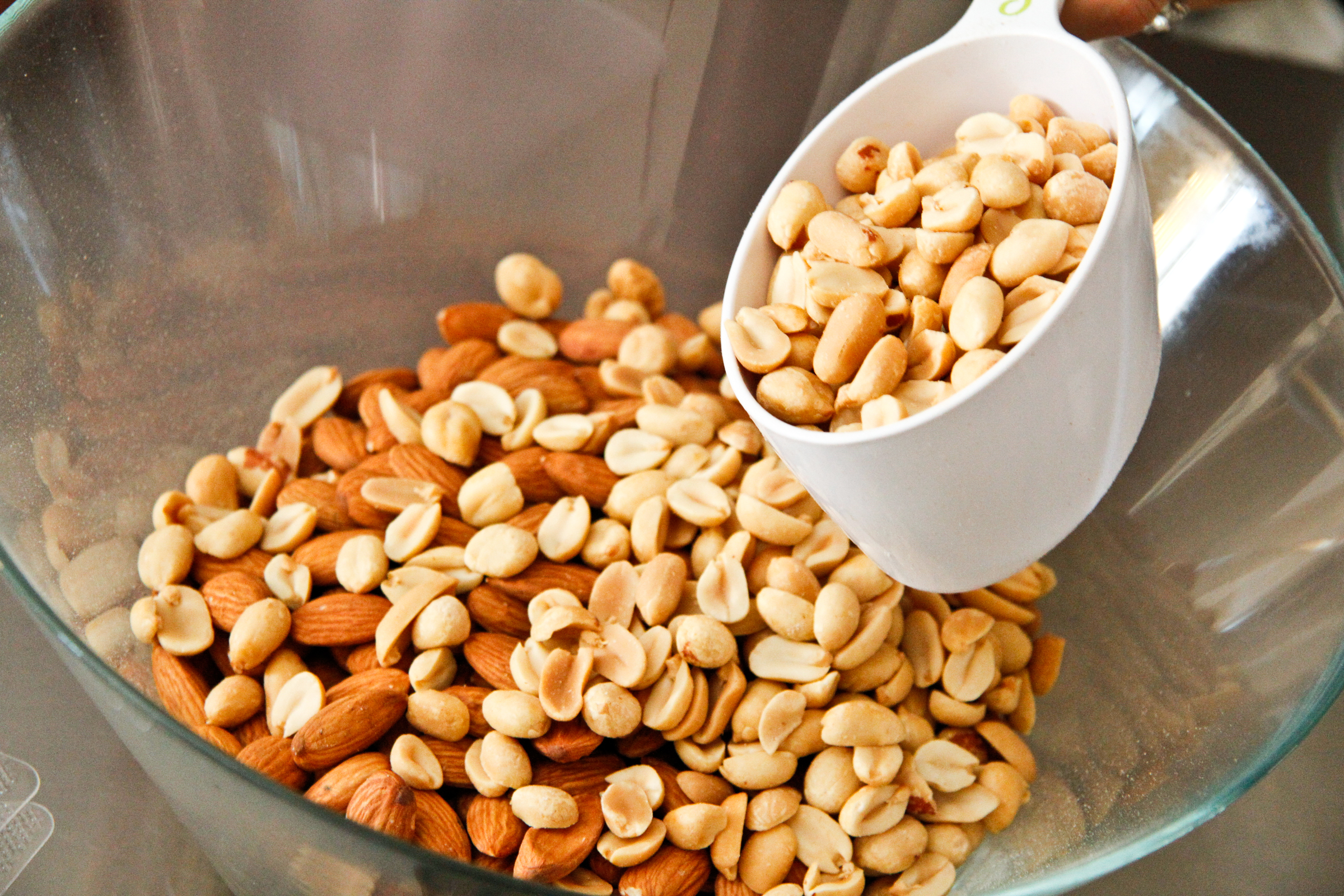 Then you get nuts! We chose whole unsalted almonds and peanuts. Once they get toasty, they are so good.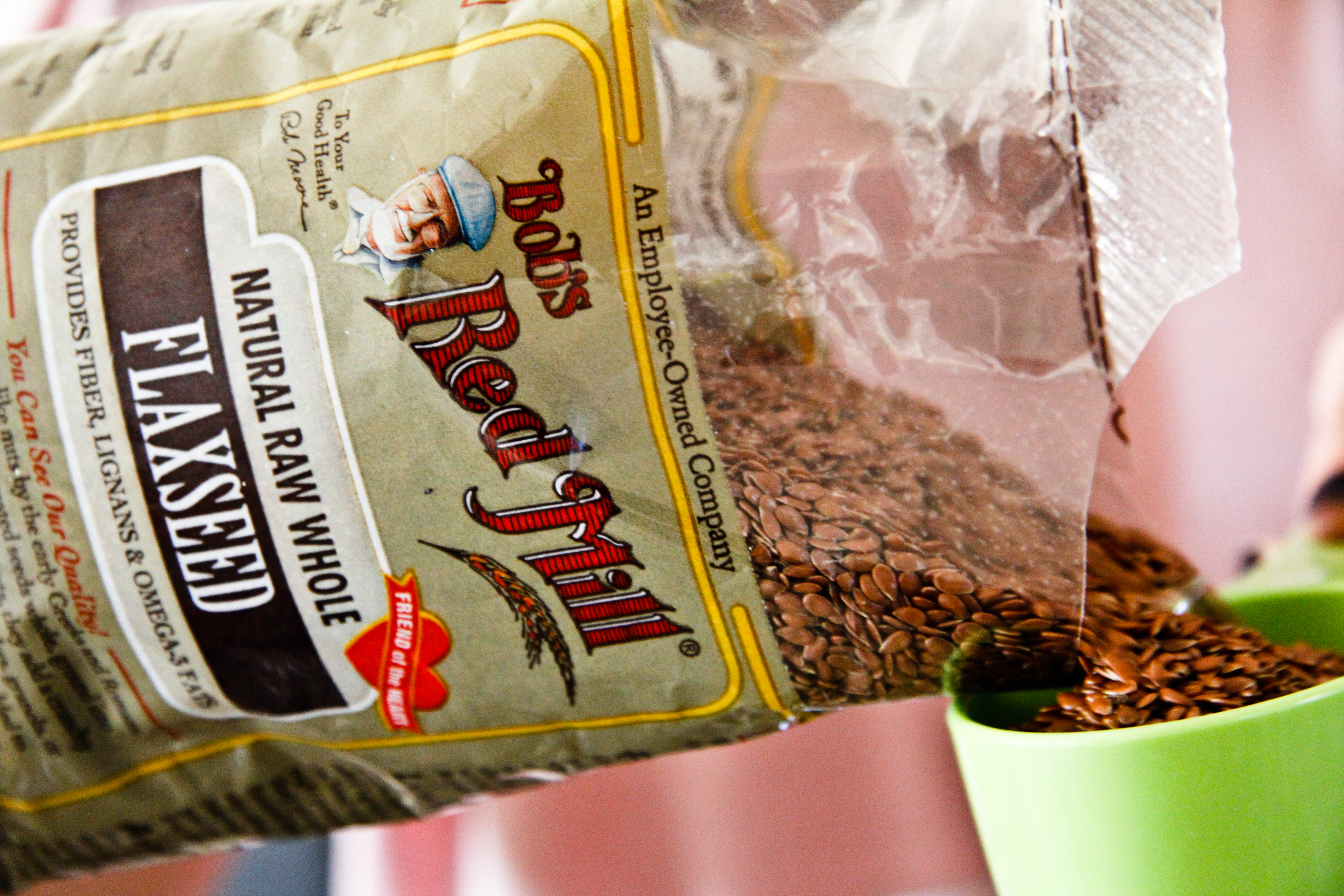 Seeds go in, such as pumpkin, sunflower, and even flax seed, just for good measure.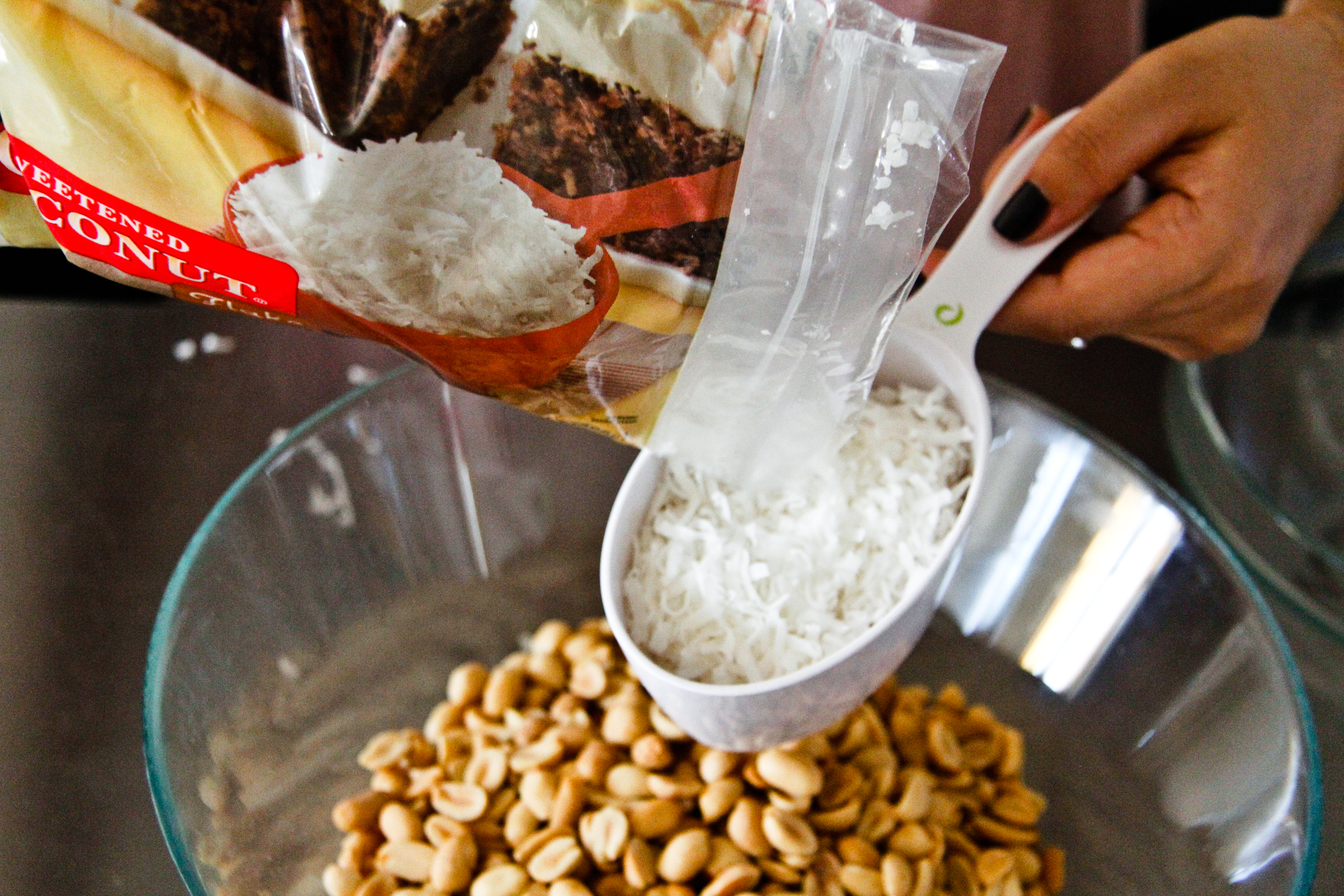 Sweetened shredded coconut gets added for extra flavor and texture. As the coconut shards crisp in the oven, they transform into flaky, fragrant, chewy strands of awesome.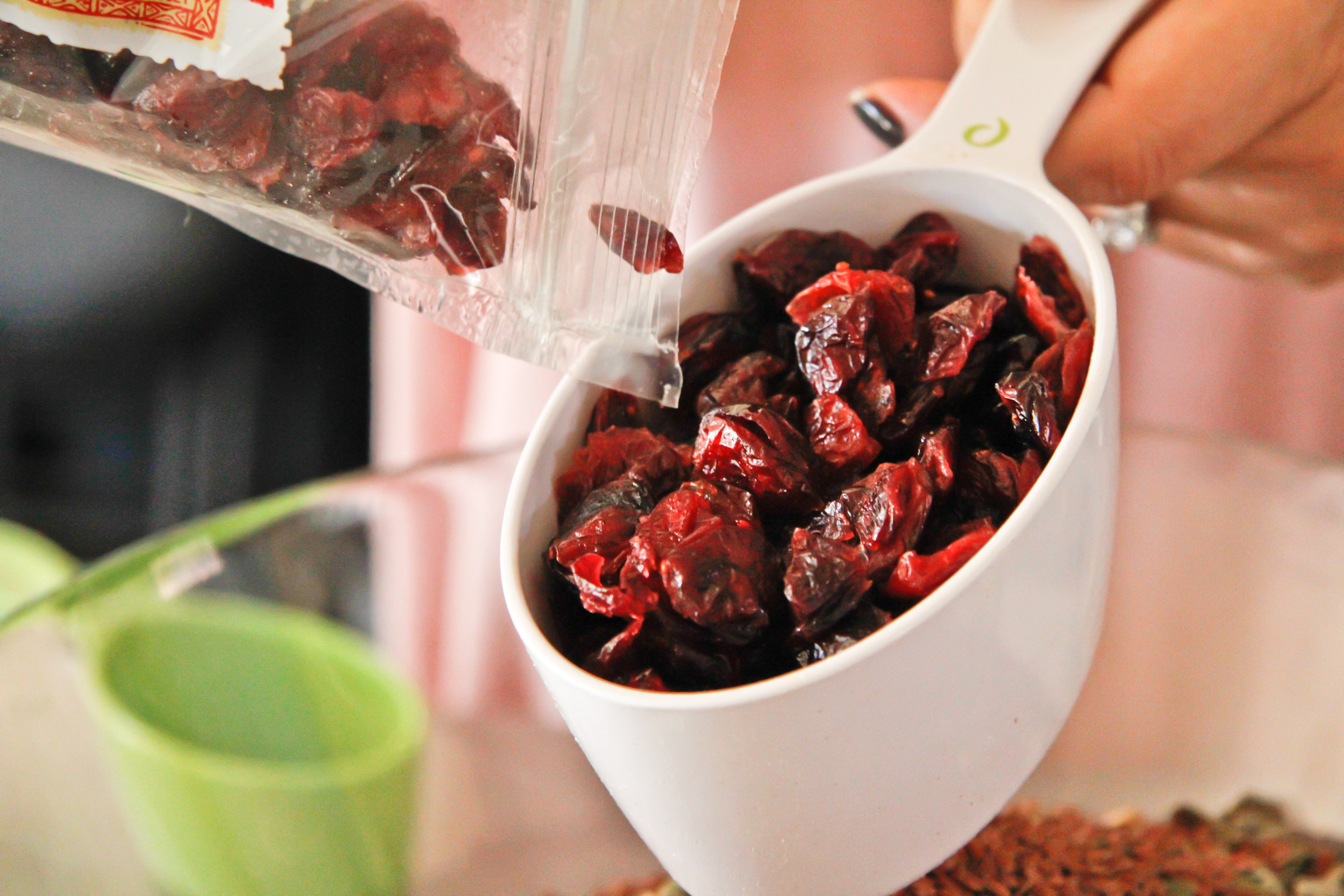 And of course, for cranberry granola, you must add deliciously sweet dried cranberries.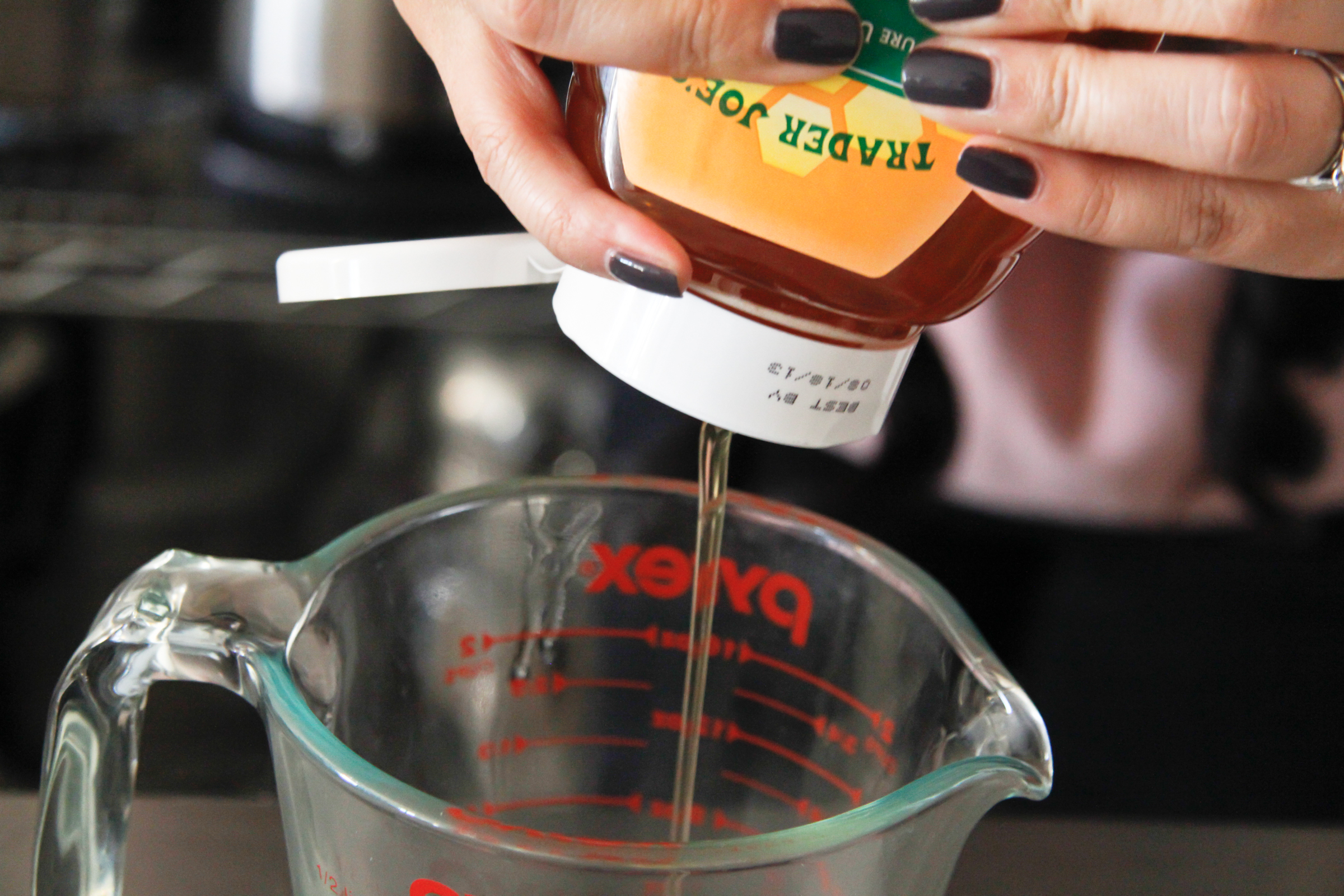 In a separate bowl, you make a sweet mixture which will act as your glue to hold all the nutty pieces together. Squirt in honey with some brown sugar. Add vegetable oil.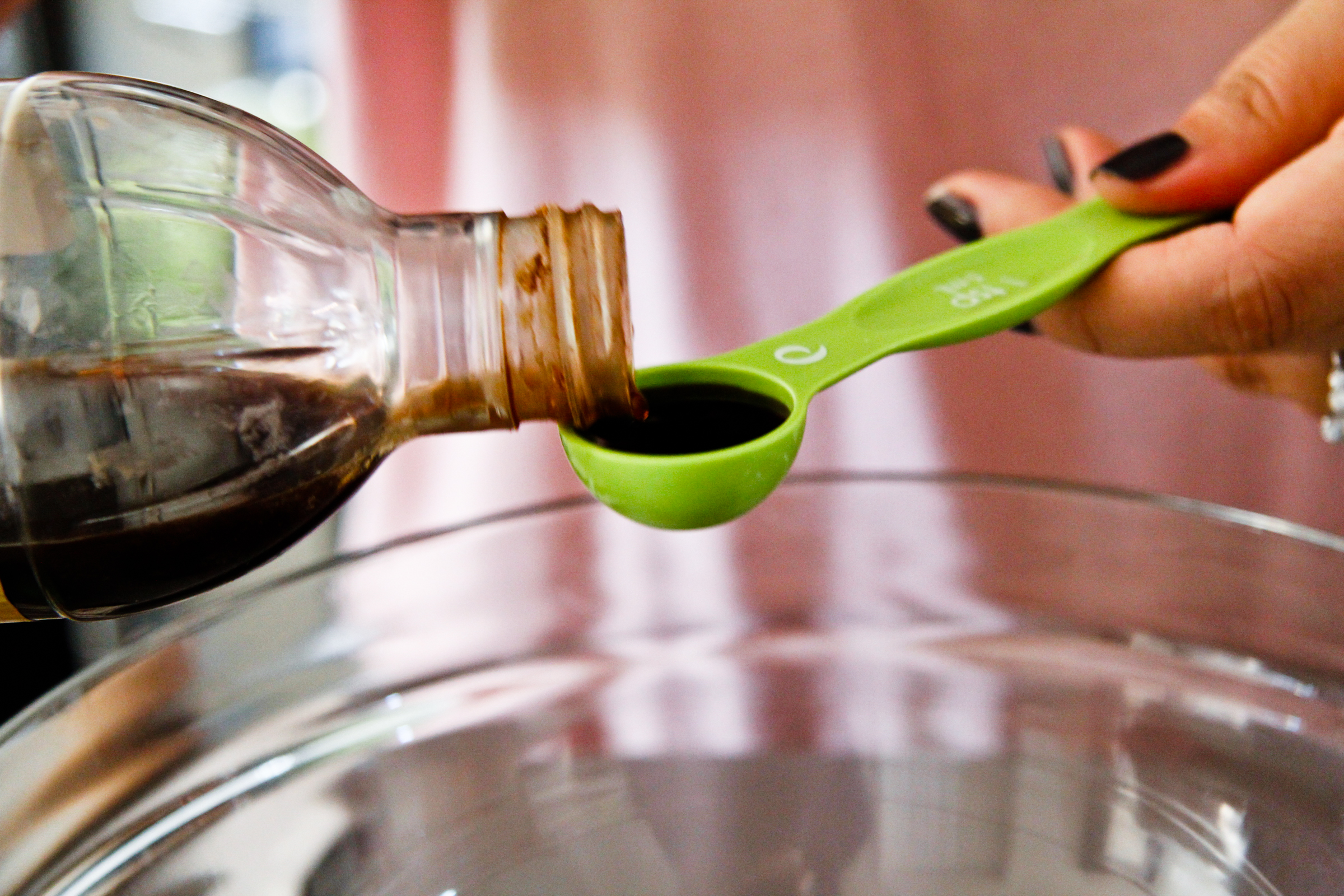 Then finish off with vanilla, kosher salt, and cinnamon!  The cinnamon will add that sprinkle of magic.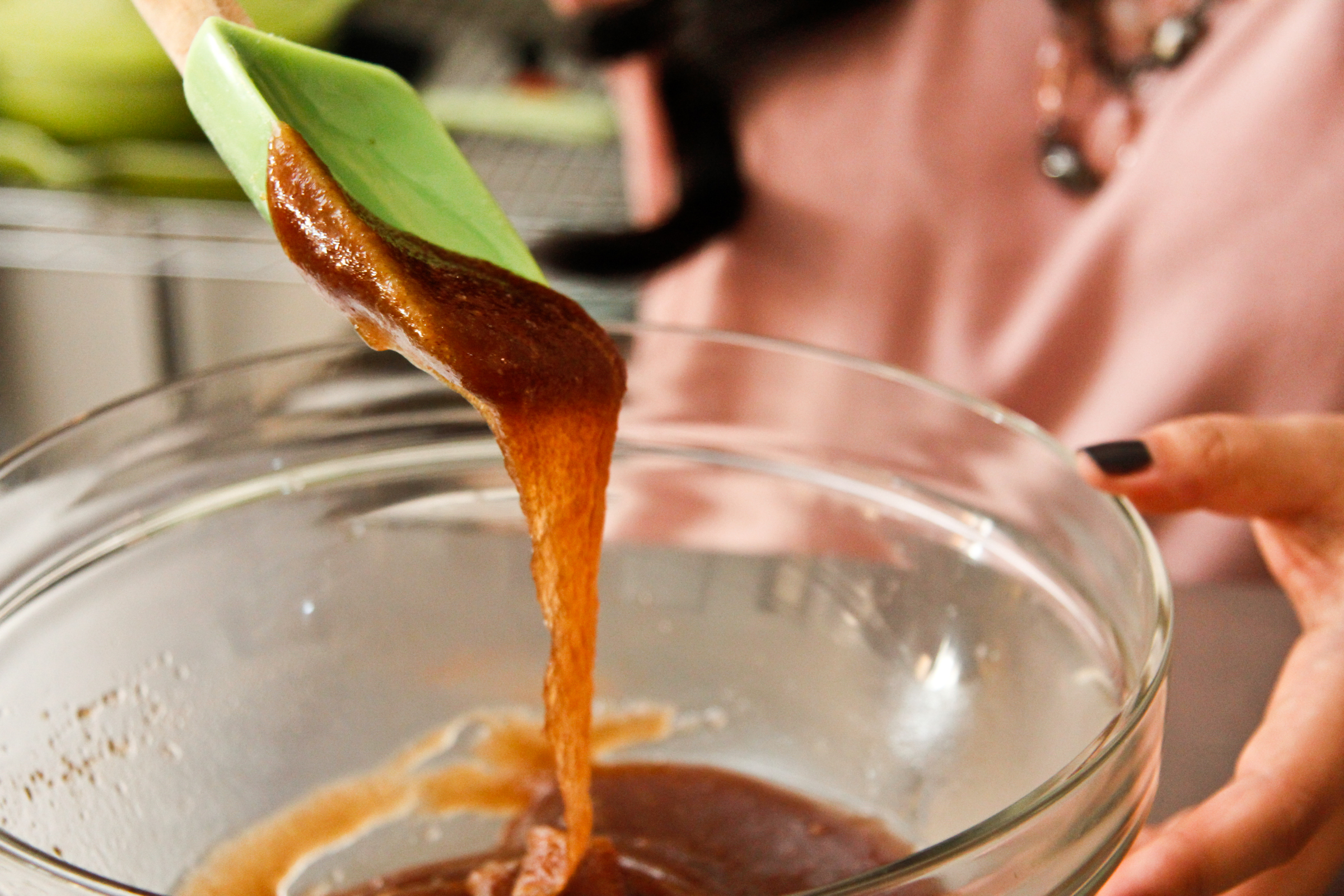 You end up with quite a gloopy thick glaze.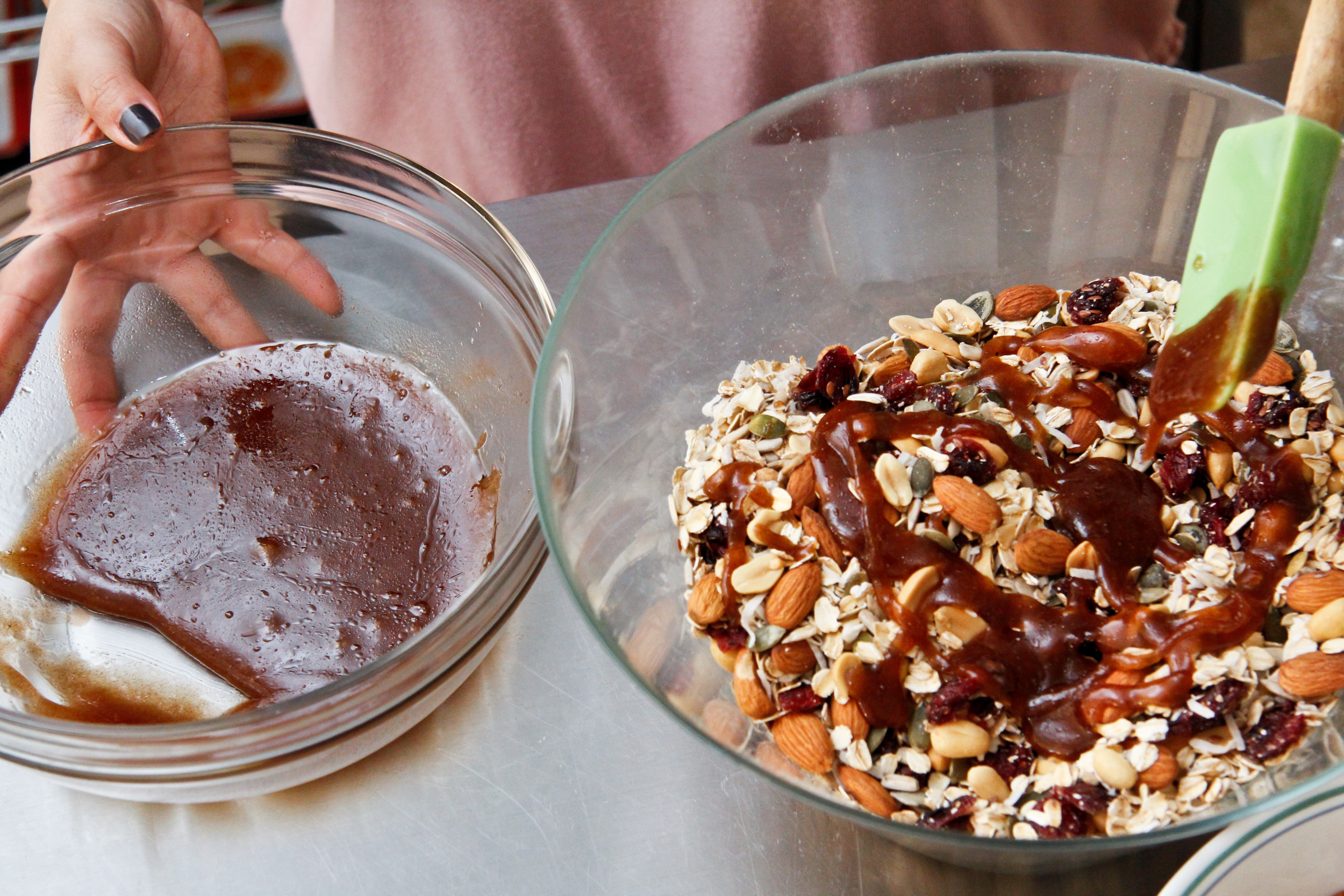 You drizzle it over your dry mixture. It will seem like there's not enough glaze to coat all that granola, but don't worry, it will.  Just work in batches if you have to.
And use some arm muscle.  Okay, use a lot of arm muscle.  Be patient.  You'll eventually see all the dry oats become lightly kissed with the glaze.  It's okay if it starts clumping. It's supposed to. Keep stirring my friend.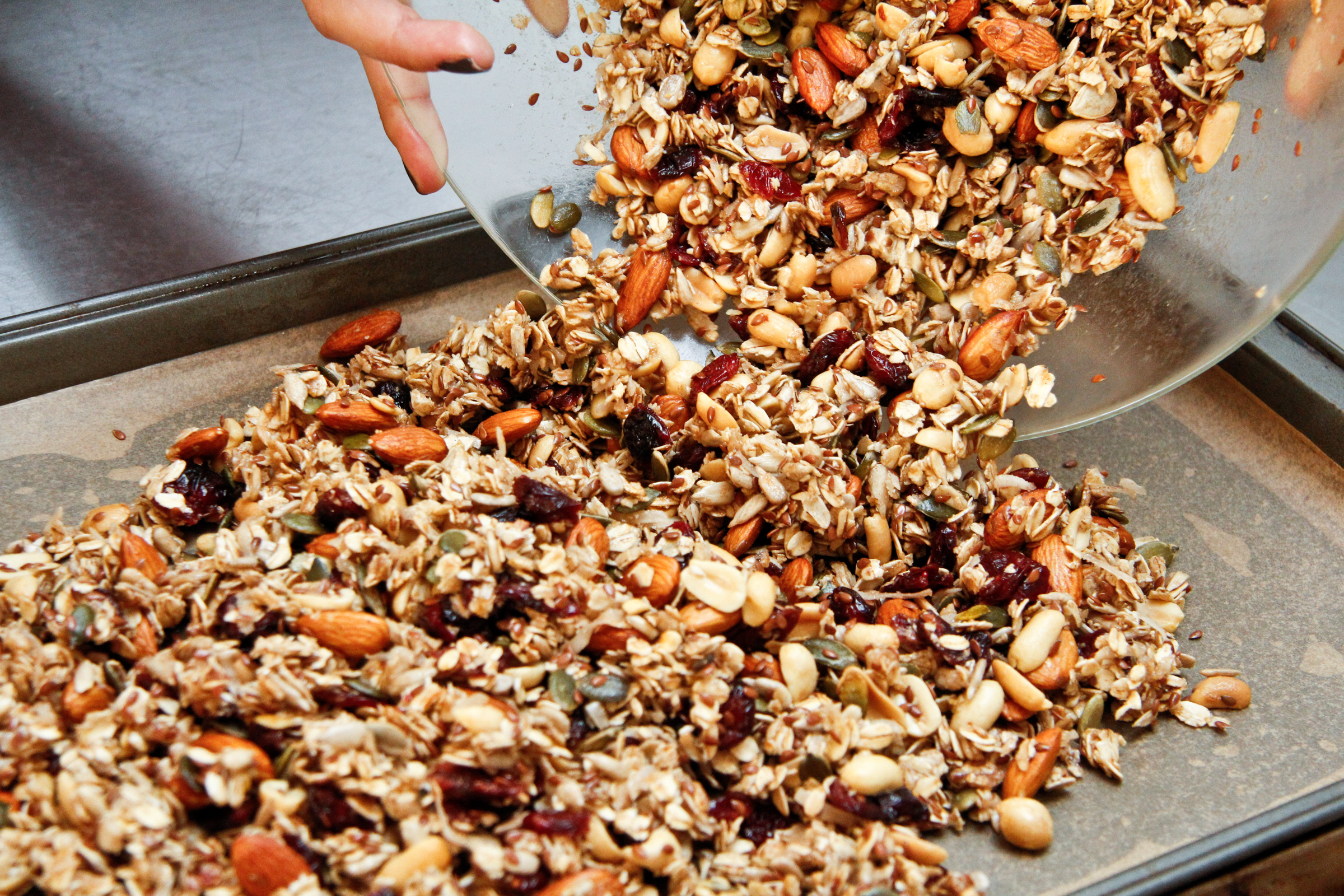 Then you'll be able to pour the well coated granola onto two baking sheets.  I chose to spray my pans with a little PAM, and then stick sheets of parchment paper on top.  The PAM helps the parchment paper not to move.  I did this just in case the honey sauce decided to get too sticky on me.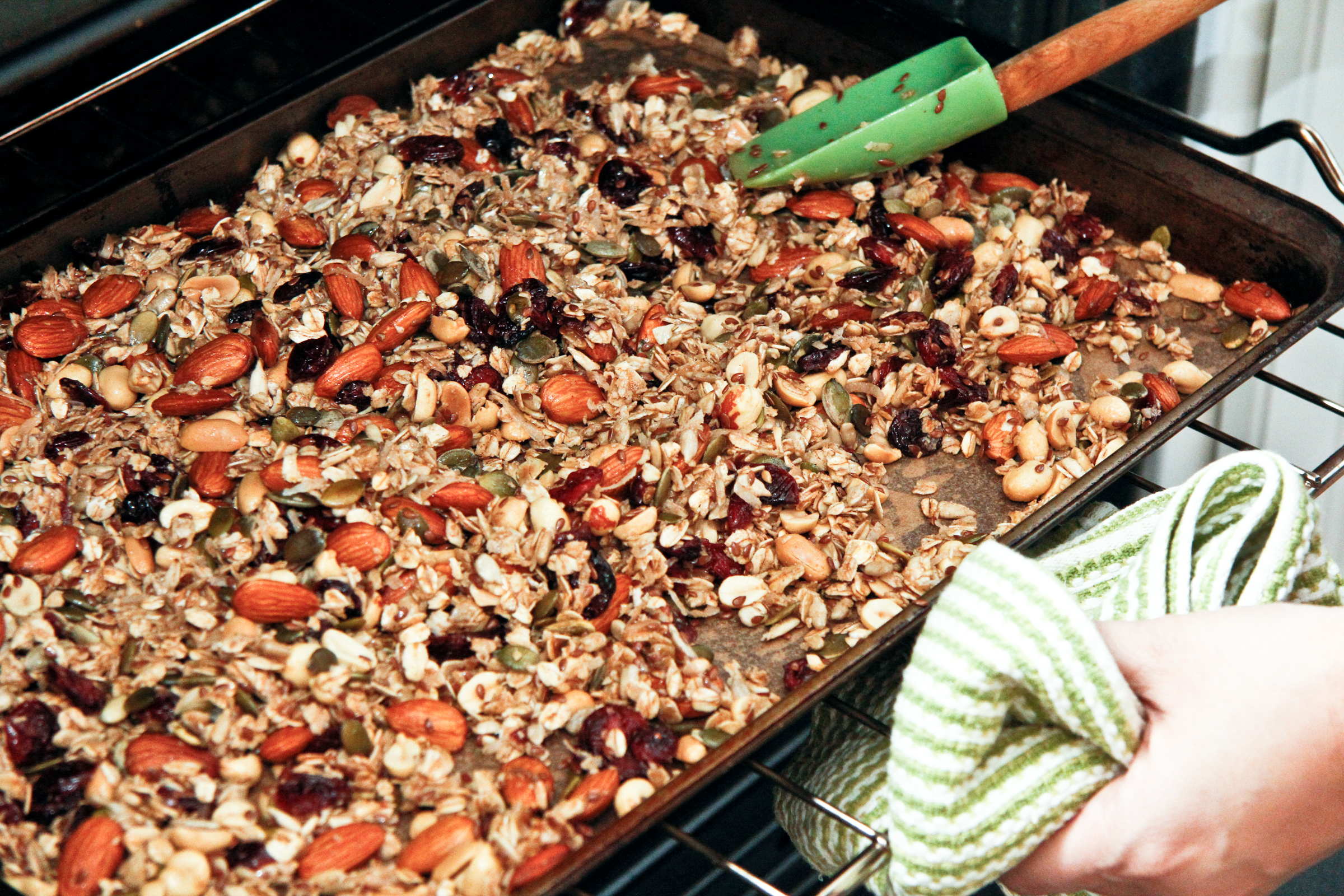 The pans go into a preheated 250 degree oven for anywhere between 45 minutes to an hour.  Just be sure to stir the granola around every 15 minutes.  You'll see it start to brown on the edges first, so you're going to want to distribute the heat.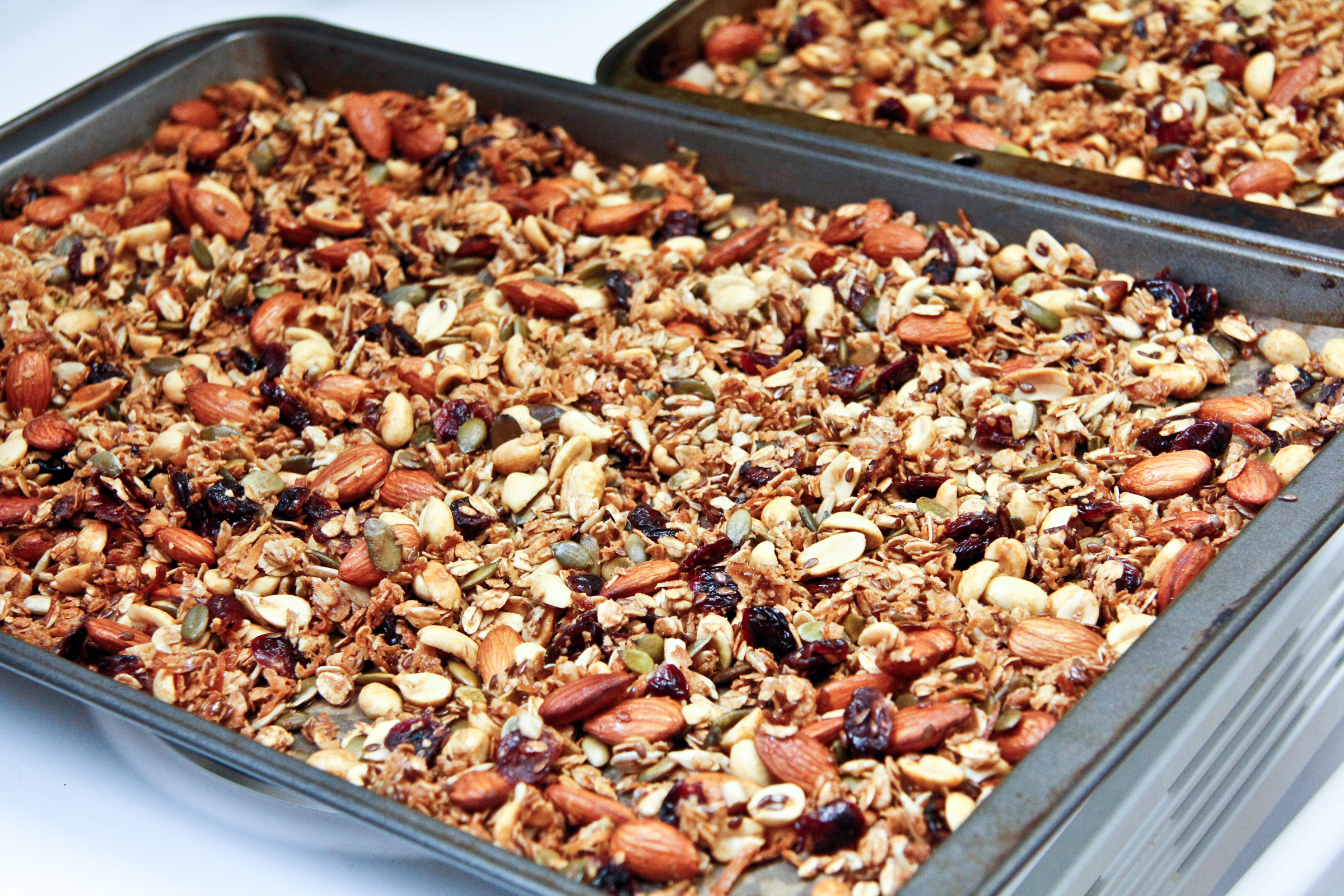 When they come out, the oats will still be a little soft.  But once the pans are left alone to cool completely, everything will crisp up more and you'll be left with beautifully crumbly crunchy and chewy granola.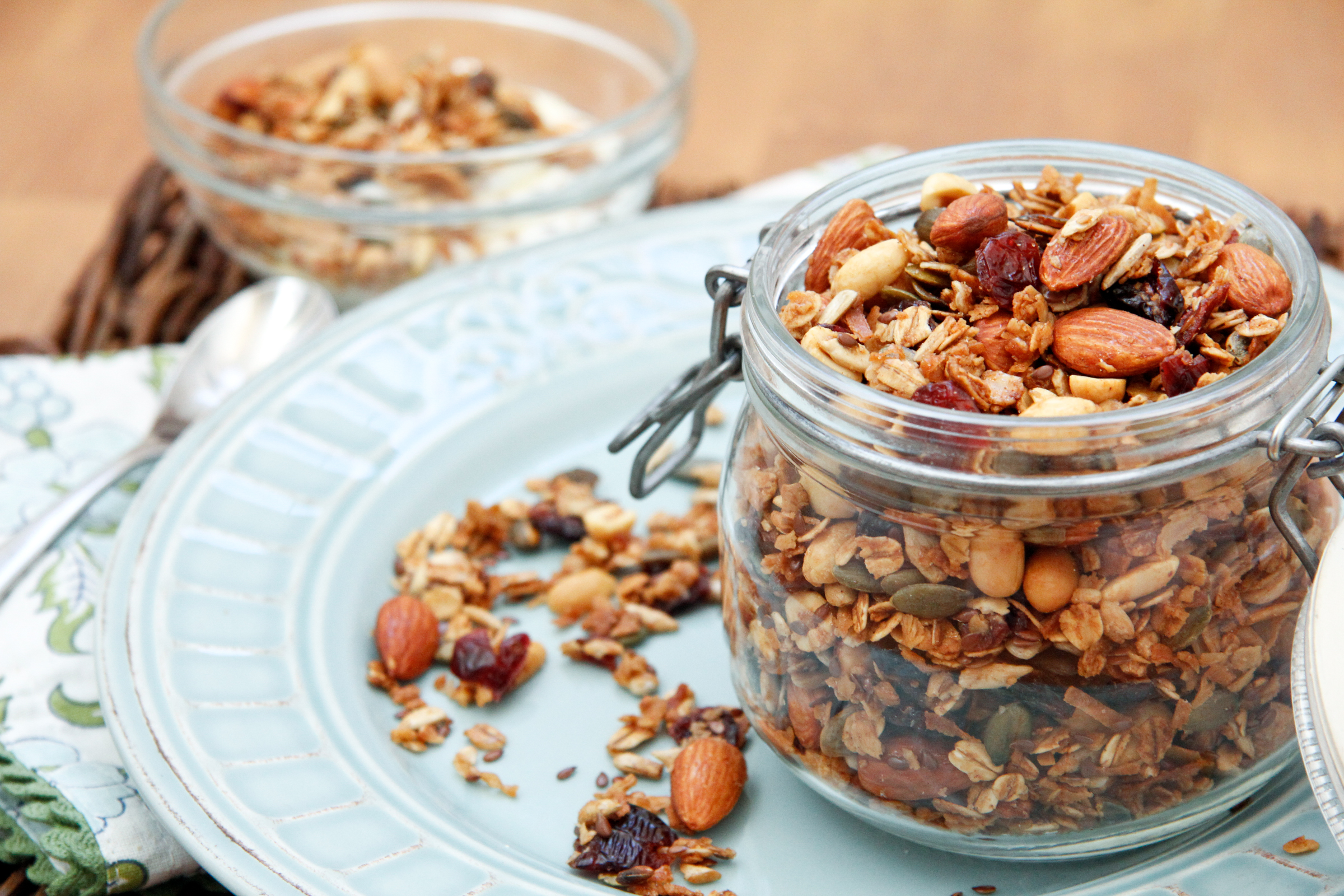 This granola is chock full of chewy, crunchy texture and flavor thanks to all the nuts, seeds, and coconut. And I especially like how the sweet dried cranberries get even more chewy and intensified in flavor as they bake in the oven. With this amount of ingredients to the ratio of the glaze, we found the granola to be perfectly sweet, but not too sweet, and the salt helps to balance everything out. It's truly a treat.
Oh yeah, and I forced Vanessa into doing a vlog with me about our granola making adventure. We even take you grocery shopping with us for the ingredients, so stay tuned for that. You can give this granola away or grab some yogurt and dig right in! Then you can have yourself a merry little Christmas now.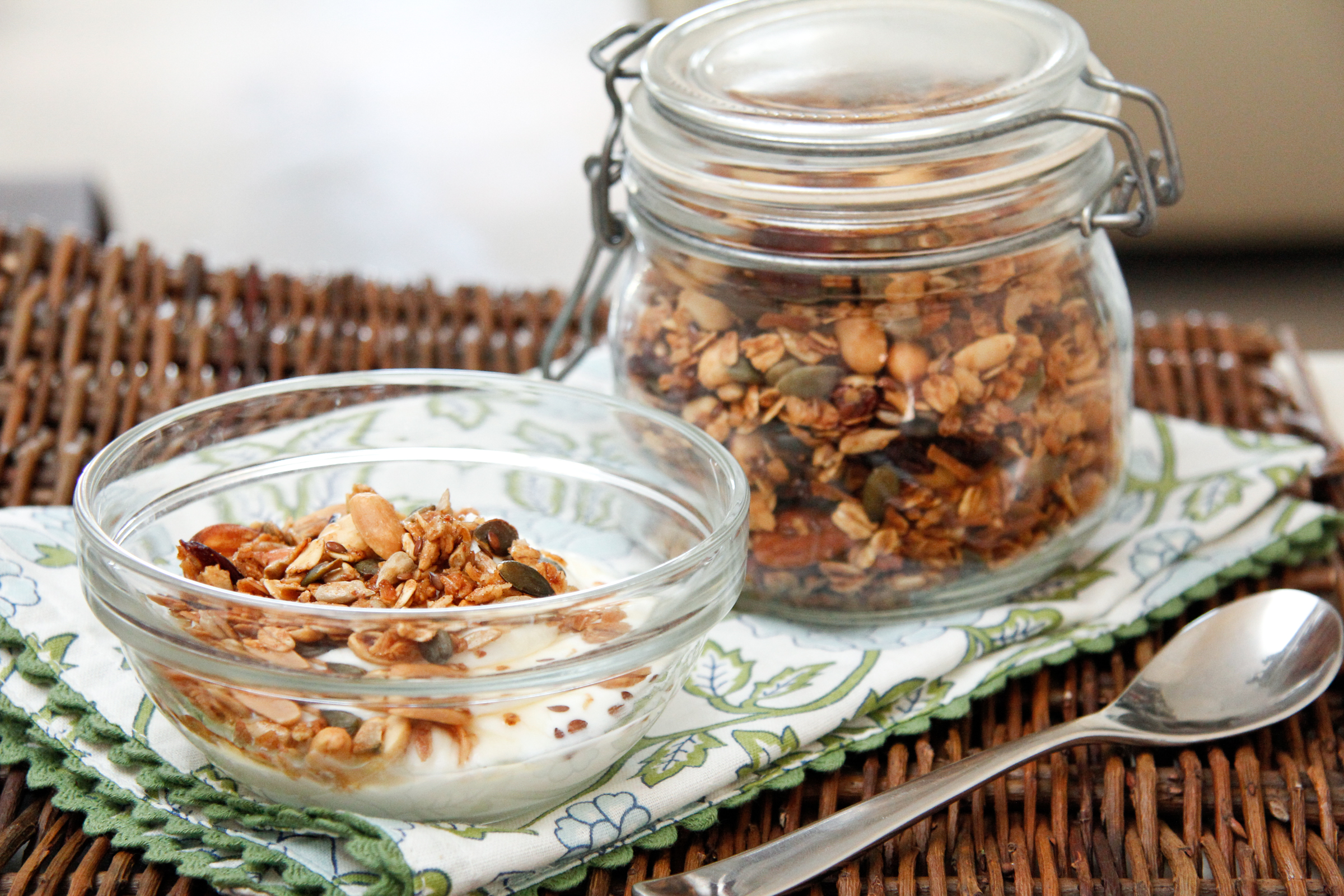 Nutty Cranberry Granola
This nutty granola is the perfect snack or topping for yogurt.
Ingredients
4 cups oats
2 cups whole unsalted almonds
2 cups roasted unsalted peanuts
1 cup pumpkin seeds
1 cup sunflower seeds
½ cup flax seeds (optional)
2 cups dried cranberries
1 cup shredded sweetened coconut
½ cup brown sugar
½ cup honey
⅓ cup vegetable oil
2 teaspoons vanilla
1 teaspoon kosher salt
1 teaspoon cinnamon
Instructions
Preheat the oven to 250 degrees.
In a large bowl, combine the oats, nuts, cranberries, coconut, and seeds. In a separate smaller bowl, combine the sugar, oil, honey, vanilla, cinnamon, and salt. Mix well. It will turn into a thick sticky glaze.
Pour the honey glaze over the granola. You may need to work in batches in order to make sure everything is well coated. It will appear as if there is not enough honey glaze to coat all of the oats and nuts, but if you keep mixing well, it will all eventually get coated. It's fine if the mixture starts clumping. Keep stirring and break up the large clumps with your spatula or spoon.
Pour out the coated granola onto two parchment lined or lightly greased sheet pans. Pop into the oven for 45 minutes, or up to 1 hour, making sure to toss and stir the granola every 15 minutes. Allow it to cool completely. When it cools, it will crisp up more, so don't worry if it seems a little soft when it first comes out of the oven. Store in an air tight container or a resealable bag and keep in the fridge.