How to Snazz Up a Box of Cake Mix
There was no special occasion for baking, and I have no idea why I dumped the contents of a box of cake mix into a bowl before I even had my cup of coffee.  I must have really wanted cake.  But then I decided that if I was going to be lazy and "cheat" with a store-bought cake mix, I might as well make it a darn good one so that I could at least blog about my process, right?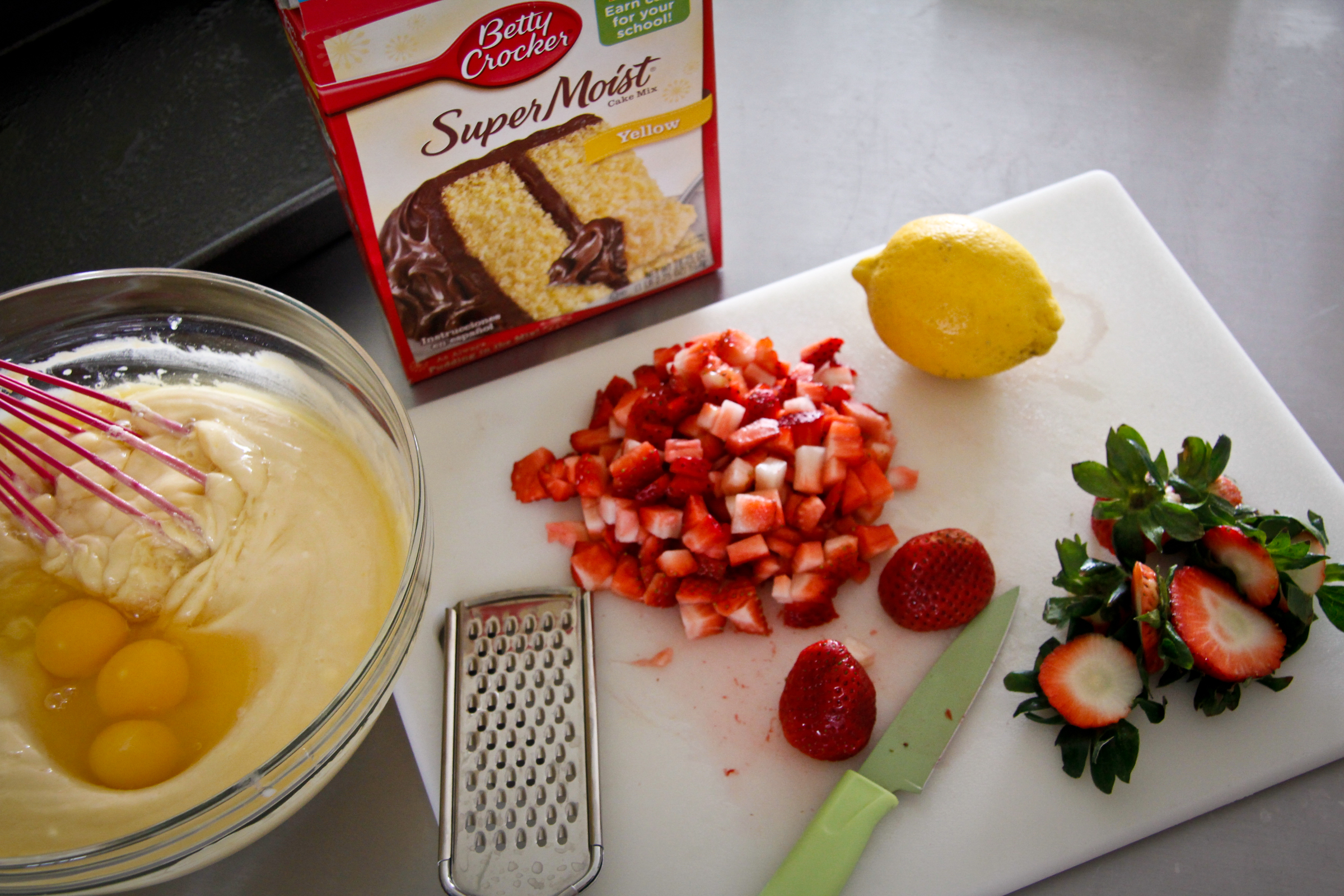 So, one trick is to replace the vegetable oil the box calls for with melted unsalted butter in the same amount.  I think it makes the cake more "crumby" and less "spongy."  But if you like spongy cake, stick with the veggie oil.  Then mix up the batter with the eggs and water it calls for.  You can also substitute milk for the water.  Next add some diced fresh strawberries (or you can try other kinds of juicy soft fruit you have on-hand, such as raspberries, peaches, etc.).  Make sure they're ripe.  But sprinkle them with a little sugar too just to make sure they're nice and sweet.  Here I used about 8 berries or so.  Also, I forgot to do this, but if you want to make sure they don't just sink to the bottom of the cake, toss them in a little flour first.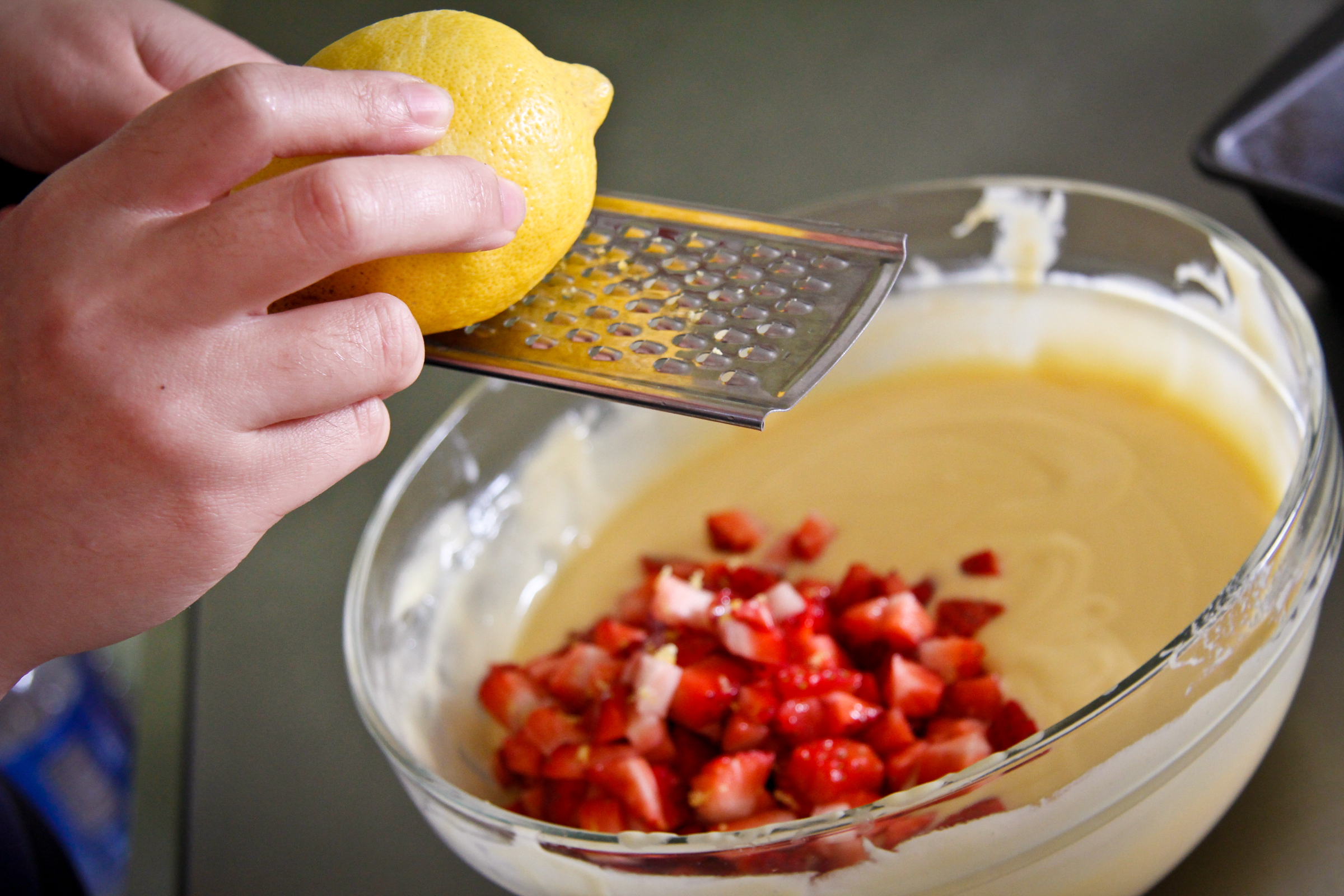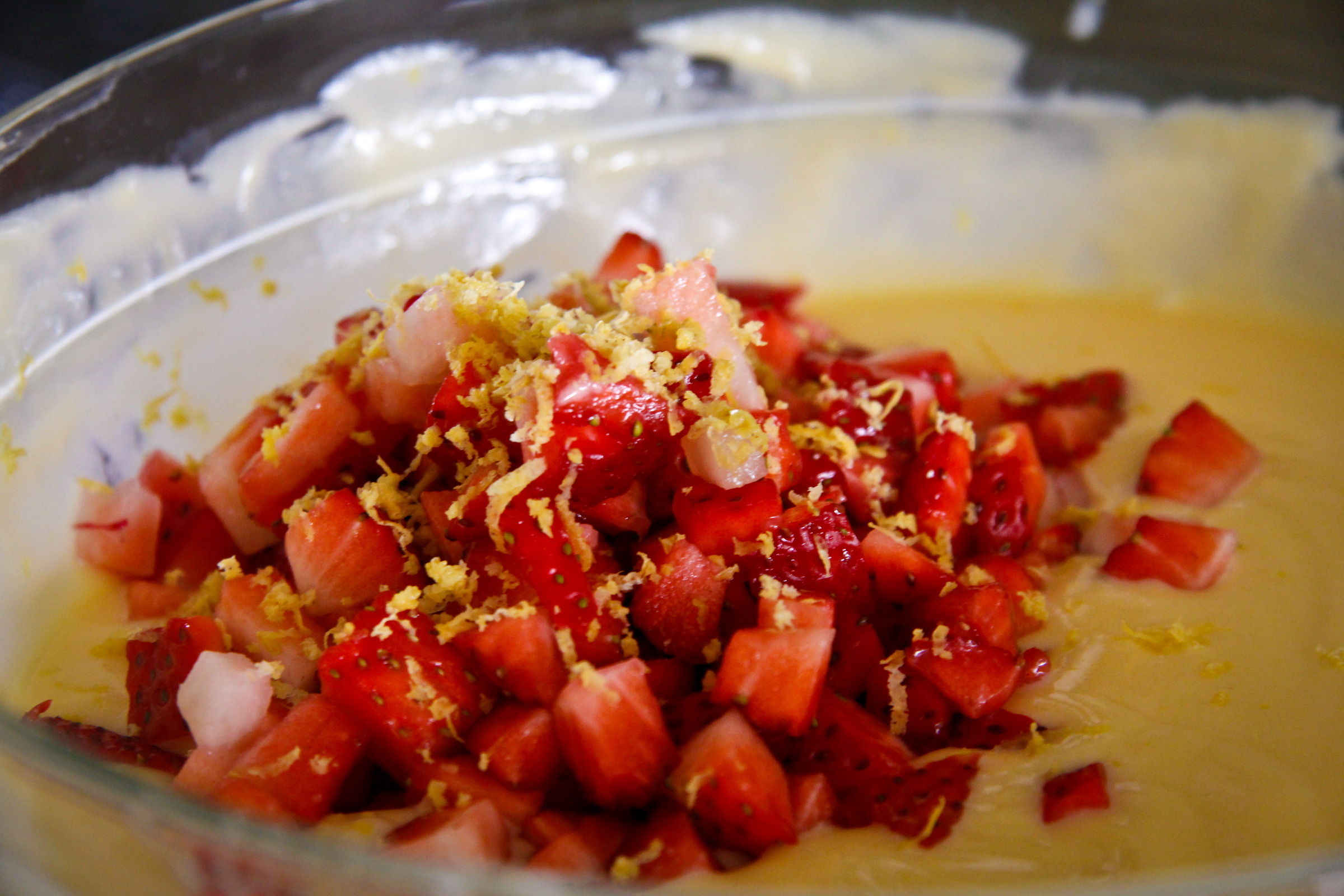 The final touch is just the zest of 1 lemon, NOT the juice.  The zest alone is powerful enough to make instant lemon cake.  If you don't like the taste of lemon, don't add the zest.  Or you can also add the zest of just a half if you want a more subtle lemon taste.  Gently fold the berries and zest until incorporated, but don't go to town with the mixing because you still want the cake to remain nice and golden, with just a speckle of red from the berries.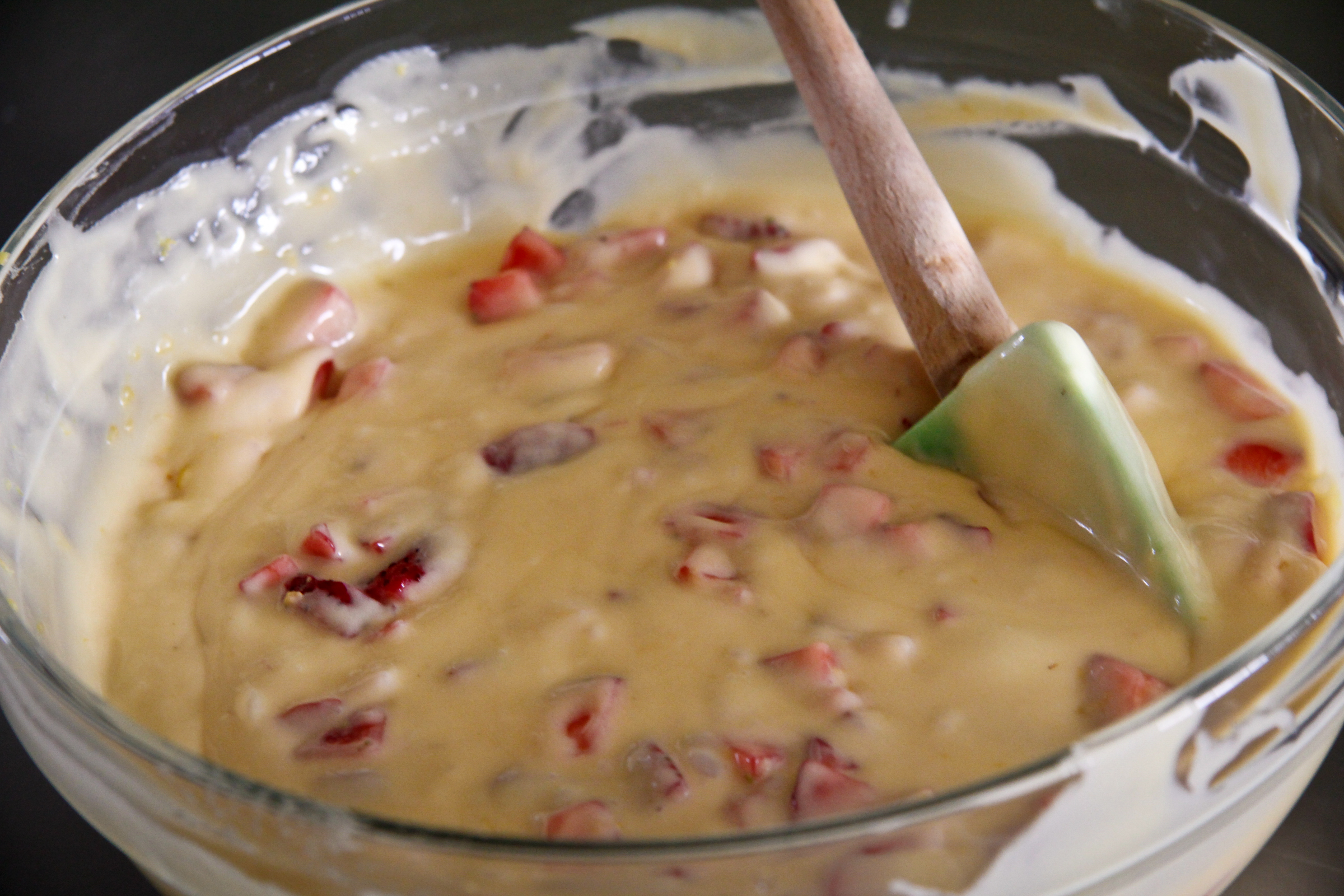 Bake as instructed.  The berries shouldn't really affect the baking time.  It didn't for me.  Over-baking actually leads to dryness, so do the toothpick test and err on the side of under-cooking if you want the cake to stay moist.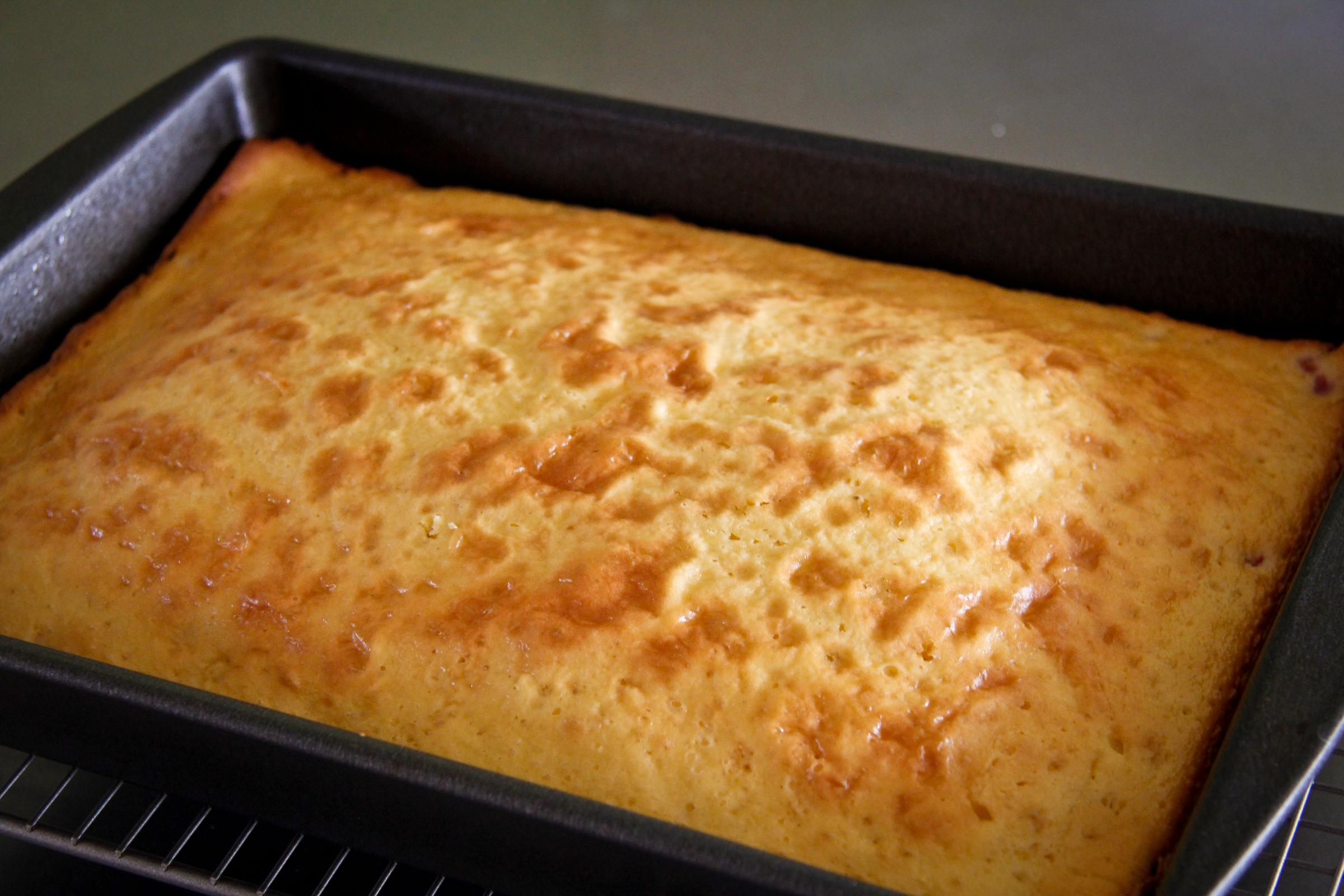 Let the cake cool fully on a rack.  Top with dark chocolate frosting (tastes more "grown-up" than milk chocolate frosting, and compliments the strawberries and lemon zest) and a sprinkling of more fresh diced strawberries.  The combination of all these ingredients lend to a simple yet refreshing spin on a regular boxed cake mix.  It's easy to do, doesn't take that much extra time and it's a delicious treat to have while relaxing and watching an episode of The Bachelor.