My Chicago Baby Shower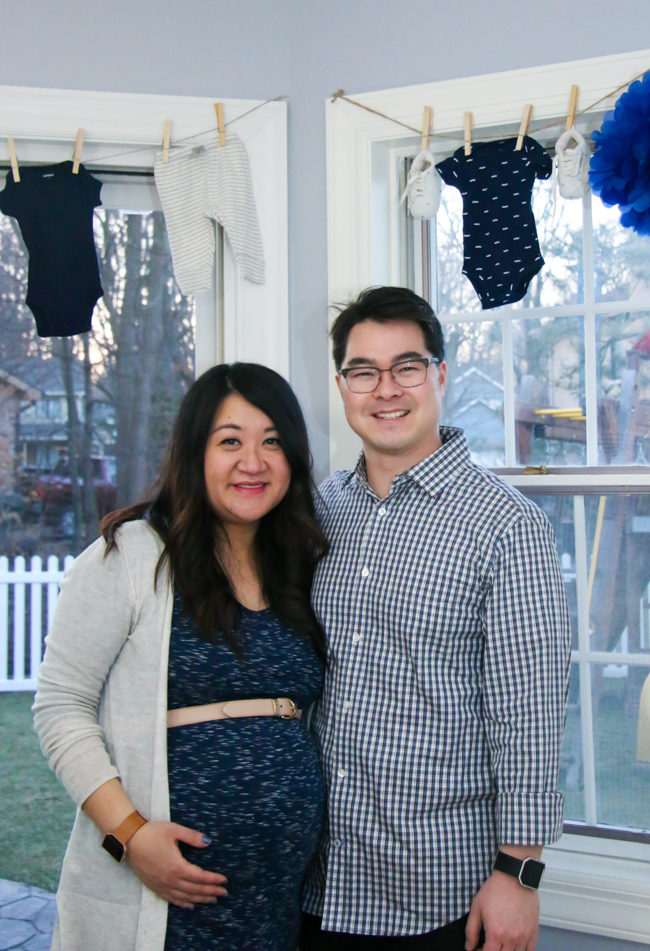 I already mentioned in a previous blog entry that I was blessed with two baby showers.  My east coast one was a cute and quaint tea party with just a few close friends and family, when I was visiting over the holidays, and today I want to share with you my Chicago shower, which was a larger affair.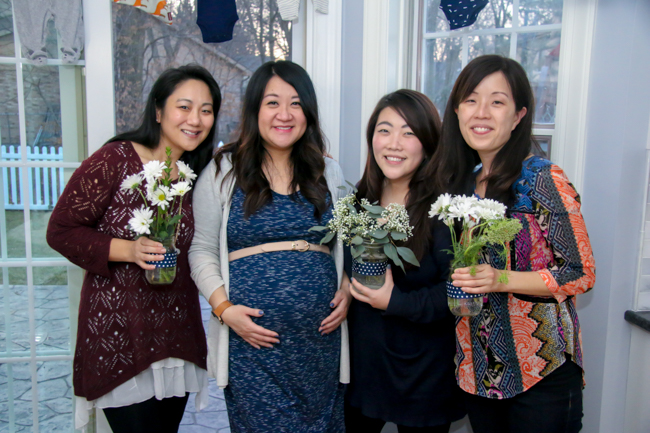 My sweet friends Katie, Audrey, and Sandy threw the entire shin dig for me at Katie's house and they went to town with the decor and little details, including Audrey's awesome hand lettering for all the signage.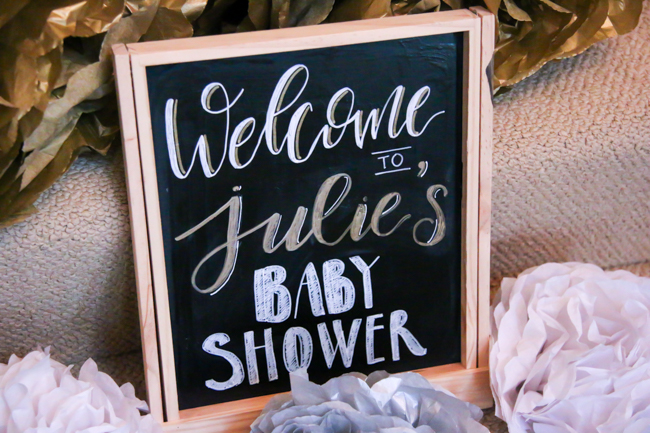 When they asked me what kind of "theme" I had in mind for my shower, I didn't really know how to express it so I sent them a mood board…basically a picture of a collage of items I already had lying around my house that represented my taste.  Hey, I blame it on my fashion design days where I made mood boards all the time.
My friends were cracking up when they saw it, but they totally got the hint… navy, silver, gold, polka dots, stripes, and modern with rustic touches.  I also said that I wasn't really into a ton of animals but if they wanted to incorporate, I didn't mind a fox… so they took that idea and ran with it.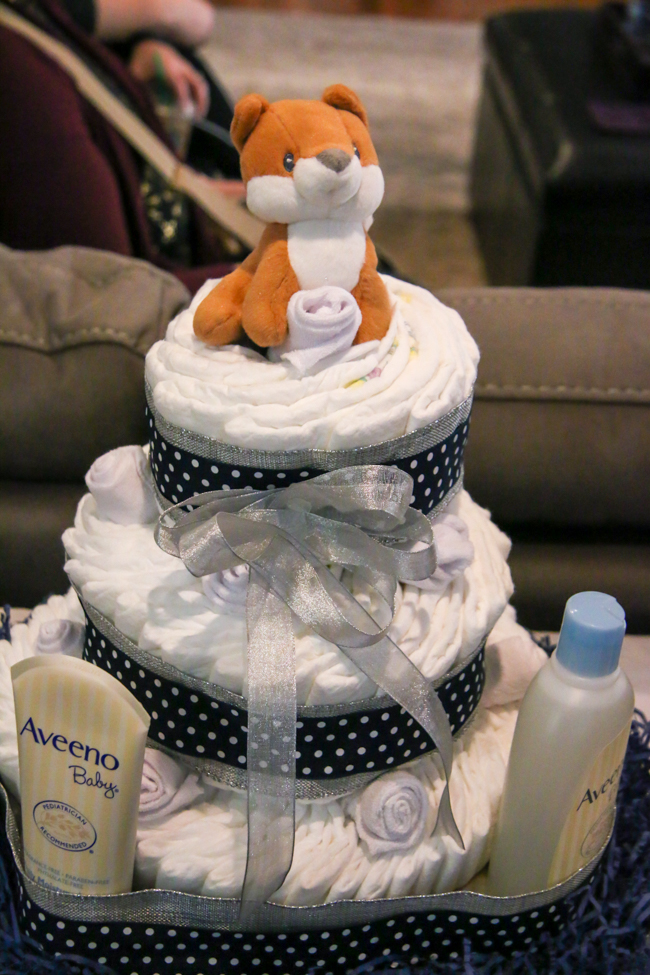 Sandy told me about how they watched a YouTube tutorial video of some guy making this diaper cake using different sized frying pans.  They followed it exactly and did a great job…haha!  And Joe and I were impressed by Audrey's Illustrator skills to draw and design these custom fox labels from scratch for the party favors.  I have some seriously talented friends.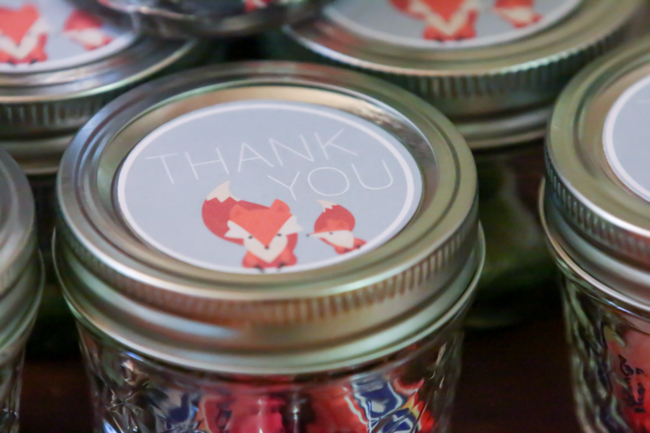 By the way, this little fox rattle is so perfect and adorable that I already packed it into my hospital bag so our baby can have a little friend when he first enters the world.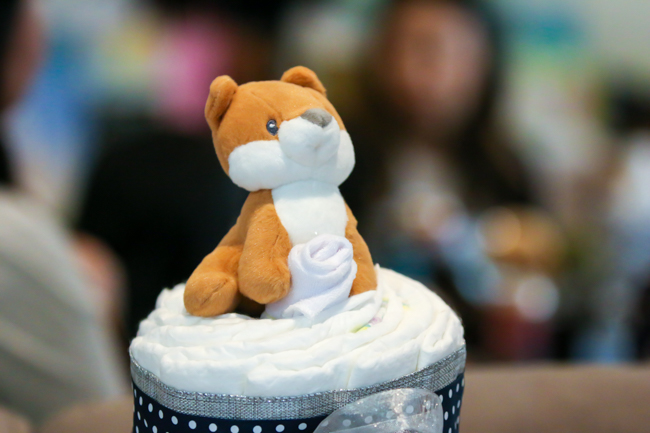 I really didn't want them to spend a ton of money on decor so they rummaged through my home and took items I had previously used to decorate our table settings during my supper club days, like my mason jars and DIY spray painted bottles.  But when I showed up to the party, I was so impressed at how they repurposed everything.  It all looked so different and beautiful!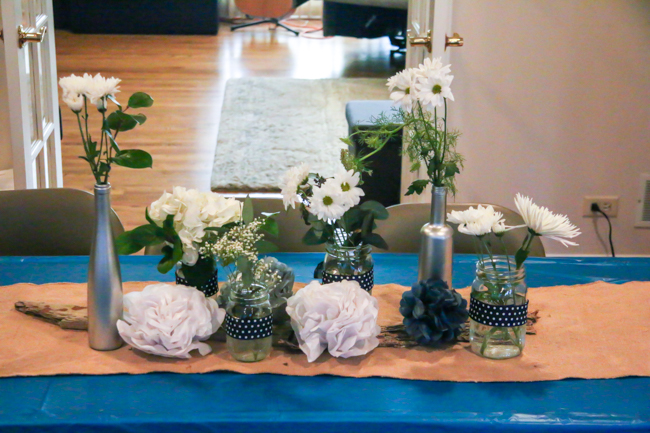 I loved that the colors of the flowers were kept in a simple white and green motif, which added to the clean and rustic vibe.  Since there were so many guests, there were tables set up all throughout Katie's house, which made it feel like a chic little restaurant.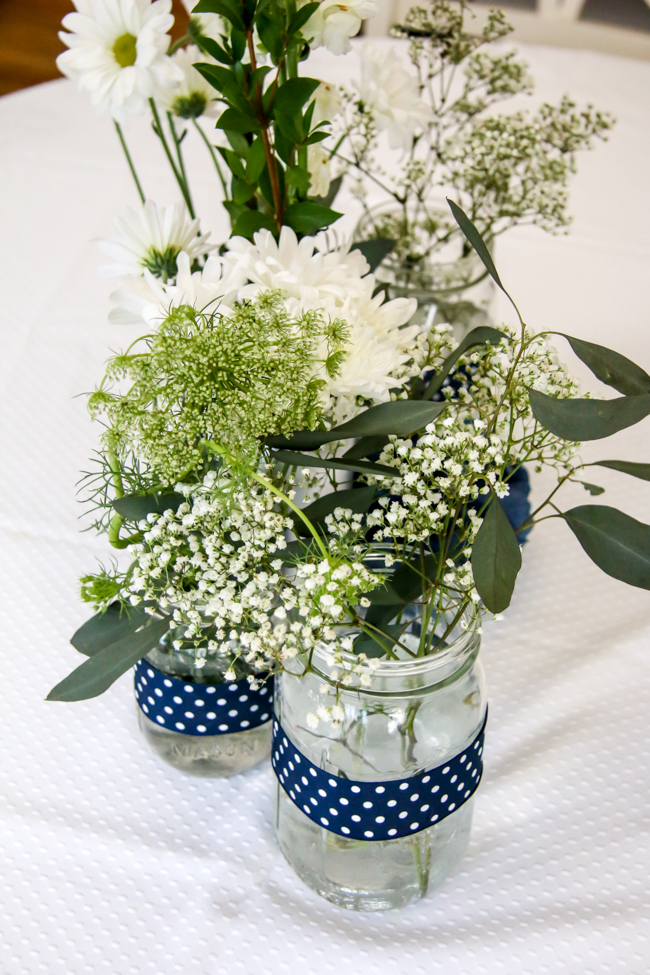 My friends also came to my place and stole some onesies and accessories that I had already inherited as either gifts or hand me downs before this party.  They used them to hang around the house as part of the decor.  I think it was perfect that one of my friends from the east coast had just sent me a fox print bandana bib too!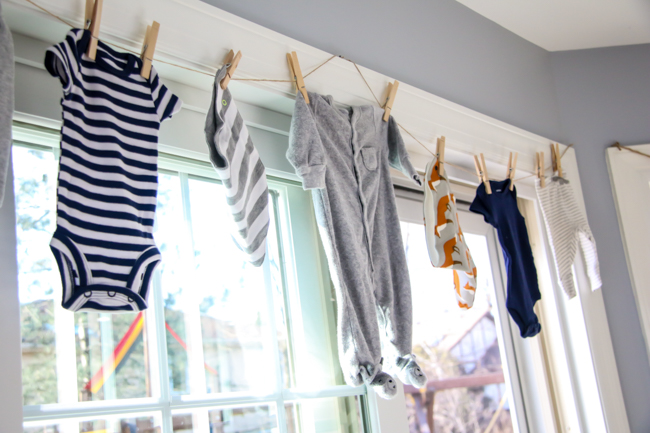 The food was a lovely and elegant spread of little nibbles and desserts since the party was held sometime in between lunch and dinner.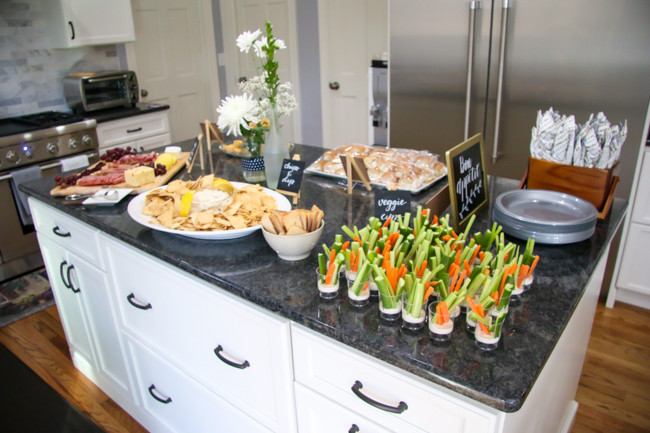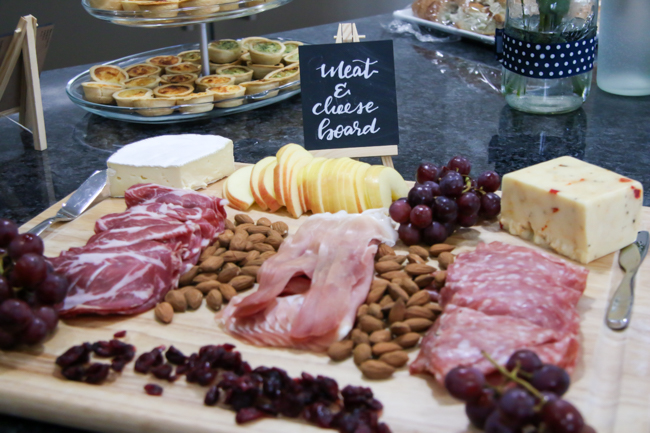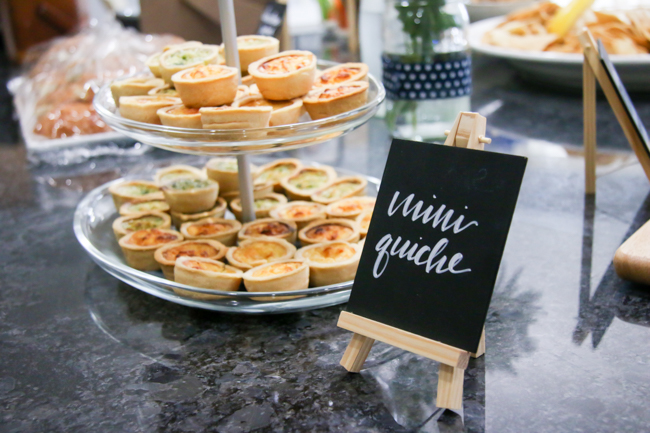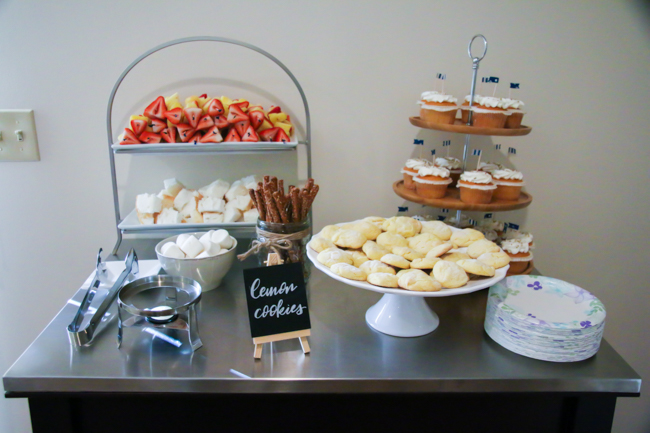 Everything was so tasty and presented nicely.  Some guests even wondered if I catered my own party! Ha…it kind of looks like I did, but trust me, I had no hand in this. This just goes to prove how well my friends know me and my style 🙂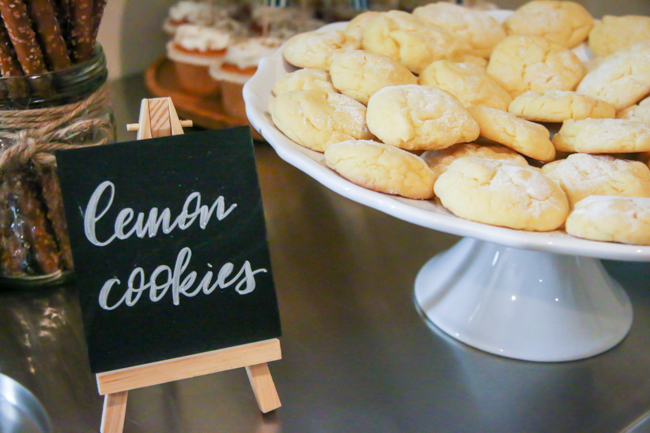 I appreciated all the tiny details here and there, from the miniature hand lettered signs to the tiny polka dotted cupcake flags.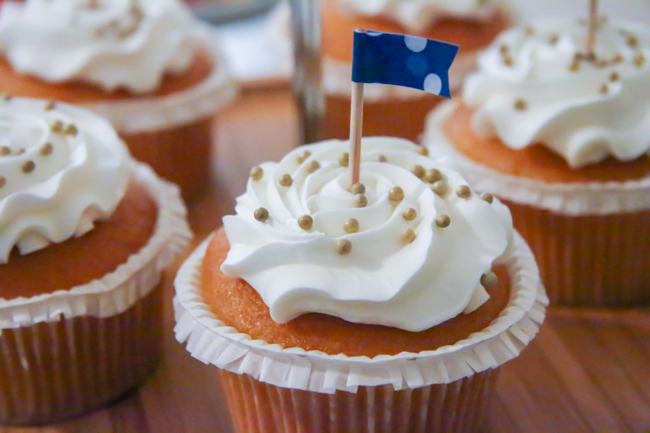 But the best and most useful area of the party was this station the party planners set up for my sanity.  It allowed guests to write their own sticky labels with their names and addresses on them. When it came time to send out thank you cards, all I had to do was peel them off and slap them on the envelopes so that mailing them was a breeze!  I highly recommend doing this because it saved me SO MUCH TIME!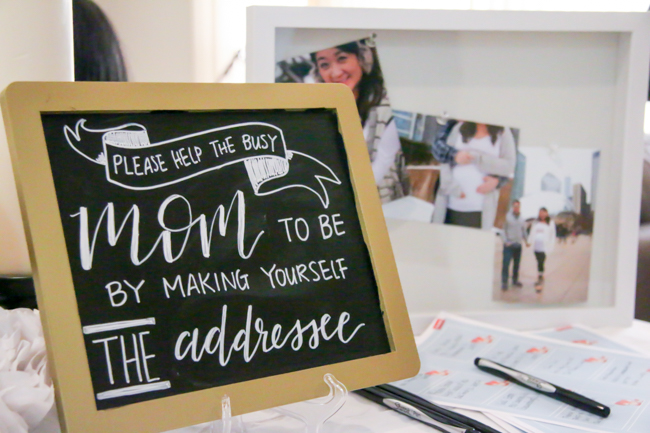 I also appreciated that my friends recycled this banner that my friend Talena made me for my east coast baby shower. She had worked so hard on it but unfortunately couldn't make it to my shower that day because of a freak snowstorm / blizzard.  It never got displayed at my party there, so I'm glad we could use it for this one, and it fit the theme so seamlessly!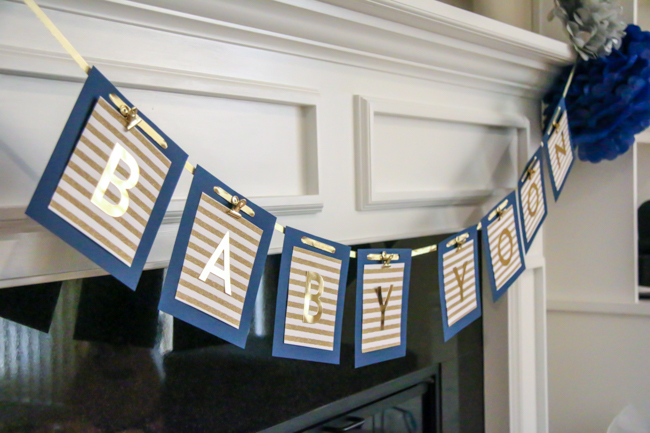 The flow and vibe of the party was casual and comfortable. Everyone grabbed the food buffet style and scattered about the different rooms and tables in the house.  It was great to see all my guests mingle so well and have fun amongst themselves.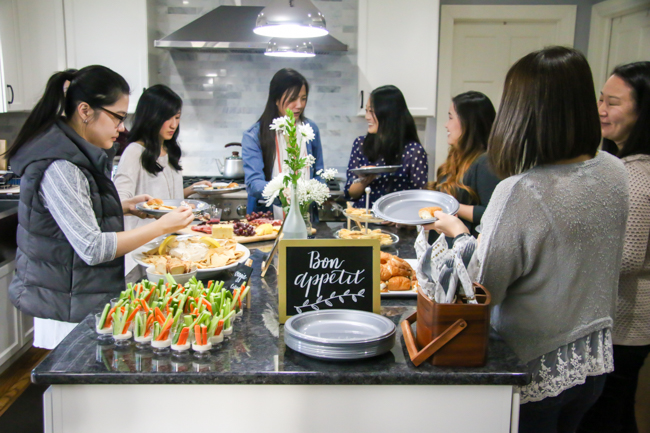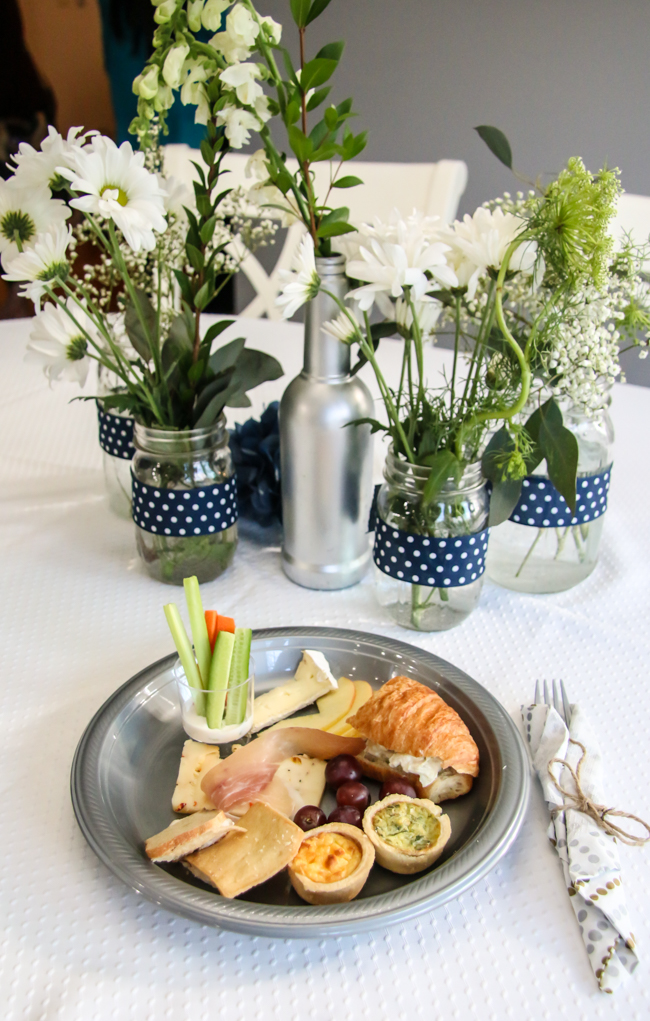 Since my sister and mom weren't able to fly out to Chicago, the only family I had at the party was my mother-in-law and Joe's cousin, Janet. But it made my heart full to see them there and they both told me it was nice for them to witness me being showered with so much love from my friends that day.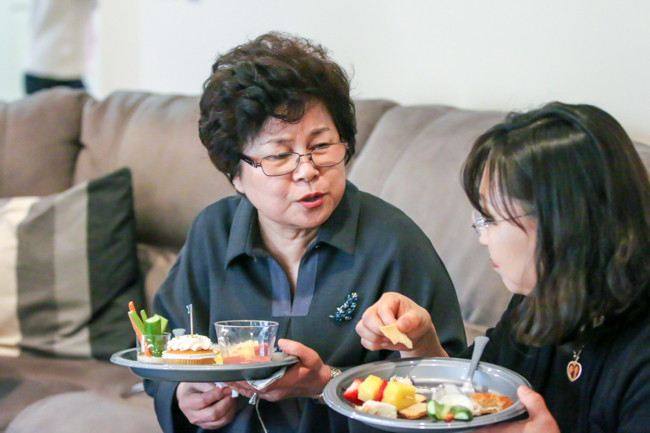 Finally we all gathered / squished into one room to play a creative game.  My party planners knew I wasn't into the typical baby shower type of games so they really went all out to make this one interesting.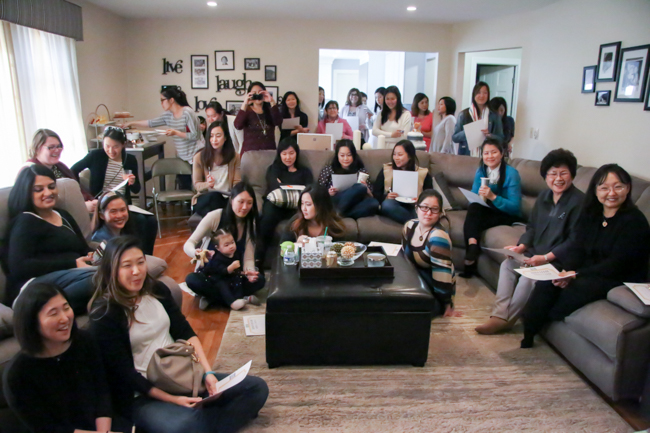 It involved a series of questions for us and the guests, and required us to hold up paddles with our faces. Joe took a break from being the photographer for a moment and joined in the festivities.  Since we weren't prepared for this game, we were truly surprised at each others answers and got in a lot of laughs from the crowd.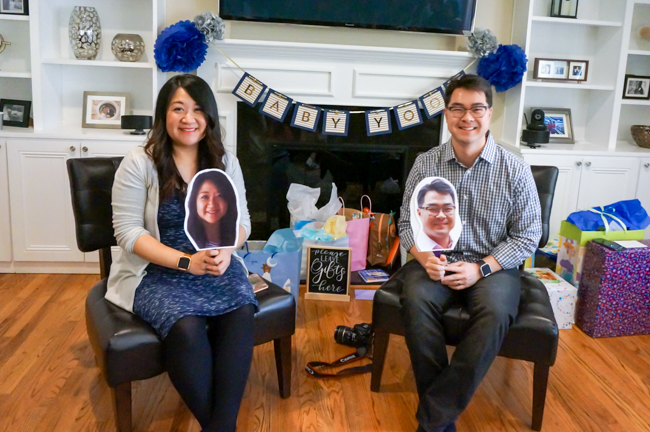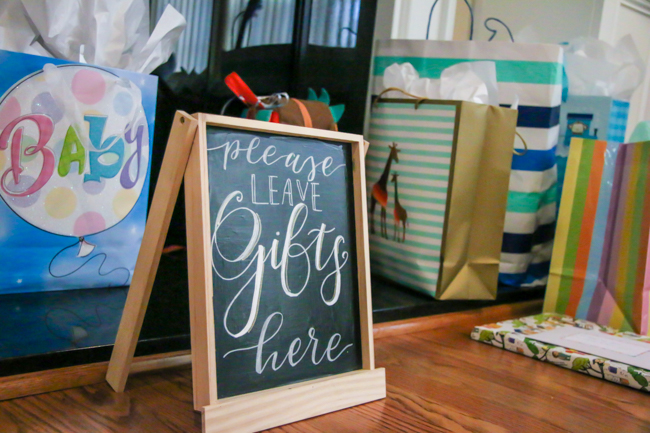 Then came the always awkward but traditional time of opening presents. I felt so weird doing it alone, and I didn't want it to take forever, so I grabbed Joe to speed up the process.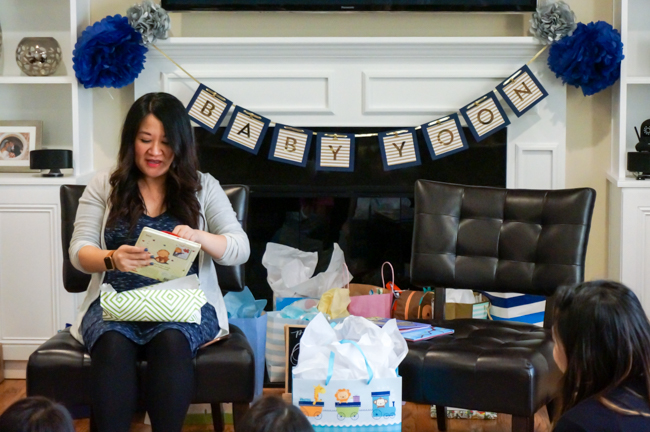 His commentary on all the items I registered for definitely added to the hilarity every time he opened a gift and stared at it cluelessly.
Then my party planners arranged for something surprising but really sweet.  They wanted the guests to pray for me and the baby, and of course I broke down in tears at this special moment.  This was probably the best and most touching part of the day.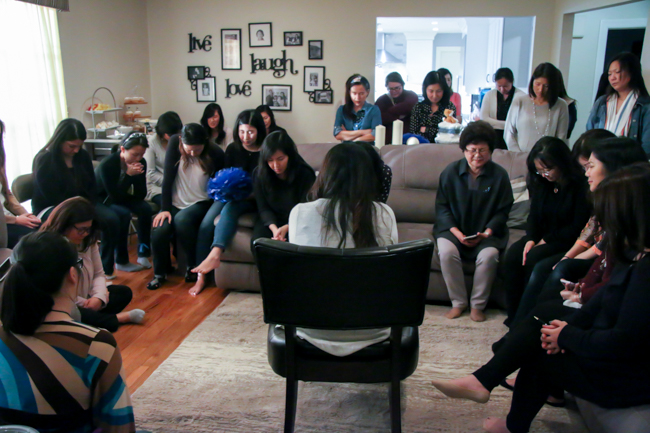 Guests left with candies (specifically Hi-Chew upon my request) inside of mason jars.  I just wished I had enough sense to take more pictures with everyone before the party ended.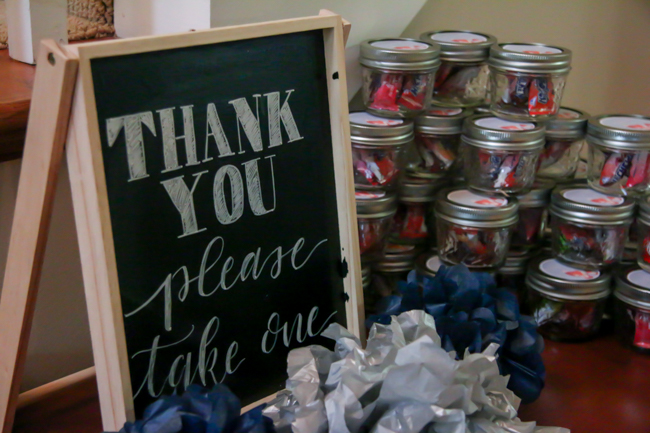 But we did wrap things up with a group shot and since there were so many of us, we had to bring the decor to us.  I felt so honored, loved, and truly blessed this day.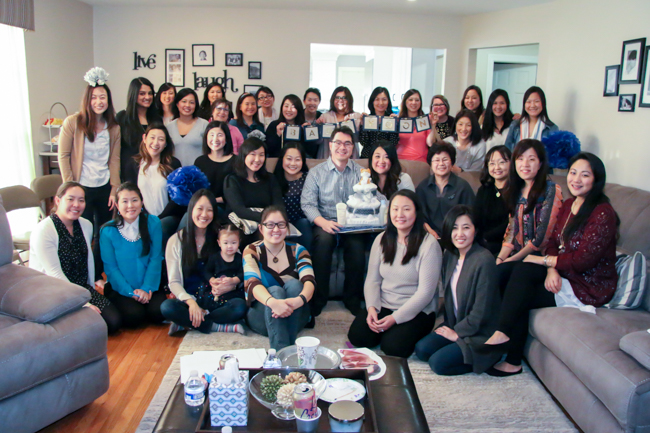 Thanks again to my gracious friends who scrunched up stacks of tissue paper to make poms, lovingly drew on signs, sent out invites, arranged the food, came up with the unique game, and acted as hosts with the mosts.  I'm currently 38 weeks pregnant and could probably go any day now.  I was hoping to be able to edit our baby shower vlog from the video footage we took at the party before baby arrives, but I don't know if it will happen or not… we'll see, Either way, stay tuned, and as always, we'll keep you posted on our journey!