Korean Sweet Pancakes (Hodduk: 호떡)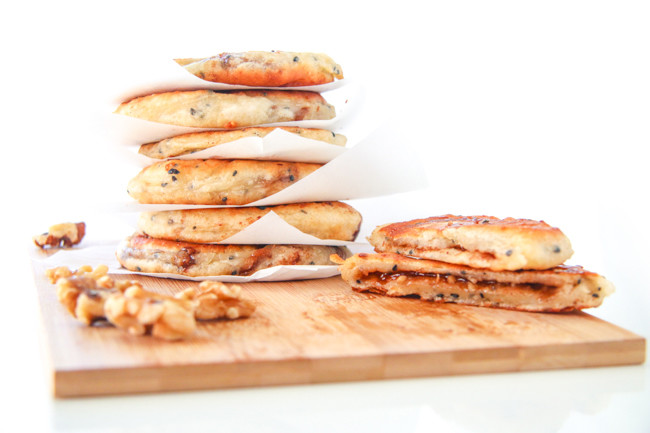 I was on a mission to storm through the streets of Korea in search of some Hodduk, or sweet Korean pancakes.  They're fried until golden and crispy, and oozing with brown sugar syrup. It didn't even matter to me that we were there in the midst of a scorching summer… I NEEDED to have some piping hot Hodduk!  I'm happy to report that the mission was accomplished, and I still remember every crispy, chewy, and gooey bite of it!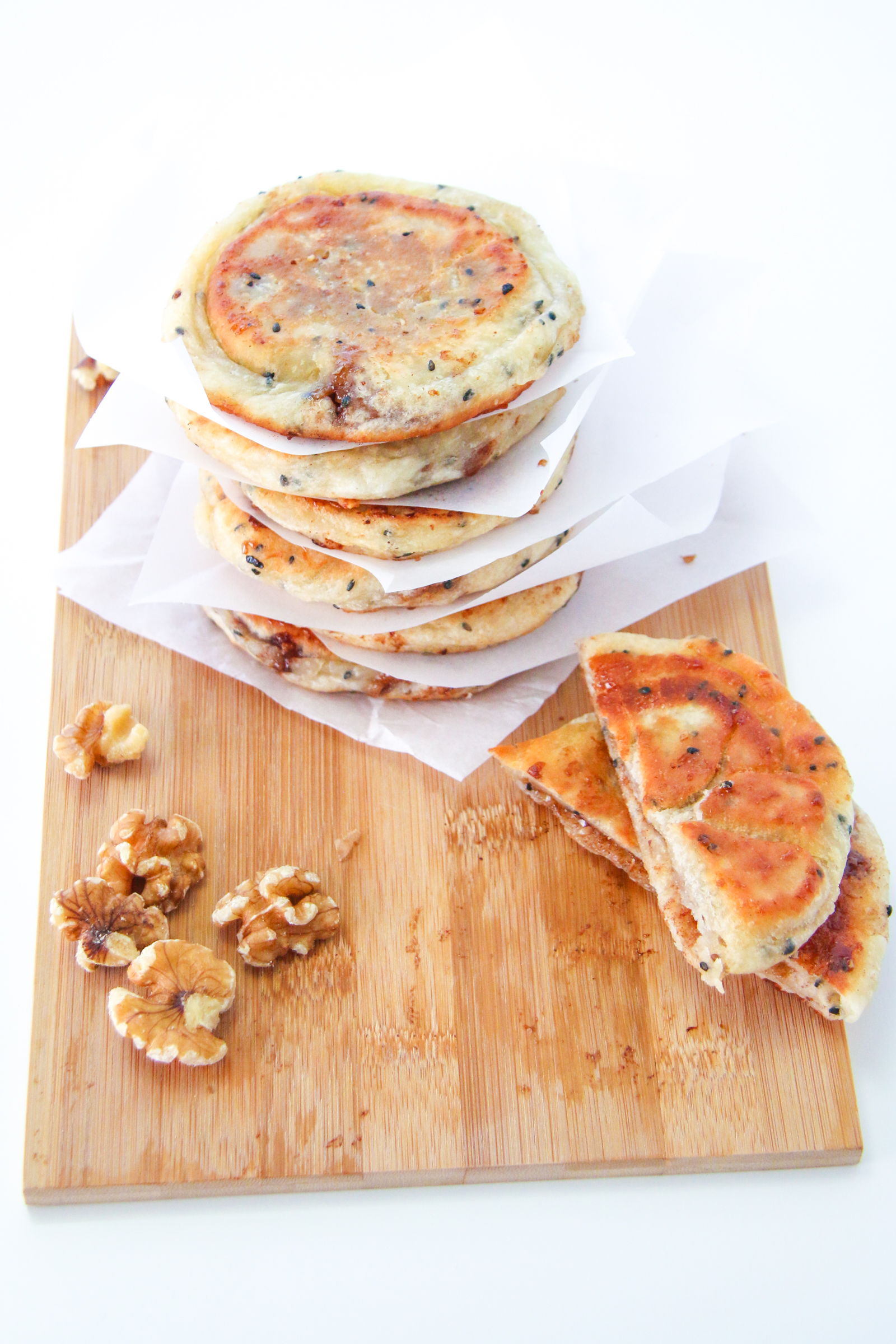 Luckily for me, I can recreate that experience at home and so can you!  Alright… to be fair, no one can beat the Hodduk you get right off the street carts in Korea.  Those are made out of rainbows and angel tears.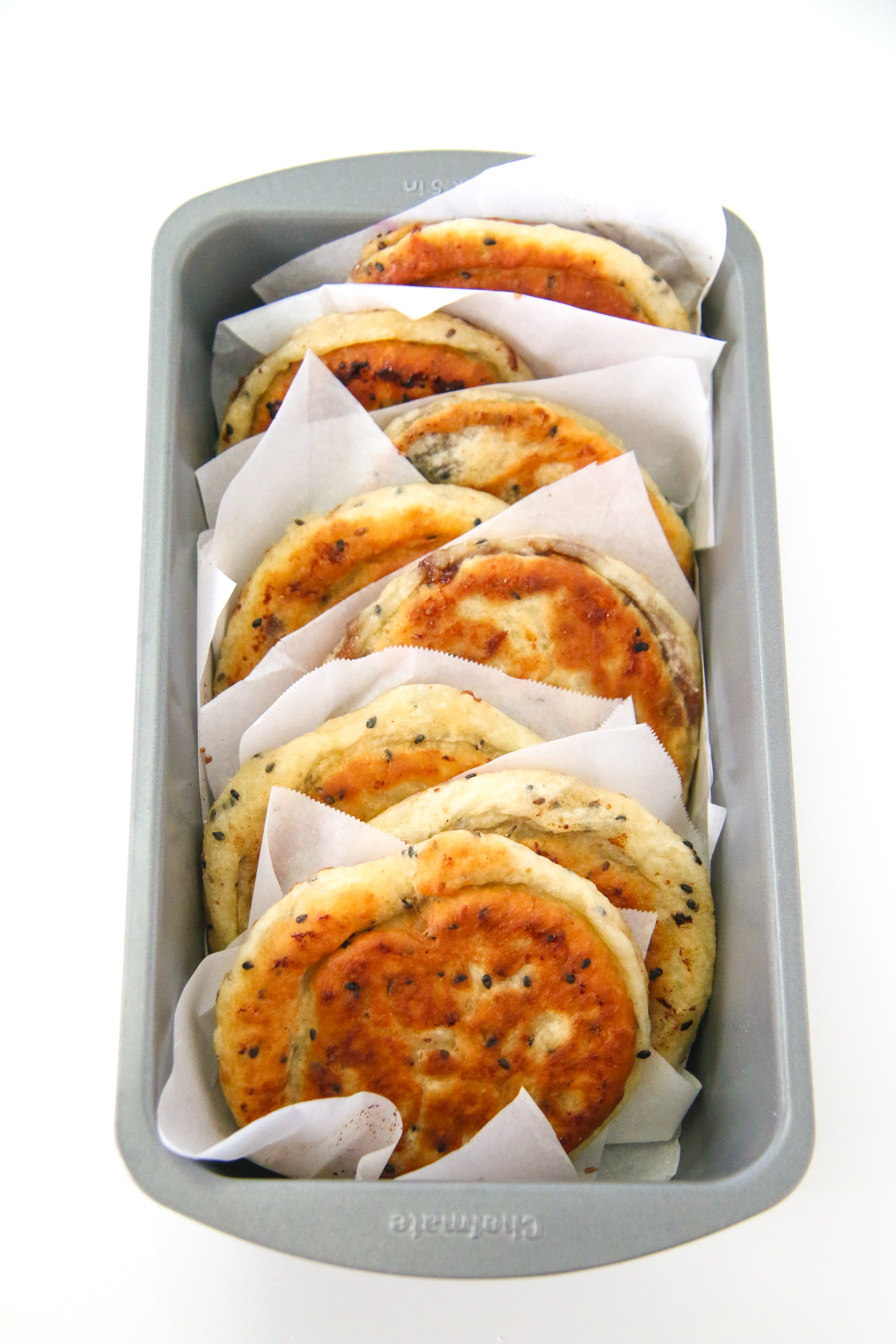 But I have to admit, these homemade ones are still really tasty when they're freshly fried and filled with walnuts, cinnamon, and sugar!  Really, how can you go wrong with that combo?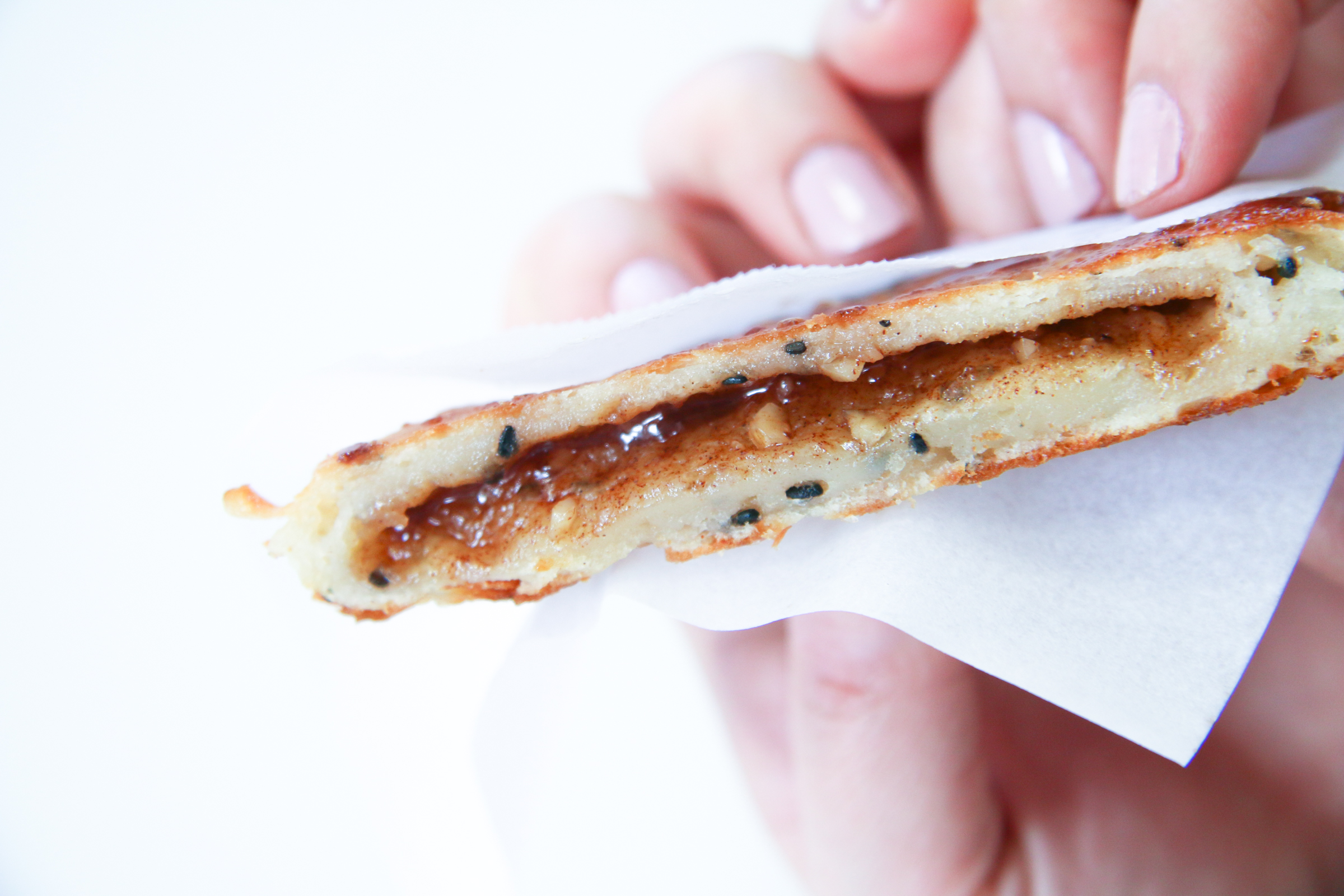 I just like how familiar and comforting they taste, even if you've never had Hodduk before, because it will probably remind you of a cross between a donut and a churro.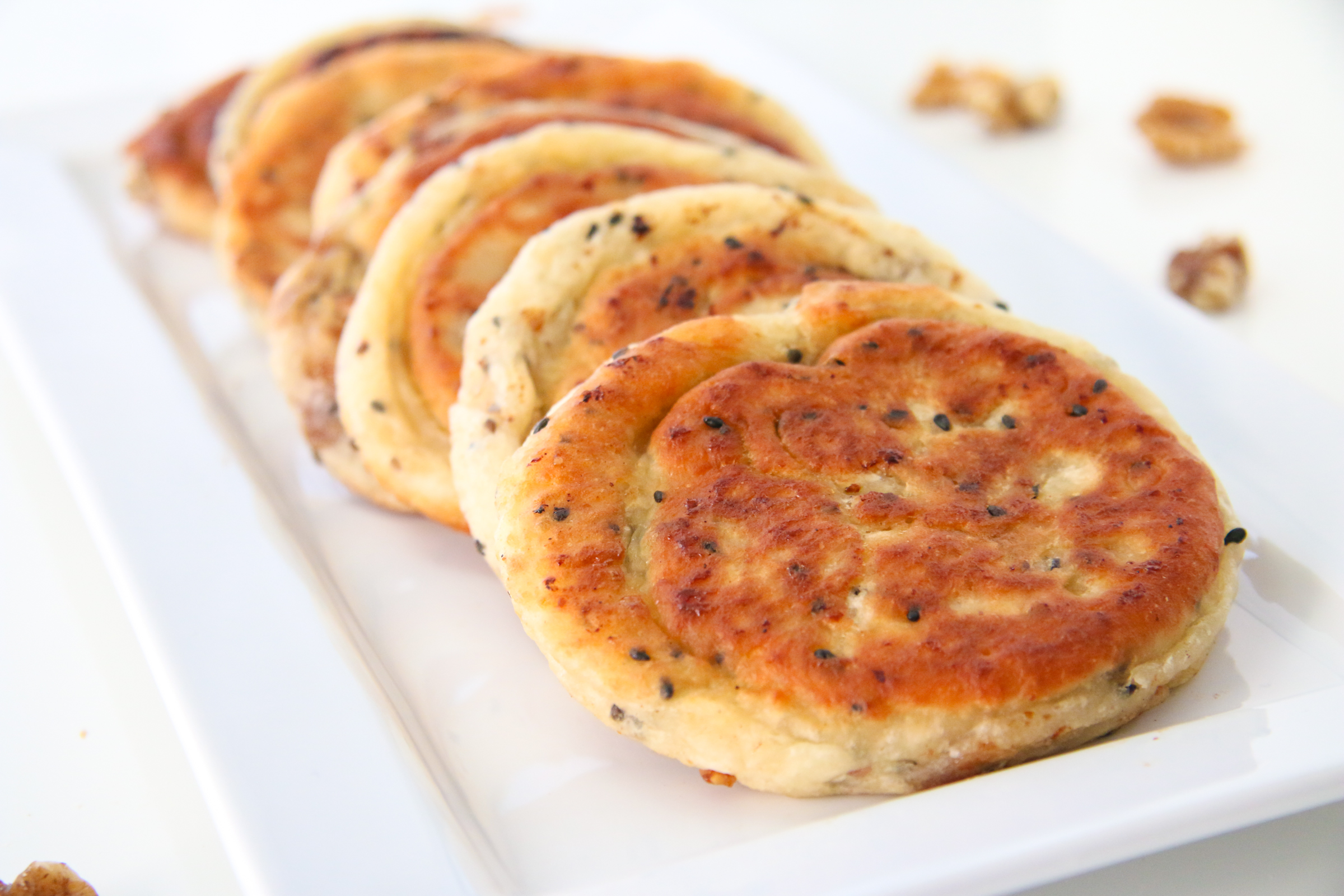 The rice flour makes them slightly chewy so there's a satisfying bite to them.  Just writing about these makes me want to eat one right now!  You can see how I make them in EPISODE 10 of Bits & Pieces SEASON 4 below:
WATCH HOW I MAKE HODDUK HERE:

I really can't decide if these are supposed to be eaten for breakfast, dessert, or a snack.  Trust me, I've made every excuse to eat them at different times of the day, and it all works!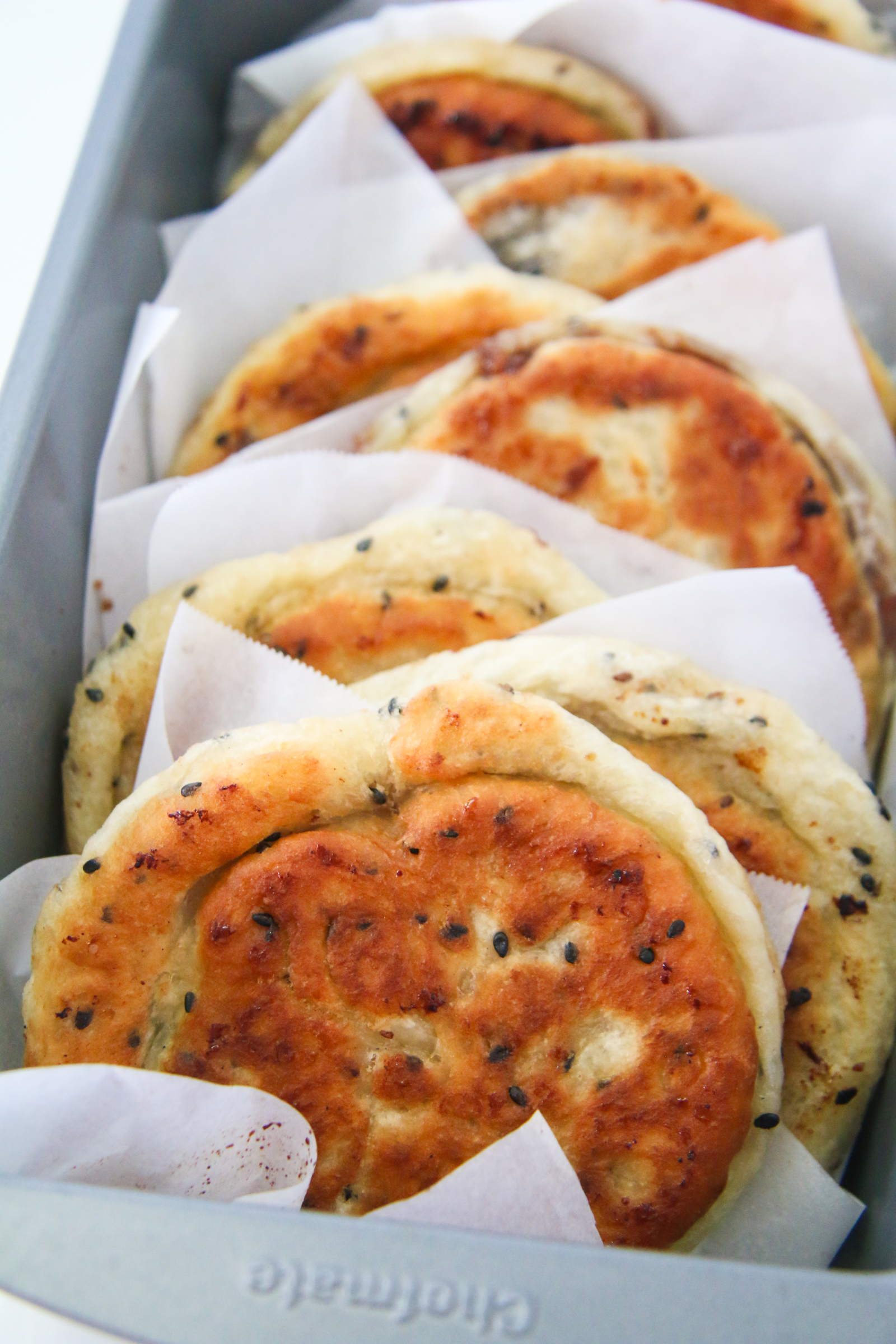 I will say that this is great party food because they're best enjoyed sizzling hot off of the pan.  Once they cool down, they do lose a little bit of their magic, so be prepared to risk burning your mouth over them.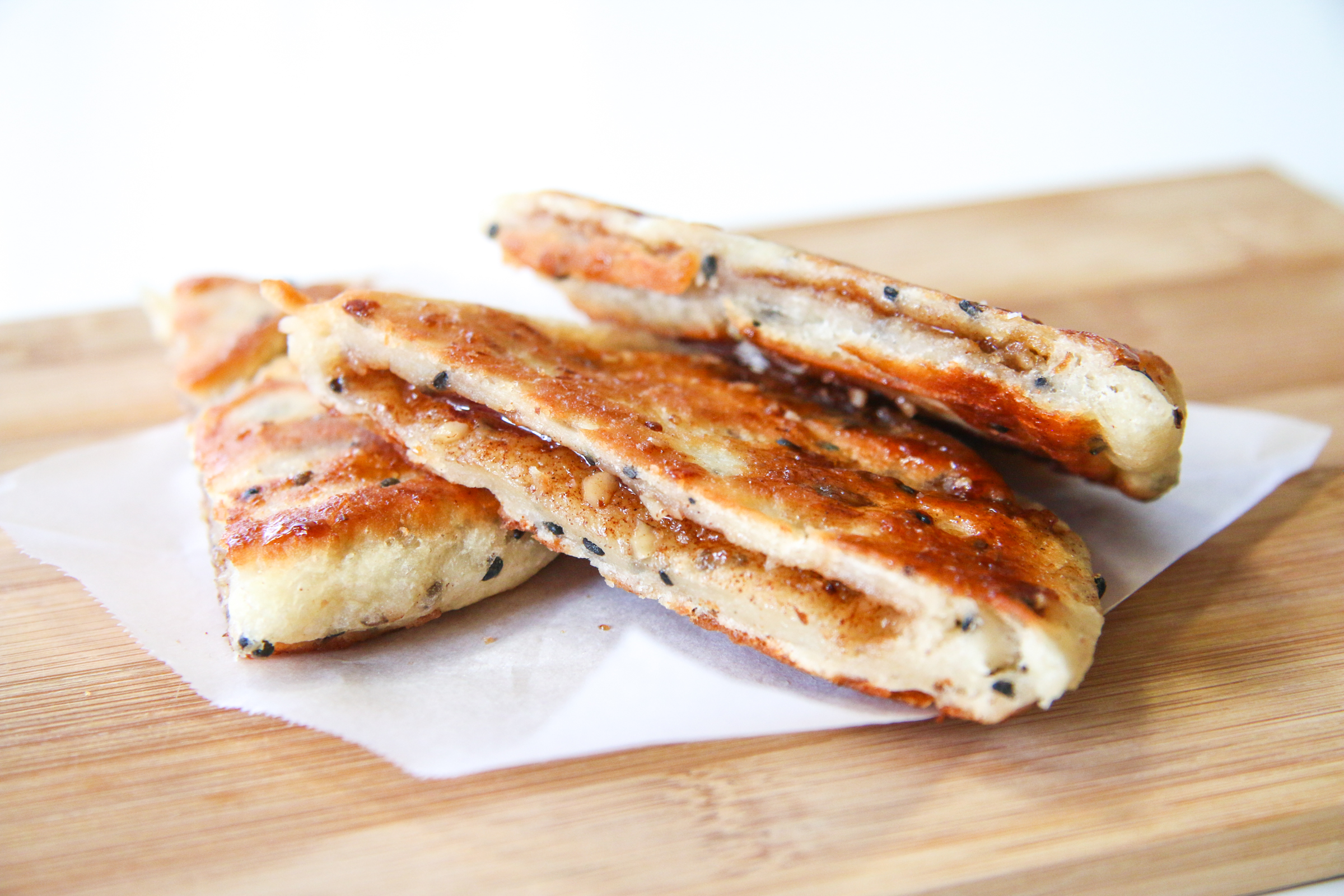 But on that note, these guys really should come with a warning sign because if you sink your teeth into them right away, there is a chance that the hot syrup on the inside will indeed burn your mouth, so you gotta be careful.
But biting into one of these makes you feel like a kid.  You can't help but smile and do a shimmy shake. There's something oddly nostalgic about them, and you want to keep going back for more.  But I try to limit myself to eating just one.  That's will power I tell ya!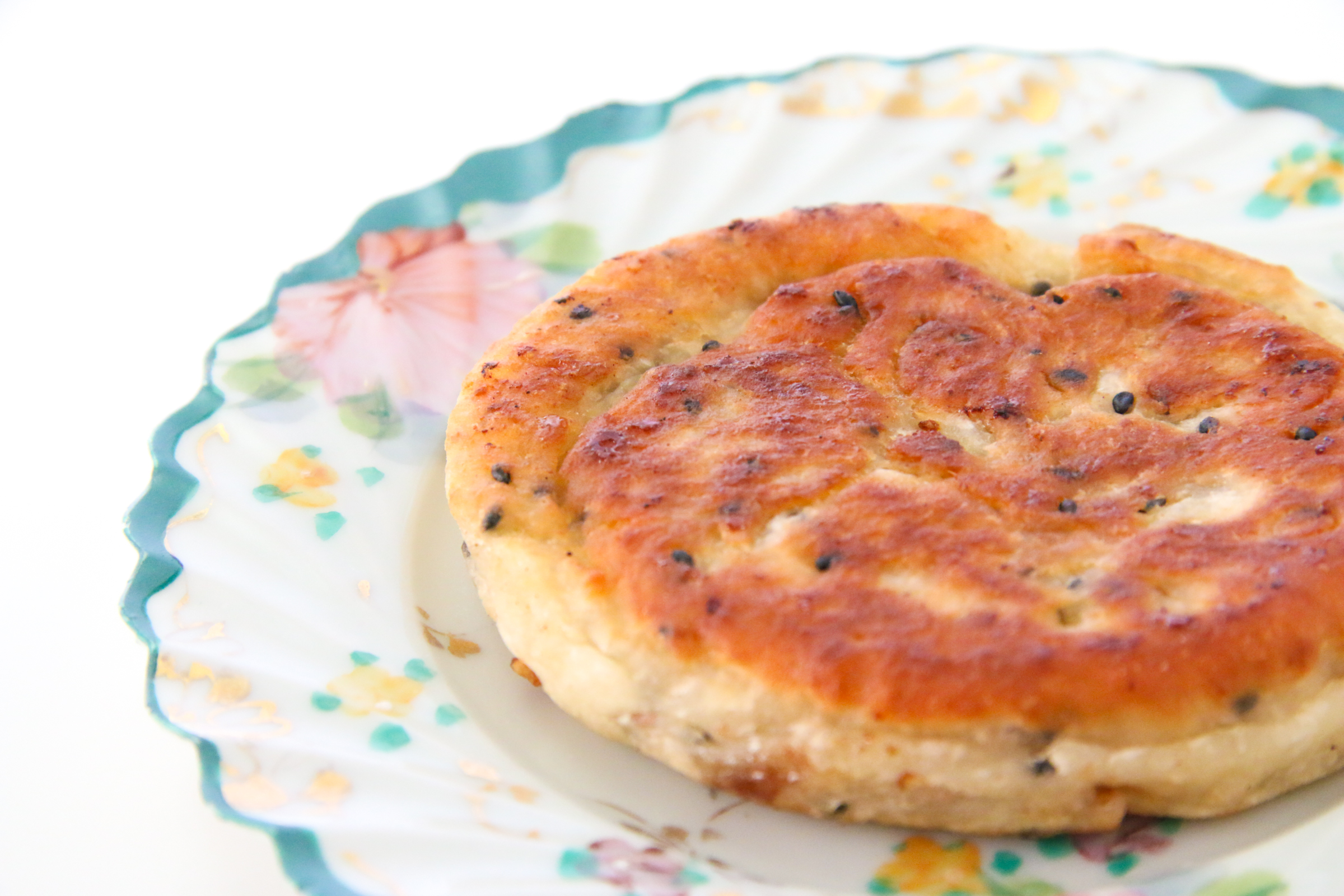 This recipe does make quite a bit of pancakes, maybe around 10 or so, and if you're a household of two people like us, that means trouble… for your waistline.  So you have two options: 1. Freeze any leftover dough and thaw it out to use for the next time. 2. Assemble, fry, and freeze all the pancakes and then just reheat them.
I usually choose to fry them in advance, knowing that I'll probably be too lazy to make them fresh again later.  Just layer pieces of parchment paper in between them, or wrap them individually in plastic wrap so they don't stick to one another, and then stash them away in a Ziplock bag in your freezer.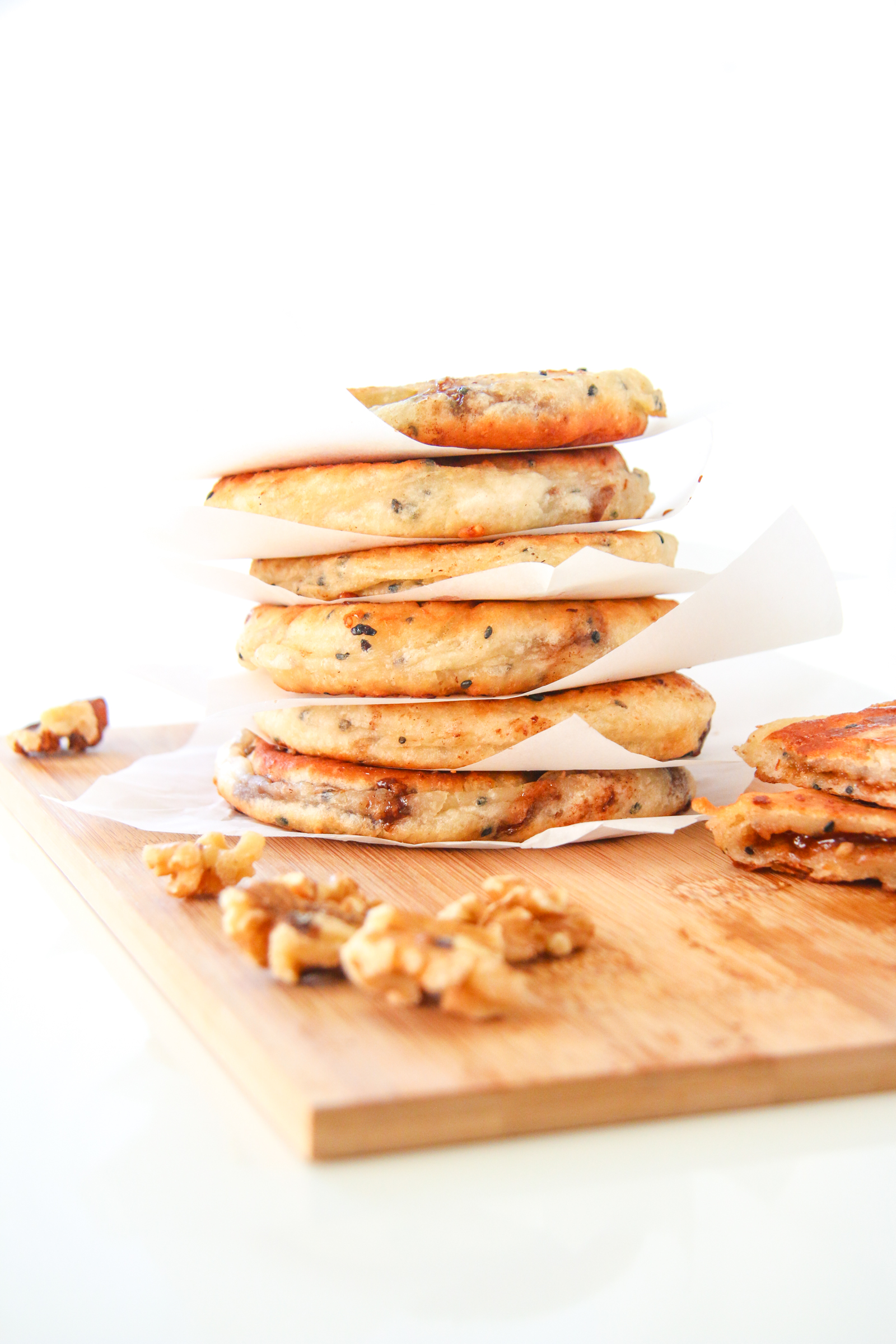 Then when the craving strikes, reheat them in a covered pan with a little oil.  They come out just as tasty as the first day you made them, but the syrup will be less oozy for sure.  But that's okay because the flavor will be there, and every bite will be completely satisfying.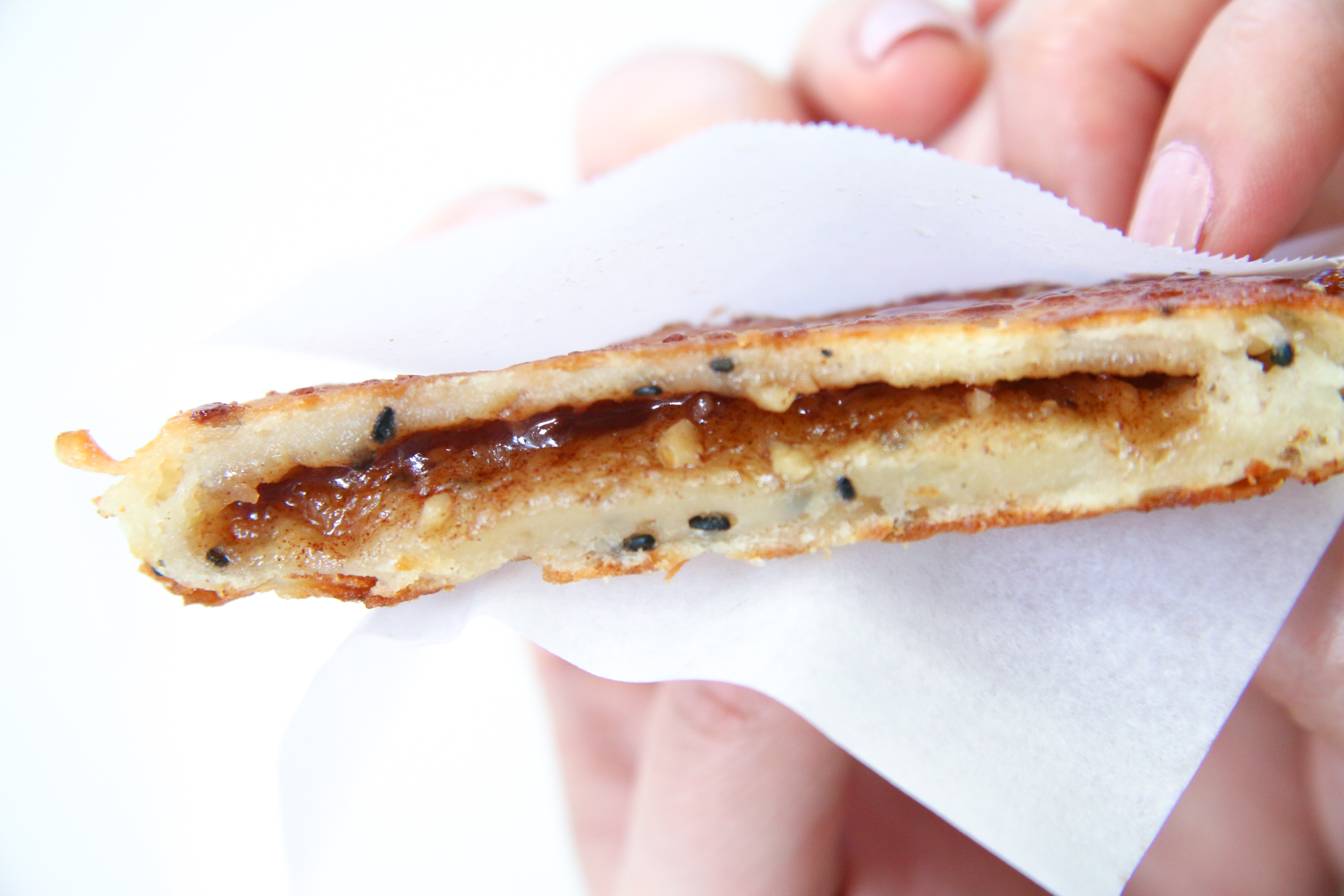 Make these on a lazy weekend or after a particularly stressful day.  There's something so rewarding about working with dough and it ends up being a fun activity.  All you need is a cup of coffee to go along with your sizzling hot Hodduk.  And after a few bites, you'll feel like everything is right in the world.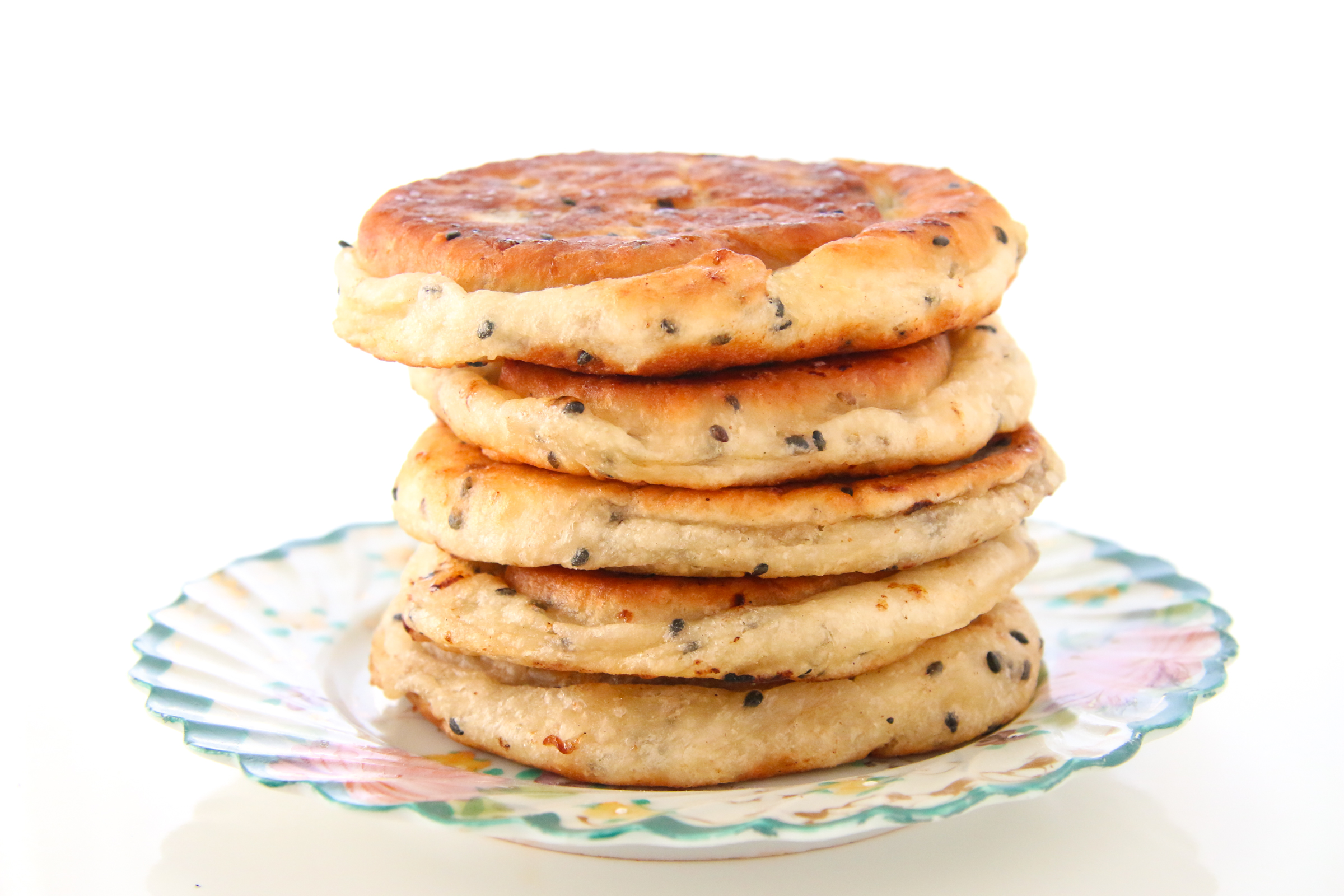 If you enjoyed this VIDEO, SUBSCRIBE to our COOKING SHOW CHANNEL HERE.  It's FREE! : Chef Julie Yoon
If you want to follow us on our journey, SUBSCRIBE to our VLOG CHANNEL HERE. It's FREE! : Our Yooniverse

Korean Sweet Pancakes (Hodduk:호떡)
These sweet pancakes are crispy on the outside and oozing with brown sugar syrup on the inside. What's not to like about that?
Serves:
About 10 pancakes
Ingredients
2 cups all purpose flour
1 cup sweet glutinous rice flour
2 teaspoons sugar
1 teaspoon kosher salt
1 tablespoon black sesame seeds (optional)
1 envelope (7g) instant yeast
1 ½ cups lukewarm-slightly warm milk
1 teaspoon vegetable oil
Oil for frying

Brown Sugar Filling:
½ packed cup brown sugar
2 tablespoons finely chopped nuts (walnuts, peanuts, pecans, almonds)
1 teaspoon cinnamon
Instructions
In a large bowl, mix together both flours, sesame seeds, sugar, salt, and yeast. If your milk is cold, pop it into the microwave for about 20 seconds, but make sure it's only slightly warm to the touch. If it's too hot, it can hurt the yeast. Add 1 teaspoon of oil to the milk.
Slowly stir the milk and oil into the flour mixture and mix everything with wooden spoon. The dough will appear too dry at first, but keep on mixing until it is well incorporated. It will become a very sticky clump. Cover with plastic wrap and keep the bowl in a warm place, such as your microwave with the door closed, or your oven with just the oven light on, for about 45 minutes. The dough will rise about double in volume.
Punch down the center of the dough, using your fist rubbed with a little oil. This will get rid of the gasses that form in the dough. Let it rest covered for another 15 minutes. Meanwhile, in a smaller bowl, mix together the brown sugar, nuts and cinnamon.
To assemble the Hodduk, grab a small bowl of oil and coat your hands in it. Tear a piece of dough (about 2 to 2½ -inches in diameter), and pat it flat in your hand. Place 1 rounded tablespoon of the filling mixture in the center and carefully pinch the edges of the dough toward the center to close around the filling, to form a ball shape.
Meanwhile, heat a large pan with a generous amount of oil over medium heat. You are going to shallow fry the Hodduk. Flip your hand upside down and carefully drop the dough (seam side down) onto the pan. Depending on the size of your pan, you may be able to fit 2-3 pancakes in at one time.
Dip a flat (non-slotted) spatula in some of the oil from the pan and gently push down on the balls of dough to smooth and flatten them into pancake shapes. Don't squish them too hard or the filling will ooze out of them. When you see them puff up slightly, and the bottoms are golden brown, flip the pancakes to the other side. Squish down with the spatula again, and continue to cook until the second side gets golden brown. Lower the heat, place a lid on top and give the centers a chance to turn to syrup. This might take about 30 seconds-1 minute. Serve immediately, but be careful because the brown sugar syrup might ooze out and it is very hot...but oh so tasty!

TIPS: It's best to serve the pancakes immediately after you make them, but if you want to keep them warm, place them on a wire rack set over a sheet tray in a 200 F degree oven as they come off the pan, until you're ready to serve.

LEFTOVERS: You can choose to freeze leftover dough and thaw it out for the next time, or you can make all your pancakes in advance and freeze them. Reheat them in a covered pan with some oil over medium heat. The outside will get crispy again, but the syrup on the inside will not be quite as oozy as the same day you made them. But no worries, because they'll still taste good!