Korean Crab Jeon (Crab Stick Omelettes : 게맛살전)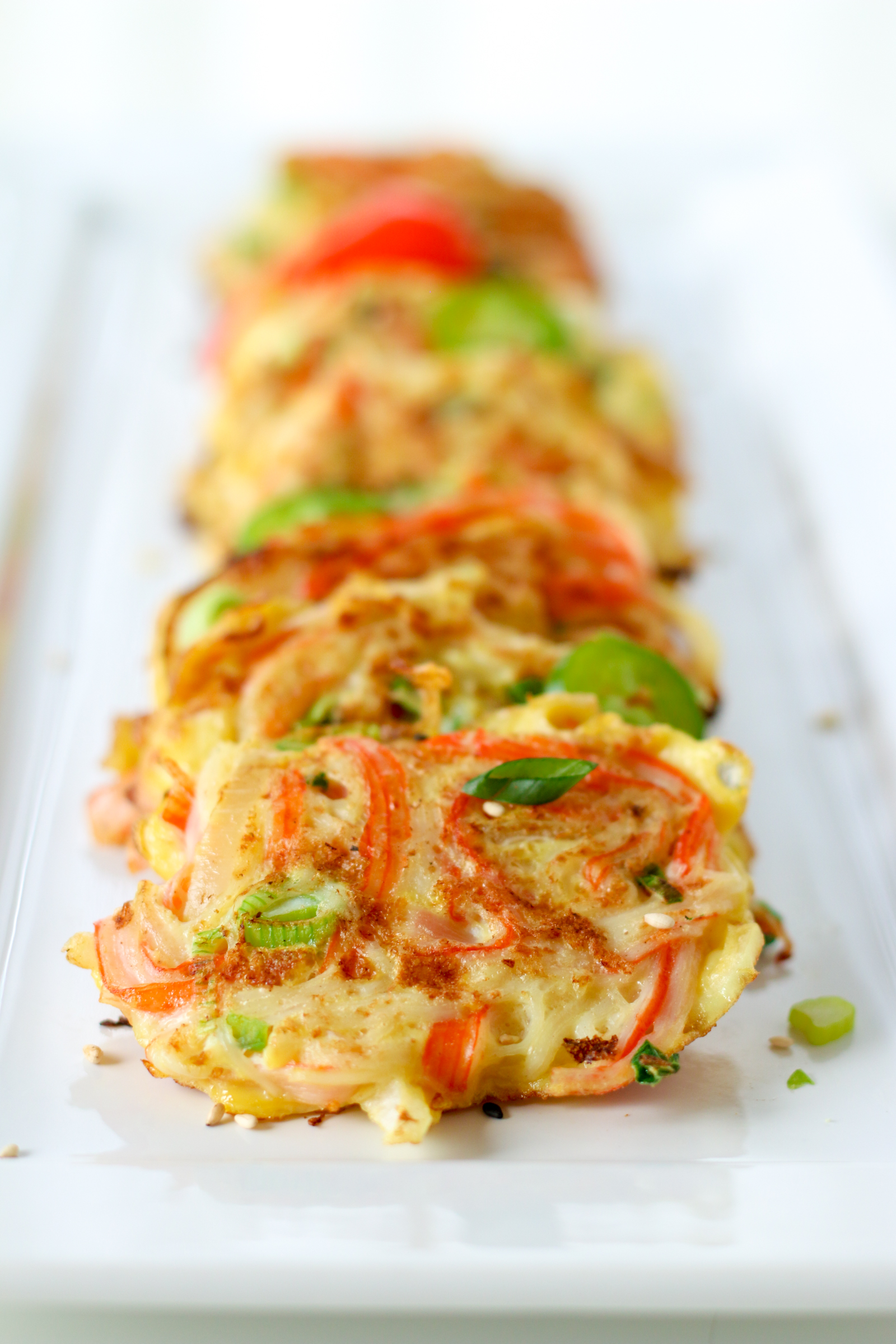 When we were visiting my parents on the east coast over the holidays, my mom nonchalantly busted out a plate of these Korean Crab Jeon, or Crab Stick Omelettes for us. They looked humble enough, but when I took that first bite, it was a delightful burst of flavor, and I immediately asked her how she made them.
My mom thought it was humorous that I would ask for the "recipe," because this is something she often whips up on the fly without much thought or effort.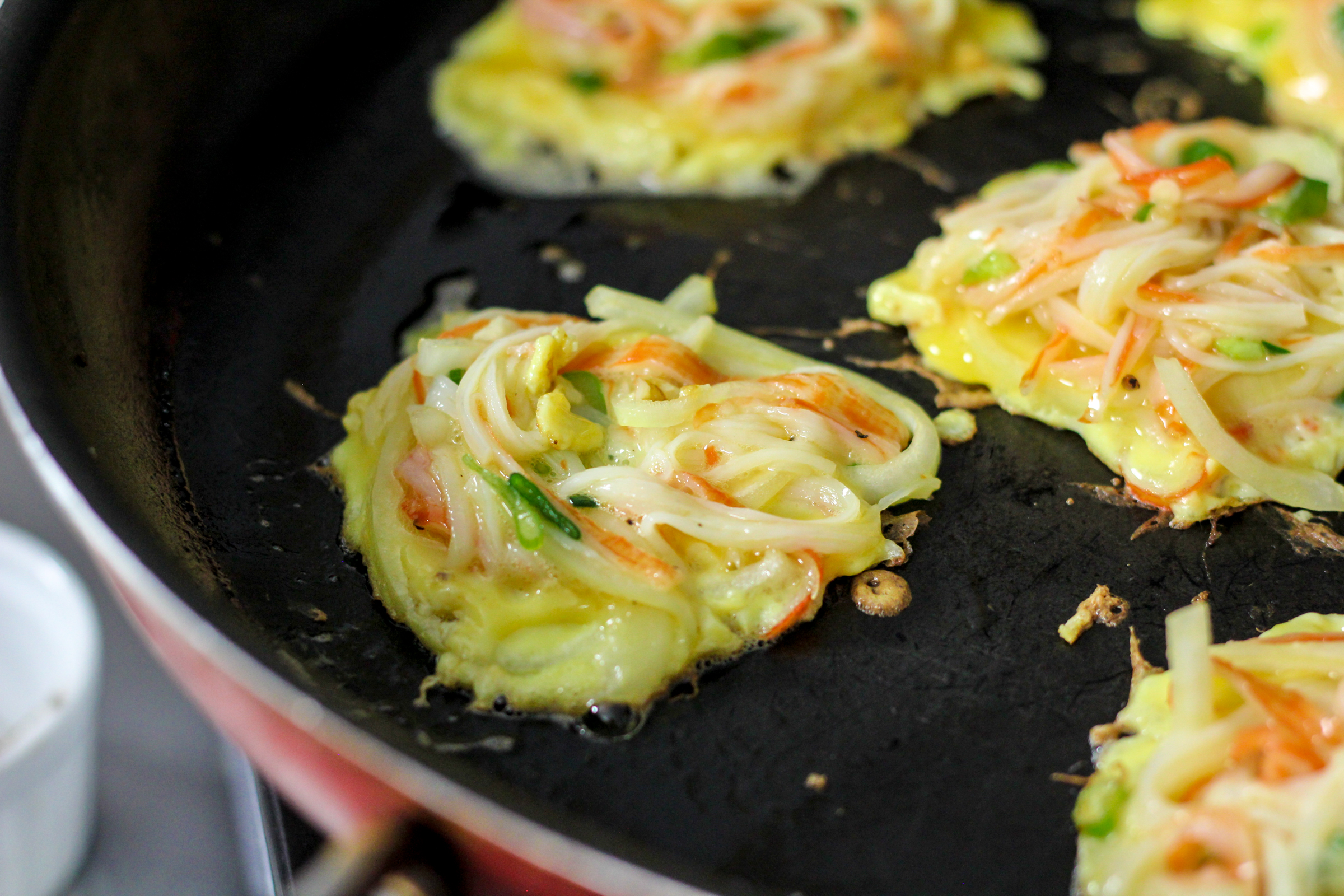 But trust me when I say that they taste way more special than something that was tossed together at the last minute.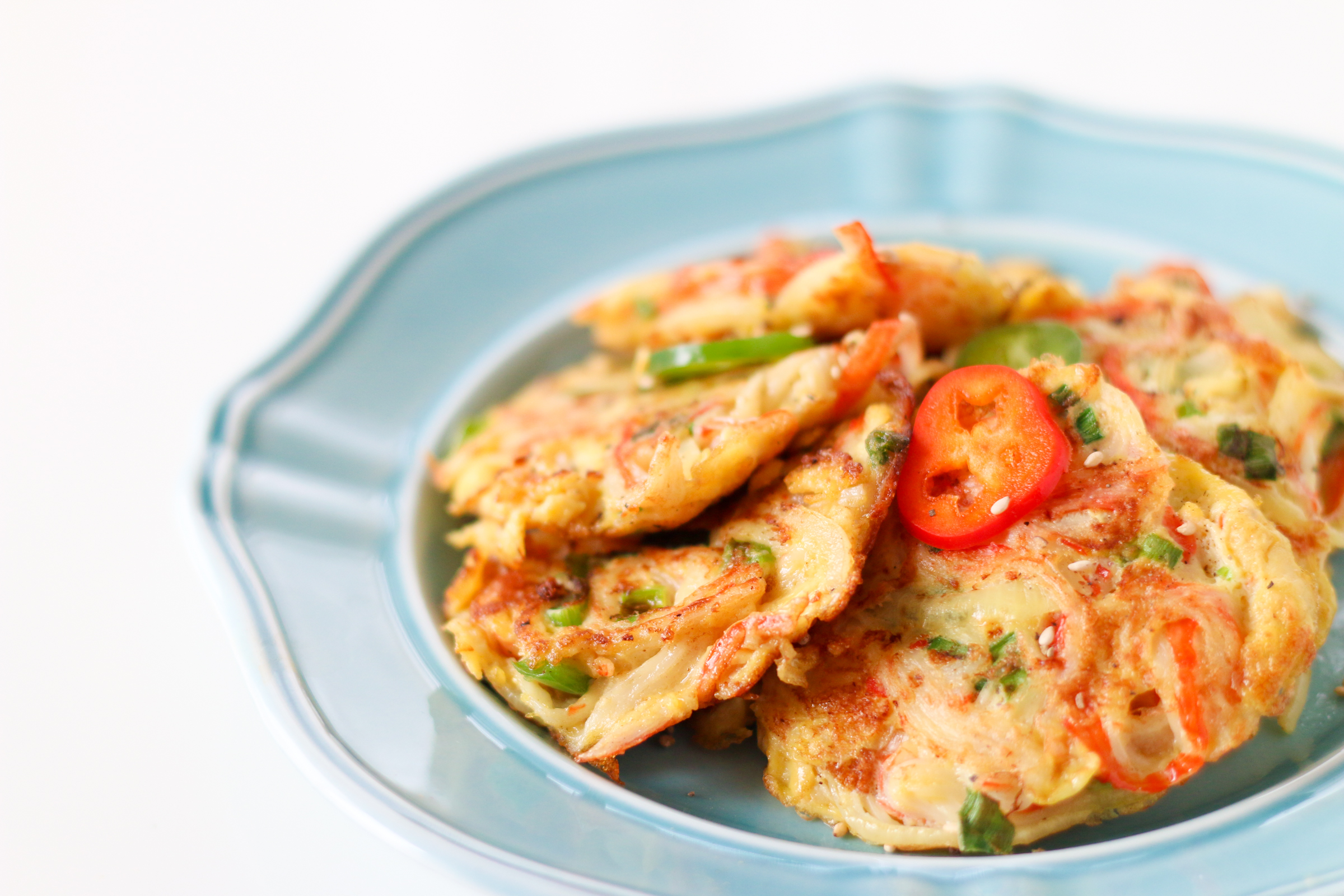 The sweetness from the crab sticks is balanced by the crisp spicy bite of the onions.  The soft fluffy texture from the eggs takes it to the next level.  Not to mention, these little omelettes can look quite pretty when plated, which makes it perfect party food.
Just don't forget to eat them with some spicy slightly sour kimchi…that's a match made in heaven, and it may cause you to dance.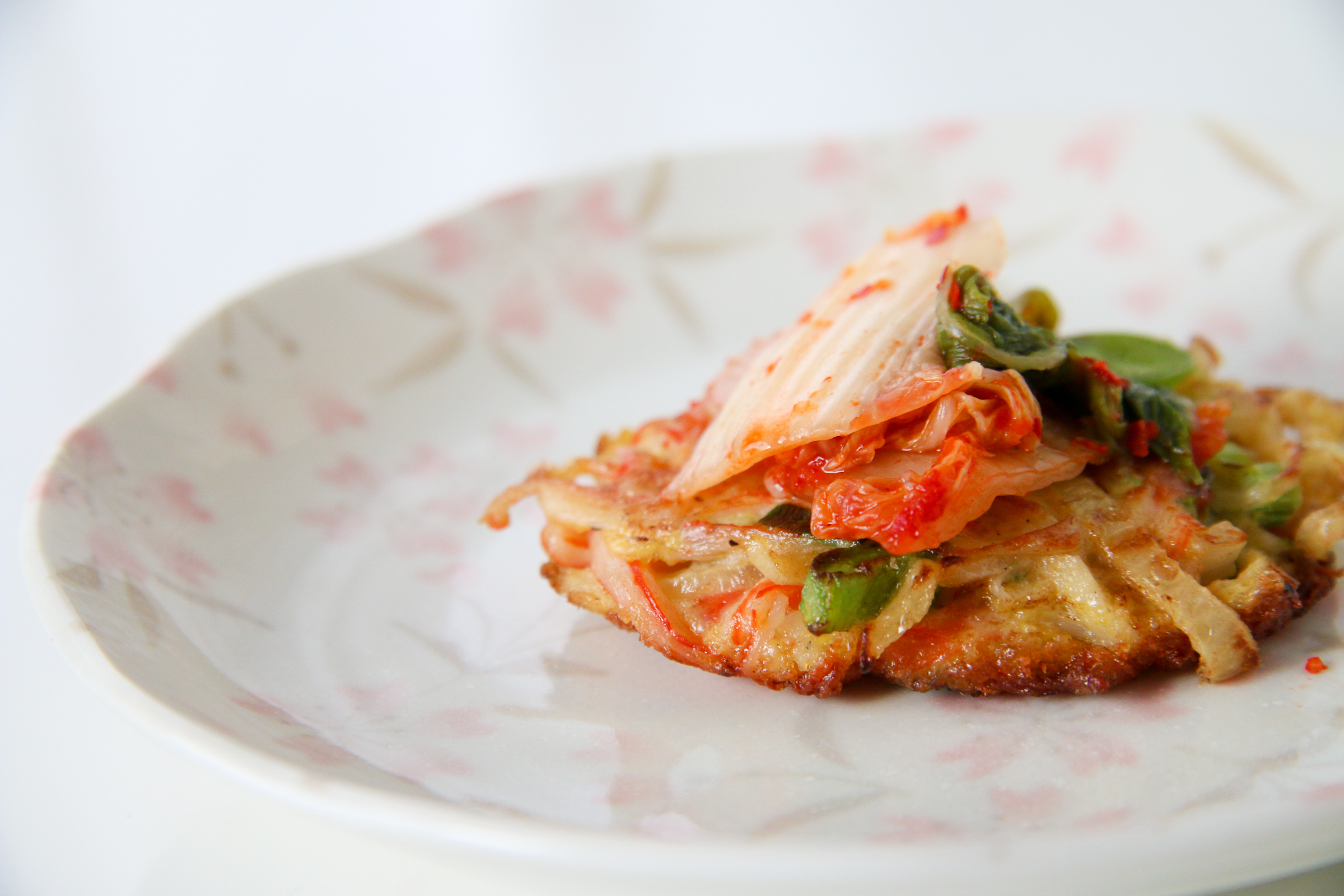 I am familiar with all different types of Jeon, or Korean savory "pancakes," but I was pleasantly surprised to know that these Crab Stick Jeon had no flour involved, which is why I decided to call them omelettes.  They're more like mini frittatas, so there's something really comforting and familiar about them too.  Truthfully, this is one of those types of "non-recipes" that's hard to mess up, but no worries because I still broke it down for you in EPISODE 8 of Bits & Pieces SEASON 4 below:
WATCH HOW I MAKE KOREAN CRAB JEON HERE:

Okay, confession time…I kinda had a hard time figuring out what to call these guys at first because I didn't want to put the words, "imitation crab" in the title, even though that's exactly what you use to make them.  I admit it sounds a bit wrong and unappetizing, but let's all calm down because it's just white fish that's pulverized and shaped into crab sticks… who knows why, but they're tasty! It's what you find in California Rolls as well as the Korean version of rice rolls called, Gimbap.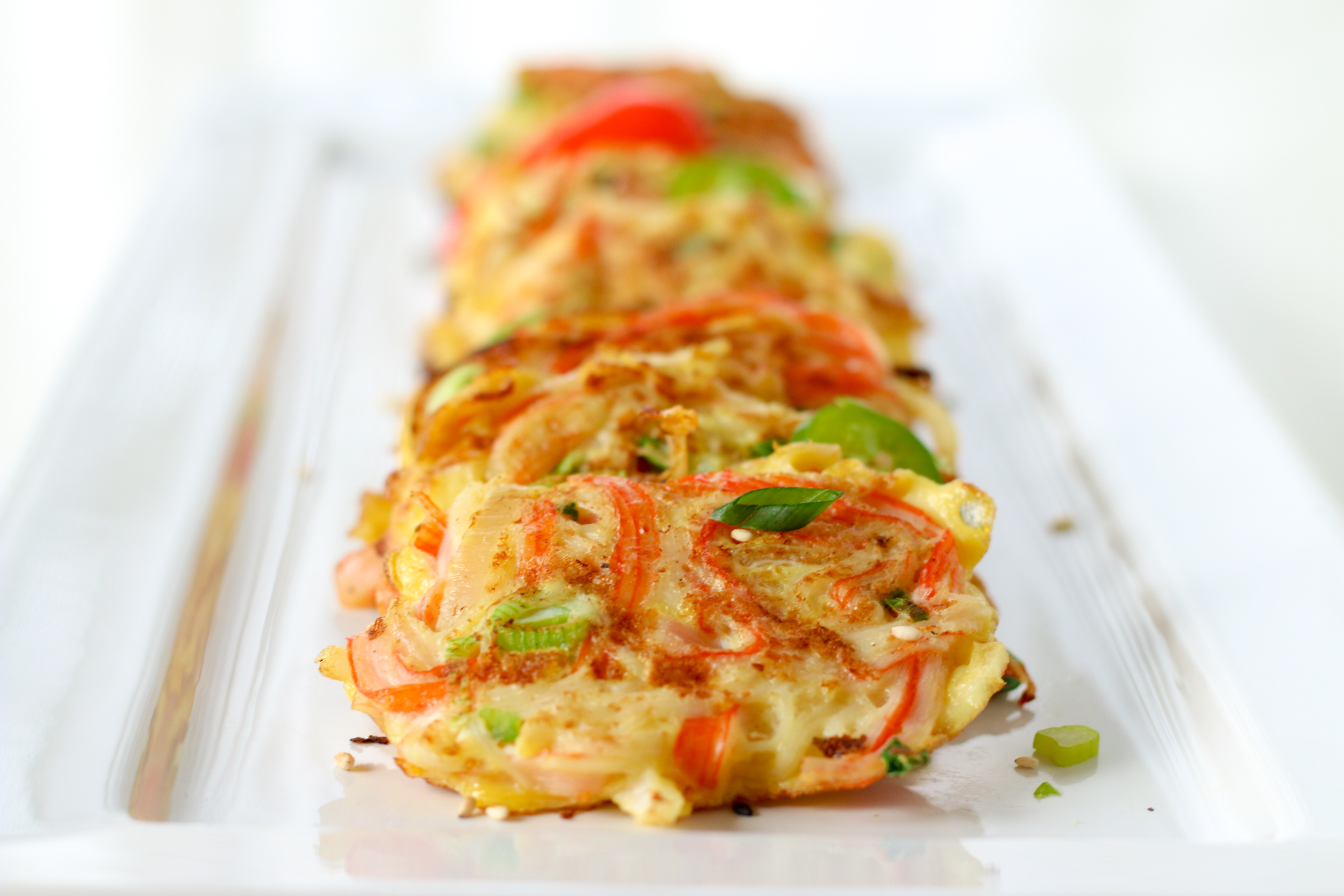 But because they're already so well seasoned on their own, all you really need is a bunch of eggs, and you've got yourself an easy and flavorful Korean side dish in minutes.  Just eat it with some rice, kimchi, and soup for a full on meal!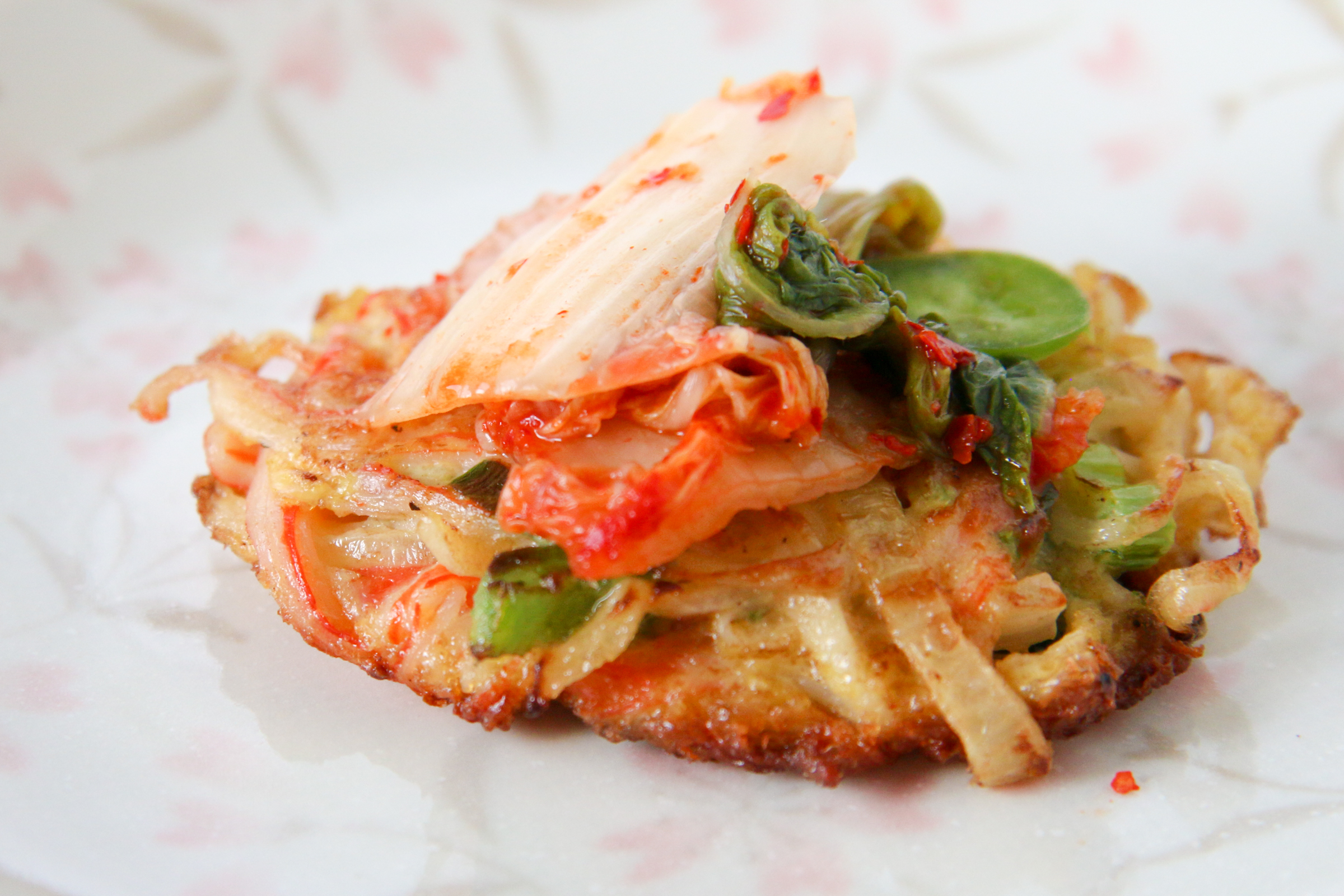 I actually like to make a big batch of these guys and keep them in my freezer.  You just have to quickly reheat them in a covered frying pan, and you've got something to feed unexpected guests, or your hungry husband, in no time flat.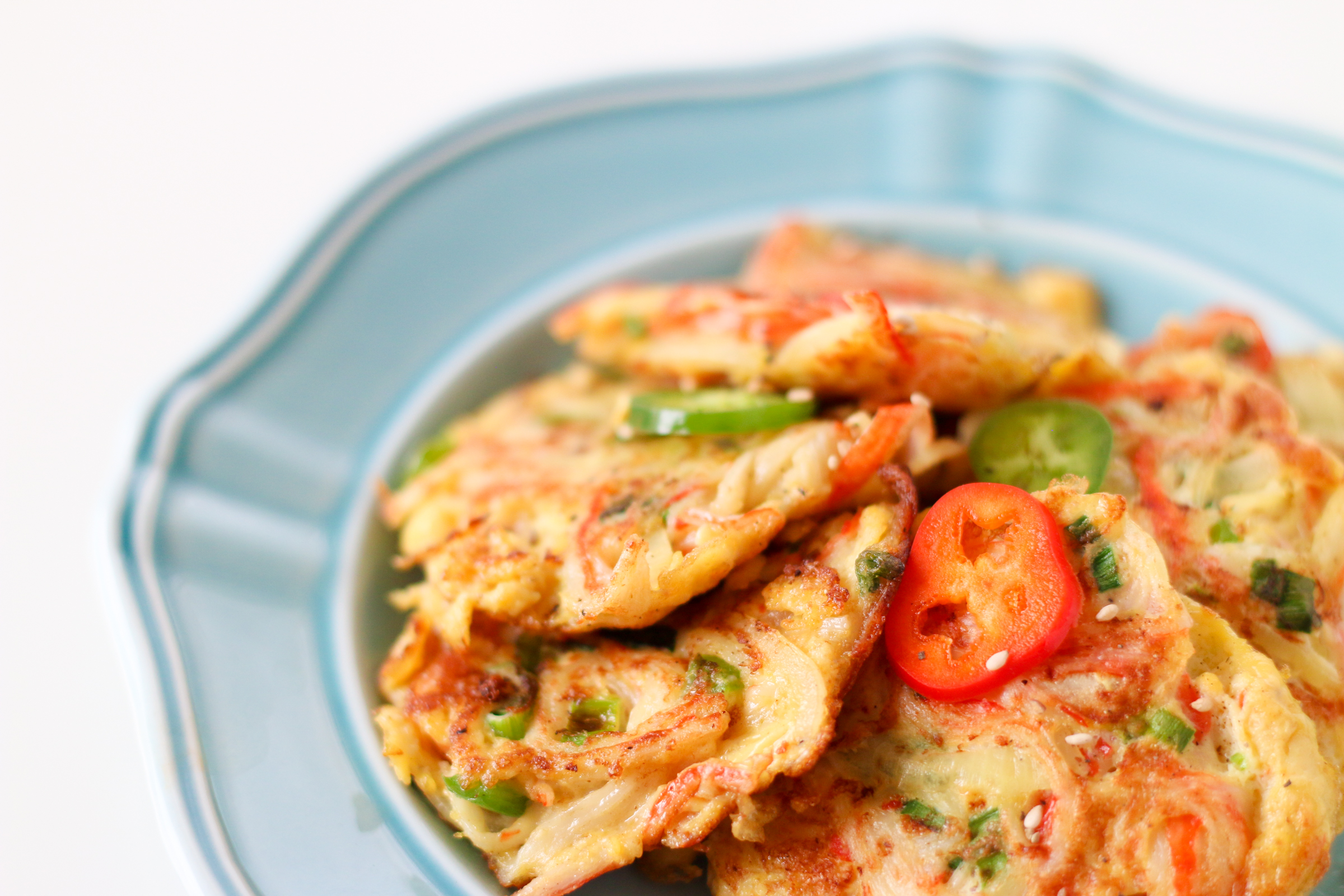 But there's nothing better than eating them fresh right off the sizzling hot pan.  It's really difficult not to eat them before they hit the plate.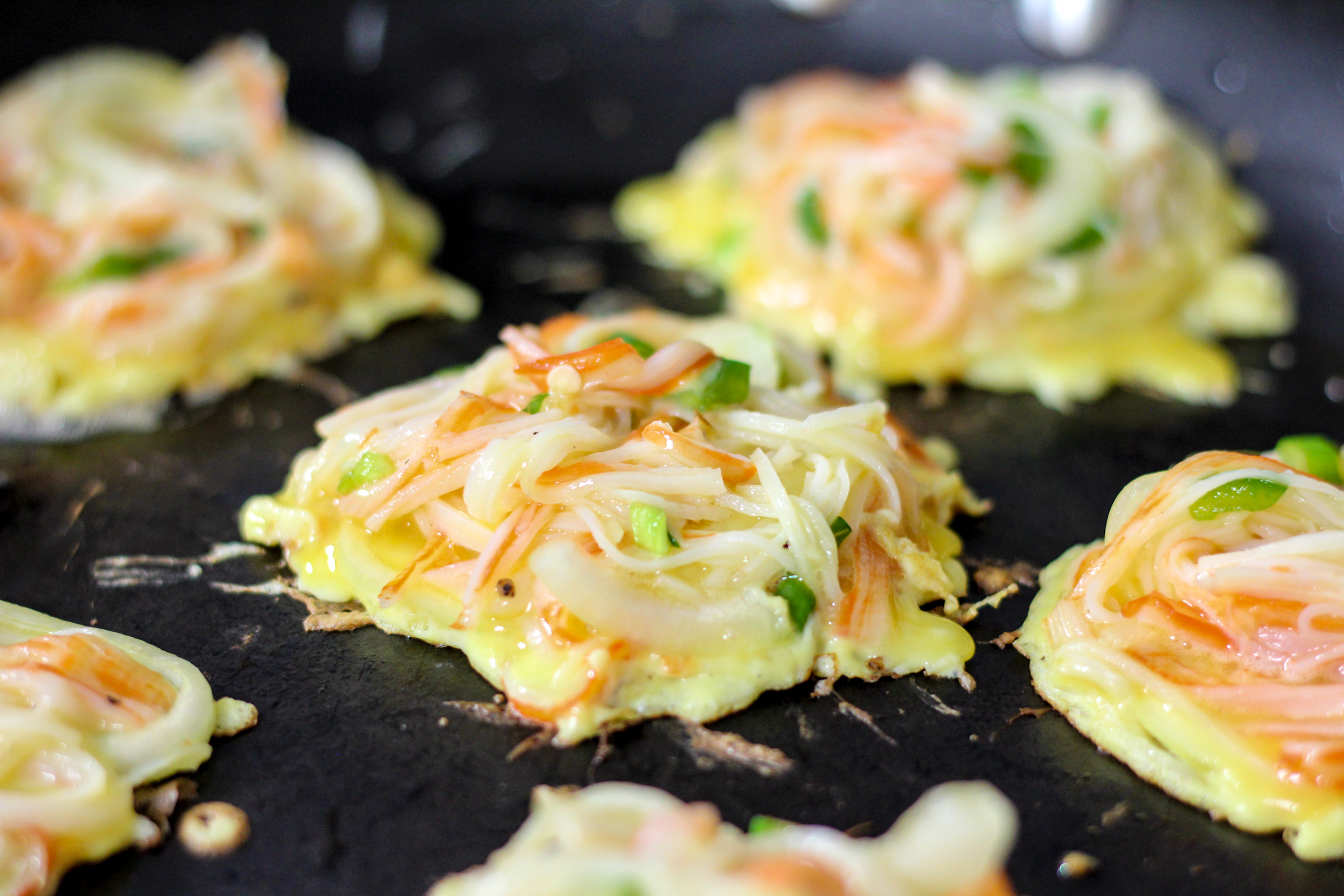 You start out by shredding the crab sticks like you're pulling apart string cheese.  Then you add veggies of your choice.  Then you add eggs.  That's about it.  Can you see why my mom says she makes these all the time?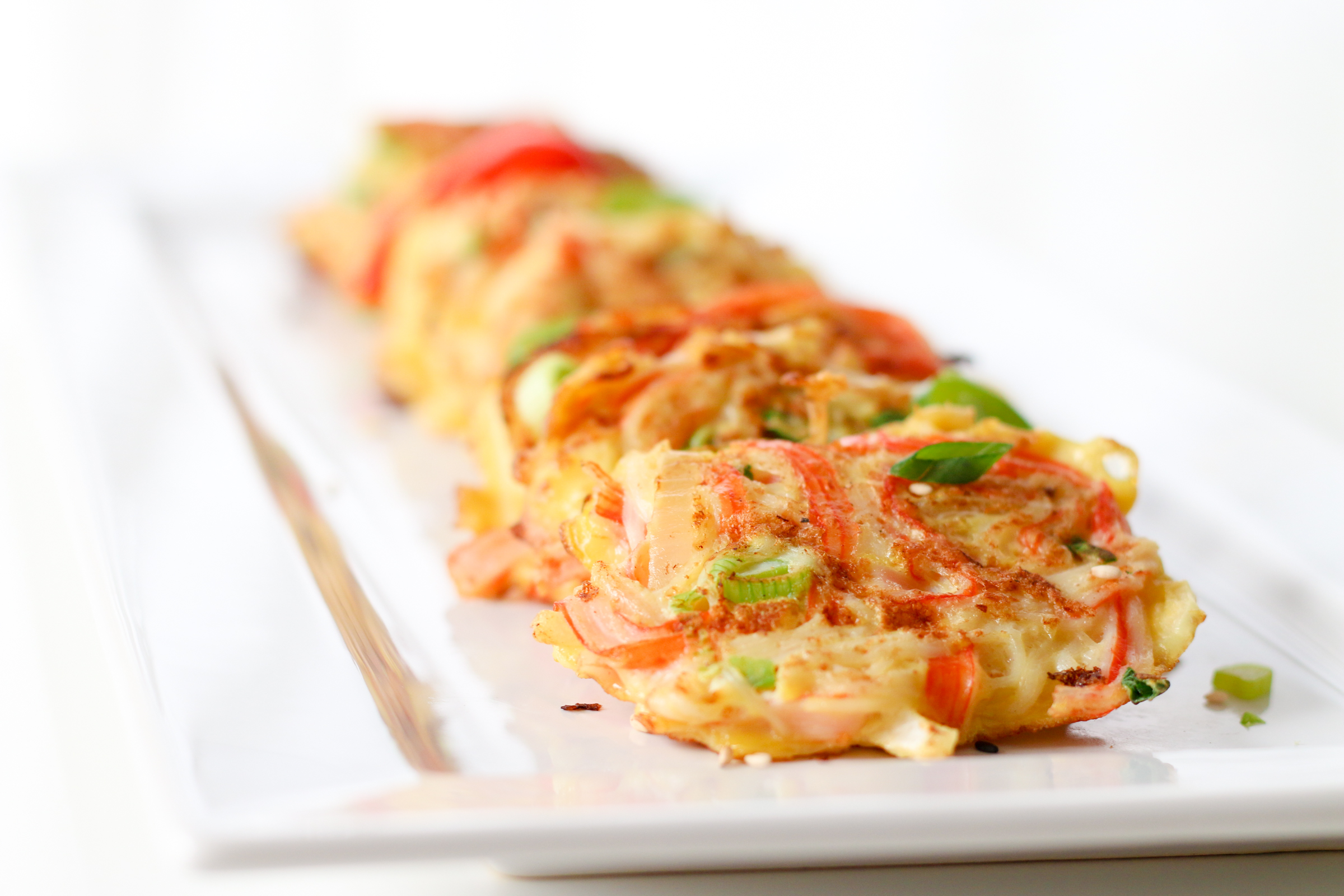 In fact, because I had some in my freezer after we finished filming this episode, I've been pulling them out for dinners here and there for the last couple weeks, and we've been eating them happily!  Now they're all gone, so you know that means I'm going to have to make more.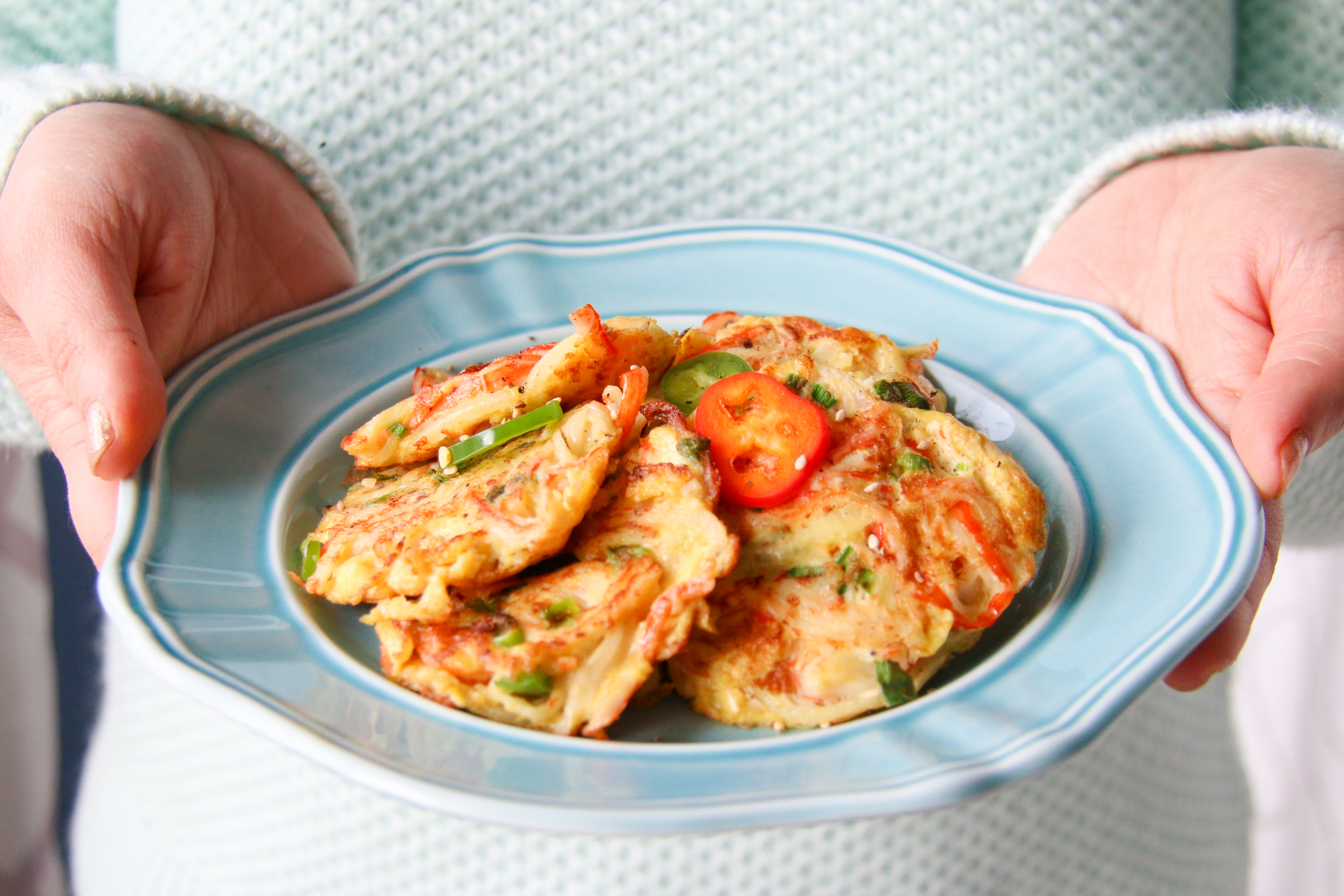 So don't be surprised if I invite you over to our place and I have a plate of these Korean Crab Jeon waiting for you.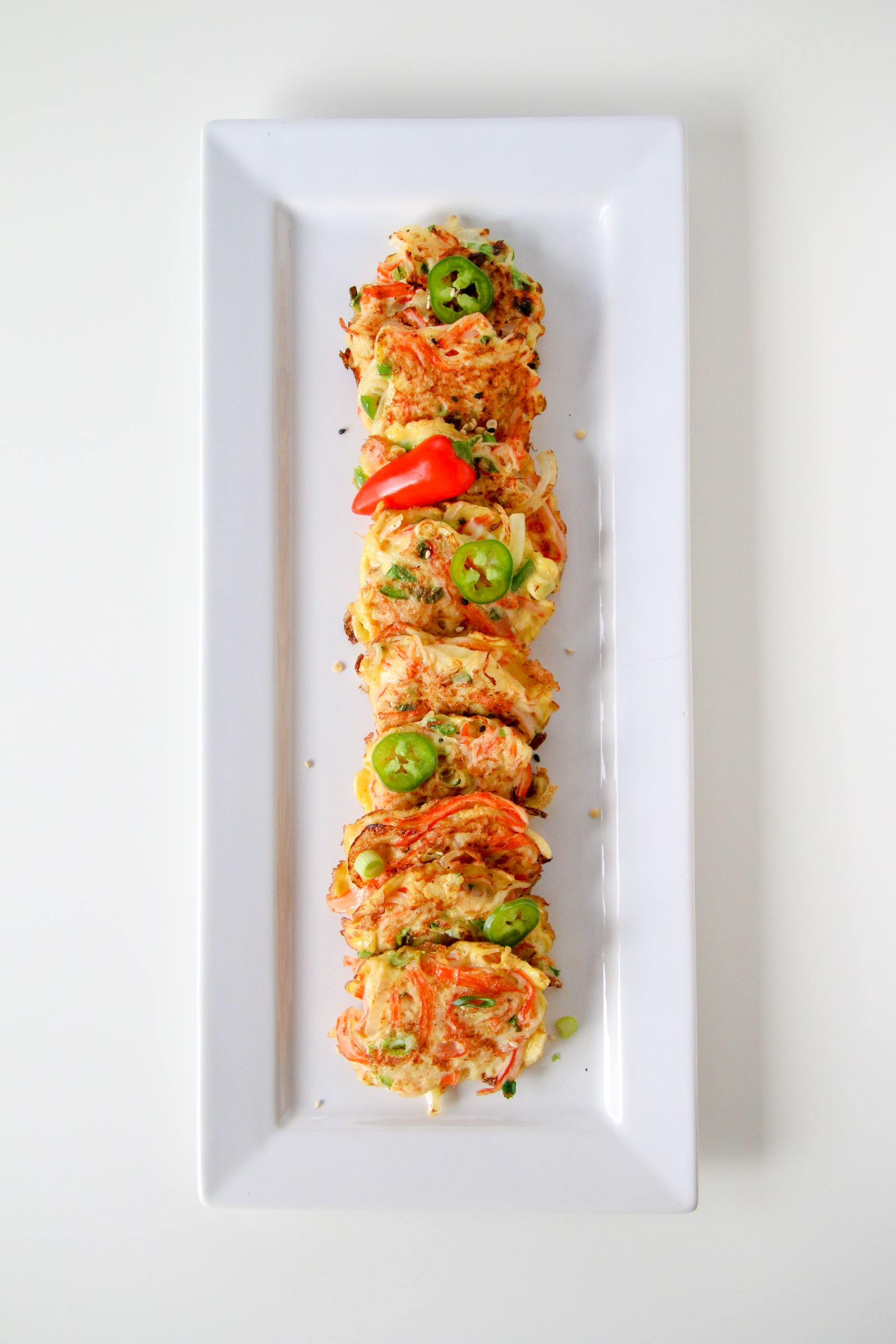 If you enjoyed this VIDEO, SUBSCRIBE to our COOKING SHOW CHANNEL HERE.  It's FREE! : Chef Julie Yoon
If you want to follow us on our journey, SUBSCRIBE to our VLOG CHANNEL HERE. It's FREE! : Our Yooniverse

Korean Crab Jeon (Crab Stick Omelettes : 게맛살전)
"Jeon" means "pancake" in Korean, but there's no flour involved! These savory Crab Stick Omelettes are the perfect appetizer or side dish to make on the fly! You'll find yourself making them over and over again!
Ingredients
1 (1 lb) package imitation crab sticks
1 onion, very thinly sliced
2 cloves garlic, minced
1 jalapeno, finely diced
2-3 scallions, chopped
7 eggs
Pinch of Salt, and Black pepper to taste
Vegetable oil for the pan
Instructions
Shred the imitation crab sticks into strings like you're pulling apart string cheese. Place in a large bowl.
Mix in the onion, garlic, jalapeno, and scallions. Using kitchen gloves, add the eggs and mix with your hands. You want the mixture to bind together, without being runny. Season the mixture with salt and pepper to taste.
Heat a large pan with oil over medium low heat. You don't want the pan to be too hot or the omelettes will burn. With a spoon, pick up chunks of the crab mixture, and place them onto the pan. Shape into round shapes using your spoon. Pan fry them until both sides becomes golden brown about 2-3 minutes on each side. Repeat until you are finished with the whole batch.

TIP: If you are serving them later, you can keep them warm in a 200 degree oven, or serve at room temperature. They're best eaten hot off the pan though!