Our Experience at BlogHerFood15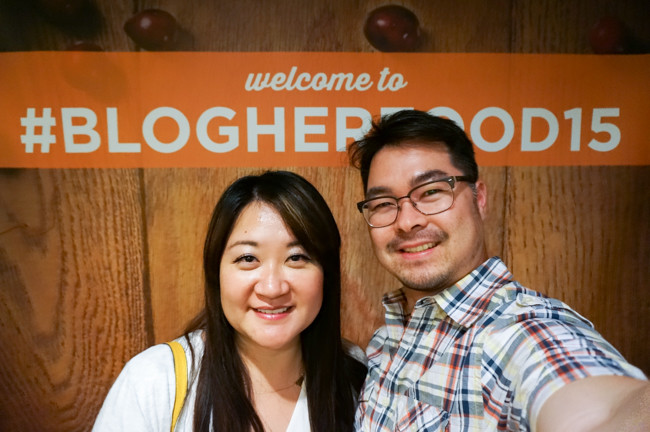 It's been a week since Joe and I attended BlogHerFood15 in Chicago, and I've had some time to process it now.  In case you don't know what I'm talking about, it's the world's largest conference for food content creators, and it's held in a different city each year.  This year, it was at the Hyatt Regency in Chicago, and Joe and I both went because we were invited to be speakers at a panel called, "Best Practices to Make Great Food Videos."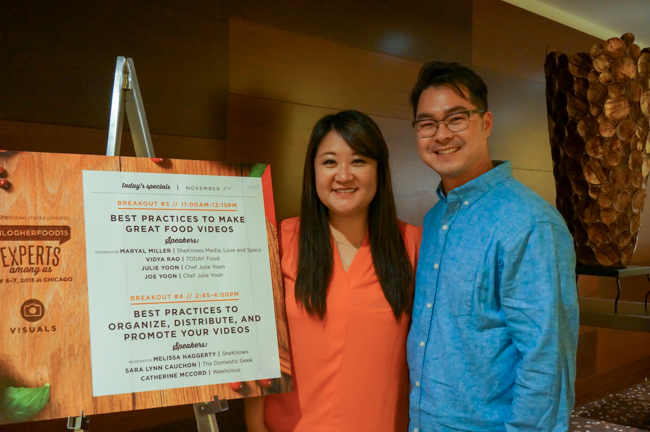 As you can imagine, mostly females attend this conference because of the name, BlogHER, so Joe was definitely in the minority.  He joked around that when he was in the bathroom and one other guy walked in, he was like, "woah…it's getting crowded in here!"  Hahaha!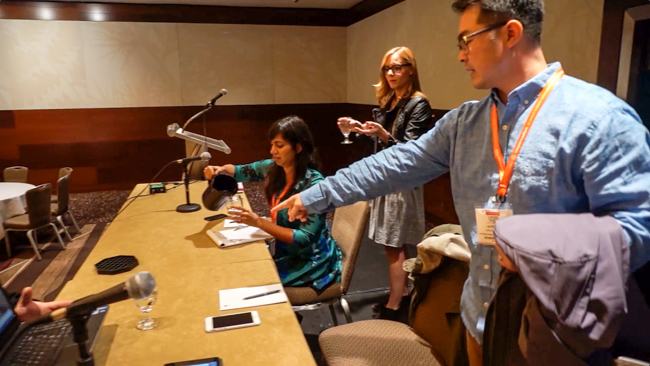 I was also asked to participate in a contest within the conference called The Pitch, along with 3 other incredible women with food-based companies.  We were all hand-selected by SheKnowsMedia, a marketing company that supports and promotes women.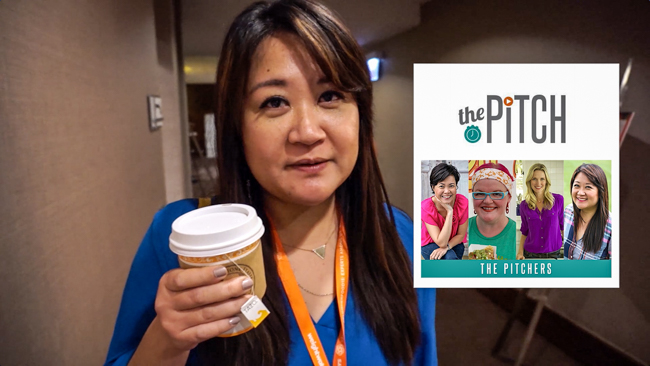 I'm still scratching my head at how in the world I got tossed in with the other accomplished candidates, but that's when I say it was divine intervention.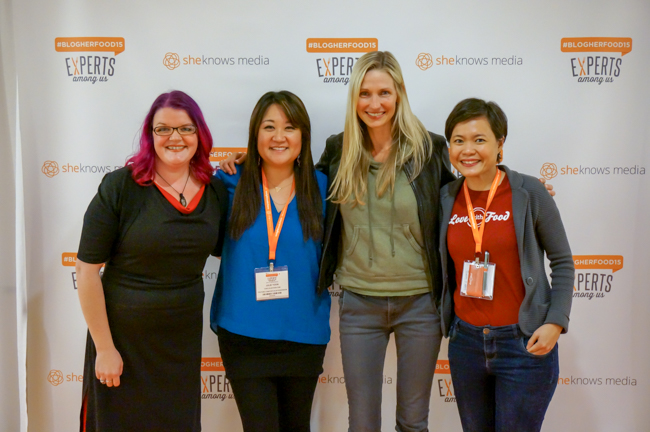 This is the thing I flew out to New York for, to record a 30 second video.  I pitched our online cooking show, Bits & Pieces, and in the video, I said a one liner like, "so if you want to learn how to make easy healthy recipes, or you just want to hang out with me and my super cute husband, then subscribe to our channel."  That one liner stuck like glue and afterwards, Joe was forever referred to as "Super Cute Husband" everywhere he went, and he was like, "this is the BEST conference EVAR!!!" 🙂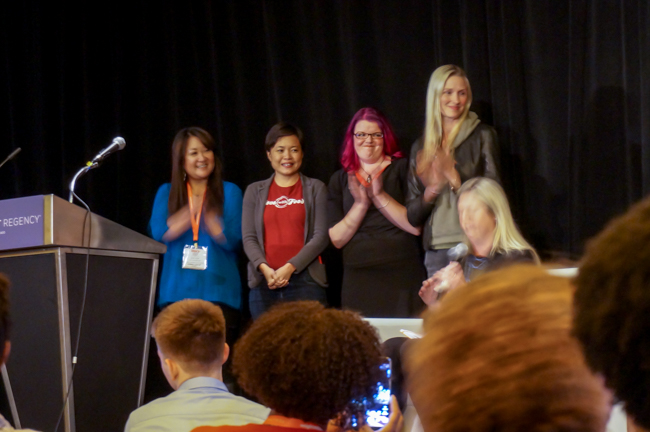 You also walk away with tons of swag so it's advised to bring an extra bag or make sure you have plenty of space in your luggage if you're flying.
And of course being YouTubers and all, we recorded a vlog of our experience there, so if you want to know what it was like for us at BlogHerFood15, then watch our video below:
WATCH OUR VIDEO HERE:
You do a lot of eating at BlogHerFood.  All your meals are taken care of, but there's also food demos, samples from sponsors, and after parties.  Plus, everyone there is most likely a food blogger, so you might want to go out with your new friends and eat lunch together (while taking pics of your food of course!)
I will say though because we were speakers and I was doing The Pitch, we were pretty busy and were constantly being pulled do something, get ready for an event, or talk to someone.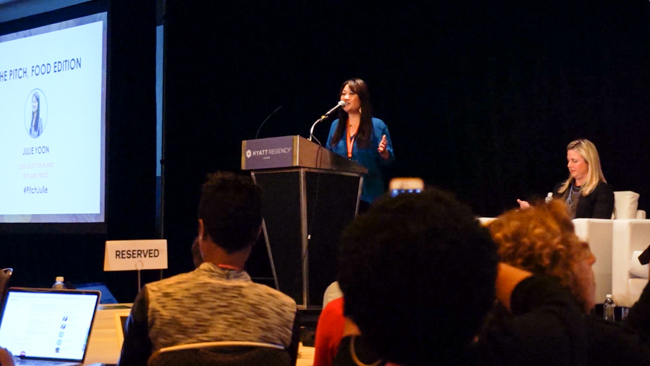 So that didn't give us much opportunity to spend time perusing the sponsor booths to get more swag.  I apparently missed out on a free mini Le Creuset pot! I'm crying inside.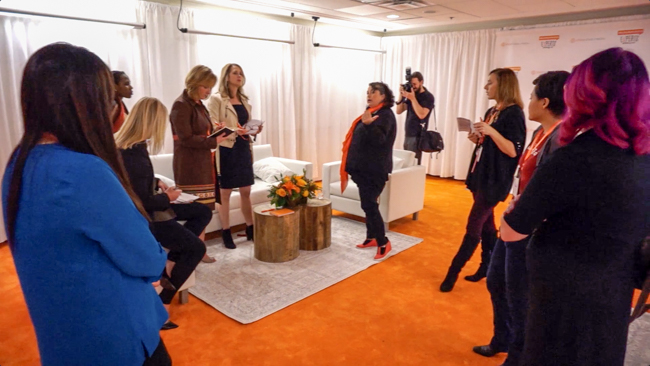 But I did get to finally meet in person Jaden Hair from Steamy Kitchen, someone I've been following for years and she was as sweet as can be.  We also met new fellow blogger friends and it was so refreshing to the soul to know that someone else out there has the same struggles as you.
It was also affirming because Joe and I are a little different in the sense that we do both blogging and YouTube.  It turns out that we were a little ahead of the game in deciding to invest in food videos a few years back, and our panel was pretty popular.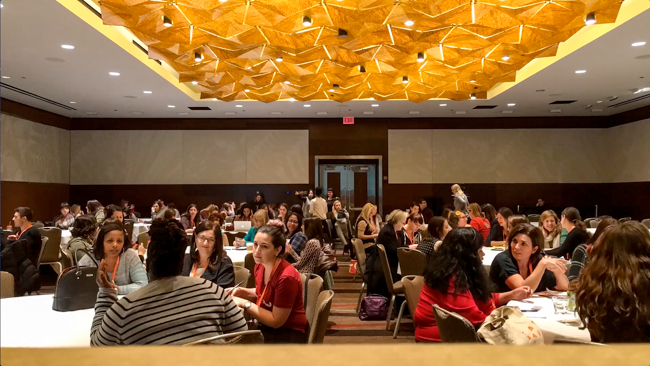 I'm hoping we helped people feel motivated to get in front of the camera. We wished we had help or some kind of manual when we first started, so it's our pleasure to share our tips with others.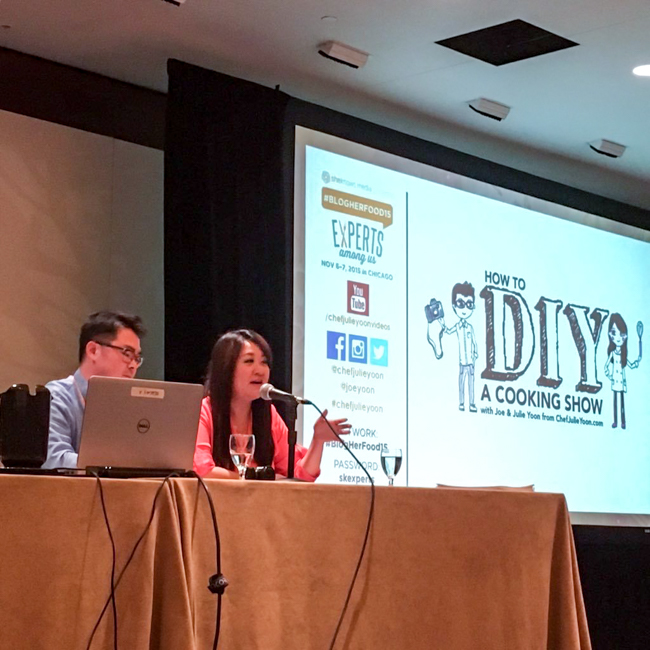 Photo cred: Lexibites
I recommend if you're thinking of attending BlogHerFood to do some research before you go to see what panels interest you.  There's a lot going on all at the same time, and there's a lot of choices you have to make.
Even though we were there from Thursday night- Saturday night, we felt like it flew by in a flash.  Your schedule is pretty jam packed and there's so much networking going on, be prepared with lots of business cards.
By the way, we printed 200 of them right before the conference and then left them at home! D'oh!  Luckily, we live in the suburbs of Chicago so Joe decided to book it home to grab them.  But because we parked our car at our friend's place to avoid the crazy rates in the city, he had to first take a train, pick up the car, and then drive home.  The whole round trip was 3 hours, but we got those darn business cards to hand out for the second day!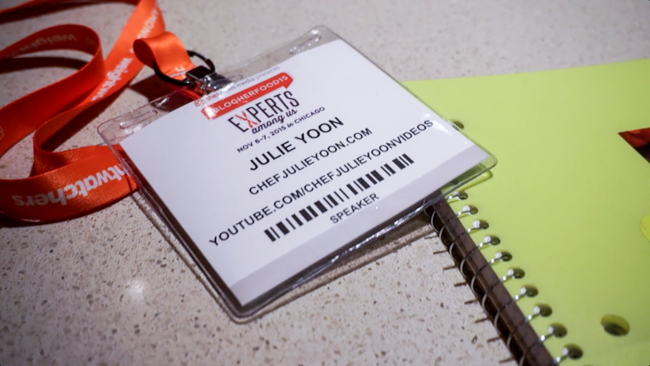 On the last night, we did attend an after party hosted by Ree Drummond from The Pioneer Woman, Jaden Hair from Steamy Kitchen, and Elise Bauer from Simply Recipes, but we didn't get a chance to chat with them or take selfies.  We were too sucked into the lovely conversations we were having with fellow bloggers.  It was so fun and I'm hoping we all stay in touch and find ways to collaborate somehow.
The closing keynote speaker of the conference was Sarah Michelle Gellar, who started a company called Food Stirs.  She was so great because she talked about how she didn't want to just slap her name onto a company, so she got her food handler's license, and did the grunt work.  I also loved about how she feared that when she walked into meetings for Food Stirs, people would be thinking, "okay…let's see what Buffy has to say."  That's so awesome.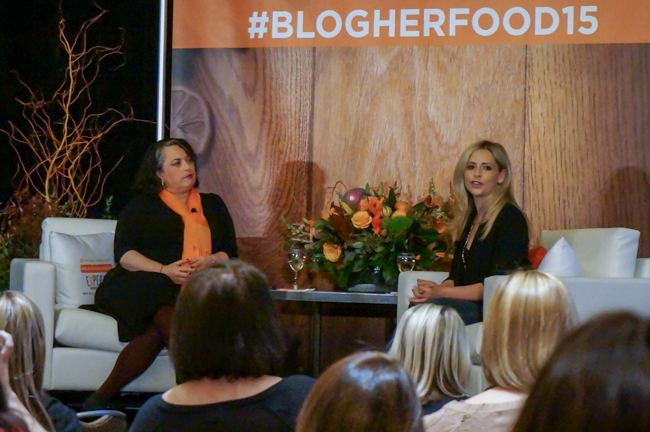 So you can tell, we had a great time and I would love to go again. This was our first time at one of these conferences so we didn't know what to expect.  And just in case you missed out on this year's conference, don't be sad…you can sign up for BlogHerFood16 now!  It's going to be in Austin so that should be fun since it's a huge foodie city!  Just go with an open mind and just be ready to chit chat a lot!  Hope we get to go too… maybe we'll see you there!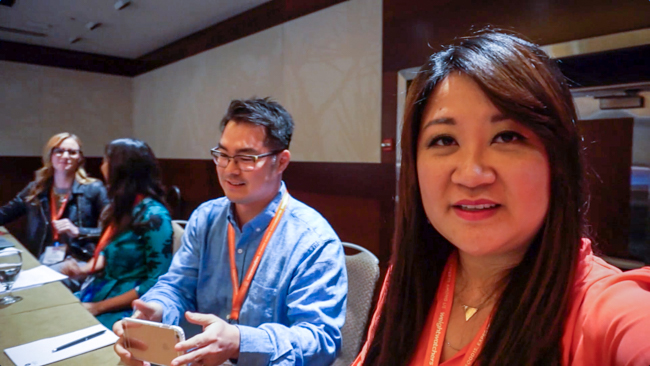 If you enjoyed this VLOG, SUBSCRIBE to our VLOG CHANNEL for more videos like this one. It's FREE! : Our Yooniverse
Watch our cooking show on our MAIN CHANNEL by SUBSCRIBING here.  It's FREE! : Chef Julie Yoon
If you want to watch my full pitch video on SheKnowsMedia's site, go here: Julie Yoon Pitch