Kale Cobb Salad : Behind the Scenes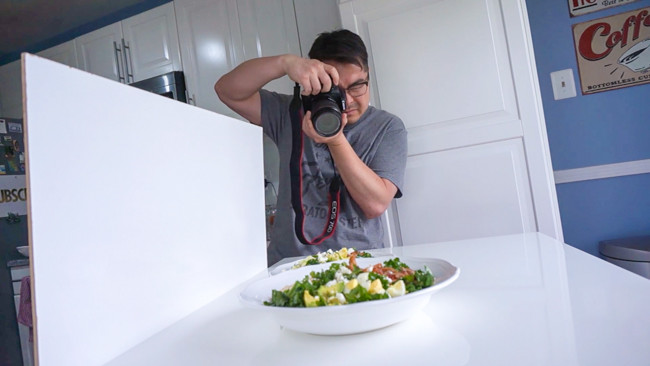 I think we had a little more fun than usual when filming our Kale Cobb Salad episode.  It was probably due to the fact that there weren't any cooking scenes involved, so the shoot ended up being quick and low-stress.  In this behind the scenes video, you can see us being a little more goofy with each other and working well together… thank goodness!  We definitely have our bad days too…where we get on each other's last nerve and fight while shooting, so days like these are a good reminder of why we do what we do.  What's the point if you can't have fun, right?
Sometimes I even wonder how other people film together if they're NOT married.  To get some of our closeup or overhead shots, sometimes we have to do a few contortions and get all close and personal.  But maybe that's just us and a result of our perfectionism.  That's why sometimes even the simplest of scenes can end up taking a really long time to do.  But luckily I think we now have it down to a science… at least when it comes to working with each other.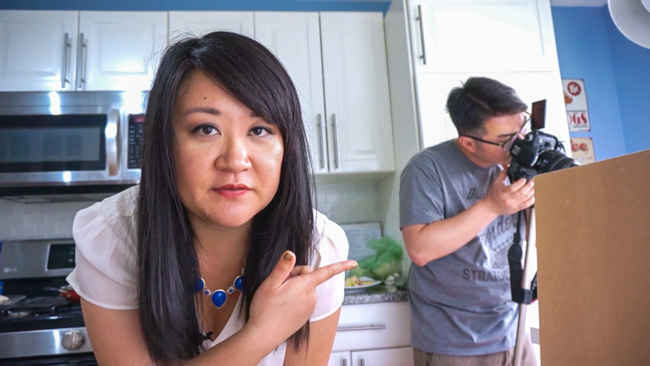 I wonder how things might change one day when we actually have a crew. One can only dream.  But in the meantime, it's still just us and we make do with what we have. Our Kale Cobb Salad recipe episode will be out THIS FRIDAY, AUGUST 14TH, but you can get a sneak peek of it now! Come behind the scenes with us and catch some bloopers in our video below.
WATCH OUR BEHIND THE SCENES VIDEO HERE:
I love the fact that in this video, you can see that Joe is starting to loosen up now.  He really hates being in front of the camera so he usually comes off more shy.  But I guess over time, he's starting to show more of who he really is and even starting to joke around with all of you.
I don't know why it took me so long to share this recipe with you.  It's such an easy dish to throw together and you can even prep and make it ahead.  So stay tuned for the recipe video coming out THIS FRIDAY, AUGUST 14TH.  It's been a little confusing because I'm currently drafting this from Korea and the time difference is throwing us of. But be on the lookout and I hope you enjoyed coming behind the scenes with us!
If you enjoyed this VLOG, SUBSCRIBE to our VLOG CHANNEL for more videos like this one. It's FREE! : Our Yooniverse
Watch our cooking show on our MAIN CHANNEL by SUBSCRIBING here.  It's FREE! : Chef Julie Yoon