Cooking for "Eat for North Korea"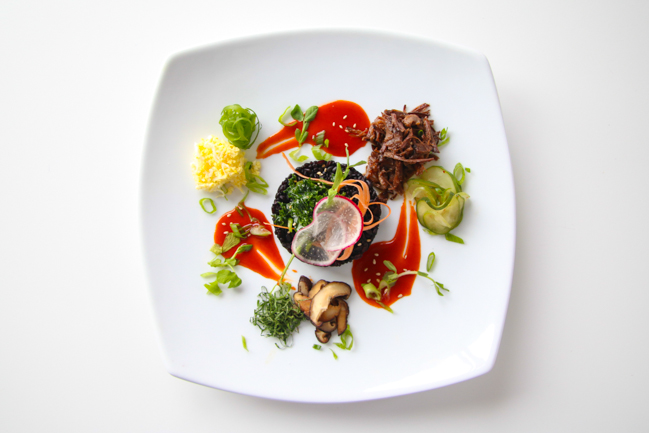 I was asked by an organization called Crossing Borders to be one of the chefs cooking for a fundraising event in Chicago called, "Eat for North Korea."  They expected about 200 people to show up and 100% of the ticket sales would go directly towards providing aid to the North Korean refugees living in China.  I think the concept that people were going to be eating for the starving people in North Korea was the perfect ironic marketing tool…so kudos Crossing Borders for coming up with that title!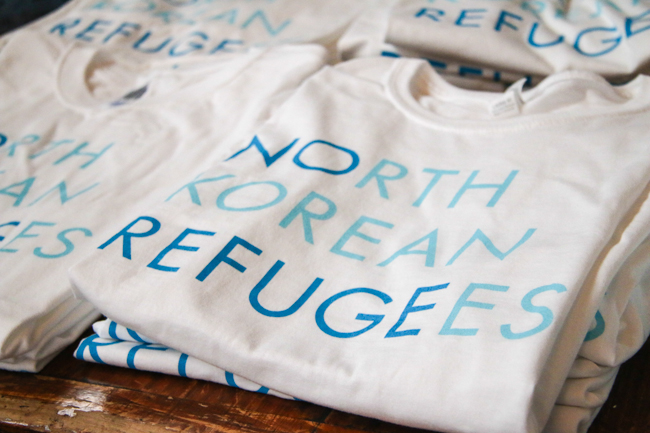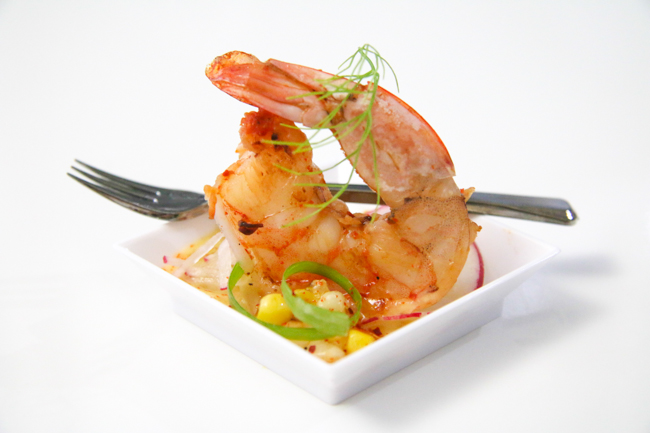 Grilled Shrimp with "Oksusu" Puree (Corn Puree made with Korean chili and sesame oil)
It was a fantastic event.  It was raining pretty hard that day and it was on a weeknight, so I don't think as many people ended up coming out as originally expected, but Crossing Borders was still able to raise a good chunk of change, and those who did come out, left more aware, full, and happy.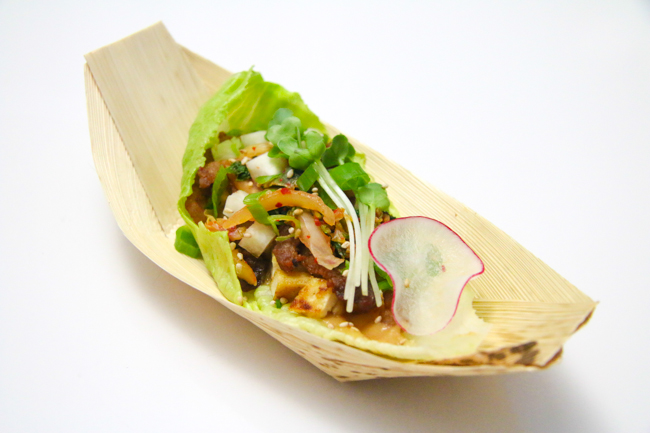 Kimchi Pork Belly Lettuce Cup with Denjang Vinaigrette
The food for the night was supposed to be provided by a generous Korean restaurant called Dak Wings and little ol' me!  EEEK…say what?  I knew I couldn't handle this much volume on my own, so I recruited our friend Chef James Park to help me develop the menu, and we went in as a team.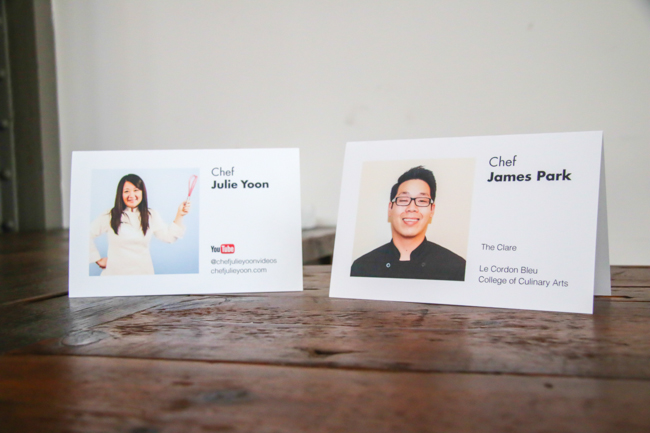 We came up with 3 different dishes which we called, "New American-Korean Cuisine."  We also received assistance from Chef Dan Song on the night of the event, and we were thankful for the extra pair of hands.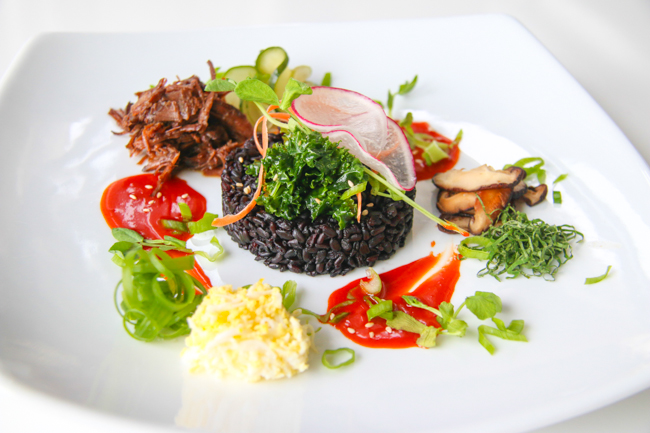 "Bibimbop" (Black rice, braised short ribs, assorted vegetables, and gochujang sauce)
I'll be honest and say that the timing of this event was a little crazy because we were so busy with our own work, but through the grace of God, we still managed to get ALL our work done and I came out of this experience unscathed…a little tired, but alright.  You can watch our experience of preparing for this amazing event in our VIDEO below:
WATCH OUR "EAT FOR NORTH KOREA" EVENT VIDEO HERE:
I've known the Co-founder of Crossing Borders for many years now, but we first met when we were both living in New York City.  He took a cooking lesson from me and I still remember what I taught him what to make… mussels in white wine sauce, and mushroom risotto!  He's never had my Korean cooking before so I was a little surprised that he thought of me to do this event.
The prep work was the hardest part… all the recipe testing, multiple shopping trips, and playing Tetris with the ingredients so they fit in my fridge.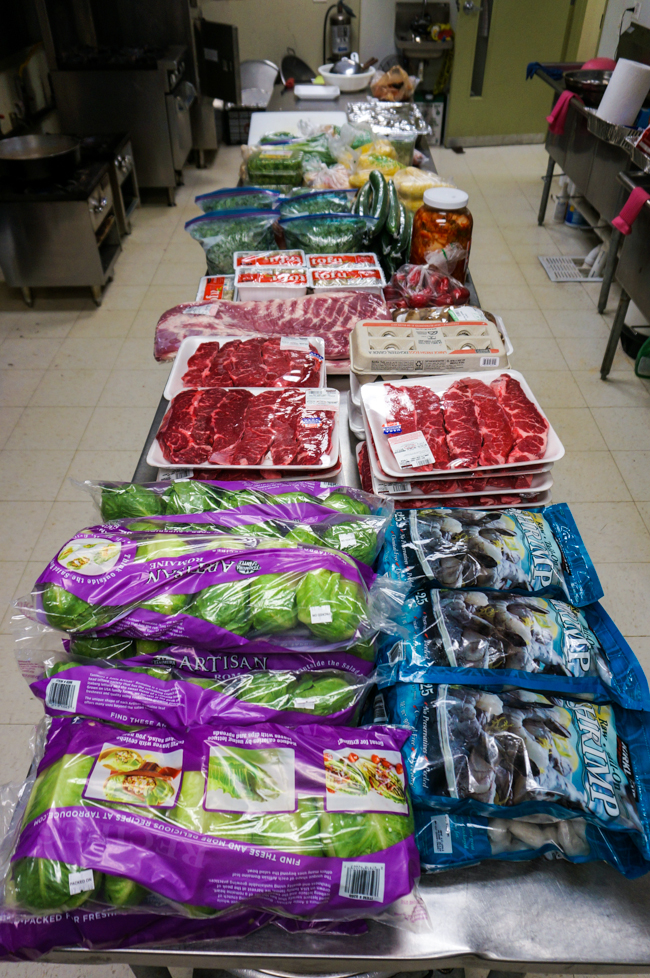 Thankfully, we were able to borrow the kitchen at Grace Church and cook in bulk easier.  Joe's mom also came out to help do a bunch of washing and chopping for us. That was a lot of help and saved us some time.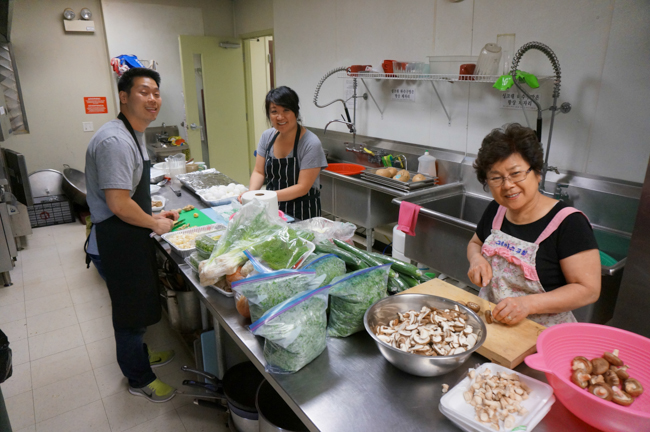 And later that night, our friend Katie dropped by with dinner for everyone! Then she put on an apron and did all the tedious and unglamorous tasks like butterflying shrimp, and washing dishes. We were so grateful for that.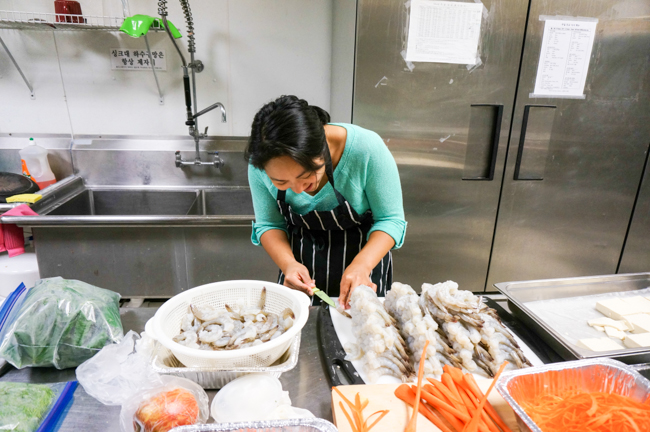 In the end, the prep work paid off and everything came together into 3 very different dishes.  Throughout the night, our plating got a little wonky because we were so busy just trying to feed the hungry crowd and keep up with the demand.  At first, we plated everything in the back prep kitchen until we felt like we were leaving all the people to do nothing  but stare at our empty table.
So we brought all the ingredients out to the front and plated right on the floor!  It ended up becoming kind of like a show or an attraction and according to Joe, it built up the anticipation of wanting to try our dishes even more.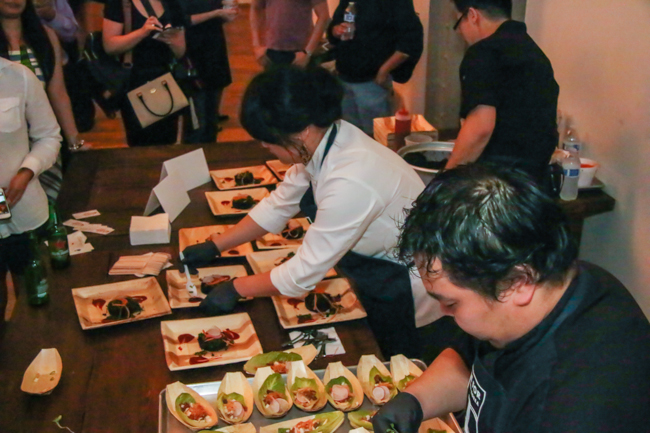 I just felt bad because I thought I wasn't interacting with anyone.  I was so preoccupied with plating the food that I couldn't look up for even a moment.  At one point I did get to meet and talk to a few people who said they watch our videos.  That was a nice surprise and I always love meeting you guys!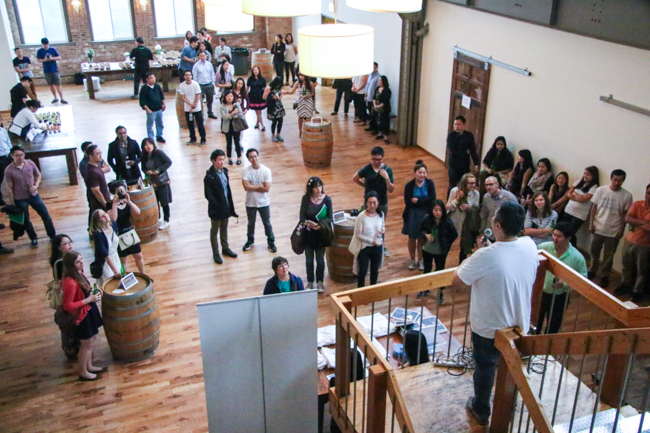 This event was so refreshing for my soul.  My first love is always teaching, sharing, and encouraging people, so I'm lucky I get to do this online.  But honestly, sometimes I do miss cooking for "real people" and having that camaraderie with other chefs in the kitchen.  It brought me back to my culinary school and food styling days.  So as soon as the busyness settled down and I was back at home silently blogging away again, I felt a sense of loss! Isn't that weird?  Joe thinks it's a sign that I need to open a restaurant… so who knows… maybe one day…
But at the end of the night, Crossing Borders was able to raise $7,485. That is 7,485 meals for North Korean refugees and their children!  Thank you Crossing Borders for inviting us to be part of this event and giving me the opportunity to use my skills to bless many people in need.