Skillet Apple Crisp
I can appreciate a really good apple pie from time to time, but in general I prefer tarts and crisps.  This Skillet Apple Crisp was inspired by us having too many Honeycrisp apples lying around after apple picking.  I never thought to bake with them because I thought that was more reserved for tart apples like Granny Smith.  But after some research, I realized that Honeycrisp apples are actually IDEAL for crisps.  SOLD!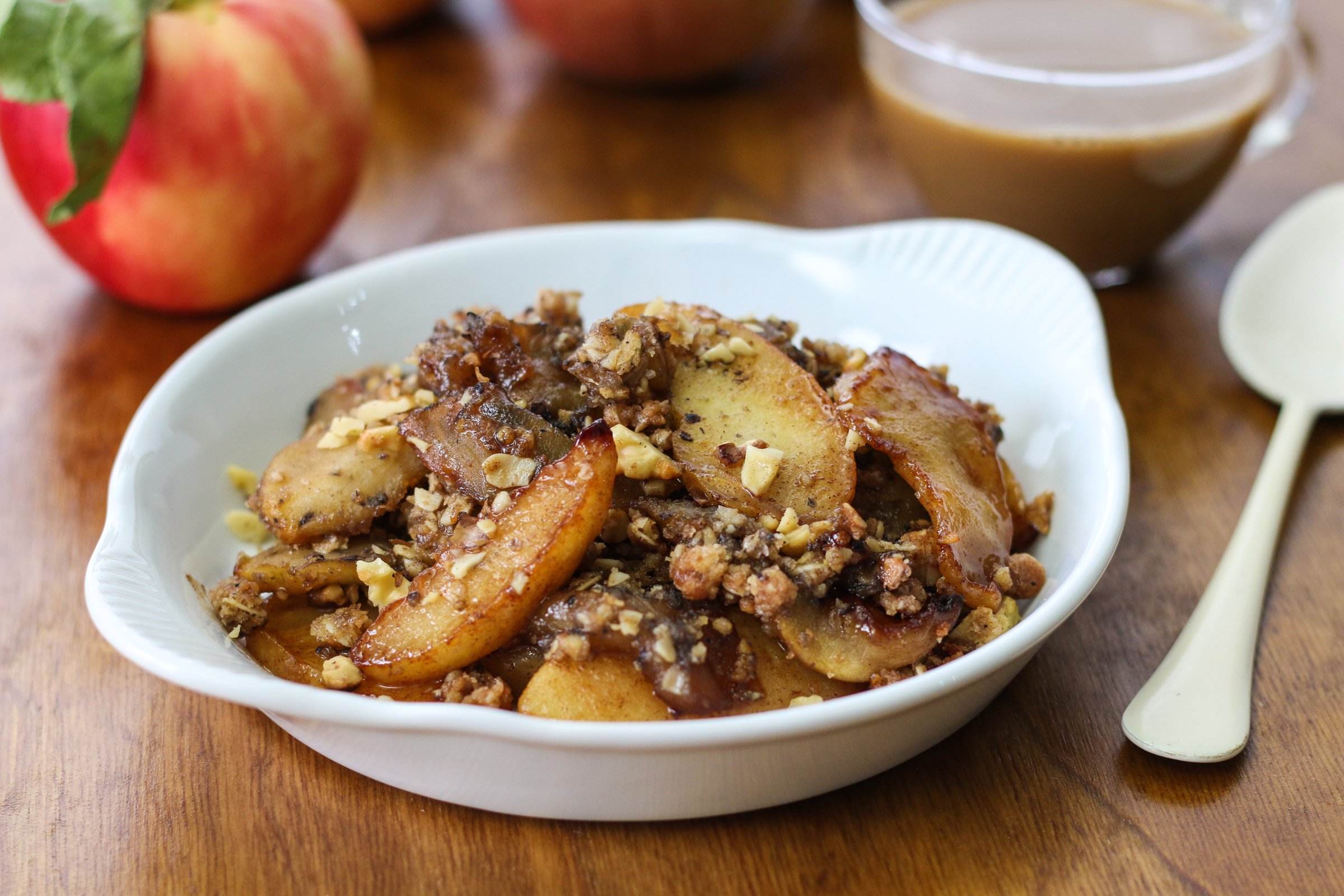 The best part is that it's made entirely in one skillet and it's the perfect portion for two.  So you don't have to worry about having apple crisp for days.  I would recommend working out of a 12-inch nonstick OVEN SAFE pan, but if you don't have one, then don't worry because I've also made this recipe in a casserole dish too.  Just start it out in a pan and transfer it to your baking dish before it takes a trip to the oven.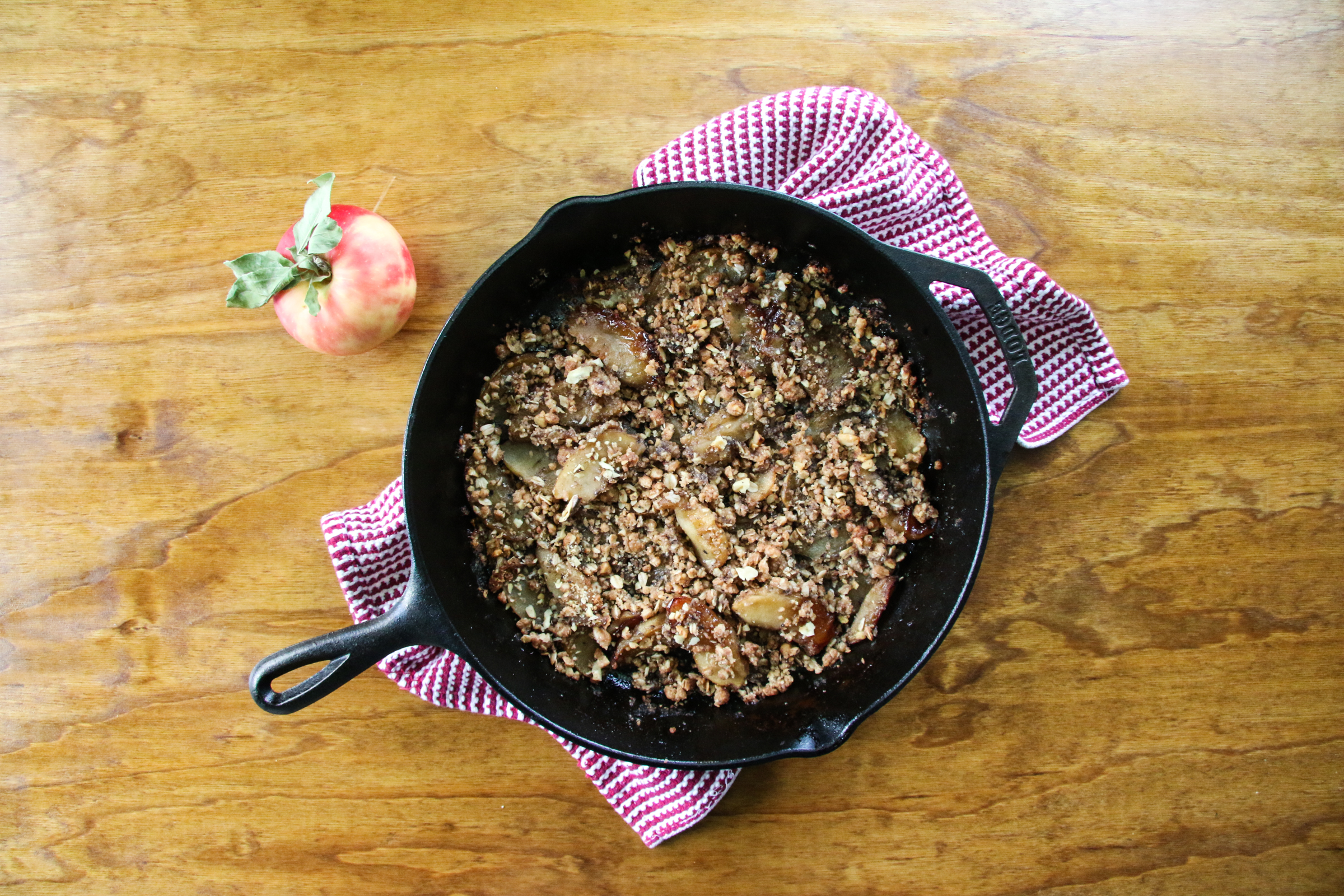 Once the cinnamon and sugar hits the apples, you will instantly be reminded of apple pie, but it will be way easier to make.
The chewy oats, the nutty toasted walnuts, and the cinnamon and sugar work like magic together to form this heavenly crumble that complements the sweet and tart tender apples.  All you need is a scoop of vanilla ice cream and a cup of coffee.  Watch how I make this easy apple crisp in EPISODE 2 of Bits & Pieces Season 2 below:
The apple slices are cooked in BUTTAH on the stove first so they can release their juices and become tender, yet toothsome.  You don't want to overcook your apples at this point.  They're going into the oven after all.  And it's way more satisfying to eat when they're not completely soft, but still have a little bite.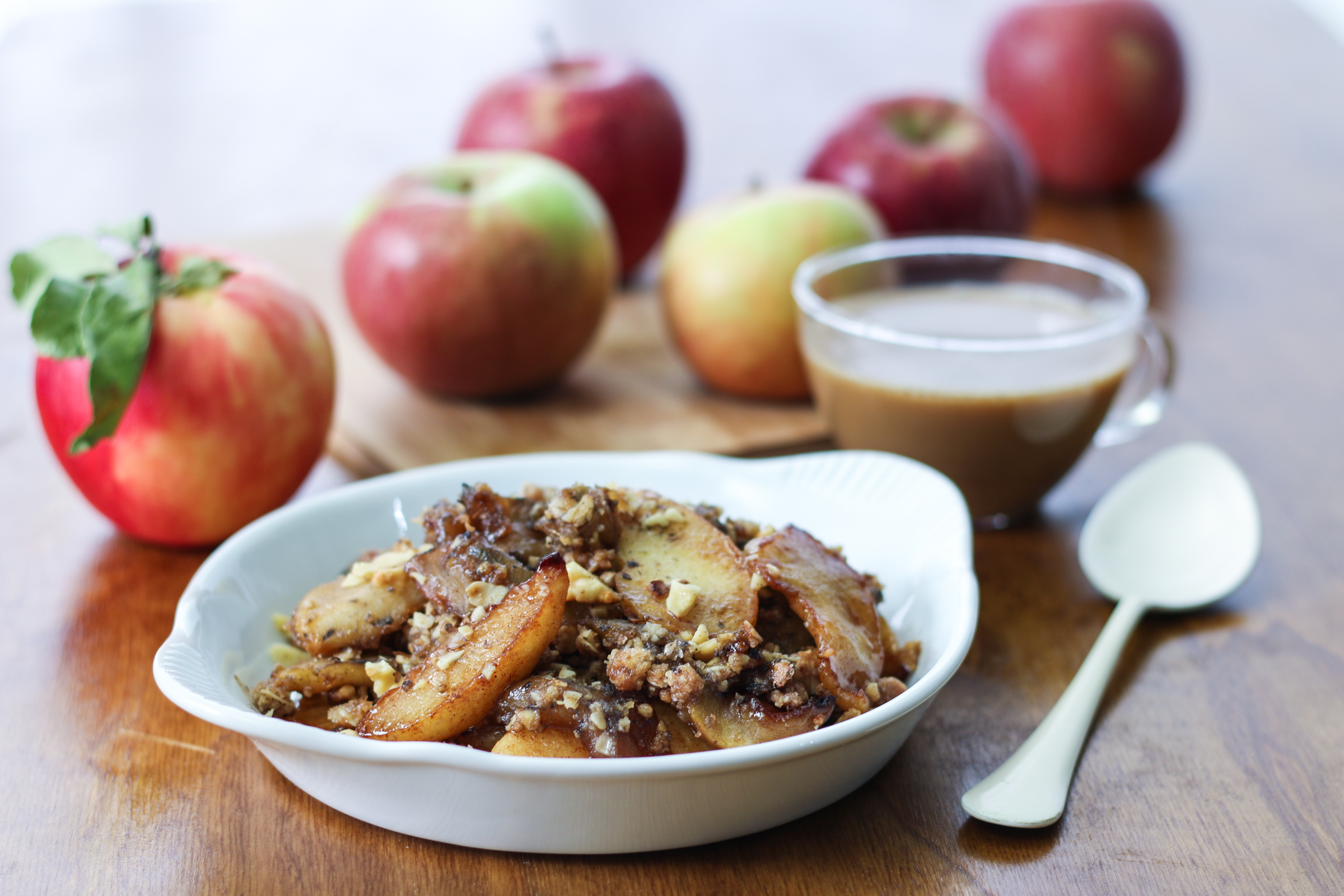 Then you toss them in a reduced apple cider "sauce" before you crown them with crisp topping.  The cider makes the apples have this intense concentrated apple flavor that just works.  Hey if you're already going apple picking, you might as well pick up a jug of apple cider while you're at it, right?  I just happened to have it in my fridge because we're pretty obsessed these days with drinking hot mulled apple cider.
And let's go back to the ice cream.  The ice cream in my opinion is more than an accent.  It's another element to the dish entirely because the cold creamy contrast against the warm spicy crisp is everything!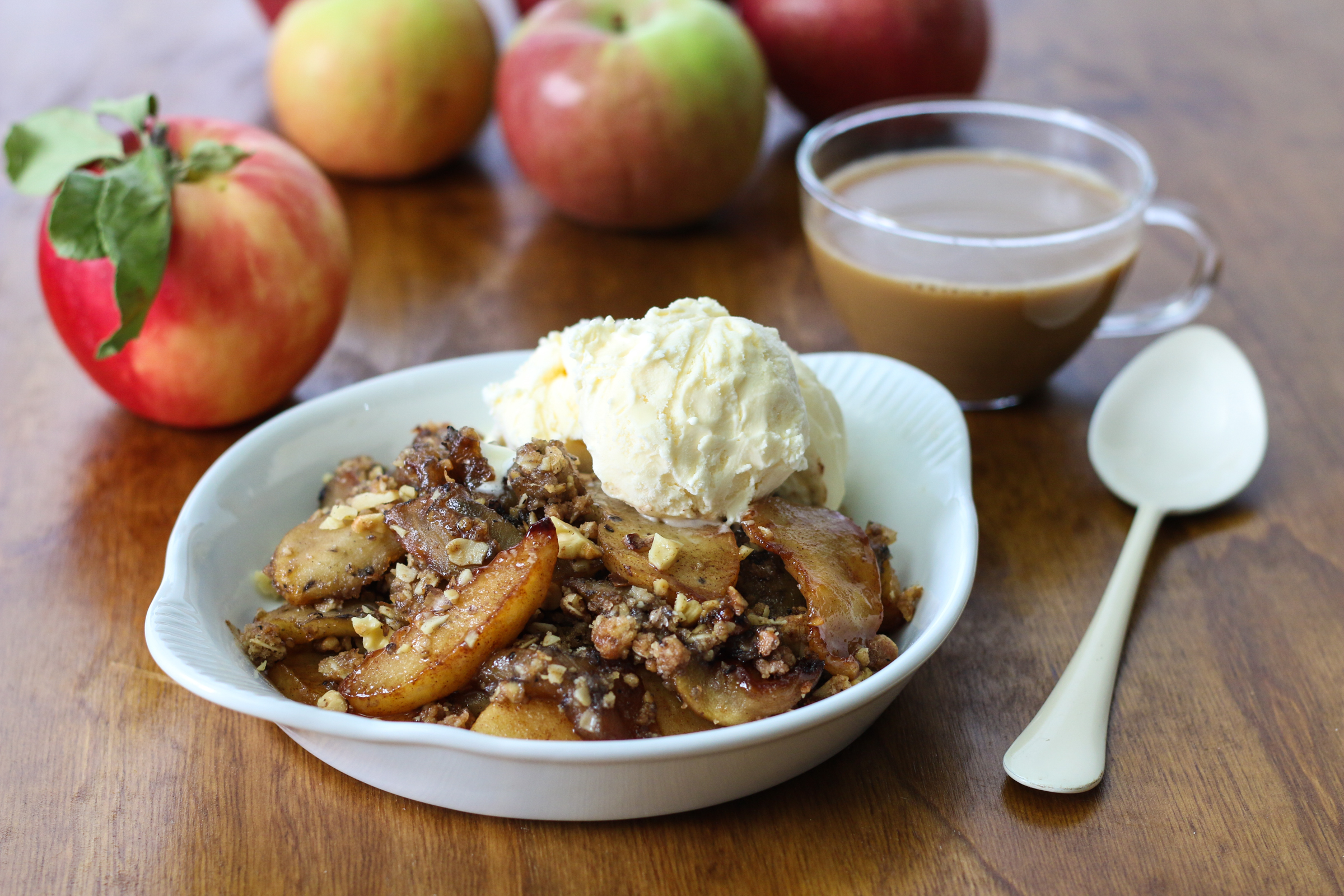 When it melts, it oozes and mixes with the cinnamon and sugar and creates this magical sauce.  So I definitely ADAMANTLY suggest eating this with either vanilla ice cream or whipped cream.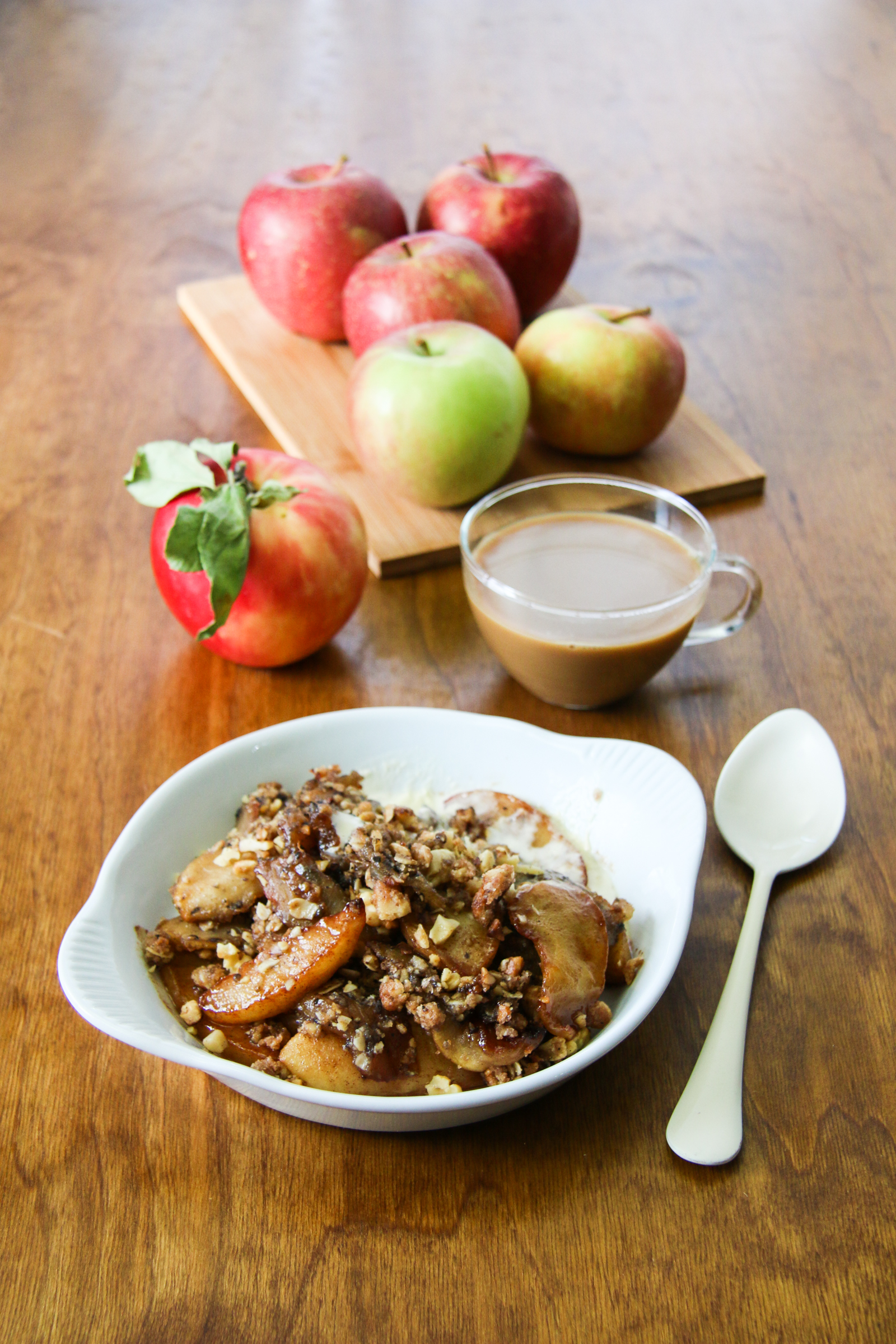 And although I made this Skillet Apple Crisp for dessert, I realize that you could omit the ice cream and it would be exceptional for breakfast, hot out of the oven with a cup of strong coffee.  Too bad we didn't have any leftovers for me to test this theory.

Skillet Apple Crisp
Tender cinnamon and sugar coated apples with a crispy, chewy, and nutty topping. All you need is a scoop of vanilla ice cream.
Ingredients
CRISP TOPPING
¼ cup all-purpose flour
¼ cup toasted finely chopped walnuts
¼ cup old-fashioned rolled oats
3 packed tablespoons light brown sugar
1 tablespoon white sugar
¼ teaspoon ground cinnamon
¼ teaspoon kosher salt
3 tablespoons unsalted butter, melted

APPLE FILLING
1 ½ pounds Honey Crisp or Golden Delicious apples, peeled, cored, halved, and cut into ½-inch-thick wedges
2 tablespoons white sugar
¼ teaspoon ground cinnamon
½ cup apple cider
2 teaspoons lemon juice
1 tablespoon unsalted butter
Salt for sprinkling over apples
Instructions
Adjust oven rack to middle position and preheat to 450 degrees F. Place walnuts in a dry pan and toast evenly just until slightly golden and crunchy. Transfer to a cutting board and chop finely. Add to a bowl, along with flour, oats, brown sugar, white sugar, cinnamon, and salt. Stir in melted butter until the mixture is thoroughly moistened and crumbly. Set aside your topping.
In a separate bowl, toss apples with sugar and cinnamon. Bring cider to a boil in an oven-safe skillet and reduce until you have ⅓ cup, about 2-3 minutes. Pour it back into your measuring cup or a small bowl. Stir in the lemon juice. Set aside.
Add the butter to the empty skillet, along with the apples. Sprinkle with a little salt to help draw out the moisture. Saute for 12-14 minutes or until slightly softened, but not completely cooked. Turn off heat. Pour back the reduced cider mixture and coat the apples. Place the reserved topping over the apples and pop into the oven for 10-15 minutes, or until the apples are tender, but toothsome, and the topping is a deep golden brown. Cool for 10 minutes before serving. Serve with vanilla ice cream or whipped cream.

TIP:The reason you saute the apples in butter first is to get rid of the excess moisture. It also lends a richer flavor to the apples. Just be sure to not to cut your apple slices too thin, or to overcook them. You want texture. It's better when the apples hold their shape and still have a bit of a bite.