Clementine Cupcakes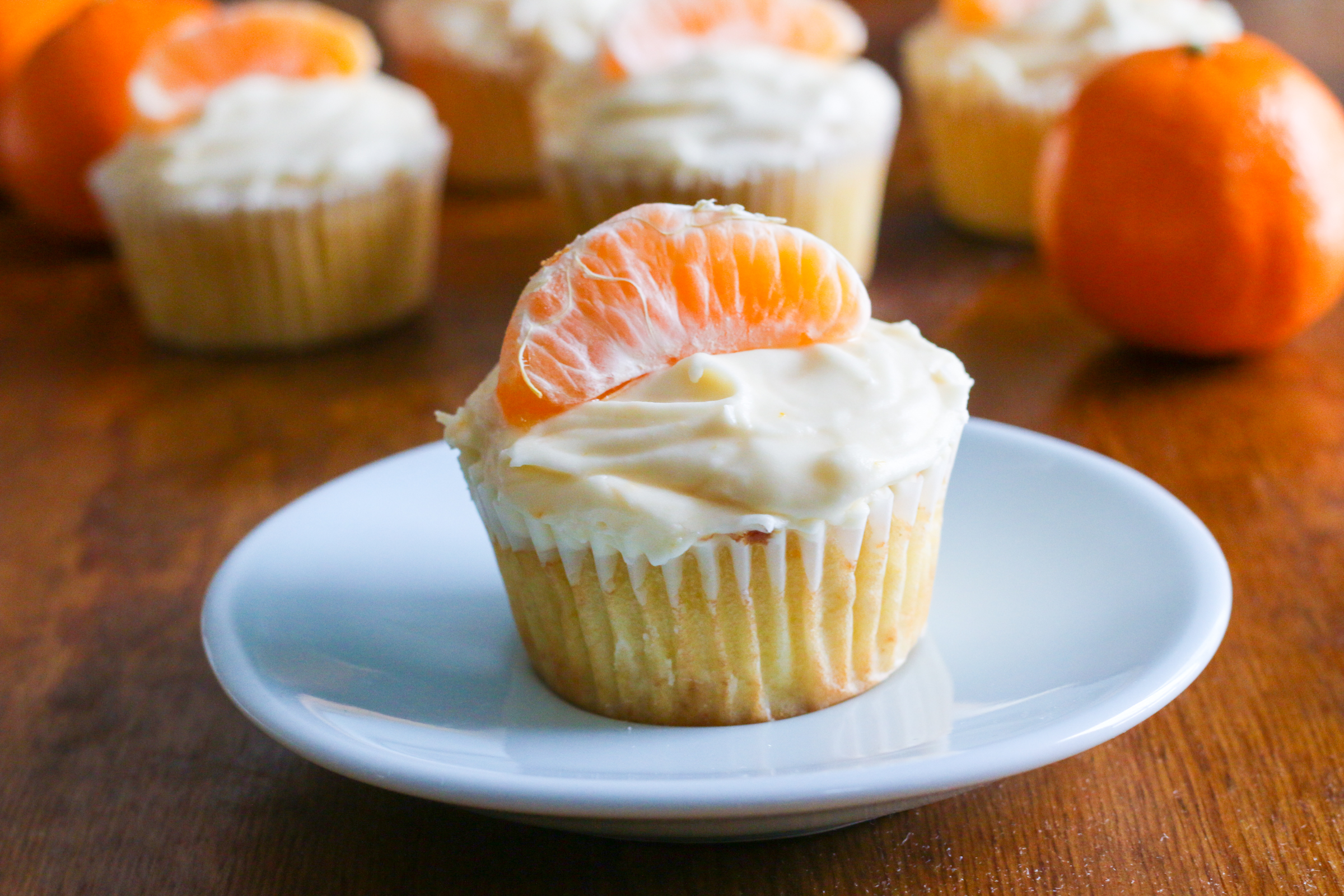 What is it about winter that makes us buy clementines?  For me, it's almost an automatic impulse.  Lately, anytime I go grocery shopping, before I know it, I have a bag of clementines in my cart.  I even have some in my fridge right now, and I bet you do too.  Maybe it's because they're one of the only fresh fruits in season this time of year, or it's because they're so sunny and bright, and that makes us think of warmer weather.  
Yes, they make a great snack, but did you ever think to bake with them?  I never did because I thought that would be unnecessary in a way since they're already so delicious on their own.  But one winter day, I was really cold, and all I wanted to do was turn on the oven and bake.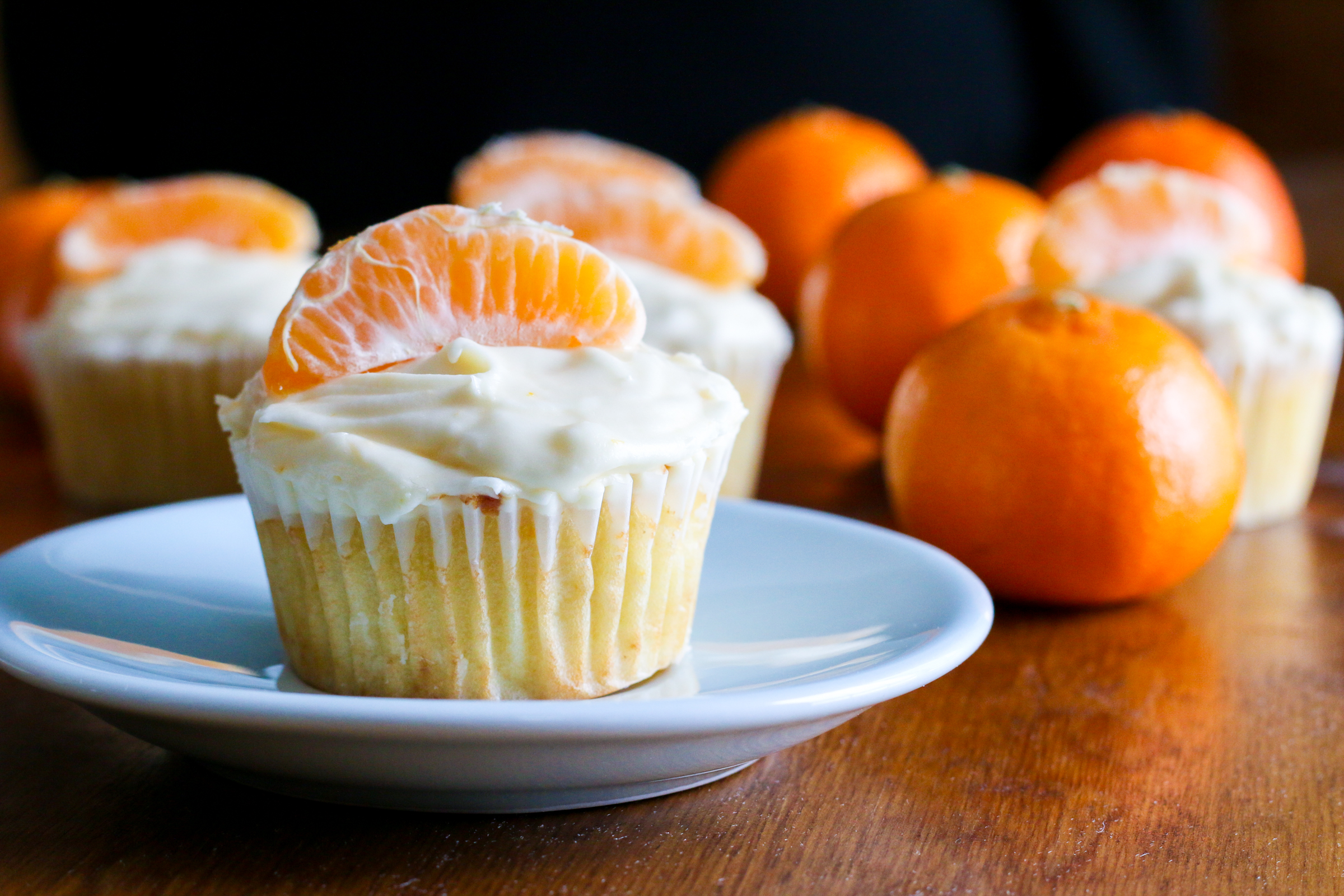 On top of it, all I wanted was a cupcake.  At first, I thought about baking lemon cupcakes, but then I saw two big bags of clementines sitting on the counter and things got interesting.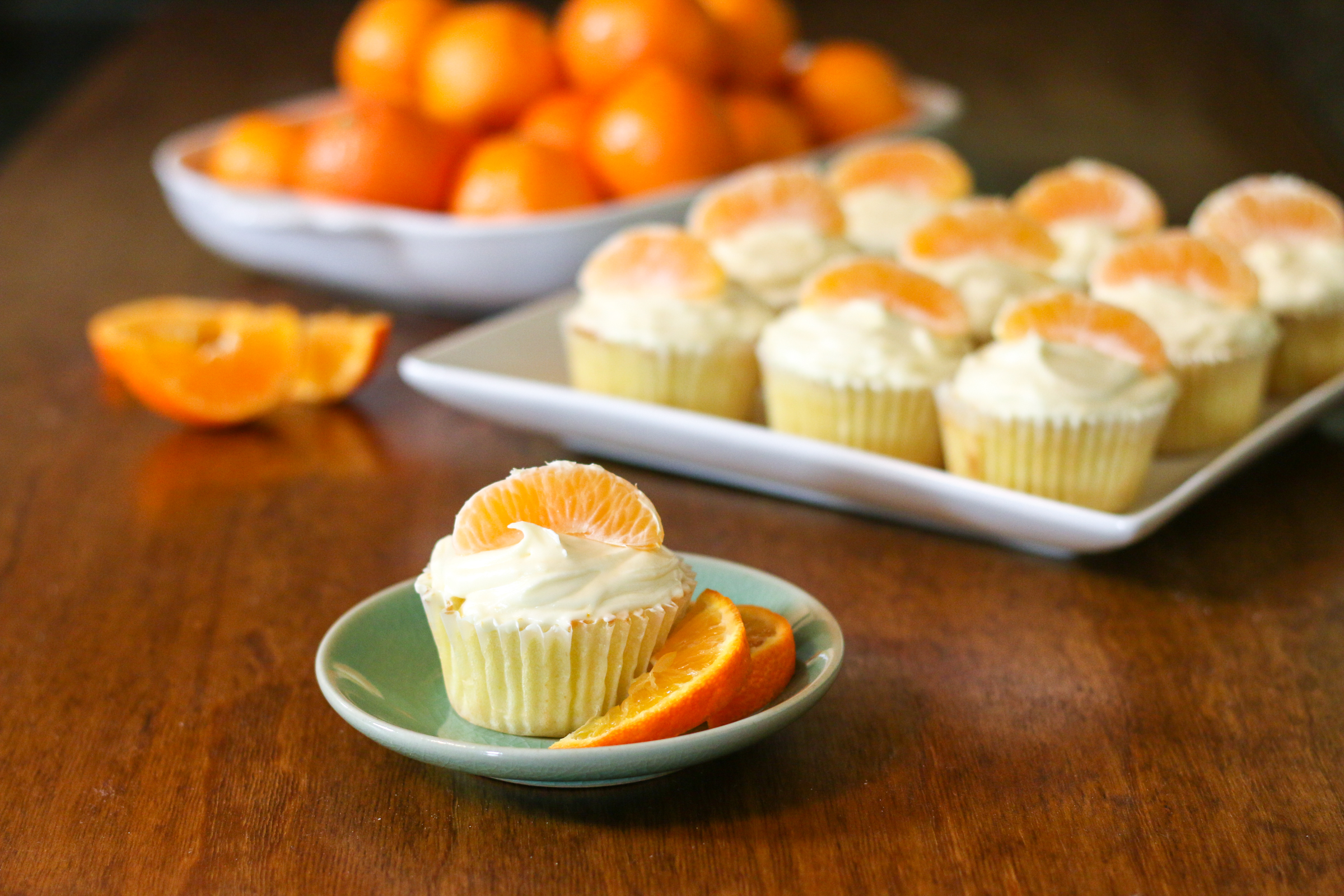 Best little surprise ever.  They were like a cross between lemon and vanilla cupcakes, with the INTENSE perfume of citrus.  I wanted to bow and receive applause.  I purposely had to freeze some and put them away so that Joe and I wouldn't sit around eating cupcakes all day.  If you want to give them a whirl, watch EPISODE 8 of Bits & Pieces to see how I make them:
These are more like an "old-fashioned" style cupcake, you know the ones that actually taste homemade, slightly dense, and wonderfully rich?  They're not light and spongy, like the kind you get from a box mix, so don't expect that.  You can really sink your teeth into them, in a satisfying way.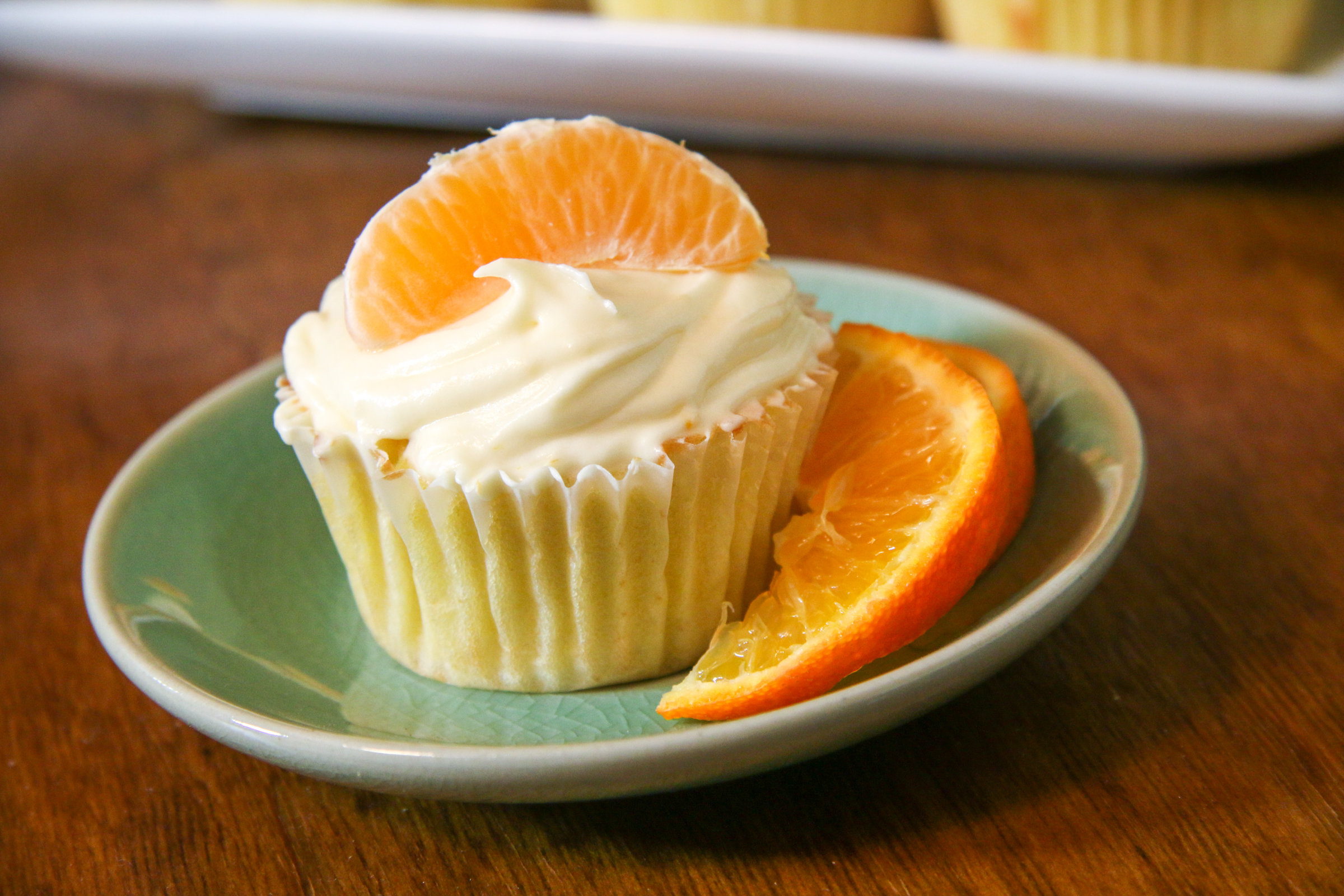 The velvety clementine cream cheese buttercream frosting really compliments the cake.  Every single bite is bright and balanced.  And that little piece of juicy clementine on top makes this cupcake kind of refreshing!  But if you're not a frosting person, the citrus infused cake is wonderful on it's own.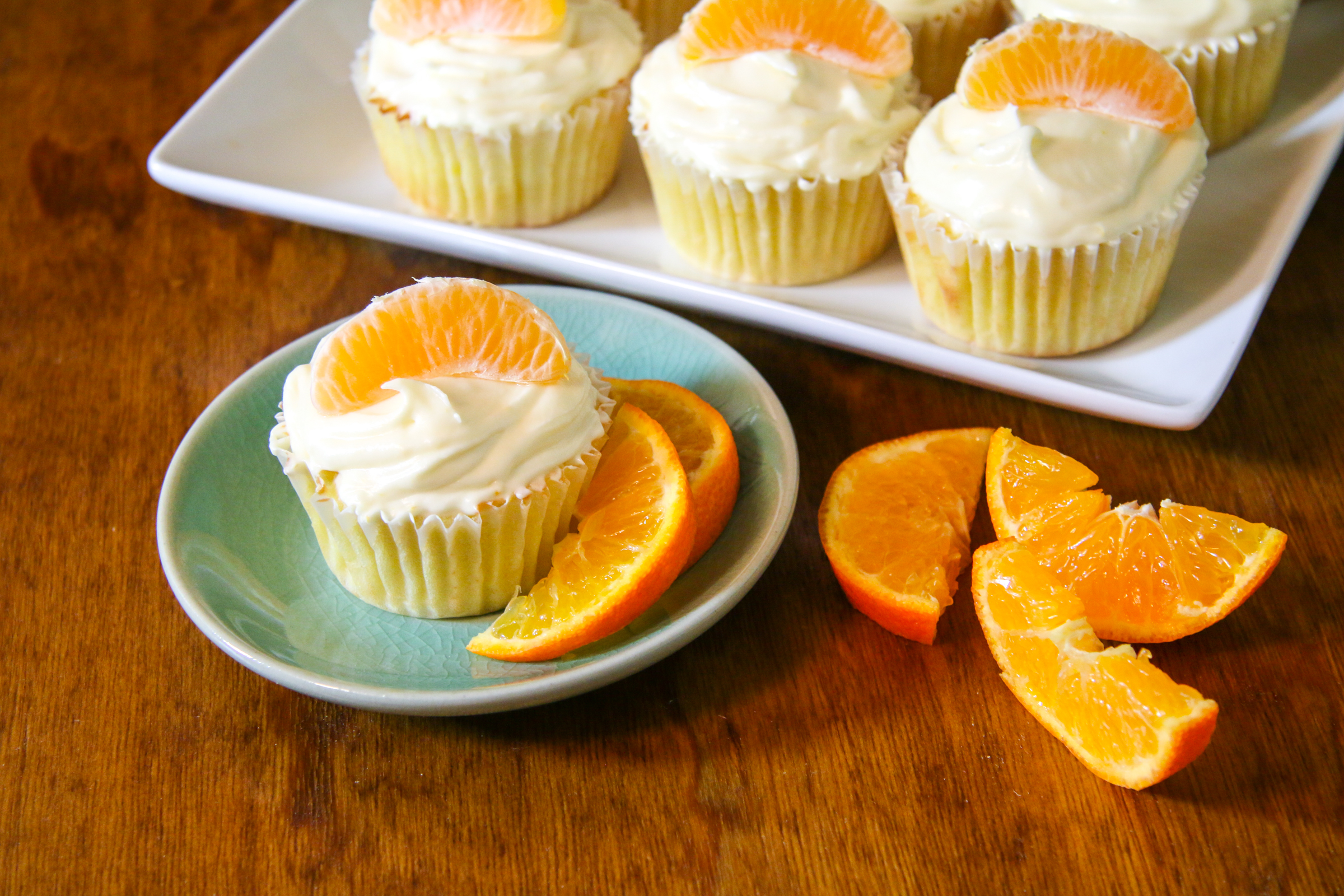 If you decide to freeze your extras like we did, wait until they're fully cooled, and place them in a freezer bag UNFROSTED.  Whenever you want them, all you have to do is thaw them on your counter for a few minutes and they're good as new.  You can keep the extra frosting in the fridge or freezer too.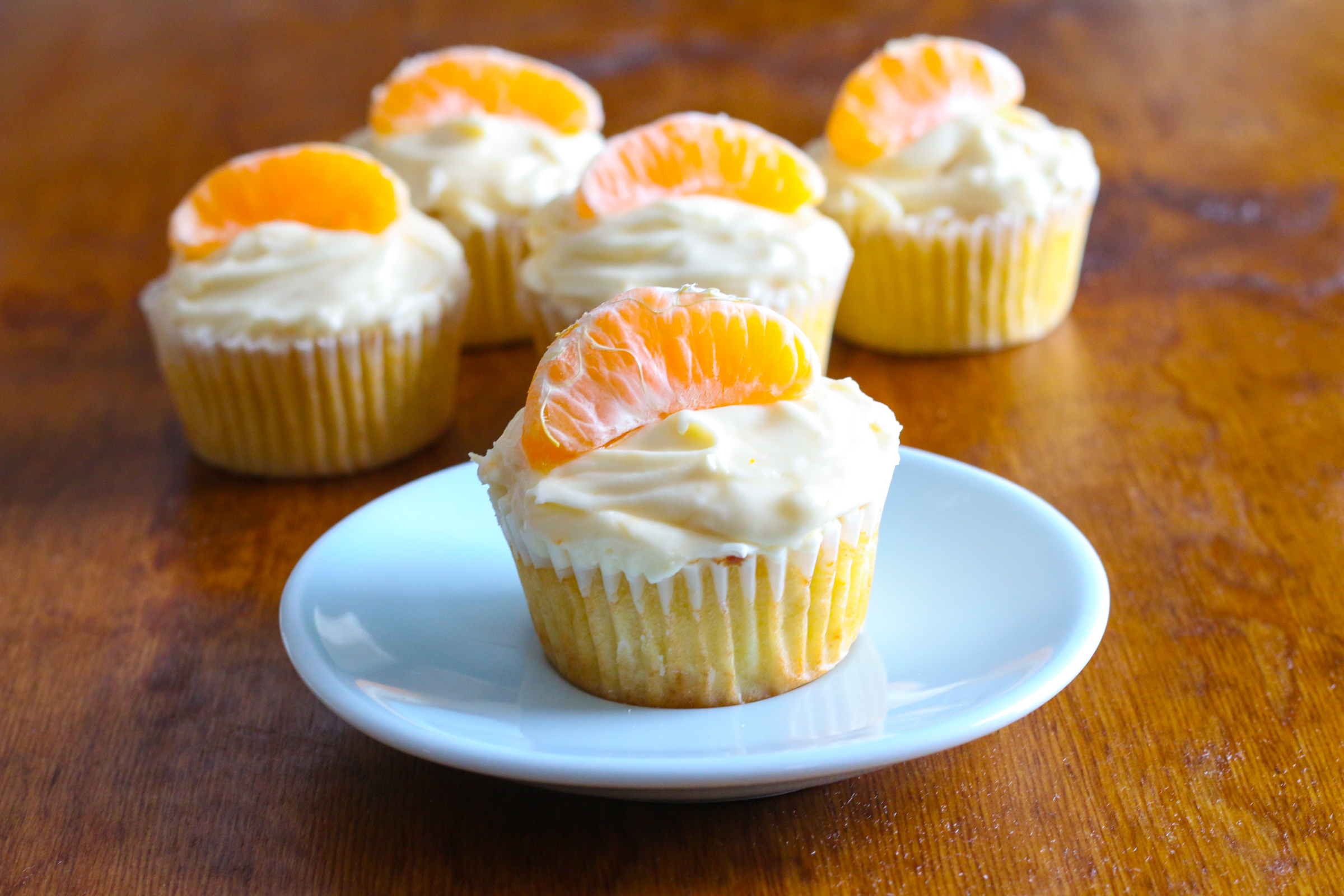 You can choose to bust out your piping bag and tips, and then your cupcakes will probably look better than mine, but honestly, using a plain old butter knife makes them look so charming and sweet.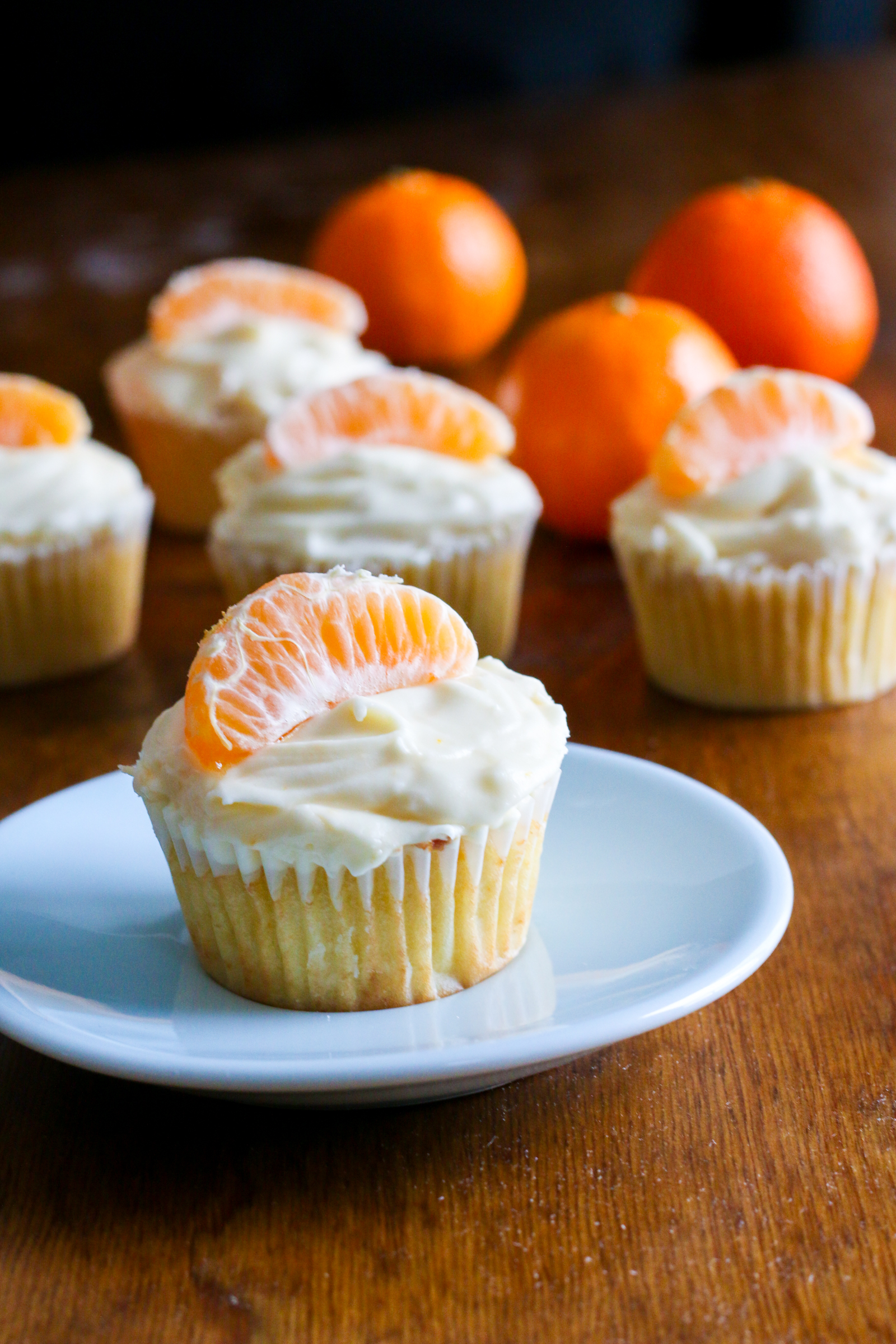 So next time you're craving a cupcake, give this recipe a try because I think you'll be pleasantly surprised at what a darling little clementine can do.

Clementine Cupcakes
You can really sink your teeth into these rich, old-fashioned style, citrus packed cupcakes. If you close your eyes and take a bite, you can almost taste the sun.
Ingredients
1 cup (2 sticks) unsalted butter, at room temperature
1 ¾ cups sugar
Zest of 3 clementines
4 large eggs, at room temperature
2 ¾ cups flour
1 ½ teaspoons baking powder
¼ teaspoon fine salt
¾ cup milk
Juice of 3 clementines (or enough to make ¼ cup)
1 teaspoon vanilla extract

For the frosting:
1 stick unsalted butter, softened
4 ounces cream cheese, softened
3-4 cups confectioners sugar
1 teaspoon vanilla extract
Zest of 2 clementines
Juice of 2 clementines
Instructions
Preheat the oven to 350.
Add butter and sugar to a large bowl and beat until creamy. Add the zest and beat together until the butter and sugar mixture is light and fluffy, about 2-3 minutes. Add eggs, one at a time, incorporating well before adding the next.
In a separate bowl, combine flour, baking powder, and salt. Mix to combine. In a measuring cup, add the milk, clementine juice, and vanilla. You should end up with 1 cup of liquid total.
Add the dry ingredients in 3 additions, alternating with the wet ingredients, and lightly beating in between each addition. Begin and end with the dry mixture. Do not overbeat.
Place cupcake liners into a standard cupcake pan. Fill cupcake cups evenly about ¾'s full. Bake cupcakes for about 17-20 minutes or until a toothpick comes out clean. Do not overbake. Remove cupcakes from the pan and cool on a rack, for at least 30 minutes.
To make the frosting, cream softened butter and cream cheese together on medium speed until smooth. Add 2 cups of confectioners sugar and beat on low speed until sugar is all incorporated. Add vanilla extract, zest, and juice. Add 1-2 more cups sugar and mix on low speed until sugar is all incorporated. If you want a smoother consistency, add a splash of milk or more clementine juice. Frost cooled cupcakes with a butter knife, or pipe them with a piping bag, and place a clementine segment on top of each cupcake.