Apple Tart with Apple Glaze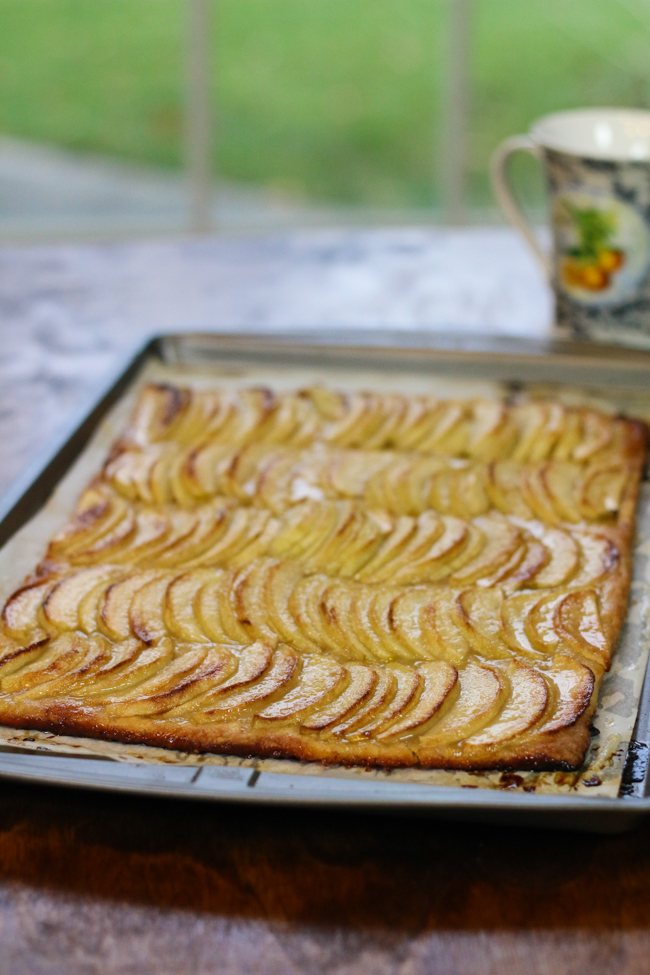 It all began with an obsession with caramel apples…which somehow morphed into us having too many Granny Smith apples lying around.  So I knew it was time to make an apple tart with apple glaze.  Not that I was complaining.  The best part of this glaze is that you make it with the peels and cores of the apples, so there's no waste!  And when you take the time to put a little TLC into arranging the apples on your tart, you'll be surprised at how professional it looks.  
The smell of this apple tart baking is intoxicating.  And once you take that first bite, you'll know why it's a crowd-pleaser.  It's perfect for Thanksgiving or any Holiday table.  But you don't have to wait for a special occasion to make it.  Watch how I make it in EPISODE 3 of Bits & Pieces, then turn on your oven and go get baking:
Because this tart only requires a few ingredients, I like to make my own crust.  I figure, if that's 50% of the taste, then why not?  But if you're not into all that fuss, you can roll out store bought pie dough or even puff pastry.  Just watch your cooking time, because it will probably vary.
On that note, I've made this tart a few times, and it always takes different times to bake.  But don't let that scare you.  That's kind of normal, and it just goes to show that every oven is different. It also depends on how thick or thin your crust is. So sometimes you can't go by a recipe like it's set in stone.  Use your senses, and stalk your tart.  That's my best advice.  And trust yourself.  You'll know when it's done.  When the dough is cooked and the edges of your apples just start to brown, you're good.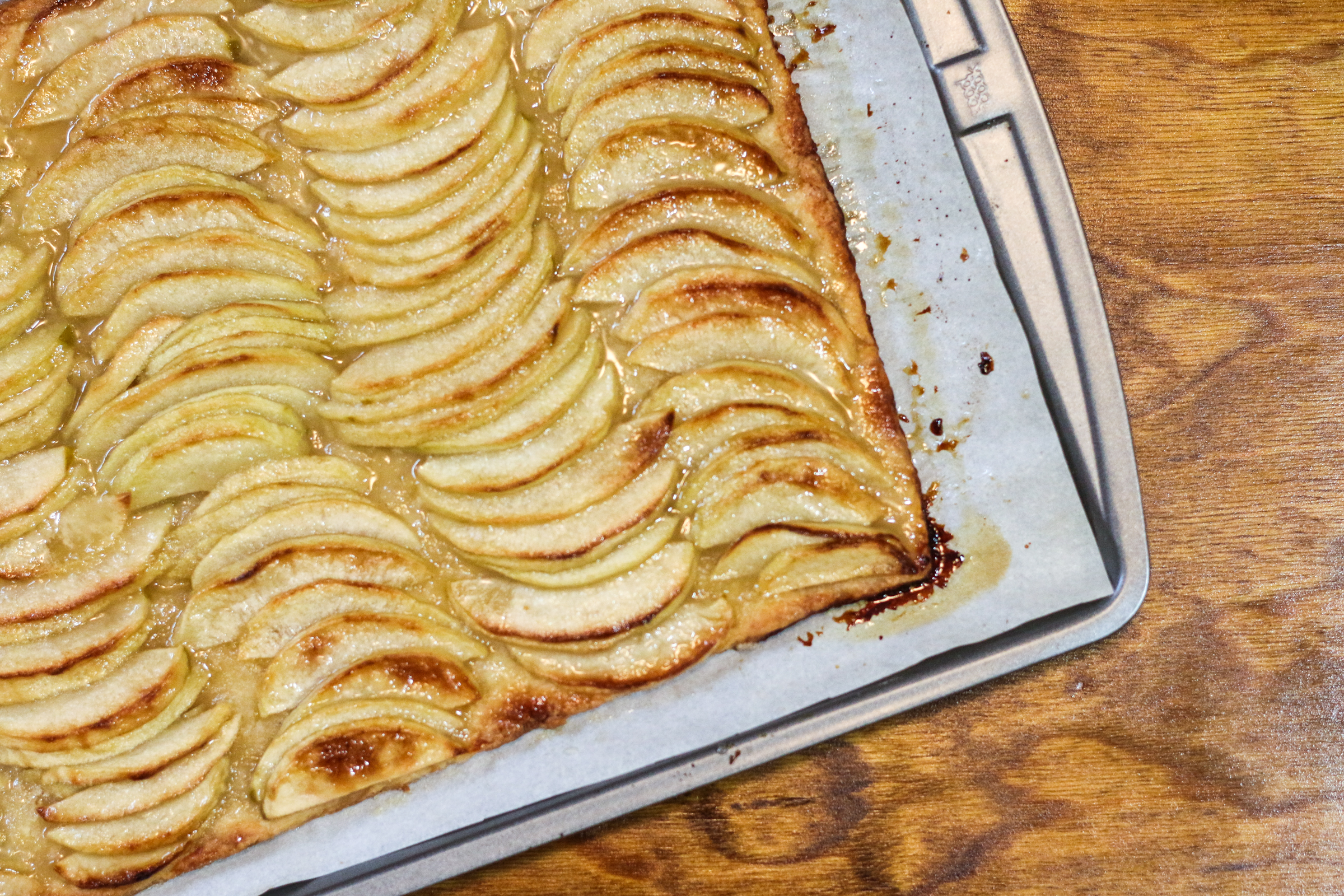 There are a few steps to this tart, but they're all simple to do.  In fact, the hardest part of this recipe is washing your food processor.  What a pain, right?  But if you don't have a food processor and still want to make your own crust, you can do it the old fashioned way, by making it in a large bowl using a hand held pastry cutter, or even some forks.  It will just take a little more effort, but it's totally doable.
Also, I will leave you with one more helpful tip…cover and hover.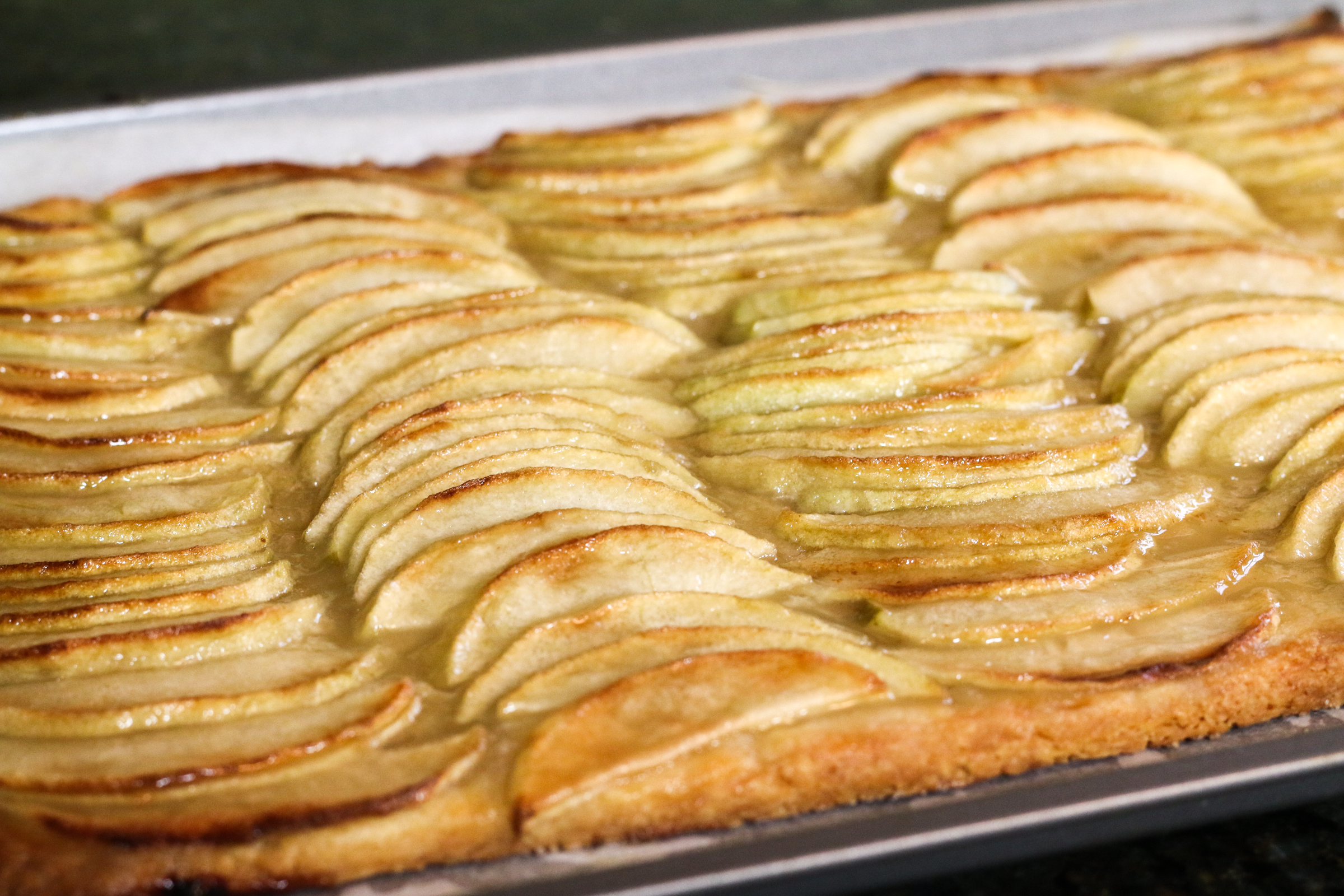 Cover the entire tart, all the way up to the edges, with apples.  It will help prevent your crust from burning and turning into a cracker.  Plus, apples shrink big time when cooked.  And hover over your oven to make sure to pull it out as soon as it's done.  Then make a cup of coffee and try not to eat the whole thing by yourself.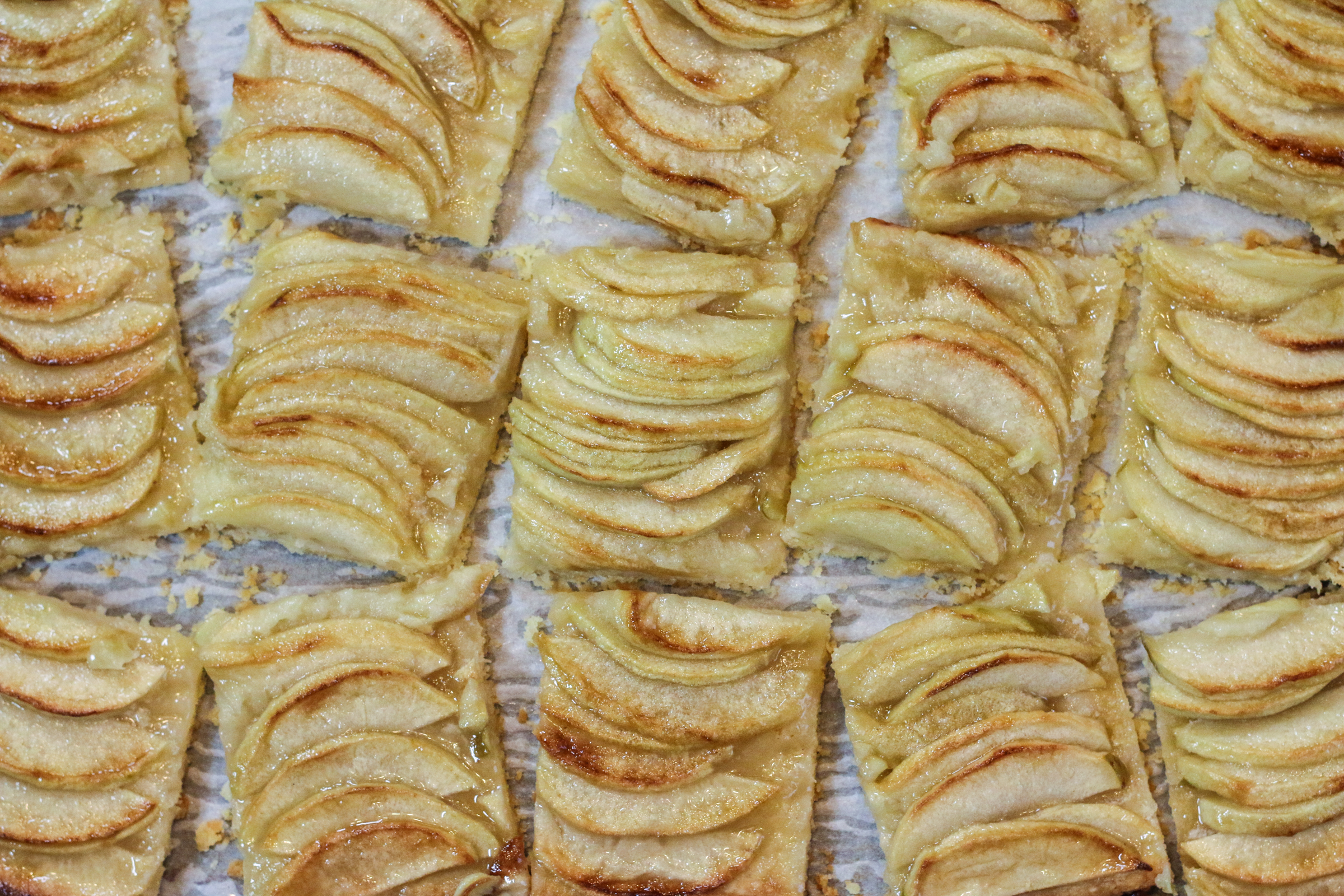 Apple Tart with Apple Glaze
The smell of this simple apple tart baking in the oven is insane, but tastes even better. It's perfect with a cup of coffee.
Ingredients
For the crust:
2 cups all-purpose flour
1 tablespoon sugar
½ teaspoon kosher salt
12 tablespoons (1 ½ sticks) cold unsalted butter, diced
⅓ cup ice water (or up to ½ cup if needed)
For the apples:
4 Granny Smith apples
⅓ cup sugar
4 tablespoons (½ stick) cold unsalted butter, small diced
For the glaze:
⅓ - ½ cup sugar
All the apple skins, cores, and extra pieces
Water
Instructions
For the crust, put the flour, salt, and sugar in the bowl of a food processor with a blade. Pulse for a few seconds to combine. Add the butter and pulse some more, until the butter is in pea-sized pieces. Start by adding ⅓ cup of ice water, and pulse just until the dough starts to come together. Then add a little more if you need it (do not exceed ½ cup). Try not to over-pulse. Don't worry if it doesn't turn into a ball. Dump the crumbly mixture onto a sheet of plastic wrap, and use your hands and the wrap to help you slightly knead it and bring it together. Pat it into a rectangular flat disc. Wrap in the plastic and refrigerate for at least 1 hour.
Preheat the oven to 400 degrees F. Line a sheet pan with parchment paper. On a floured surface, roll the dough into a rectangular shape, as best as you can, until it is about ¼" thick. Don't make it too thin. Using a small knife, trim the edges (they might be over-squished by the rolling pin). Place the dough on the prepared sheet pan and refrigerate while you prepare the apples.
Peel the apples and cut around the cores. Save your peels and cores. Slice the apples in ¼-inch thick slices (thin, but not too thin). Place overlapping slices of apples on the crust any way you want until it is completely covered with apple slices, even all the way to the edges (the apples will shrink in the oven). Sprinkle apples with the ⅓ cup of sugar and dot with the 4 tablespoons of butter. Depending on the thickness of your crust and hotness of your oven, bake the tart for 30-45 minutes, or just until the crust is cooked and the edges of the apples start to brown. Rotate the pan halfway during cooking. Start checking it after 30 minutes to see if it's done. The apple juices will burn a little, but don't worry because that will happen.
Meanwhile, make the glaze: Put apple peels, cores, and any extra pieces (if you have some) in a saucepan, along with the sugar. Pour in just enough water to cover and simmer, uncovered, until it is reduced and thickened. Strain syrup through a sieve. When the tart's done, lightly brush with some of the glaze (you will have extra leftover). If you put too much glaze on it, it might be too sweet, so use a light hand. You can always add more. Allow to cool and serve warm or at room temperature.