Getting Crafty: Cardboard Eat Sign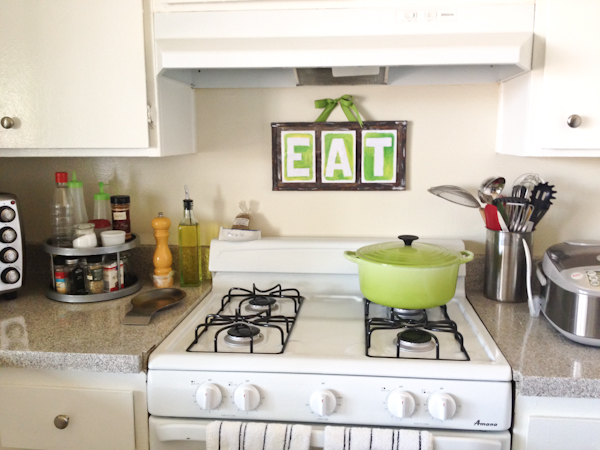 Ever since we moved into our white apartment, I have surprisingly become more crafty.  My friends already say that I'm pretty resourceful when it comes to food, because I use scraps and odd ends to whip up "gourmet" meals.  All it takes is creativity and a little desperation!  I feel the same way with design.  Right now, our budget doesn't allow much for decorating, which stinks for me, because I don't like staring at blank walls.  
I just want to add a little flavor to our space.  But since we are renting this apartment, Joe thinks it's pretty wasteful to spend money on "luxuries" rather than "necessities" for a temporary home.  BOO!  Well, since marriage is all about compromise, I decided that I would still decorate anyhow, but by using cheap materials, a little creativity, and some sweat equity.
The ironic thing is that I'm actually not a crafty person at all.  I don't like tedious jobs, and I have no patience.  I don't normally scrap book, knit, make jewelry, or build things.  But I suddenly felt this intense urge to dig deep, pull out the inner Martha Stewart in me, and give it a go.  All I had lying around was a kid's paint set and a broken cardboard box we used in our move.  That would have to do.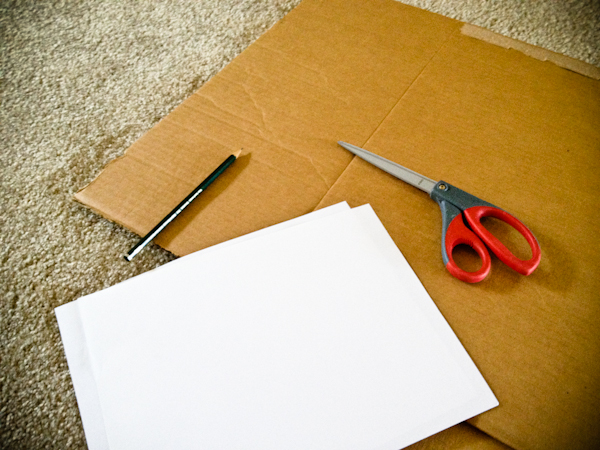 Our apartment is on the older side and everything EVERYWHERE is WHITE white WHITE!  I decided to start out small and attack the little space above the stove that was in dire need of some decor.  That's how I thought about making my own "Eat" sign.
I didn't have a plan, a template, stencils, or any of that.  Immediately I thought about trying to create some sort of frame from my cardboard box, by using an xacto knife and a ruler.  Then I decided to spell out the word "E-A-T" in three separate raised pieces.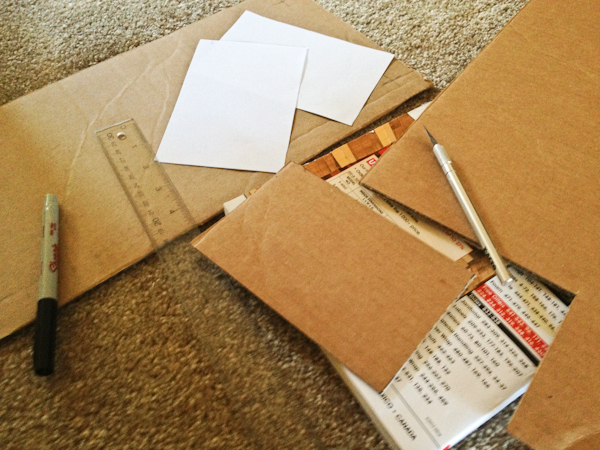 My white paint was running low, so I decided it would be best to cut out three pieces of plain white paper to place on top of three pieces of cardboard to act as a clean base.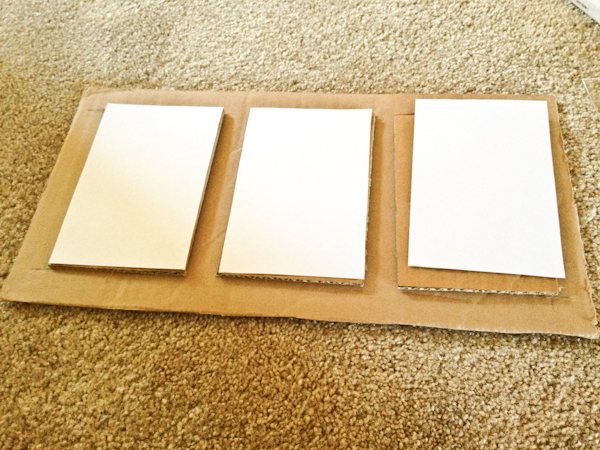 Once I cut out the frame and paper pieces, I felt like it needed some sort of border, so I measured and sliced some thin strips.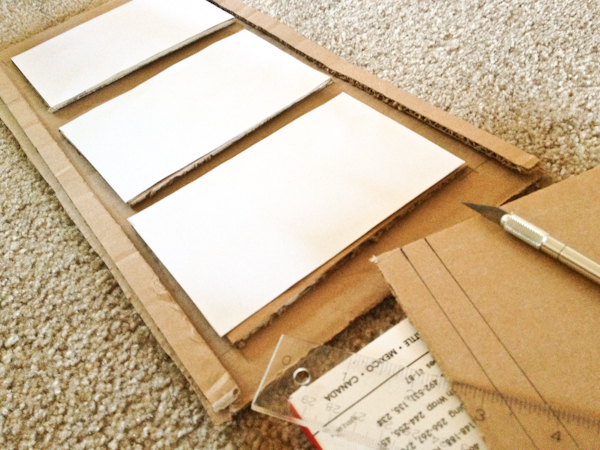 Then I quickly assembled my frame WITHOUT glue, just to see how it would look.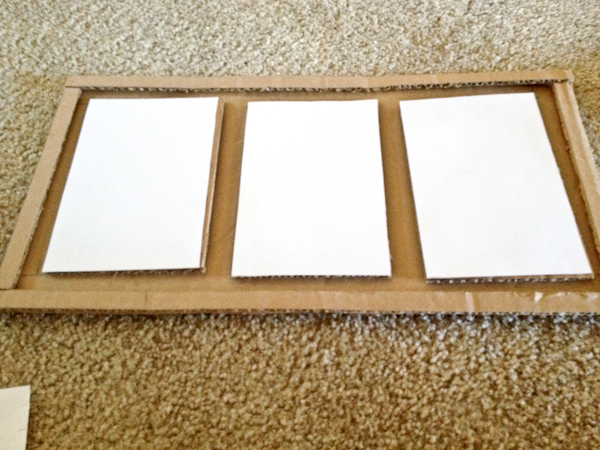 Next came the painting part.  I wanted to create the look of dark wood so that the cardboard could look less like cardboard from far away.  I achieved this by layering black, yellow, brown, red, and white paints and blending them with a sponge brush.  I left the areas where I would tack on the letters bare so I would know where they were supposed to go.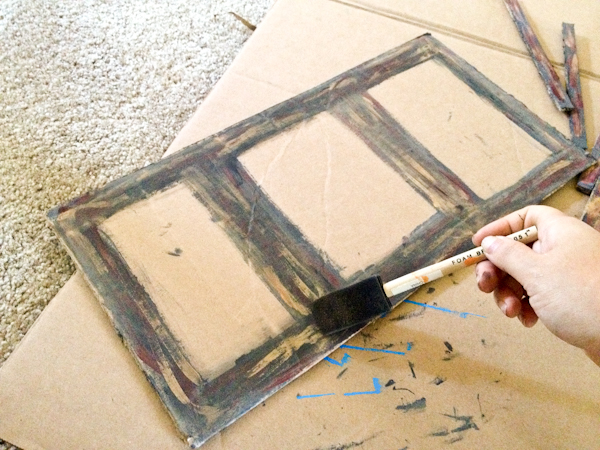 Next I tackled the letters.  Since I didn't have stencils, and I was too lazy to find templates online and print them out, I decided to wing it and go at it free-hand.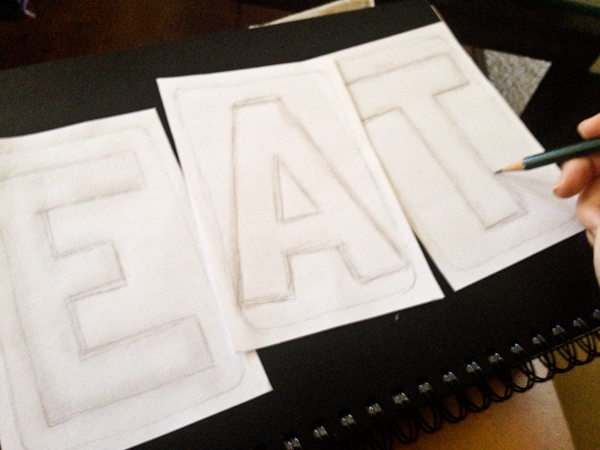 My love for the color green is no surprise.  But I don't like that primary hunter or forest green.  So I decided to do one layer in the primary green that my kid's paint set came with, and then swirl on a layer of the primary yellow.  I didn't want to mix the colors beforehand, because I wanted to create different shades and shadows.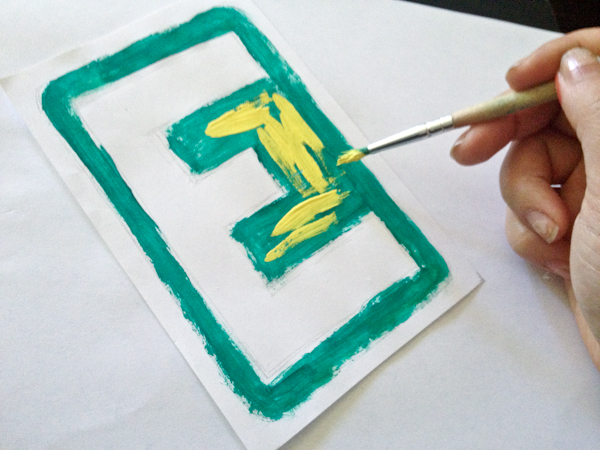 And then I blended and blended until the edges became soft, "sketchy," and watercolor-like.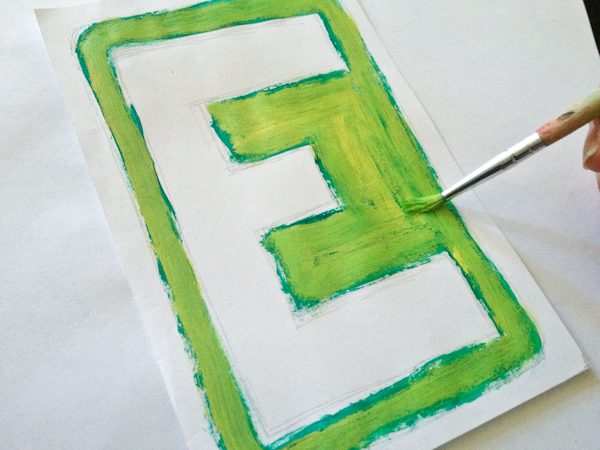 Then all I had to do was glue the paper pieces onto the cardboard pieces, and wrap them in saran wrap.  Since I planned on hanging this sign above the stove, I knew there was a high possibility of me splattering something on it with time.  The saran wrap was my idea of making the letters "stain-resistant."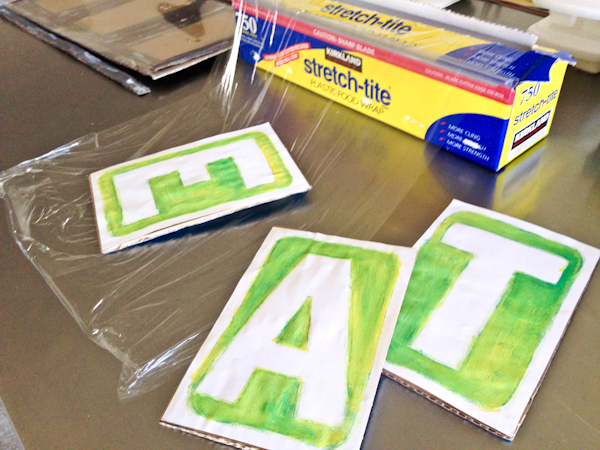 At first I was afraid that it would look too wrinkly and ghetto, but after I pulled the saran wrap tight in the back, it was hardly noticeable.  You can see a little shine when you get up close, but that's totally fine by me.  At least I won't ruin my hard work with a splatter of tomato sauce one day.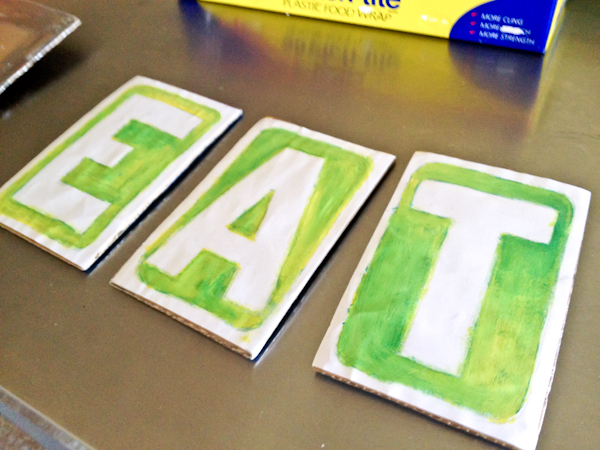 The last step was to glue everything together and find a remnant of a grosgrain ribbon, which just so happened to be green (because of course it would be), and staple it to the back of the board.  Then  it was ready to hang right above the stove, next to my green Le Creuset pot, to brighten up my white kitchen.
It would've been nice if I had a different colored ribbon, or maybe one with a pattern, like polka dots, but sometimes you just gotta use what you have.  Here's the final result: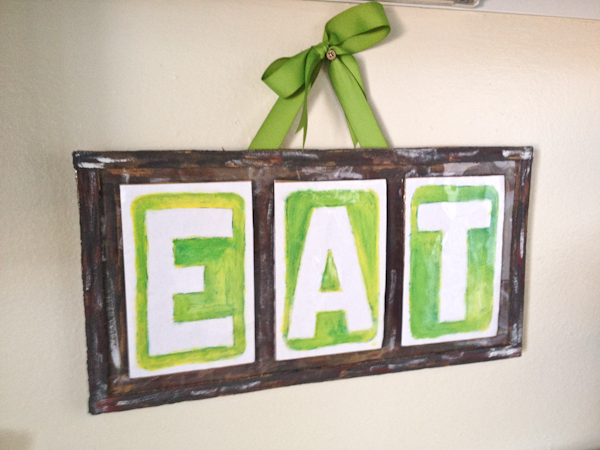 The best part of my day was when Joe came home and walked into the kitchen.  I didn't say a word, but he looked straight at the sign and asked, "did you go to a store or something?"  I thought he was joking, but he continued by asking, "when did you buy that?"  Wow, I can't believe he actually thought I bought my homemade sign!  He liked it, but was more thrilled when he found out that all I used was an old cardboard box.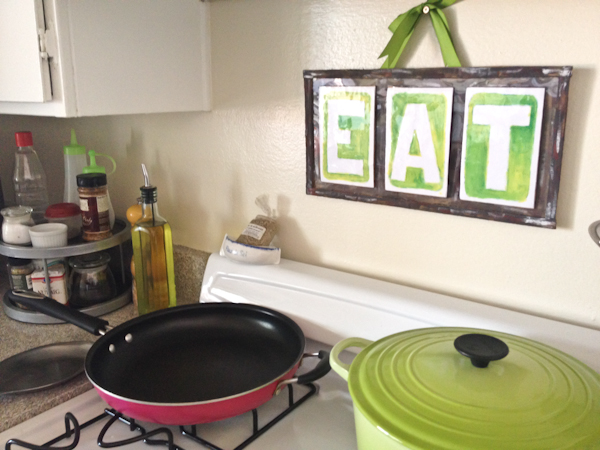 Well, I hope this inspired you to find your own inner Martha.  Now I'm on this serious crafting high, so I'll be posting a few more of my DIY projects.  And we just went grocery shopping, so I'll try to jump back to creating more recipes for you soon too.
In the meantime, I'm just having fun being crafty.