How to Make Halloween Cupcakes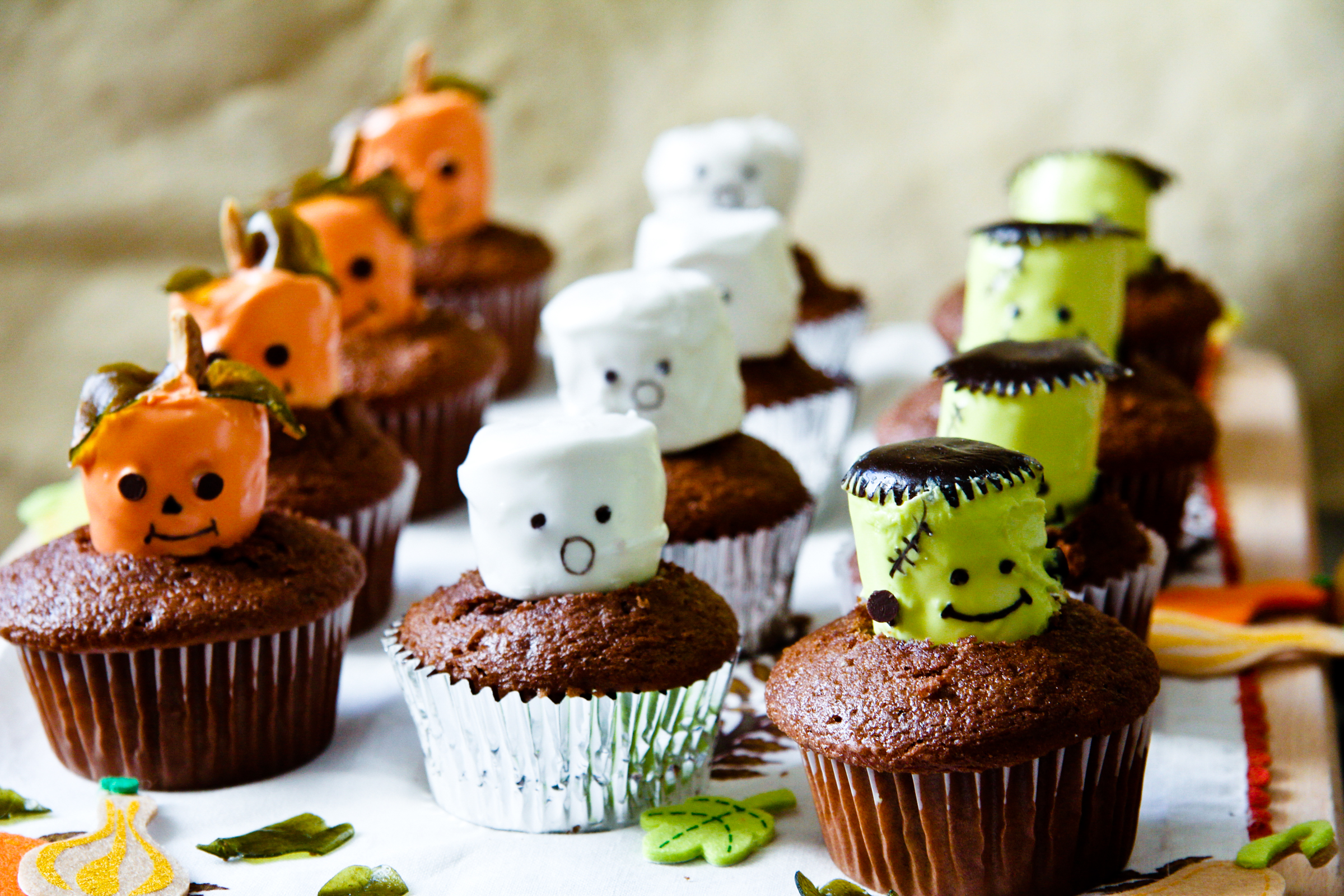 I told you that I made these marshmallow monster cupcakes for the October/November issue of Kokoliving Magazine. In my article, I wrote about childhood memories of my dad being a funny dancing Asian man, while handing out king-sized chocolate bars to the neighborhood kids.  So definitely give that a read!  But today, I would like to share the step by step photos as well as the story behind my nearly disastrous day making these little crazy cakes!  
It all started when I tried to look up a cool recipe online for decorating Halloween treats, and I came across one where it promised to be easy.  But that ended up being one big fat lie! Okay, I'm no pastry chef, but I did go to culinary school and decorated cakes at a bakery.  So you'd think I'd be able to handle a little marshmallow and frosting from a can.  Not with this recipe!  See? That's why I have a love-hate relationship with recipes online.  You don't know which ones to trust.  Yeah ironic huh?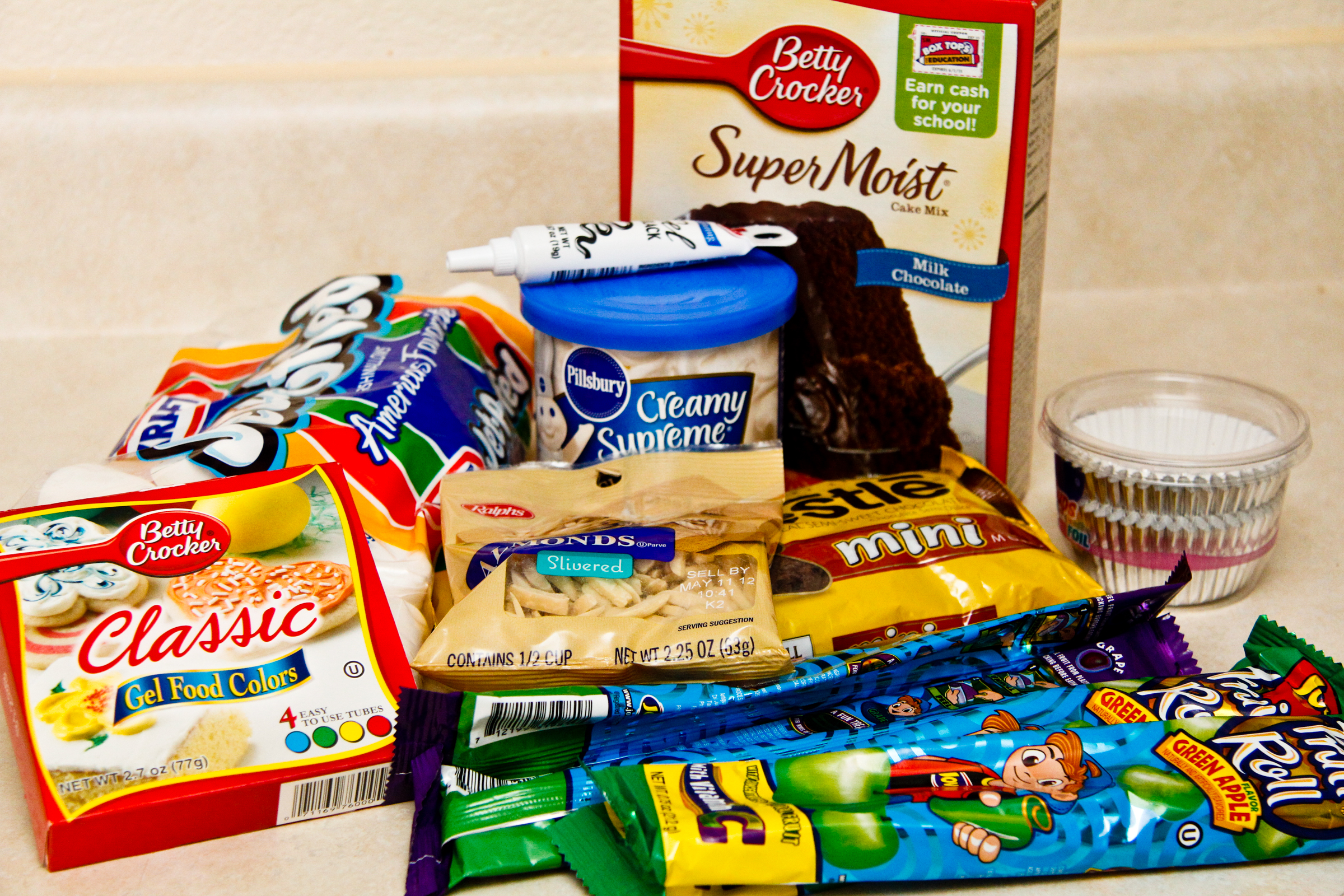 Luckily my friend Ashley, a nurse, had the day off, so she decided to come over and keep me company. Boy did I put her to work! In fact, if she wasn't there to help me that day, I probably would've raised my hands in the air and yelled, "FORGET IT!"
Our first and second attempts at following this seemingly "easy" recipe turned out like THIS: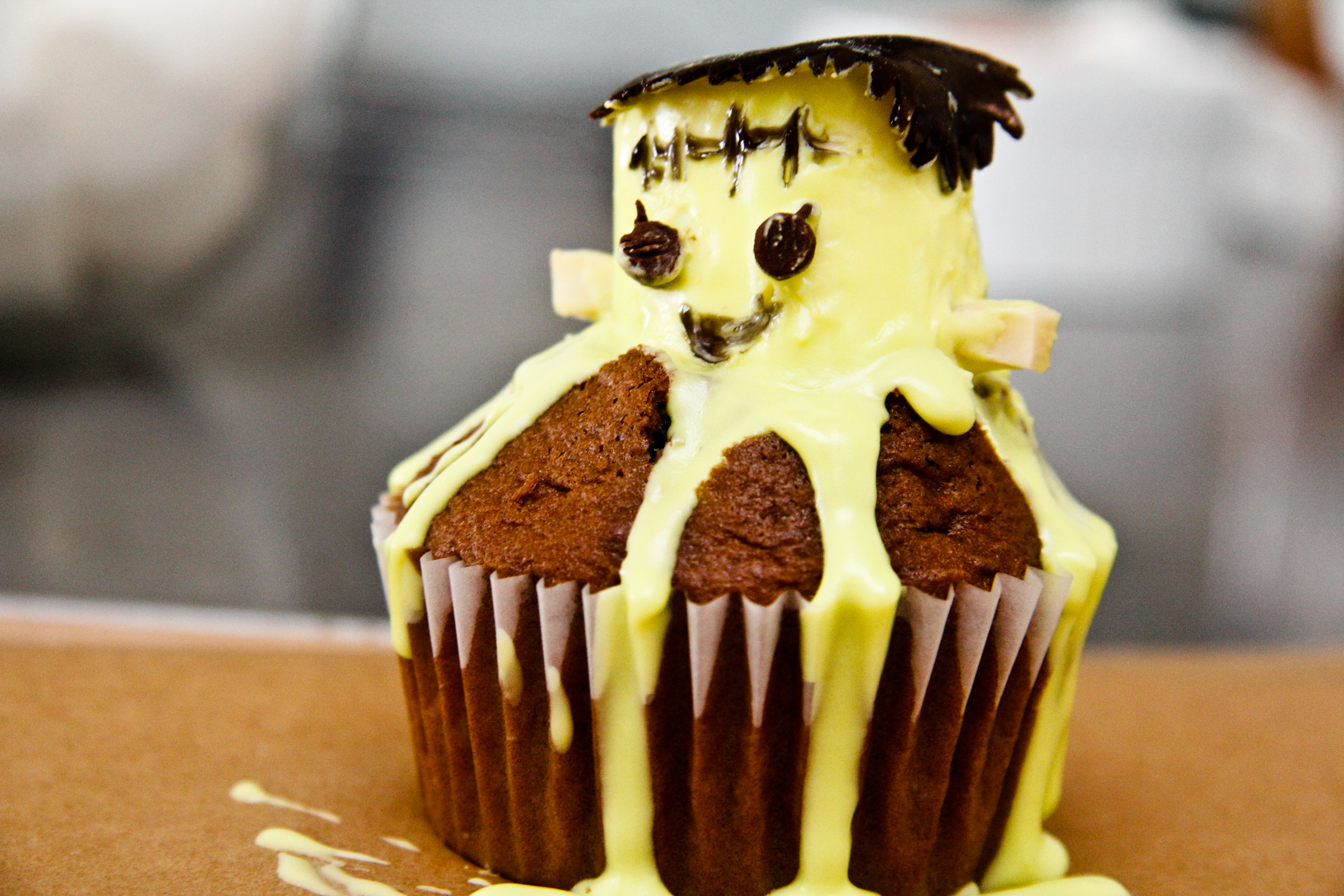 a distorted Frankenstein-octopus hybrid..
AND THIS: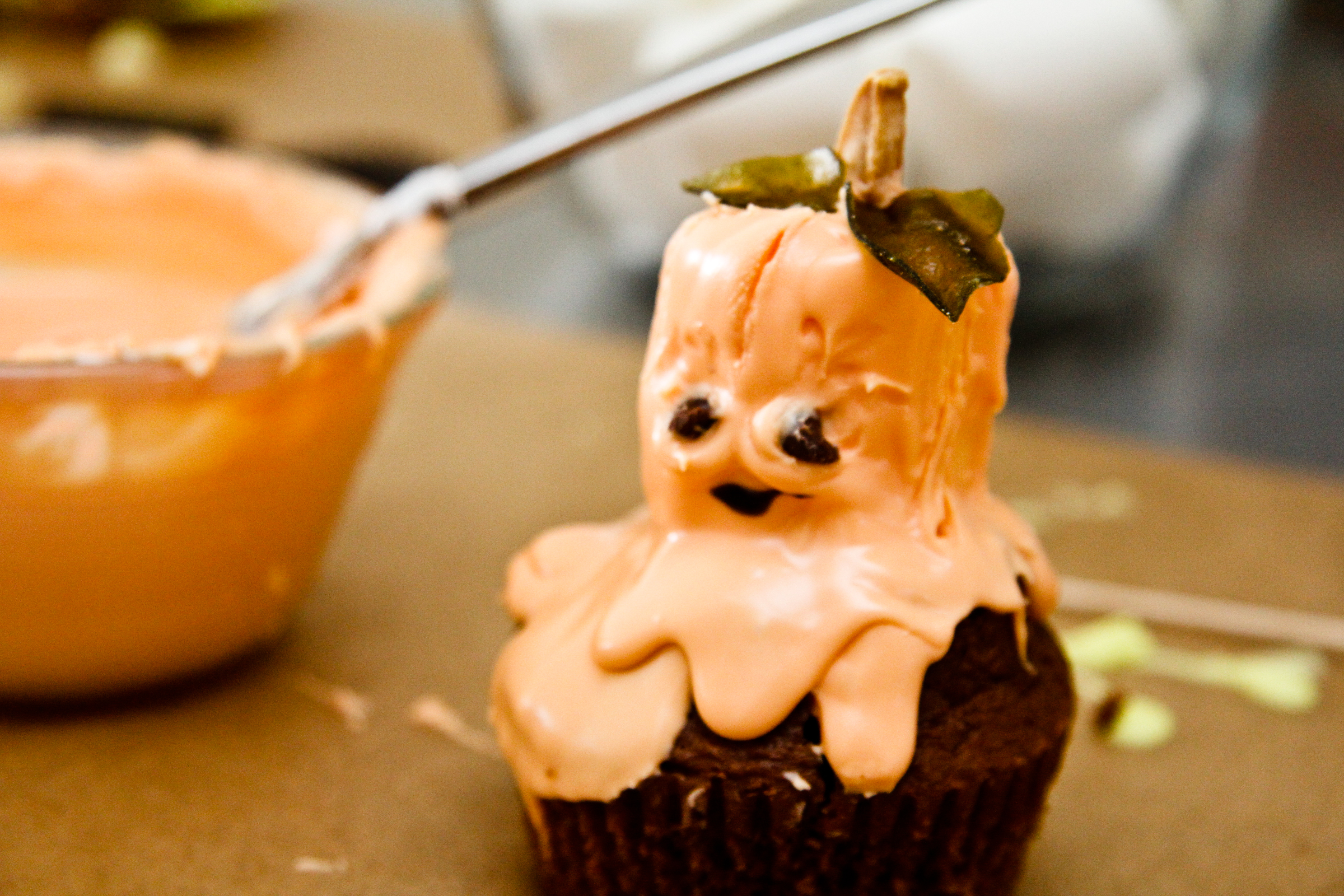 A pumpkin blob monster in need of plastic surgery.
YIKES!
So long story short, after Ashley and I were done dying of laughter, I had to scrap that recipe fast and just invent my own on the fly.  This was a blessing in disguise because it ended up being quite easy to execute, and even cuter in our opinion.
Here's the how-to: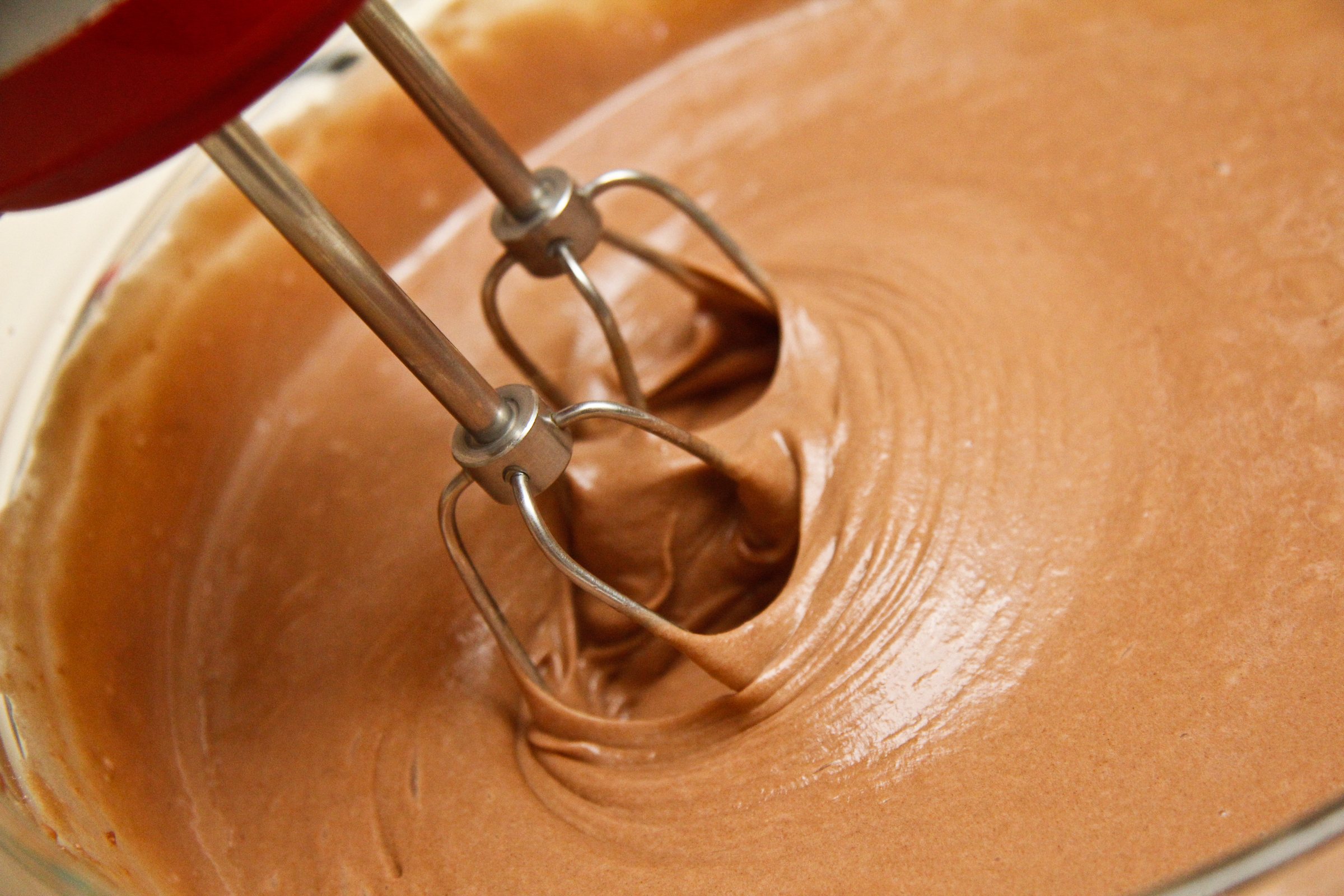 You just start out with a chocolate boxed cake mix.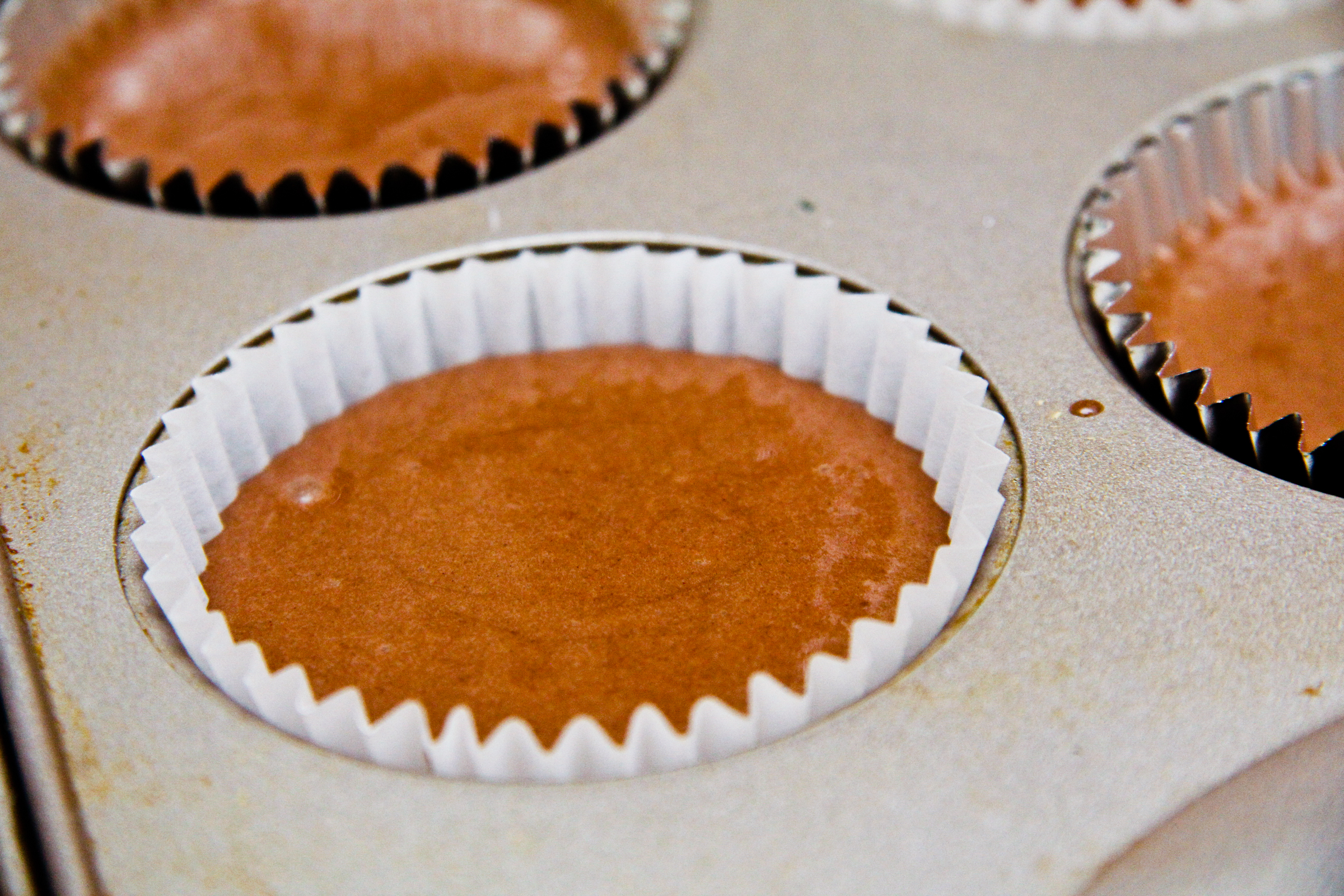 And then you plop the batter into lined cupcake pans.  Follow the directions on the box for baking times.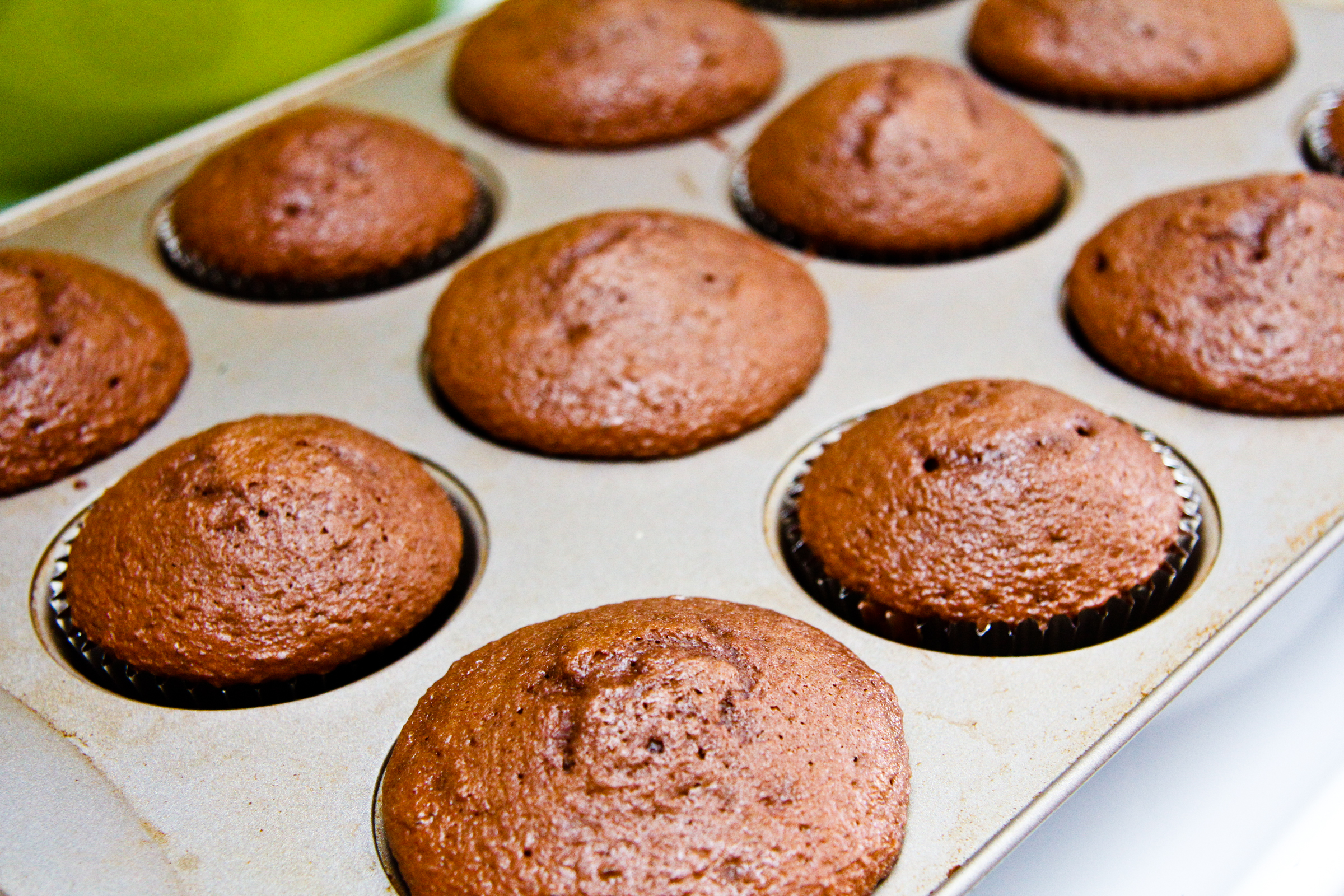 Then let them cool while you prep all your other ingredients.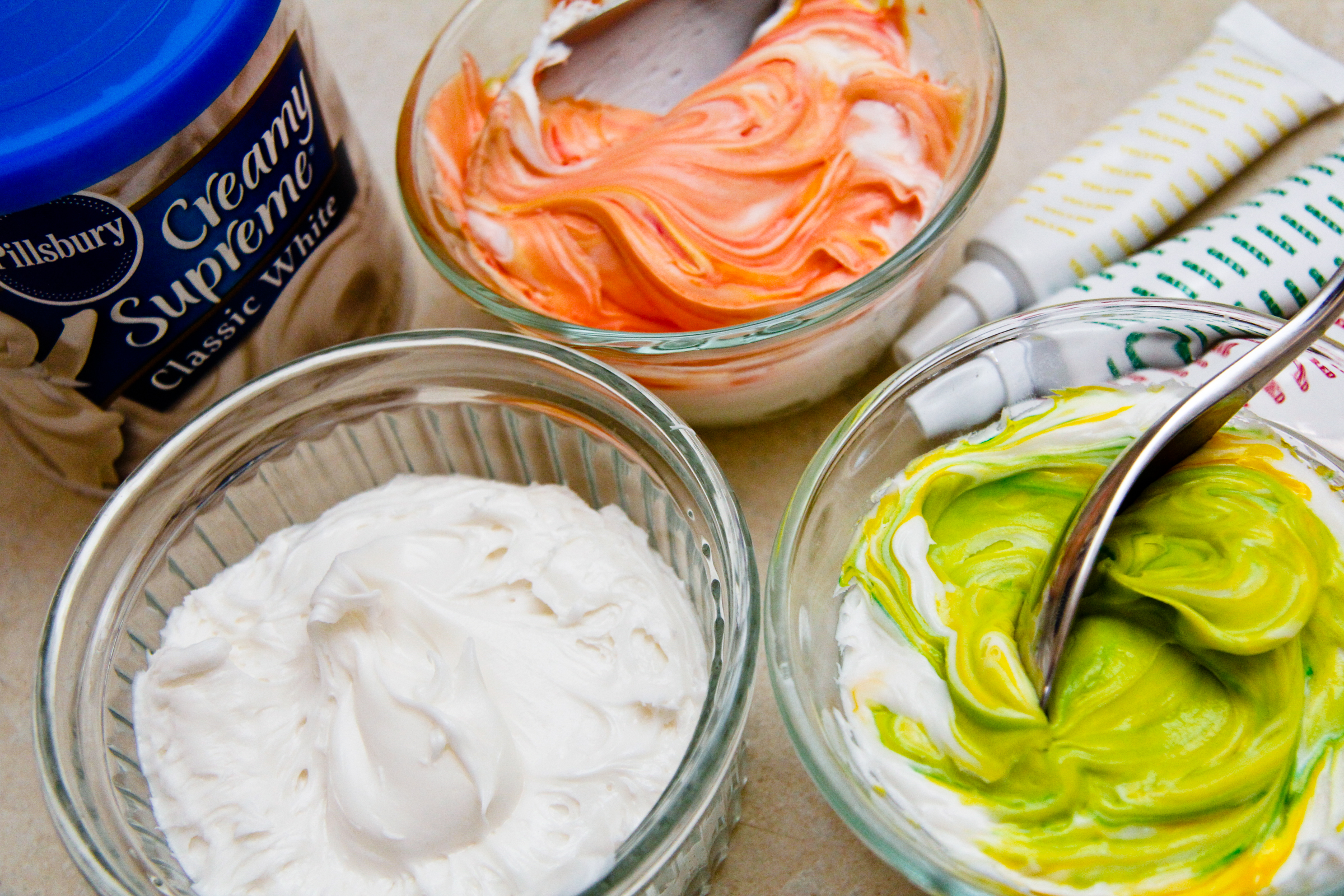 Put your can of white frosting in three separate bowls and use neon GEL food coloring to mix and make the perfect orange and lime green colors.  If you don't use gel food coloring, the liquid kind will dilute your frosting, making it more runny than you want it to be, and harder to control.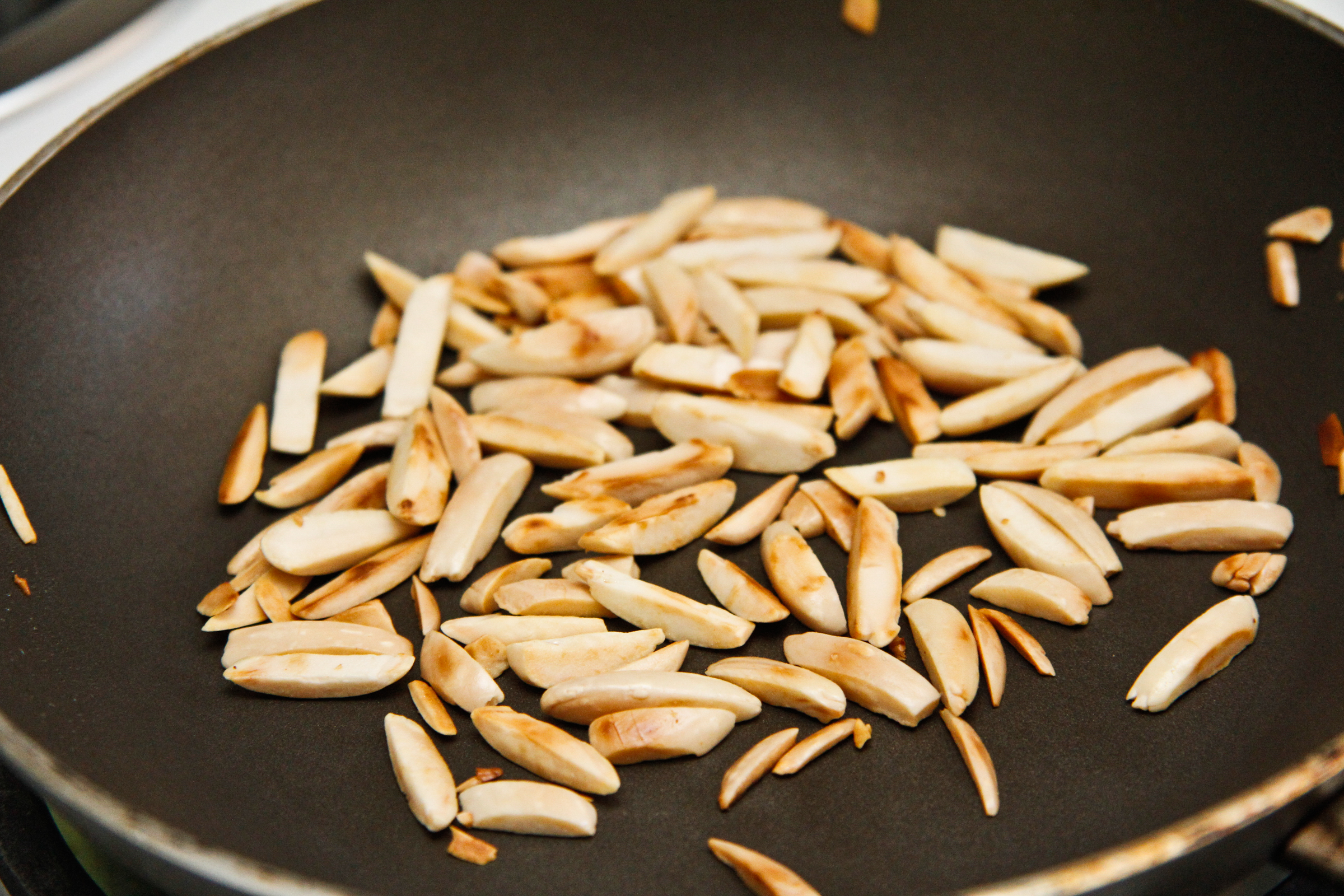 Then work on the details such as toasting slivered almonds in a dry pan until they're golden brown.  These will be your pumpkin stems.  Toasting them adds that authentic look to them.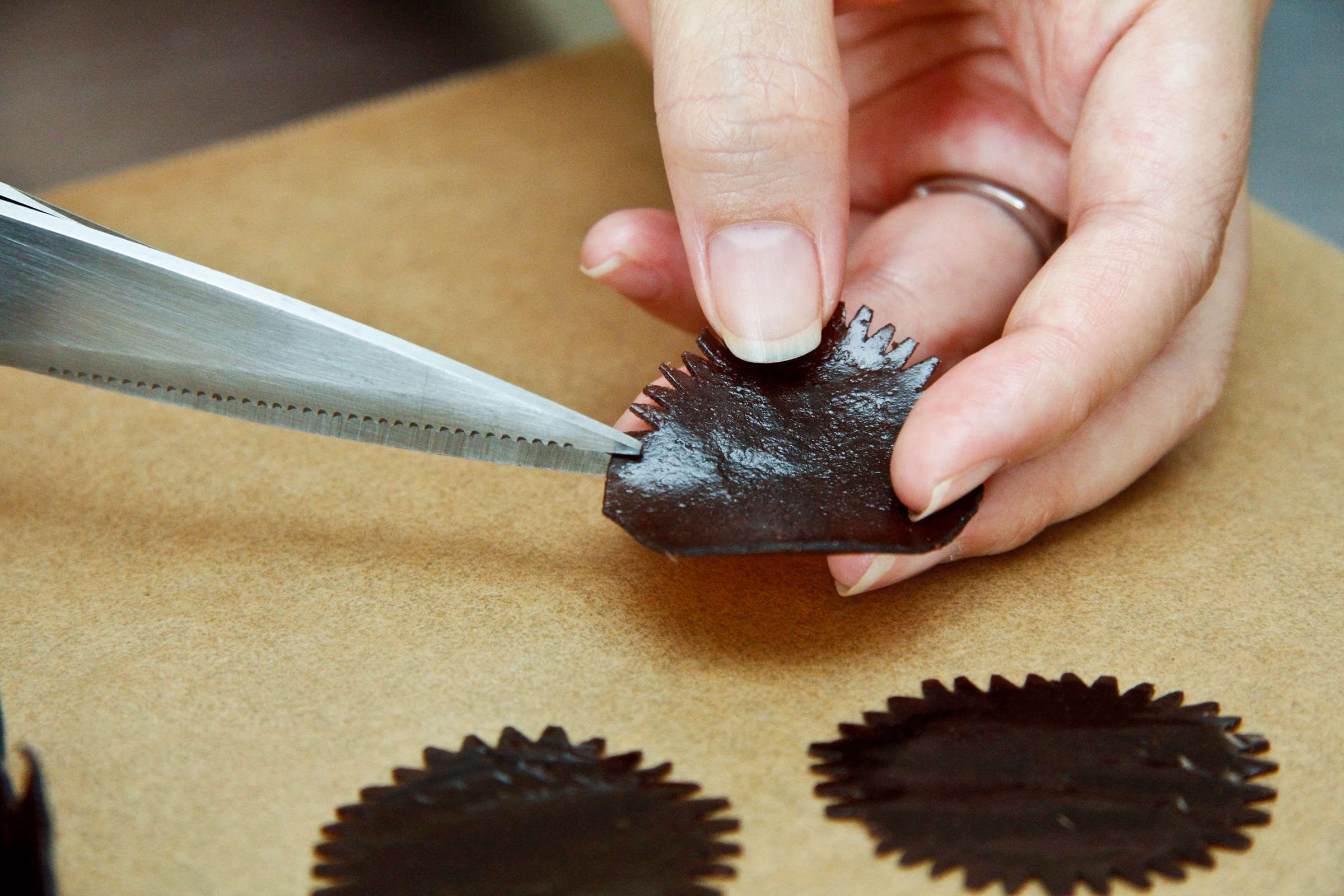 And then get your friend Ashley to do meticulous work for you, such as cutting little zig-zag edged circles by hand out of a purple fruit roll-up.  This will be Frankenstein's hair.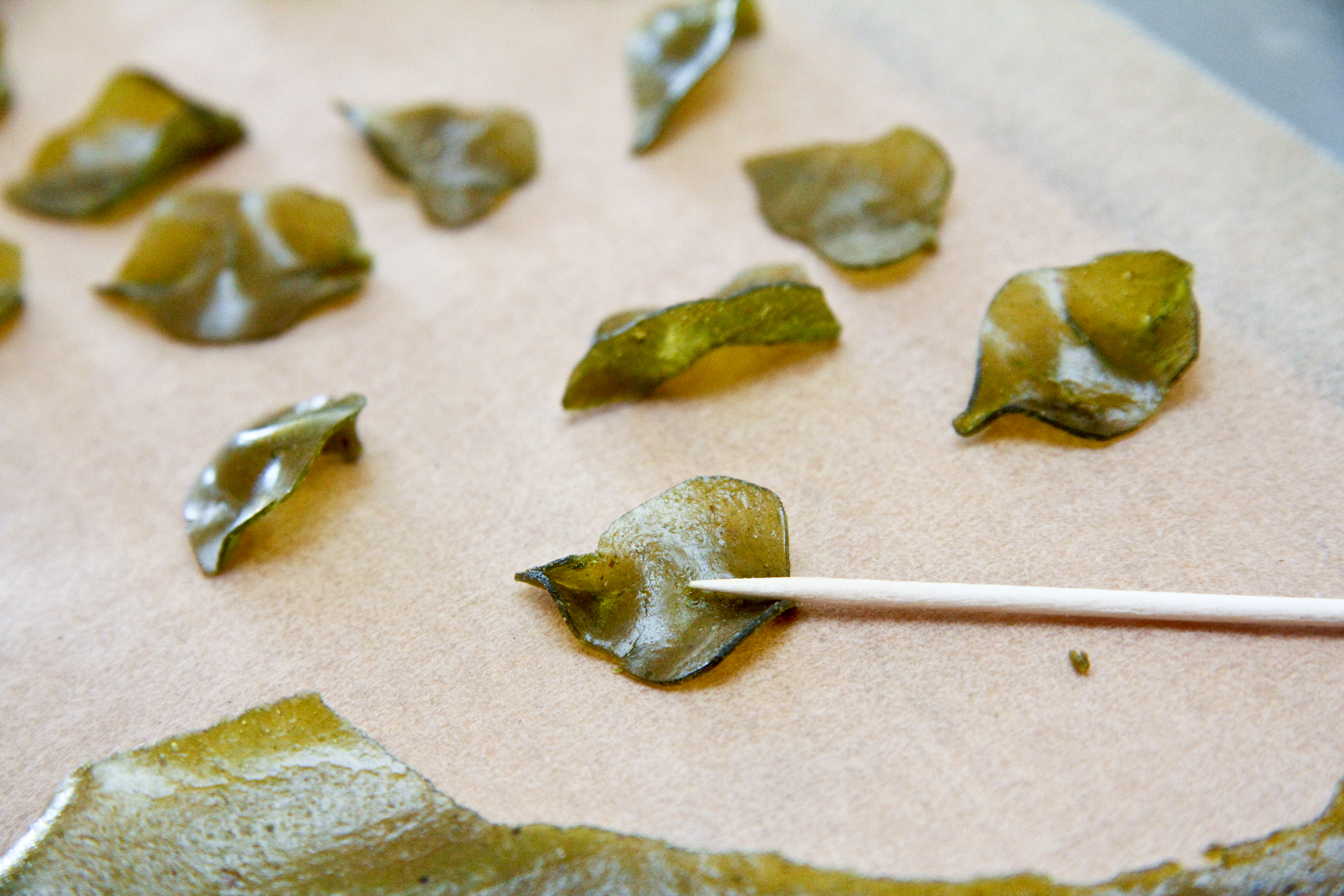 Then out of a green fruit roll-up, cut out little leaf shapes.  I used a toothpick to help me bend, curve, and pinch them so they looked more realistic and detailed.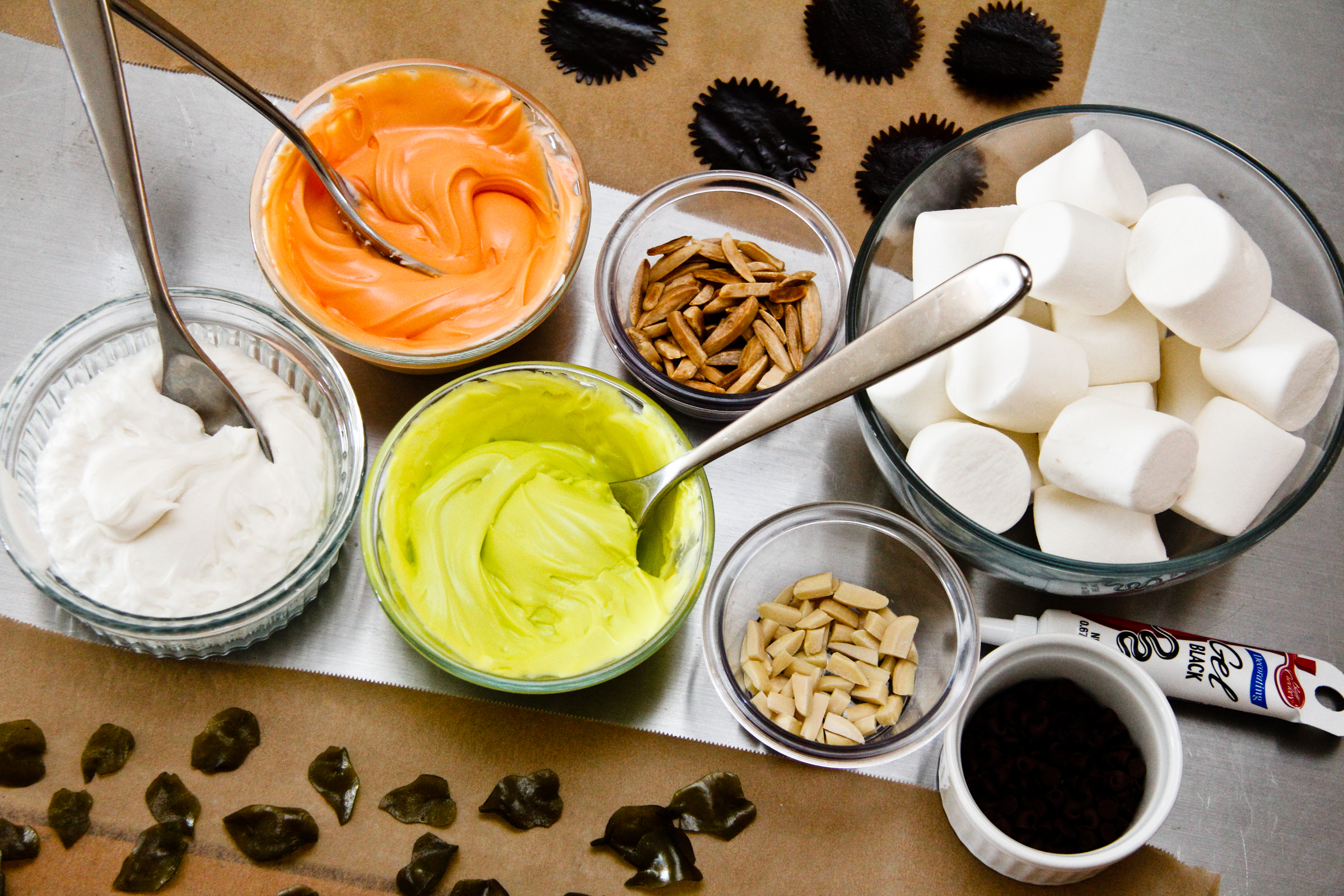 And then the remaining ingredients are marshmallows, toothpicks, mini chocolate chips, and a tube of black cake decorating gel.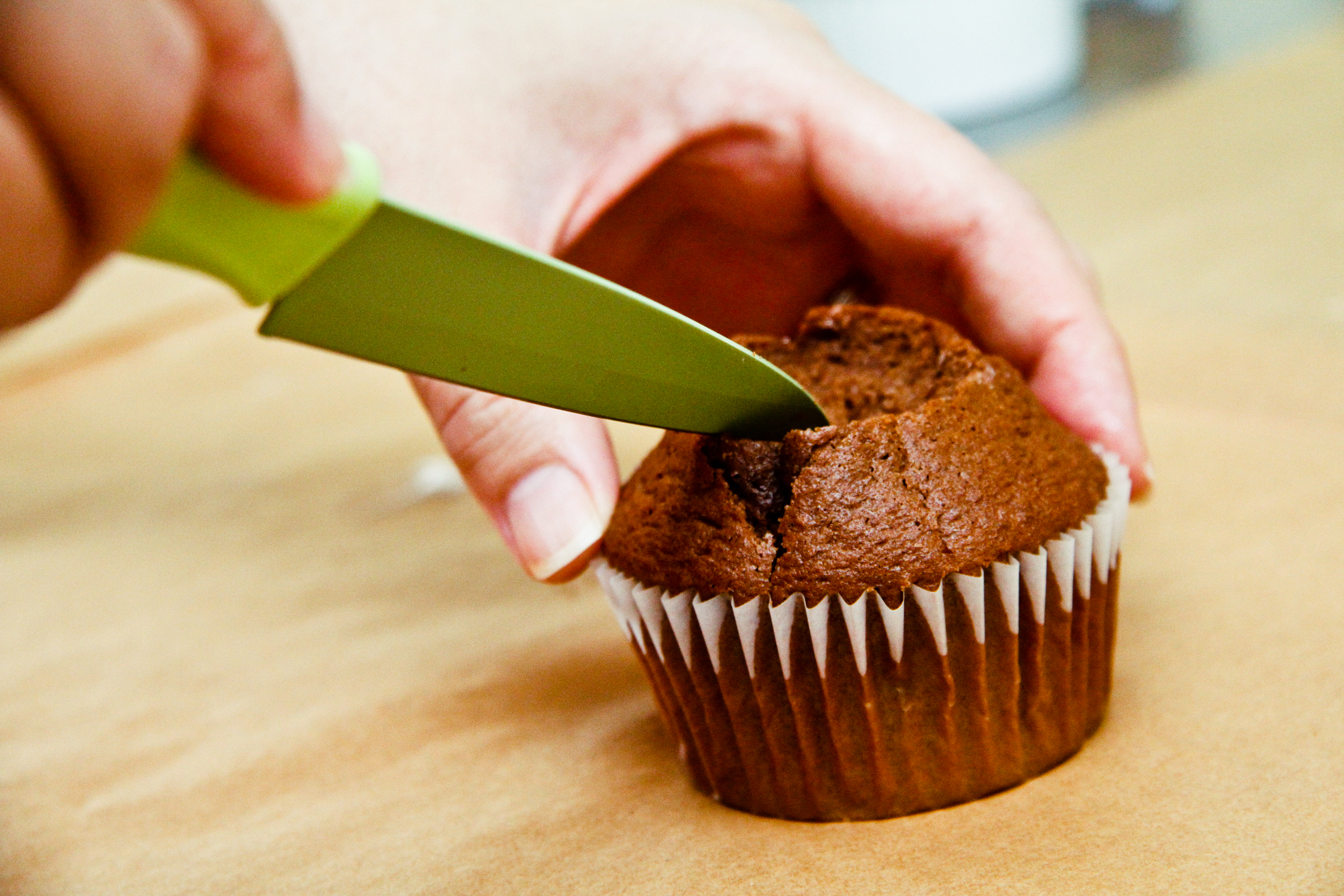 When your cupcakes are cooled, scoop out a shallow chunk from each of the tops of the cupcakes.  Just make sure that they're about the same size as the marshmallow.  Don't make them too big or too deep.
So you're probably thinking that we figured everything out at this point and things were going fine.  But no my friend, the story definitely doesn't end there…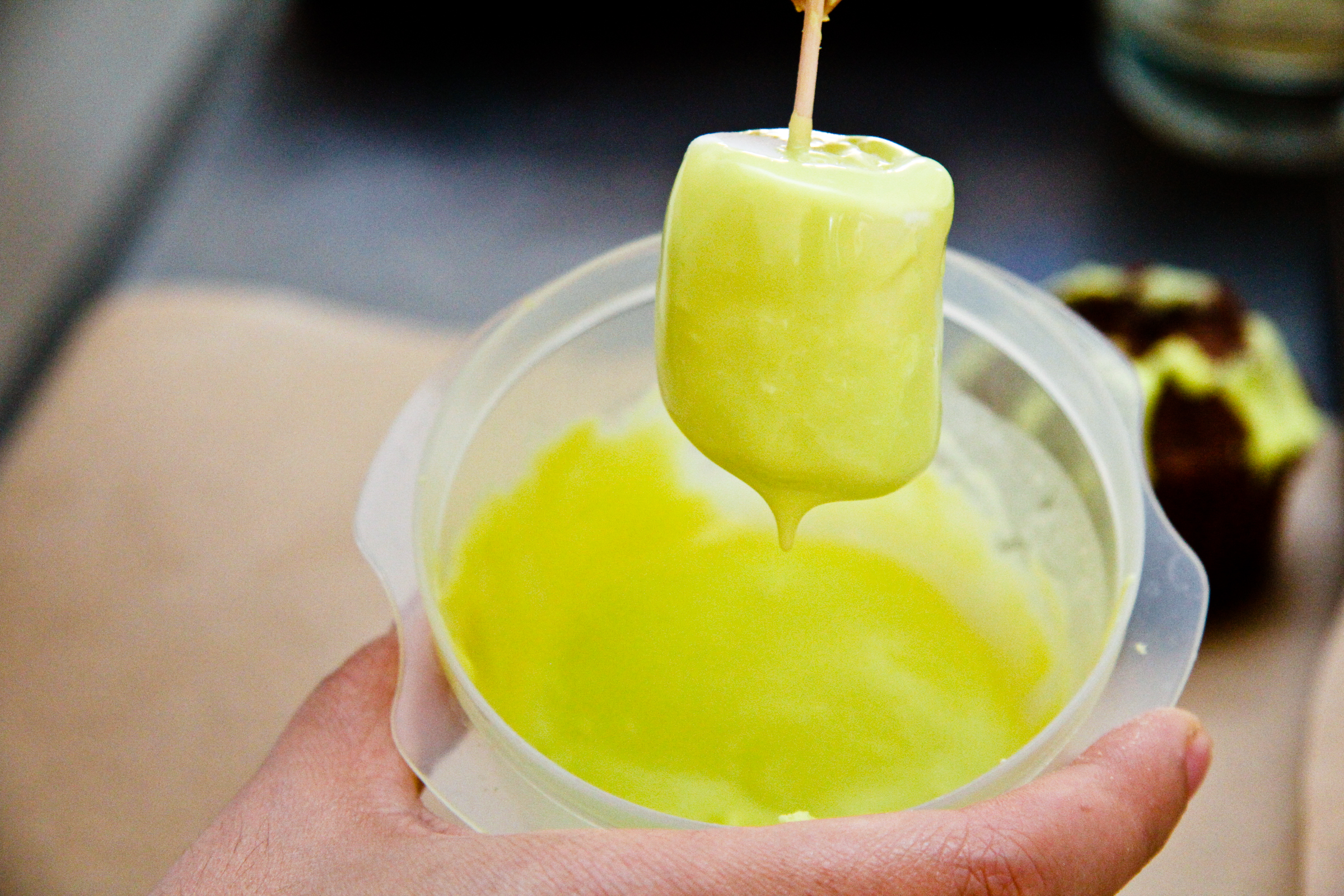 You see, whilst decorating, we were suddenly hit with a huge blackout that started all the way from Mexico, to San Diego, and up to our neck of the woods! This wouldn't have been so bad, except that meant we were left without power, which meant that we could no longer microwave our frosting to make it runny, which is what the other recipe told us to do.
So I came up with a better idea: I decided to add a few drops of water and mix.  It worked just as well, if not better, and was less of a nuisance than having to run back and forth to the microwave to continuously nuke the frosting.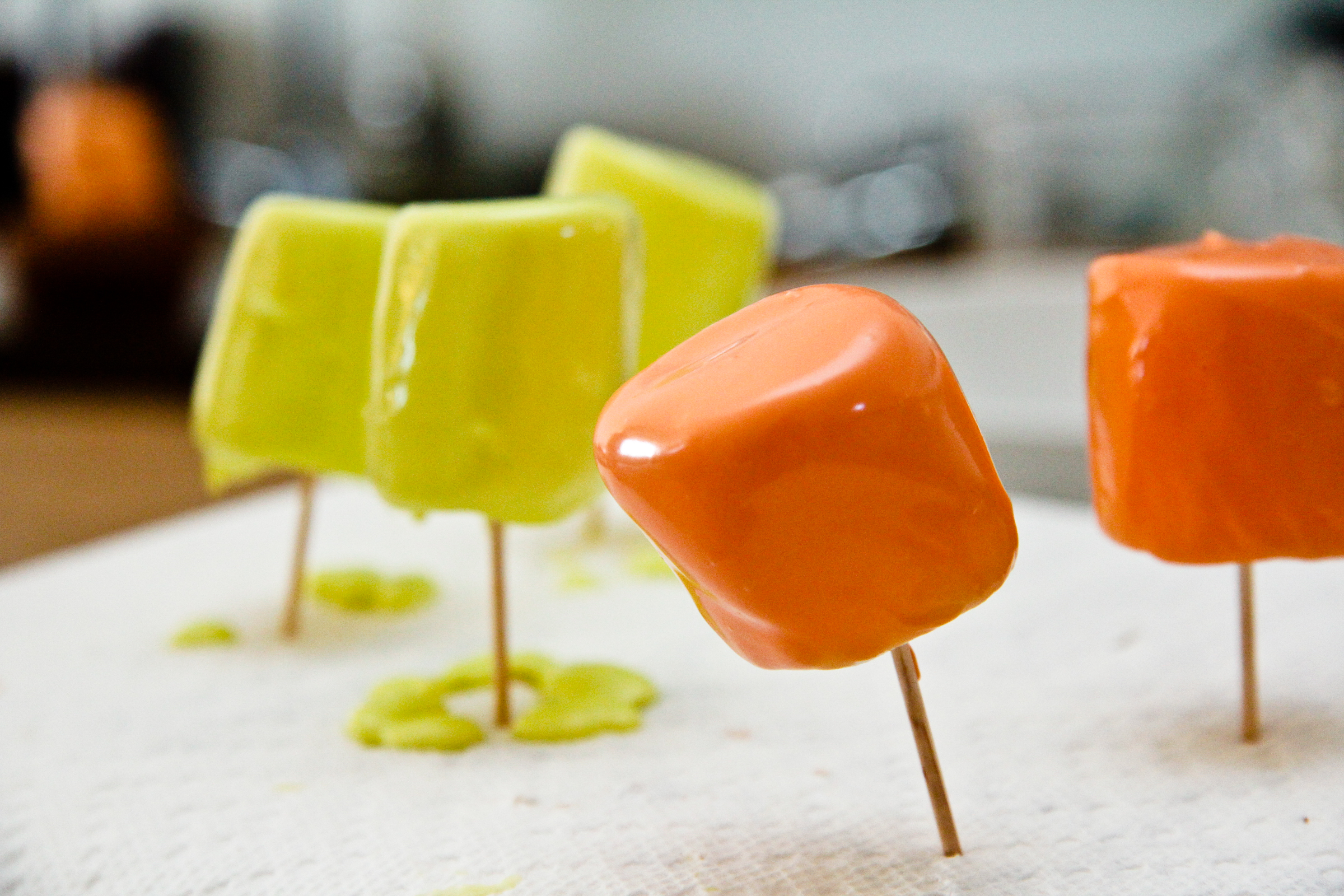 And just to make things more fun, on the same day of this random black out, it also happened to be about 95 degrees outside and uncharacteristically humid for California, which meant no AC or even refrigerator to at least help keep the cupcakes cold.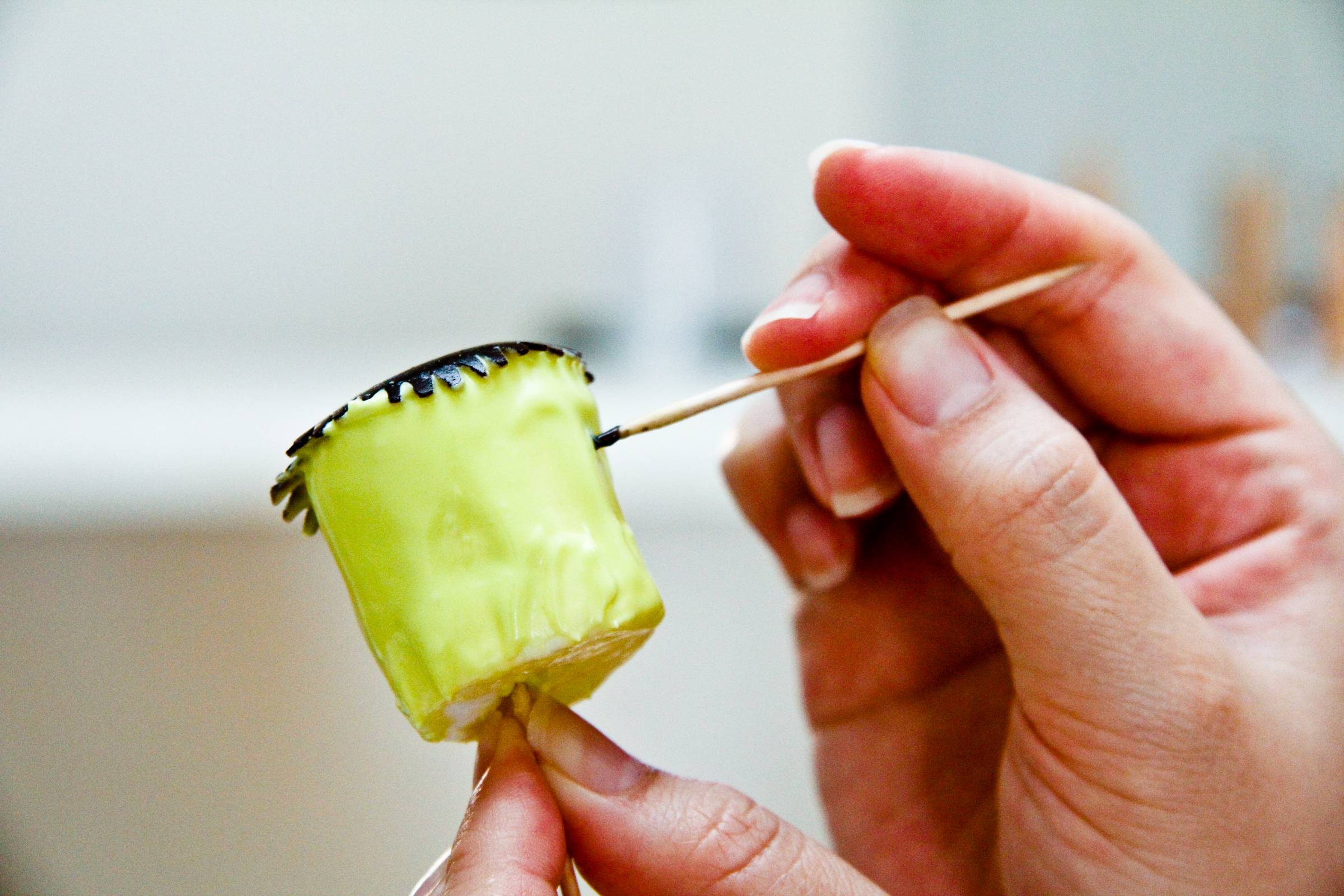 Therefore, the frosting started to gloop, the marshmallows started sticking to our fingers, and the faces we'd draw on would simply slide right off. Thank God for Ashley's steady hand and persistence, because if it wasn't for her, I would've thrown these melting marshmallows right off our balcony.  I guess being a nurse makes you patient!  She kept me calm and we continued on.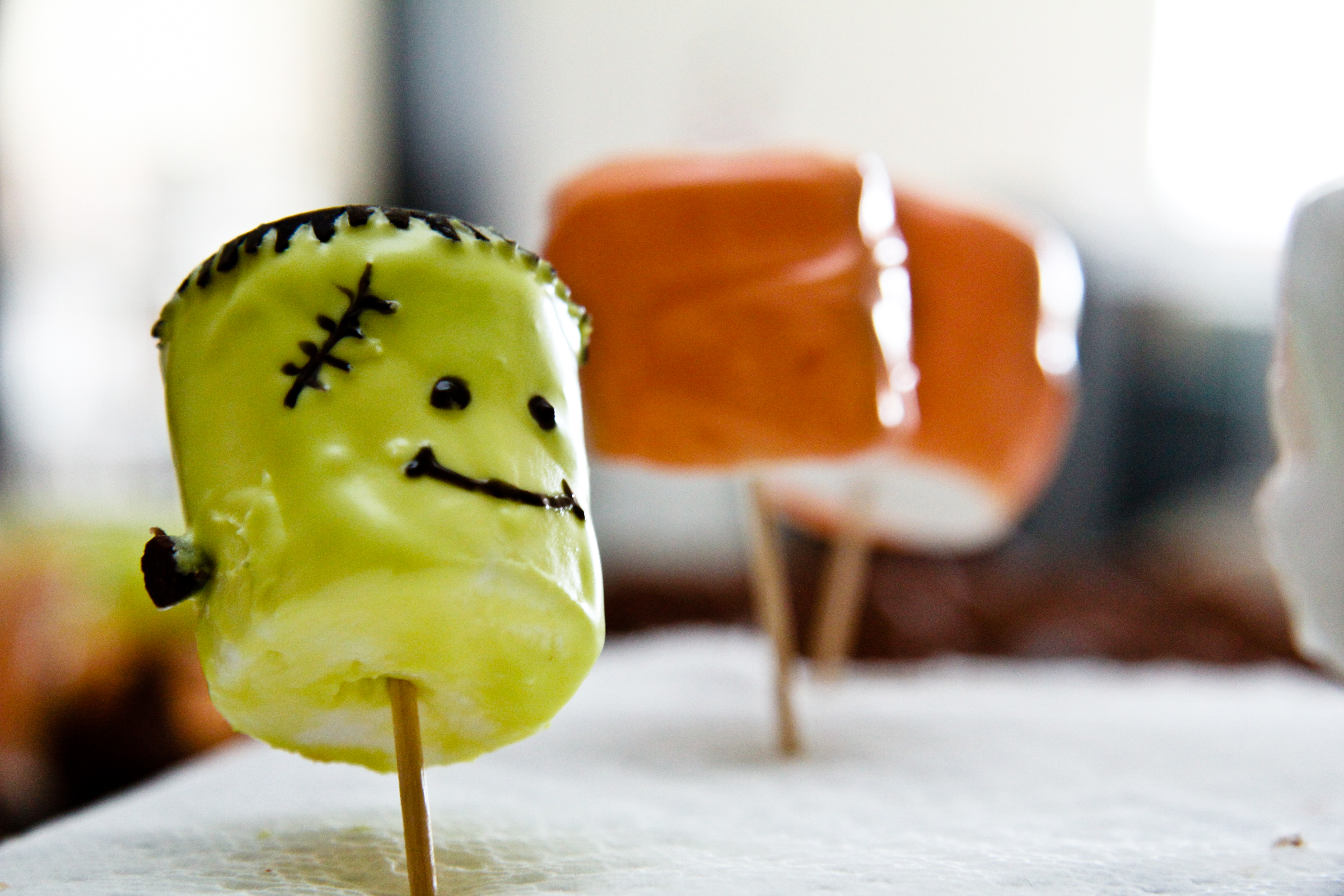 Joe came home from work to see the both of us sitting in the dark, covered in frosting, perspiring, and looking frazzled.  At this point, he graciously took over the role of photographer and even helped us make a contraption that consisted of an ice cooler, ice and several plates, to help keep the finished cupcakes from melting away before we took the picture.
But while Joe was on his way to transport the finished ones to the designated spot to take the beauty shot, he DROPPED THEM ON THE CARPET!  I looked over at Ashley like I was about to spontaneously combust and cry at the same time.  I couldn't even muster enough strength to be mad.  I just started laughing, like that almost-insane kind of laughter.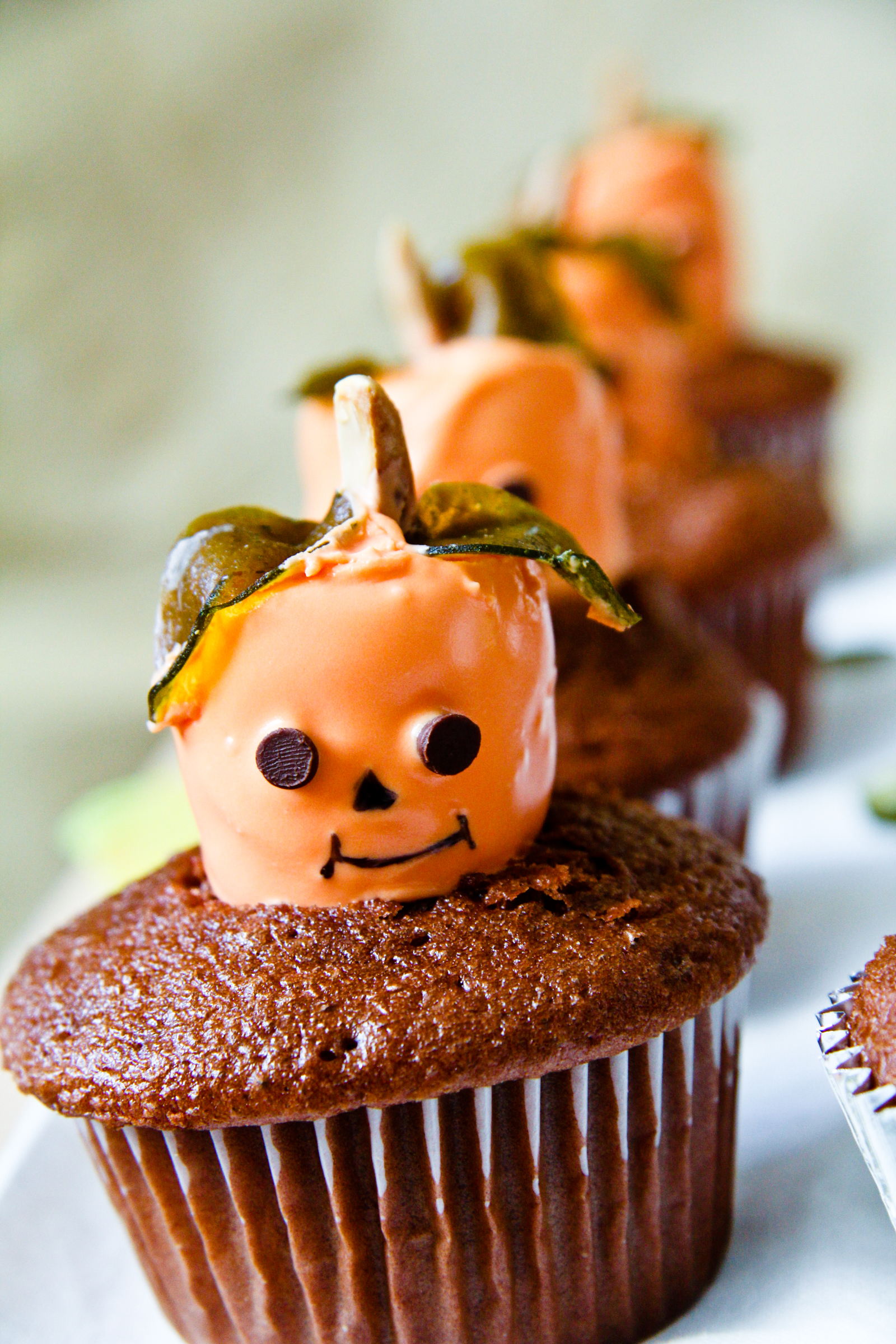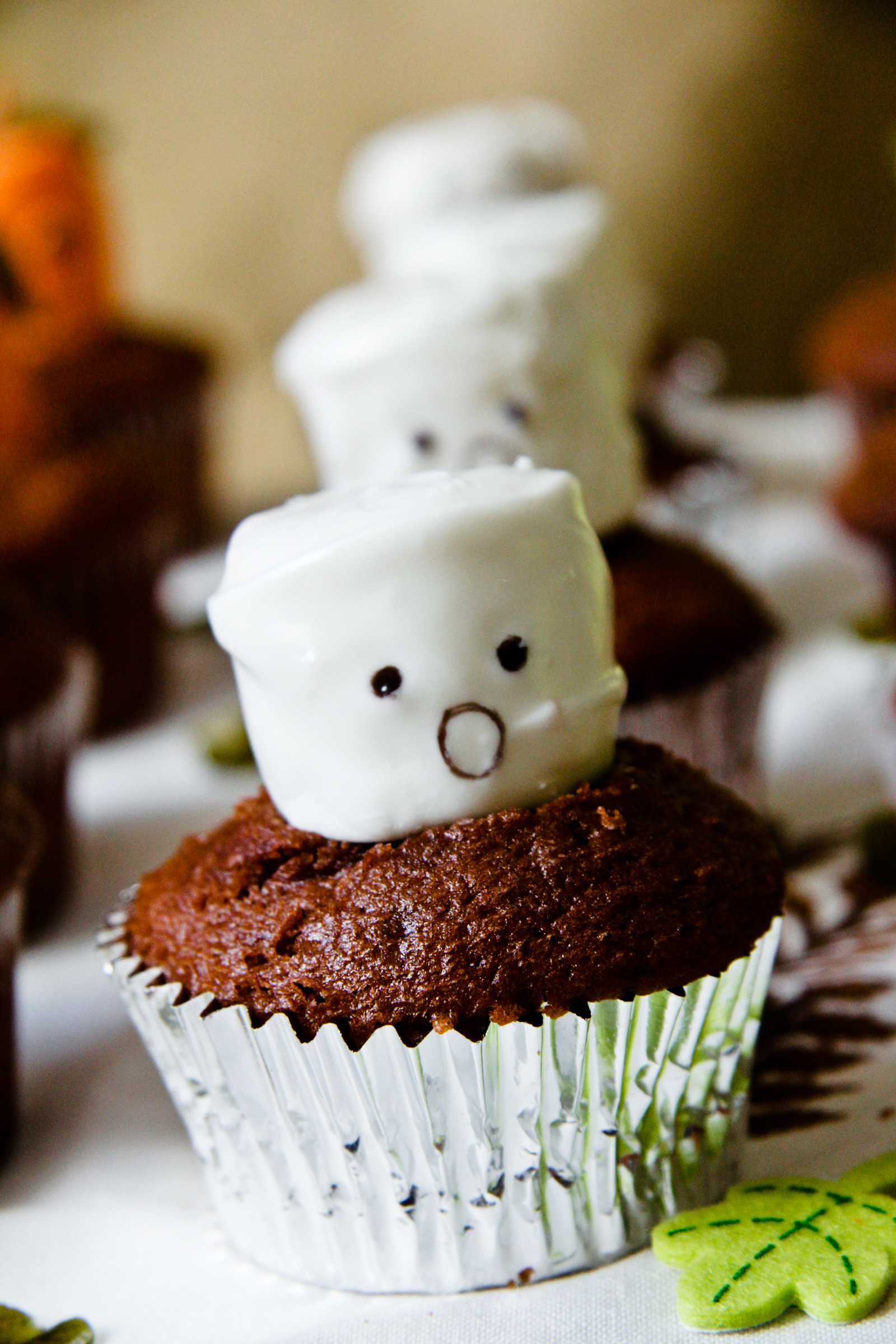 Needless to say, Ashley and I had no choice but to quickly decorate another batch just to get the photo done before the sun completely went down.  And of course, Joe managed to snap all the photos for the article, and despite all the shenanigans, I think they came out great!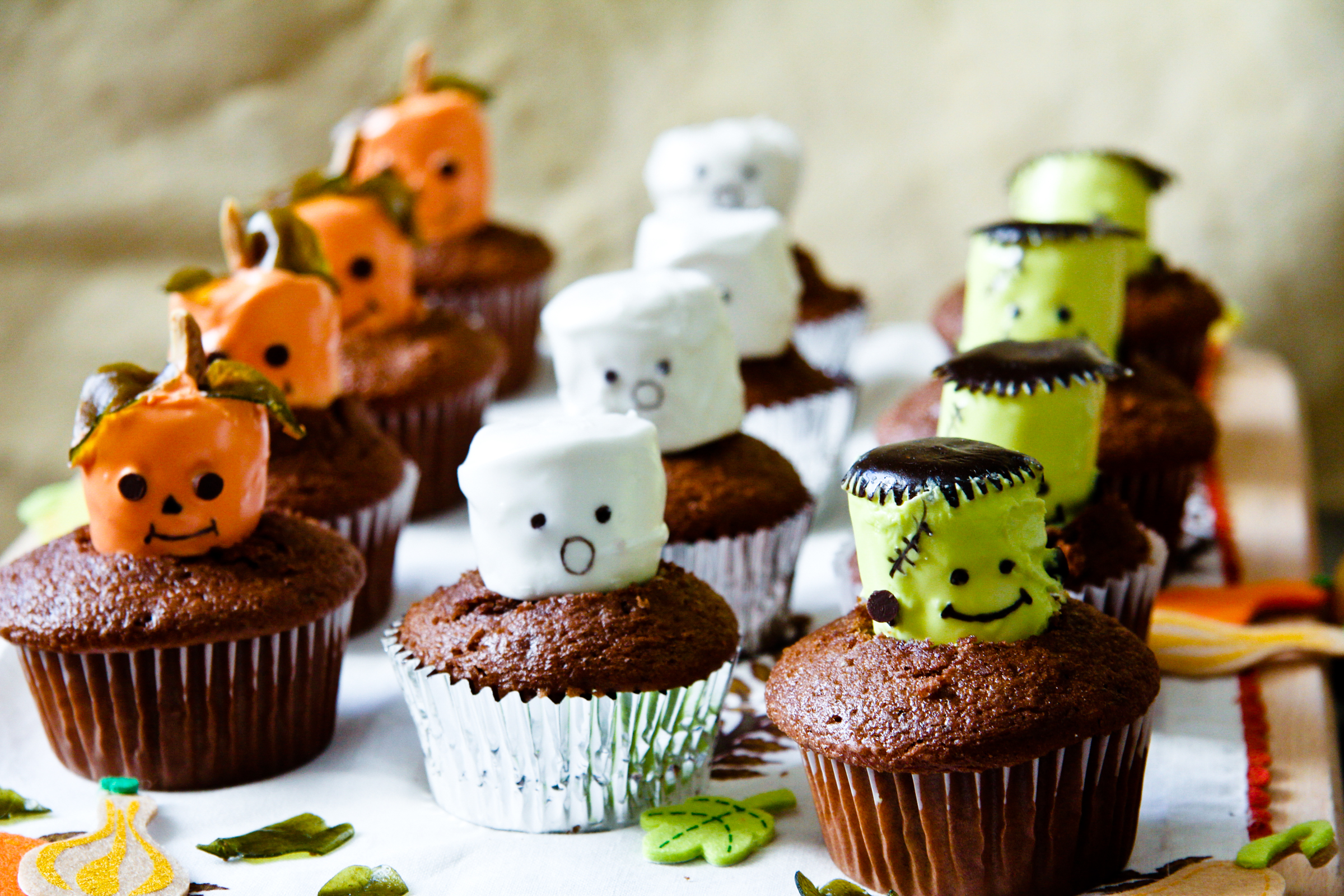 After our chaotic photo session of trying to beat the sun and battling the drooping frosting, it started really getting dark, so the three of us decided to go to Ashley's house for dinner, because she still had electricity.  And wouldn't you know, as soon as we got into the car with our cupcakes and turned on the AC, the frosting hardened up in an instant and turned beautifully shiny, almost like a perfectly glossy candy coating!
Who says God doesn't have a sense of humor?  So it just goes to show, as long as it's not 100 degrees in your house, and you don't drop them all over your carpet, these cupcakes are actually easy to make.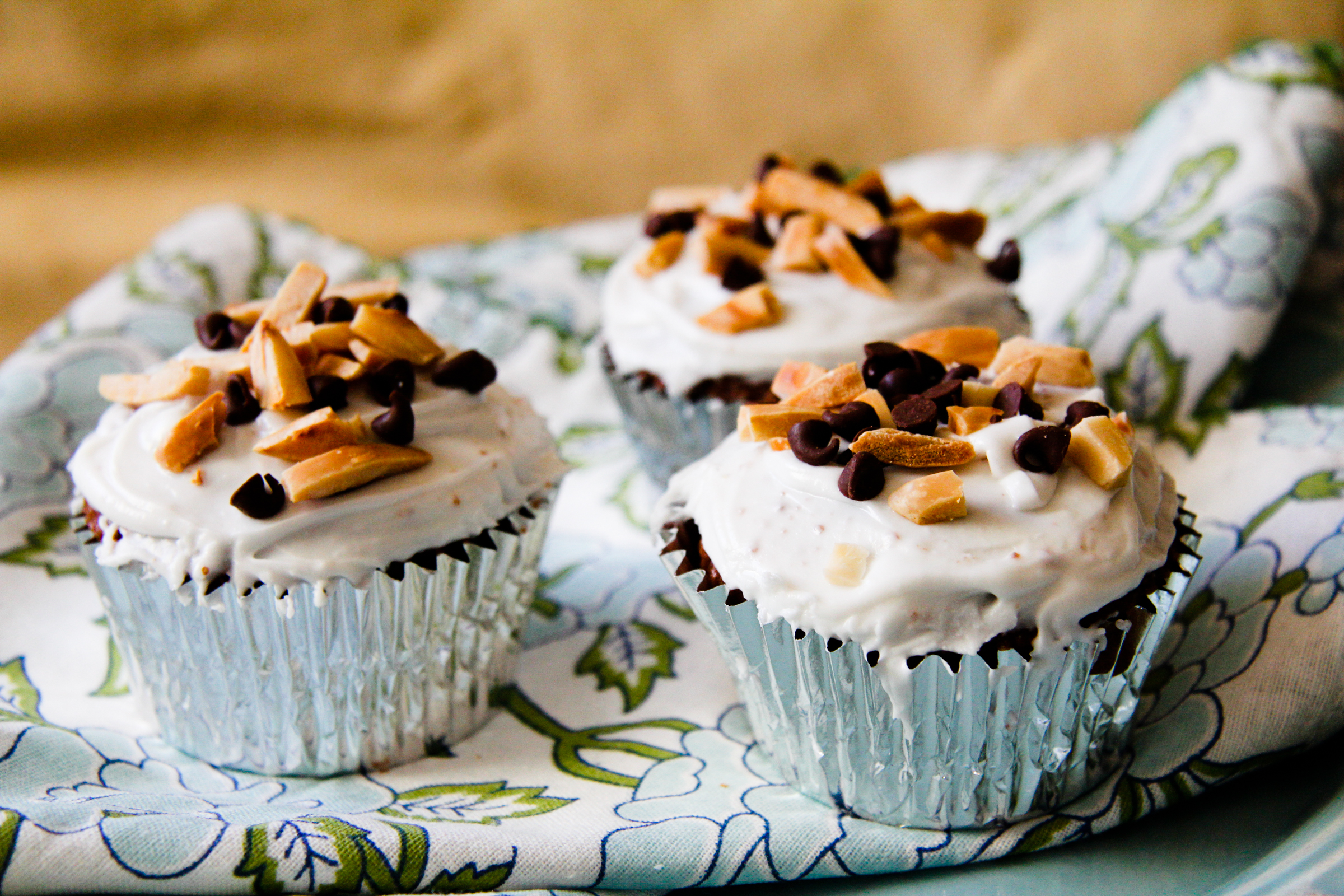 You can even take the leftover toppings like we did and make "grown up" cupcakes too.  These were equally delicious and we had them for dessert.  Hope you give making either one of these cupcakes a go.  TRUST ME, you will have a much easier time making these marshmallow monster cupcakes than we did, especially if you just start out with my recipe, because we worked out all the kinks.  Now that we figured out all the tricks, these really are the perfect treats.

How to Make Halloween Cupcakes
Don't let my story scare you. These Halloween cupcakes are surprisingly easier to make than they look. You just need some creativity and a steady hand.
Ingredients
1 box of chocolate cake mix
1 can of creamy white frosting
Food coloring gel
1 bag of marshmallows
1 small bag of slivered almonds
1 green fruit roll-up
1 or 2 purple colored fruit roll-up(s)
Mini chocolate chips
Black cake decorating gel

Other materials:
Cupcake pan with cupcake liners
Toothpicks
Styrofoam block or an empty egg carton to stick toothpicks in to let marshmallows dry
Instructions
Line the cupcake pan and make cupcakes according to the cake box mix instructions. Let cool. With a small pairing knife, carve out a shallow hole in the top of each cupcake, big enough to let a marshmallow to rest in.
Prepare your frosting: Divide frosting into 3 separate bowls. Using food coloring gel, color one lime green, one orange, and leave the last one white. Thin each frosting out with a few drops of water until it is a little runny, but still slightly thick. Add water a little at a time.
Stick a toothpick in the marshmallow and swirl it around in the runny frosting to coat. Let the excess drip off, and then stick the toothpick in the styrofoam to let the frosting dry for a few minutes, but don't allow to dry completely before decorating:
FRIENDLY GHOST:
Swirl a marshmallow in white frosting. Draw two eyes and an open mouth with a toothpick dipped in black cake decorating gel. Insert into a cupcake.
PUMPKIN JACK-O-LANTERN:
Swirl a marshmallow in orange frosting. Toast some slivered almonds in a dry pan until lightly browned. Stick one toasted slivered almond at the top as the pumpkin stem. Cut leaf shapes out of the green fruit roll up. Use a toothpick to help bend and curve them. Attach next to the stem. Use two mini chocolate chips for the eyes. Draw a nose and mouth with a toothpick dipped in black cake decorating gel. Insert into a cupcake.
FRANKENSTEIN:
Swirl a marshmallow in lime green frosting. Use scissors to cut a zig zag edged circle out of the purple fruit roll-up(s). Attach to the top of the marshmallow as the hair. Use two mini chocolate chips as the neck bolts. Draw two eyes, a mouth, and a head scar, with a toothpick dipped in black cake decorating gel. Insert into a cupcake.