Peaches and Cream Cups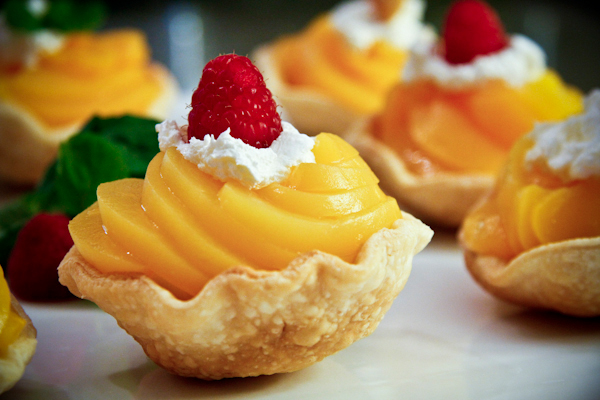 In case you just happened to be wondering, I didn't win the dessert portion of Kraft's Real Women of Philadelphia Cream Cheese Contest either. If you're new to the blog, I'll explain a bit. A few weeks back, we entered two sections for a contest where you had to incorporate Philadelphia cream cheese into original recipes and submit them via video. It was a recipe contest, but it was a casting contest as well, to see if they could find a new spokeswoman. But I lost. Oh well. It's a crying shame, but at least I have another recipe and video to post for all of you! Just like our entree submission, this video is a departure from our normal filming style, since I had to bake and talk at the same time, with no music and no special editing, as per the contest rules.  
I had 2 taste testers, besides me, and both thought the dessert was delicious and cute. I told one of them that she didn't have to eat the whole thing, but to just take a bite. She ate the whole thing. I was all geared up and excited because even though dessert is a tough section to win when it comes to cream cheese, since there are thousands of recipes out there, again, I thought I actually had a fighting chance. But don't cry for me Argentina. I'm well past it now and am no longer upset. Of course, the initial disappointment felt awful, but now I'm moving on… and there's always next year or other contests right?
I tried to think of a recipe that would be easy and quick to make, with ingredients that you could store in your pantry, fridge and freezer, at any time, just in case you happened to have unexpected guests drop by. And because Summertime was creeping around the corner when we filmed this, I immediately thought of peaches. But fresh peaches (as much as I prefer them) require a few more steps and extra baking time to make them soft, so I thought about using canned peaches instead. Before you turn your nose up to me about that, don't knock it until you try it. The combination of the vanilla cream, flaky pie crust, and juicy canned peaches go REALLY well together. And I use the peach can for double duty. Watch how I make my peaches and cream cups in our dessert submission video.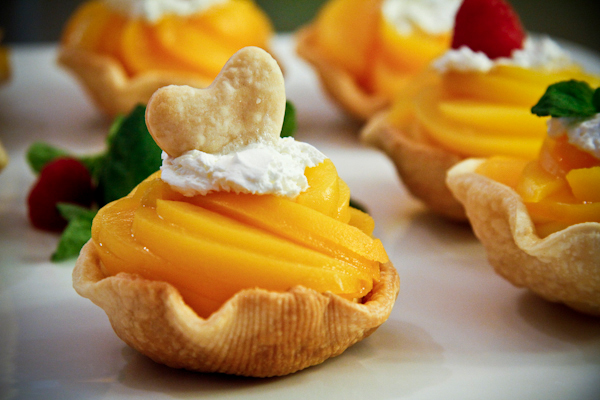 As you can see, this dessert is really easy to make, requires minimal skill, and uses humble accessible ingredients. But besides that, I'm actually proud of what I came up with, even if I didn't win, and I think you'll think it's a tasty treat too. Hope you give it a try!

Peaches and Cream Cups
This is a recipe I made for a PHILADELPHIA Cream Cheese contest. It's a winner in my book.
Ingredients
1 package of Pillsbury pie crusts, thawed
1 (29 oz) can of peach halves
1 pkg. (8 oz.) PHILADELPHIA Cream Cheese, softened
½ cup cold milk
1 pkg. (3.4 oz.) JELL-O Vanilla Flavor Instant Pudding
1 cup thawed COOL WHIP, plus more for topping
Raspberries & mint for garnish (optional)
Instructions
Heat oven to 425°F. Spray an inverted muffin tin with nonstick cooking spray.
Remove pie crusts from pouches; unroll on work surface. Wash the top of the peach can with soap and water, and dry. Use it to punch out 4 circles from each crust. Drape each round over the muffin cups. Lightly crimp the edges with your fingers to make a loose flower shape.
If desired, cut small shapes from the dough scraps and place on an ungreased cookie sheet, to use as your decorative toppers. Bake the scraps for 5 minutes or until golden brown.
Lightly poke the bottom of the crust cups with a fork to prevent them from puffing too much. Bake the pie cups for 7-8 minutes or until golden brown. Leave the cups on the muffin tin to cool, for about 15 minutes before removing. Remove shells from cups.
Drain the canned peaches and place in the refrigerator for easier slicing. When they are a bit colder, thinly slice each of the halves, but keep them together. Then fan the slices of each piece out into 8 individual spirals, for presentation purposes. If your can does not come with 8 halves, just split up some of the pieces evenly until you can make 8 spirals.
Beat softened cream cheese in a large bowl with an electric hand mixer until creamy. Beat in the milk. Add the dry pudding mix, then beat for 2 minutes. Fold in 1 cup of cool whip with a rubber spatula until smooth and well incorporated. Put the mixture in a piping or Ziplock bag, and cut off the end or corner.
Pipe the mixture about halfway up the sides of the cups. Using a flat spatula, gently lift each of the spirals and place on each individual pie cup, on top of the cream cheese mixture.
Top with a dollop of whipped cream and a raspberry, mint, or the cut out pie crust pieces for garnish. These peach cups can be enjoyed immediately, or after they've been chilled in the refrigerator. You can even make them a day in advance and keep in the fridge.