Pancakes with Balsamic Strawberries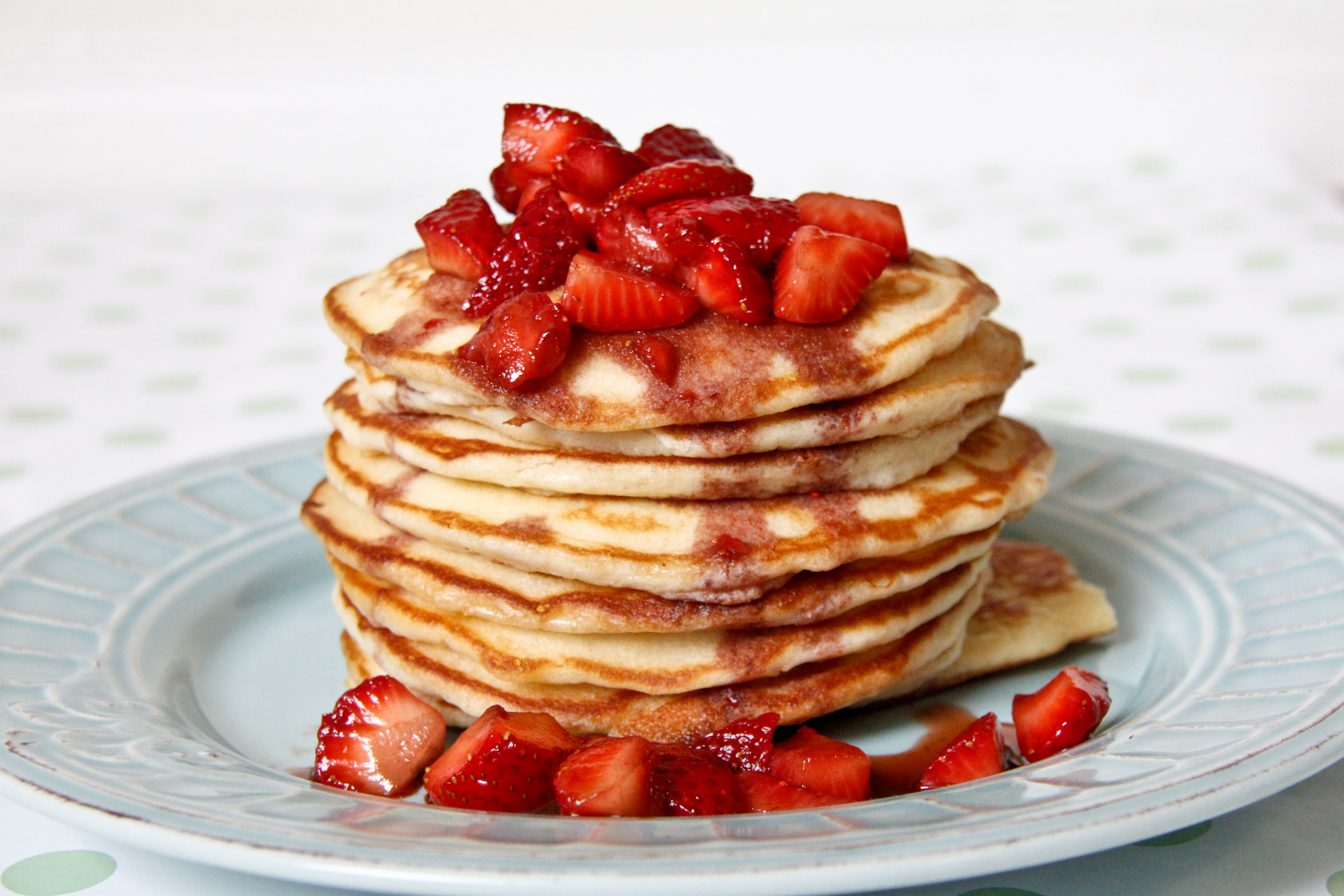 This week I was literally cutting and gluing handmade cards for my mom and mother-in-law, like a little kid.  This year, we didn't have much of a budget to spend on them, so instead of buying them generic cards and picking out another kitchen tool to send them for Mother's Day, I decided to bust out my inner child and go nuts with the arts and crafts instead.  We ended up sending them each one of our kitchen art prints along with my handmade card.  It's a shame they don't live close by, because if they did, I would've made them pancakes.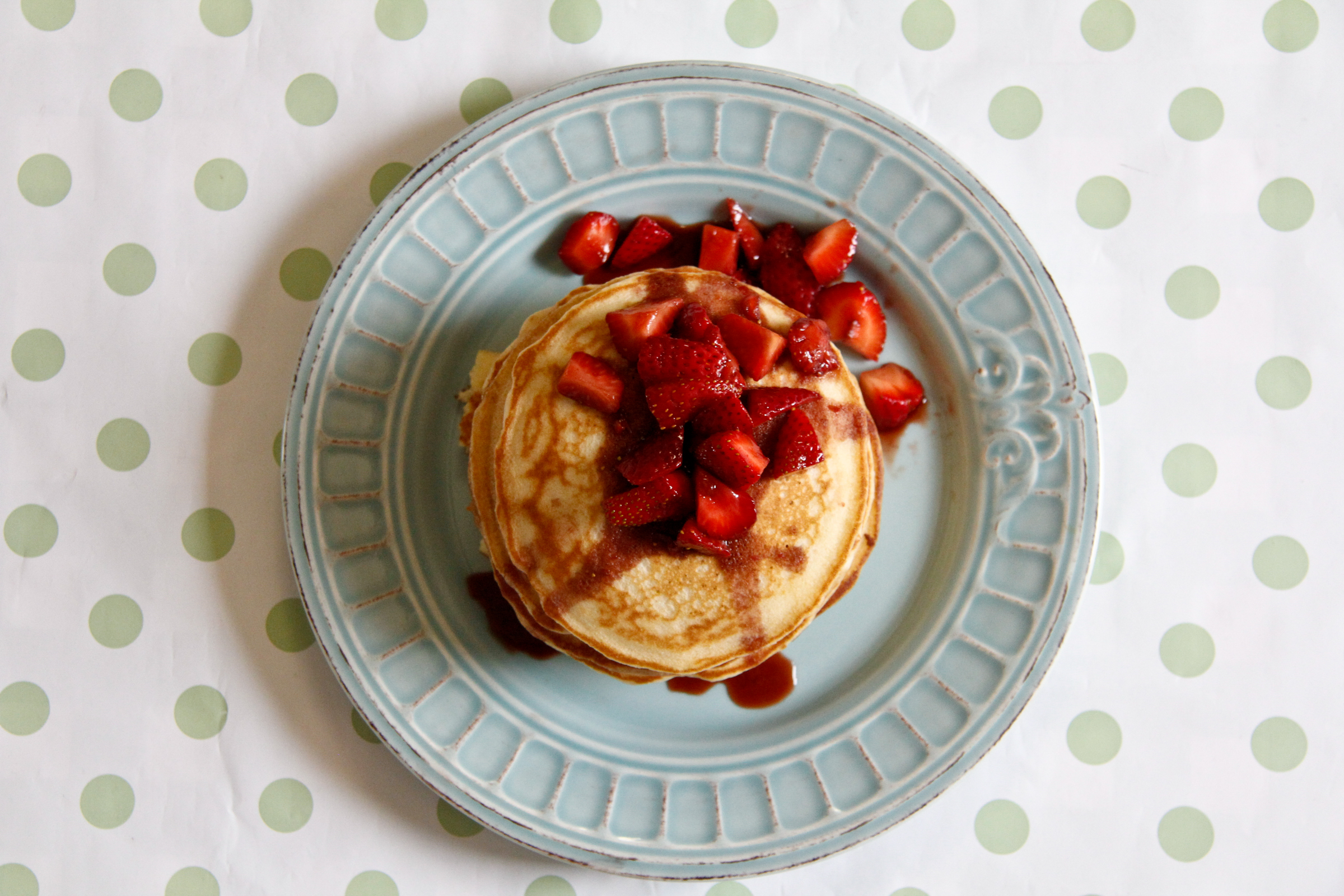 Pancakes actually remind me of my mom.  On certain mornings when she had more time before work, she would wake up early and make us pancakes…the Bisquick kind, covered in Mrs. Buttersworth's, but that was fine by me.  I still felt the love.
When you want to make pancakes for your loved ones (or yourself), but there's no Bisquick in sight, you can easily whip up the batter from scratch, as long as your pantry is supplied with a few basic baking ingredients.  The key to making pancakes is that you have to not overcook them.  It's just like baking a cake.  If a cake is baked right, it's moist and tender.  If it's cooked for too long, it's dry.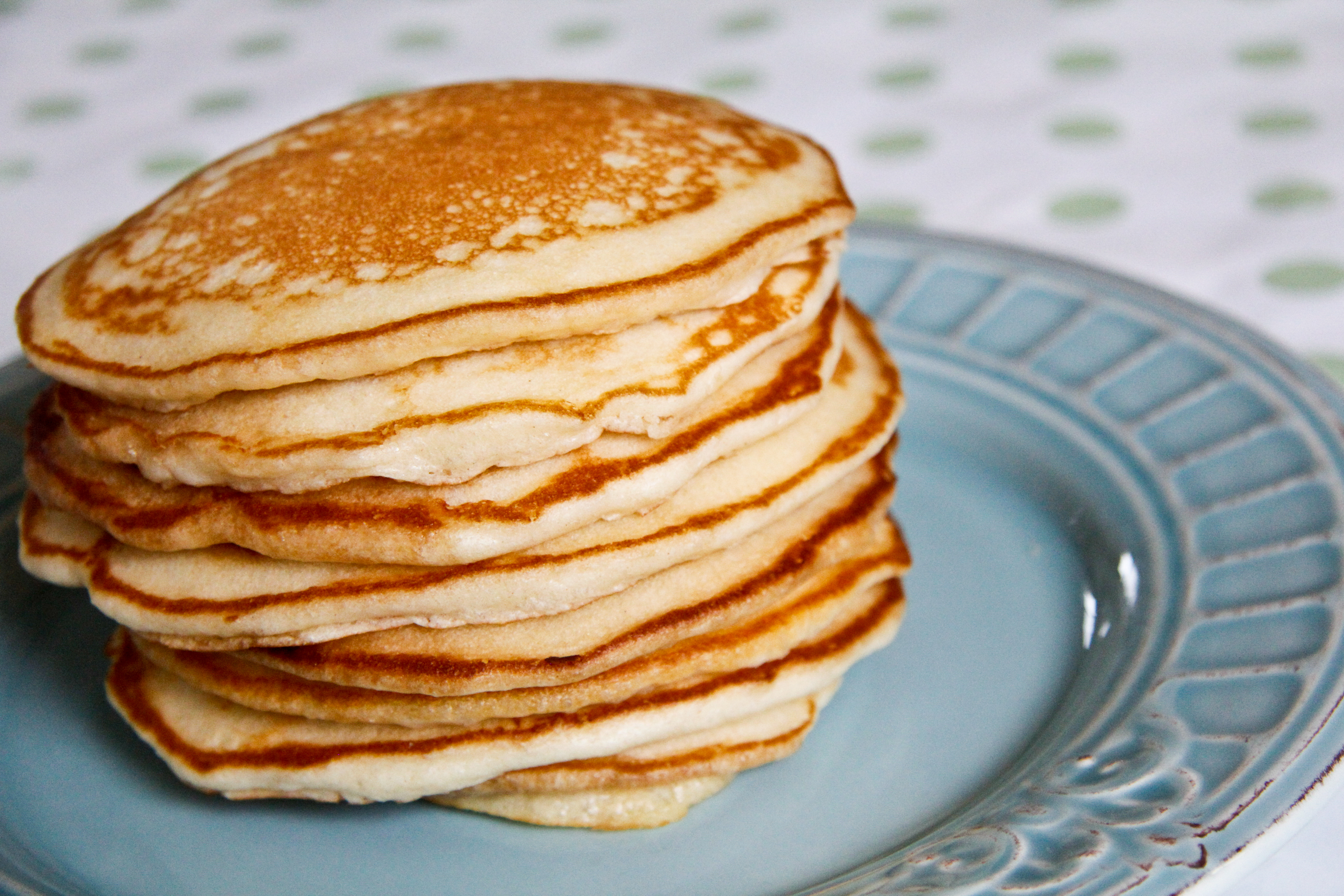 Now eating pancakes with just maple syrup is great.  But if you want to make things a little more special, try topping them with maple syrup AND balsamic strawberries!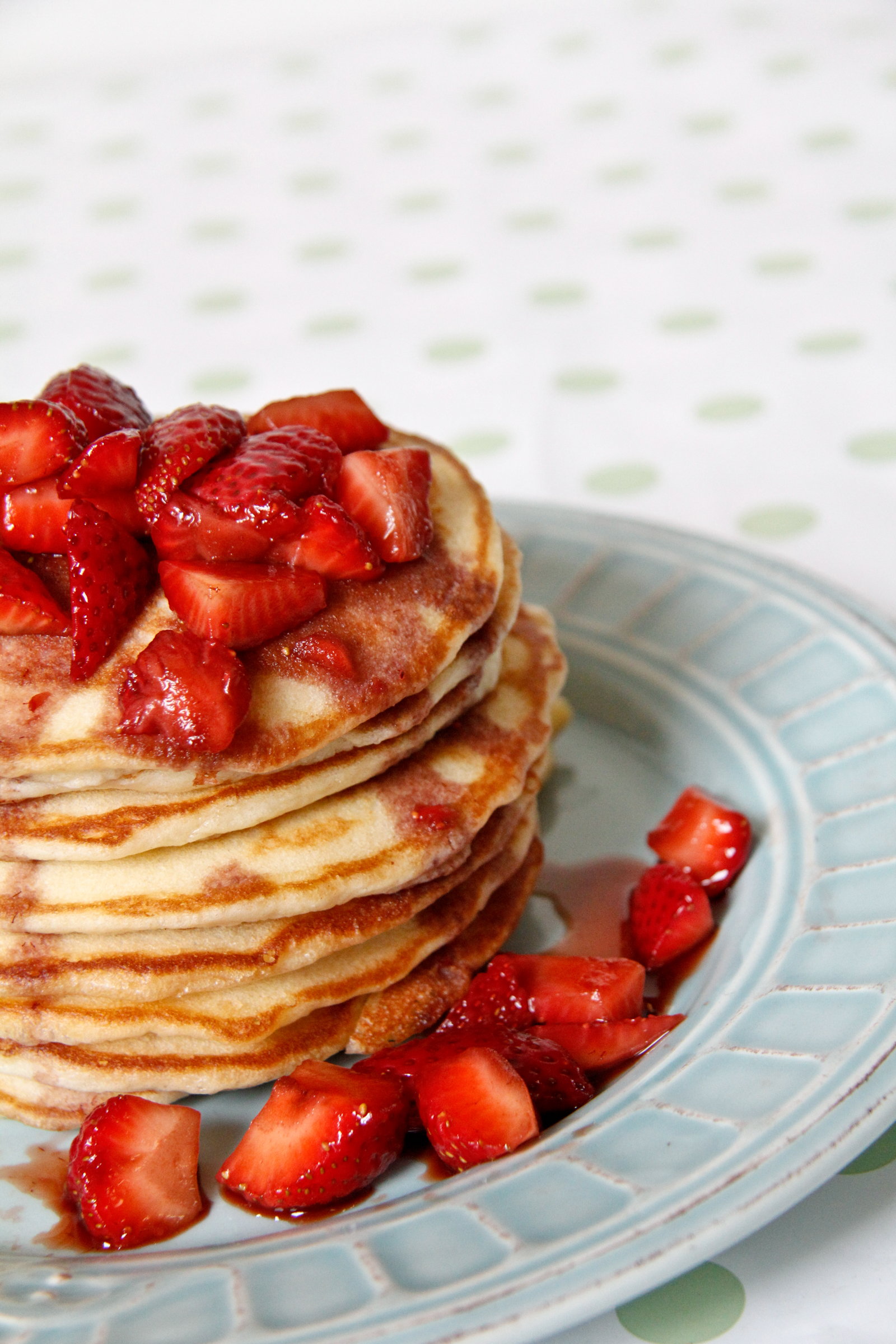 I know what you're thinking….what in the what?  Heck, it sounds weird to me too, but it's actually not strange at all.  Balsamic vinegar and strawberries is rapidly becoming a common menu pairing because the balsamic is naturally sweet and tart.  The acid of the vinegar breaks down the fresh strawberries and causes them to release their natural sugars and juices.  When you let them sit in the balsamic vinegar with a little sugar, together, they form a sweet sauce with depth, which when combined with the thick glossy maple syrup, makes ordinary pancakes taste like a gourmet treat.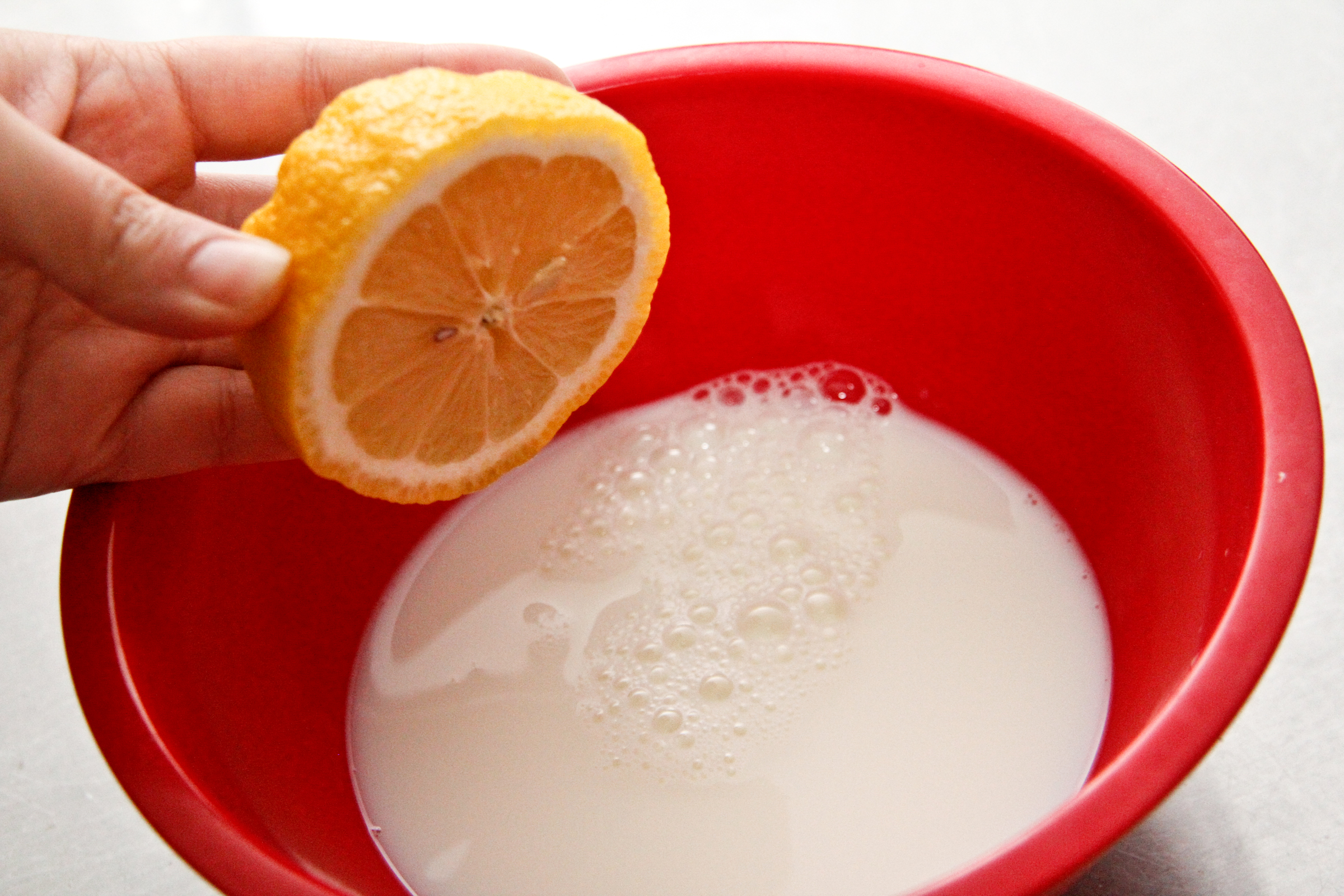 It all begins with "soured" milk.  What I'm doing here is substituting regular milk for buttermilk.  If you have buttermilk, just use it.  For the rest of us who don't normally have it on-hand, add white vinegar or fresh lemon juice to your regular milk and let the mixture stand for 10 minutes. White vinegar works better than lemon juice, but lemons were all I had.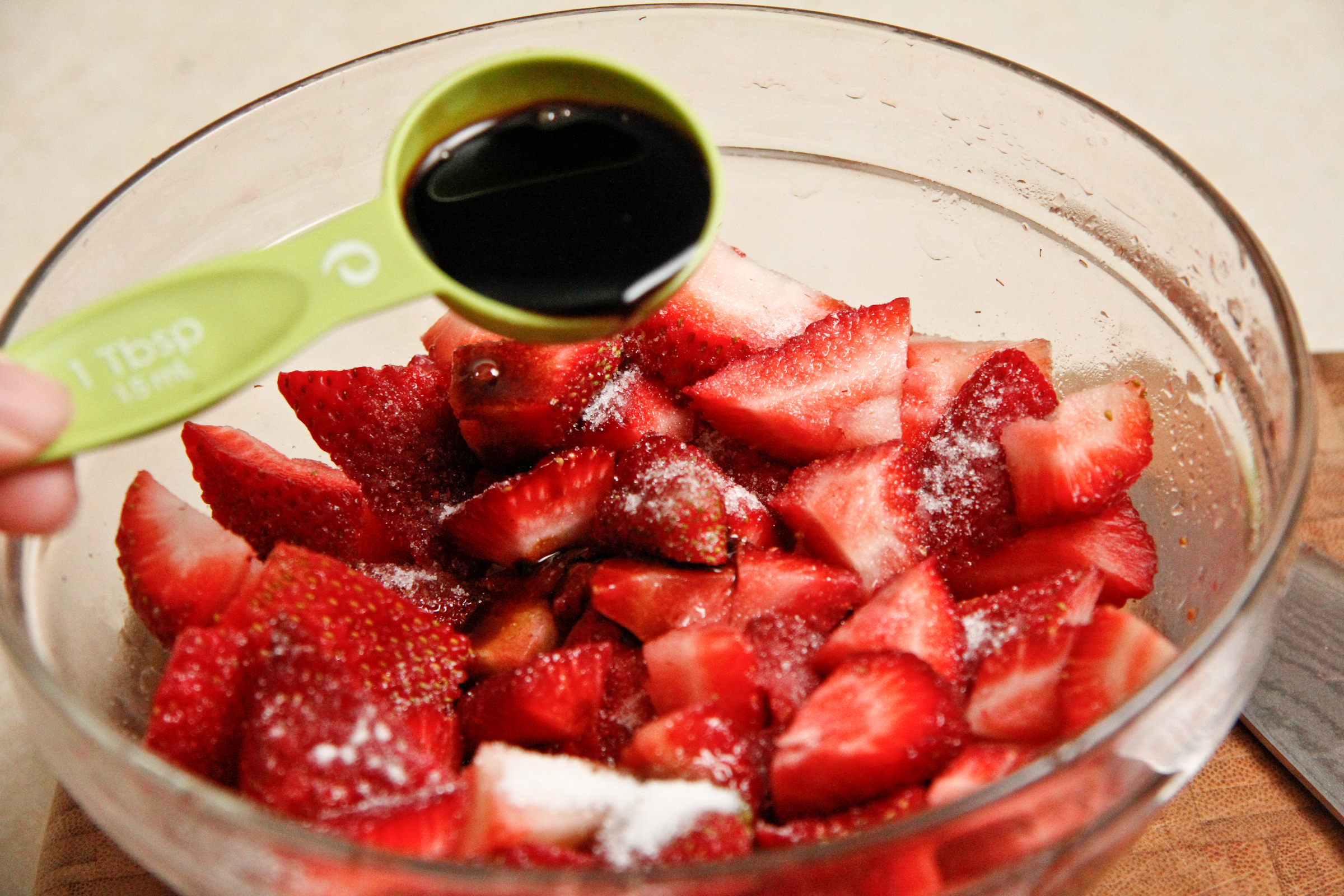 While you're waiting for your milk, you might as well get on with the strawberries.  Coarsely chop up a pint of strawberries and add in your balsamic vinegar and either 1 or 2 tablespoons of sugar, depending on how naturally sweet your strawberries are.  Mix and let it do its thing.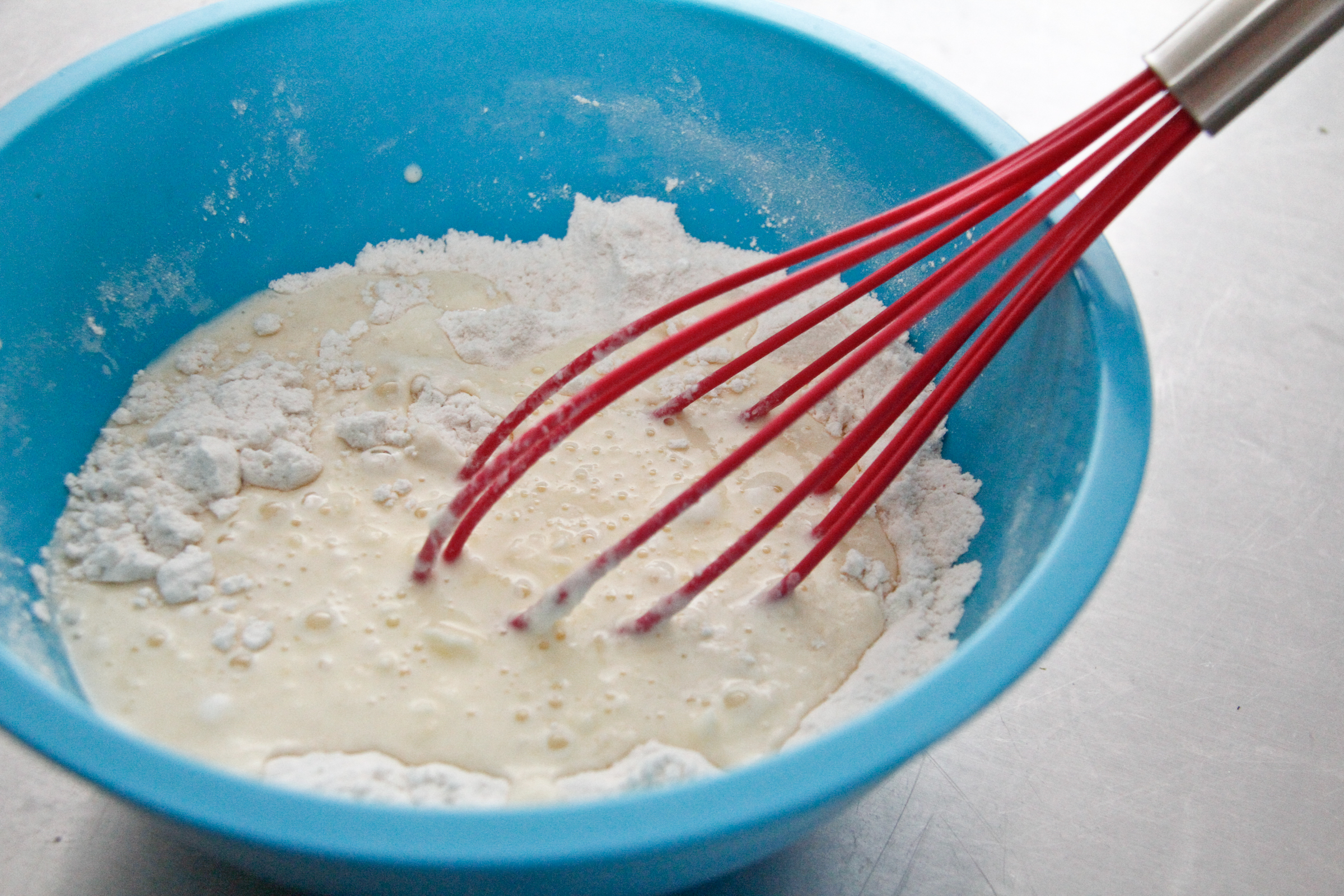 Add melted butter, vanilla, and an egg to your "soured" milk, and whisk.  Then add the liquid to the dry and whisk until smooth.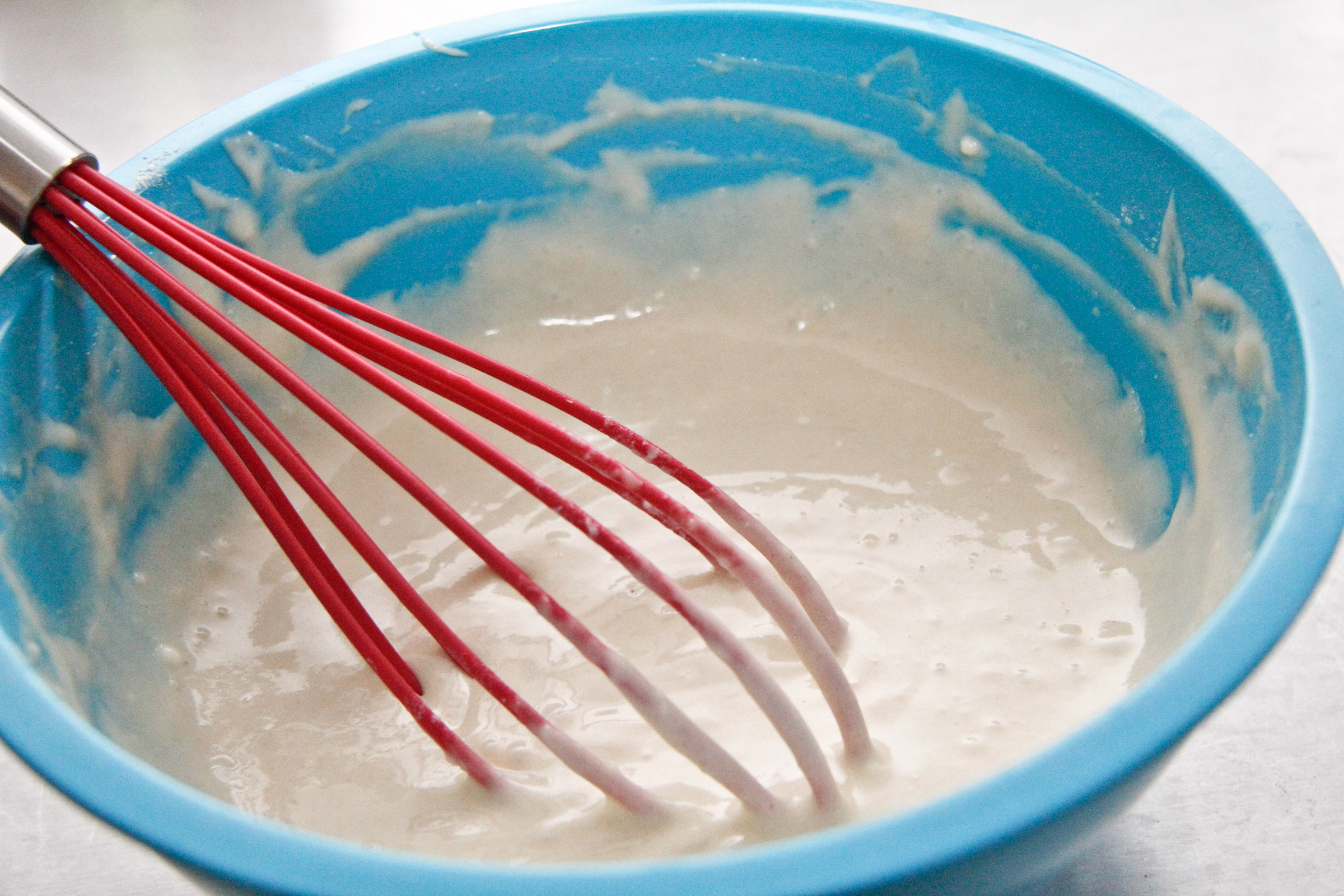 Get rid of all your lumps.  Lumpy pancakes are not tasty. Then let the batter rest for 30 minutes so it has a chance to thicken.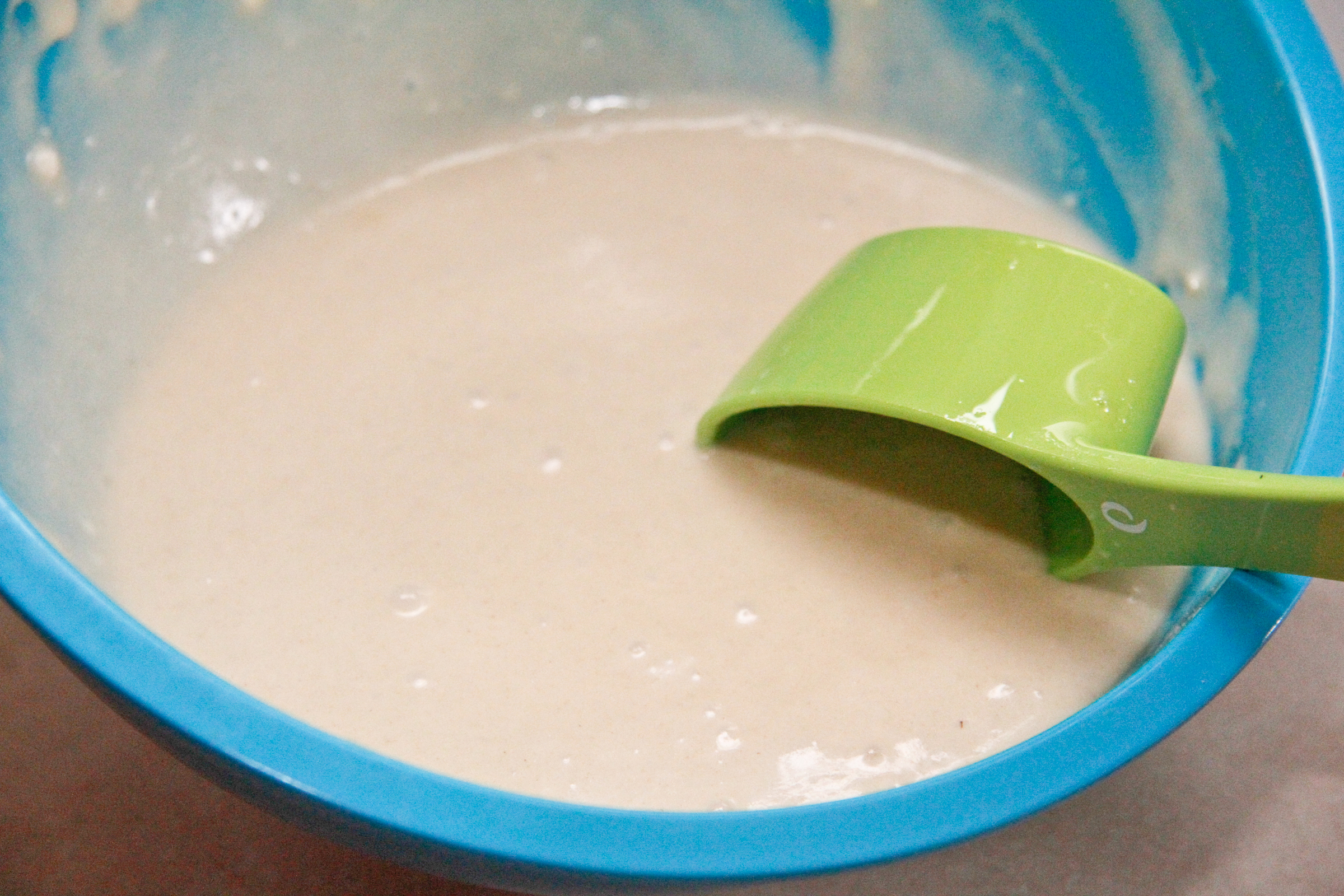 It's a good idea to use a ¼ cup measuring cup to scoop out the proper amount of batter for each pancake.  This is particularly useful if you're making multiple pancakes at one time on a long griddle.  That way they cook at the same time.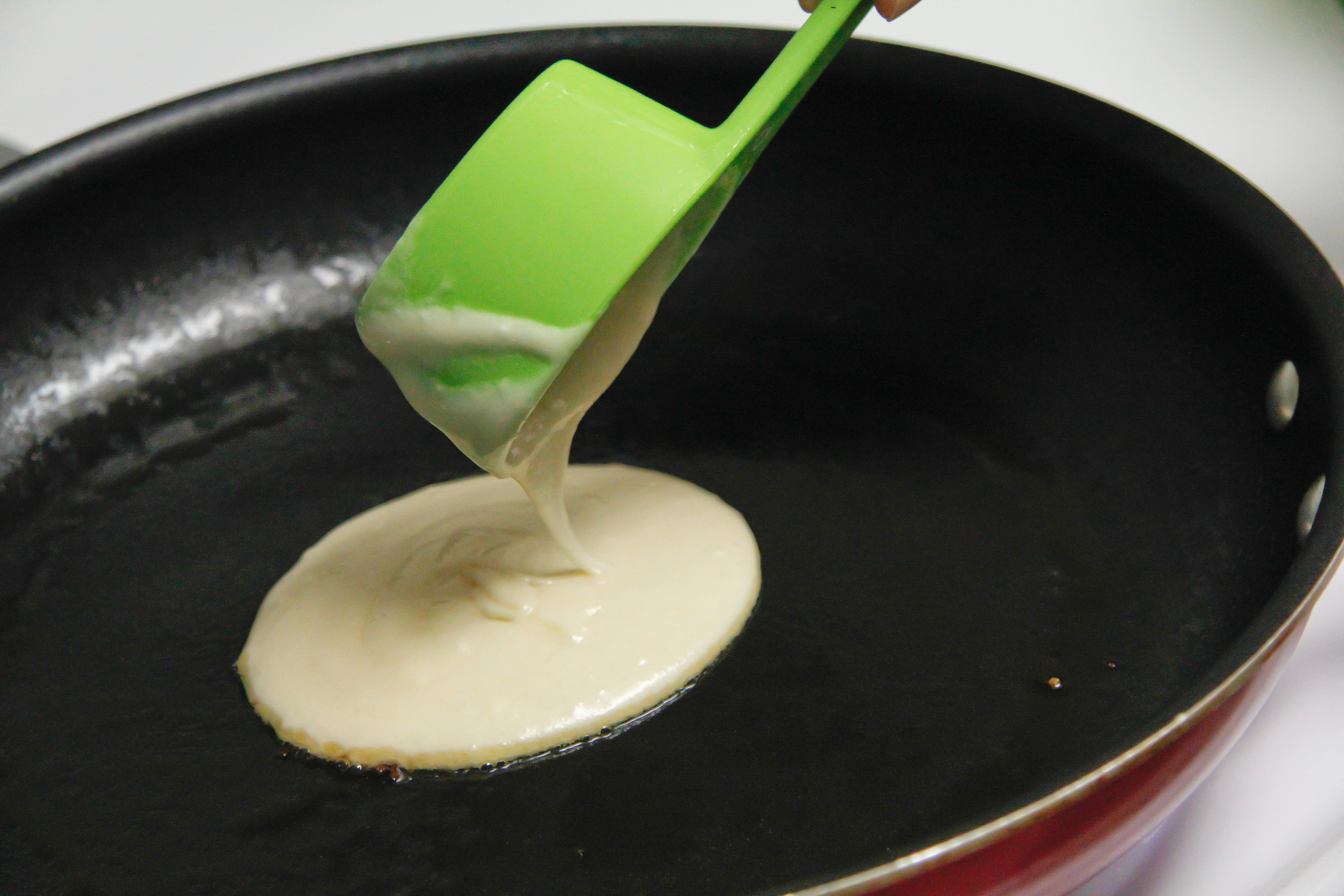 As for me, I just had a large nonstick pan and opted to play it safe and make one pancake at a time.  Even though it's nonstick, it's a good idea to spritz on the cooking spray.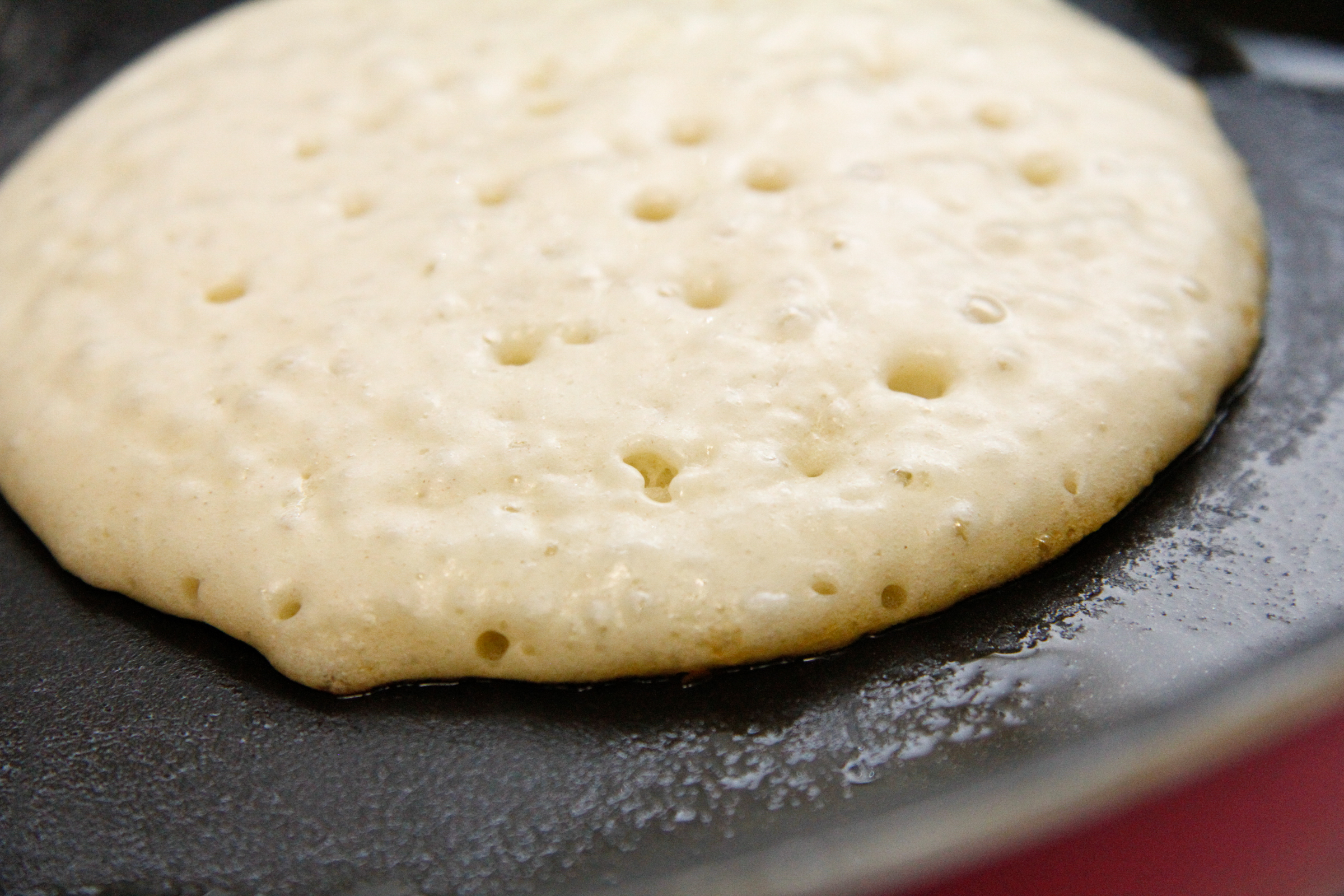 As soon as you see bubbles, it's time to flip.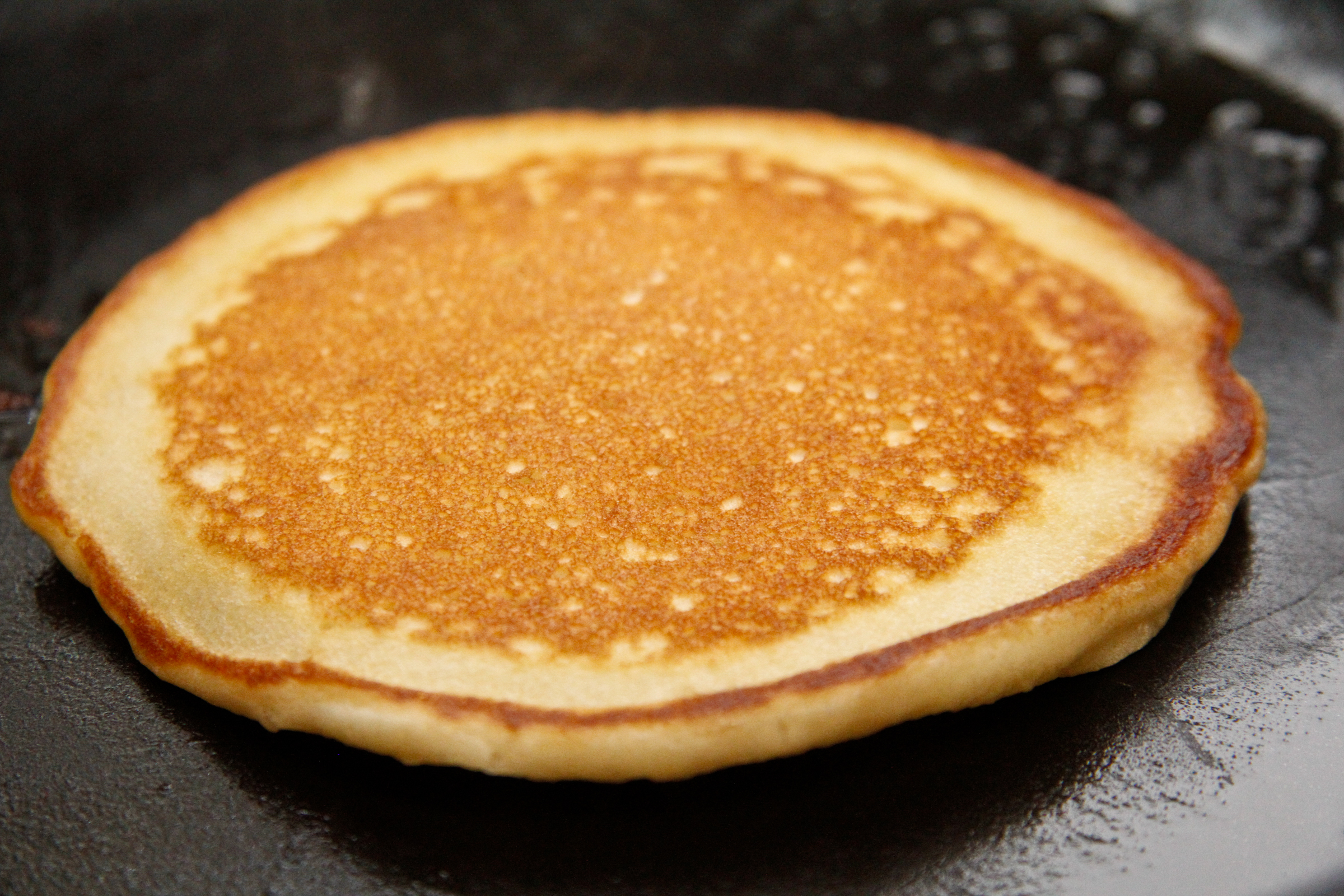 Now there's nothing wrong with eating these golden puffy discs all by themselves….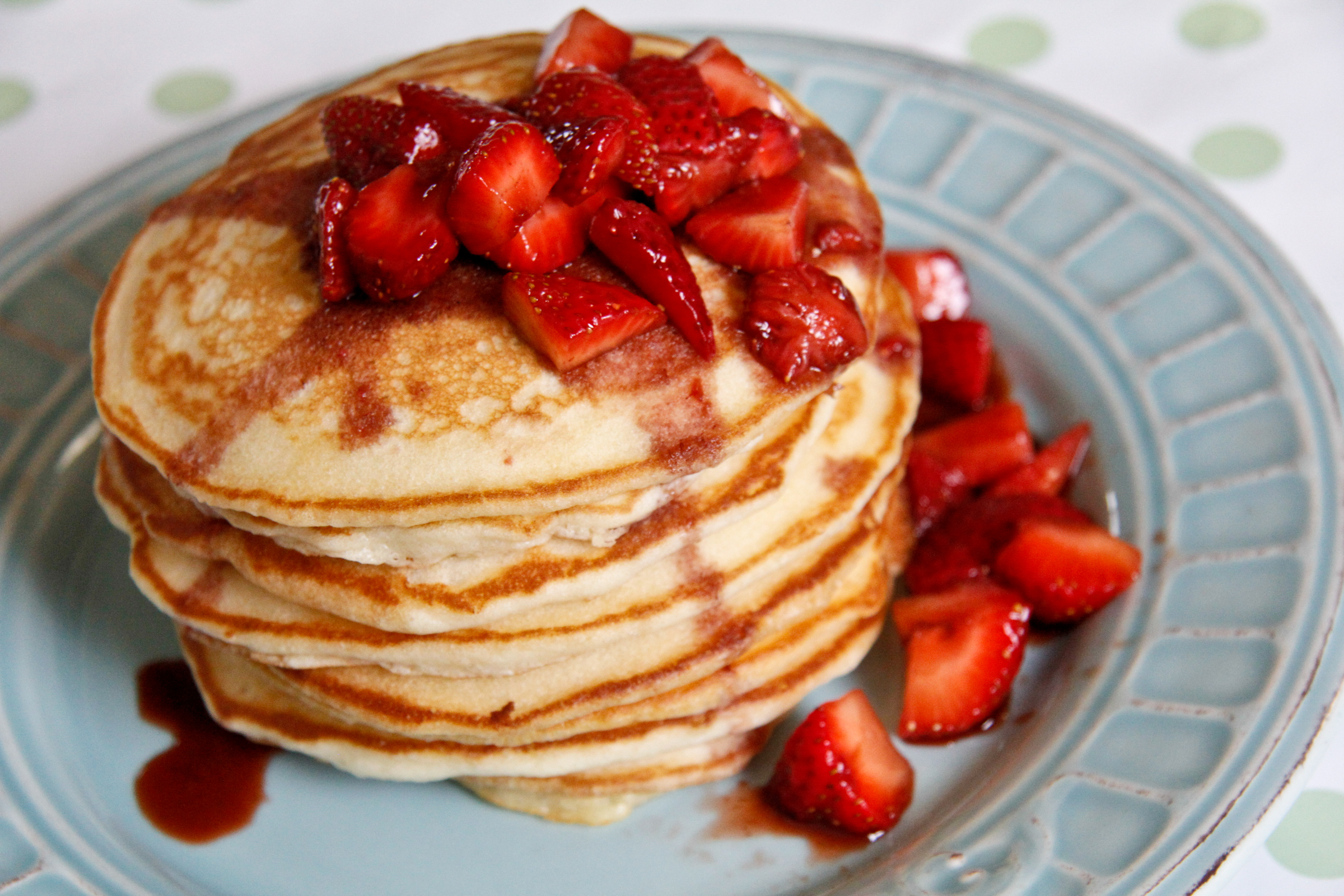 But why would you want to?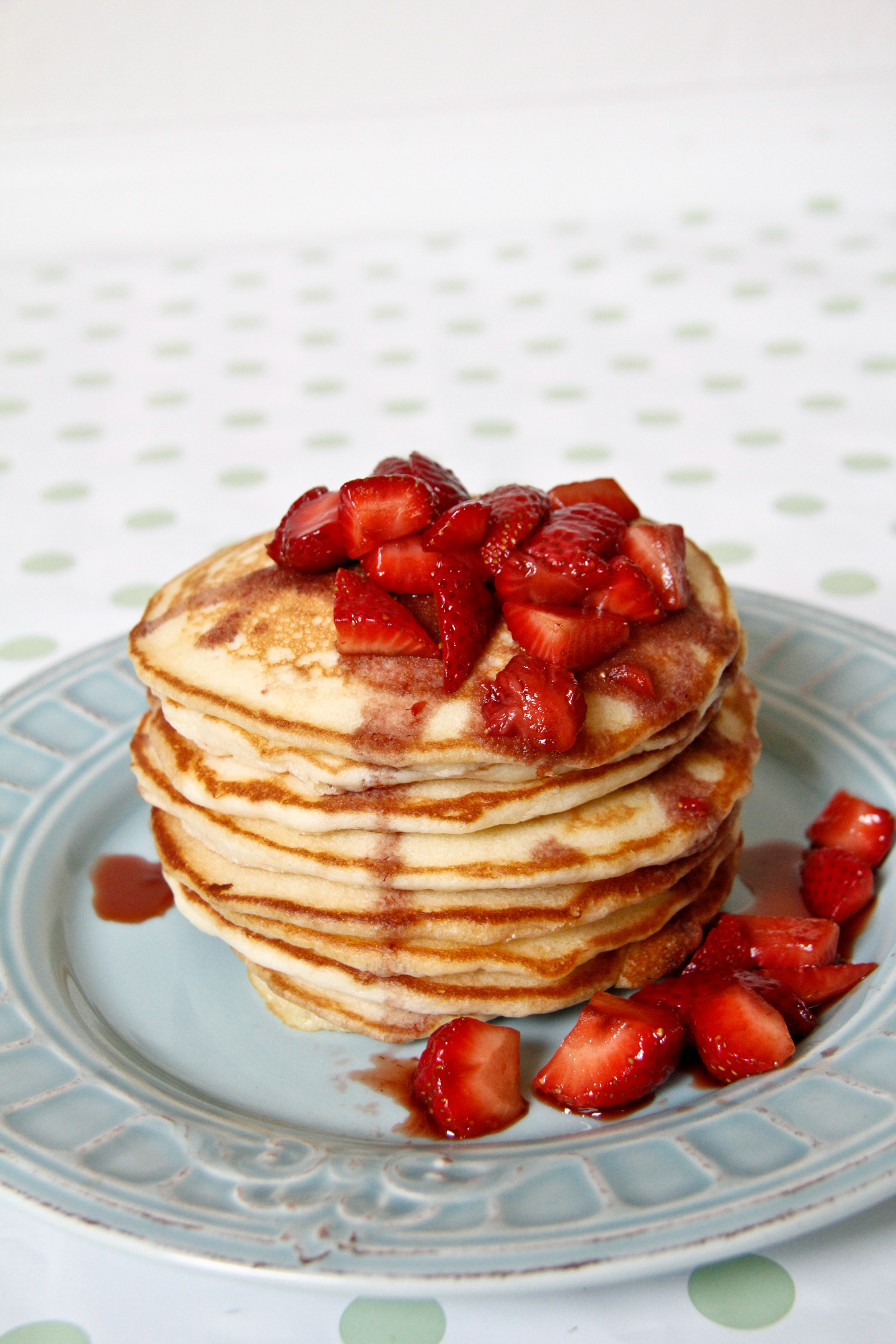 The juicy strawberries are sweet, pretty, and refreshing.  They work so well with the otherwise plain pancake.  I know my mom would love to taste these and I'll have to make them for her one day.  I mean, they're not Bisquick and Mrs. Buttersworth's, but I have a feeling that she wouldn't mind one bit.

Pancakes with Balsamic Strawberries
Adding balsamic vinegar to strawberries brings out their sweetness. Mix in a little maple syrup and you've got yourself a surprisingly scrumptious pancake sauce.
Ingredients
¾ cup milk
2 tablespoons white vinegar (or fresh lemon juice)
1 egg
2 tablespoons melted butter
1 teaspoon vanilla extract
1 cup flour
2 tablespoons sugar
1 teaspoon baking powder
½ teaspoon baking soda
½ teaspoon salt
Nonstick cooking spray

Balsamic strawberries:
1 pint fresh strawberries, coarsely chopped
1 tablespoon balsamic vinegar
1-2 tablespoons sugar (depending on natural sweetness of berries)
Maple syrup for drizzling
Instructions
Combine the milk with the vinegar (or lemon juice) in a bowl and set aside for 10 minutes to "sour." In a large bowl, combine the dry ingredients.
Meanwhile, add the coarsely chopped strawberries, sugar, and balsamic vinegar together in a bowl and mix. Let stand until the strawberries become slightly broken down and release their sugars and juices, about 10 minutes.
Whisk the egg, melted butter, and vanilla into the "soured" milk, and then add it to the dry ingredients. Whisk well to form a smooth batter. Make sure all the lumps are gone. Let the batter rest for 30 minutes before using. It will get thicker as it rests.
Heat a skillet or griddle over medium heat and coat with the cooking spray. Pour ¼ cup full of batter for each pancake onto the skillet and cook until bubbles appear on the surface. Flip and cook until light golden brown. Serve with the strawberries and a drizzle of maple syrup.