Bulgogi Glazed Salmon with Goguma Puree (and Mustard Greens)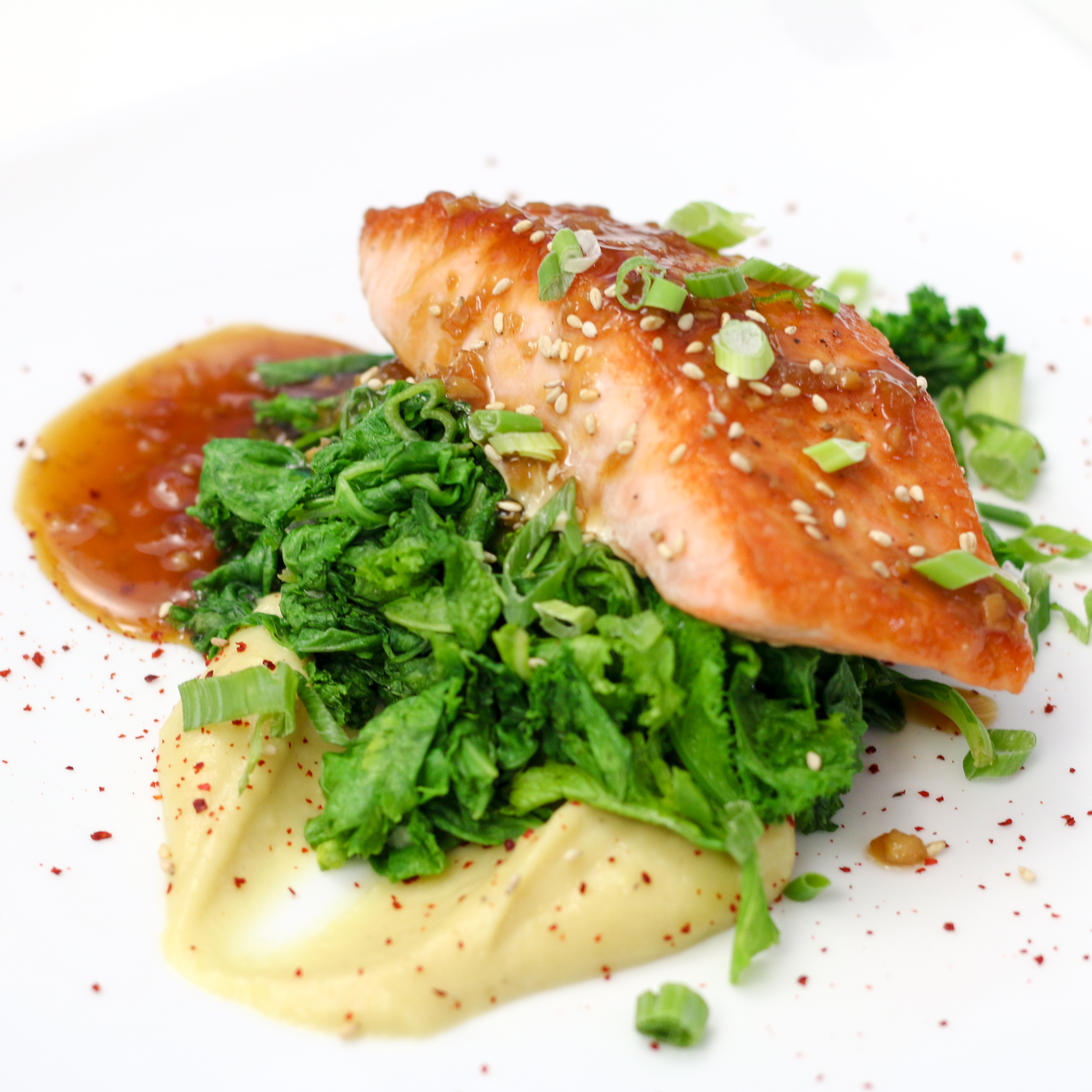 4 (6 ounce) skinless salmon fillets
Salt and Pepper to taste
Vegetable oil for the pan
Bulgogi Glaze (recipe follows)
Chopped scallions
Toasted sesame seeds (optional)
1 tablespoon sesame oil
1 tablespoon finely chopped onion
2 tablespoons minced garlic
2 teaspoons minced ginger
1 cup water
¼ cup soy sauce
2 tablespoons brown sugar
1 tablespoon honey
1 ½ tablespoons mirin
2 tablespoons cornstarch dissolved in 2 tablespoons water
2 medium sized Korean sweet potatoes, roasted until tender
½ cup heavy cream, or more if needed
2 tablespoons unsalted butter
Salt and Pepper to taste
Korean chili flakes (Gochugaru), for sprinkling
2 bunches mustard greens, washed, stemmed, and torn in pieces
2 tablespoons sesame oil, divided
2 teaspoons minced garlic, divided
Salt and Pepper to taste
Roast the Korean sweet potatoes in a 400 F degree oven until tender. This could take from 45 mins to 1 hour depending on size. Peel the roasted Korean sweet potatoes and place them in a blender while they're still hot. Add butter, cream, and blend. Add more cream if your puree isn't getting smooth. Season with salt and pepper to taste. Transfer to a bowl and keep covered with aluminum foil so it stays warm.
Make the Bulgogi glaze. In a bowl, combine water, soy sauce, brown sugar, honey, and Mirin and mix. Set aside. In a small pot over medium heat, add sesame oil, onion, garlic, and ginger, and sweat for 2-3 minutes. Add the sauce mixture to the pot and bring to a boil. Reduce heat slightly and let it cook for 4-5 minutes more. Raise the heat again and add about HALF of the dissolved cornstarch mixture. Make sure the sauce comes to a boil to activate the cornstarch. It should thicken into a glaze consistency. You might not use all of this cornstarch mixture, but add what you need if it doesn't get thick. Season with salt and pepper to taste. Keep the sauce warm on very low heat while you cook your salmon.
Preheat your oven to 350 F degrees. Heat a large pan with vegetable oil and place over high heat. Pat salmon fillets dry with a paper towel and then season on one side only with salt and pepper. Place seasoned side down in the hot pan until seared and golden brown, about 3 minutes. Only sear that one side. Place the salmon fillets presentation side up (the seared side) on a baking sheet and spoon on some of the glaze on each fillet. Reserve some of the glaze for spooning onto the plates at the end. Keep the glaze warm on low heat until you're ready to plate. Pop salmon into the oven and cook for 3-5 minutes for a medium doneness, slightly coral pink in the center.
Wipe out the pan you used to cook your salmon and add half of the sesame oil, and half of the garlic. Add half of the mustard greens and stir until they slightly wilt down. Don't let them wilt too much. Season with salt and pepper to taste. Dump into a bowl. Repeat this process for your second batch of greens.
To plate and serve, place a dollop of warm Gogoma Puree on each plate and drag it with the back of a spoon. Sprinkle with Korean pepper flakes. Add a pile of greens on top, and then one salmon filet on top of the greens. Spoon on any leftover glaze and garnish with sesame seeds and chopped scallions.
Recipe by
Chef Julie Yoon
at http://chefjulieyoon.com/2016/02/bulgogi-glazed-salmon-with-goguma-puree-and-mustard-greens/