ABOUT US
Meet Julie.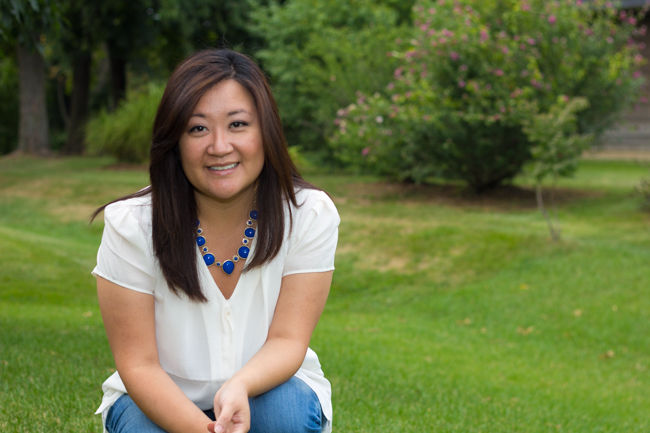 Hi I'm Julie.  I'm a chef with a fashion design background.  That's why I like to draw.  You'll see that around here from time to time.  My ears perk up whenever I hear the word, "coffee."  I smile when I see dogs.  I'll always be a Philly girl at heart.  I'm all about farmers markets.  I often crave fried chicken.  I like to take walks, watch reality shows, browse around Target… oh, and cook.
Meet Joe.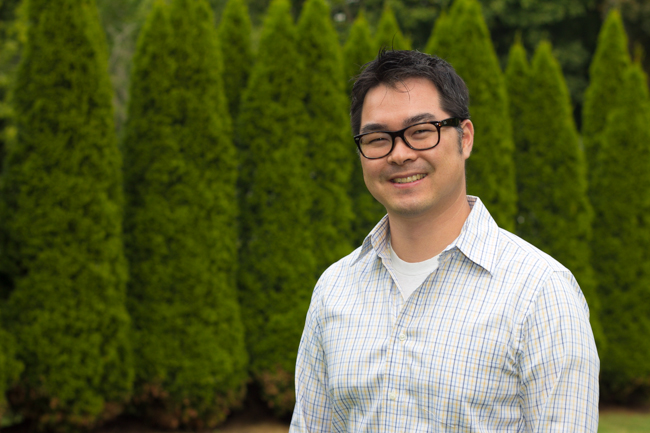 This is my husband Joe. He's a graphic designer with an advertising background. He loves to take photographs and film videos.  He spends his free time keeping up with technology, learning about business, and watching sports.  His favorite thing to do is play basketball.  He's a big thinker and a good listener. He could eat sushi and strawberries all day.  He doesn't cook at all and secretly knows more about the latest celebrity gossip than I do.
Welcome to our "Yoon-iverse."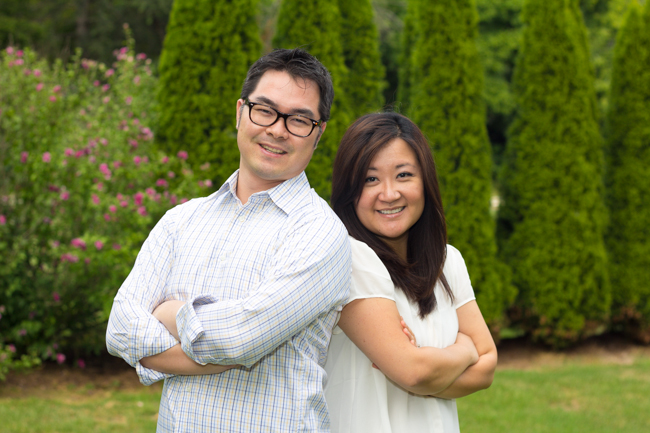 We have been married for over 5 years and just recently moved to the suburbs of Chicago.  We like to watch movies, read magazines at Barnes & Noble, travel, and document life.  We both enjoy creative work, and aren't afraid to take risks. People think we're brave or crazy.  We just completed a Kickstarter campaign to raise funds to create a new online cooking show, Bits & Pieces.  We were also able to give this website a makeover.  Thanks to our Kickstarter backers, we spend our days working on our website and show together.
Frequently Asked Questions:
Are you a real chef?
Yes, and my student loans prove it.  I was working as a fashion designer at a stressful job, but would come home and unwind by cooking.  Eventually, I left the industry, and enrolled in the French Culinary Institute, located in NYC, and graduated in 2007.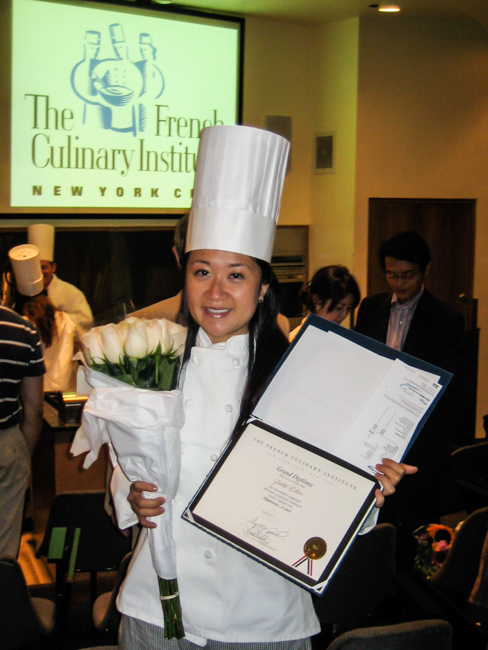 What is your culinary background and history?
Put your feet up, and let's chat.
While I attended culinary school at nights, I worked during the day.  I got a job as a counter girl, frosting and selling cupcakes at Buttercup Bakeshop in Manhattan.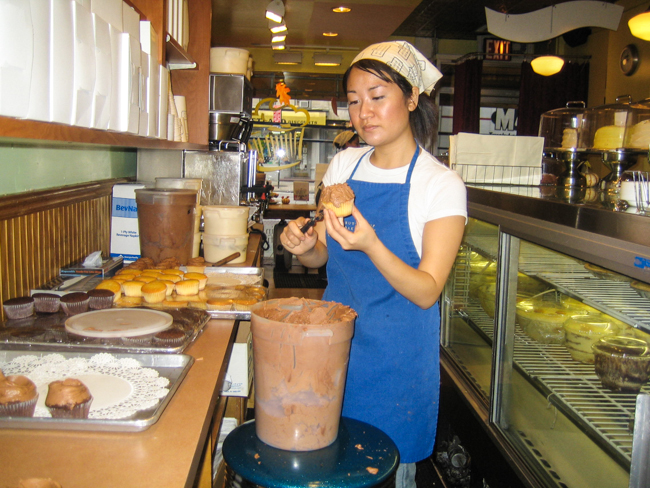 Eventually, I got promoted as a baker and got to make the cupcakes, banana puddings and decorate cakes!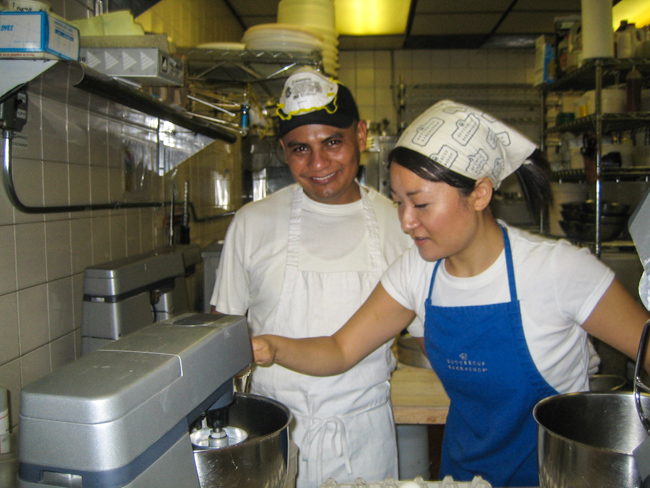 After graduating, I got a job in the office for the TV cooking show, Lidia's Italy, with Chef Lidia Bastianich.  I also worked as an assistant cook / food stylist for Lidia's live TV appearances and cookbook photo shoots.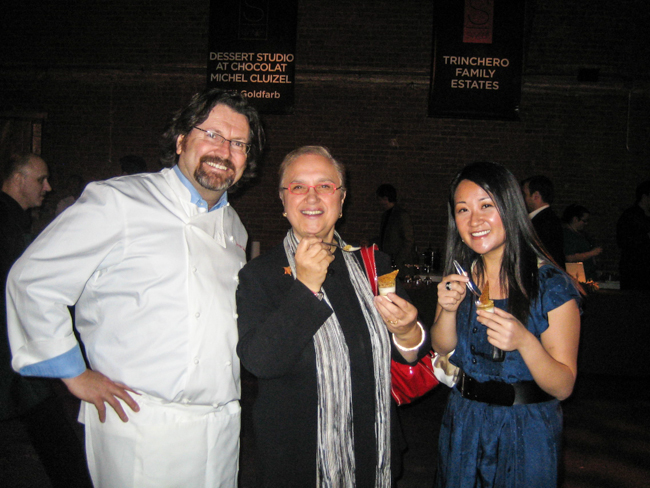 Through working with Lidia, I got to attend cool social events and meet people like Giada De Laurentiis from The Food Network.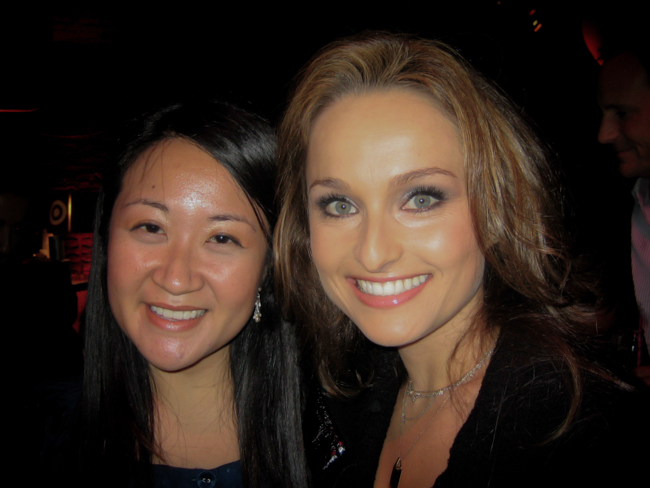 Then I went on to freelance food styling, where I got to do work for magazines and ads.  I even got to work for people like Rachael Ray. Here I am cooking in her TV show studio kitchen.  Yum-O!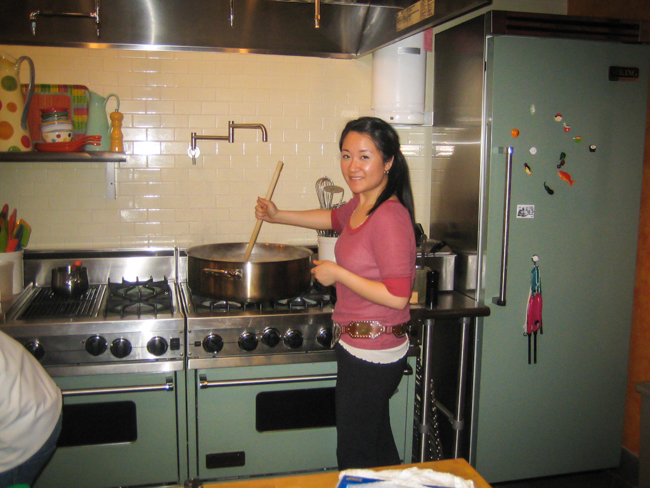 And here I am with Rachael Ray after working for her live cooking class & book signing event at Macy's in NYC.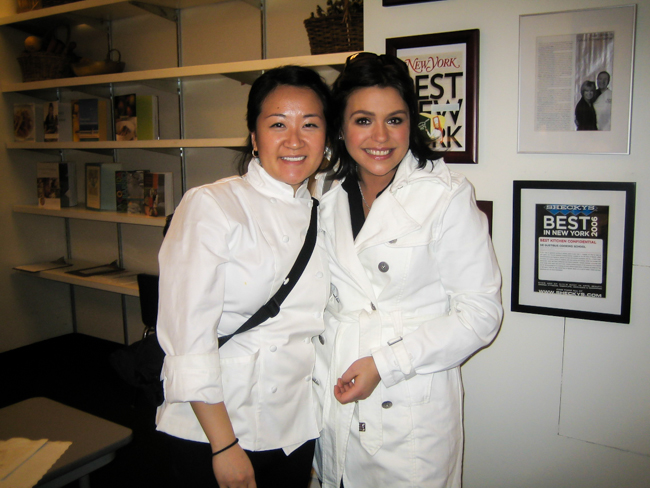 Joe and I got married in 2008, and I got a job at Whole Foods as a Demonstration Chef.  I had to teach people how to cook everyday.  This was good training for me, and it helped me to learn how to play with different ingredients.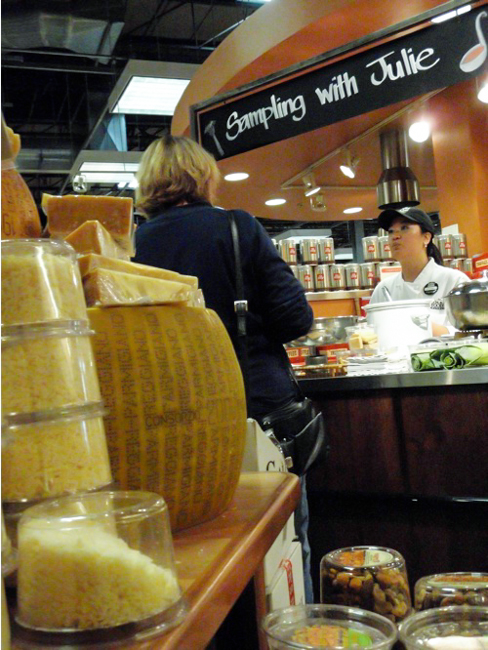 Then Joe and I moved to Southern California, and that's when I launched my own private cooking classes and catering business.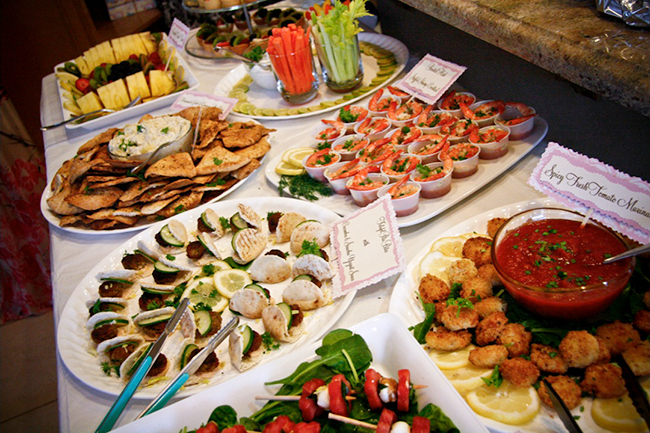 The catering part was successful, but my heart was more into teaching.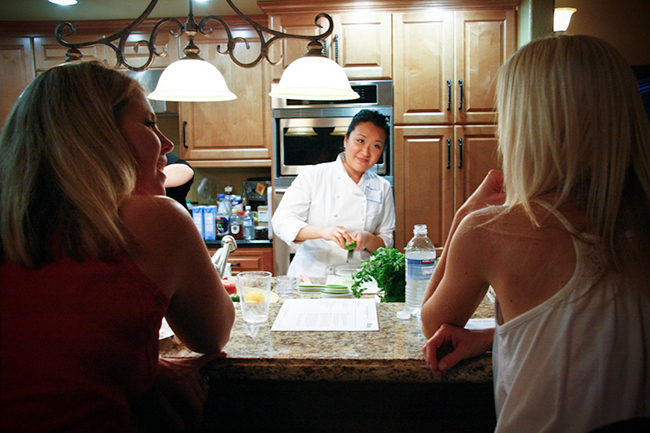 That's why Joe and I started this blog in 2010.  We made a few cooking videos, sort of like our "pilot" season, but stopped after a while because Joe got too busy at work.  But 3 years later, thanks to our Kickstarter backers, we are now able to continue our dream and work on our online cooking show together.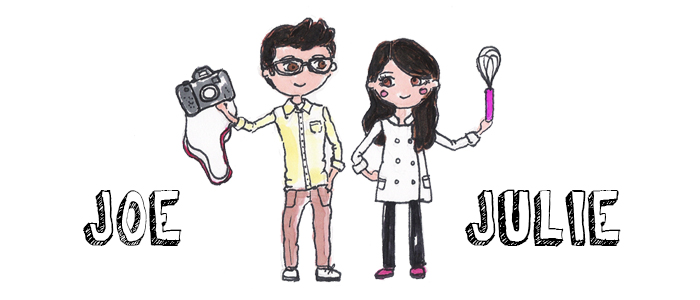 What kind of food do you make?
I like to describe my cooking style as fun, fresh, and eclectic. I try to use what I have on hand, cook with things in season, and come up with recipes that are creative, yet approachable.  That's how the concept for Bits & Pieces was born.  It's a show about being resourceful and creative in the kitchen.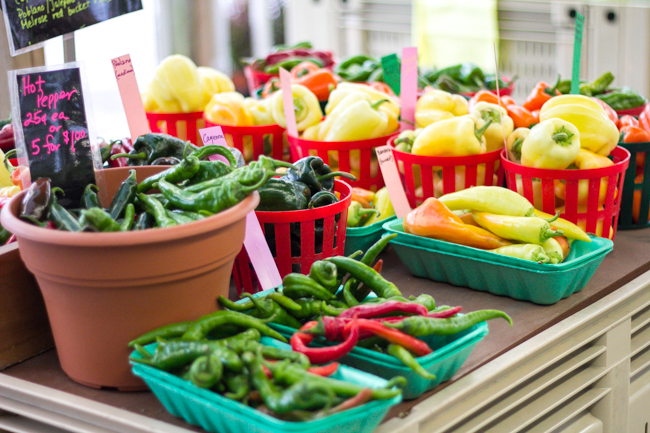 What is your end goal and how are you able to earn a living?
Our end goal is easy.  It's to build a brand and a business by doing what we love.  We're currently in the start-up phase of our show, so right now, we're kind of broke.  So don't expect to see too many lobster recipes on here.
We have partnerships with ifood.tv, YouTube, and Foodie Blogroll.  This means our website and videos are supported by ads.  Anytime people come to our site or watch our videos, we earn a little money.
What are each of your roles?
I do all the recipe developing, cooking, prop styling, teaching, and writing.  And if you see any vlogs (video diaries), that would be my doing too… the shaky cam, quirky editing, and general silliness.
Joe designed everything you see.  He takes the photos, films and edits the cooking videos, and handles all the tech and website maintenance stuff that I ignore.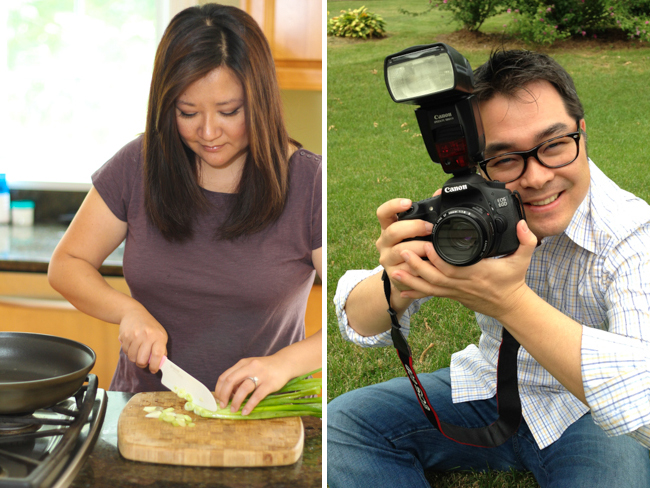 Don't you ever get into arguments working together?
Yes.
What kitchen tools and equipment do you use?
My current favorite knives are the Kyocera Ceramic Santoku, and the Shun Ken Onion.  For camera equipment, we use the Canon 70D and the Canon 60D. And it does take a whole bunch of other knick knacks to take pictures for our blog and film our videos.  You can check out the tool kit category of our blog. We'll continually be updating that.
How do you come up with your recipes?
I like to just rummage through my fridge and pantry, or keep emergency items in my freezer, and whip up something last minute, depending on my mood or the weather outside.  And I'm kind of a hippie when I go grocery shopping.  I peruse the aisles and just see what calls out to me.  That's why I usually cook in season.  Whatever is in season will usually be the freshest, tastiest, most eye-catching, and cheapest.  And then I base my recipes around what I have.  But because I'm pretty laid back about my groceries, all of my recipes are meant to be jumping off points or idea starters.  You don't like or have a particular ingredient?  Substitute it with something else or leave it out if you want.  No biggie.  The point is to chill out and have fun.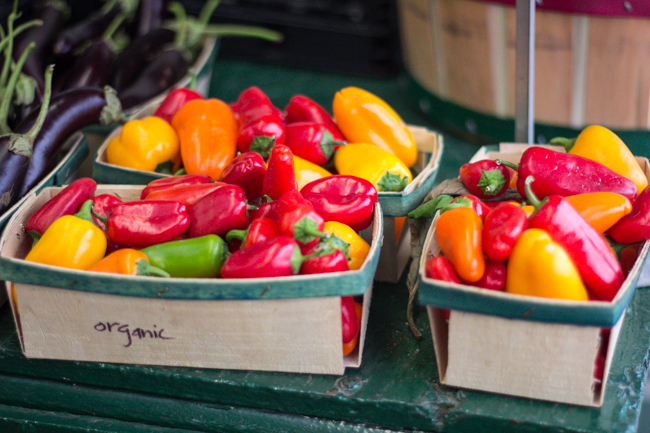 SOCIAL MEDIA:
If you cook something from this blog, we'd love to see your dish!  Post your pics on our Facebook Fan Page and be part of the community.
To see what we're up to in our daily lives.  Follow us on Instagram: Julie : Joe
To see pretty things I like, follow my boards on Pinterest.
For quick updates and interesting news, Follow us on Twitter: Julie : Joe
Subscribe to our MAIN YouTube channel, and you will get notifications of new recipe videos.
Subscribe to our VLOG YouTube channel, and you will get notifications new vlog videos of our travels, events, product reviews, etc.
PRESS:
Features:
My Stuffed Halloween Peppers featured on DisneyBaby.com
My Beef Kimbap recipe featured on RasaMalaysia.com
Our Small Bites design line featured on OhJoy.com
My review on Bobbysuesnuts.com under Look Who's Talking
Interviews:
Interview on FlavorfulWorld.com
Interview on Kokoliving.com
Interview on KonnectMagazine.com
CONTACT US:
For general inquiries, email us at office@chefjulieyoon.com

COLLABORATIONS:
SUPPORTERS: Our Kickstarter Backers:
Agnes Chi
Alan Kwan
Albert Kim
Alice Mun
Alina Levy
Amit Mathew
Amy Park
Andrew Ahn
Angela Loera
Angela Pastorello
Angie Choi
Ashley Mondisa
Avena
Beryl Firestone
Bhavic
Chae Yoon
Charles Lee
Charmer
Cheryl Byun
Chris Fiske
Christian Bartsch
Christina Park
Connie & James Y
Dalassa
Dan Ra
Daniel Ahn
Daniel Sohn
Dukjoon Chang
Edwin Lui
Eileen W Rapuano
Elisa Yoo
Eric Martin
Eric Shieh
Esther Rhee
Gaelen
Gene Choi
Gloria Kuang
Grace Kim
Hannah Ha
Heather Disco
Heather Tang
Hyunjin Choi
Ingrid Ling
Jae Kim
James Choi
James Pack
James Wang
Jane Moon
Janet Yoon
Janice Kim
Jason Steed
Jay Bartelt
Jay Kim
Jayne Becker
Jenny Yu
Jerry James Stone
Jessica Kim
Joe Suh
John Kim
Jooho Kim
Joseph Flaherty
Juana La Iguana
Jun Kim
K Whee
Kevin Coons
Kevin Yu
Key Yoon
Laura Izumikawa
Leslie Kang
Linda Shieh
Lisa Cho
LK Toepfer
Luis Rincones
Maureen Kananen
Menutex
Michael Wysong
Michelle
Netta Shalgi
Nick Barratt
Nicolle Chambers
Oskar Eriksson
Patrick Sessions
Paul Yoon
Robert Cho
Robert Suizu
Ron Read
Rosanne Yu
Rosely
Sally Pai
Sam Hur
Samantha Jackson
Sangmi Ra
Sarah Lee
Sarah Yoo
Scott Ralph
Sehaj
Seri Hwang
Sharon Pyun Yoon
Shauna J. Lee
Shawn Davis
Simon Linder
Sun Ho Yoon JR
Susan Park
T. Nguyen
Terissa Wardwell
Tony Yu
Vanessa Paik
William A. Burgess