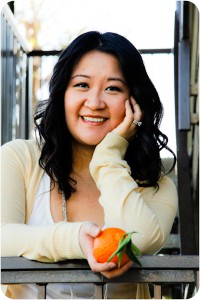 She's Julie, a Pennsylvania born and raised, ex fashion designer-turned chef.  Yup.  She traded a life of champagne and caviar dreams for adventure, growing pains, self discovery, peace of mind, soul satisfaction, and joy.
After working mainly in food styling in New York City, and then launching her own business in California, she now concentrates on blogging, shooting videos, and simple laid-back cooking.  Her passions include lemons, fresh herbs, colorful kitchen utensils, fried chicken, strong coffee, fluffy dogs, and almost all reality TV.  Her mission is to always play with her food, do things the easy way, take risks in the kitchen and help others find a cure to their recipe boredom.


He's Joe, her husband from Illinois.  He is a former art director in advertising who now takes care of all the computer stuff that she doesn't know how to do.  Without him, this website would be stuck in the 90's and adorned with clip art.
He's the photographer, web-designer, CEO, technical support, employee of the month and head of the dish washing committee.  He loves strawberries, basketball, electronic gadgets, Chicago sports teams, Korean food, learning about business, and sushi.

They currently live in Orange County, California and spend their days in front of the computer and in the kitchen.  When they are not busy blogging, they love to travel, read magazines at Barnes & Noble, and meet up with friends over a delicious meal.  You can usually find them at home, bickering as they shoot videos and occasionally trying to fight the battle of the bulge.