My Winter Maternity Photo Shoot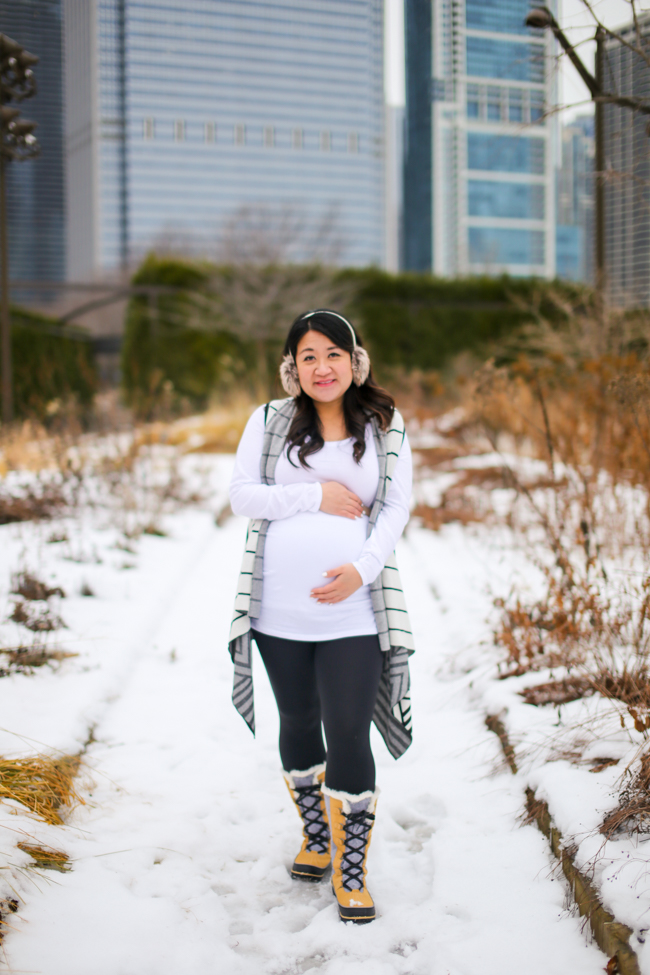 I'll be honest… I haven't been the best sport about documenting my pregnancy journey with pictures.  I even grew tired of the classic progressively-getting-larger bump pictures Joe tried to get me to do. First time pregnancy can be a sensitive and personal thing and sometimes with all the nausea, bloating, heart burn, back aches, and sleepless nights, you just don't feel so hot.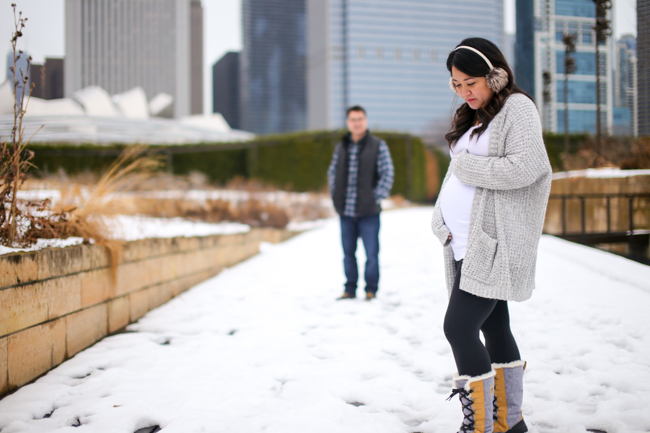 So I wavered back and forth about even doing a maternity photo session.  It was hard to carve out a time to do it, and it landed smack in the middle of the winter with the frigid Chicago weather.  I always thought that if the time came for me to do a maternity photo shoot, that it would be in the spring time with me donning a flowing dress, wearing one of those floral crowns and standing amongst the trees with the sun just cracking through the leaves at the perfect angle…haha!  But after I looked back at our wintry pics, I realized they still came out cute, even though I exchanged my flower crown for earmuffs!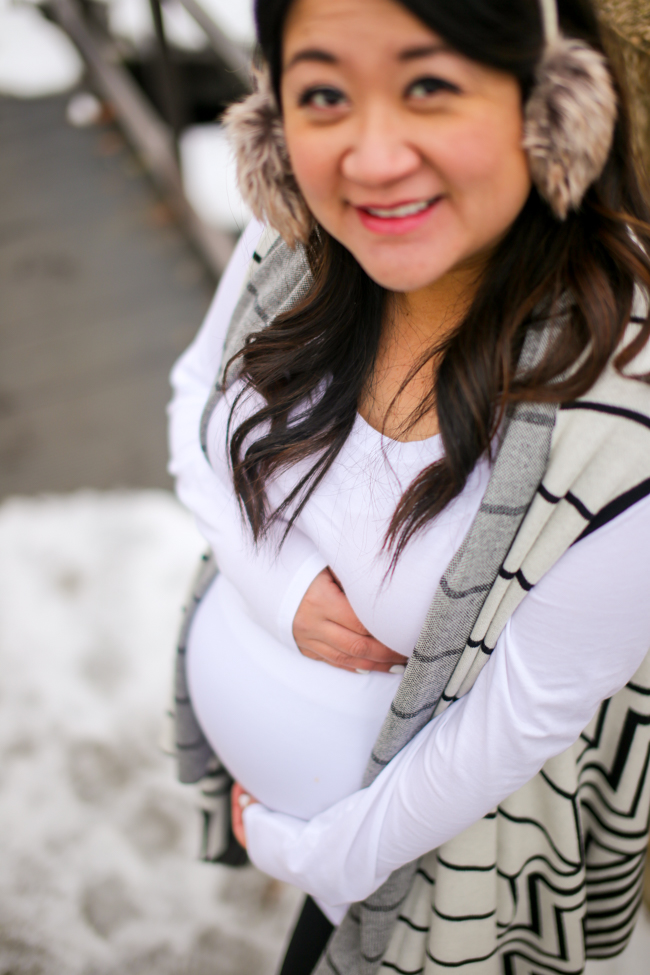 After reading a few blogs, I realized that the best time to take maternity pictures was when you're around 28-30 weeks pregnant, where your bump is clearly showing, but you don't feel so heavy, tired, or extra bloated with cheese on top. I'm so glad I followed that advice, because here I am now at 36 weeks, and I'm waddling around with sciatic nerve pain and maternity clothes that no longer fit!
We asked our friend Chef James Park to take our pictures for us in Chicago on Christmas Eve because that was the only time it worked for all of our schedules.  He did a phenomenal job and the poor soul even braced the cold for us. It was super crowded in the city that day so it was hard to find places without people all around us, but we still managed to get a few good shots.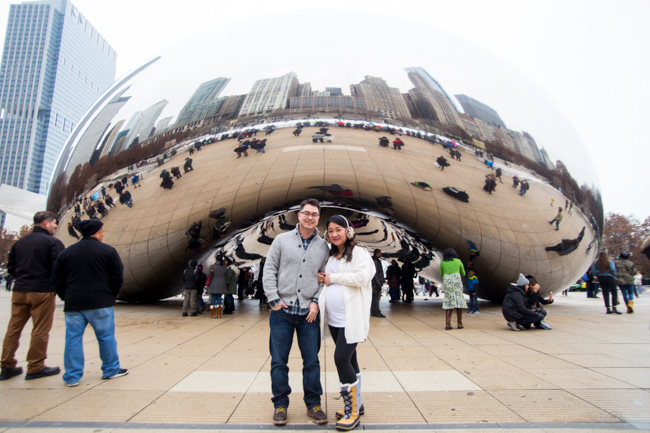 Without my coat on, my nose was runny and my eyes were teary, but we mustered up our smiles and made it happen. In hindsight, I'm so glad we took these pictures, because even though I wasn't really in the mood to do this at the time, I'm glad I didn't listen to myself and now have this part of my journey documented.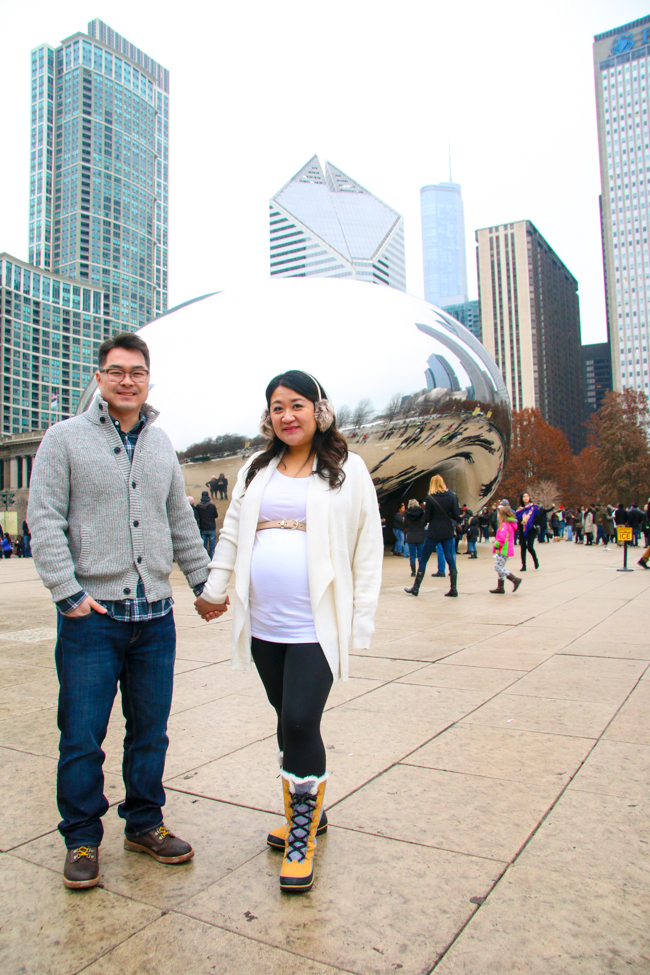 We weren't too sure where to start because everywhere in the city on Christmas Eve had tons of people with their selfie sticks getting in our shots, but we made our way to Millennium Park to try to capture ourselves with the "Bean."  I love all the architecture in the background and how the pics capture a little bit of where we live.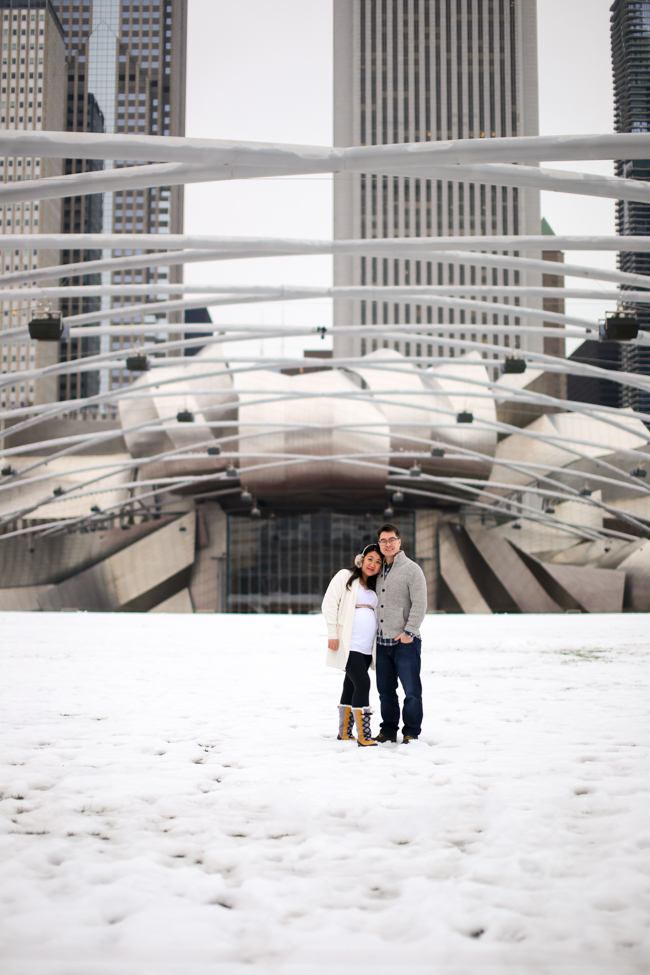 For some of the shots, we had to do a little bit of rule breaking such as ignoring signs and jumping over ropes.  And even though I really wanted to take our pics on the sly, we ended up attracting a lot of stares and people going "aww how sweet." Haha…oh well, I guess that's what you get when you go to a touristy spot during the holidays! And speaking of the holidays, this picture below ended up being our Christmas card this year.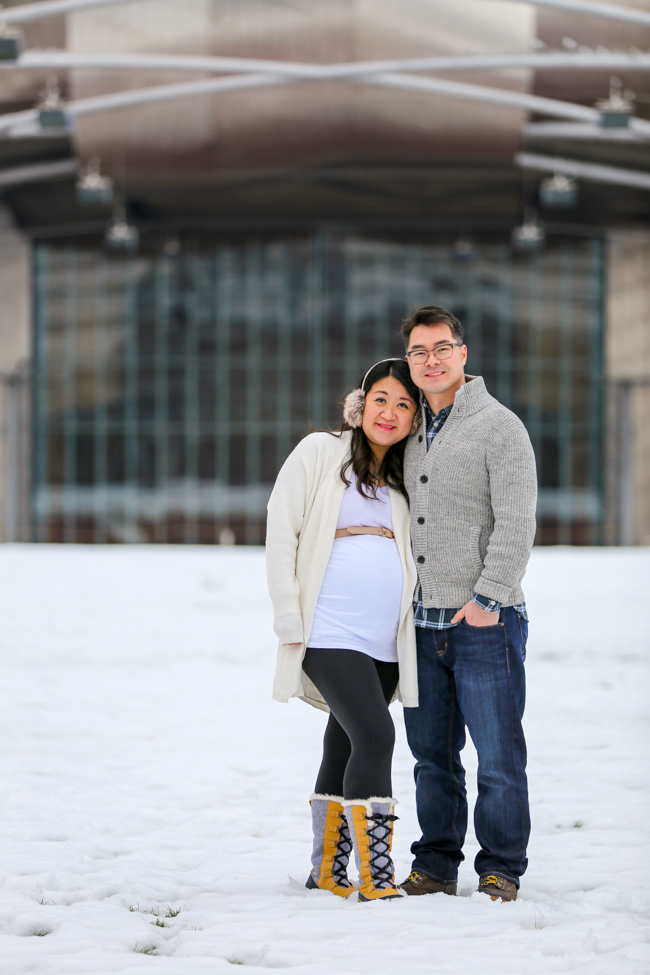 But we did manage to find a quiet little spot (after disregarding another caution sign), and that's when we were finally able to let our guards down and relax a little more.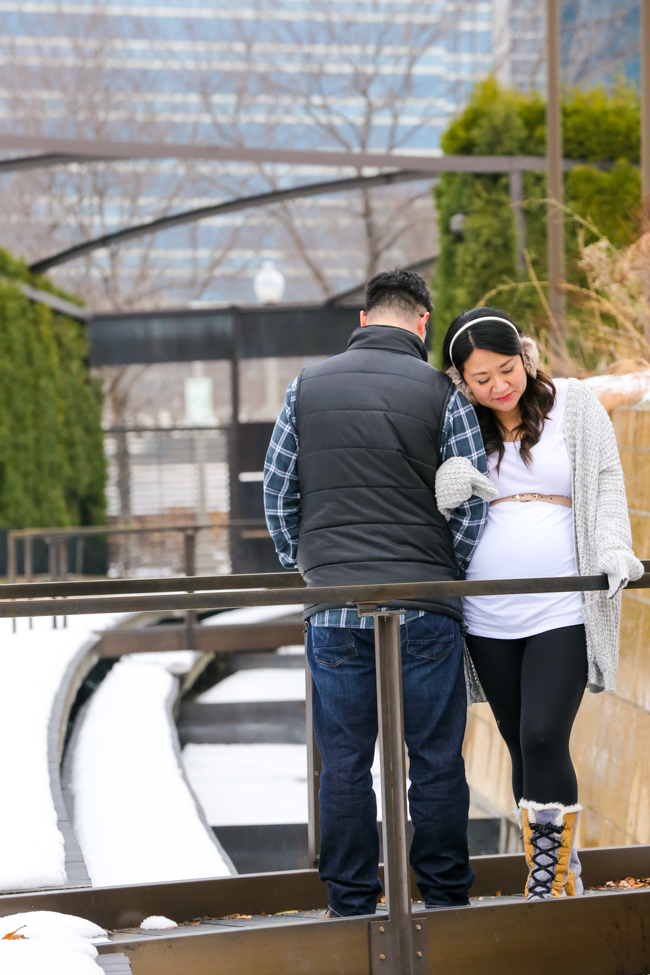 Posing together can be awkward, especially if your husband is goofy, your photographer is your friend, and no one is directing you, so it helped that I took a look at some other maternity photo sessions in advance to snag some ideas.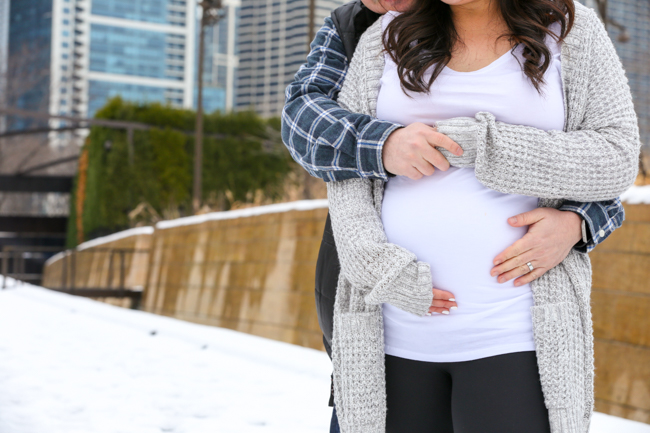 But some of it was also just pure experimentation and trying out different angles, which I think came out pretty well.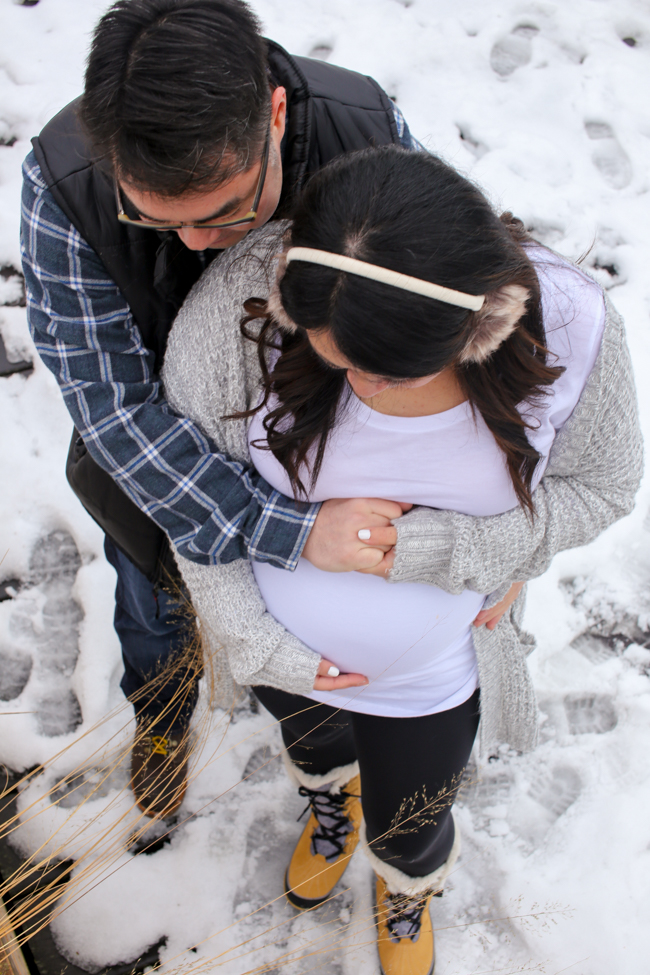 Choosing an outfit was a difficult decision as well, so I made sure to bring a couple different cardigans and accessories to be able to quickly switch things up if I got bored. I tried to stay with neutral colors because I wasn't sure what would be in the background, but I think it ended up working really well and set the peaceful tone of our shoot, especially with the snow.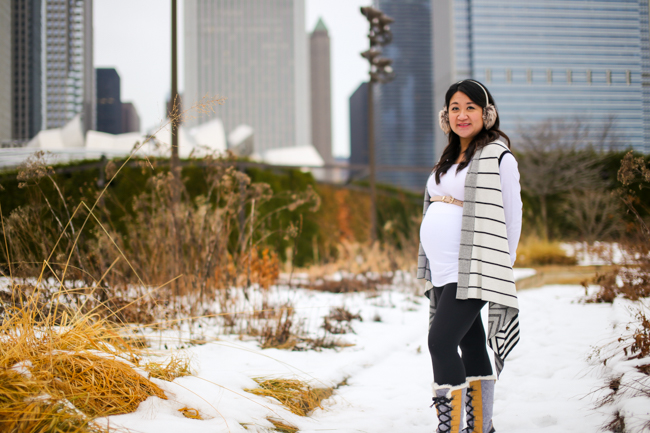 I was a little self conscious about taking my solo shots at first, but ultimately I just let go and tried my best to be confident.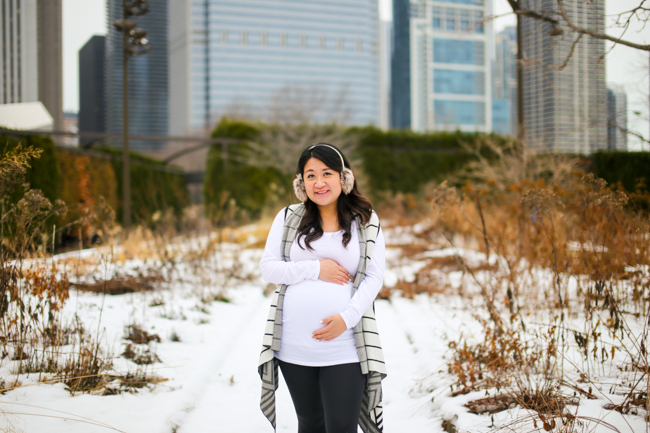 After all, in the end, these pictures are more about capturing a moment in time and showing the excitement of me transitioning into being a first-time mom, rather than worrying about being some kind of model.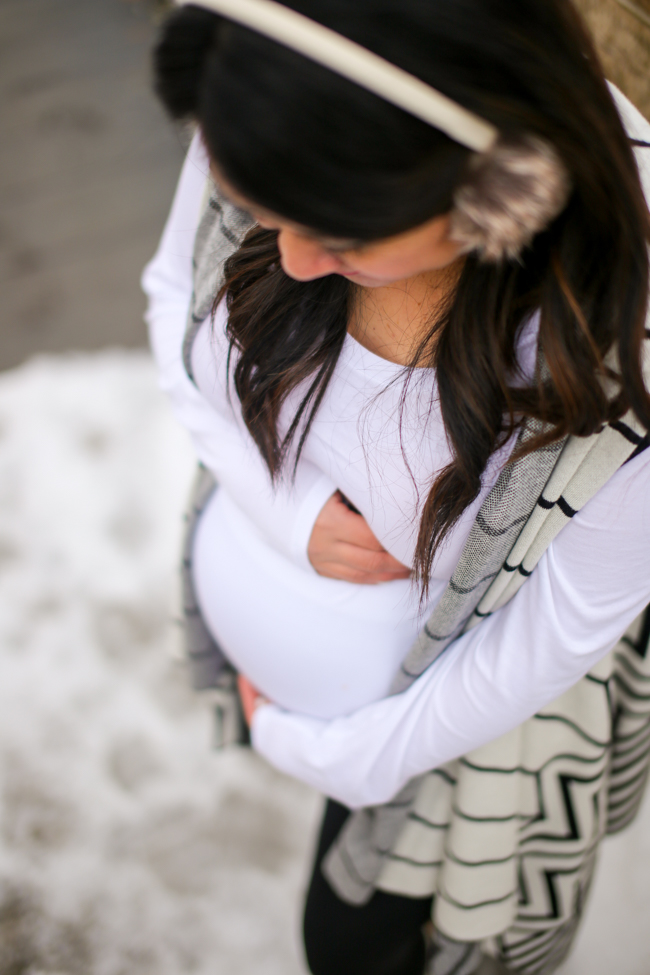 We were able to capture a few sweet and honest moments, which now I can look back at fondly, especially at times likes this where I'm currently suffering from the pain of being in the final home stretch before I pop.  It's so easy to get wrapped up in the discomfort as well as the busyness of nesting and trying to get everything done before our baby makes his grand entrance into this world.
Our last location was at the Chicago Riverwalk under the bridge area right as we were losing daylight.  But the change in lighting brought out a more glamorous vibe that wasn't even intentional.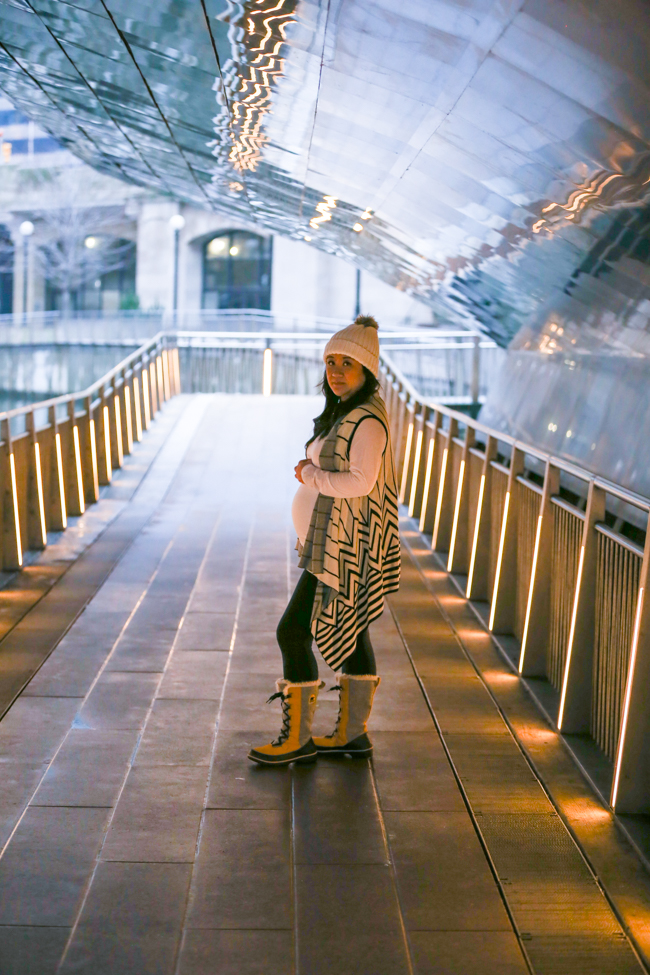 So we rolled with it and took a few more artistic photos.  And by the way, I'm glad I brought my hat because it started getting really cold at this point!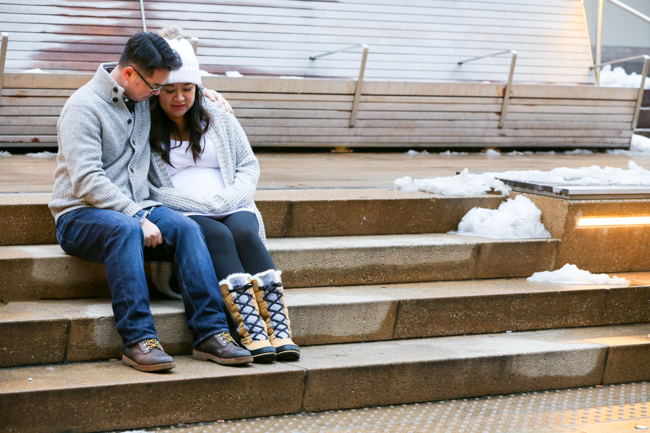 Our last few photos were taken with us simply sitting on the steps, and James was able to capture a few candid moments, like us being greeted by a pair of ducks.  I wonder when this couple will have ducklings of their own!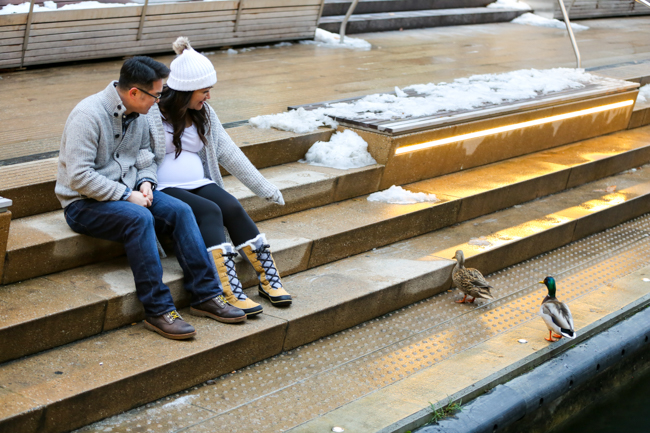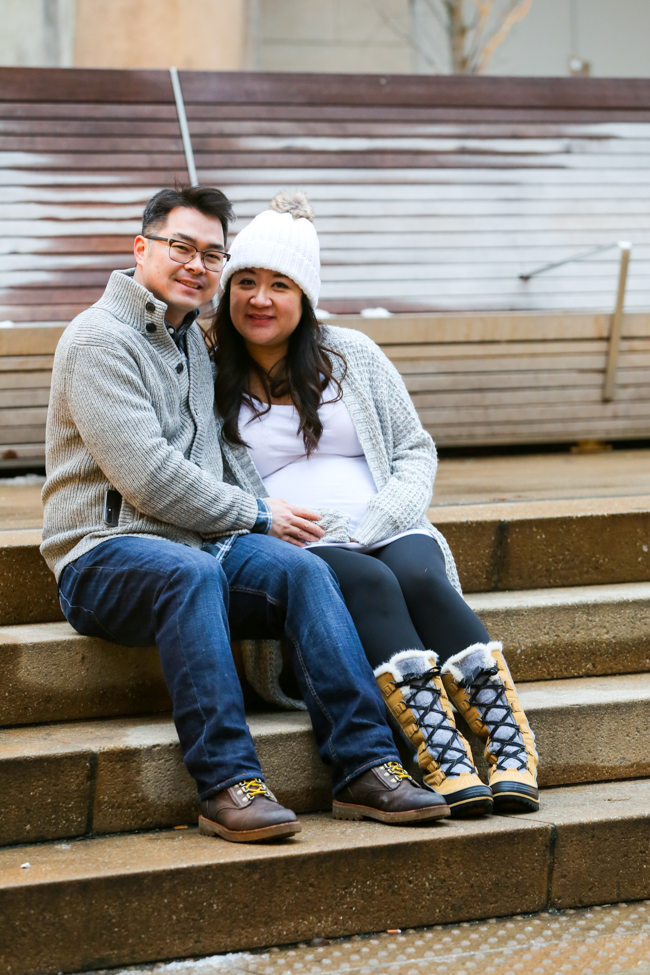 I thought this maternity photo session was going to be super awkward as heck and we were going to look really unnatural and weird, but it ended up being a lot more fun, quick, and painless than expected.  So if you're on the fence about taking these kinds of pictures because you're not really "feeling it" like I originally was, I encourage you to give it a second thought.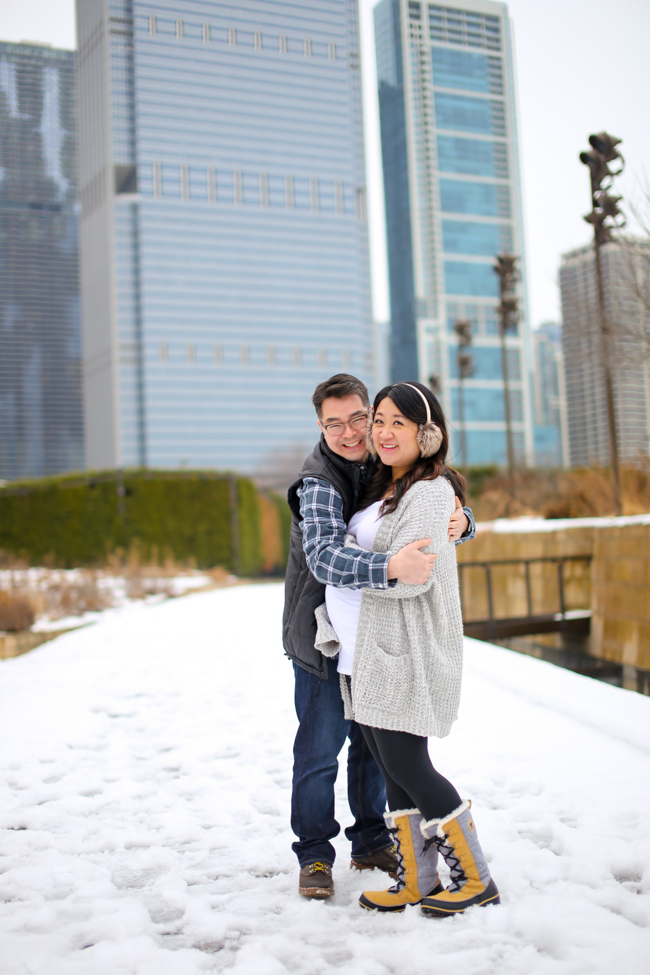 Thanks to our friend James Park for working for his dinner and sacrificing some of his time on Christmas Eve to capture this important moment for us.  And thanks to the rest of you who have been following our pregnancy journey and have been giving me grace while patiently waiting for more recipes. Let me pop out this turkey first and then I'll get back to it. Trust me, my brain is exploding with ideas and I'm itching to get my groove back soon!