Baby Food Challenge : Celebrating 25,000 Subscribers!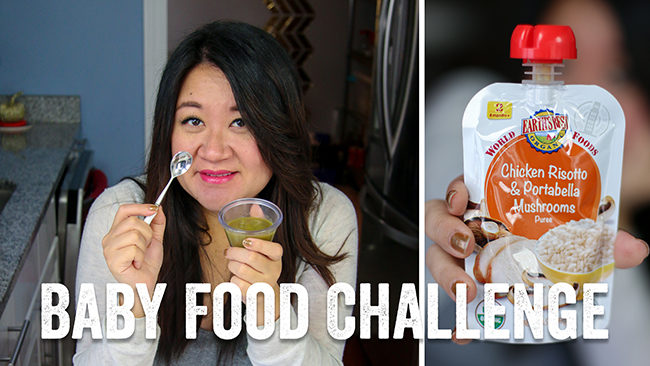 It's been a while since we filmed our last food challenge video, so we're back with a new one!  We were supposed to do one when we hit 10,000 subscribers on YouTube, and then 20,0000, but life got busy and we dropped the ball. So now that we've reached over 25,000 subscribers, we knew we couldn't ignore it any longer, and had to pause to celebrate. These milestones are huge to us and we never take them for granted!
We decided to do the Baby Food Challenge because as you probably know by now, we're having a baby! We've always wanted to do it anyways, and we couldn't think of a more appropriate time than now.  You can watch our pregnancy announcement  video and baby gender reveal party video if you want to follow our journey so far.
Neither Joe nor I have ever tasted baby food before and we didn't know what to expect. I figured it would be mushy and bland, but I did not expect some of the flavors to be so completely nauseating! In fact, there are several times in the video where it really looks like I'm about to toss my cookies, and those moments aren't exaggerated! My first trimester was pretty bad, but eating a spoonful of some of those purees brought back all those gag reflexes.
Joe and I decided to have a friendly competition to see who would do best in a blind taste test. I was so sure that I'd beast him, being the chef in the family and all, but I guess pregnancy does weird things to my taste buds and I didn't do as well as I expected. But then again, we purposely selected the baby foods with the weirdest flavor combinations so it would be more of a challenge.  You can see us suffer in our fun celebratory video below:

WATCH OUR BABY FOOD CHALLENGE VIDEO HERE:

You know, I wasn't sure if I'd be up for making my own baby food for our future kid(s), but after tasting some of those nasty concoctions, I am even more motivated than ever! All I kept thinking the whole time we were tasting these foods was "poor babies!"
I've seen some babies refuse to eat their purees or make funny faces when they try some of these pre-made foods for the first time, and now I don't blame them one bit!
I'm sure if we stuck to only the fruit based ones, everything would've been more palatable.  In fact, I'm pretty sure I will be purchasing those when the time comes because they're so convenient.  But for this challenge, I was more interested in the flavors such as, "chicken risotto with portobello mushrooms," and "salmon with vegetables." Welll… I tried them once and will never do it again!
We hope you enjoyed our fun little video. Thank you if you are one of our 25,000+ subscribers on our YouTube channel. We love reading all the encouraging comments and feeling the genuine support from the community. Sometimes I have to step back and remember the time we were so excited that we reached our first 1000 subscribers. That was no easy feat, and it felt monumental to us.
Our channel is growing a lot faster these days, but we know we have to continue to work hard. It's been difficult with this pregnancy, but I'm hoping to jump back on the horse soon. Reaching these milestones always motivate us to do more, so we thank you from the bottom of our hearts!