Spicy Chicken Stir-Fry (Dakgalbi: 닭갈비)
I've had Dakgalbi, or Korean Spicy Chicken Stir-Fry before, but it was only when we ate it in Korea over this past summer that my eyes were opened and my life was changed forever.  While eating it, I had these observations:
1. Dakgalbi doesn't have to be extremely spicy in order to taste good
2. Koreans REALLY like cheese
3. The fried rice at the end is EVERYTHING.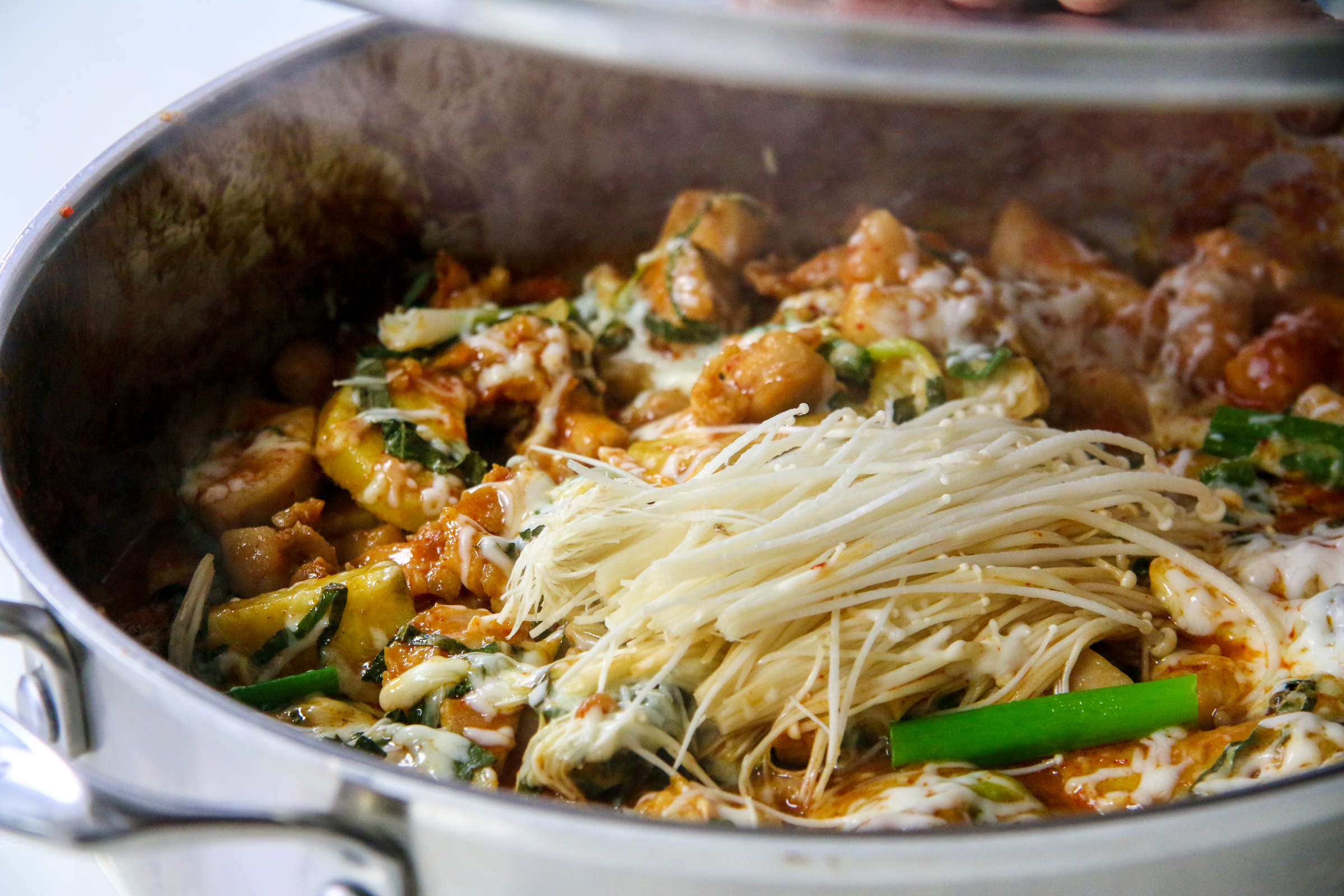 Who knew that mozzarella cheese could pair so well with Korean food?  Some purists might be against this idea, but they all need to calm down and give cheese a chance.  The creaminess really mellows out the spiciness, and the chicken looks so appetizing with a string of gooey cheese hugging it when you pull it out of the pan.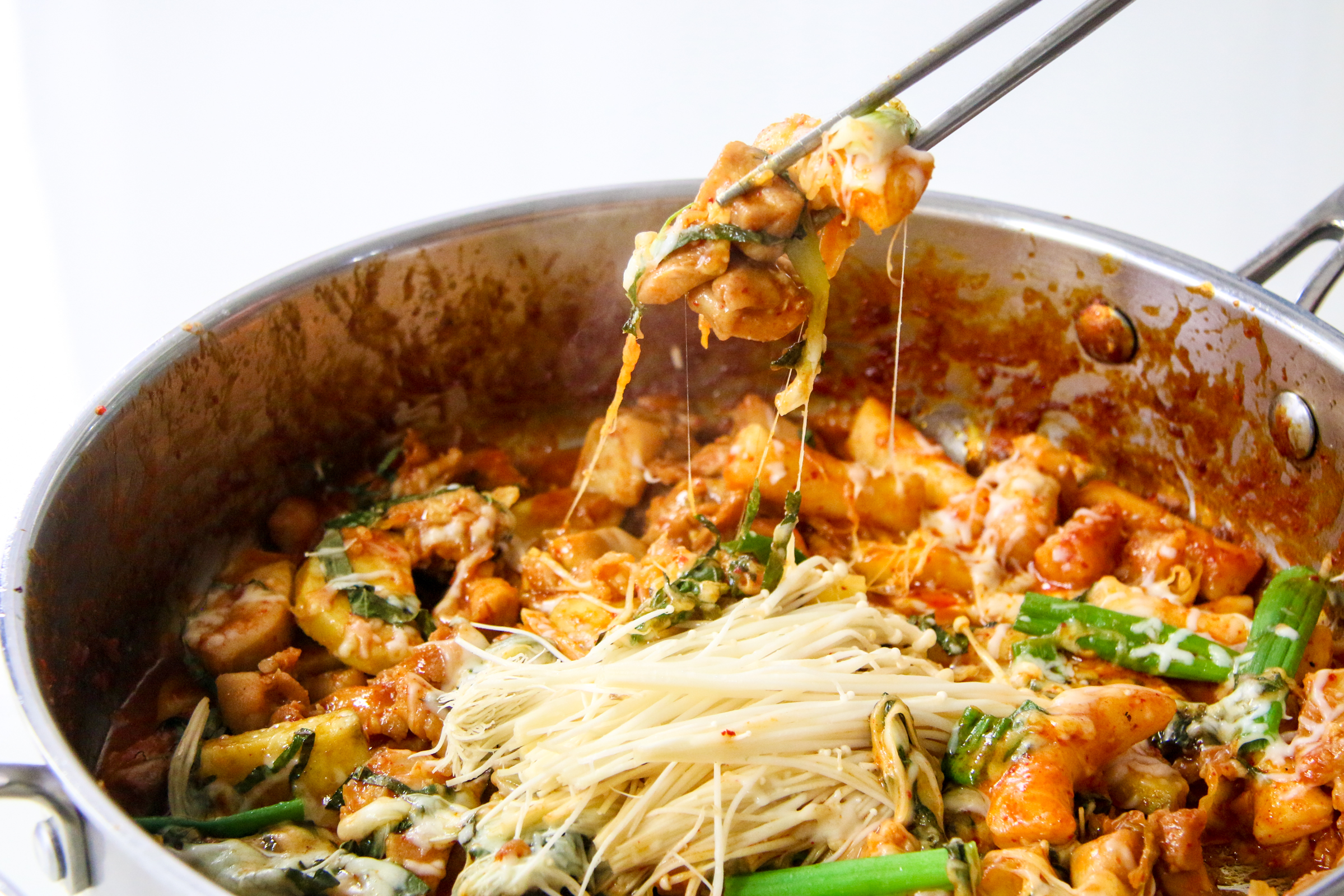 But in general, I liked every part of the experience.  At the restaurants in Korea, the raw ingredients are brought to your table, and you slowly watch in anticipation as it cooks (while you salivate).  Every element works perfectly together, from the crunchy cabbage, to the soft Korean sweet potatoes, and squishy rice cakes that absorb all the glorious sauce.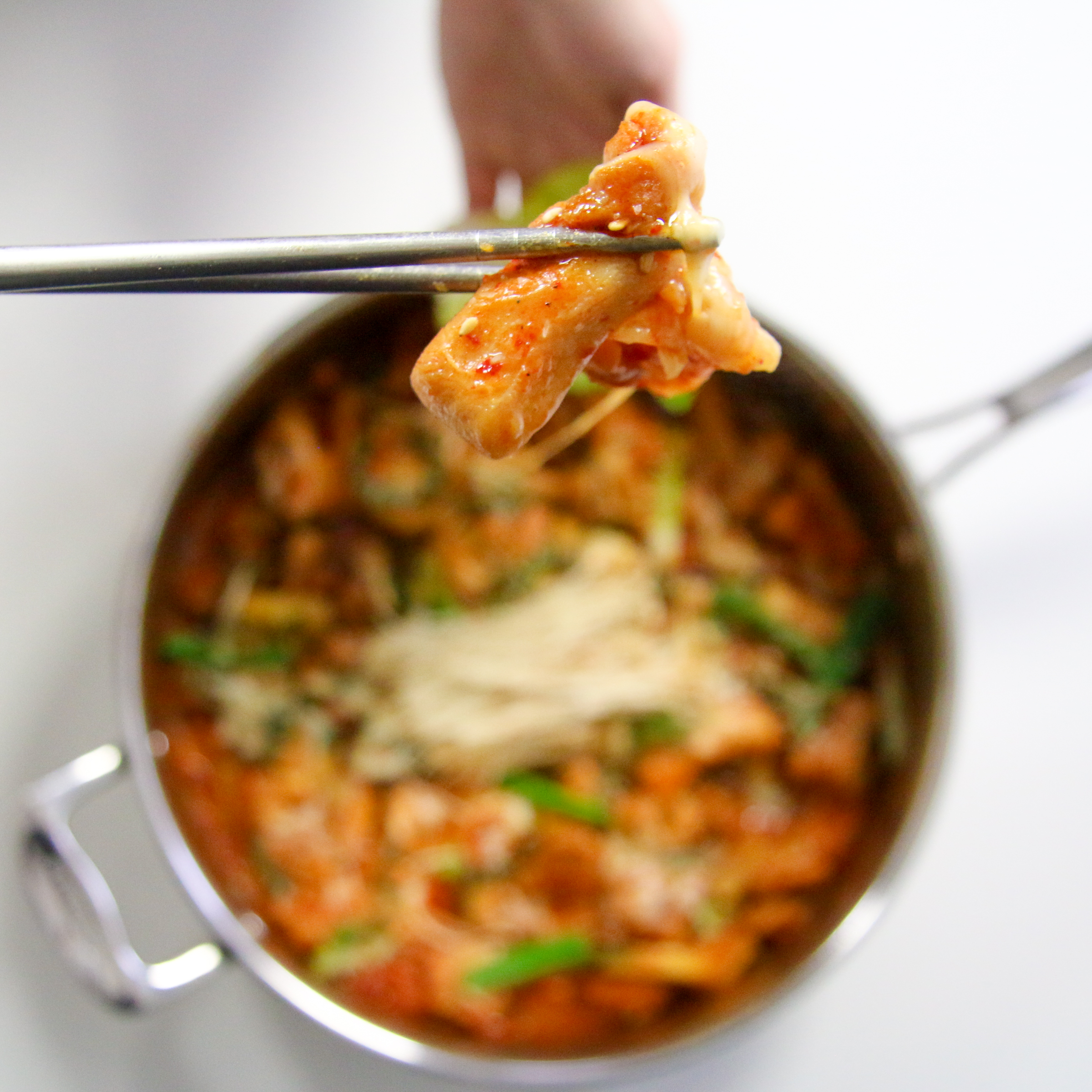 But what sold me the most was the fried rice they made with the chicken, vegetables, and sauce leftovers at the end of the meal.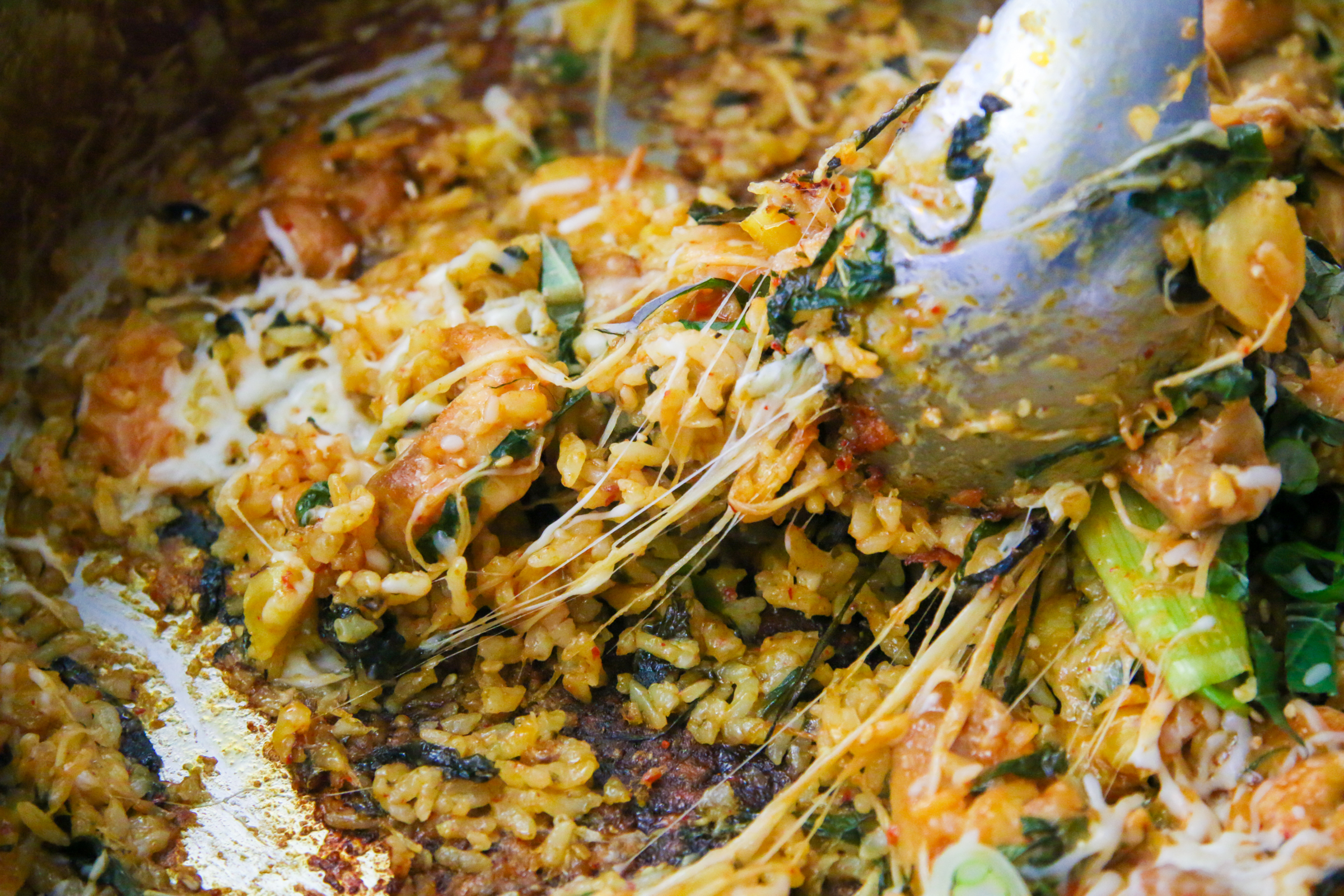 It's amazing how with an addition of some roasted seaweed and sesame oil, the flavors can completely transform into something else. I love that it's a two-part eating experience and every morsel is more enjoyable than the next.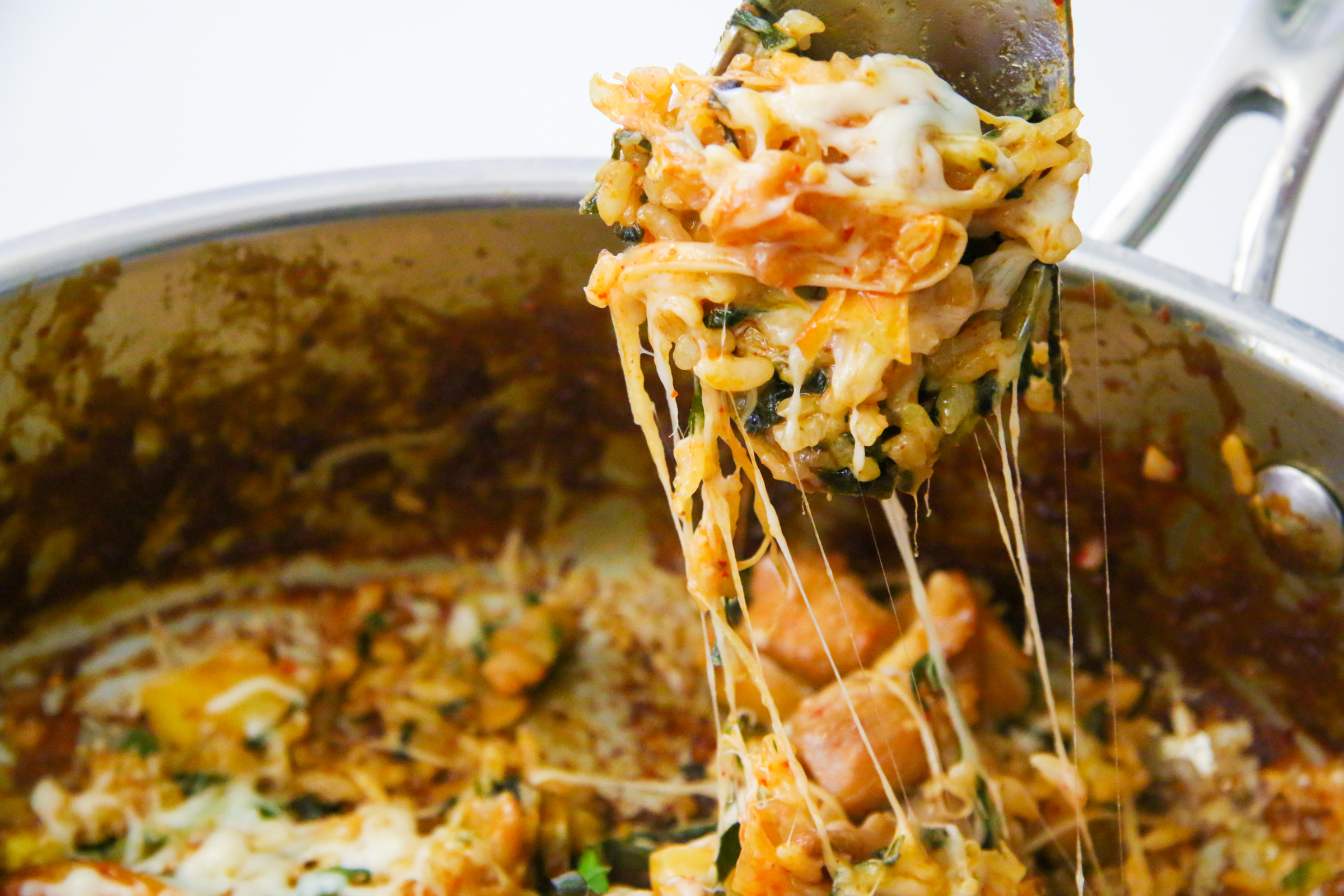 Korea is all about dishes based around communal eating, so it's probably best to make this when you want to impress some guests.  But honestly, I'll make this for just Joe and myself.  There are a few more ingredients involved in this dish than my regular recipes, but you'll see that it was worth pulling every ingredient out of your pantry when you take that first bite. See how I make this Spicy Chicken Stir-Fry (Dakgalbi) and Fried Rice in EPISODE 7 of Bits & Pieces SEASON 4 below:
WATCH HOW I MAKE KOREAN SPICY CHICKEN STIR-FRY (DAKGALBI) & FRIED RICE HERE:

The first thing I couldn't figure out when we had this in Korea was how they made it look so fiery red without it being super spicy.  After some research, I realized it was all due to a secret ingredient: Korean curry powder!  This is different from regular curry powder that came in your spice rack.  Korean curry powder is seasoned and it's the magic that makes this chicken stir-fry so addicting.  If you're worried about what to do with leftover Korean curry powder, all you need to do is add water and boom… you've got Korean curry for another meal!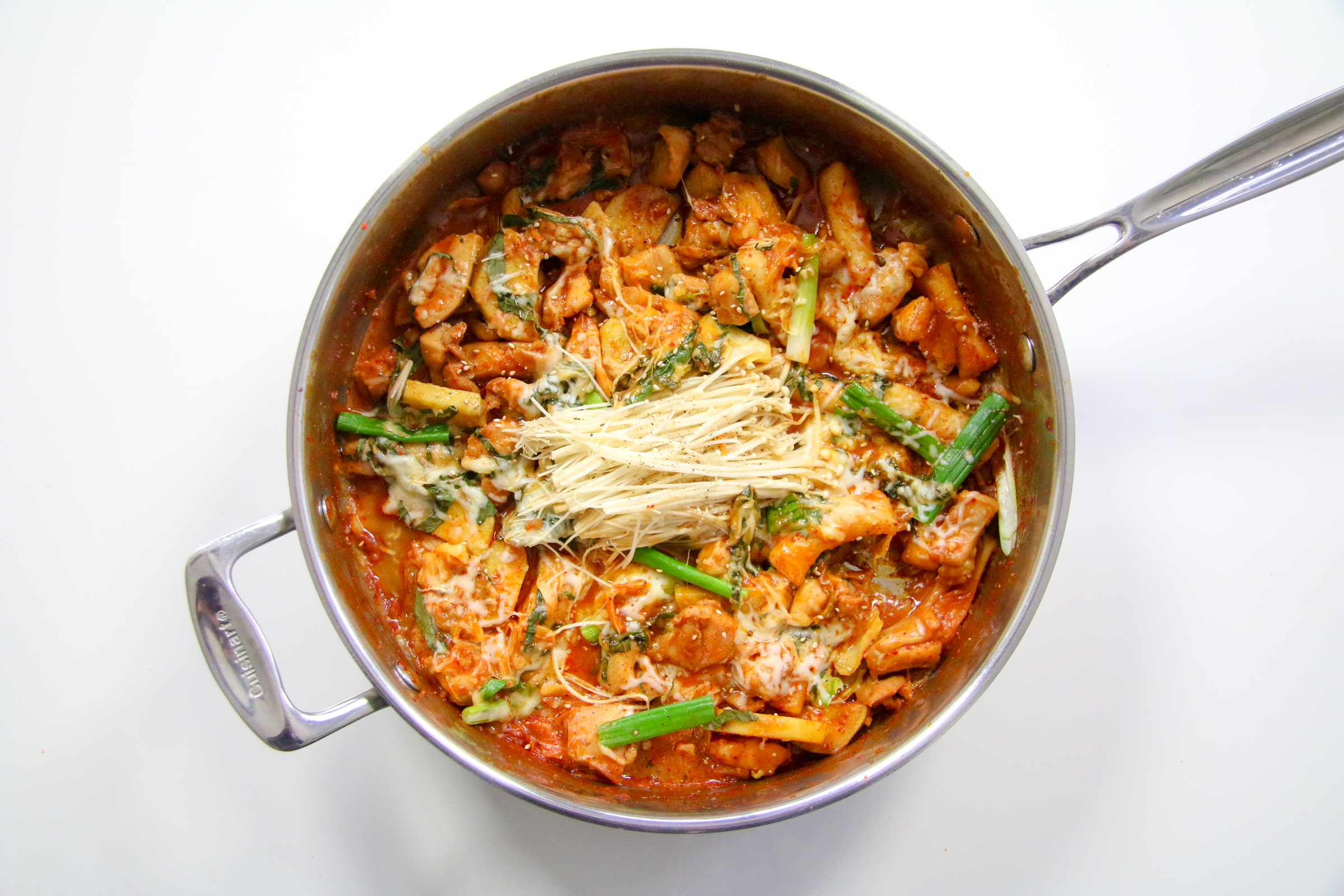 I noticed that each time we ate Dakgalbi in Korea at the restaurants, they would throw all the ingredients together into the pan at the same time and call it a day.  The chef in me was a little bothered by this method since I know that the ingredients cook at different times.  So I give a few of the ingredients, like the sweet potato, a head start.  But if you're feeling lazy, then do it the Korean restaurant way and dump it into the pan all at once.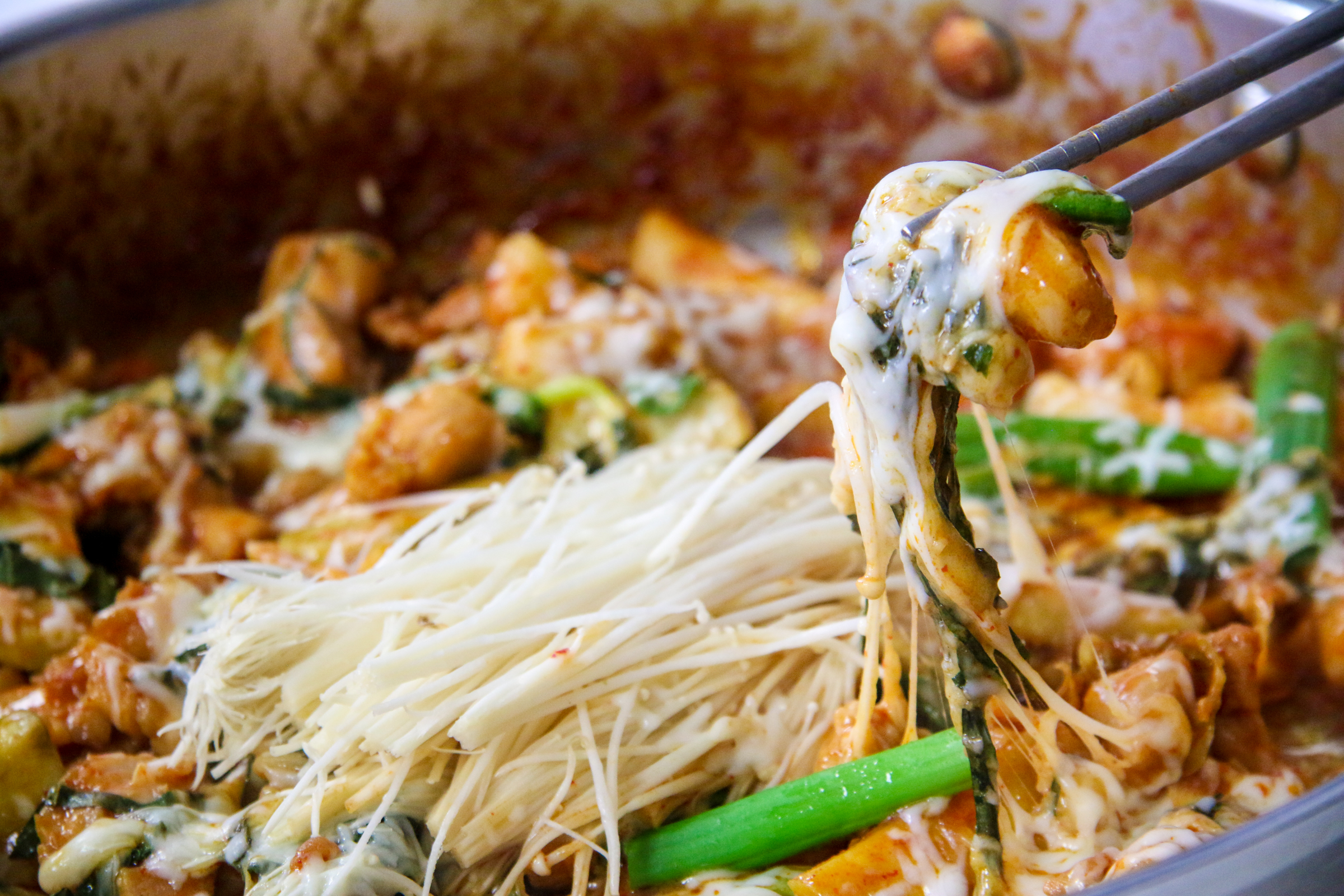 Just do yourself a favor and don't skip out on the cheese.  It still tastes marvelous without it, but that smooth rich cheese does something magical to the dish.  It provides a velvety mouthfeel and subtle creaminess to the sauce.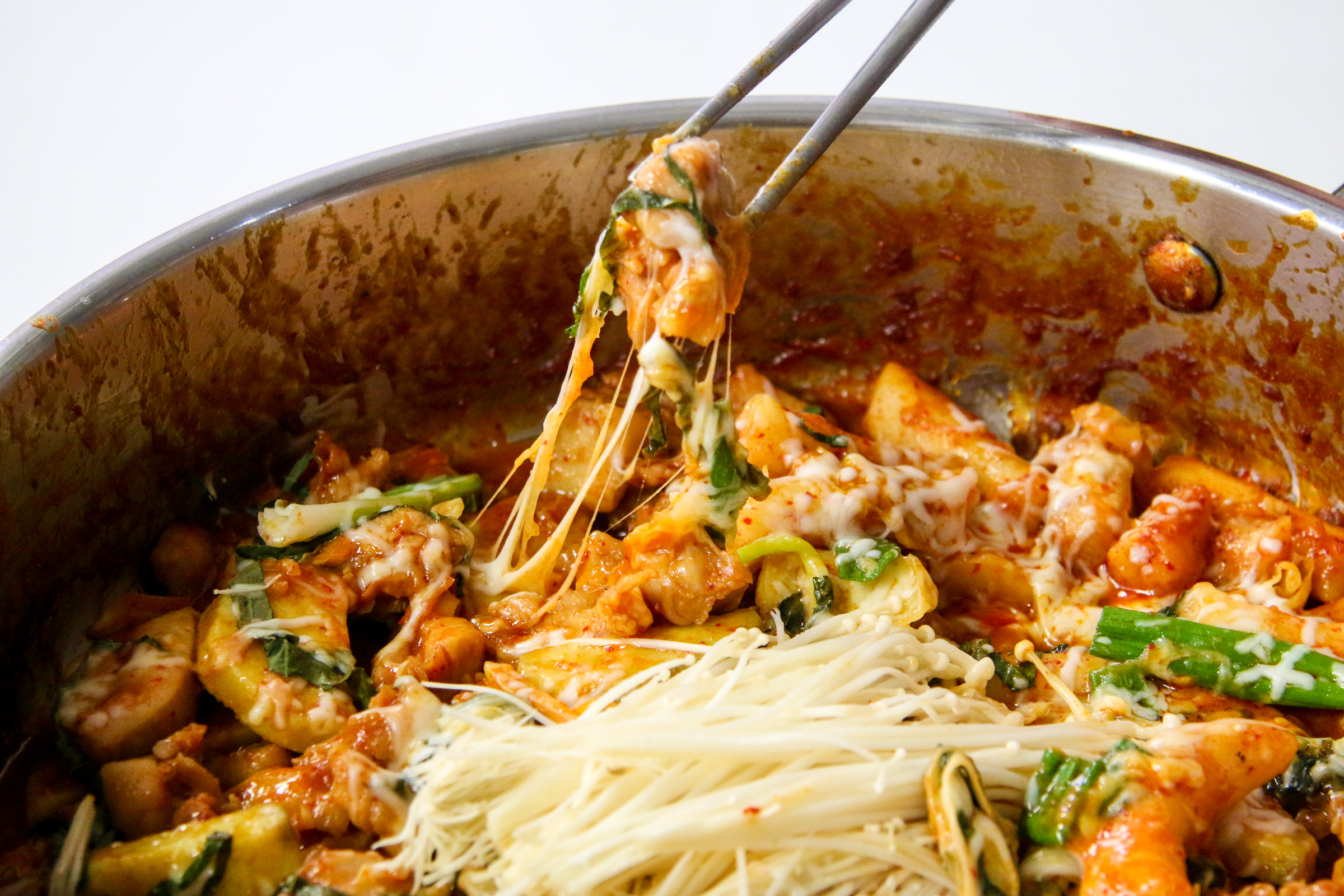 Just don't go crazy and overboard with it.  I know it's tempting to throw your hands up in the air with fistfuls of cheese and make it rain, but If you add too much, it mutes the complex spicy flavor of the sauce.  I know this because the first time we had it in Korea, it was right on the money, with the perfect amount of complimentary gooey-ness. The second time we had it, they went a little nuts with the cheese and we felt like it was too creamy, resulting in a blander tasting dish overall.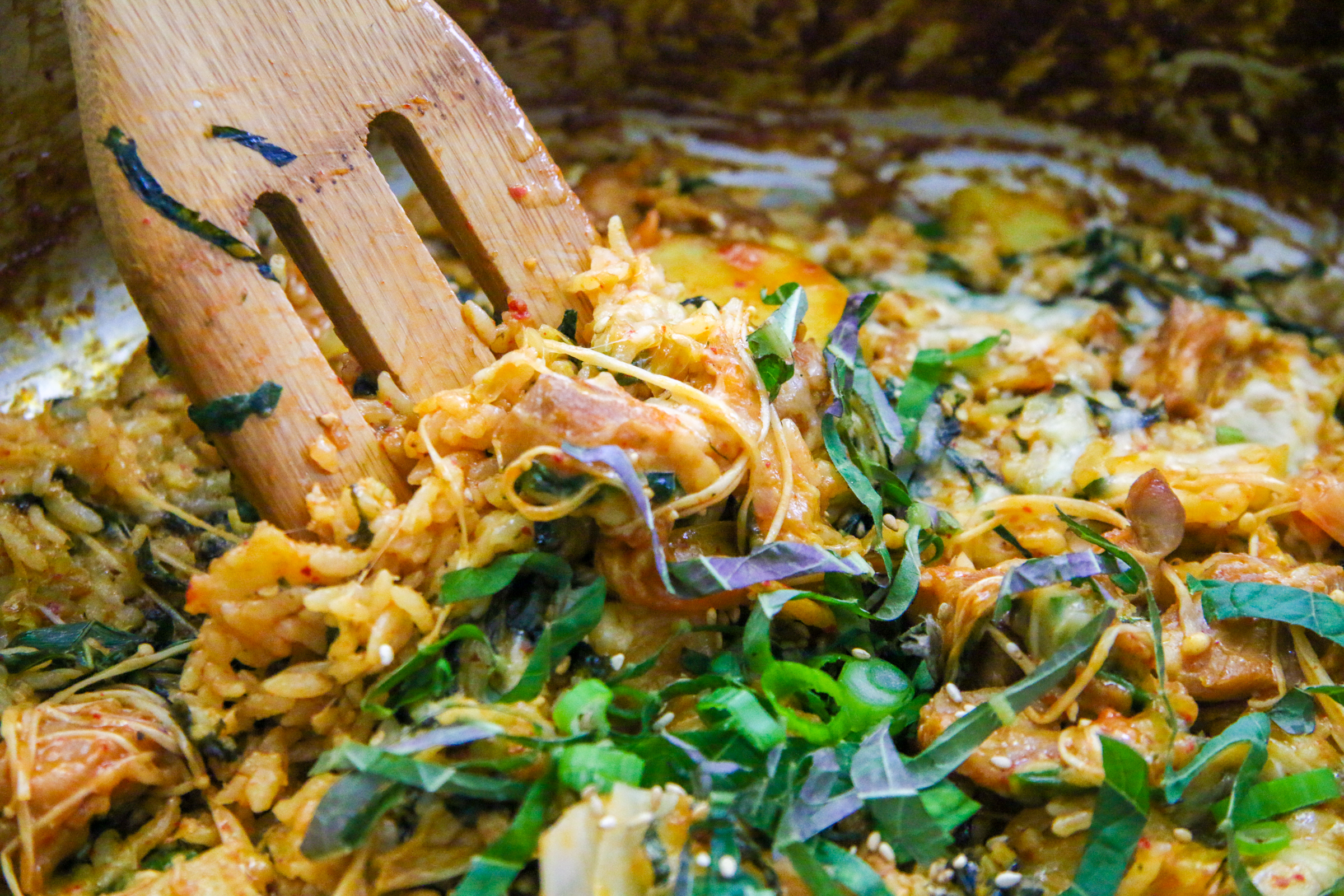 But cheese or no cheese, just be sure save room for fried rice!  Even though it's tempting to plop yourself in front of the pan and pick at the chicken and veggies with your chopsticks all day, you'll definitely want to save some goodies in the pan to give your rice enough flavor.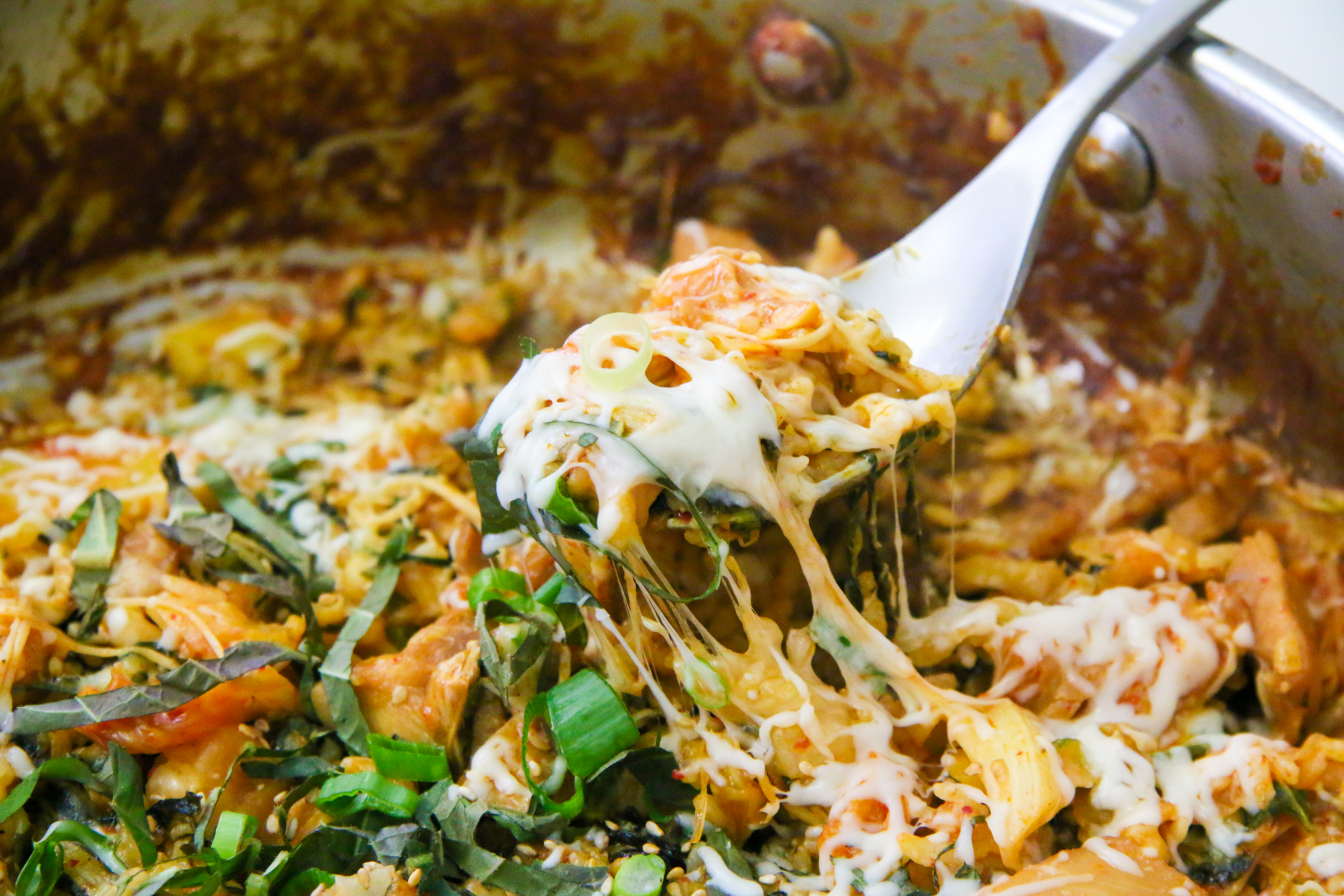 I've actually made this dish once without making the fried rice afterwards because I just didn't feel like doing an additional step, and my hubby got really sad.  It was like as I was telling a child, "no dessert!"  There's just something so unbelievably comforting about sizzling hot rice blended with spicy sauce and cheese.  It's the perfect way to end the meal.  It's like you're being hugged from the inside.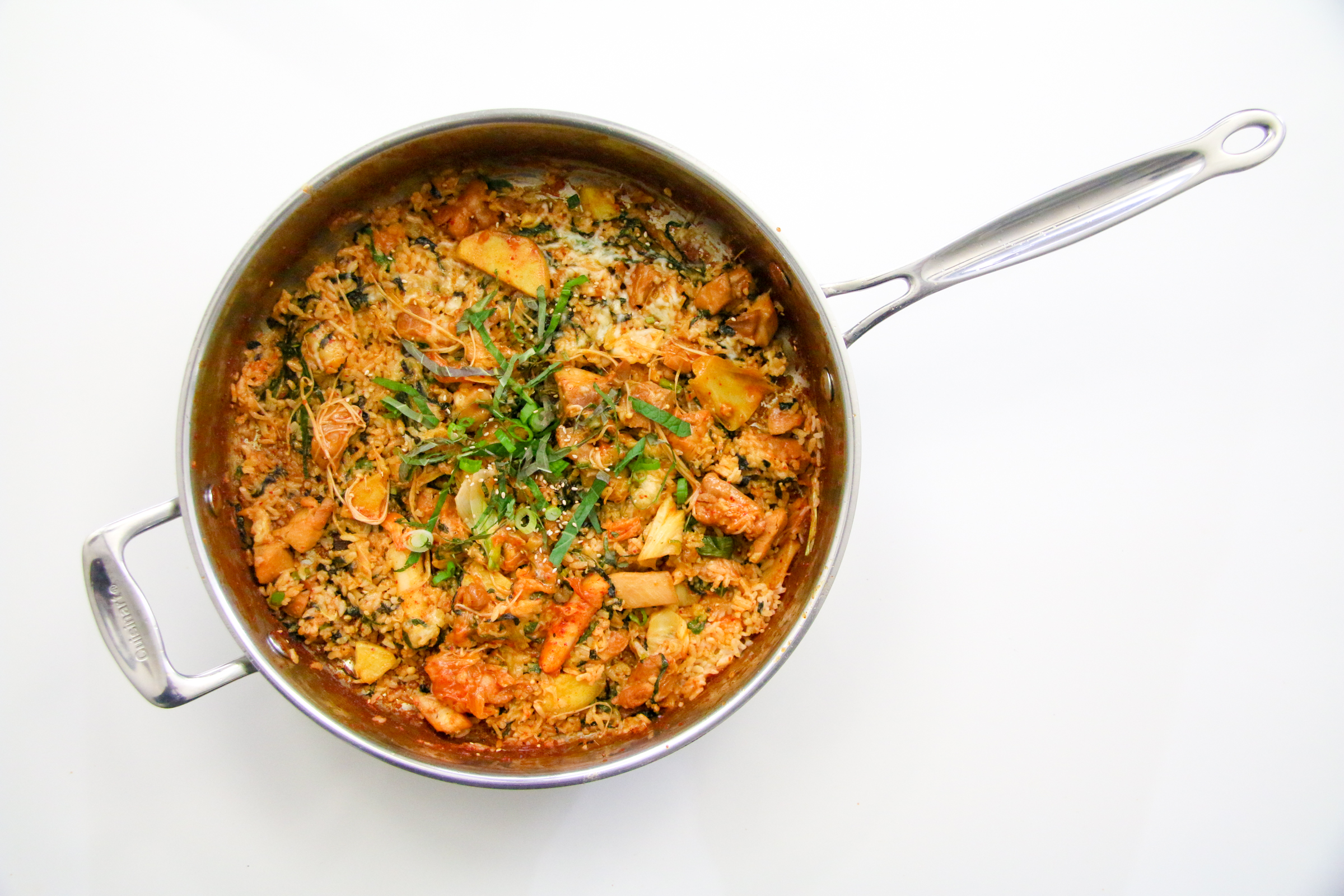 One last note…I make sure to eat both the Dakgalbi and the fried rice afterwards with lettuce or sesame leaves, because I just like the refreshing crunch with everything. A side of kimchi or pickled radish doesn't hurt either.  But you can skip the additional pomp and circumstance and dig into the pan with nothing more than a spoon, an open mouth, and a happy stomach.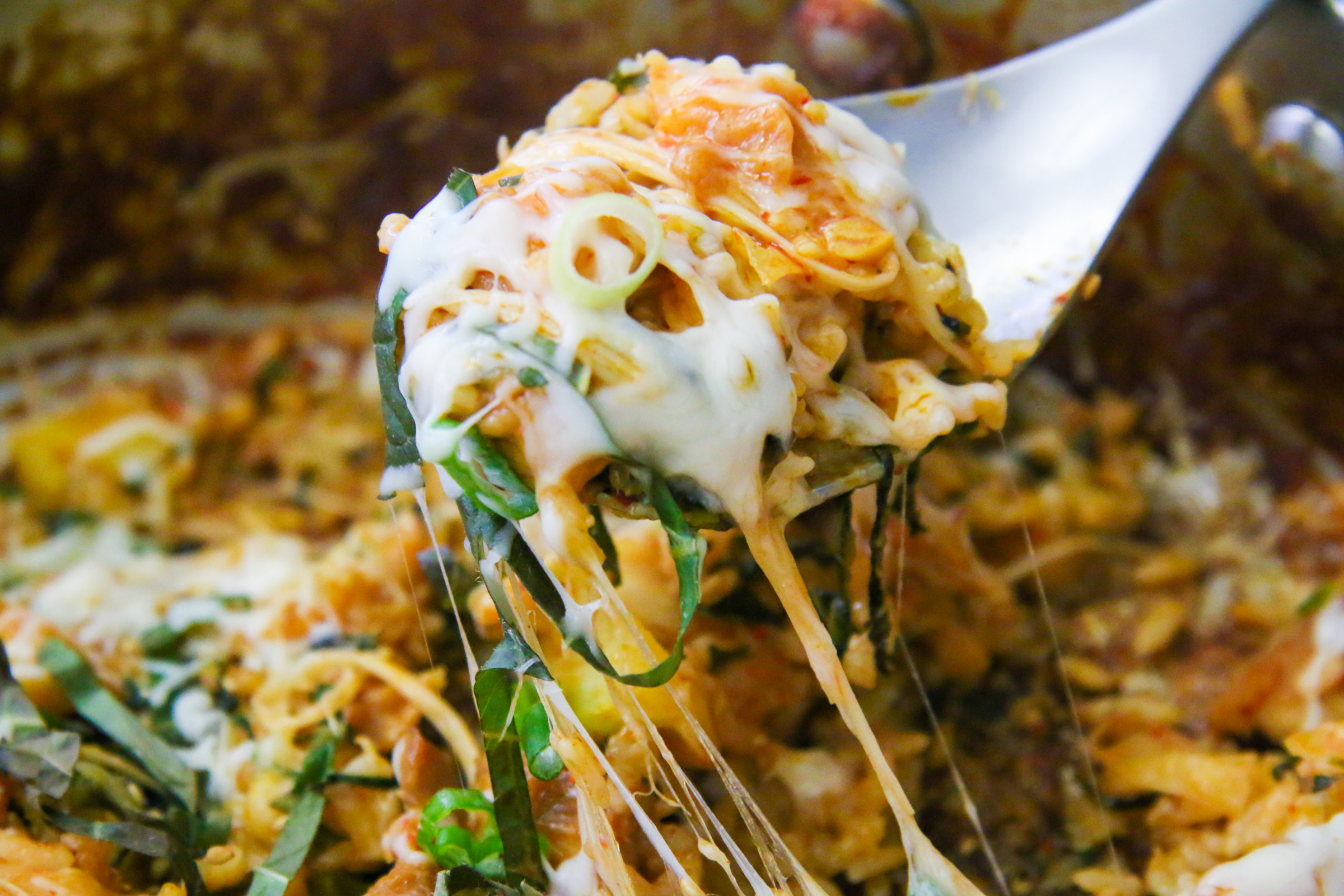 If you enjoyed this VIDEO, SUBSCRIBE to our COOKING SHOW CHANNEL HERE.  It's FREE! : Chef Julie Yoon
If you want to follow us on our journey, SUBSCRIBE to our VLOG CHANNEL HERE. It's FREE! : Our Yooniverse

Spicy Chicken Stir-Fry (Dakgalbi: 닭갈비)
Spicy chicken, vegetables, and soft rice cakes are stir-fried together and topped with cheese! Then it gets even better when fried rice is made with the leftovers!
Ingredients
1 pound boneless, skinless chicken thighs
9 ounces green cabbage, cored, and chopped into bite size pieces
1 small Korean sweet potato (Goguma), peeled, halved, and cut into ½-inch thick slices
8 ounces cylinder shaped Korean Rice Cakes (Ddukbokki Dduk 떡볶이 떡)
7 Sesame / Perilla leaves (Kkaetnip 깻잎), stems trimmed, thinly sliced
2 scallions, cut into 2-inch pieces
Half a bundle of enoki mushrooms, stems trimmed
Shredded mozzarella cheese
Vegetable oil for the pan

Sauce
1 tablespoon soy sauce
2 tablespoons water
2 tablespoons sugar
2 tablespoons mirin
1 teaspoon kosher salt
1 tablespoon Korean red chili pepper flakes, (Gochugaru)
2 tablespoons Korean red chili pepper paste, (Gochujang)
1 heaping tablespoon Korean curry powder (카레가루)
1 teaspoon minced ginger
1 tablespoon minced garlic
2 teaspoons sesame oil

Optional fried rice
Two servings of COLD cooked rice (about 1 ½-2 cups cooked)
Leftover Dakgalbi sauce reserved in pan (at least 2 tablespoons)
Leftover pieces of spicy chicken and vegetables
1 tablespoon sesame oil
Shredded Roasted seasoned dried seaweed, (김 )
Roasted sesame seeds
Shredded mozzarella cheese
Chopped scallions
Shredded sesame/ perilla leaves (Kkaetnip 깻잎)
Salt and Pepper to taste
Instructions
Soak the rice cakes in cold water for 20 minutes. Skip this step if using fresh rice cakes that are already soft and don't require cooking.
Mix all the sauce ingredients well in a large bowl. Add the chicken pieces and toss well to coat. Let the chicken marinate in this sauce while you prepare your vegetables.
Heat a large pan over medium high heat. Add a little oil, and then the sliced Korean sweet potato, as well as a little bit of the cabbage. The cabbage will release a little water, which will help the potatoes to steam a bit. Add a splash of water as well. Cover with a lid. Reduce the heat to medium low and let the potatoes and cabbage cook for about 2 minutes.
Add the rest of the cabbage. Make a well in the center. Raise the heat to medium-high. Add a little oil, along with the chicken and all the sauce. Cook for about 3-4 minutes, stirring occasionally to let the chicken start cooking. Incorporate the cabbage into the chicken. Lower the heat and add the rice cakes and cook until the chicken is cooked, and the potatoes and rice cakes are soft, but not mushy, another 3-5 minutes. You don't want the potatoes to break down too much, or the sauce will get starchy. You can add a splash of water or chicken broth to the pan if it looks too dry.
Add the perilla leaves, scallions, cheese, and enoki mushrooms. Cover the pan, turn off the heat, and let stand for 1-2 minutes to allow the cheese to melt. Serve with extra perilla leaves or lettuce leaves for wrapping.

Optional Fried Rice:
Scoop any leftovers out of the pan into a bowl. Leave some sauce behind. Over medium heat, add the sesame oil, and then the rice to the pan with the leftover sauce. Stir constantly while breaking up the clumpy rice, about 3-5 minutes. Add back any leftover chicken and vegetables. Mix in the roasted dried seaweed, sesame seeds, scallions, and perilla leaves. Sprinkle with salt and pepper to taste. Spread the rice out in the pan, turn up the heat to allow the bottom to get slightly crispy for about 2 minutes (while making sure it doesn't burn).
Add cheese, cover with a lid, and turn off the heat. Let stand for 1-2 minutes to allow the cheese to melt. Serve immediately.