Korean Grocery Haul + Ingredients Guide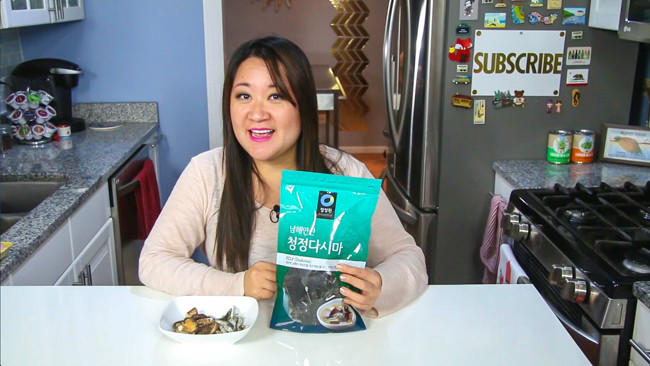 Some of my friends have told me that when they walk into a Korean grocery store, they turn around and walk right back out because they're beyond intimidated.  I can get that.  When everything is written in another language and you don't know the difference between one leafy green to the next, it's scary.  But don't fret my pet, that's why we're dedicating Season 4 of Bits & Pieces Cooking Show entirely to Korean inspired recipes!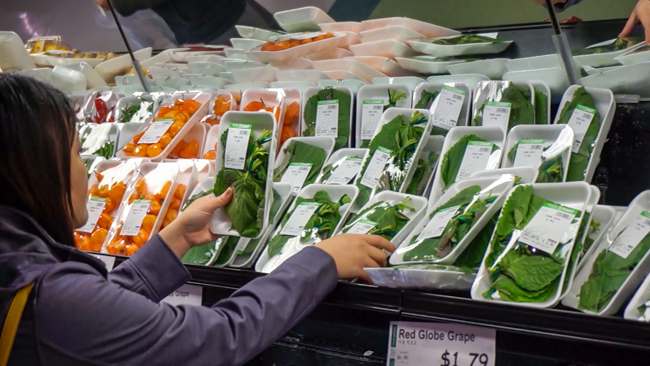 This has been a looong awaited request from a boisterous handful of our avid viewers, and I felt bad "ignoring" their pleas until now.  But it was all part of our master plan. Joe and I knew we'd be going to Korea and I wanted to wait until I had that life-changing experience to come back and feel pumped to develop my own versions of the dishes we ate there.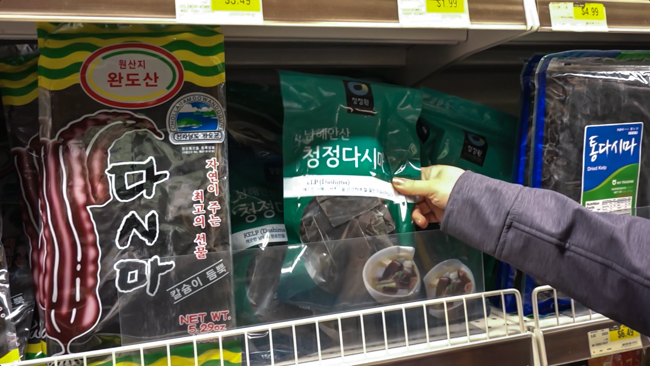 The truth is also that Korean cooking is so personal and subjective.  When you ask your mom for a recipe, most likely, she'll be like "oh you just add a little bit of this and add a dash of that… taste it and adjust it to the way you like it."  And then you're like "whaaa?" So I felt intimidated putting myself out there and writing anything permanent down, as if it was my way or the highway.  I have a suspicion that this season will probably invite more haters and complainers who disagree with the methods I'm using or the specific ingredients I chose.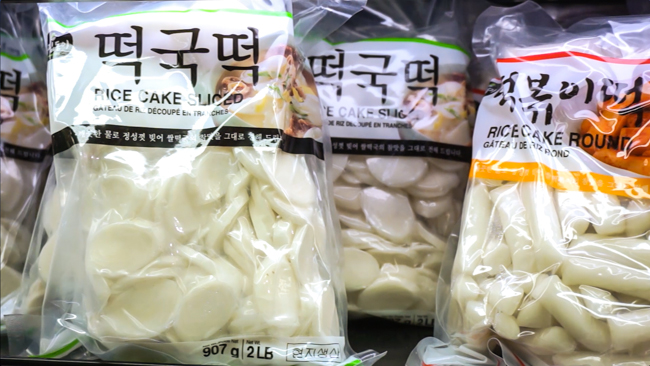 But this isn't my first rodeo and now that we're going into our fourth season of our show, I feel better equipped to block out the negativity and just go with it.  I surprised myself this season because I never intended to make authentic style recipes.  I always assumed that whenever I did a Korean season that it would most definitely be fusion.  I guess I was just THAT impressed with the food we ate in Korea and I couldn't get it out of my mind.
At this point, all the recipes aren't developed fully for the entire season, so I may not end up using all these ingredients I featured in our video.  I know for sure I forgot to mention some other ones too.  But if you want to get a jump start into season 4, watch our Korean grocery haul and ingredients guide VIDEO below.
WATCH OUR KOREAN GROCERY HAUL VIDEO BELOW:
I should make a point that I am not normally a brand-specific person.  In fact, every time I go Korean grocery shopping, I just look for whatever's on sale (or whatever has the cutest packaging… I'm such a sucker for good marketing).  Sometimes I purposely test out the brands with some kind of English writing on it, just so I can pass on that brand to my friends if they're ever interested in buying it themselves.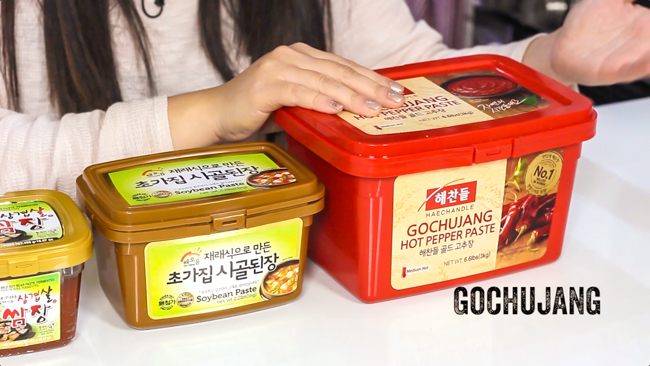 I probably take a lot of lazy steps when it comes to Korean cooking too.  For one thing, I do not make my own Kimchi (as of now), and to make things worse, I buy it pre-sliced in a jar, as opposed to the whole head of napa cabbage in a jar that you have to pull out and slice up yourself.  Even when my mother in law gives us homemade kimchi that's in whole form, I find myself unwilling to pull it out, to make a mess all over my cutting board and counter by slicing it.  I know…how did I ever become a chef?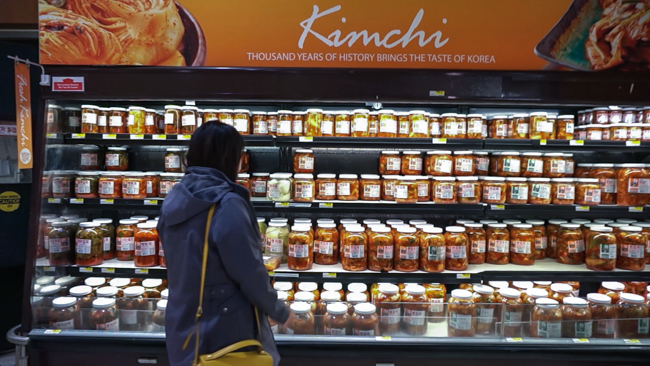 But my hope is that for Season 4, those of you who have been interested in Korean cooking, but didn't know where to begin, will feel a little more comfortable.  Korean food is dear to me, but because I didn't want to deal with the extra pain of developing all these recipes with specific measurements, I pushed it to the side for as long as possible.  I'm biting the bullet now and I can't wait to share with you the food of my background, and the food that I often crave.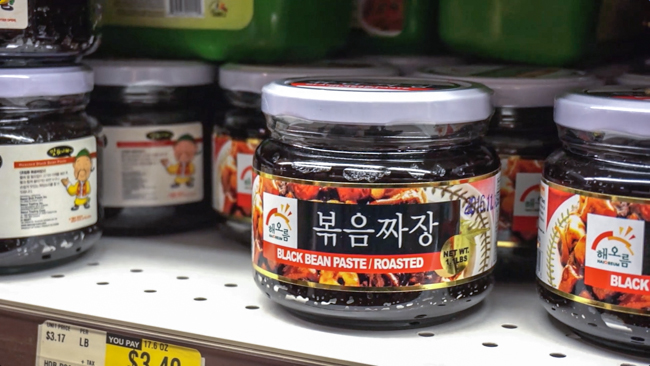 I'm so thankful for our time in Korea.  We were there for over a month and I couldn't help but be fully immersed in all the eye-opening flavor combinations.  I would be feverishly writing notes down, taking photos, and documenting our experience on film.  So if you haven't watched our Korea Trip vlog series, check out our first episode here: Korean Chinese Take Out.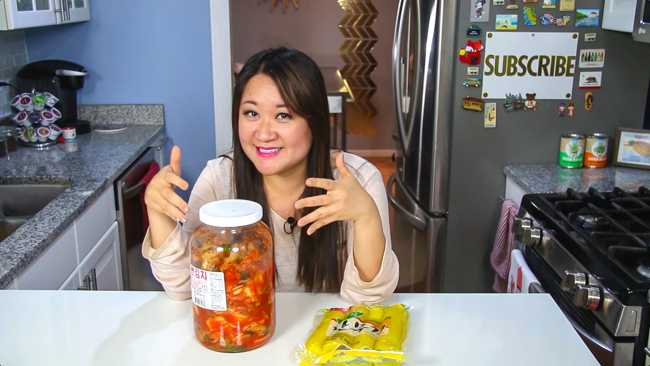 If you ever have any questions throughout Season 4, feel free to drop me a comment.  I'm more than willing to help you out the best that I can.  Okay…let's go eat some kimchi! 🙂
If you enjoyed this VIDEO, SUBSCRIBE to our COOKING SHOW CHANNEL HERE.  It's FREE! : Chef Julie Yoon
If you want to follow us on our journey, SUBSCRIBE to our VLOG CHANNEL HERE. It's FREE! : Our Yooniverse
WATCH our Costco Haul VIDEO HERE : What I Got At Costco