Kale Cobb Salad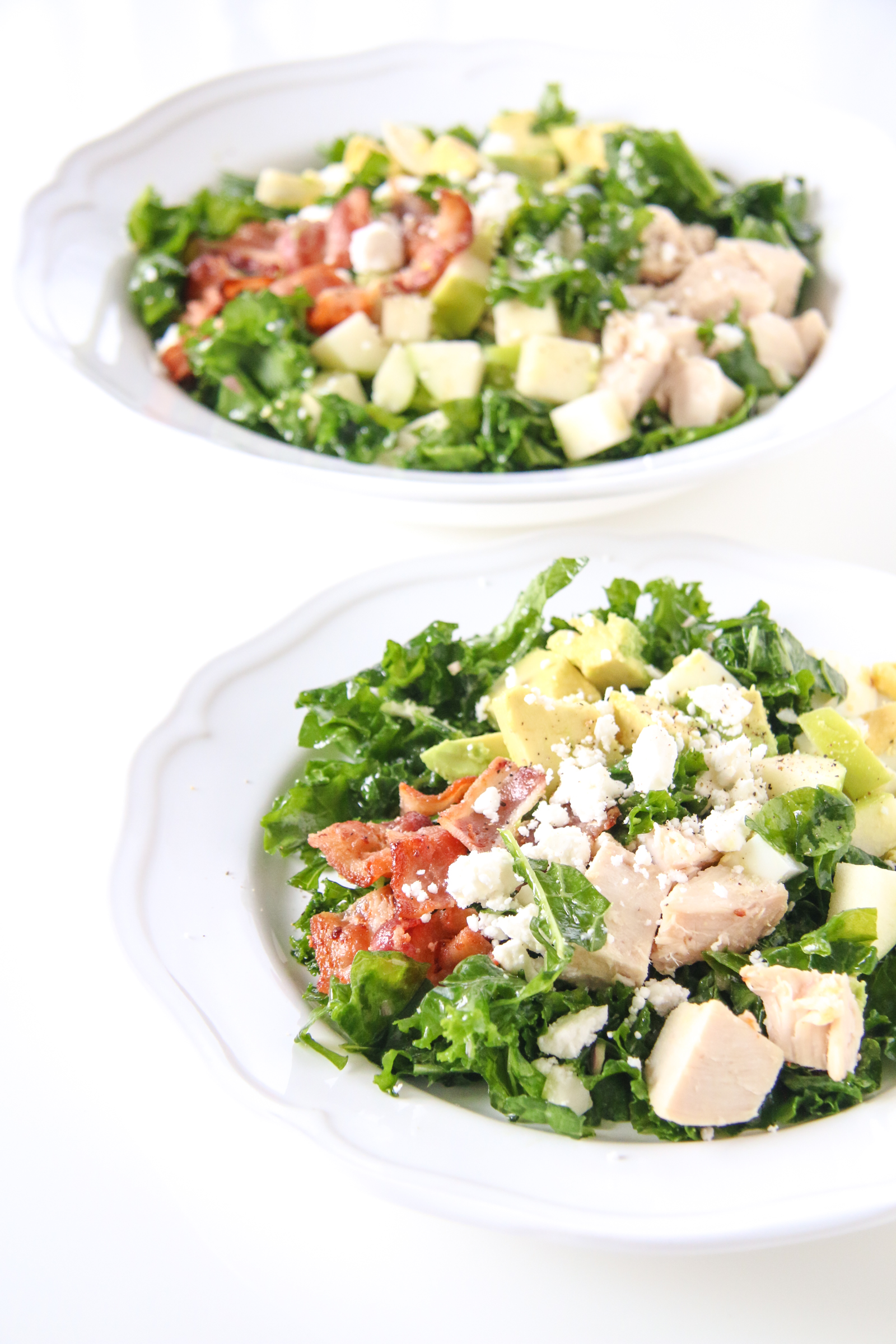 I probably should apologize that I didn't share this recipe with you earlier.  I eat kale all the time…both cooked and raw.  I think it's safe to say that it's my current favorite vegetable and has been for a while.  I already shared my Kale Salad with Garic Croutons recipe with you, but this Cobb version is a nice fun twist.  It's a hearty salad that still feels light and bright thanks to the tasty shallot vinaigrette.  You can totally customize the toppings according to your taste, or use whatever's left in your fridge.  Aren't those the BEST kinds of recipes?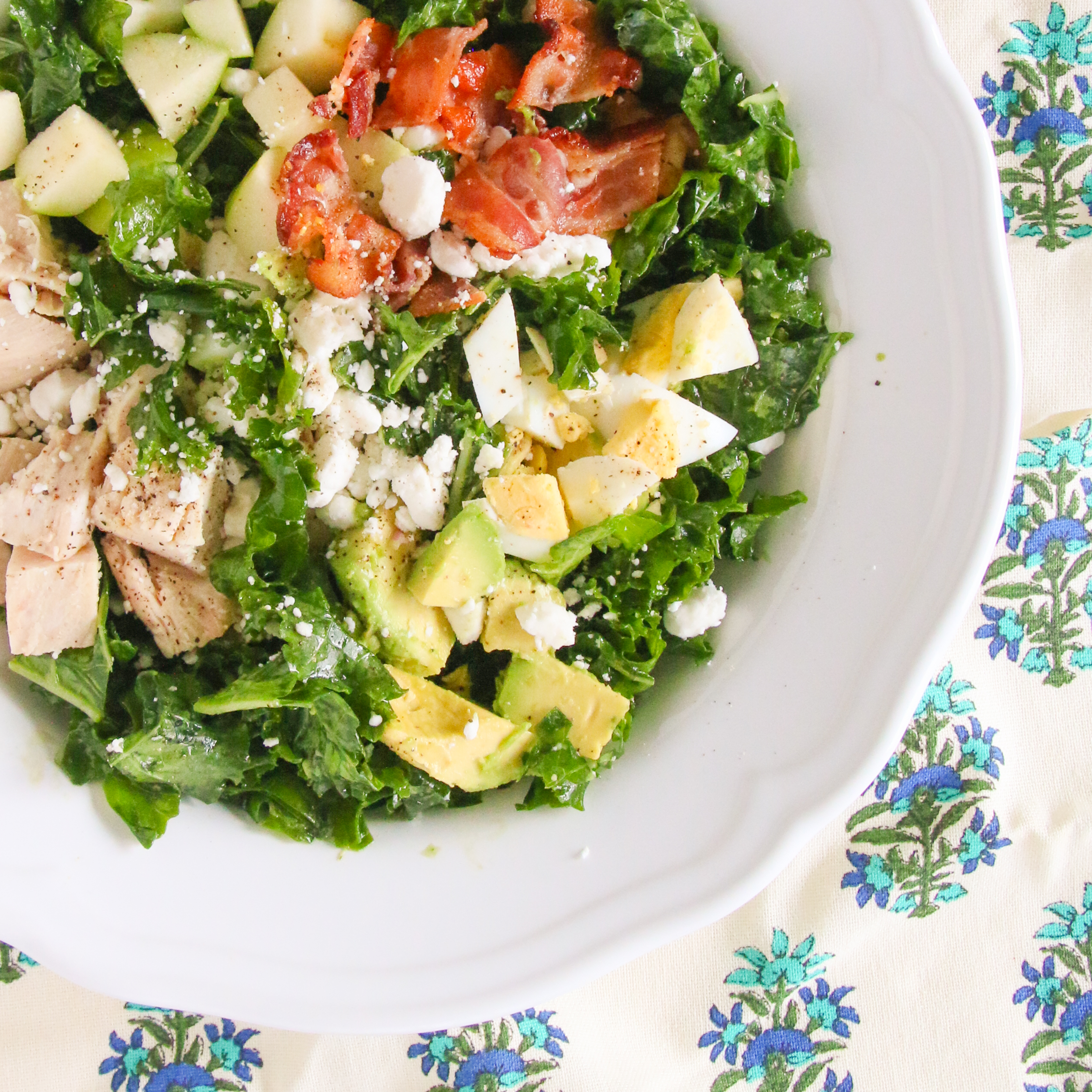 The only thing you have to remember is to take the time to massage your kale.  When people don't massage their kale before turning it into a salad, I kind of don't get it.  It's so much softer and more palatable with just one simple extra step that's not hard to do.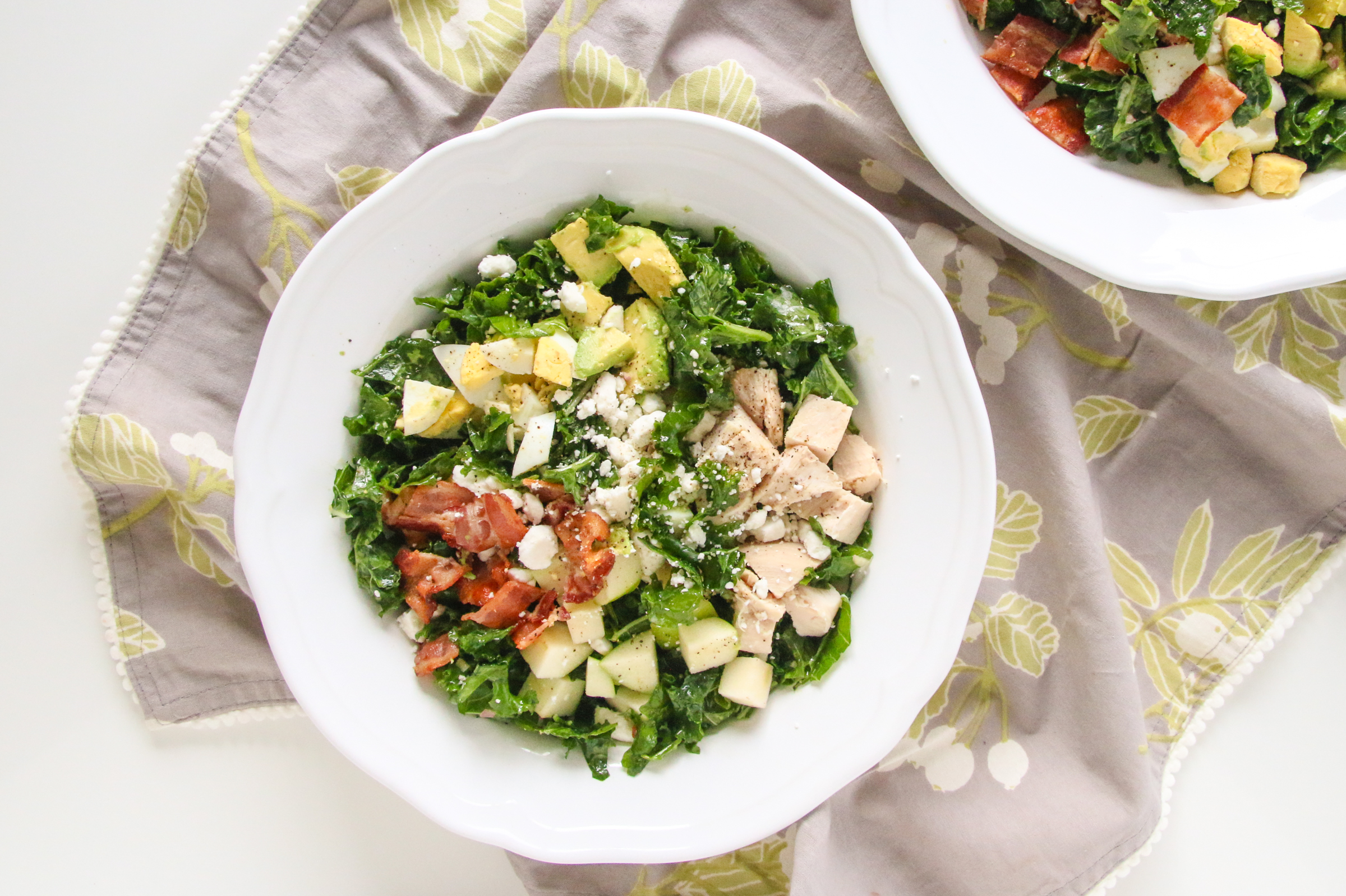 And for this recipe, I choose to purposely use rotisserie chicken so I wouldn't have to cook yet another thing.  But you can use leftover grilled chicken you cooked yourself, leftover marinated flank steak (ahem), deli meat, or no meat at all.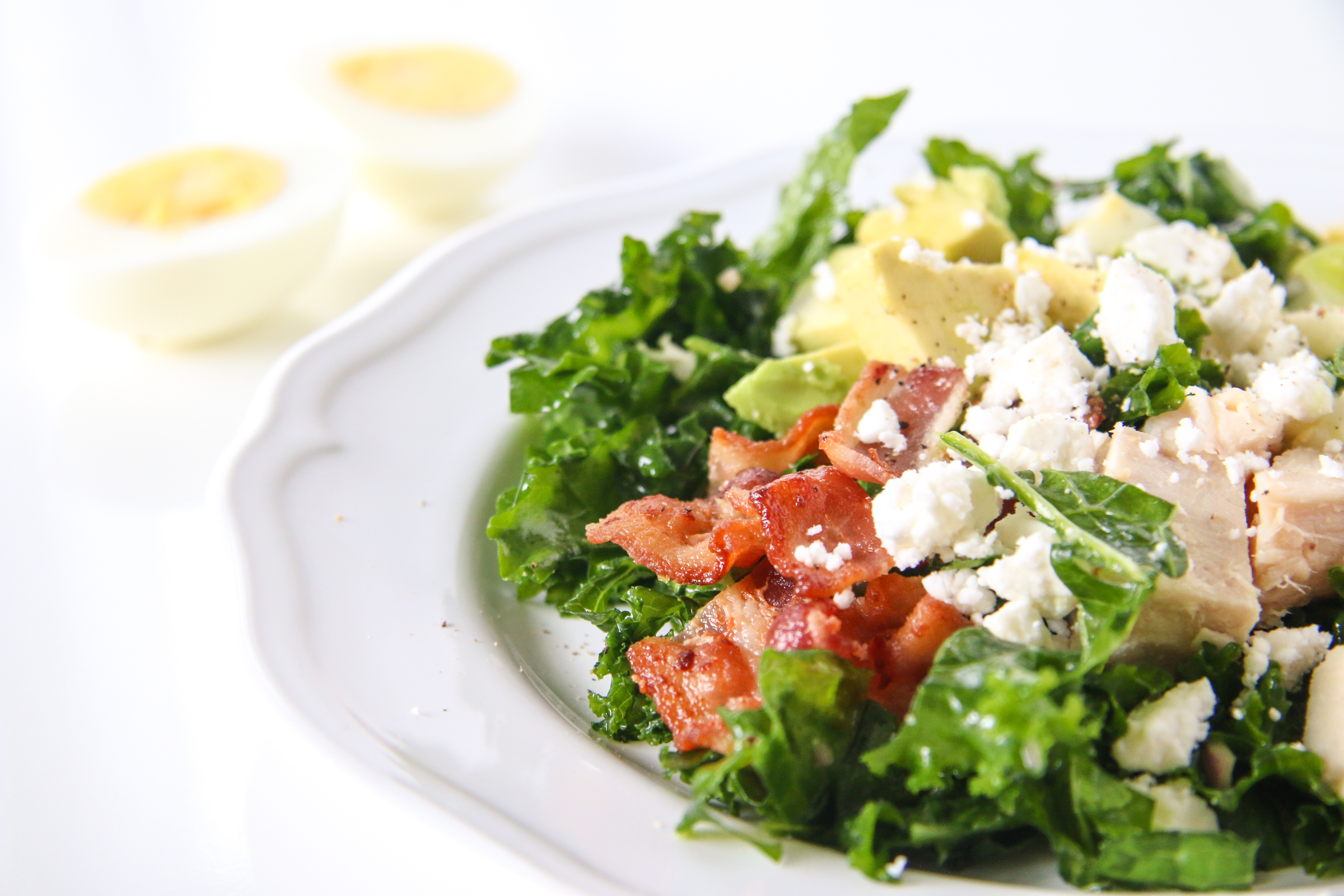 The best part about kale salads is that they're really strong and can stand up to dressing for a really long time without wilting, which makes this a great make-ahead meal too.  So go ahead and throw this into a mason jar or tupperware and take it to work or school with you!  See how I quickly assemble this thing of beauty in EPISODE 10 of Bits & Pieces SEASON 3 BELOW.
WATCH EPISODE 10 HERE:
Let's face it…I'm a sucker for anything with bacon and avocado on top.  But then you put it on a bed of healthy kale and you instantly feel better about your life. Haha.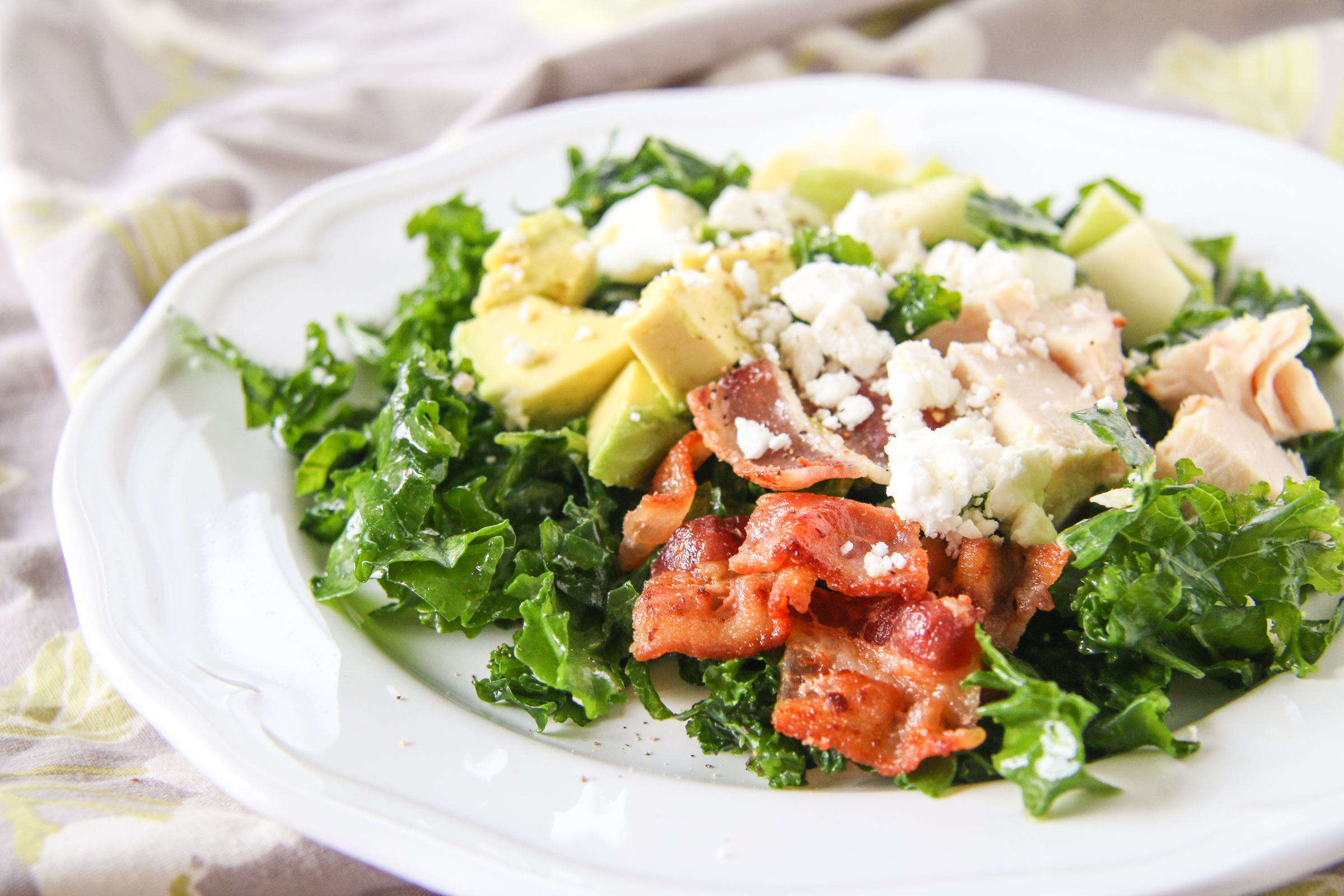 Also, I know that traditional Cobb Salads call for blue cheese, but I think feta somehow makes it taste a bit lighter while still adding that funky salty element which works so well in a salad. And the surprise ingredient I like to add is green apple!  It adds a crisp, fresh, tart, and sweet element which works so well with everything else.  I think it gives the salad contrast and texture too.  You trust me right?  It is SO SO good… would I lead you astray?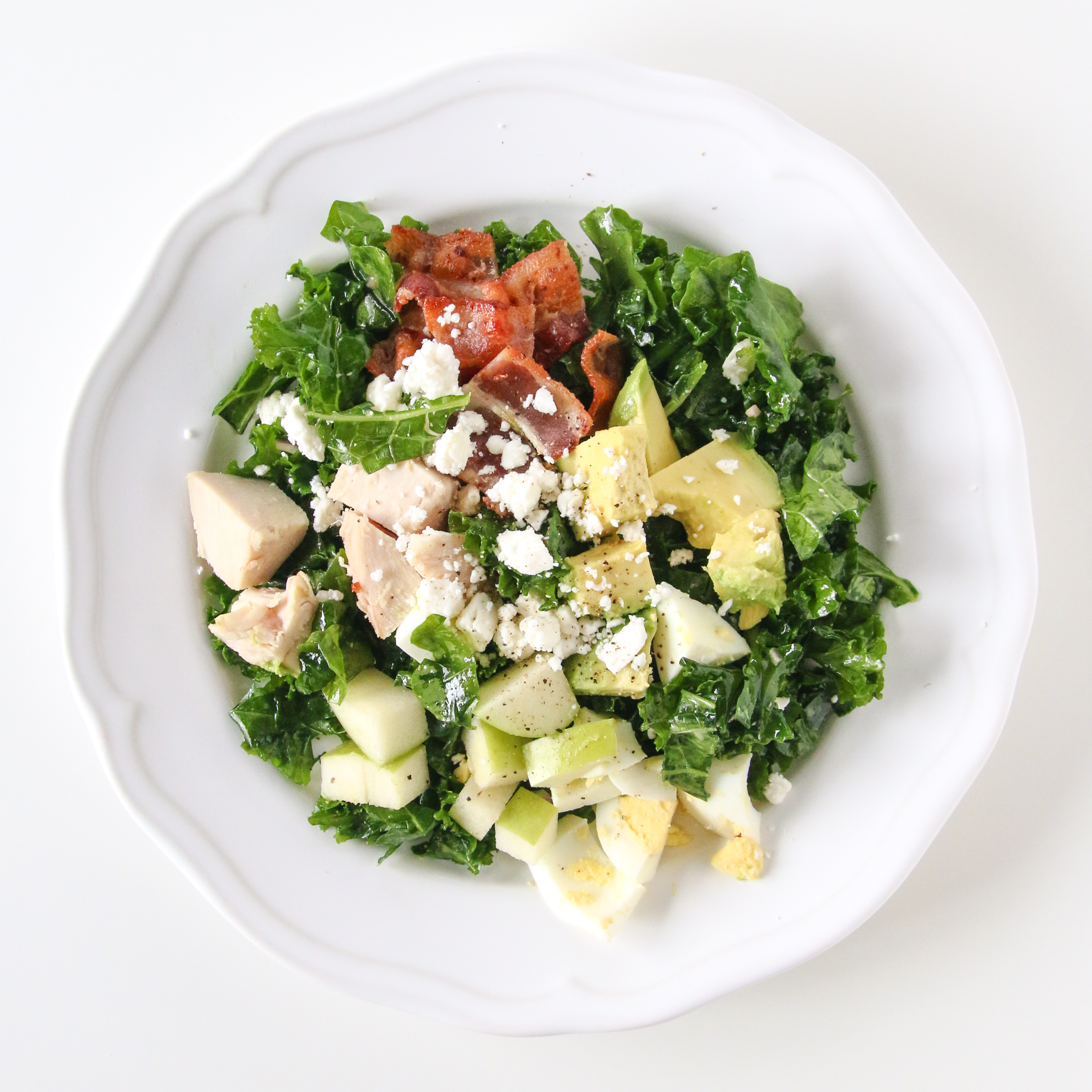 Make this for your next potluck, picnic, or quick dinner on a busy weekday.  It's perfect for summer when you still want a satisfying meal but don't want to slave away in a hot kitchen.  You really can't go wrong with whatever toppings you choose and once you make this, you'll find yourself craving this again and again.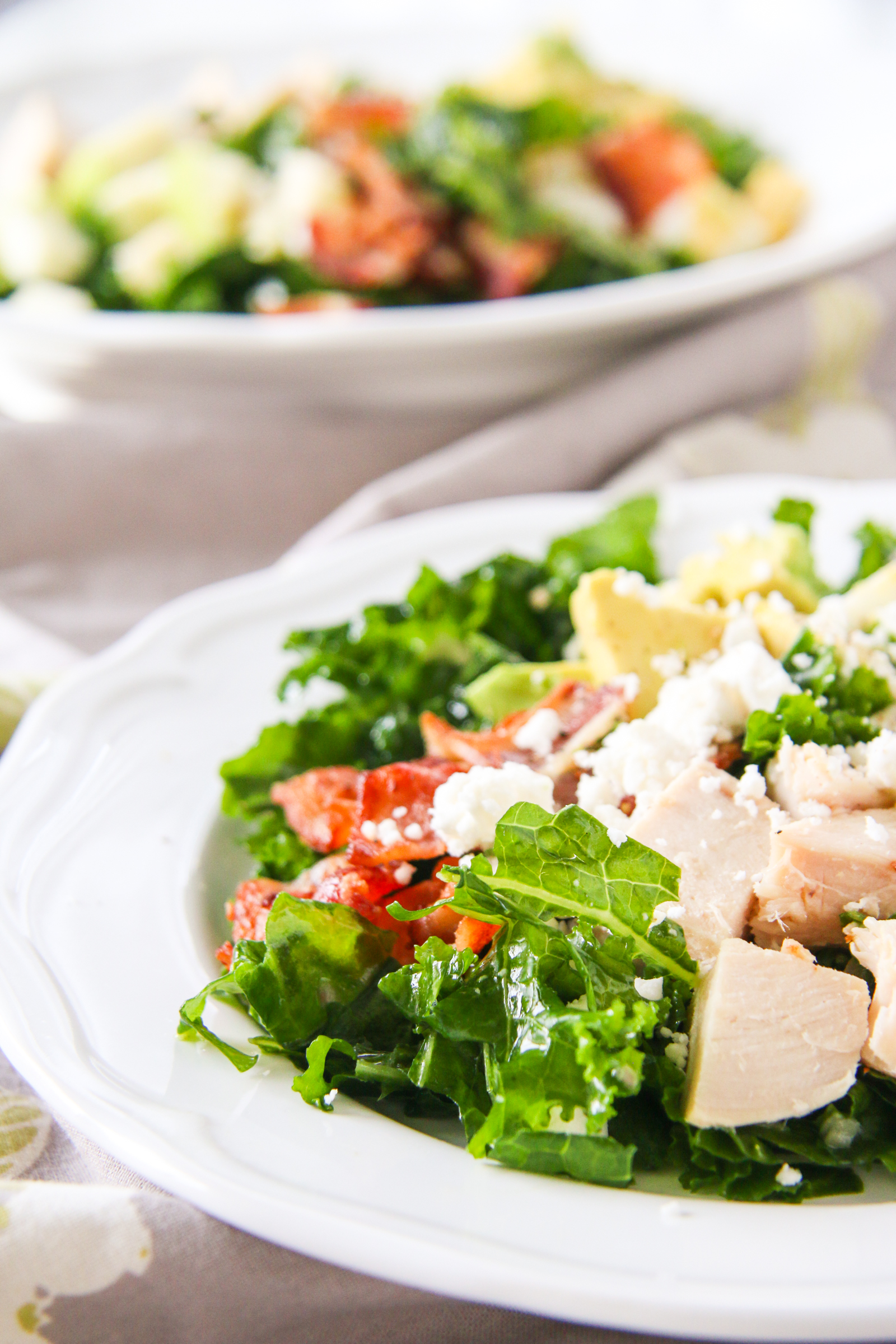 * COME BEHIND THE SCENES WITH US AND WATCH THE MAKING OF THIS EPISODE HERE: BEHIND THE SCENES
If you enjoyed this VIDEO, SUBSCRIBE to our COOKING SHOW CHANNEL HERE.  It's FREE! : Chef Julie Yoon
If you want to follow us on our journey, SUBSCRIBE to our VLOG CHANNEL HERE. It's FREE! : Our Yooniverse

Kale Cobb Salad
Take the time to massage your kale first and you'll be happy. This Kale Cobb Salad is light, bright, and hearty at the same time. It's perfect for the summer and any busy weekday.
Ingredients
1 large or 2 small bunches of kale, stemmed and chopped into bite size pieces
6 slices bacon
Rotisserie chicken breast meat
4 hard boiled eggs, peeled and chopped
1 avocado, diced
1 Granny Smith apple, diced
Crumbled feta cheese
Salt and pepper
Olive oil for drizzling on kale

Shallot Dressing:
1 small shallot, finely minced
2 Tablespoons white wine vinegar
2 teaspoons Dijon mustard
4 Tablespoons olive oil
1 teaspoon agave or honey
Pinch of crushed red pepper flakes
Salt and pepper to taste
Instructions
In a large bowl, add the washed and well dried kale pieces, along with a sprinkle of salt and a drizzle of olive oil. Use your hands to squeeze and massage the kale until it turns shiny and softer. This makes it more palatable so don't skip this step!
In a large skillet, fry the bacon over medium-high until crispy, about 8 minutes. Transfer to a paper towel; cool and chop into pieces.
In a bowl, whisk together the dressing ingredients, or place in a mason jar with a lid and give it a good shake. Dress the massaged kale with the dressing and toss well. Place the kale on individual plates and top with the bacon, eggs, chicken, avocado, apple, and feta. Season with pepper and serve.