Asian Lettuce Wraps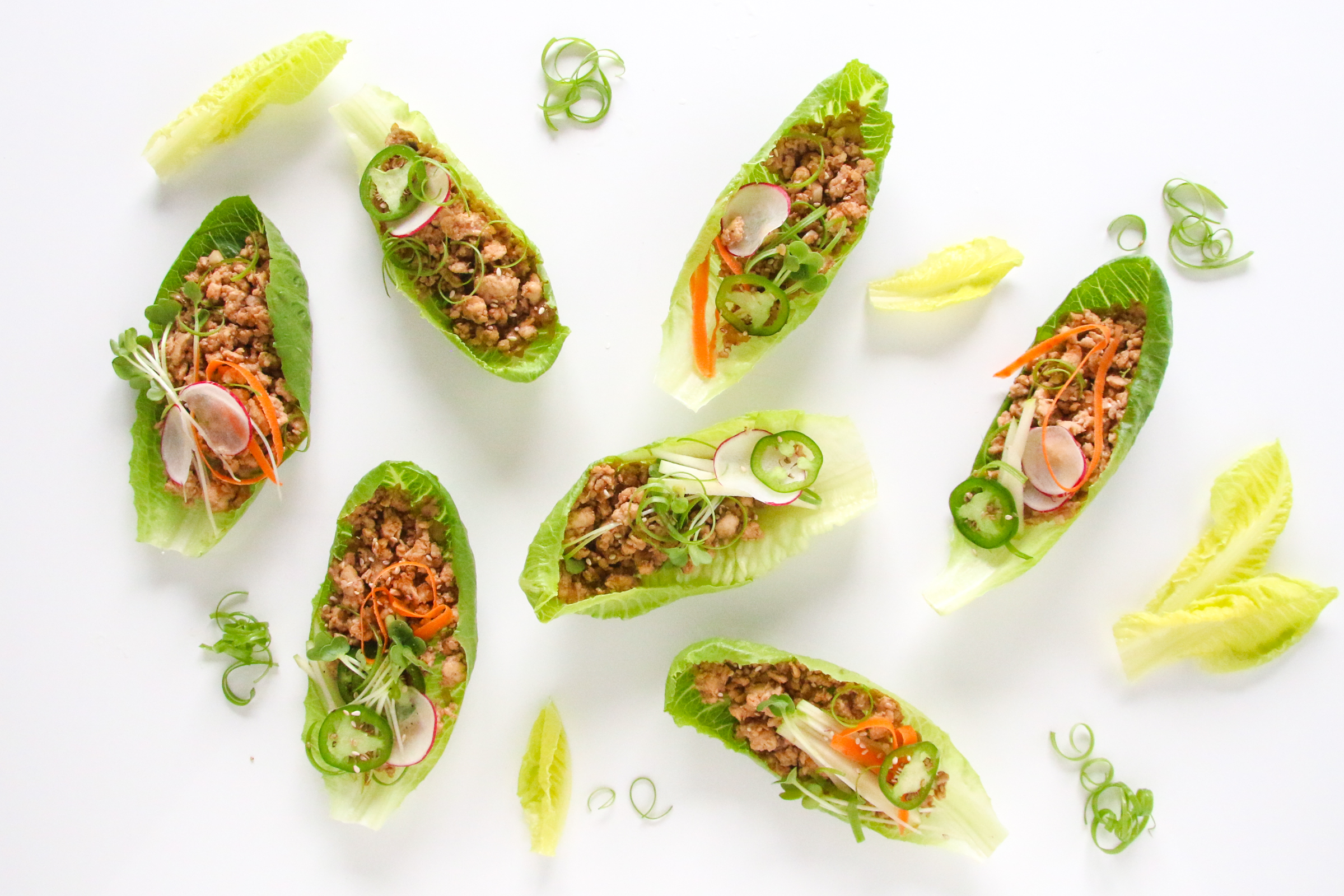 These Asian Lettuce Wraps are nothing more than seasoned ground meat nestled in a crisp lettuce leaf.  You adorn them with fresh toppings of your choice, and dinner is done in a jiffy with only one pan to clean.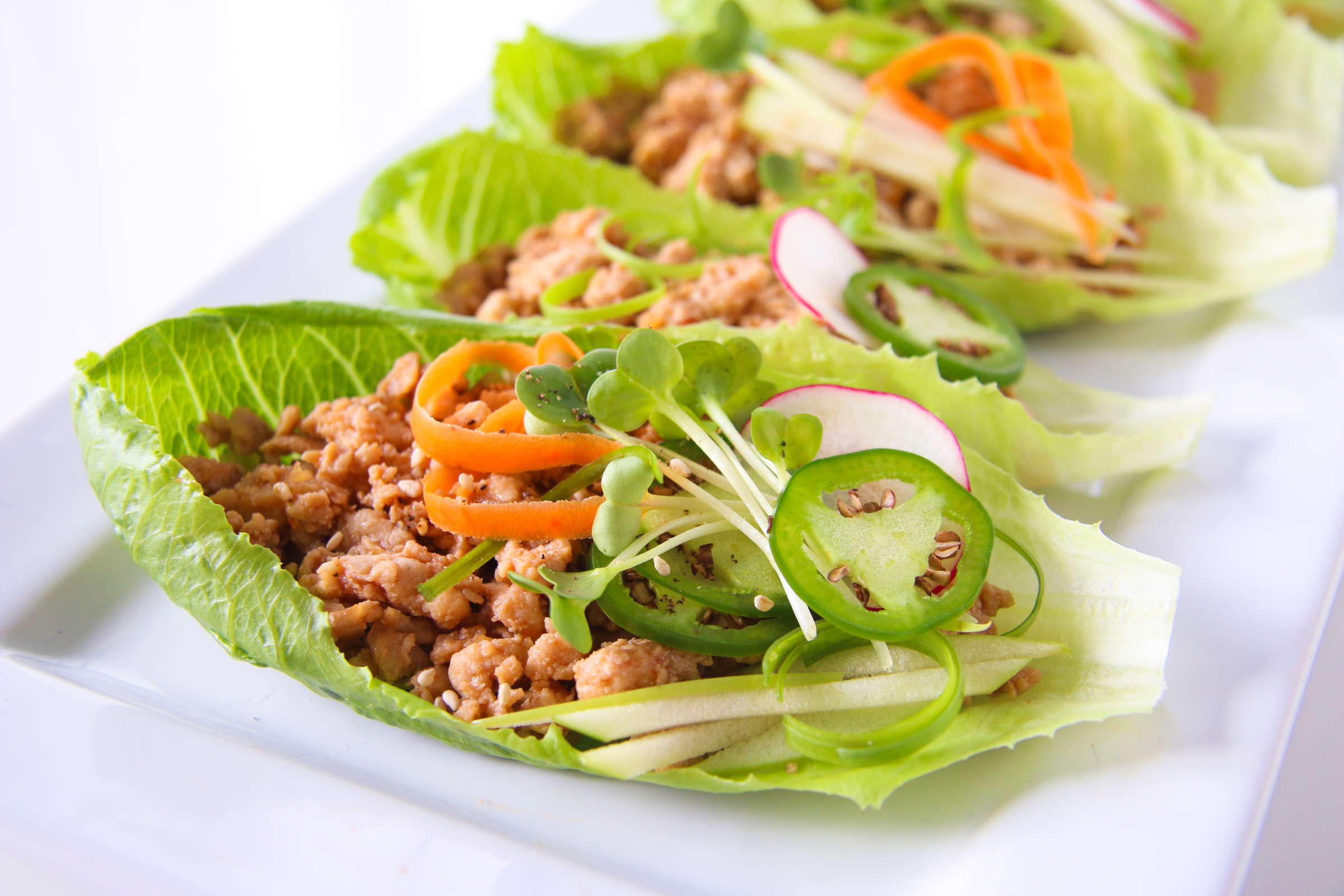 The kind of meat you choose to use is not really important.  Use whatever you prefer or already have on hand.  I chose to use ground chicken to keep things a little lighter, but ground beef, pork, or turkey works too!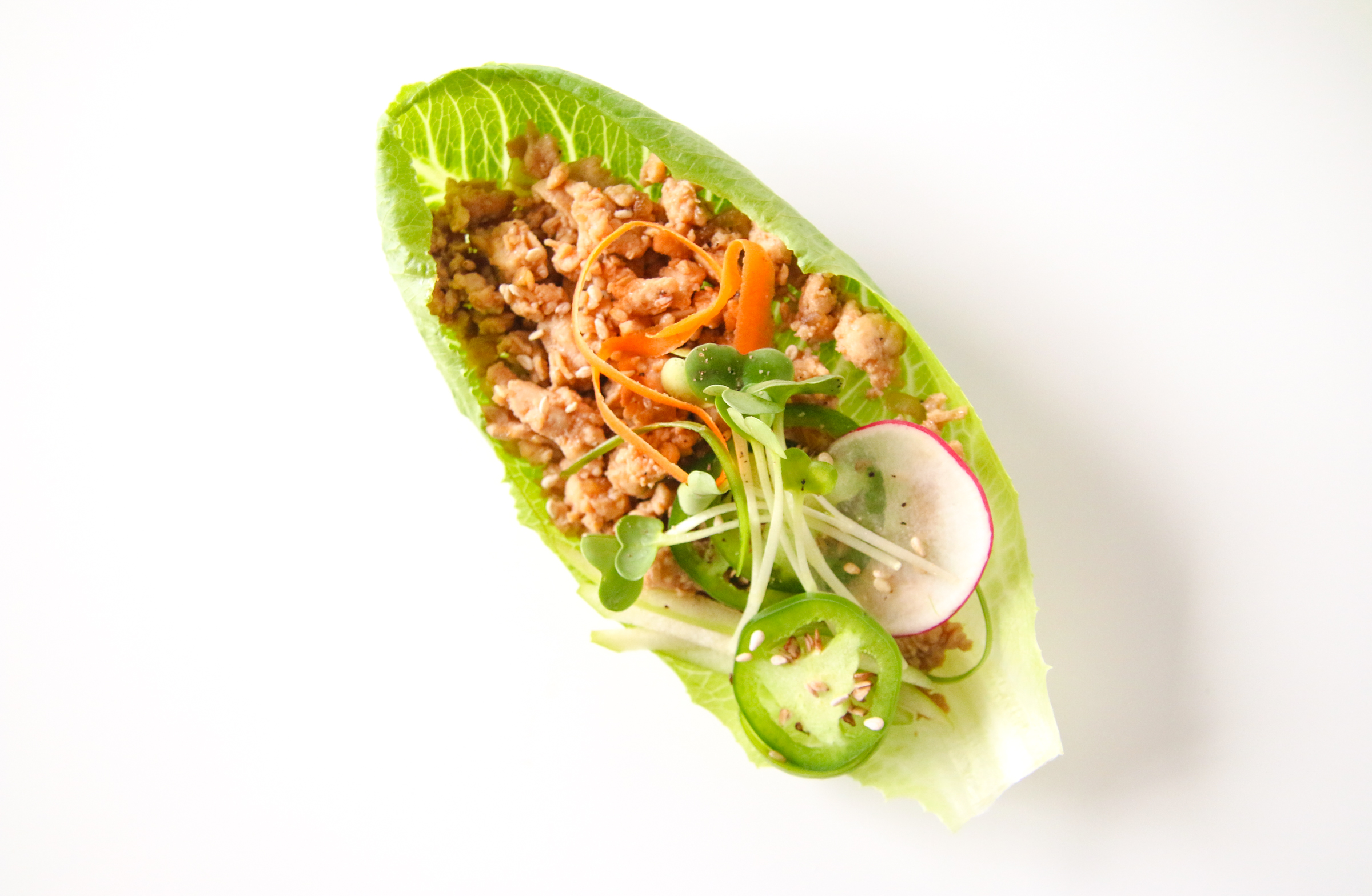 I based these wraps around the kind you would typically order as an appetizer at a restaurant like P.F. Chang's.  The chicken is seasoned with hoisin sauce, which is a sweet Asian BBQ sauce.  And then I have fun with the toppings by pulling out whatever is leftover in the fridge.  This is perfect low-stress food for entertaining because your guests could assemble their own cups and you don't have to slave away in the kitchen by yourself.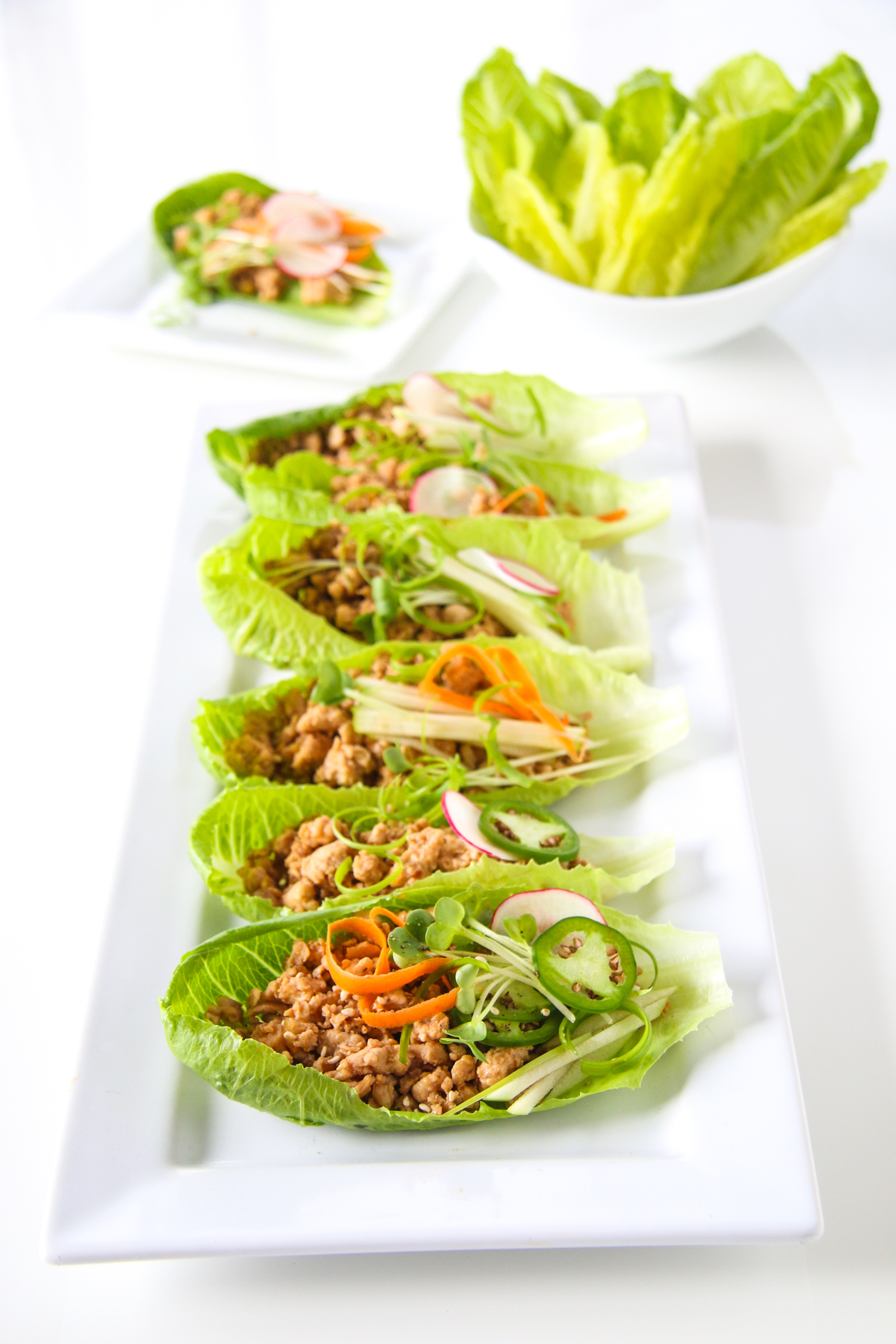 Maybe that's why I decided to make these for our last episode for Season 3, because I wanted to keep things easier for ourselves for our last shoot too.  "Simply Summer Fresh" has been a lot of fun, but now that the weather is starting to cool down and I see Facebook posts about kids going back to school, I know it's time to bring this season of our show to an end.  Watch how I make these Asian Lettuce Wraps in EPISODE 12, our SEASON FINALE of Bits & Pieces SEASON 3 below.
WATCH OUR SEASON FINALE EPISODE HERE:
These lettuce wraps are so light and flavorful that it's hard to stop eating them.  Don't be surprised if you keep picking up leaf after leaf.  I chose to use these cute little artisan romaine leaves because they're a little stiff and crunchy, which adds a nice refreshing crunch, and makes it easier to eat without the fillings spilling out everywhere. But you can use Boston, Bibb, or even Iceberg lettuce instead. Just don't forget to double up on your lettuce if it's on the floppier/ thinner side.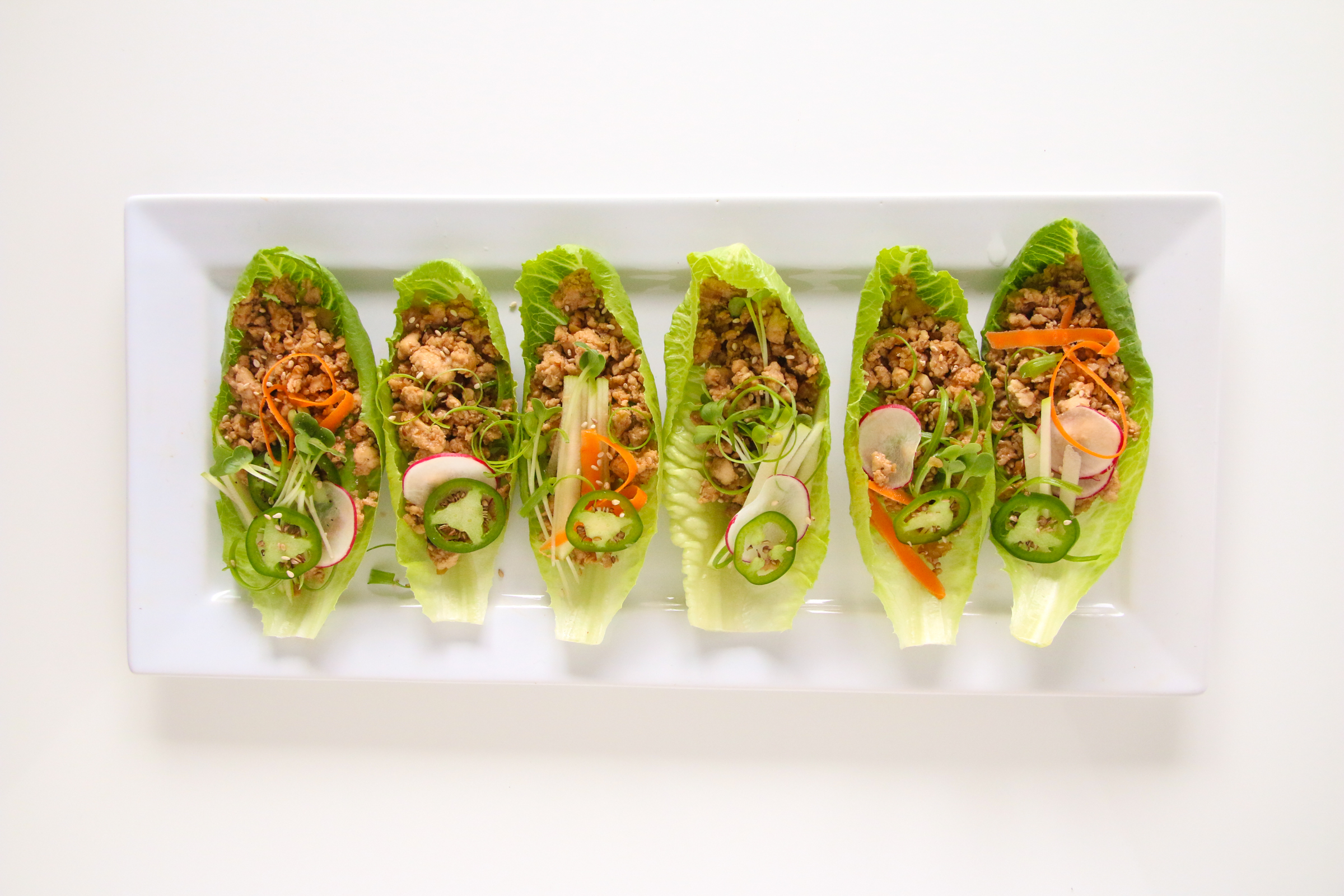 They are beautiful as appetizers or a first course for a party, but they're satisfying enough to eat as a meal.  Trust me… they're husband approved.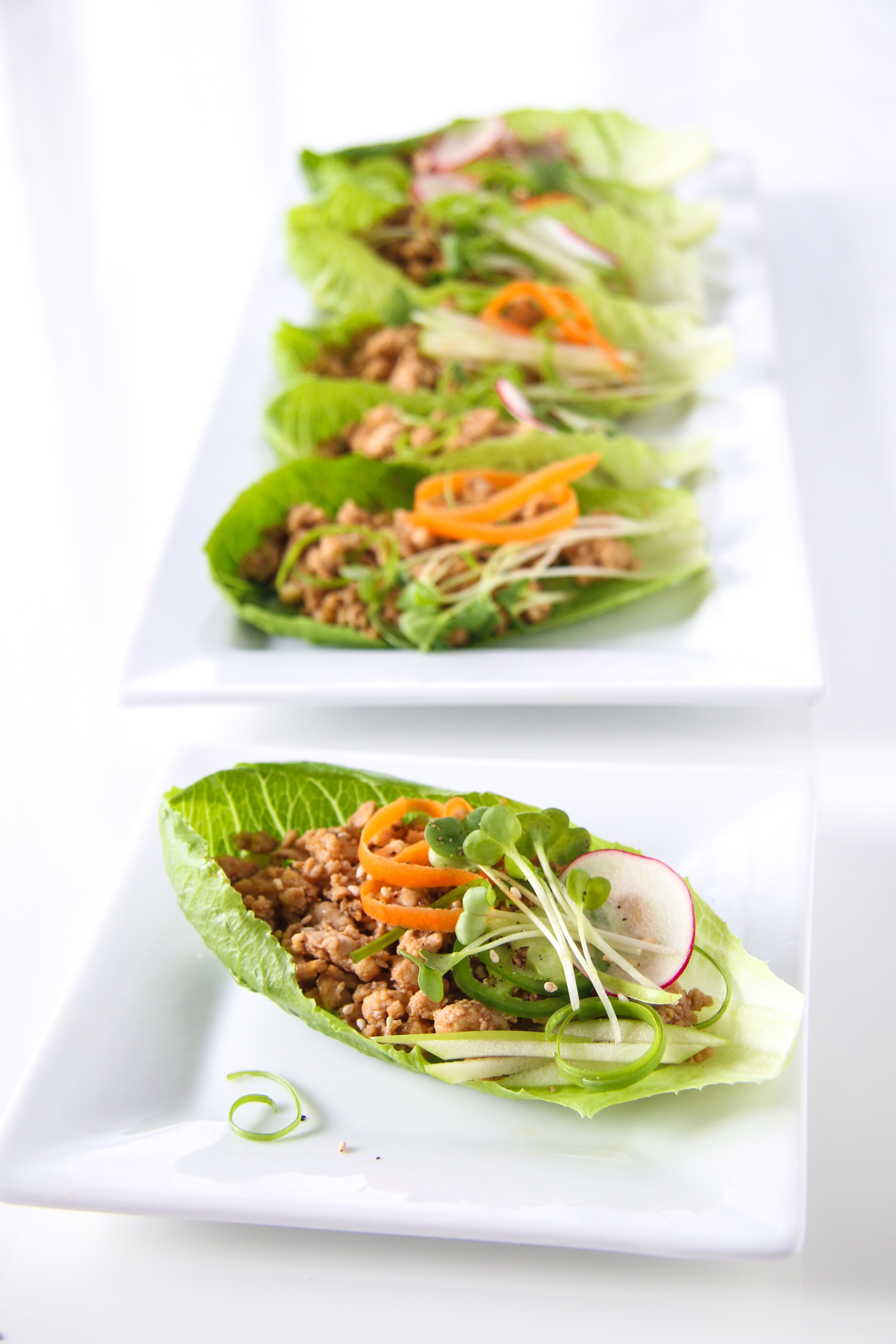 I had a lot of interesting toppings in the fridge at the time we were filming this because I was recipe testing for a Crossing Borders fundraising event.  So if you actually attended this event, you probably saw me make something similar there.  I'll probably share that recipe sometime later in Season 4.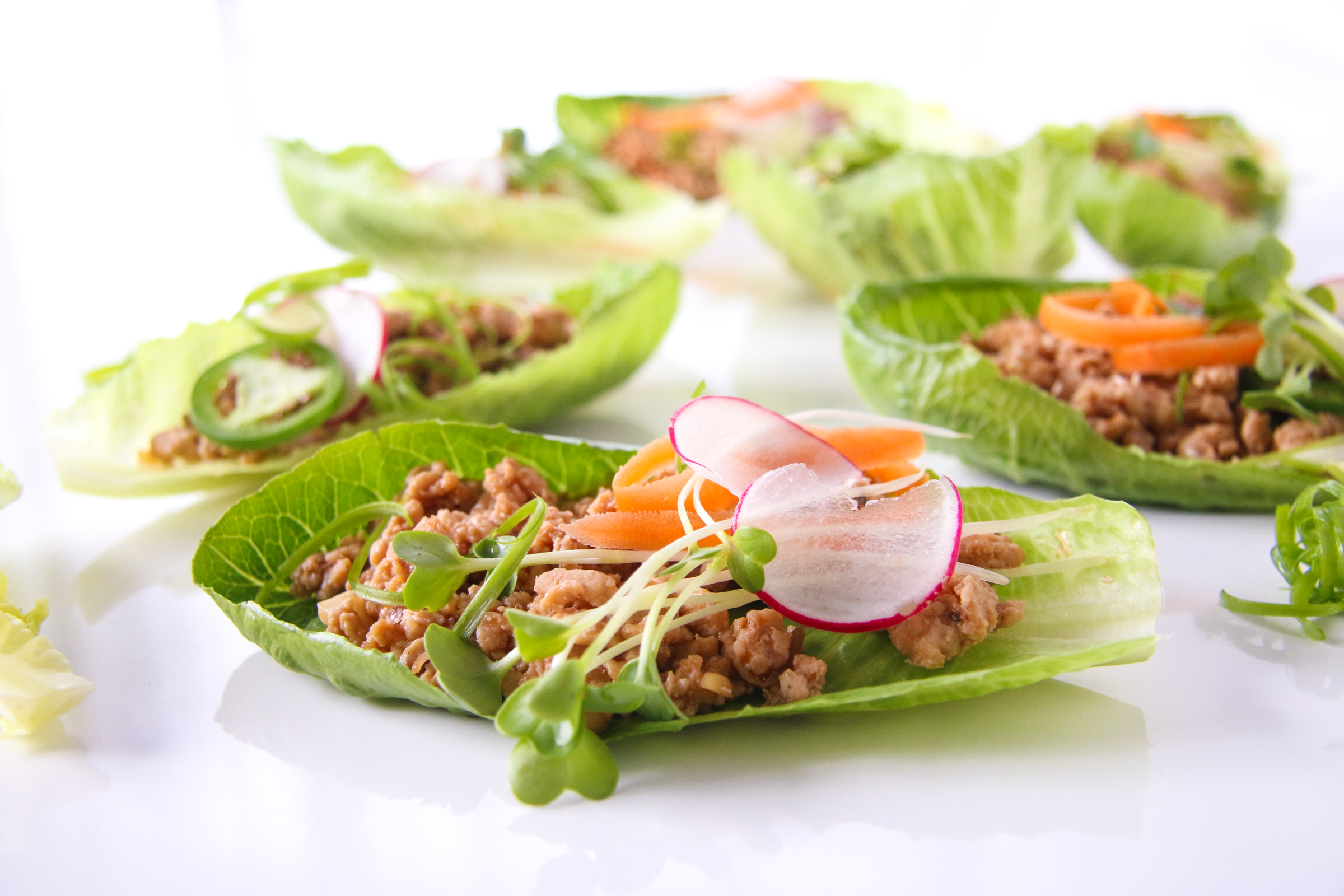 But for now, to keep with the theme of "Simply Summer Fresh," I wanted to give you one last easy breezy recipe that you can keep in your back pocket for the next time you want to eat something quick, healthy, and light.  Hope you enjoyed Season 3.  Thanks for watching.  More recipes to come in Season 4!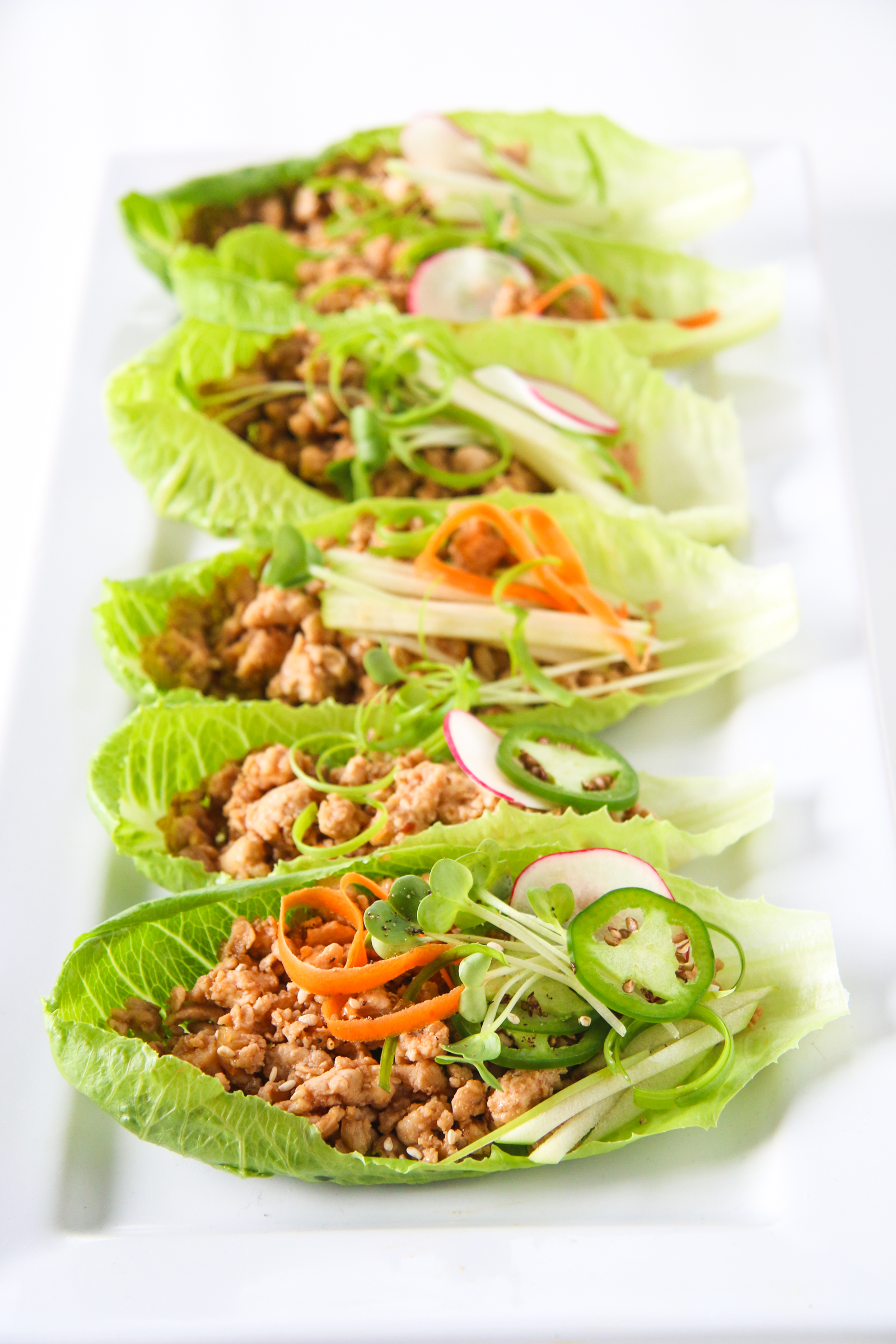 * COME BEHIND THE SCENES WITH US AND WATCH THE MAKING OF THIS EPISODE HERE: BEHIND THE SCENES
If you enjoyed this VIDEO, SUBSCRIBE to our COOKING SHOW CHANNEL HERE.  It's FREE! : Chef Julie Yoon
If you want to follow us on our journey, SUBSCRIBE to our VLOG CHANNEL HERE. It's FREE! : Our Yooniverse

Asian Lettuce Wraps
These Asian lettuce wraps are crunchy, refreshing, and light. They're the perfect stress-free dinner.
Ingredients
1 Tablespoon vegetable oil
1 pound ground chicken
2 cloves garlic, minced
2 shallots, diced
1 Tablespoon finely minced or grated ginger
Assorted toppings such as sliced scallions, jalapenos, radish, or cilantro leaves
Artisan romaine, Boston, Bibb, or Iceberg lettuce
Salt and pepper to taste
Toasted Sesame seeds for garnish (optional)

Sauce:
4 Tablespoons hoisin sauce
1-2 Tablespoons soy sauce
1 Tablespoon lime juice, plus wedges for serving
2 teaspoons Sriracha sauce
1 teaspoon sesame oil
Instructions
In a bowl, stir the sauce ingredients together and set aside.
In a large pan, heat the oil and add chicken. Sprinkle very lightly with salt and pepper. Cook until pink is gone. You can add more seasoning after you add the sauce and taste it.
Make a little space in the center of the pan and add the garlic, ginger, and shallots. Saute for 30 seconds, then incorporate into the chicken. Cook until shallots are softened, 2-3 minutes. Add the sauce and toss together until almost all the liquid in the pan is absorbed. Taste and adjust for seasoning with salt and pepper if needed. To eat, scoop some chicken mixture into a couple layered pieces of lettuce. If using artisan romaine, no need to layer. Top with assorted toppings of your choice and serve along with lime wedges.

TIP: Try thin slices or strips of Granny Smith apple as a topping. It's a surprising yet refreshing compliment to the chicken!