Watermelon and Lime Granita (Revised + VIDEO)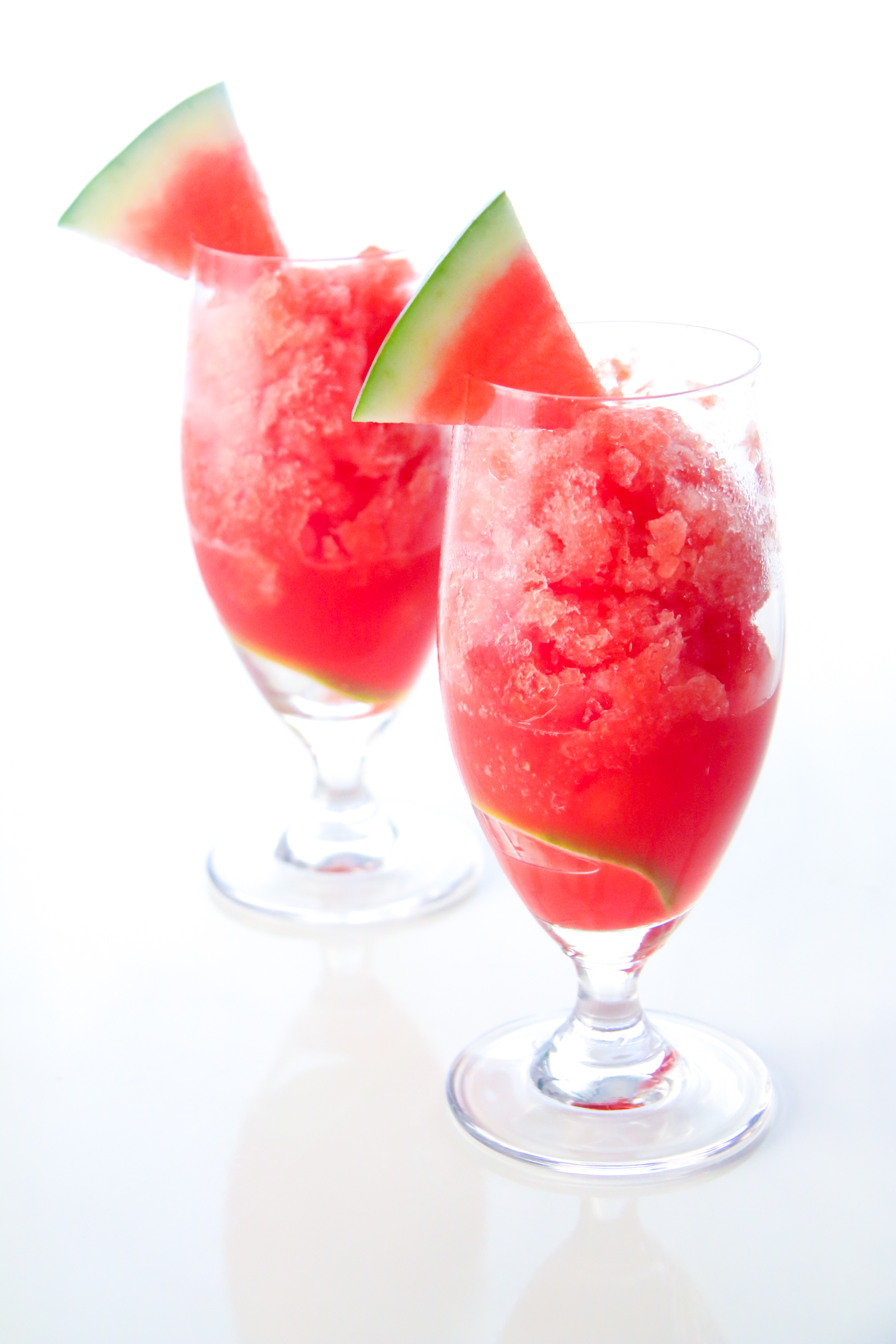 I already posted this Watermelon and Lime Granita recipe on the blog HERE. But I've been meaning to make a video for it for some time now.  It just so happens to be appropriate for SEASON 3 of our cooking show because it fits in with the theme of "Simply Summer Fresh" so perfectly.  I mean, what's more representative of summer than sweet juicy watermelon?
The only problem was that I didn't think I needed to test this recipe before we shot the video since it's already up on our blog.  However, the last time I made this, it was years ago, and I had a different freezer.  I also wasn't concerned about filming a video, so I checked on it less often, which actually resulted in a better granita that took WAAAY less time to make.  Oh well… at least it still tasted good in the end.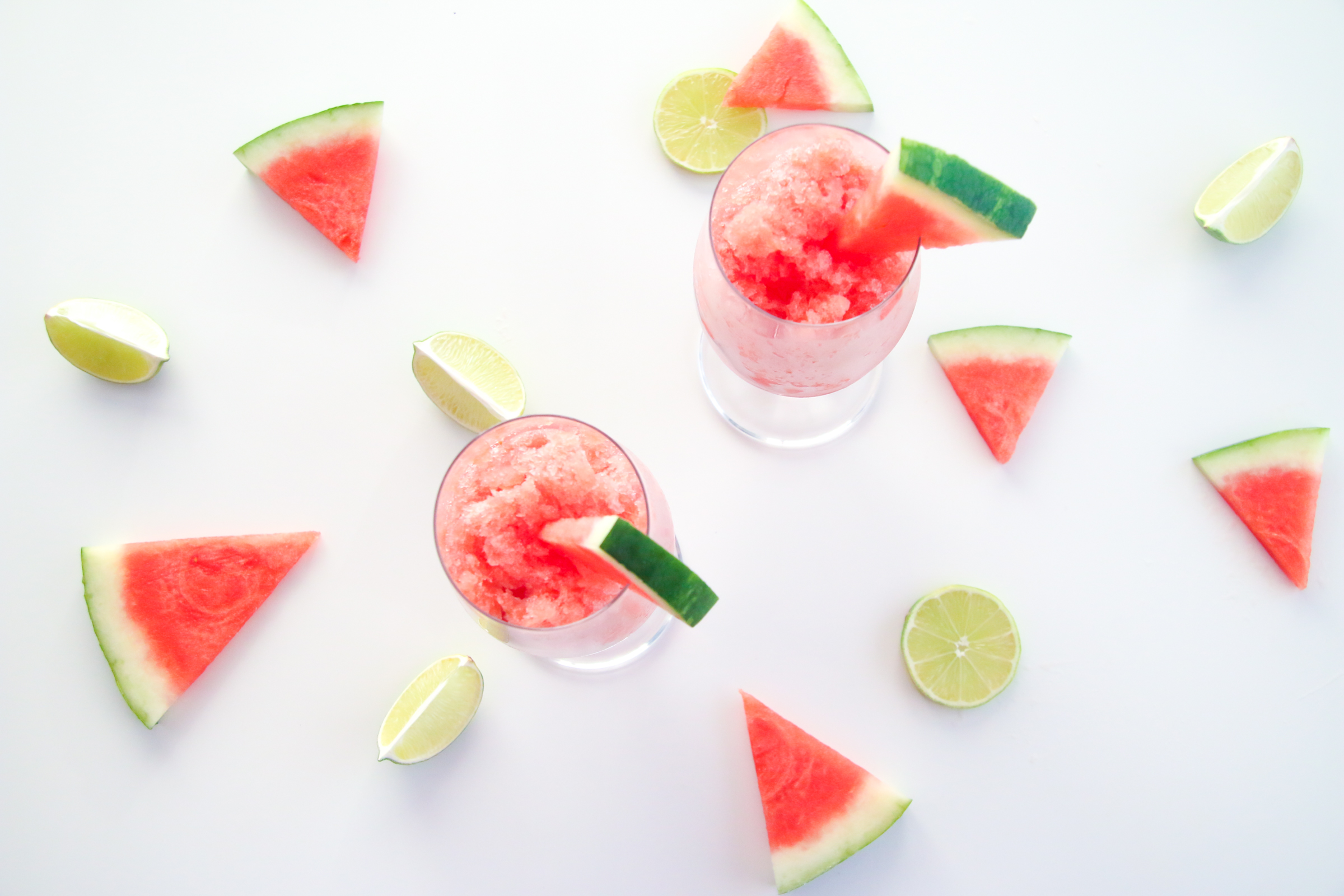 I will say that you should only attempt this recipe when you're already home and you have some time on your hands.  It's kind of like the concept of cooking something in a crockpot. You set it and semi-forget it.  You just have to remember to pull it out of your freezer every so often and give it a scrape.  If you wait too long, it will feel like you're picking away at an ice sculpture with a toothpick.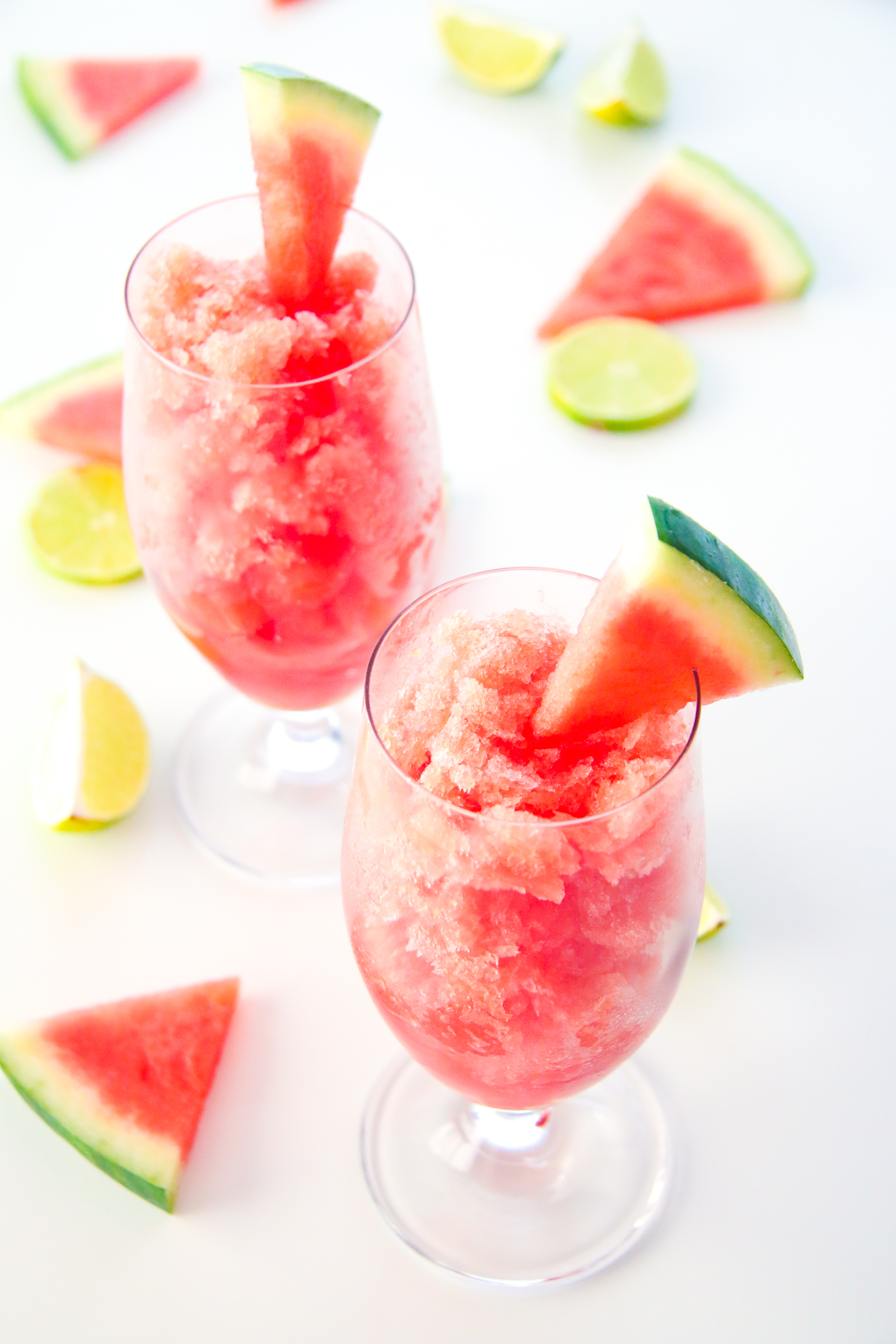 But on the flip side, you open that freezer door too often, and you wind up like me… frustratingly taking ALL day to film your video… and eating granita that's more on the slushy rather than icy side.  But luckily that just goes to prove that regardless of how the consistency is, you still end up with a tasty frozen treat that's pretty guilt free and perfect for hot weather.  You can see how I slowly scrape my way towards victory in EPISODE 8 of Bits & Pieces SEASON 3 below:
WATCH EPISODE 8 HERE:
Usually after we film, I don't like to have a ton of leftovers of whatever I just made.  But this time, we happily scraped and ate...and scraped and ate this granita for the entire week.  It was the most refreshing way to end our meal and each time felt like we were eating it for the first time.  We honestly got sad when we finally ran out of it.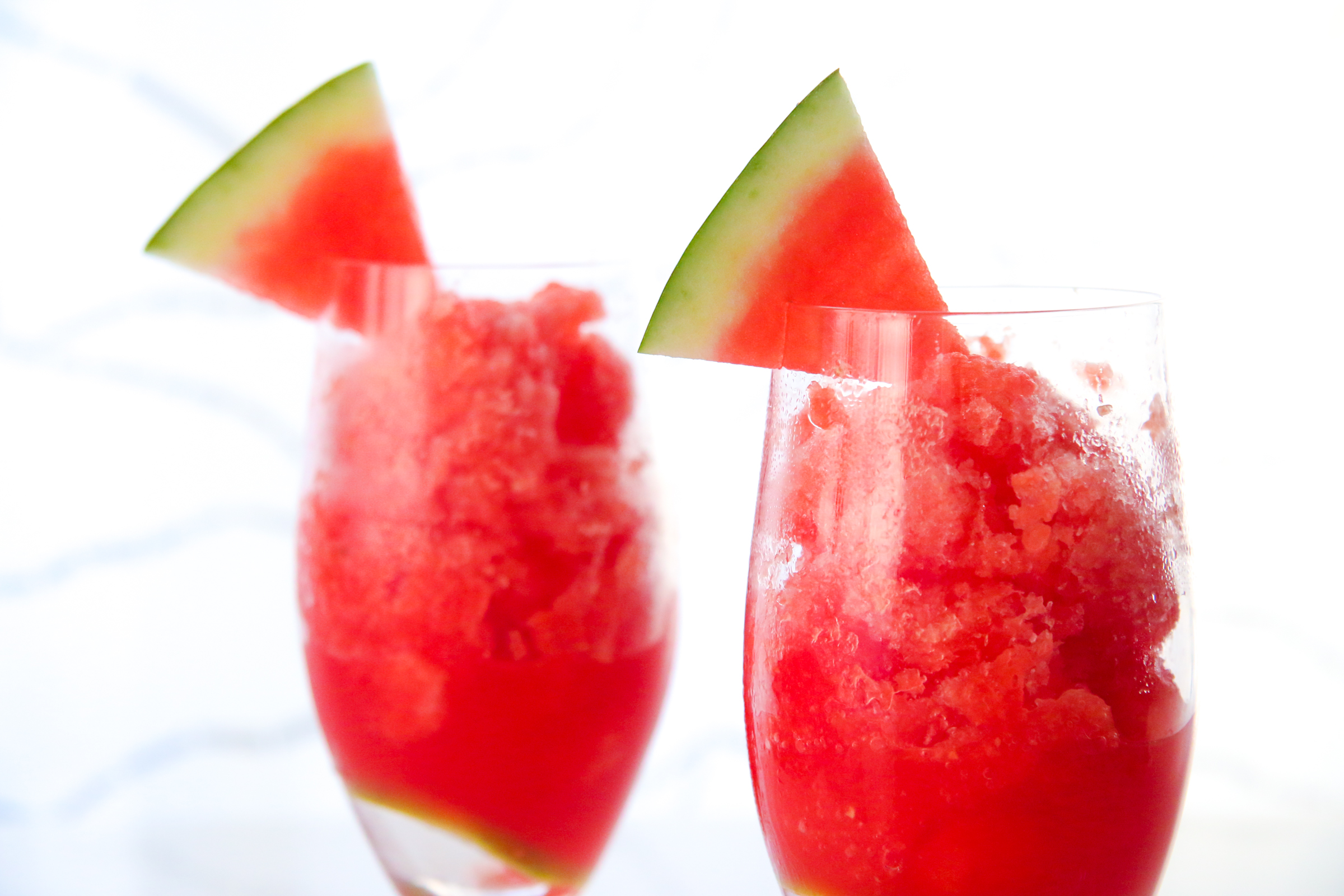 It's a hard recipe to mess up, and I now know that from first-hand experience.  For one thing, I JUST noticed that in my original post, I used a liquid measuring cup to measure out my watermelon.  In our video, I used a dry measuring cup.  Secondly, I kind of got impatient and just ended up scooping up my granita into our cups before they were fully frozen.  I just couldn't wait a minute longer.  But even with those hiccups, the dessert was still flavor bombtastic.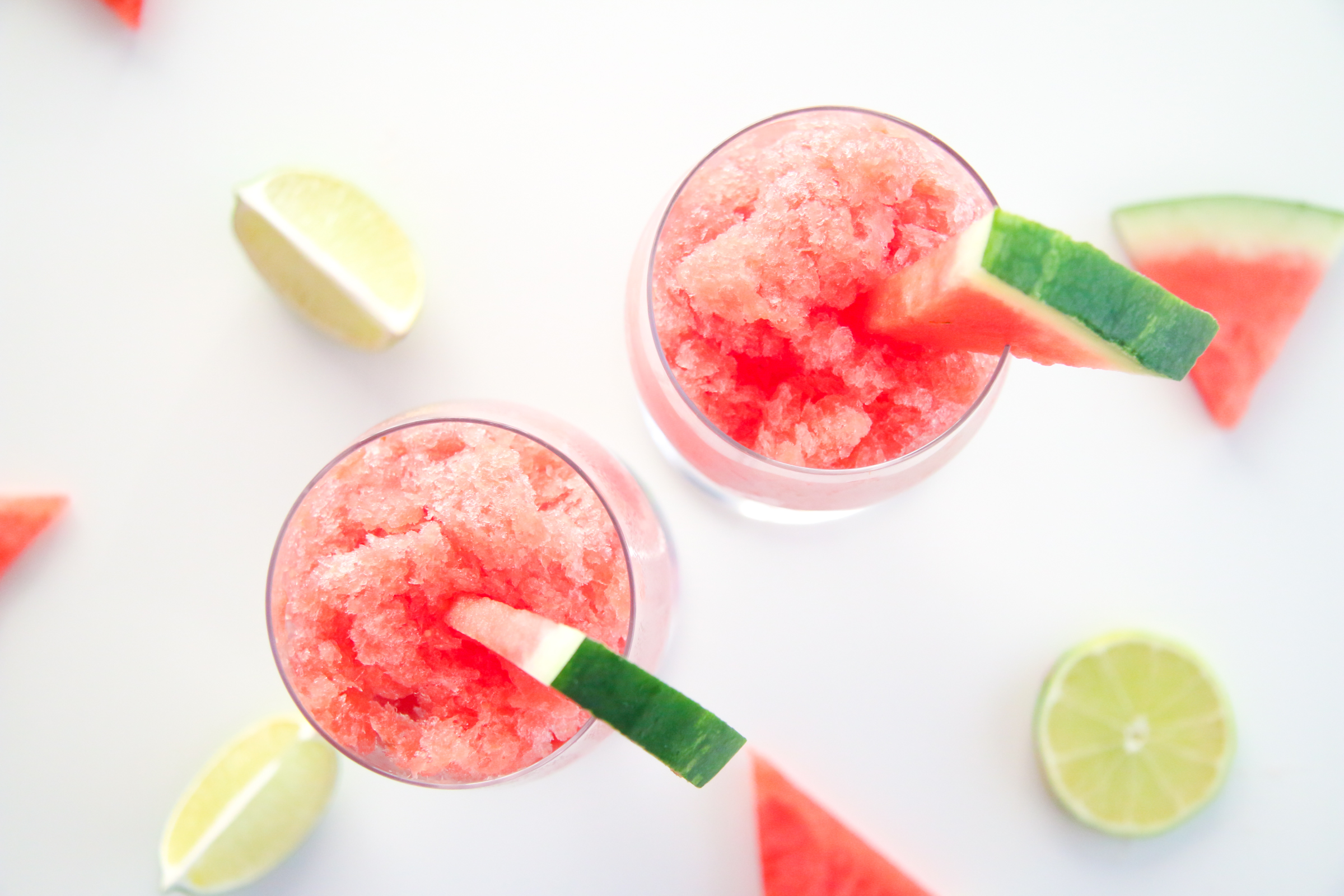 I made it once in California for our friends and they went nuts over it.  And then I didn't make it again for several YEARS!  What am I… some kind of fool?  I can't believe I'm not making this everyday!  And especially because it's so hot here right now, all I want is this Watermelon and Lime Granita RIGHT NOW!
The lime is the key. It adds this interesting taste so the slush doesn't become one-note or too predictable.  And the texture?  Well…depending on where you're located, it's similar to a snow cone, shaved ice, frozen lemonade, or water ice.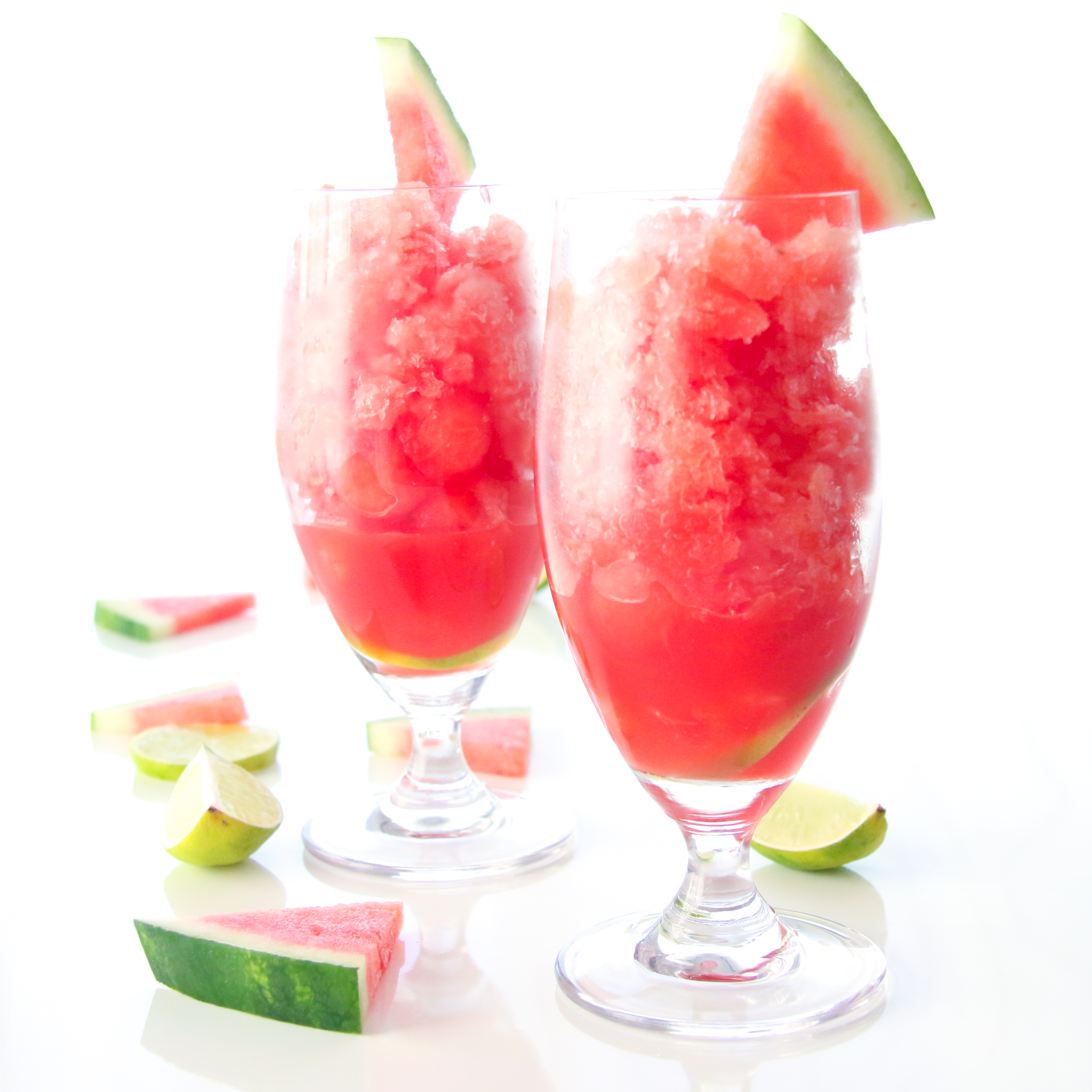 All I know is that after you take one bite, the flavor will become addicting.  It's so COLD and wonderful, while the flavor is intense.  It's almost like concentrated watermelon with a hint of sharpness.  You just gotta try it for yourself…just do yourself a favor and don't film a video while you make it… haha!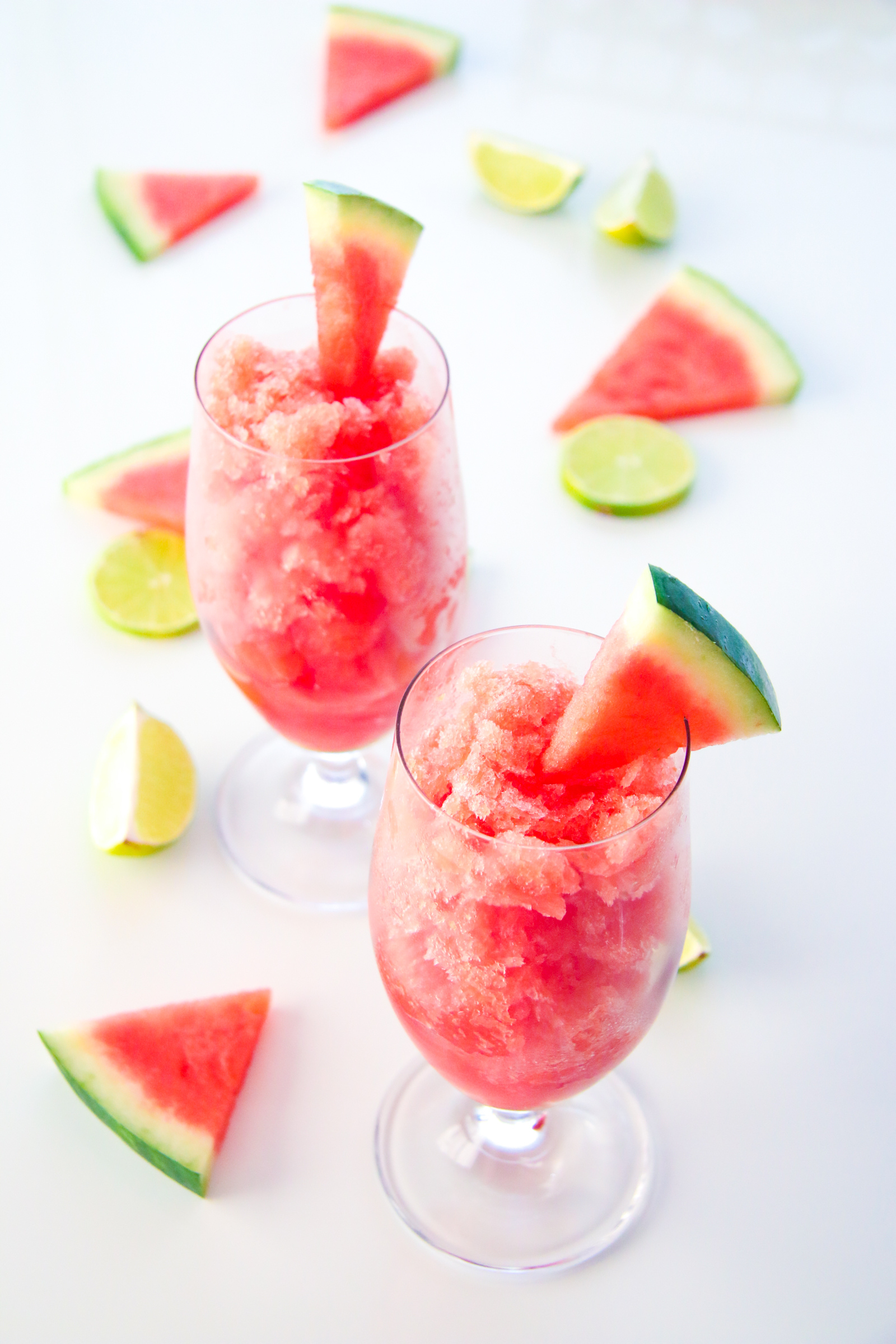 * COME BEHIND THE SCENES WITH US AND WATCH THE MAKING OF THIS EPISODE HERE: BEHIND THE SCENES
If you enjoyed this VIDEO, SUBSCRIBE to our COOKING SHOW CHANNEL HERE.  It's FREE! : Chef Julie Yoon
If you want to follow us on our journey, SUBSCRIBE to our VLOG CHANNEL HERE. It's FREE! : Our Yooniverse

Watermelon and Lime Granita (Revised + VIDEO)
This refreshing icy sweet treat will keep you cool all summer long.
Ingredients
8 cups seedless watermelon cut into 1" cubes, plus extra watermelon for garnish
¼ cup sugar
2 limes, juiced
Instructions
Add lime juice and sugar to a blender. Then add some of the watermelon, until your blender is ¾ full. Blend all the ingredients until smooth. Pour about half of the mixture into a rectangular baking pan. Add your next batch of watermelon and blend again. Pour into the dish and give it a mix.
Freeze the mixture uncovered for 1 to 1½ hours. Stir, mashing any frozen parts with a fork. Freeze mixture until firm, about 2 hours. Scrape granita vigorously again to form icy flakes. Cover tightly with foil and keep frozen. Give it a quick scrape before serving. Every freezer is different so your freezing times may vary. Basically freeze and scrape, freeze and scrape. But do yourself a favor and don't check it too often or it will take too long.
Use any leftover watermelon to scoop out chunks with a melon baller to add to your granita. Garnish with lime slices and thin mini slices of watermelon.