Pizza Challenge : Celebrating 5000 Subscribers!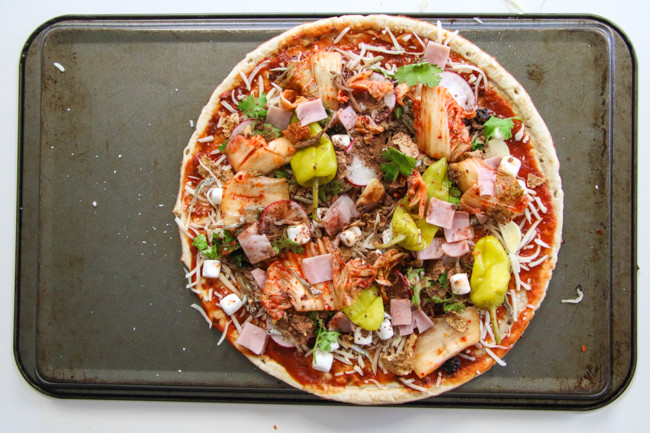 I remember feeling like we'd NEVER reach 5000 subscribers on our YouTube channel.  It felt so far away and unattainable.  It was definitely a long slow struggle to get here, but we finally did it!  I know it's not the most impressive number out there to seasoned YouTubers, but to us, it's the biggest deal, and we're really proud!  So to say thanks, we decided to do another food challenge!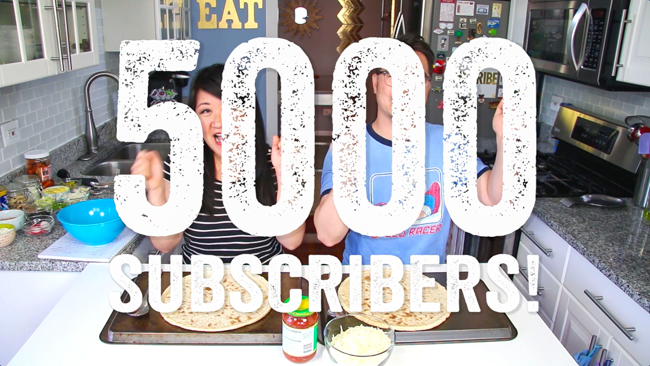 You may have already seen us eat spicy ramen when we reached 1000 subscribers…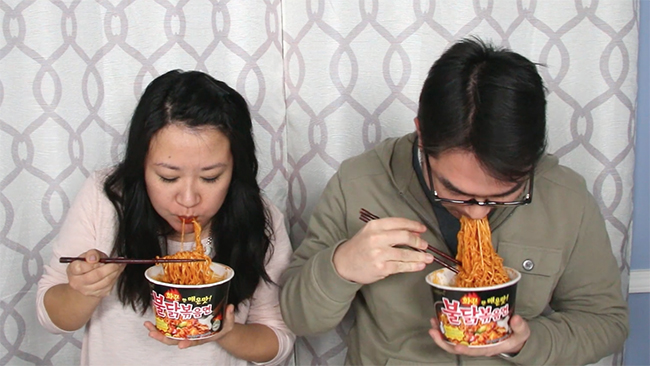 …and eat Asian snacks when we reached 3000 subscribers!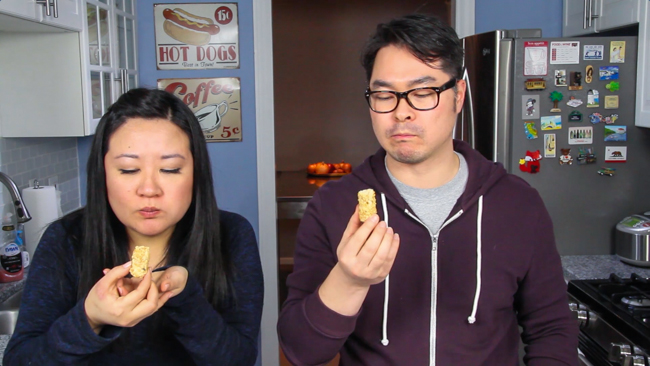 This time, we decided go big and do the WORST TASTING one of all.  In fact, after we wrapped up filming this, I immediately felt nauseated and couldn't get the memory of it out of my brain for the next two days.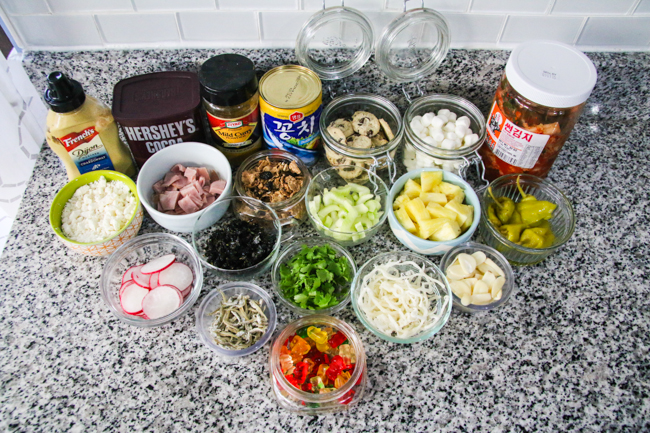 Watching us assemble our crazy pizzas is probably entertaining enough, but to make things more interesting, we decided to pair our food challenge with a Q&A tag.   So we answered a few random and fun questions about ourselves so you could get to know us a little better.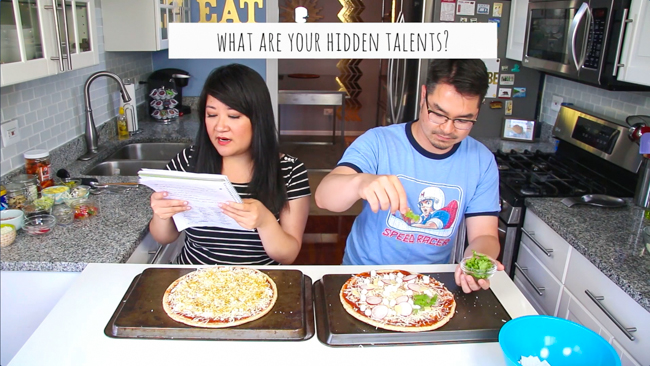 Thank you for subscribing and being part of the 5000 strong!  You are officially part of our family.  We can't continue to do what we do without you!  Now go watch us torture ourselves in our Pizza Challenge VIDEO below:
WATCH OUR PIZZA CHALLENGE HERE:
At first, this challenge didn't seem so bad, but after we turned the cameras off, it finally hit me that what we were eating was JUST PLAIN WRONG! Haha.  The look and smell of my pizza was enough to make me sick.  There's something wrong about melted gummy bears and fish together.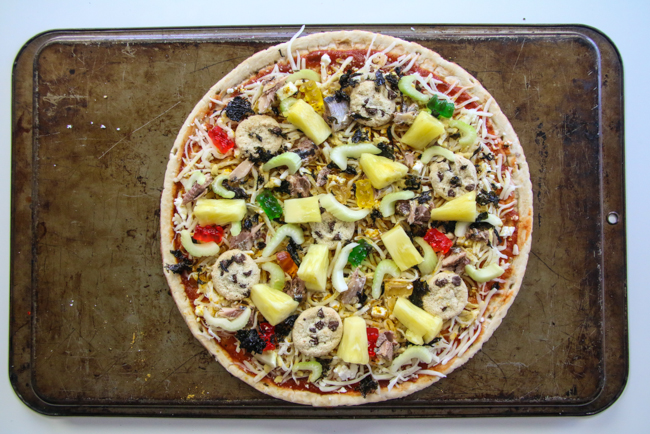 But Joe's reaction is THE BEST!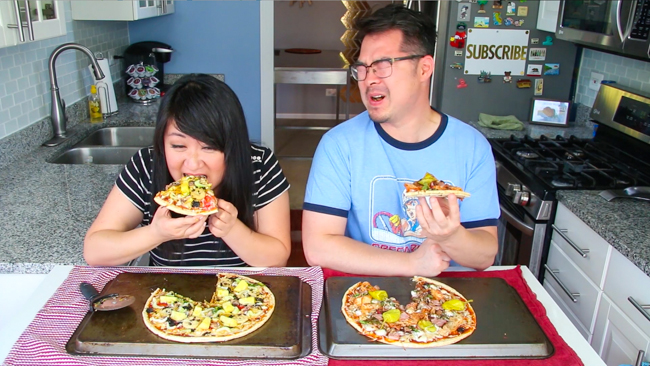 I think I didn't have enough time to react to the taste in my mouth because I was too busy laughing at him.  It was definitely a lot of fun.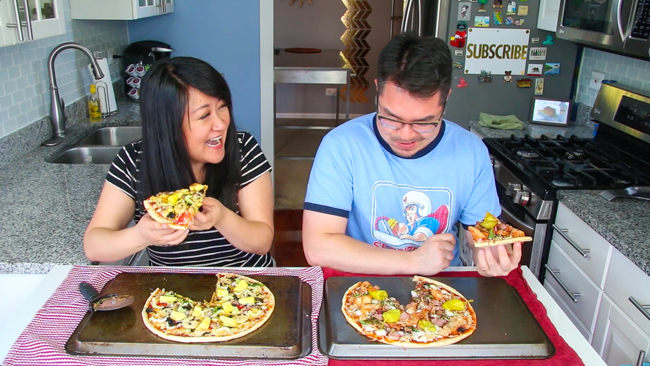 These food challenge videos are just our way of celebrating our new landmarks, and not letting them pass by unnoticed. Every single subscriber makes a difference, and with each milestone we reach, we always feel encouraged to keep going.
I know the chances of one of my cooking videos going viral is highly unlikely.  That's why growth is somewhat slow, and with every new goal we reach, I feel like it's a huge accomplishment…like we reached the top of another small mountain.  With YouTube, there's really no ceiling, so it's really fun to watch how far we can go.  We're not going to say it's been easy…it's been really hard actually.  But it's also been an adventure and we can't say thank you enough!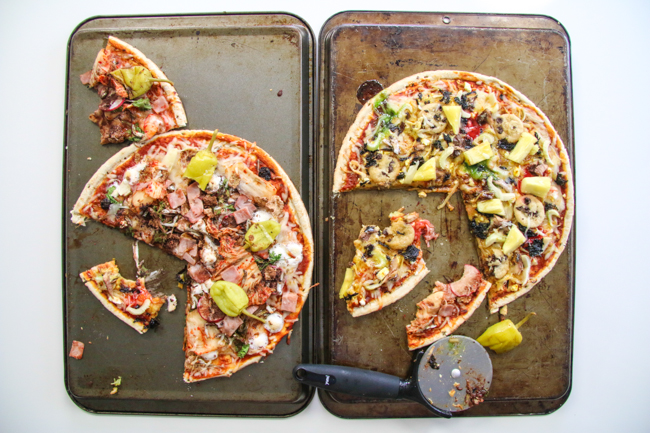 So if you haven't subscribed to our channel already, please do so because that number actually counts for something and means a lot.  We probably won't be posting another challenge for a while… until we reach our next goal… and that's a bit more ambitious. But one thing I learned from this journey so far is never say never!
If you enjoyed this VIDEO, SUBSCRIBE to our COOKING SHOW CHANNEL HERE.  It's FREE! : Chef Julie Yoon
If you want to follow us on our journey, SUBSCRIBE to our VLOG CHANNEL HERE. It's FREE! : Our Yooniverse