Homestyle Chicken Noodle Soup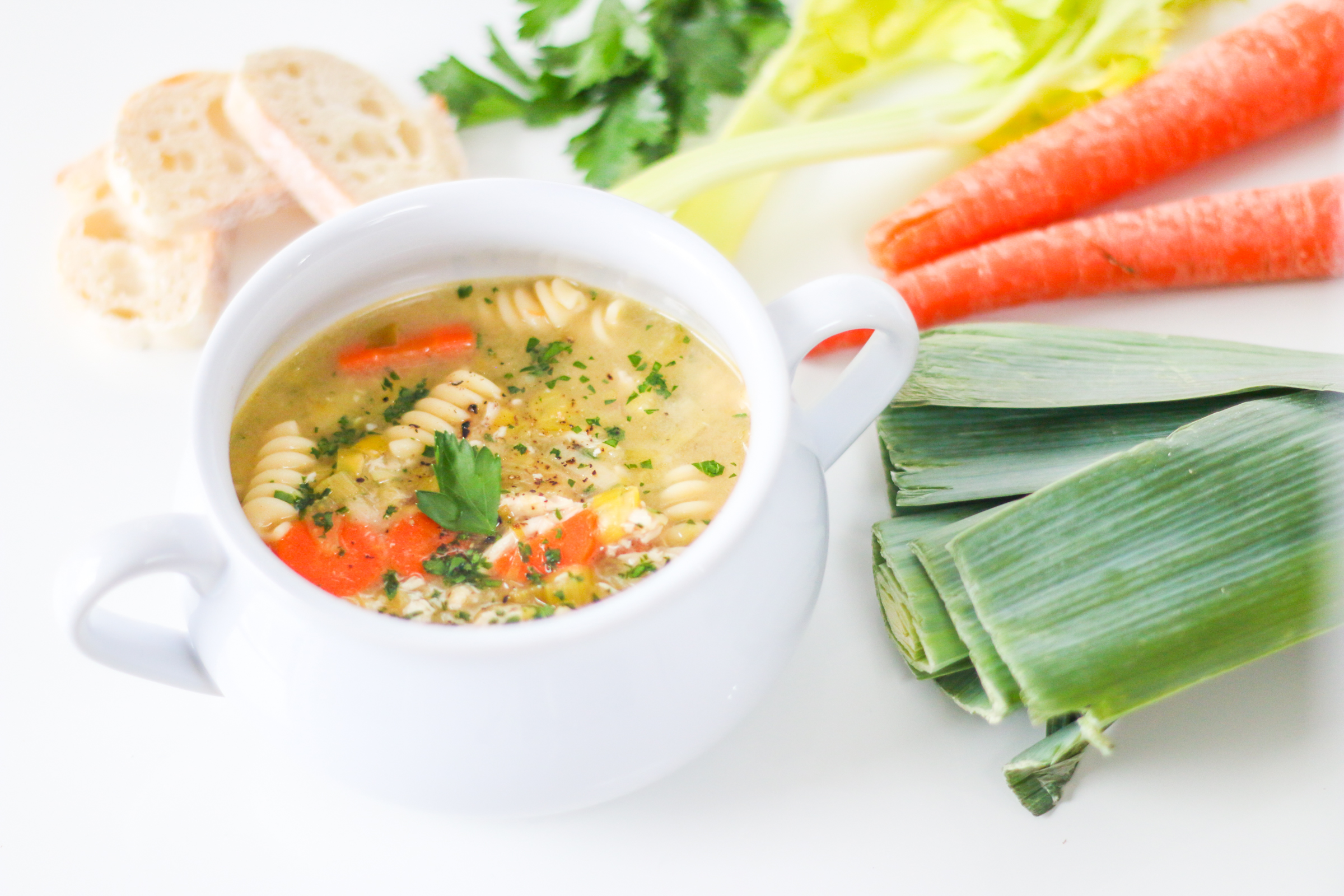 This is the soup I wish someone would make for me when I'm feeling under the weather.  It tastes like it's made from scratch, but it's much easier than that!  There's nothing trendy about this soup… it's classic and comforting.  Okay, I do add a slight twist by using leeks, but other than that, it's everything chicken noodle soup should be.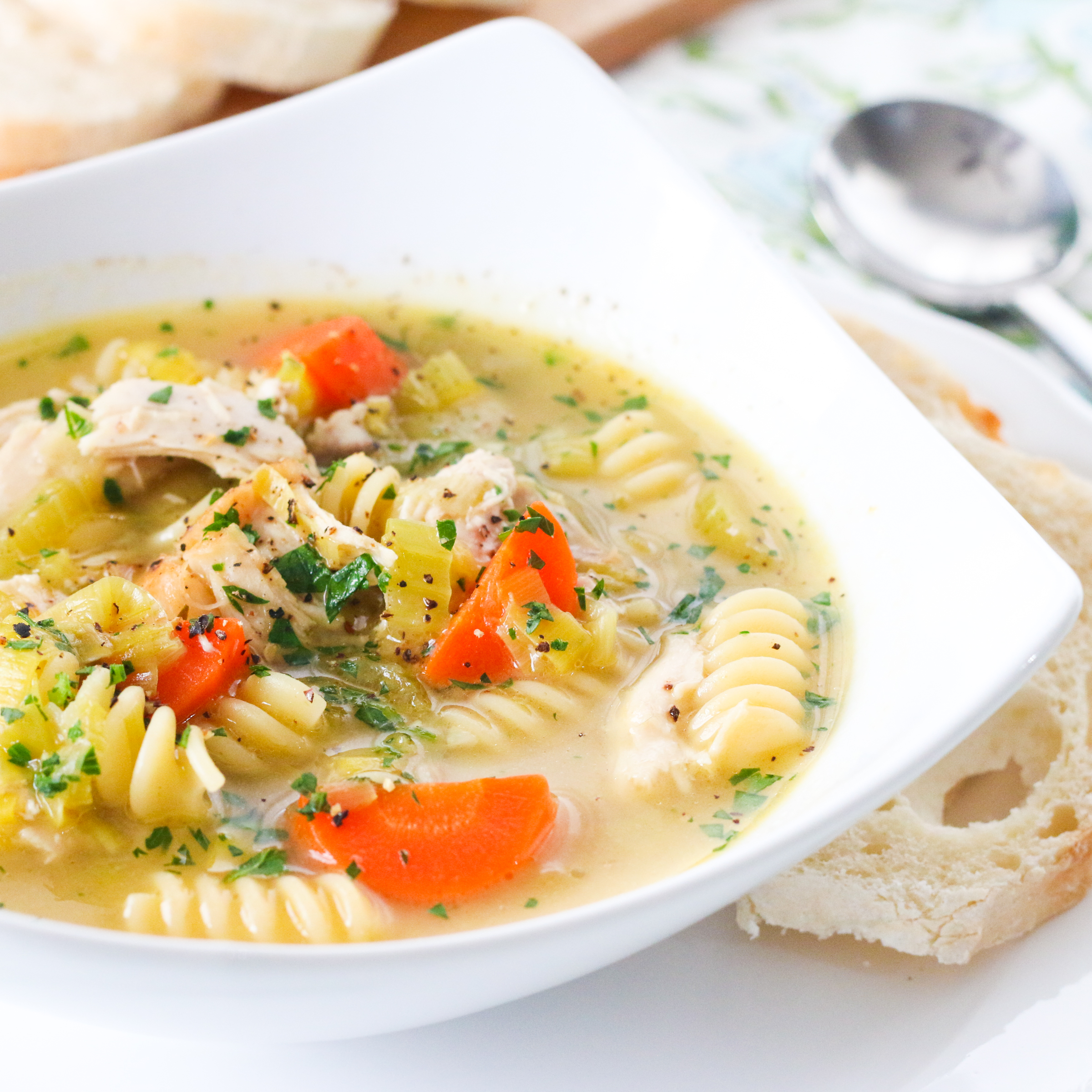 I do go on kicks where I make my own chicken broth and do the whole slow food thing.  But sometimes, you can achieve the same look and feel with store-bought broth and a few extra steps.  It's not quite as easy as pouring some chicken broth into a pot, but it's far from complicated too.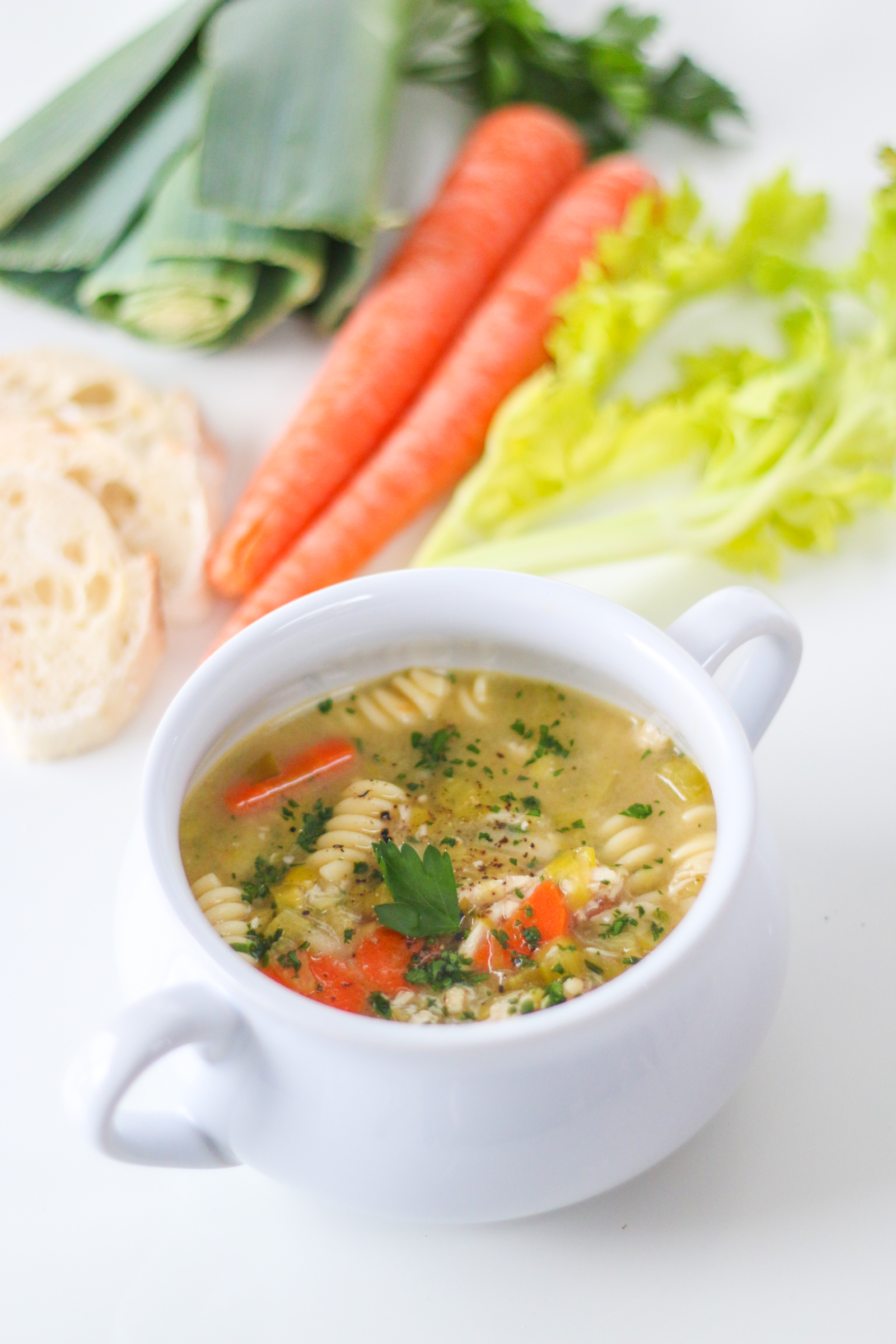 The results are a cloudy, slightly thicker soup, as if it were made from boiling bones for a while, with all the familiar tastes you crave.  You can see how I wrangle up this Homestyle Chicken Noodle Soup in a flash in Episode 13 of Bits & Pieces SEASON 2 below:
WATCH EPISODE 13 HERE:
I feel like I should seriously make batches of this soup and just keep them in my freezer for the next time I'm feeling sick.  Unfortunately when I do feel ill, I have no one to cook for me.  Joe tries his best by cracking open a can of soup, but when you're not feeling well, you seriously want something a little more homemade and comforting.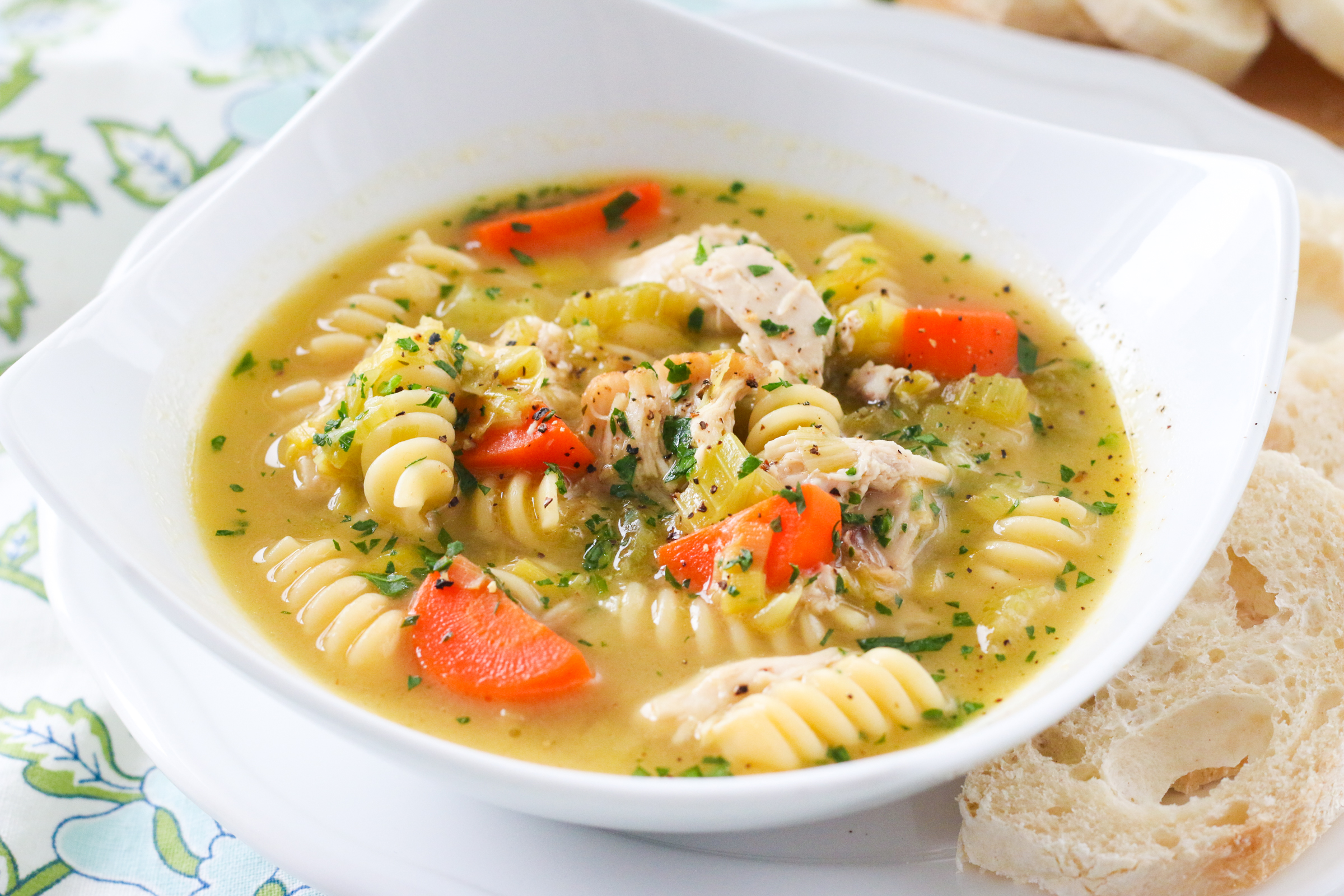 And because I choose to boil my noodles (or pasta) separately, I totally could make this in advance and freeze it.  I like to keep the pasta separate from the broth until the very last minute, right before I'm going to eat or serve it.  I've been disappointed before with leftovers, bloated noodles, and completely absorbed broth.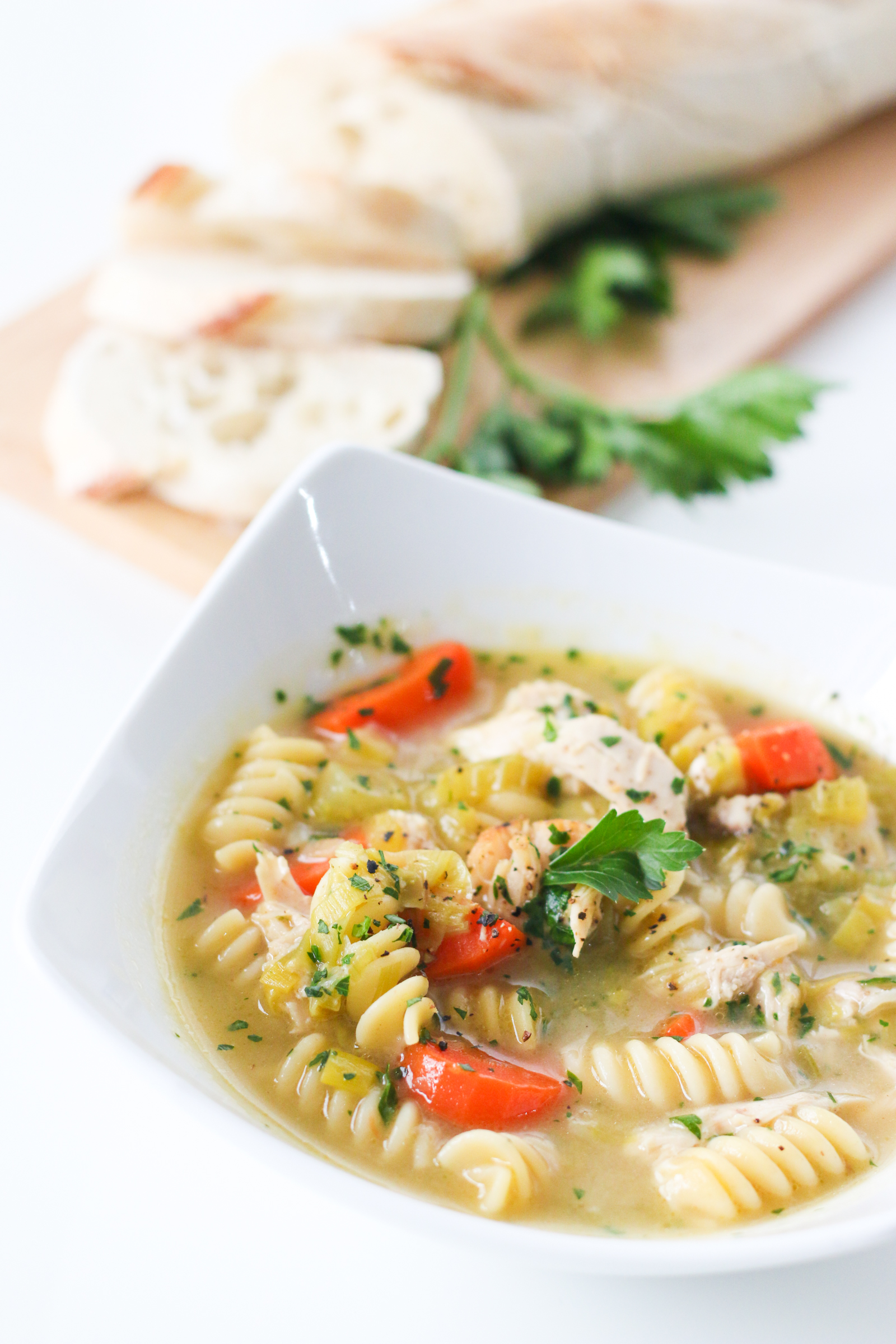 But honestly, you may not even have leftovers with this recipe because it makes just a small amount, which is perfect for two.  Because it's so quick and easy to make, you won't feel like you need to make a great big ol' pot of it.  Just make it when you need it.  Yes, because there will be times where you will NEED this soup in your life!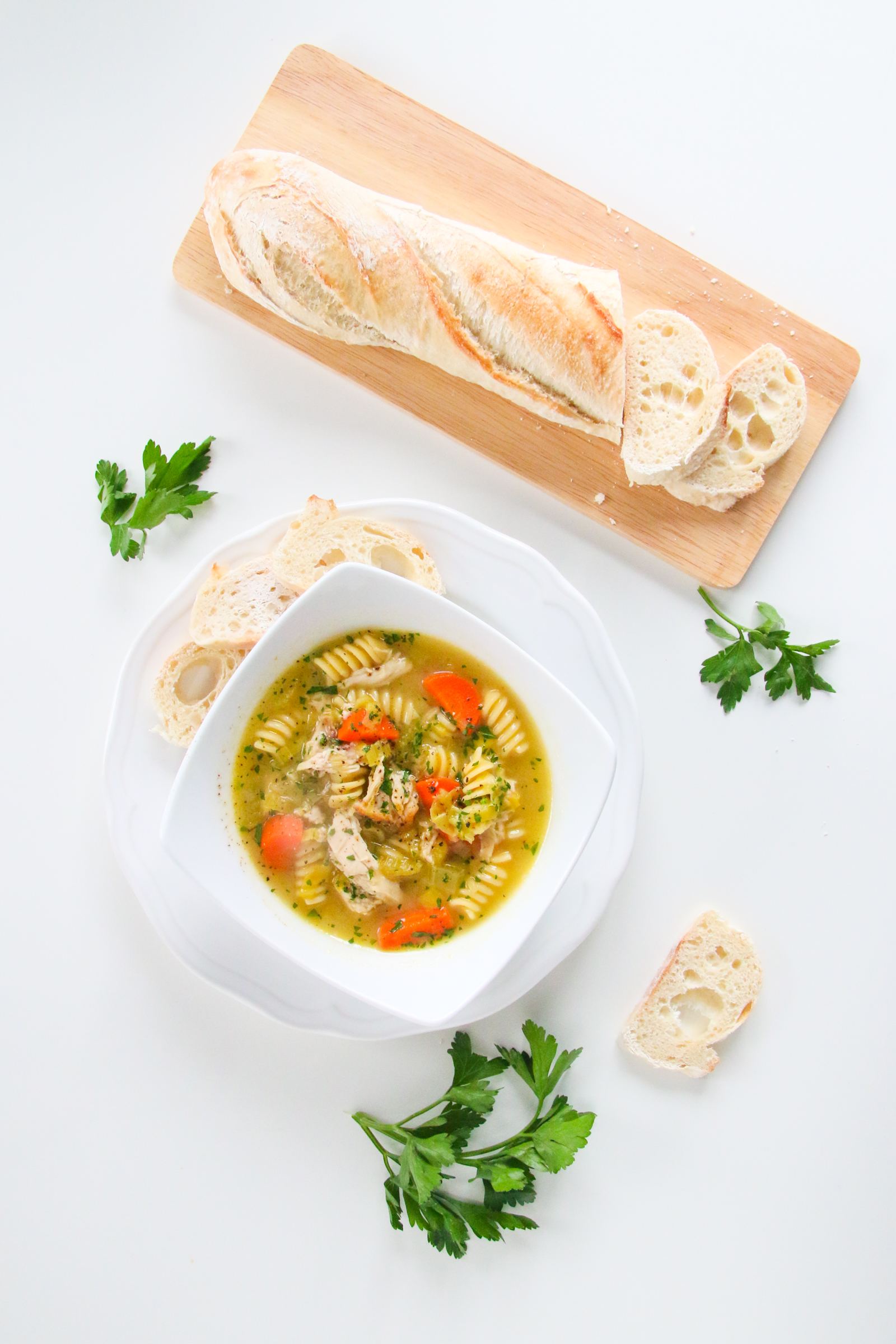 If you're feeling like you want to bump up the nutrition factor, feel free to toss in some spinach or kale. In fact, my father-in-law LOVES any soup I make with a little kale in it.  Or switch out the noodles and add cheese tortellini instead!  Seriously worth giving that a try.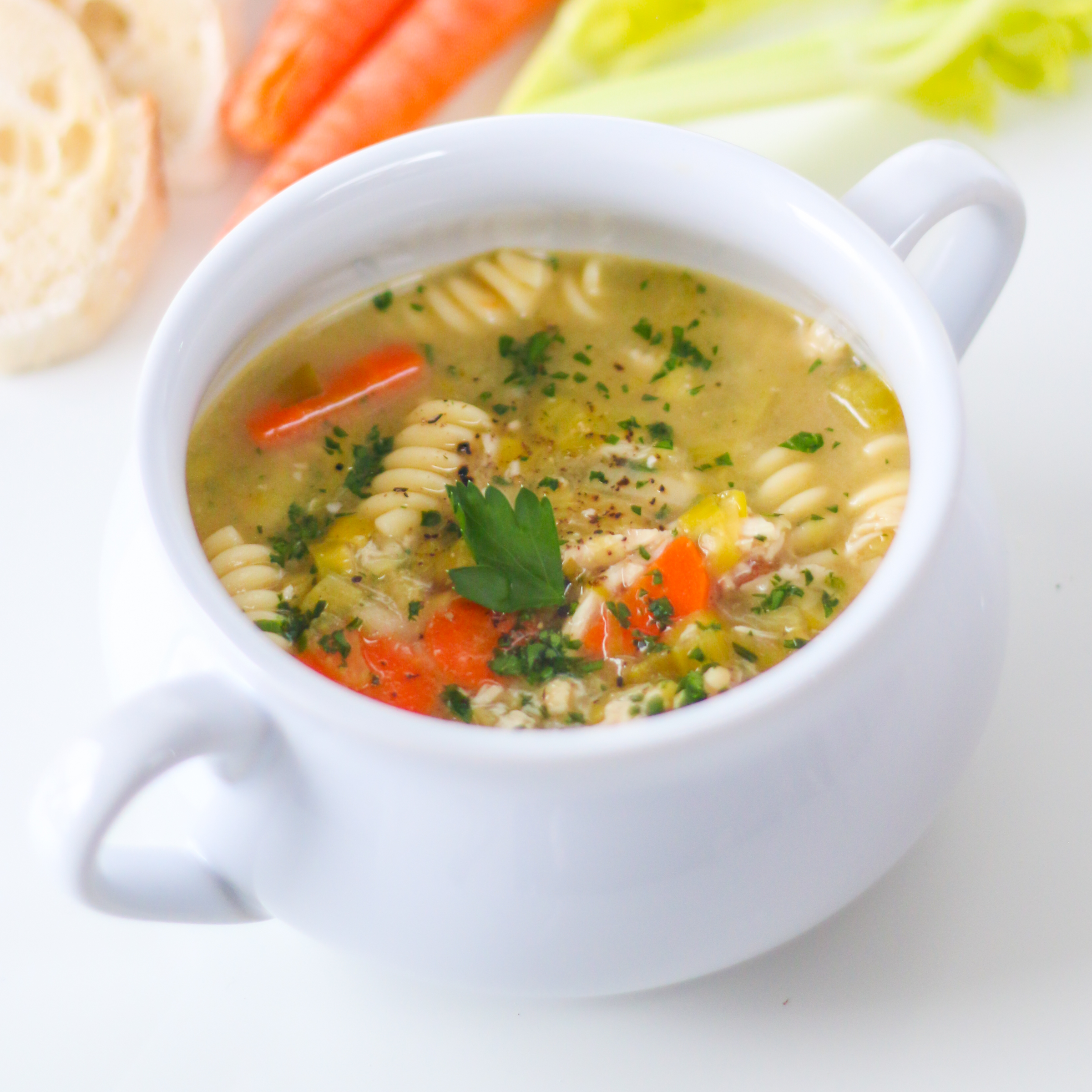 The weather has finally been warming up this week, so my timing with the release of this recipe is a little off, but at the time we shot our video, there was still snow on the ground, and it was painful to stand outside for more than 5 consecutive minutes.  It's been a looong rough winter and I'm definitely enjoying the sunshine!
But you don't have to wait until it's cold again to cook this chicken noodle soup.  Anytime you need a little hug from the inside out, you know what to make!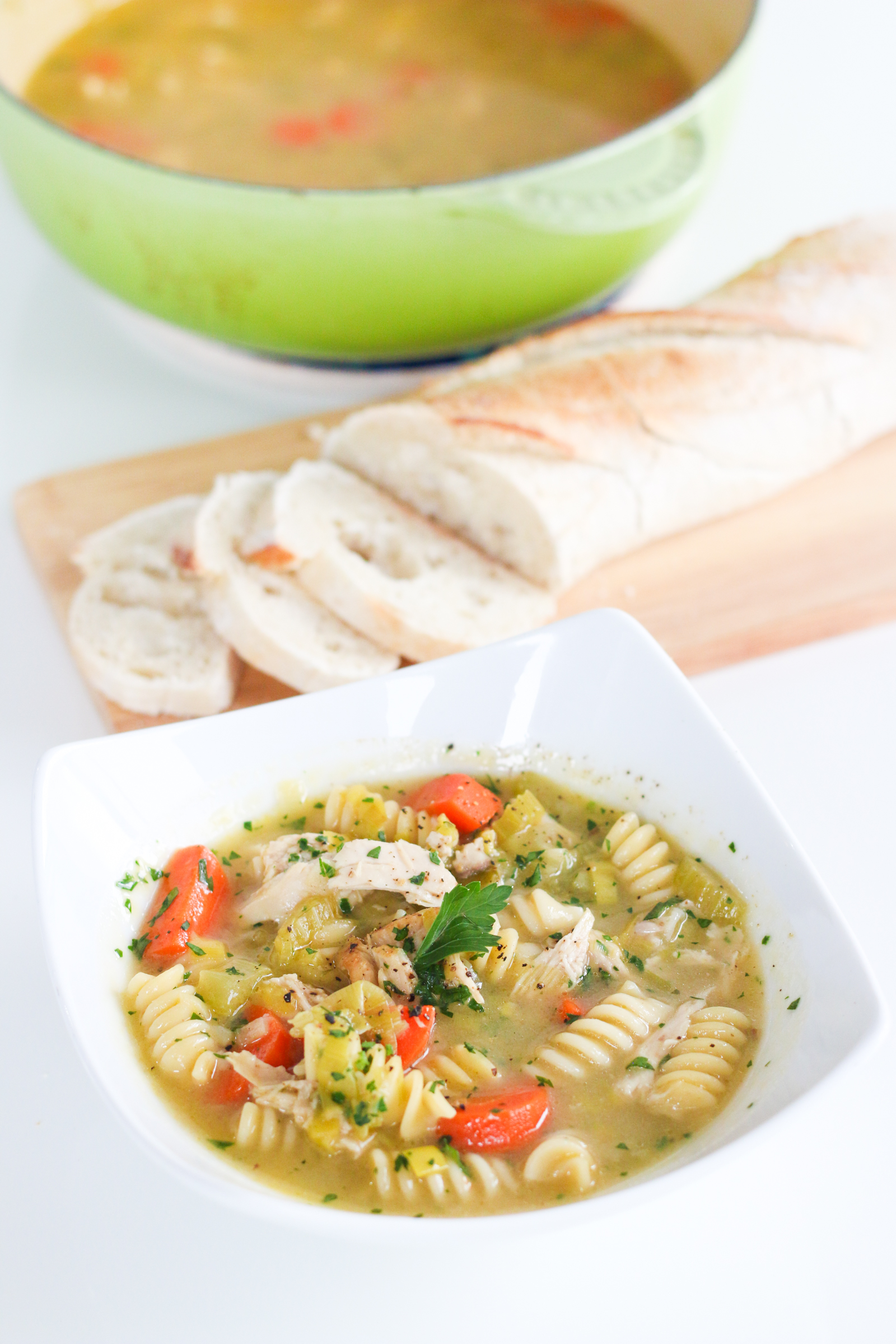 Homestyle Chicken Noodle Soup
This classic comforting soup looks and tastes like it's made from scratch, but it's much easier than that!
Ingredients
1 (12-ounce) bone-in split chicken breast, trimmed
2 teaspoons vegetable oil
½ a leek, thinly sliced
2 cloves garlic, minced
1 celery rib, diced small
1 carrot, peeled and cut into ½ -inch pieces
1 tablespoon all-purpose flour
3 cups chicken broth
1 dried bay leaf
½ cup dried rotini pasta or wide egg noodles
1 tablespoon minced fresh parsley
Salt and Pepper to taste
Instructions
Season chicken with salt and pepper on both sides. Heat oil in medium soup pot over medium-high heat until just smoking. Brown chicken, skin side down, until golden, about 6 minutes; transfer to plate. The chicken will still be raw.
Add leeks, celery, and carrot to the fat left in the pot and cook over medium heat until softened, about 5 minutes. Stir in garlic and cook until fragrant, about 30 seconds. Stir in flour and cook for 1 minute. Slowly whisk in broth, scraping up any browned bits.
Add browned chicken, flesh side down, with any accumulated juices, and bay leaf. Cover and bring to a simmer. Cook on a low simmer for 20 to 22 minutes, or until the chicken is completely cooked. Transfer chicken to cutting board, let cool slightly, then shred into bite-size pieces using 2 forks, discarding skin and bones.
Meanwhile, cook pasta or noodles separately in a pot of boiling salted water, according to package directions. Drain and add to bottoms of bowls.
To serve soup, discard bay leaf. Off heat, stir in shredded chicken and let sit until heated through, about 2 minutes. Stir in parsley and season with salt and pepper to taste if needed. Pour hot soup over noodles in bowls and serve.