Homemade Skillet Pizza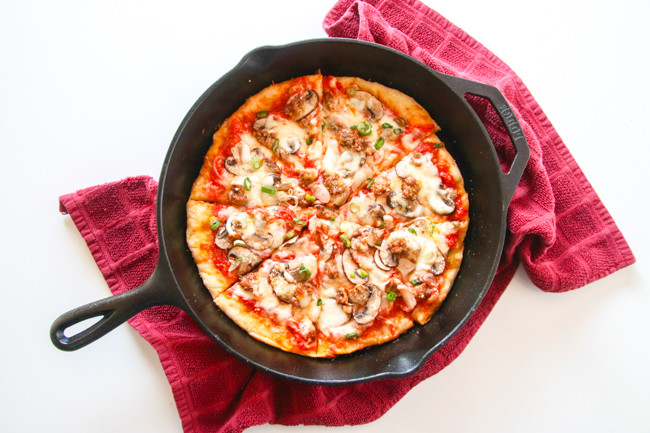 No pizza stone? No problem!  Making pizza from scratch at home is really rewarding and not as daunting as you might think.  Yeah I know that you can go out and buy pre-made crusts or even the raw pizza dough from most any grocery store these days, but it's really easy to whip up your own FROM SCRATCH and make just the perfect amount of pizza for two!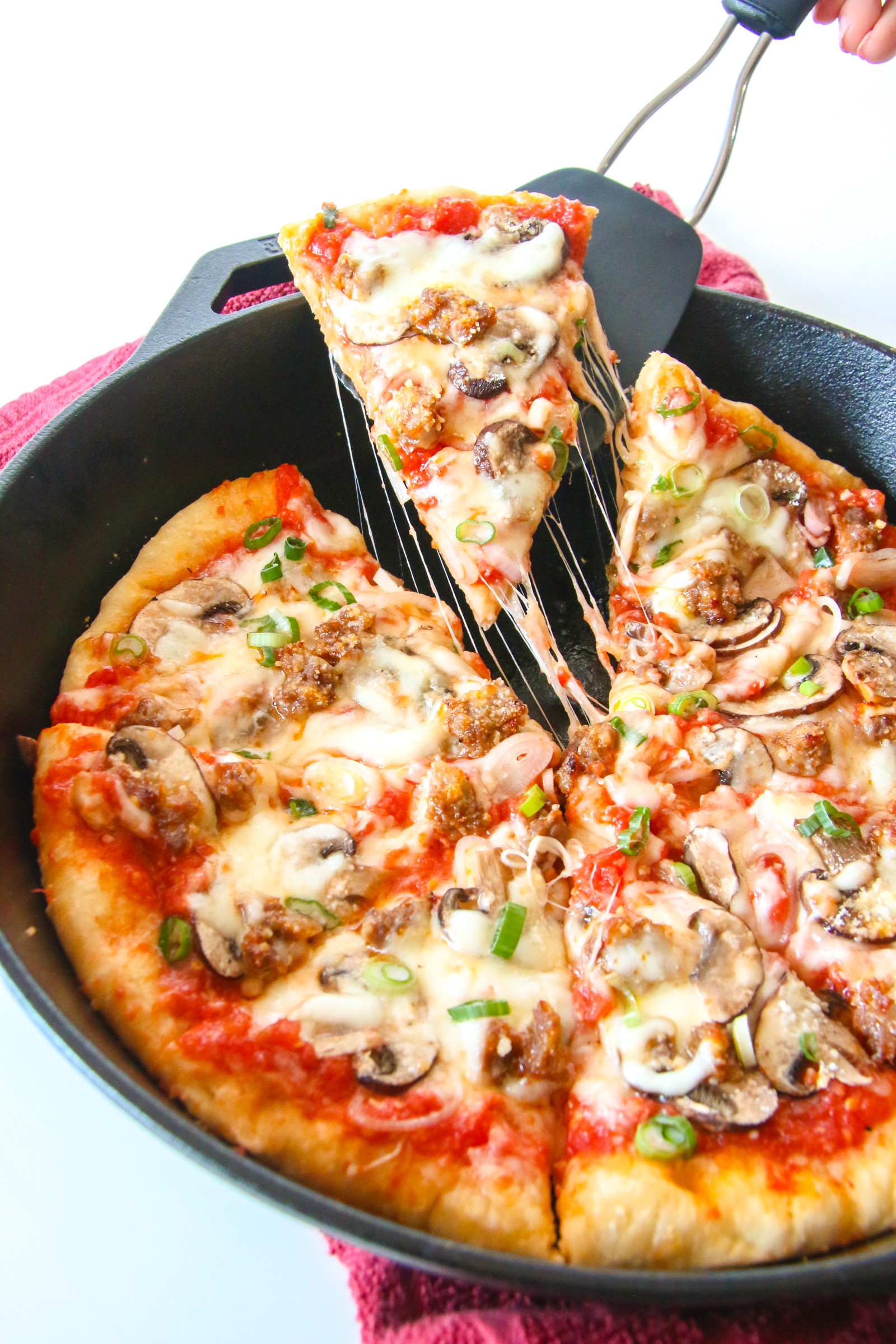 This video was another collaboration between us and LK Toepfer from 6kidsProductions.  She produced our Pub Style Sliders episode from this season as well.  We know her as Lee as she has become our friend.  She's the one who challenged me to make an easy pizza from scratch at home.
At first, I was seriously tempted to go out and buy a pizza stone in order to get that crisp crust that we all love, but why bother when I could just use what I already had on hand…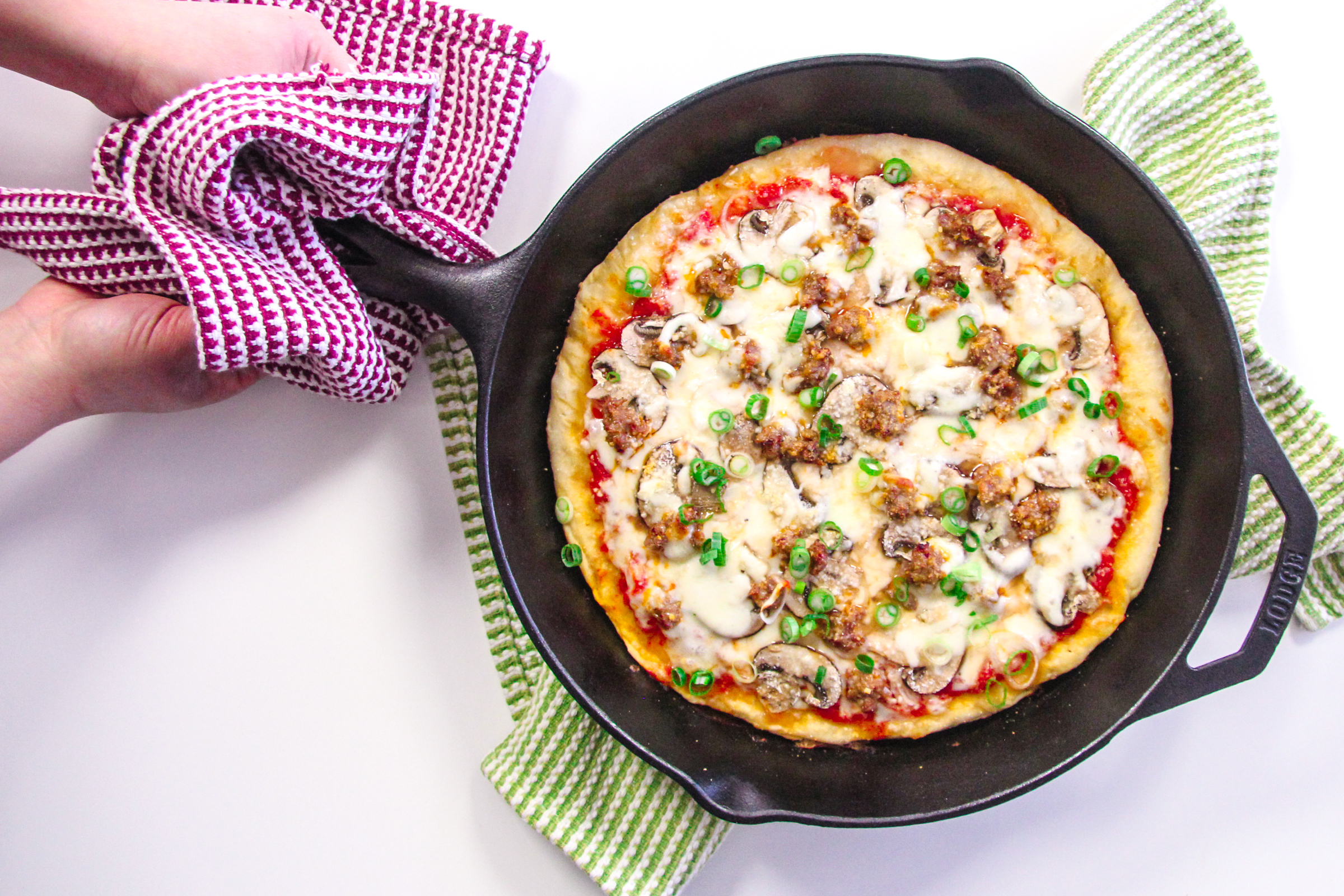 …my trusty cast iron skillet!  You can use any oven safe skillet you want as long as it measures 12 inches.  This dough and recipe is made specifically for a 12 inch skillet so be sure to use the right pan.  You start it off on the stove and then slide it into the oven to finish cooking.  Genius!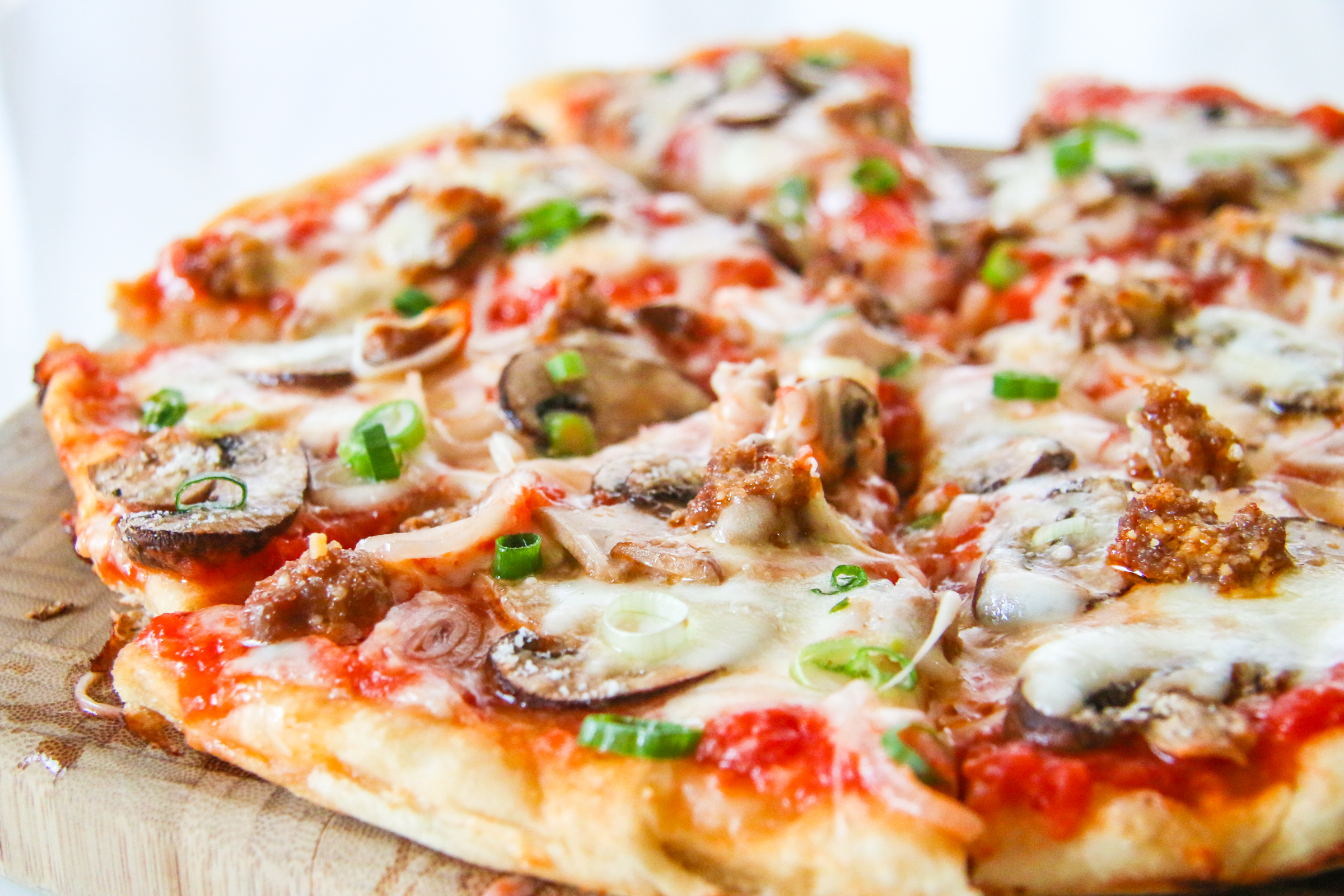 But don't worry about trying to figure out how to make this on your own because I show you how I get it done step-by-step in EPISODE 15, our SEASON FINALE of Bits & Pieces Season 2 below:
WATCH EPISODE 15, our SEASON FINALE BELOW:
I know I'm a big "use what you have" kind of gal, but in this case, I would suggest going out to the store to specifically buy these two ingredients if you don't have them already: 1. bread flour, and 2. rapid rise yeast.  It will just make your life easier and you will be happy with the results.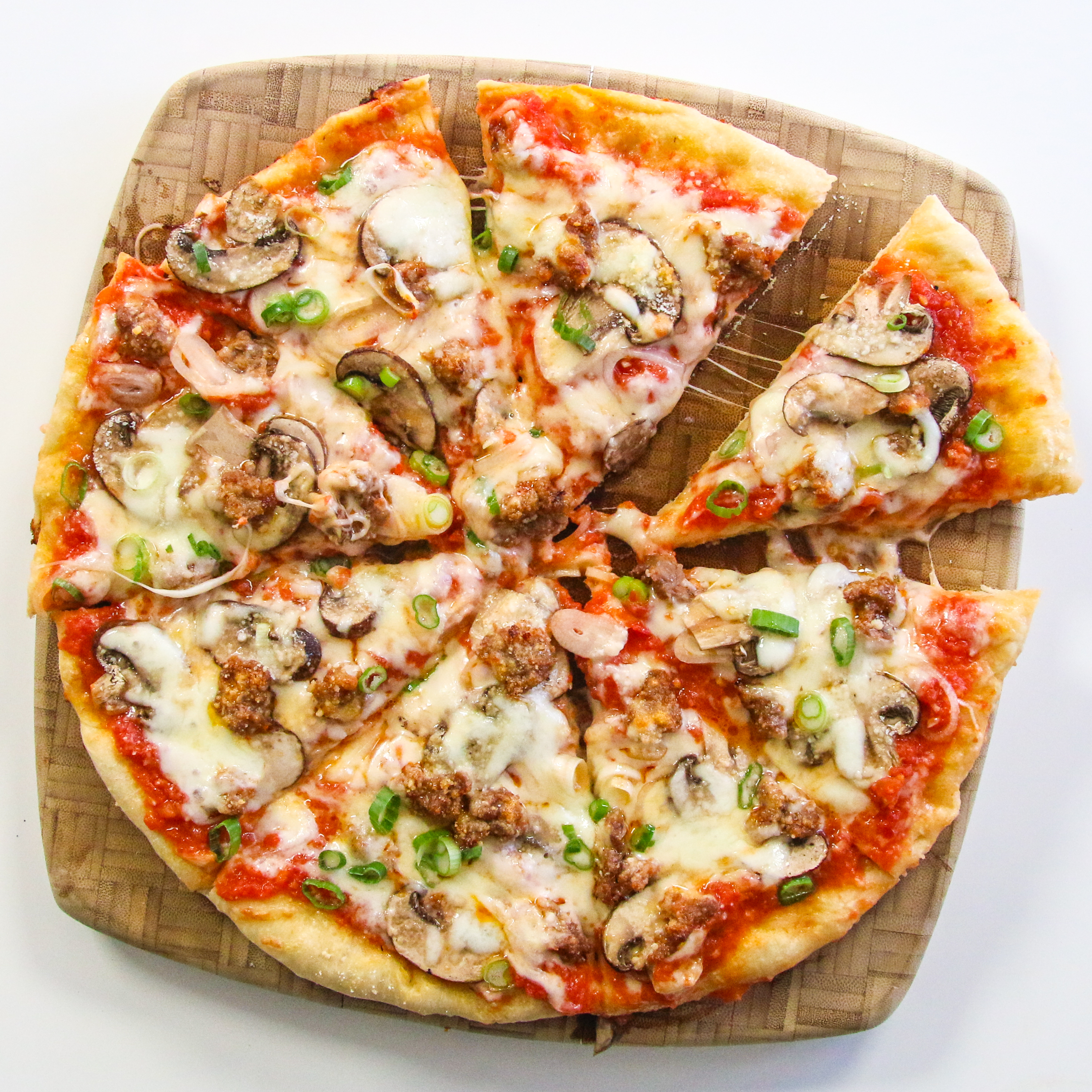 Bread flour gives you a chewier consistency that you can't quite get with regular all purpose flour.  So you can totally go ahead and still make this dough with regular flour if that's all you have and you decide to DEFY me.  But I'm just letting you know right now… your dough won't be as chewy and I'll be sad for you, and in my head I'll be saying, "I told you so."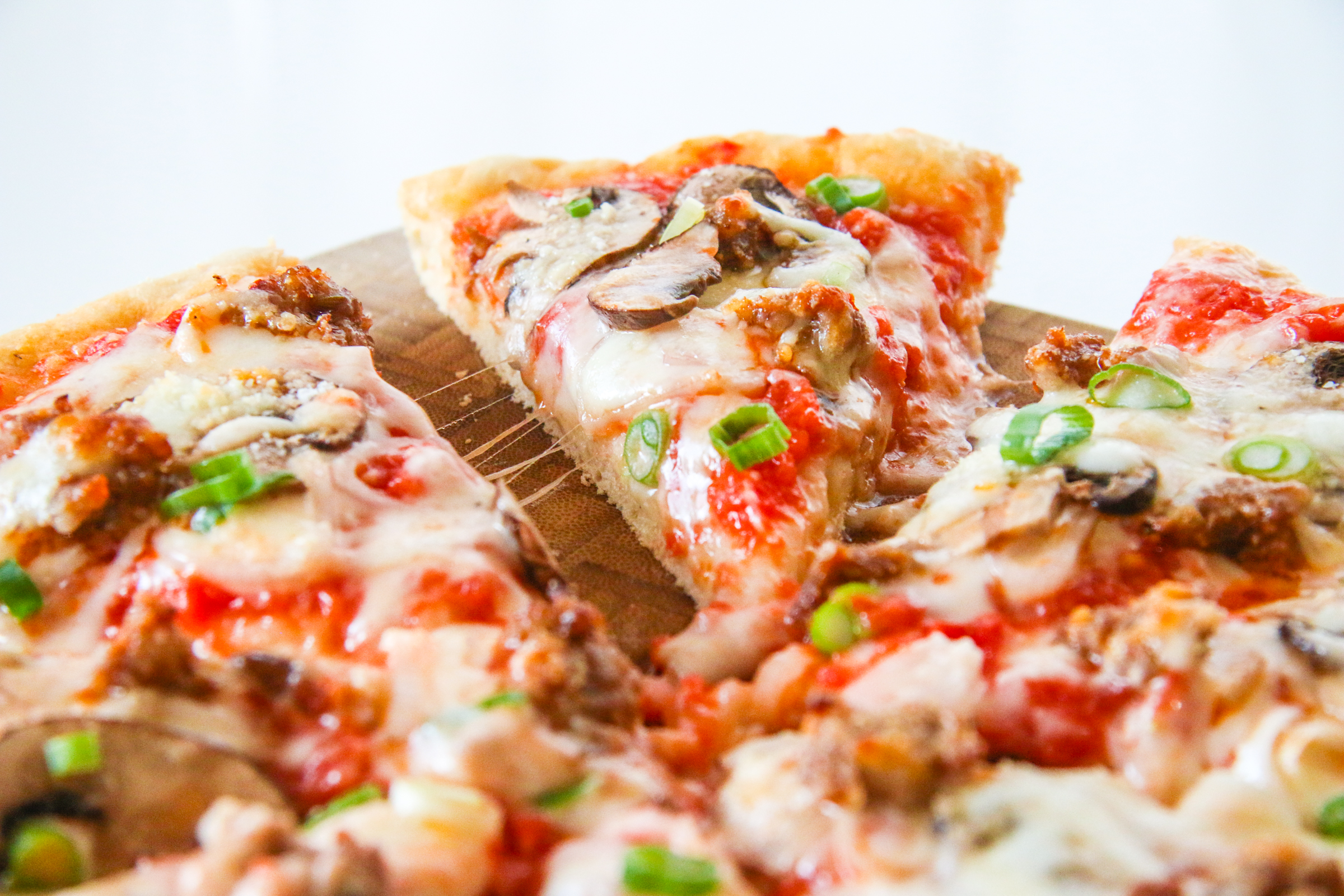 And with the yeast… yes go out and get rapid rise yeast because it's different from regular active dry yeast.  It has gone through a gentler drying process so it doesn't require proofing in water and sugar first.  You can just add it directly to your dry ingredients, in which case is directly in your food processor.
But I promised you in the video that I'd give you substitution instructions for using active dry yeast if that's all you have, so I wrote the instructions at the bottom of the Basic Pizza Dough recipe.  Yeah I still like you even though you're trying to be difficult. 😉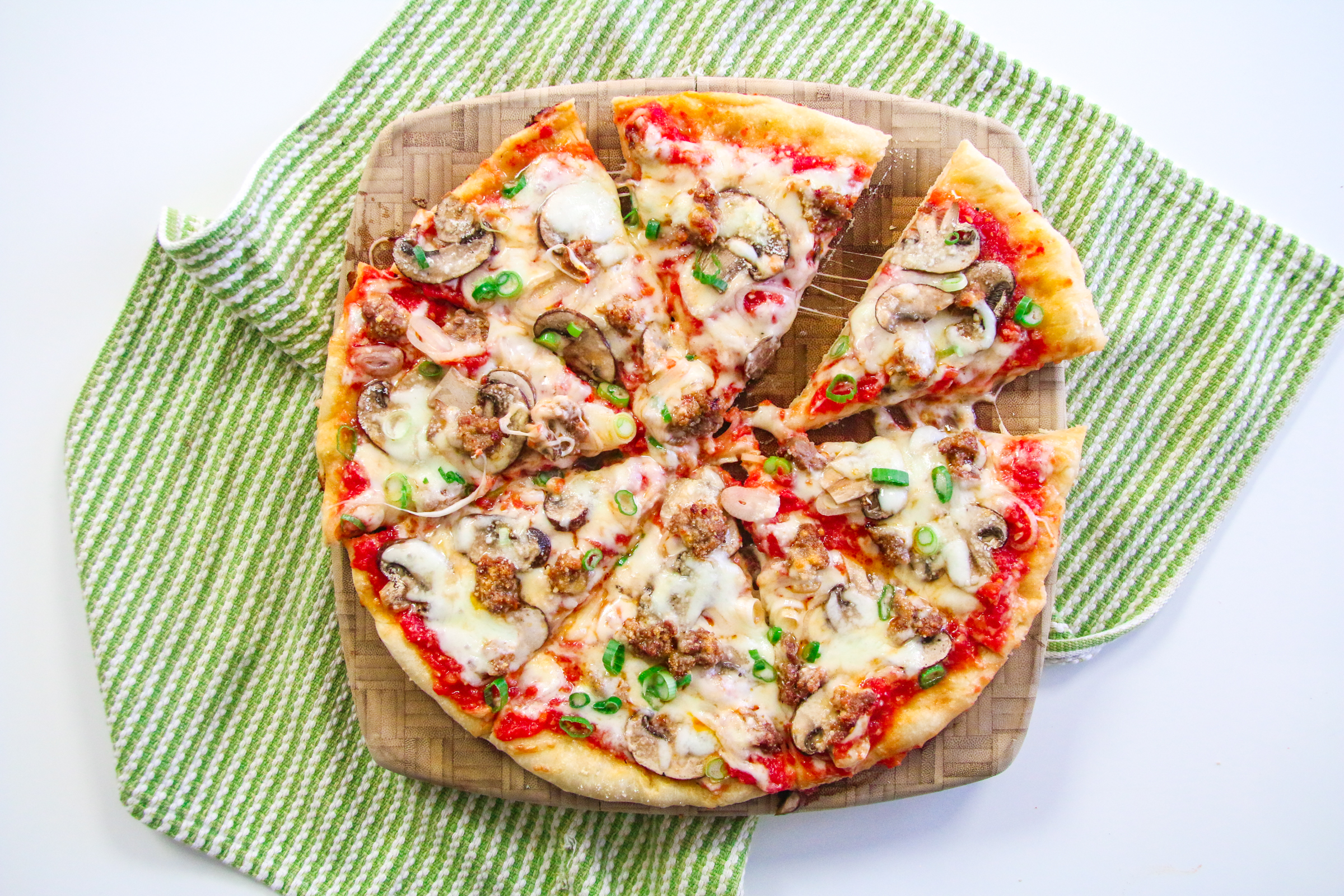 And my last request is that you PUH-LEASE shred your own mozzarella cheese!  I actually made this pizza before with pre-shredded cheese you buy in a bag.  Although it's convenient, the pre-shredded strands of cheese are coated in a cornstarch mixture, thus making it a little less stringy and gooey when it melts.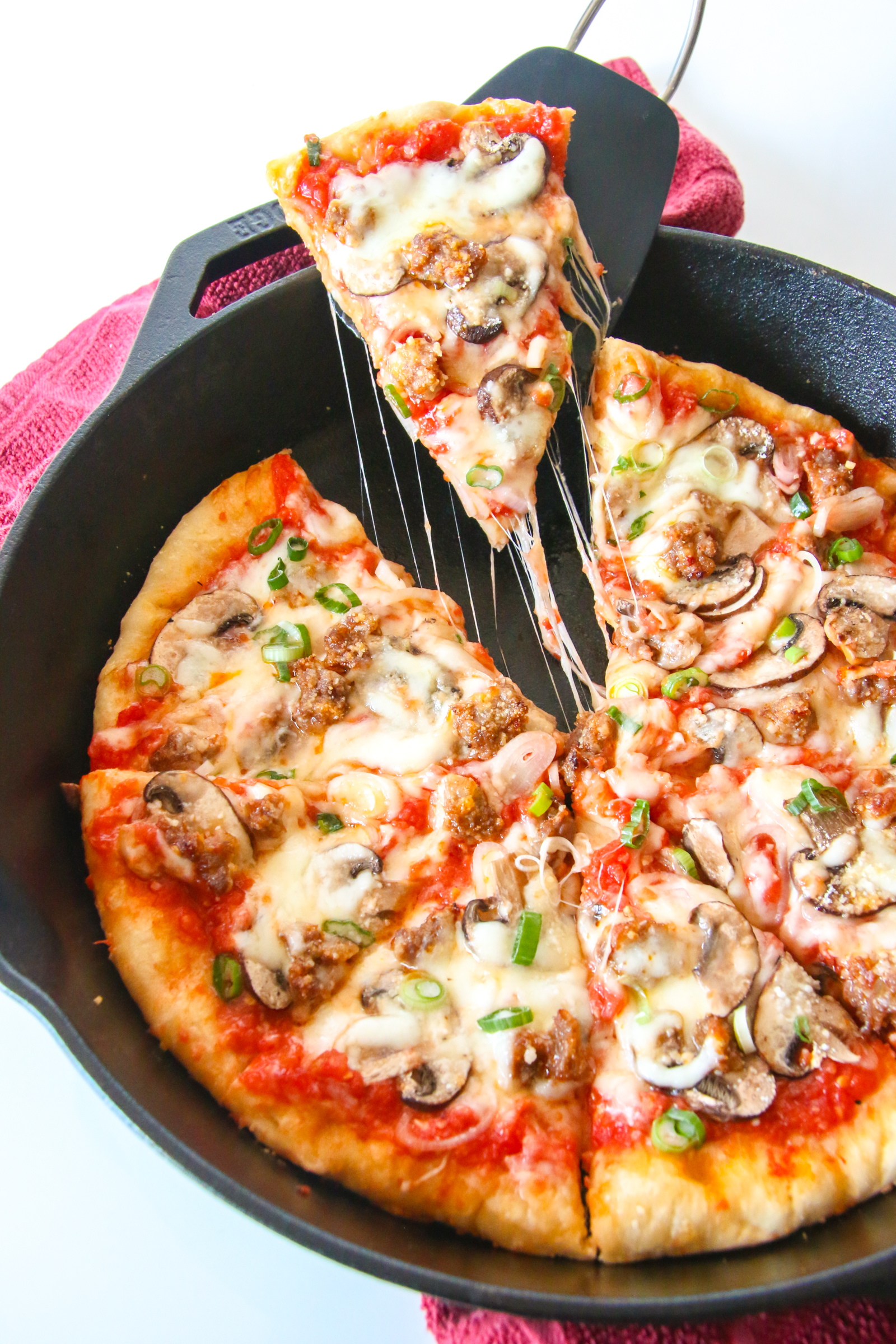 I mean, is there anything more disappointing than a homemade pizza that doesn't string?  Why put in all that effort to end up with a pizza that doesn't string???!  Am I shouting? Sorry…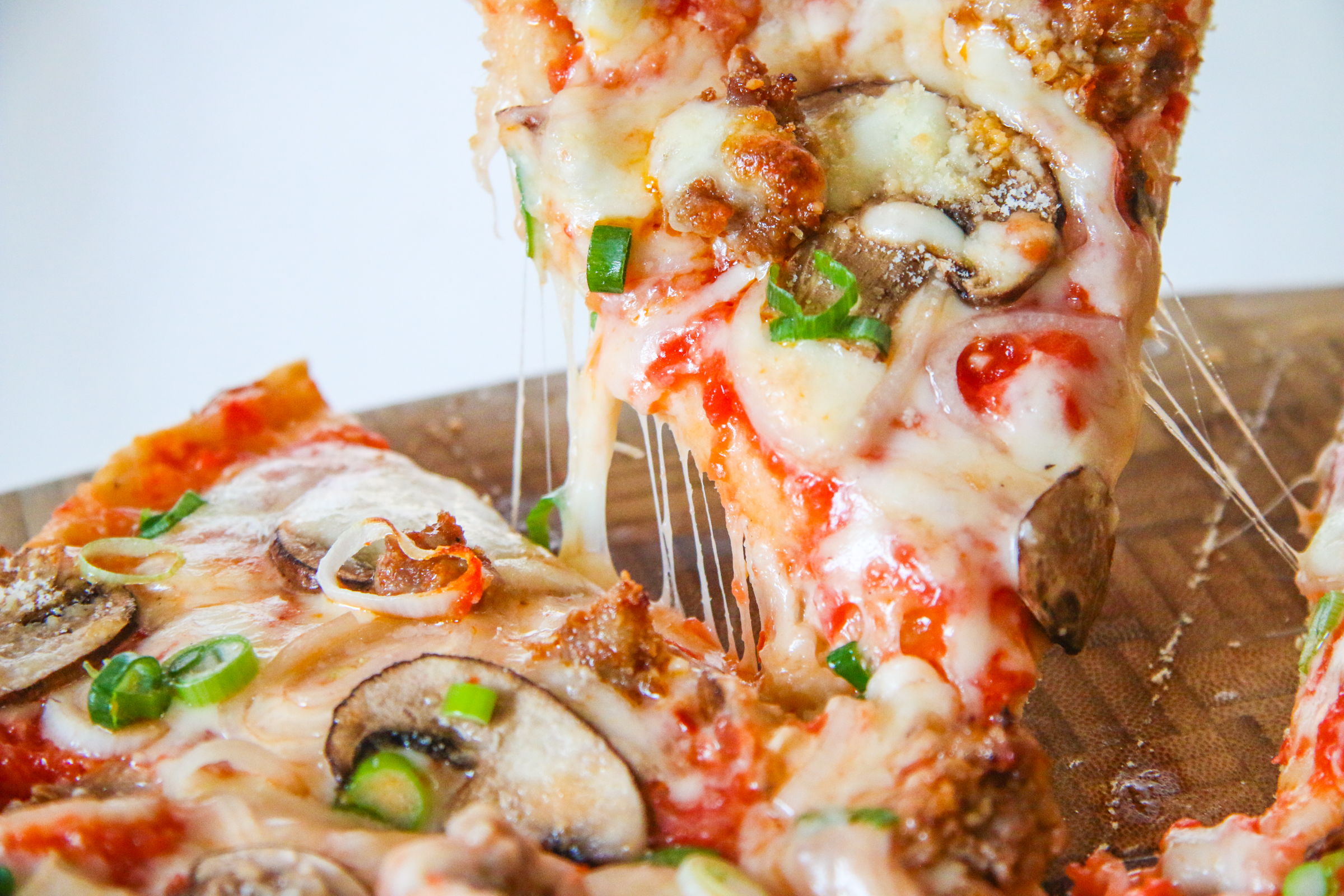 I know I'm being high maintenance and that's so not me, but sharing is caring and I REALLY want you to experience the same results as me…because then you'll be happy… and I want my friends to be happy!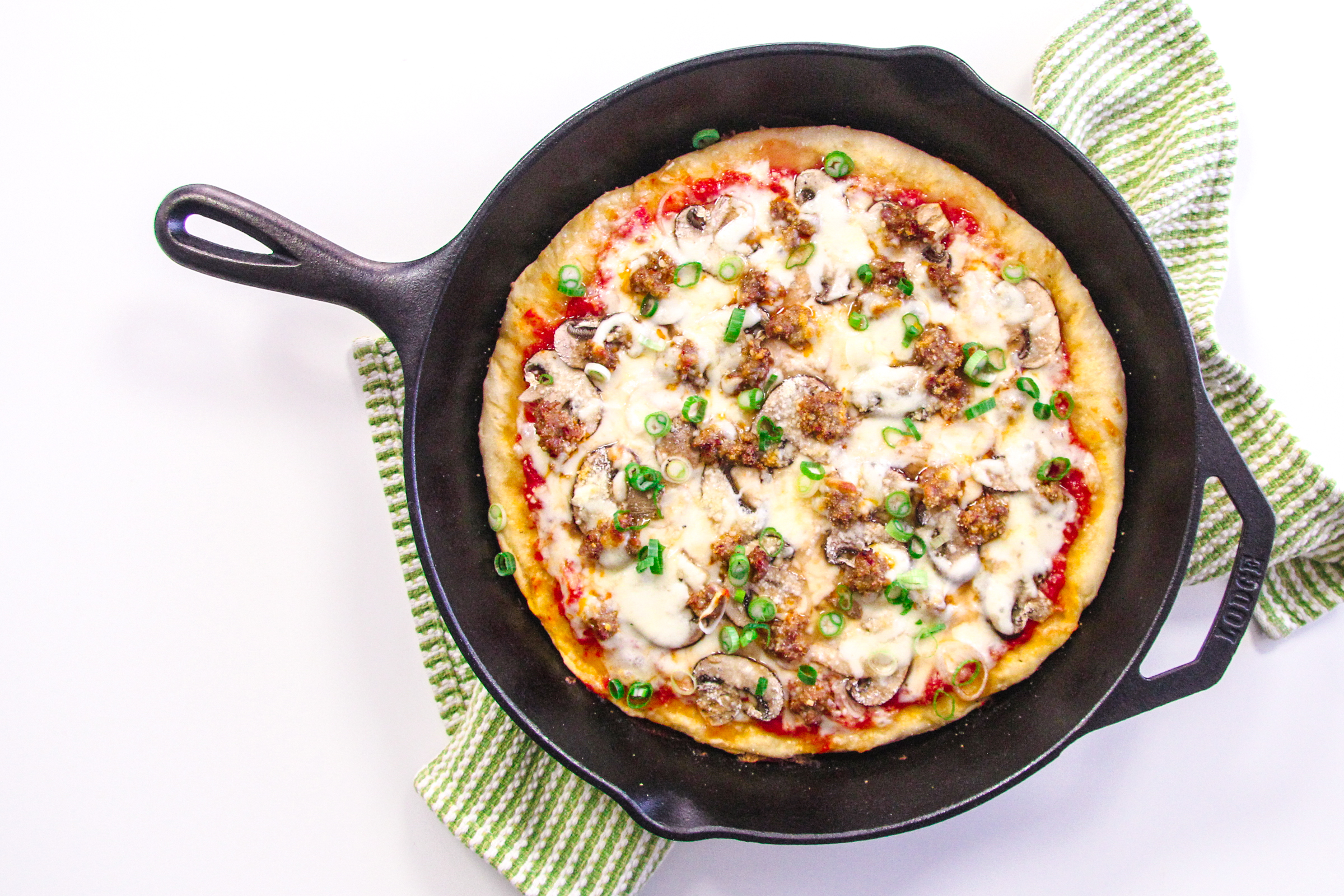 The only regret you'll have after making this pizza is when it's all gone and you want more.  It's the perfect little pizza for two, especially if you have a salad… but there's no harm in making two batches of dough and keeping one in the freezer for the next time a hot fresh-out-of-the-oven pizza craving strikes!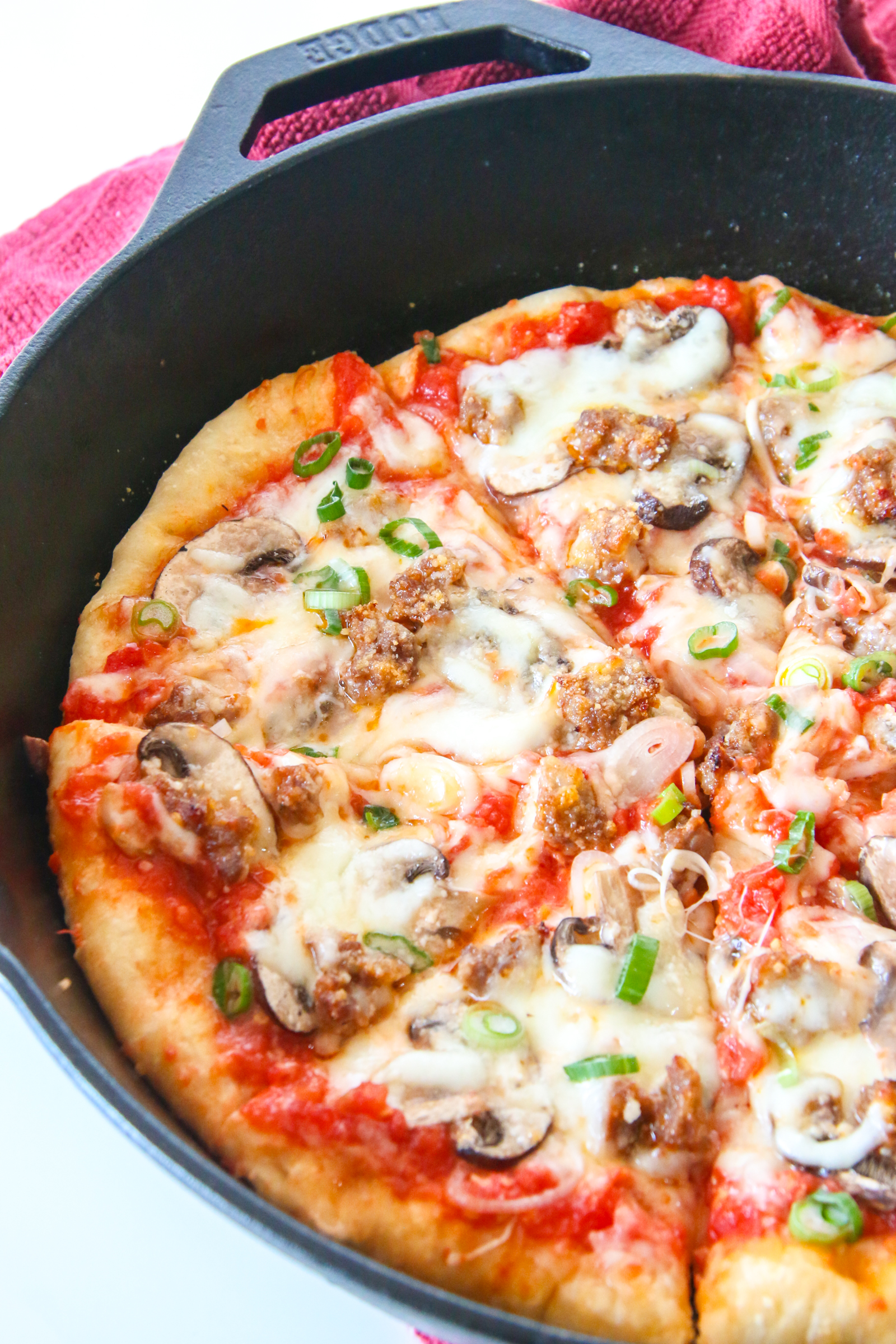 Basic Pizza Dough
This pizza dough is made quickly in the food processor. Using bread flour gives it a chewier consistency. This recipe makes exactly enough for one small pizza, perfect for two.
Ingredients
1 cup (5 ½ ounces) bread flour, plus extra as needed
¾ teaspoon instant or rapid-rise yeast
½ teaspoon kosher salt
1 ½ teaspoons olive oil
7 tablespoons (or more if needed) warm water
Instructions
Pulse flour, yeast, and salt in food processor until combined, about 2 seconds. With processor still running, slowly add oil, then water, and process until dough forms sticky ball that clears the sides of the bowl. It should only take about 30 seconds after you add the water. If the dough is not clearing the sides of the bowl and turning into a ball, add a little more water. Likewise, If it's too sticky and clinging to the blade, add a little more flour, 1 tablespoon at a time.
Transfer dough to a lightly floured counter and shape into a ball. Place dough in a large, lightly oiled bowl and cover tightly with plastic wrap. Let rise at room temperature until roughly doubled in size, 1 to 1 ½ hours.

TIP: You can make this dough the night before, but let it rest in the fridge instead of the counter in order to slow down the rising time to about 8 hours. Just keep it tightly wrapped. You can also wrap pizza dough that has already been risen and store it in your freezer. Bring it back to room temperature in your fridge.

SUBSTITUTION TIP: If you don't have instant or rapid rise yeast, use 1 teaspoon (instead of ¾ teaspoon) of active dry yeast and proof it first. Just dissolve it in a little warm (110 degrees) tap water and a pinch of sugar. Wait until it gets foamy, like a beer from the tap. When the mixture is foamy, add it to the flour mixture and proceed as normal.
Homemade Skillet Pizza
It's easy to make pizza at home from scratch. This recipe makes the perfect little pizza for two. No pizza stone or stress required!
Ingredients
1 tablespoon olive oil
1 recipe Basic Pizza Dough (8 ounces)

Sauce
1 can diced tomatoes, drained
1 tablespoon olive oil
1 small garlic clove, minced
½ teaspoon kosher salt
¼ teaspoon crushed red pepper flakes

Toppings
1 cup shredded mozzarella cheese (preferably shredded yourself)
1 tablespoon grated Parmesan cheese
½ of a hot Italian sausage link, removed from the casing
1 small shallot, thinly sliced
3 baby portobello mushrooms, sliced
Optional garnish of thinly sliced scallions
Instructions
Adjust rack to upper-middle position and heat oven to 500 degrees. Grease a 12-inch oven safe skillet with 1 tablespoon oil.
Pulse drained tomatoes, garlic, salt, red pepper flakes, and 1 tablespoon olive oil together in a small food processor until coarsely ground. Reserve.
Place dough on lightly floured counter. Press and roll dough into an 11-inch round, so it can fit inside a 12-inch pan nicely. Transfer dough to prepared skillet; reshape as needed. Spread as much sauce as you want over dough, leaving ½-inch border at edge. Sprinkle most of the mozzarella evenly over sauce. Add shallots and mushrooms evenly. Crumble up the sausage out of the casing and spread it evenly on top, with your fingers. Top with remaining mozzarella and Parmesan.
Set skillet over high heat and cook until outside edge of dough is set, pizza is lightly puffed, and bottom crust is starting to get cooked when gently lifted with spatula, about 3-4 minutes.
Transfer pizza to oven and bake until crust is brown, bottom is crisp, sausage is cooked, and cheese is nicely melted, 7 to 10 minutes. Carefully remove skillet from oven (pan and handle will be very hot). With a flat spatula, carefully lift pizza out of the pan and onto a cutting board. Sprinkle with fresh sliced scallions for garnish. Let pizza cool for a couple minutes before slicing and serving.

TIPS: I like my pizza saucy, so I add almost all of the tomato sauce. But you can add as little or as much as you want. Just try not to load your pizza with too many toppings or it will get weighed down and possibly soggy. If you shred your mozzarella cheese yourself from a block, the pizza will be gooier and stringier! :)