Lasagna for Two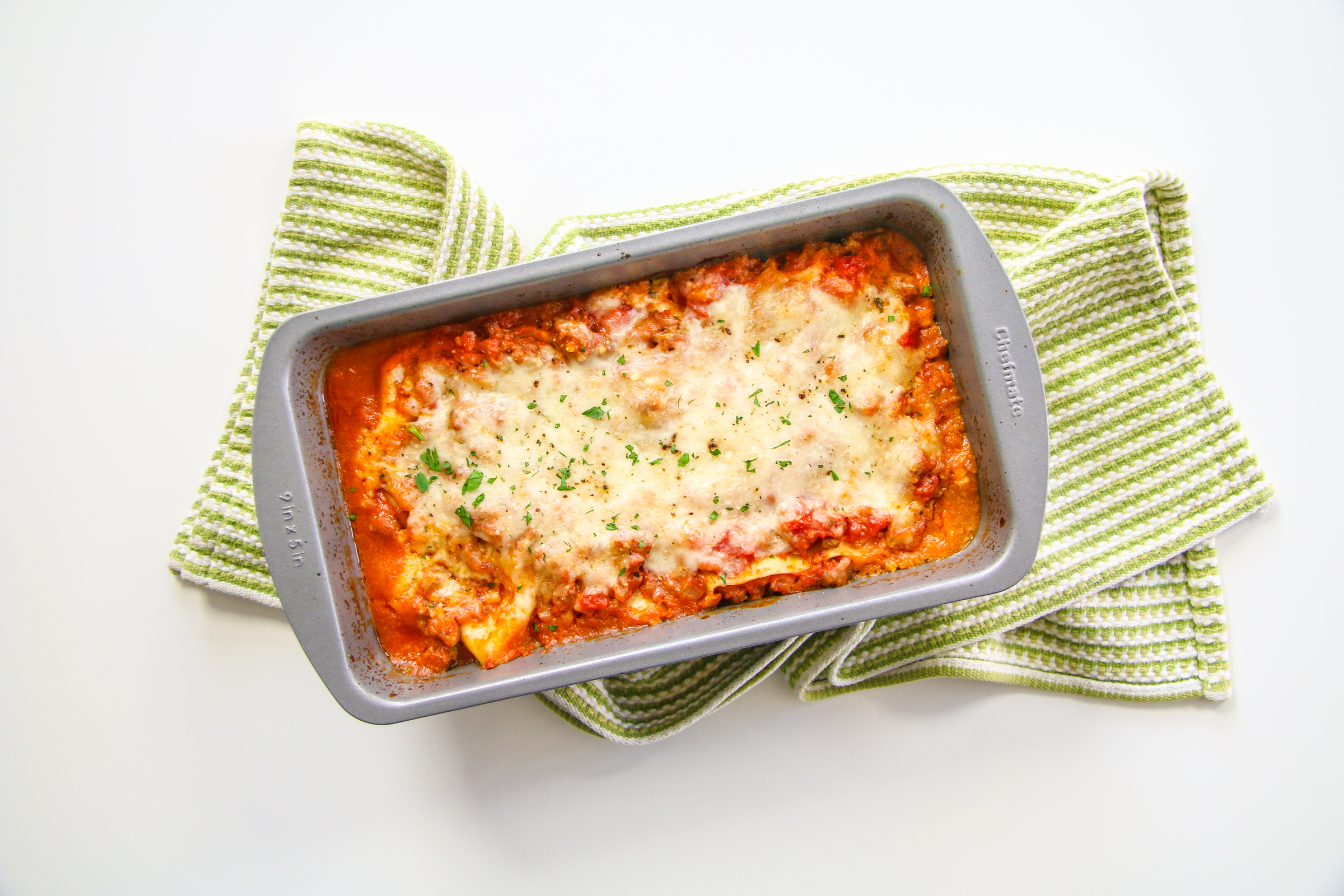 I usually like leftovers, but I'm not a fan of eating leftovers for days, especially when it comes to pasta dishes.  I dunno… I feel like the noodles get bloated and mushy, and the cheese never melts the same.  But with this recipe, I don't have to worry about that!  You just make it in a little loaf pan and it ends up being the perfect amount for two.  Yeah, you'll probably still end up with a little leftover, but you can handle that.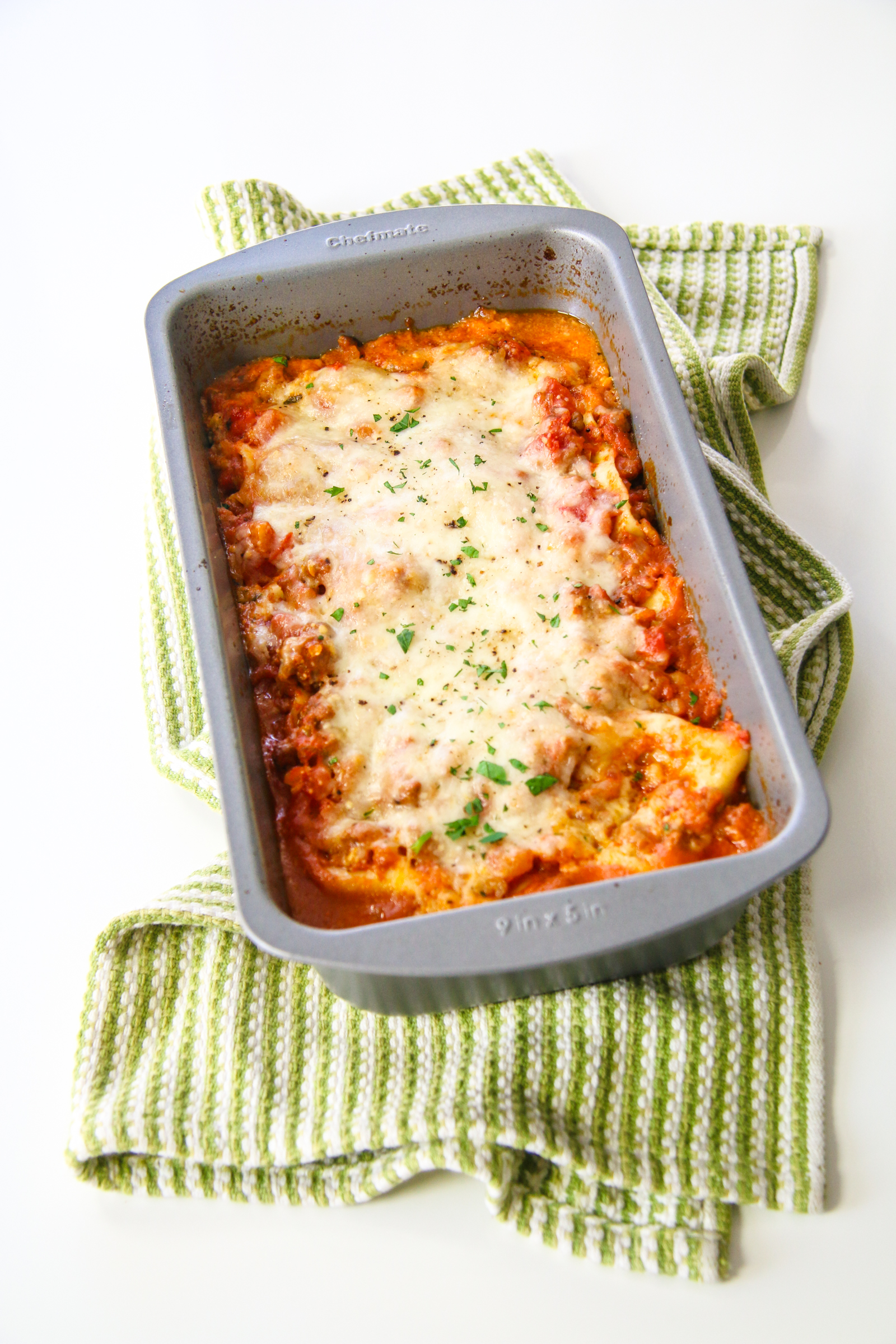 You just need some oven ready lasagna noodles, which don't require boiling in advance.  So not only is it cute and small, but it's low fuss too.  And you still get all the great comforting flavors of the ricotta and meat sauce layers that we all love from a lasagna.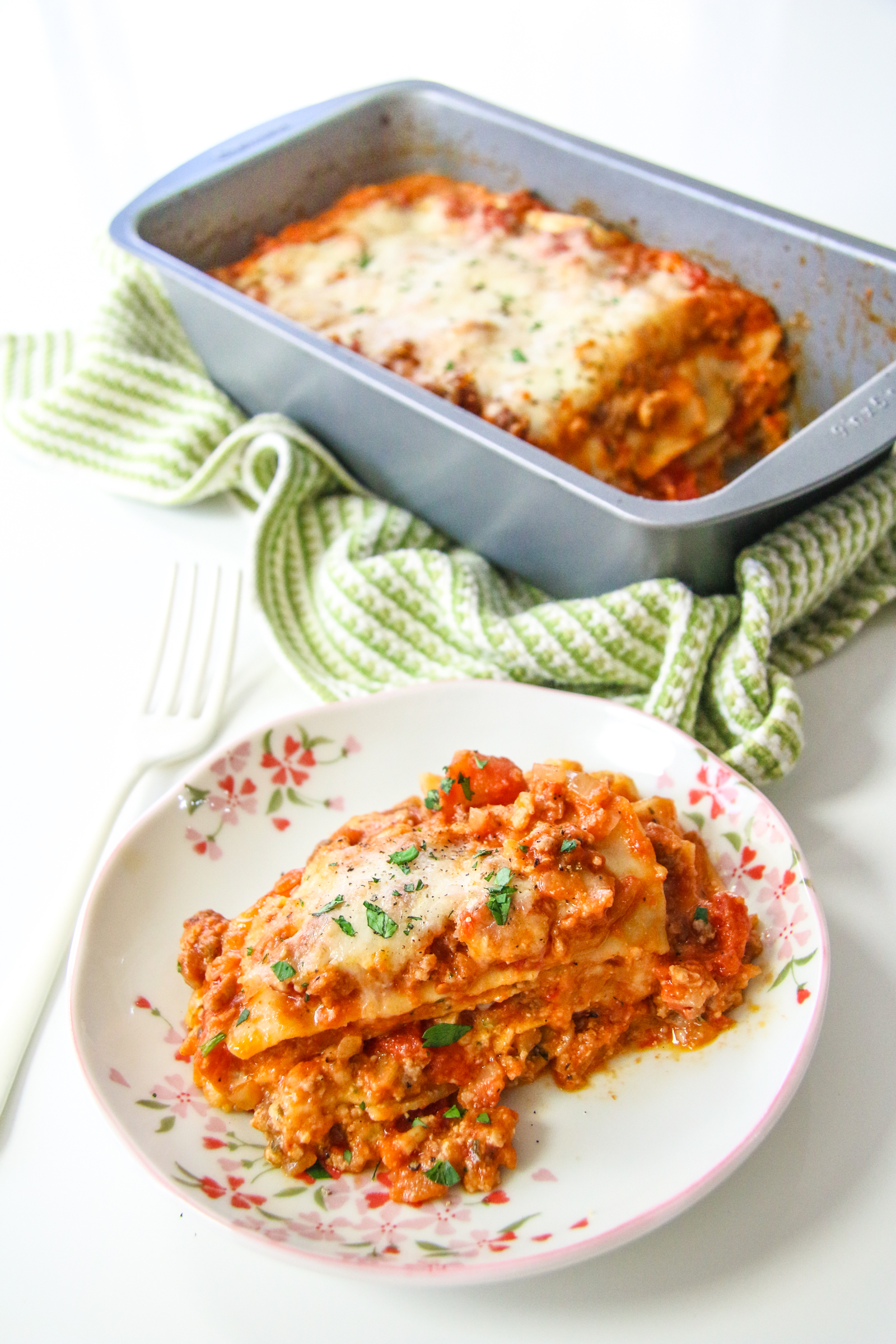 If you want to make a bigger version of this cutie patootie lasagna, just double the recipe and use an 8×8″ square baking dish and it should do the trick.  You can watch how I assemble this easy and delightful little lasagna layer by layer in EPISODE 11 of Bits & Pieces SEASON 2 below:
WATCH EPISODE 11 HERE:

I will say that even though this is NOT an endorsement for Barilla brand noodles, you probably have to get this specific kind in order to make this particular recipe.  I actually tried it with another brand and the results were not as successful.  I quickly learned that not all oven ready lasagna noodles are created equal.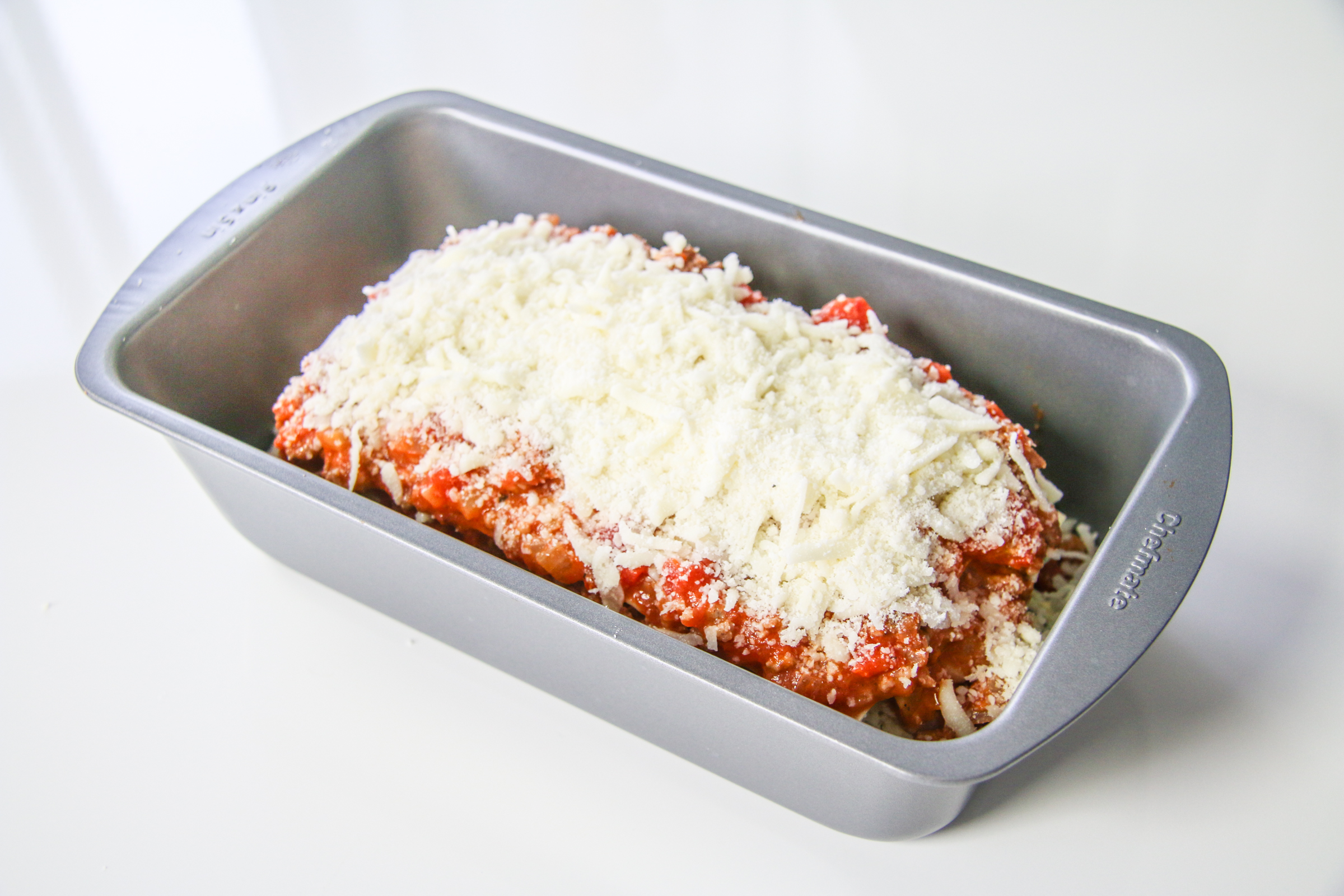 The other brand noodles I tried using before were way thicker and longer than the Barilla kind, so not only did they not fit in the loaf pan, but they took a lot longer to cook too.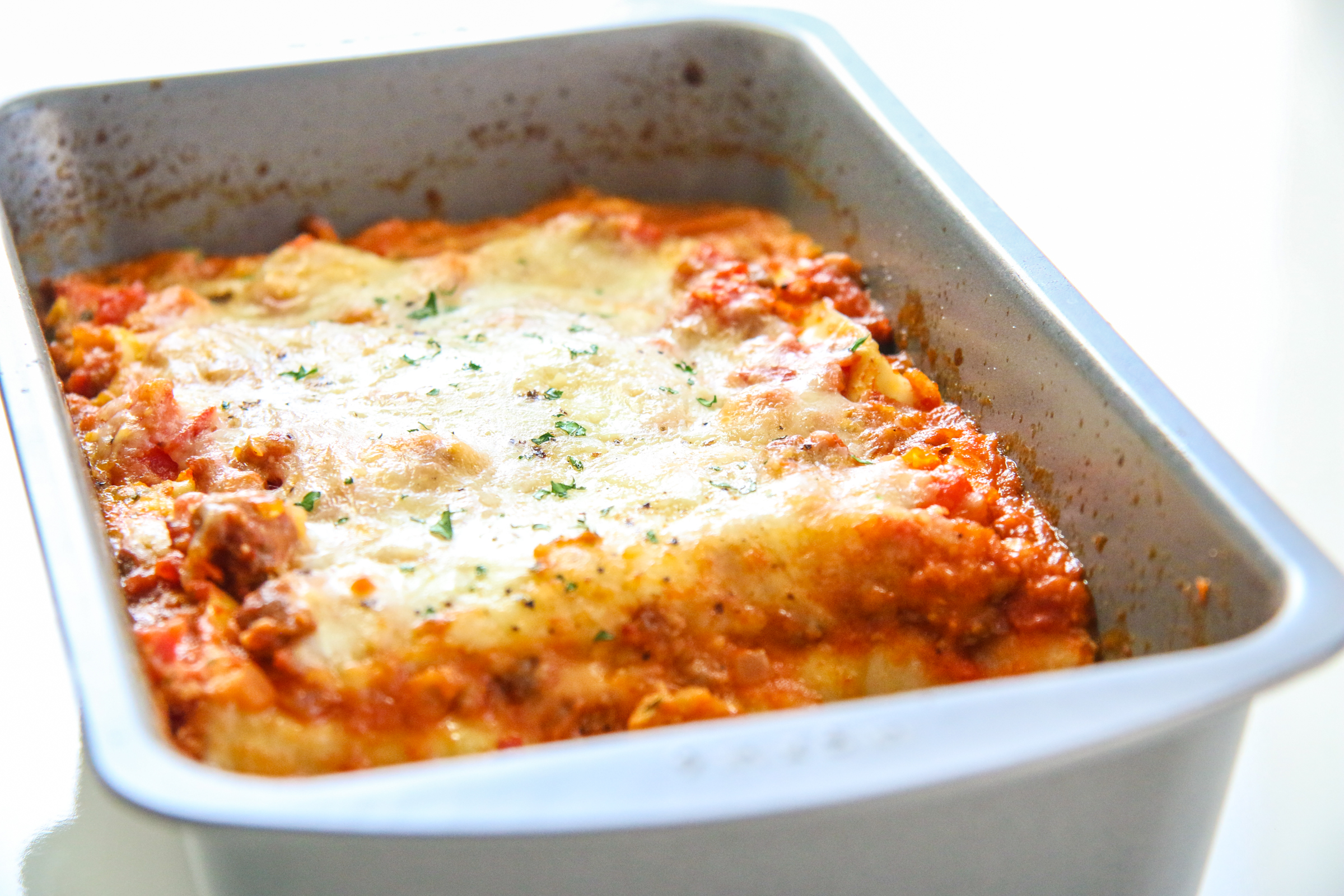 But if you can't find this specific brand, and your noodles are thicker and longer than what I showed you in the video, then just do what I did the first time, which is break it up so it fits in the pan, and either cook the lasagna longer until the noodles are tender, or soak them in some boiling water first, to give them a head start.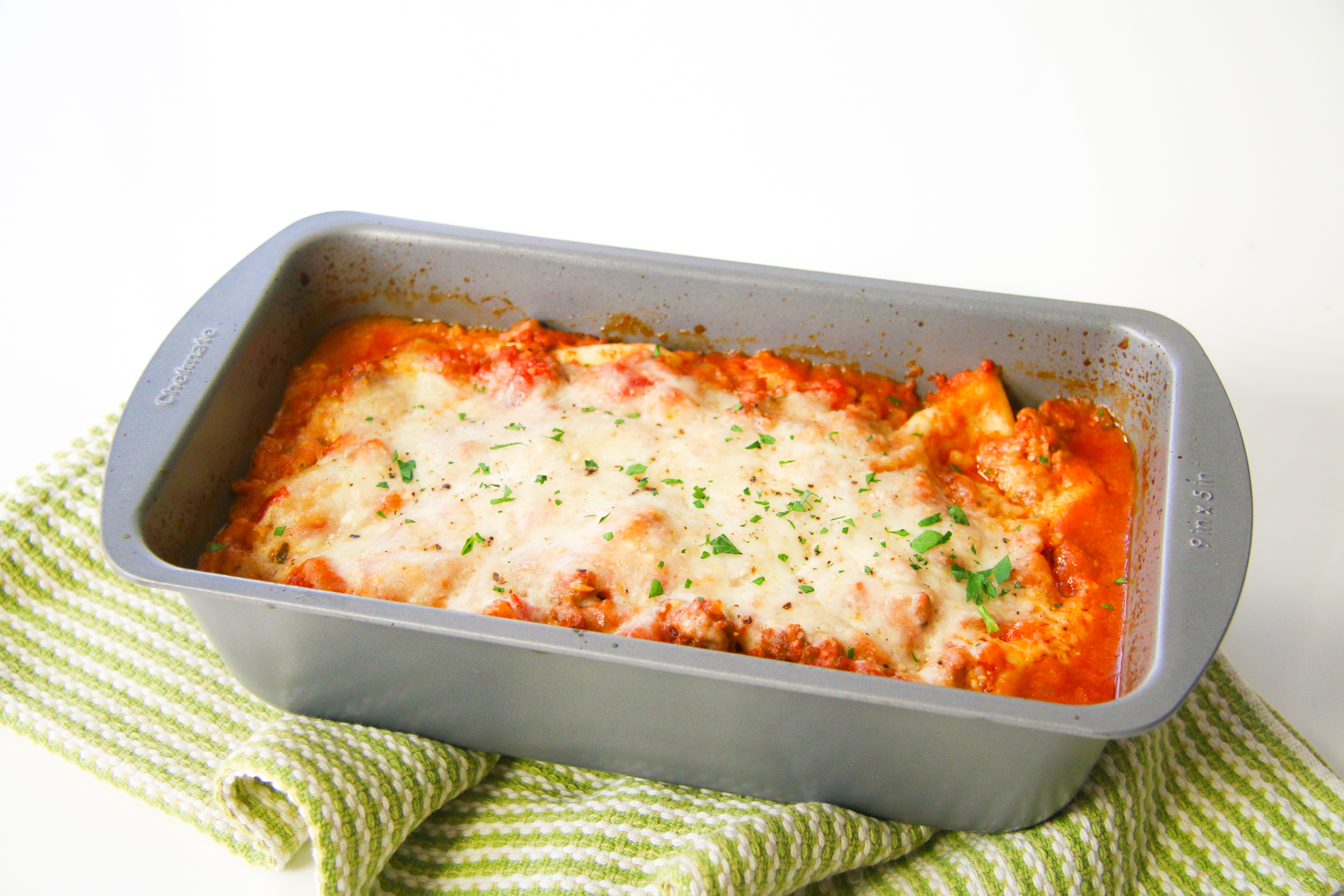 When it first comes out of the oven, it does look like it's swimming in too much tomato juice.  But not to worry because a few minutes on your counter and that sauce gets absorbed into the pasta a little more.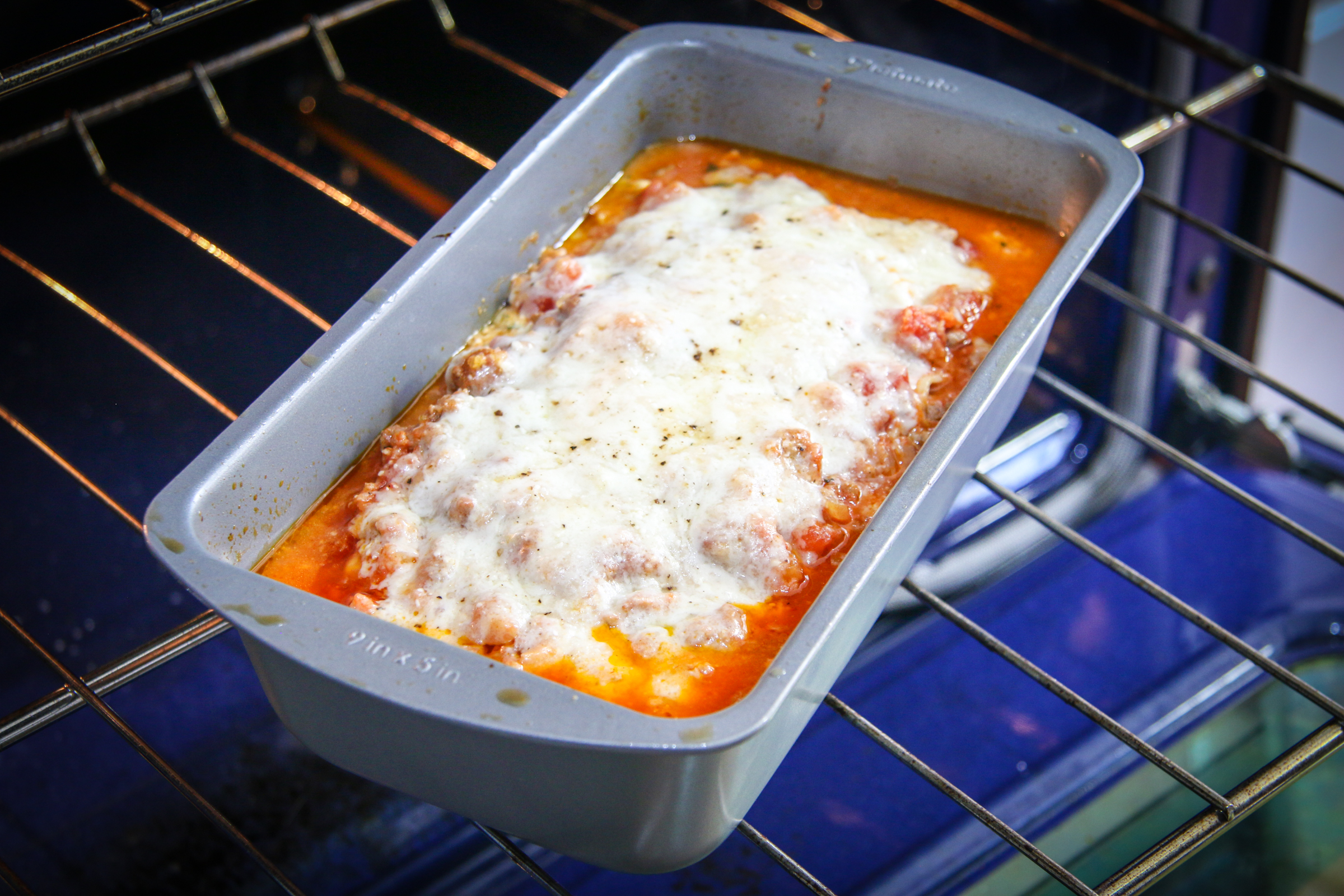 See?  Where did all that liquid go?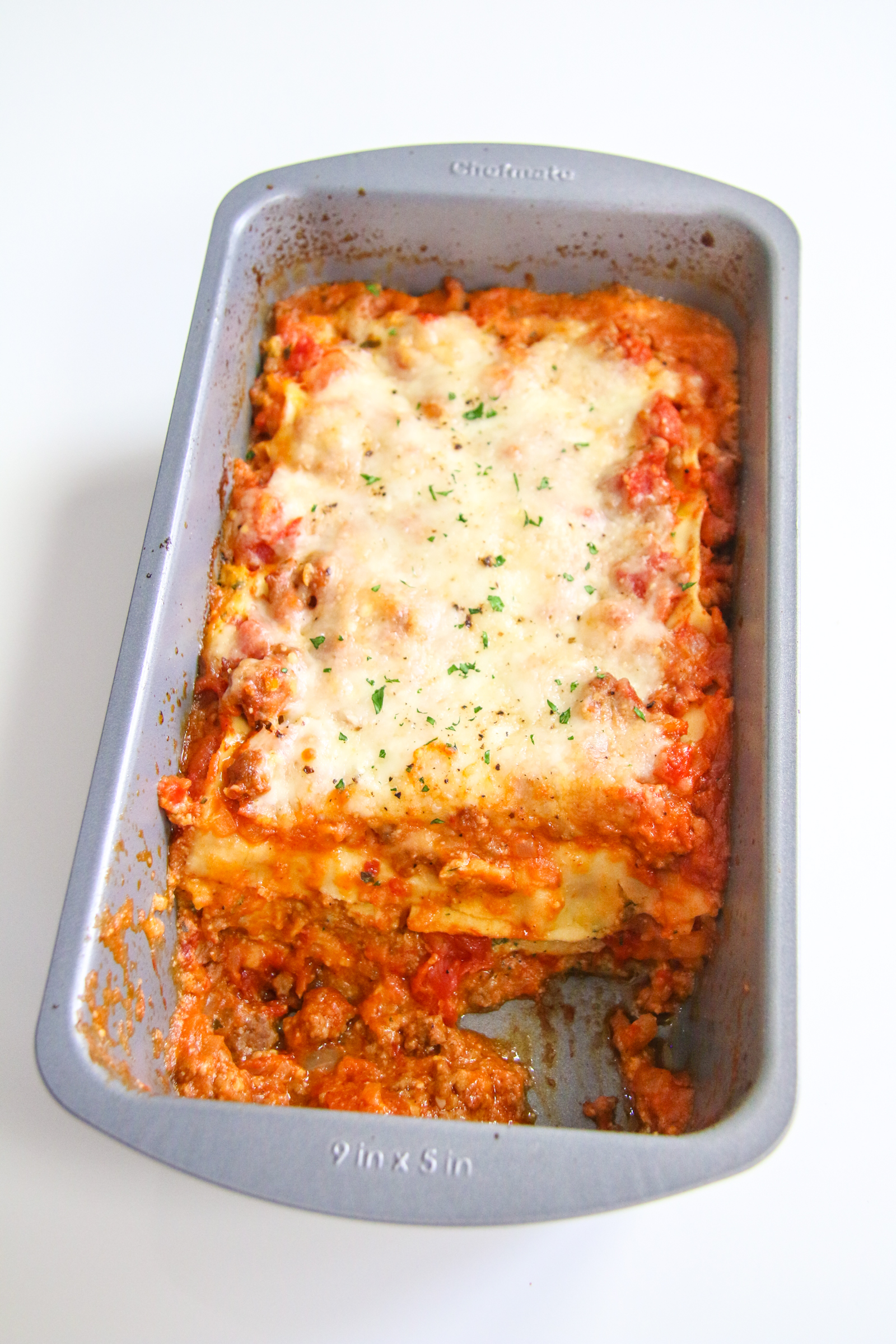 By the way, don't you think someone should come up with a tool that makes taking the first pesky end piece out of a baking pan easier?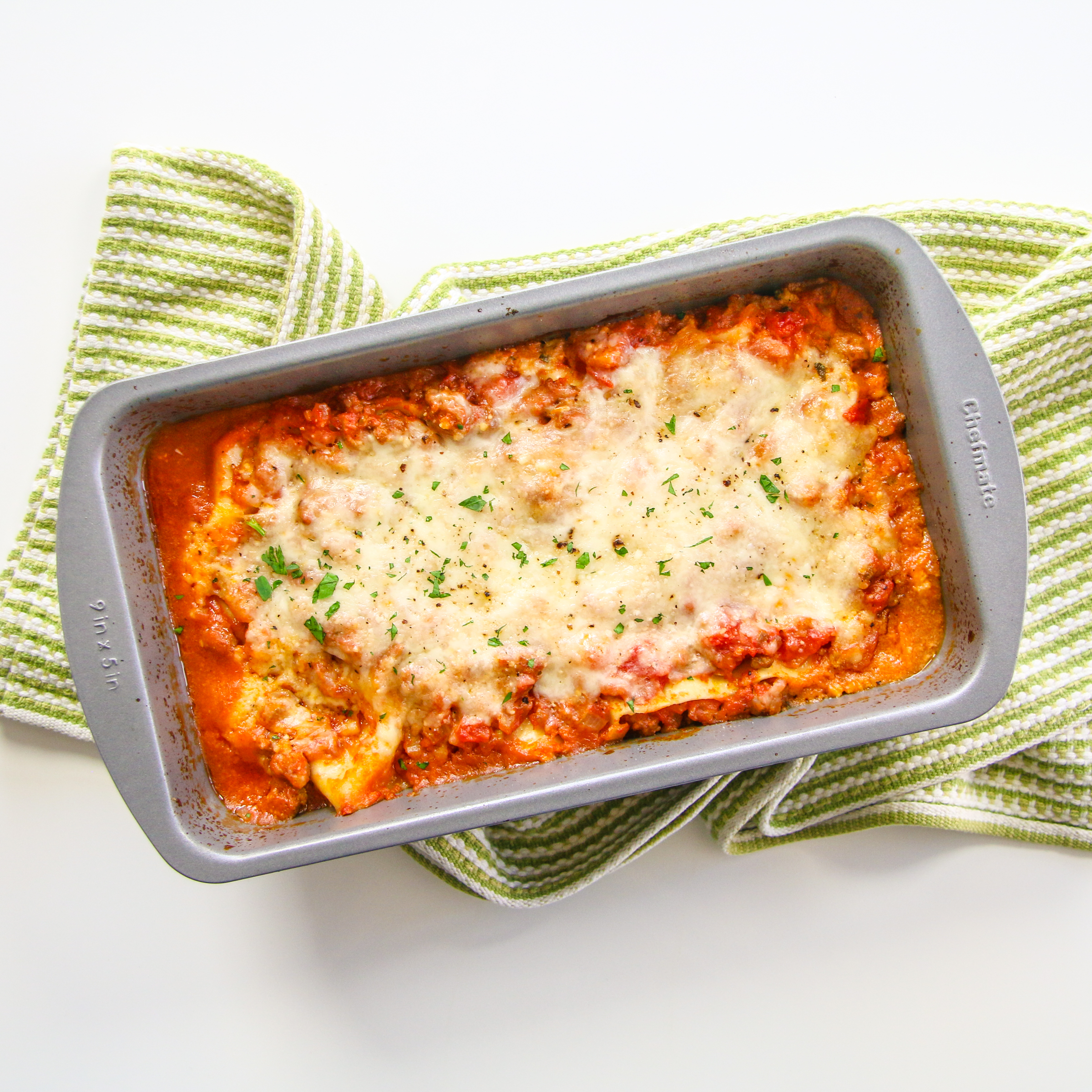 I probably should've made a salad to go along with this lasagna when we were filming our video, because that's how we normally eat this, but I was feeling too lazy at the time.  But if you're looking for suggestions, it goes really AMAZINGLY well with my Kale Salad Recipe.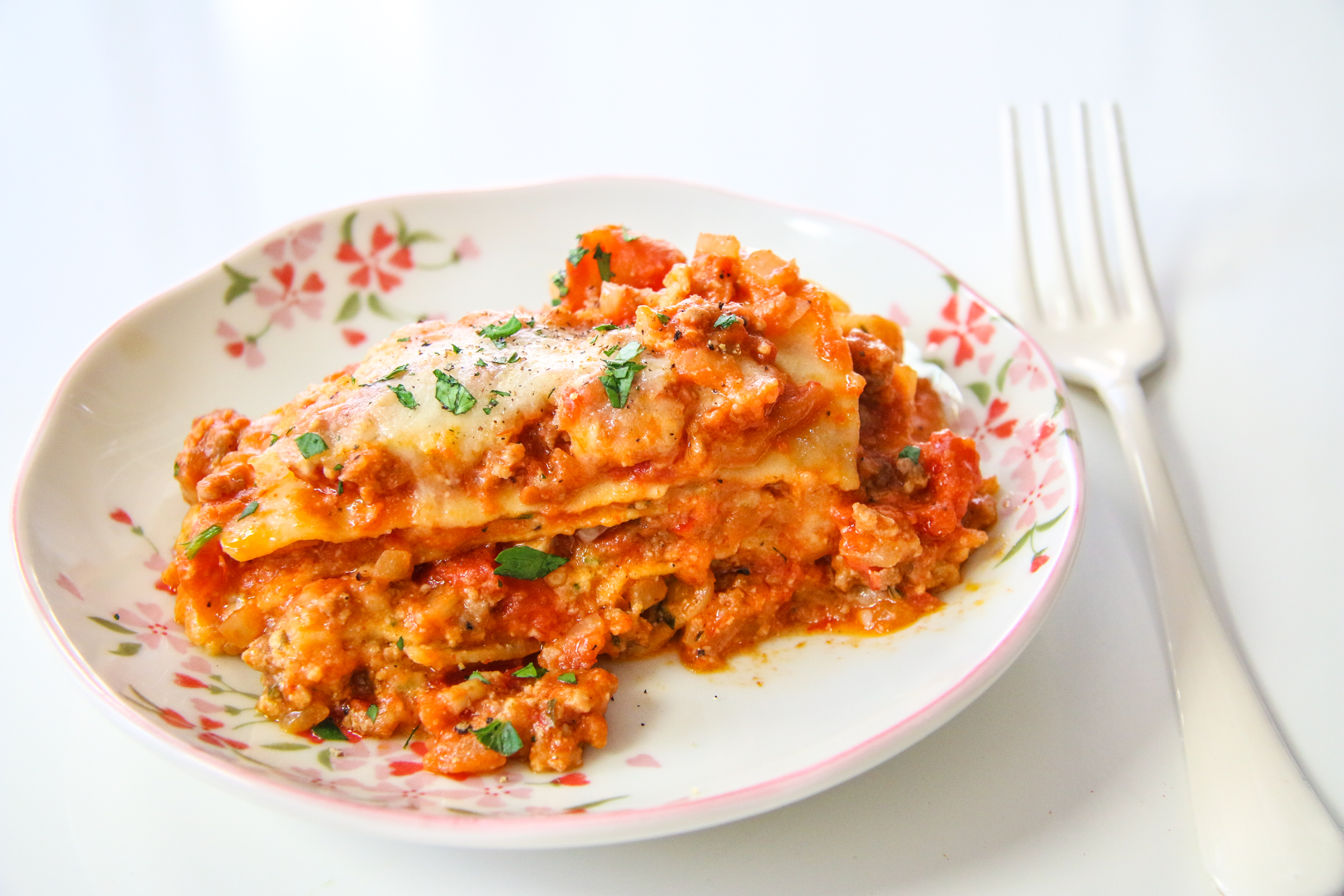 There's no need to describe or overly explain the taste of this lasagna, because the moment you take the first bite, it's just familiar.  It's everything you knew it would be.  The way Joe describes it is "it taste's like a lasagna…it's really good." Haha… but that's the truth!  Nothing fancy here.  Just good old-fashioned comfort and a happy stomach.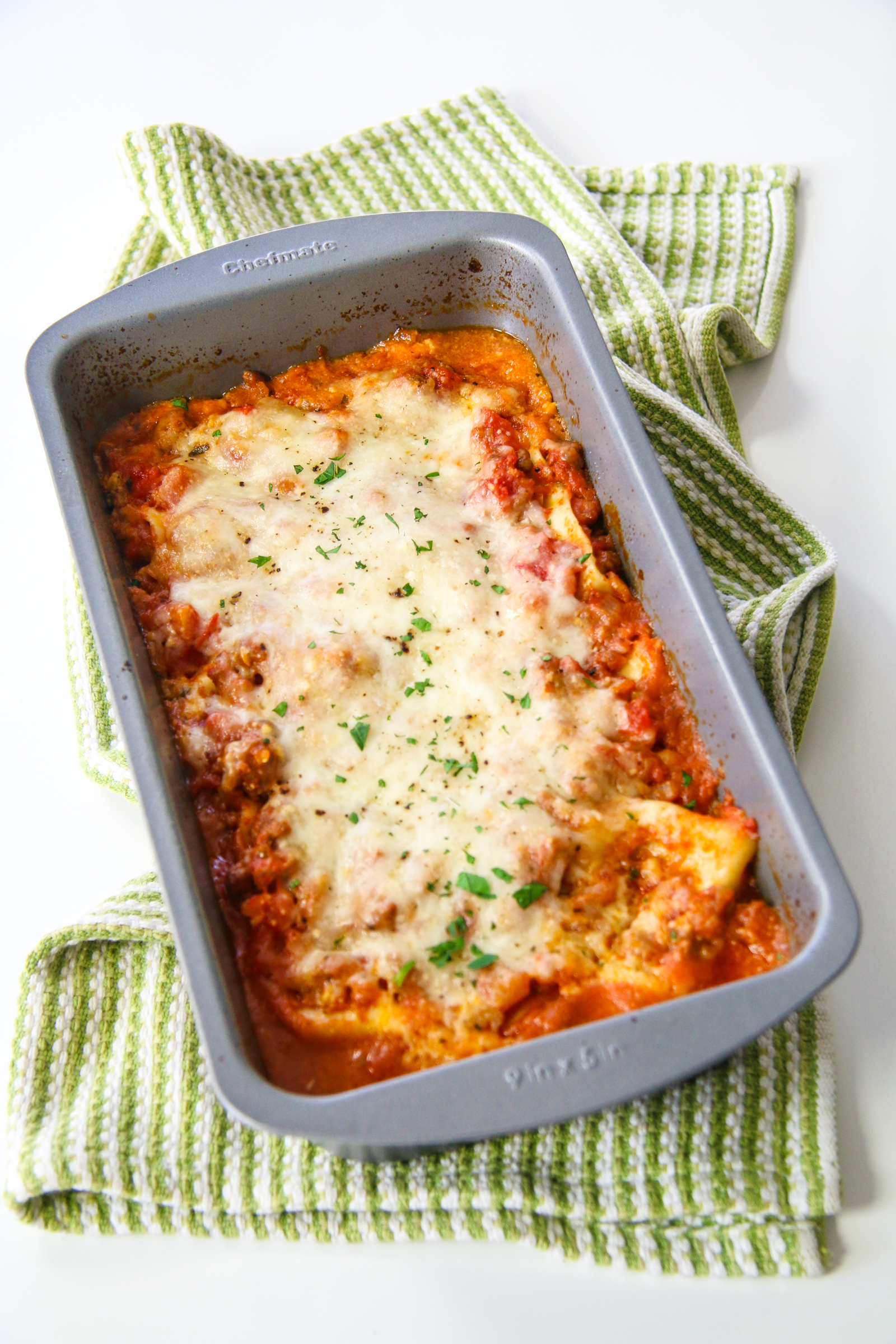 Lasagna for Two
This easy lasagna is made in a loaf pan and is the perfect amount for two.
Ingredients
Meat Sauce
1 tablespoon olive oil
1 small onion, chopped finely
3 cloves garlic, minced
½ teaspoon crushed red pepper flakes
8 ounces meatloaf mix (or 4 oz each of ground beef & ground pork)
2 tablespoons heavy cream
1 (14.5 ounce) can diced tomatoes
1 (8 ounce) can tomato sauce
Salt and Pepper to taste

Filling and Noodles
4 ounces (½ cup) ricotta cheese
½ cup grated Parmesan cheese, plus 2 tablespoons extra
1 large egg, lightly beaten
2 tablespoons chopped fresh parsley
Pepper to taste
4 no-boil oven-ready wide flat lasagna noodles (Barilla brand)
1 cup shredded mozzarella cheese
Instructions
Preheat oven to 400 degrees. Heat oil in a large pan over medium heat and add onion with a pinch of salt. Sweat for 5 minutes. Stir in garlic and chili flakes and cook for 30 seconds. Stir in meatloaf mix, and break it up with a wooden spoon. Season with a little salt and pepper. Cook until no longer pink, for about 2 minutes. Stir in cream, diced tomatoes with their juice, and tomato sauce. Bring to a simmer and cook for 2 minutes. Season lightly with salt and pepper to taste. Don't season too much or overall lasagna will be too salty.
Combine ricotta, ½ cup Parmesan, and egg together. Sprinkle in a little pepper and mix. To assemble the lasagna, spread ½ cup of meat sauce over bottom of a loaf pan. Spread ⅓ of the ricotta mixture on top of 1 noodle, and lay on top of sauce. Sprinkle on ¼ cup of mozzarella cheese, and a little more sauce. Repeat this layering 2 more times, making sure you end up with enough meat sauce and mozzarella cheese for the top layer. When you lay the last noodle down, you will have no more ricotta mixture left. Place the remaining sauce on top of the dry noodle. Mix together the remaining ¼ cup of mozzarella with 2 tablespoons of grated Parmesan cheese and sprinkle on top of the sauce.
Cover pan tightly with aluminum foil that has been sprayed with nonstick spray. Bake at 25-30 minutes, or until the noodles are cooked and the sauce is bubbly around the edges. Remove the foil and bake until the cheese is lightly brown in spots, for an additional 10 minutes or so. Let cool for 5-10 minutes out of the oven to let it set a little more before cutting into it.

TIPS: For this recipe, I highly recommend Barilla brand oven ready noodles because they're thin and fit perfectly in a loaf pan. Other brands tend to be thicker and some don't fit in the pan.
Although I didn't do this in my video, if you grate your mozzarella cheese from a block yourself, the results will be more gooey and stringy, rather than when you use pre-shredded cheese.