Salmon with Quinoa and Asparagus
If you need to simmer down from all the holiday indulgence like we do, this recipe is exactly what you need in your life.  You're craving something lighter, but let's be real…salad is not gonna cut it!  The moment I took that first bite of juicy flaky salmon topped with sharp lemony shallots, I knew I was back on track.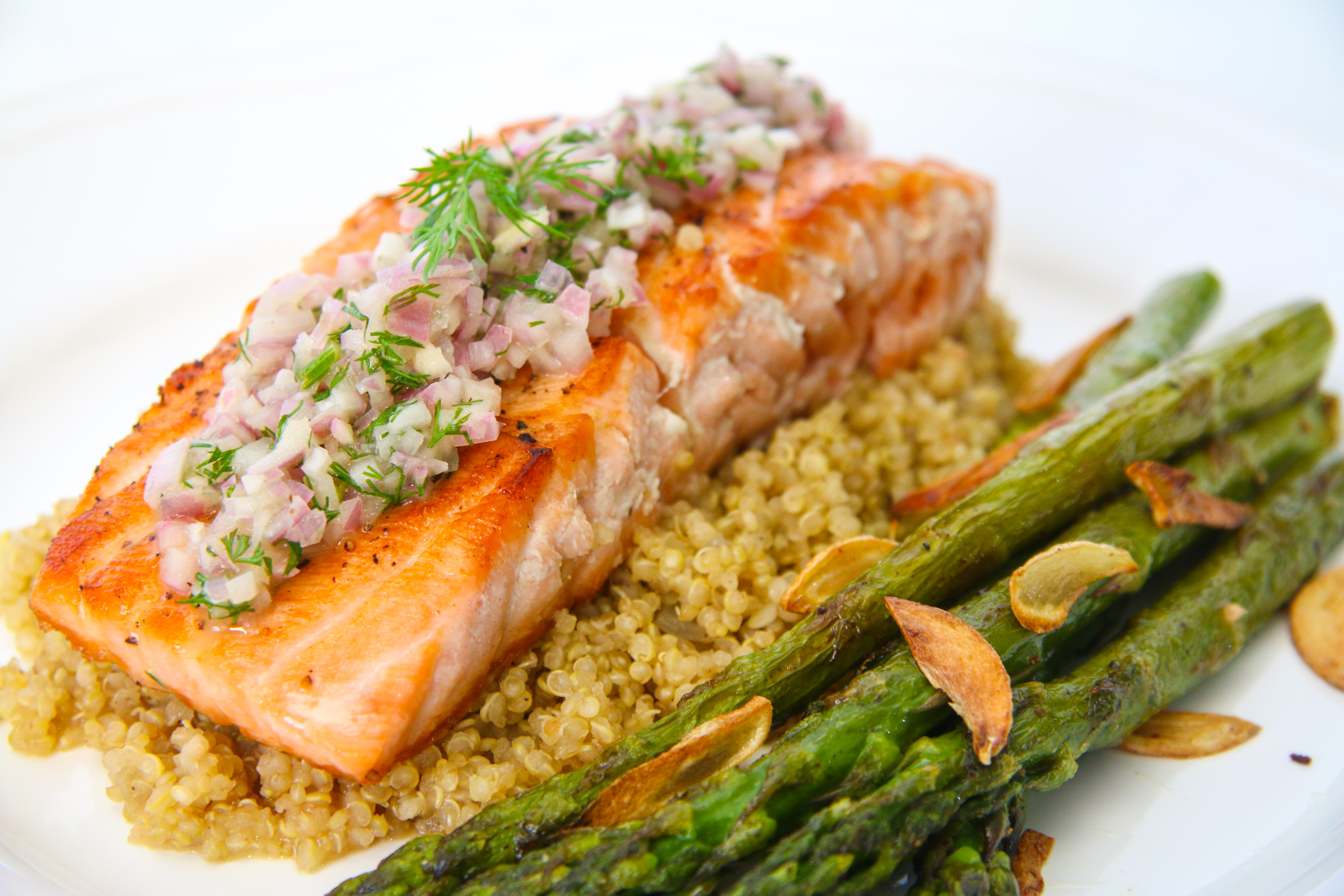 It was definitely fun eating out at restaurants and gorging on enormous amounts of rich fatty foods with family and friends over the last couple of months, but we really need to pump the breaks and go back to wholesome home cooked meals.  But lucky for all of us, in my world, wholesome means easy, exciting, and flavorful too!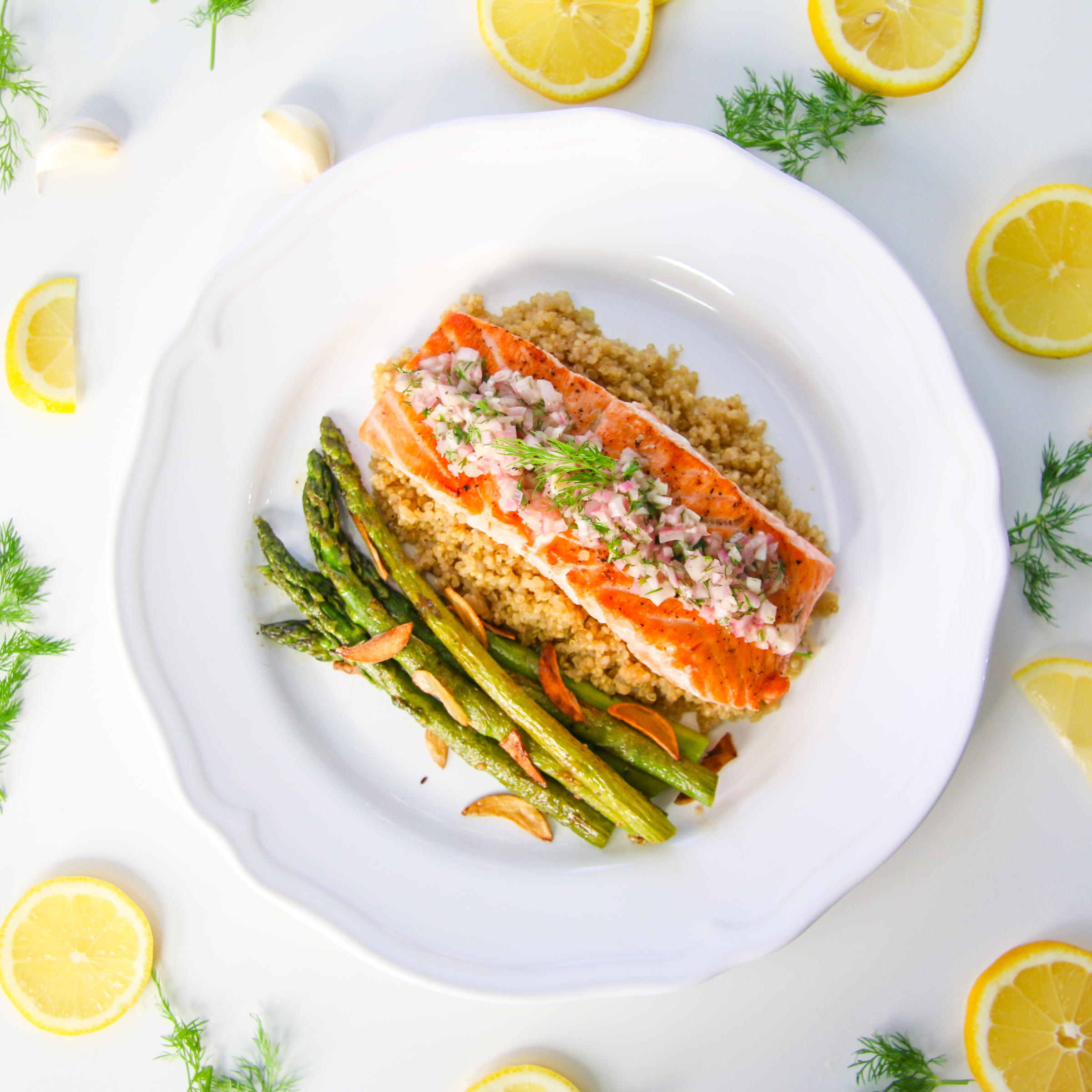 That's why this seared salmon sits on top of a bed of fluffy quinoa cooked in chicken broth, and it's served with blistered asparagus spears sauteed in garlic oil.  Now if that doesn't entice the palate, I don't know what will!  You can see how I make this in EPISODE 7 of Bits & Pieces SEASON 2 below:
WATCH EPISODE 7 HERE:
I really don't know why it took me SO long to make a video involving quinoa!  It's pretty ridiculous actually because it's one of my staple pantry items that I always keep on hand and make ALL THE TIME.  It's high in protein and low-carb, but still feels satisfying.  Seriously, what's not to love?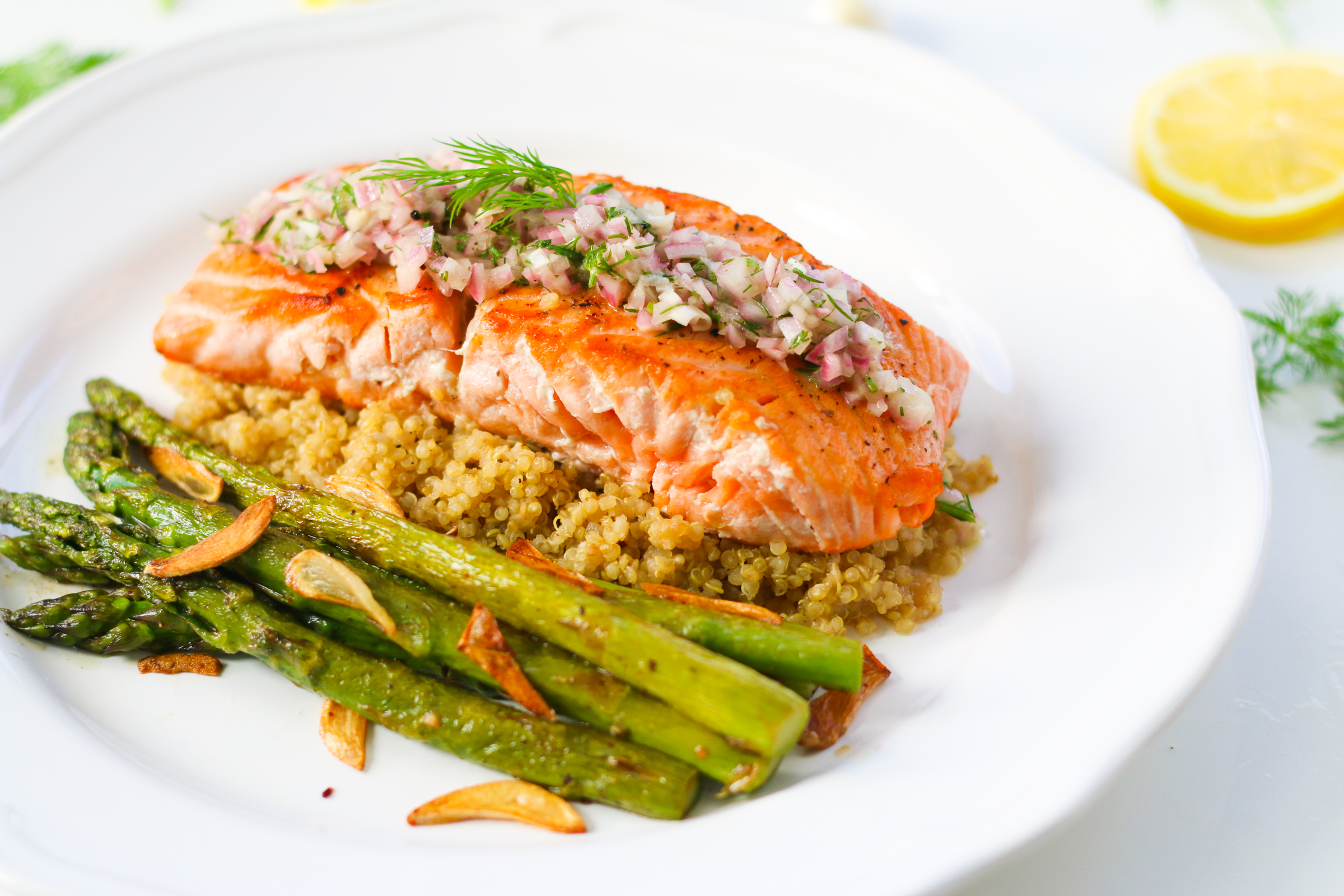 And let's talk about the salmon…it's placed in a screaming hot pan just so it browns on the outside, but stays pink and translucent on the inside.  You want it to be medium rare so it stays as juicy as can be.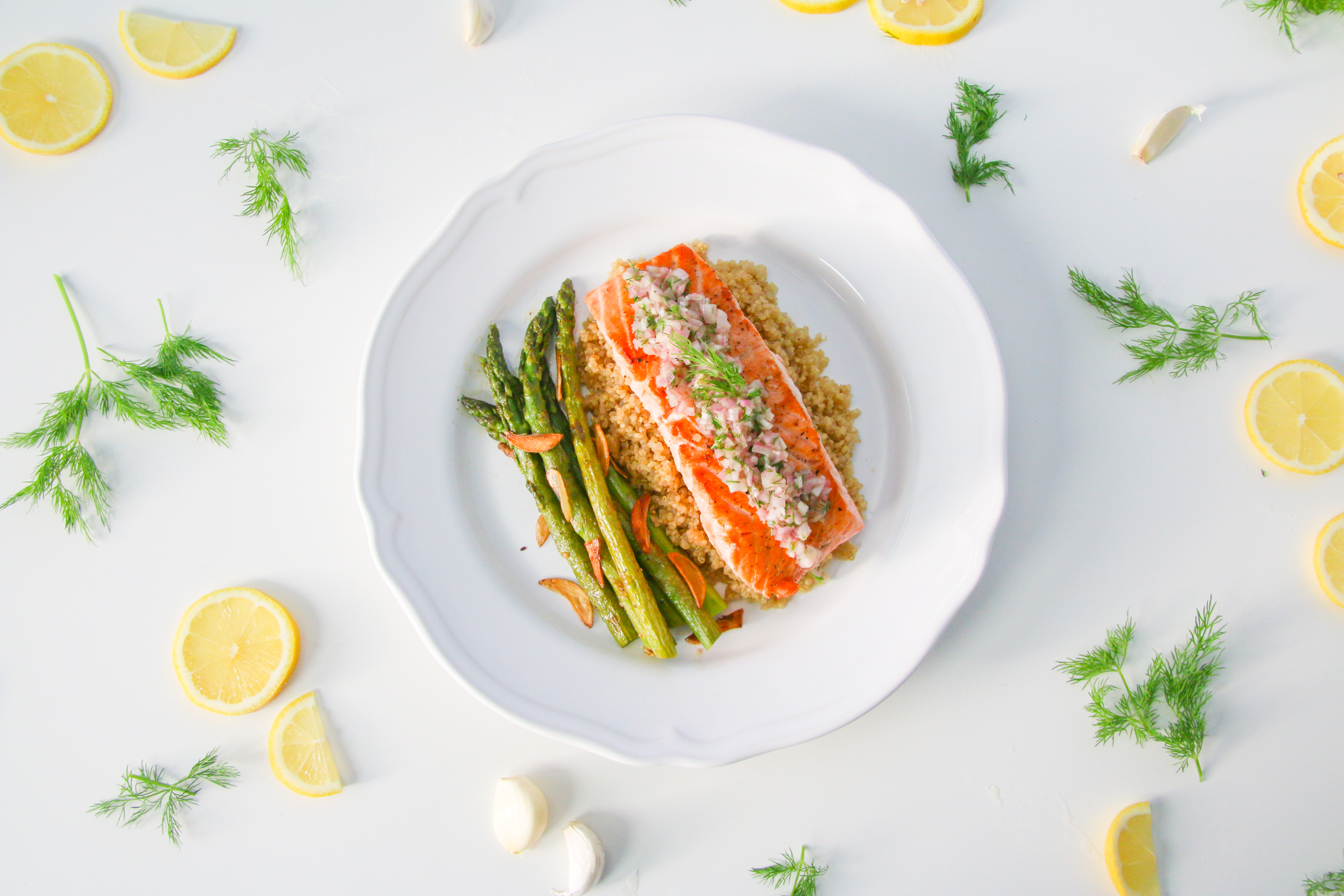 When salmon is cooked right, it's absolute buttah in your mouth.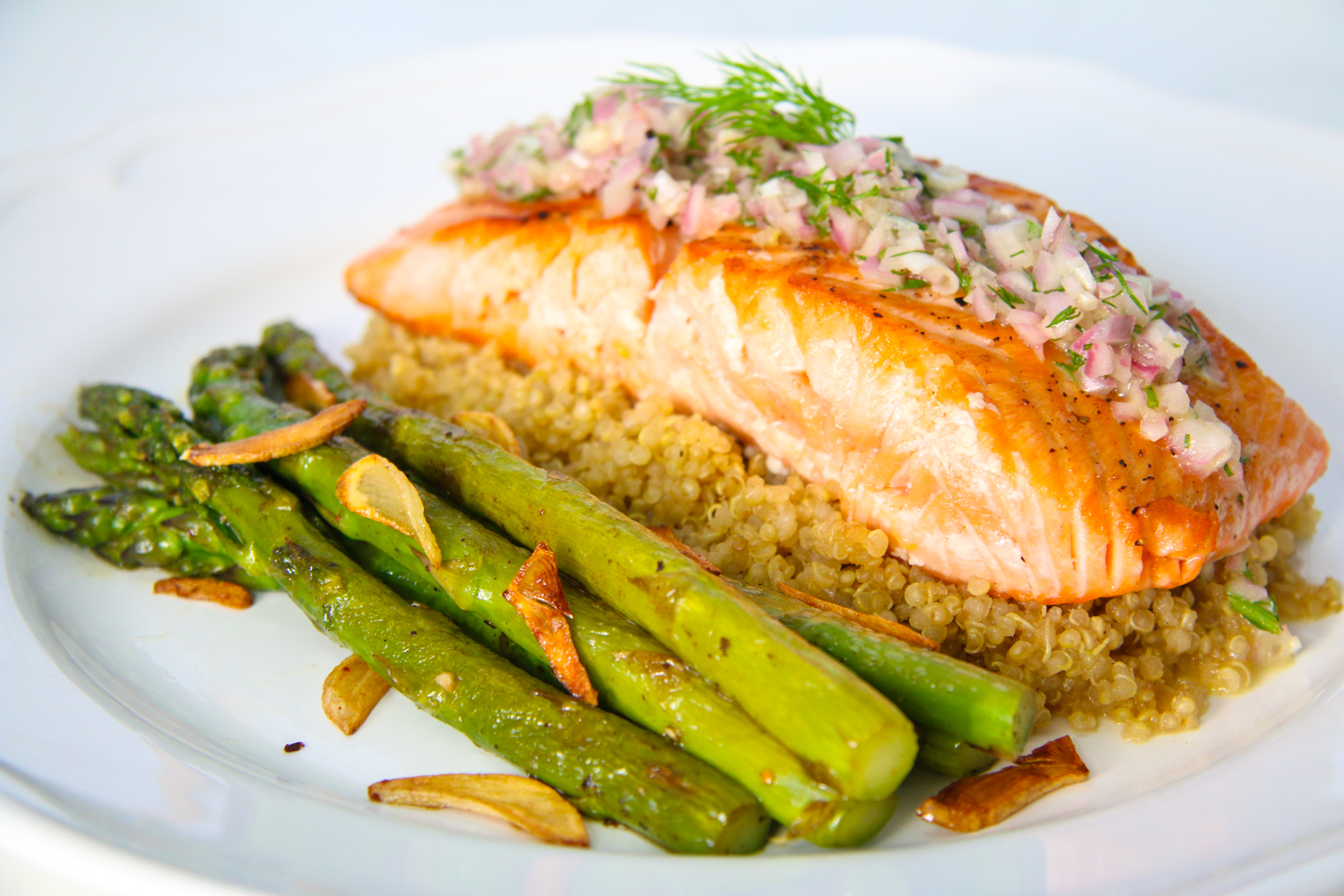 And then you pair it with shallots marinated in a lemony Dijon vinaigrette, and you've got pure magic on a plate.  Invite crackled skin asparagus and their garlic chip friends to the party, and you won't regret it.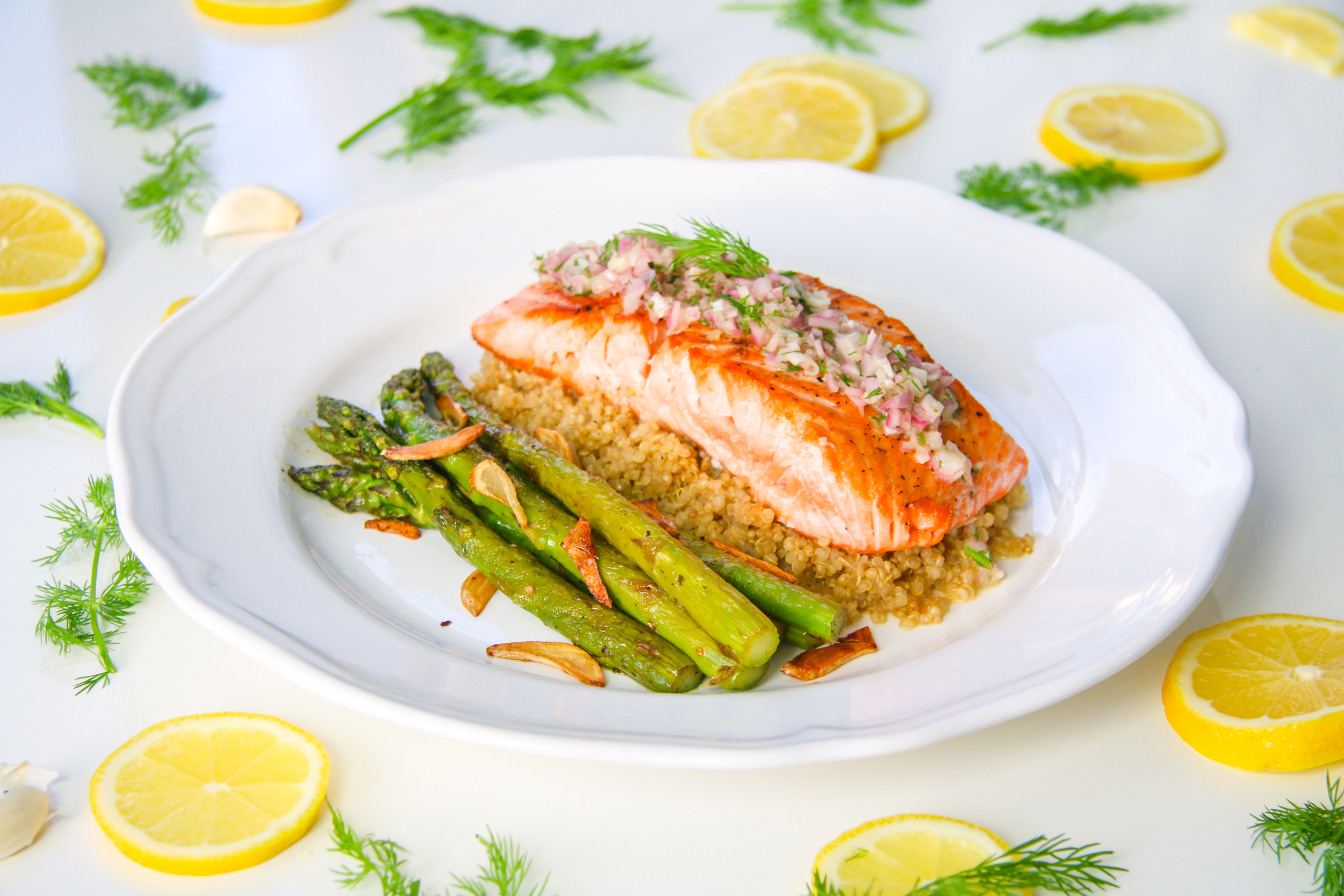 So grab a fork, dive in, and make your stomach (and waistline) a little happier this time of year!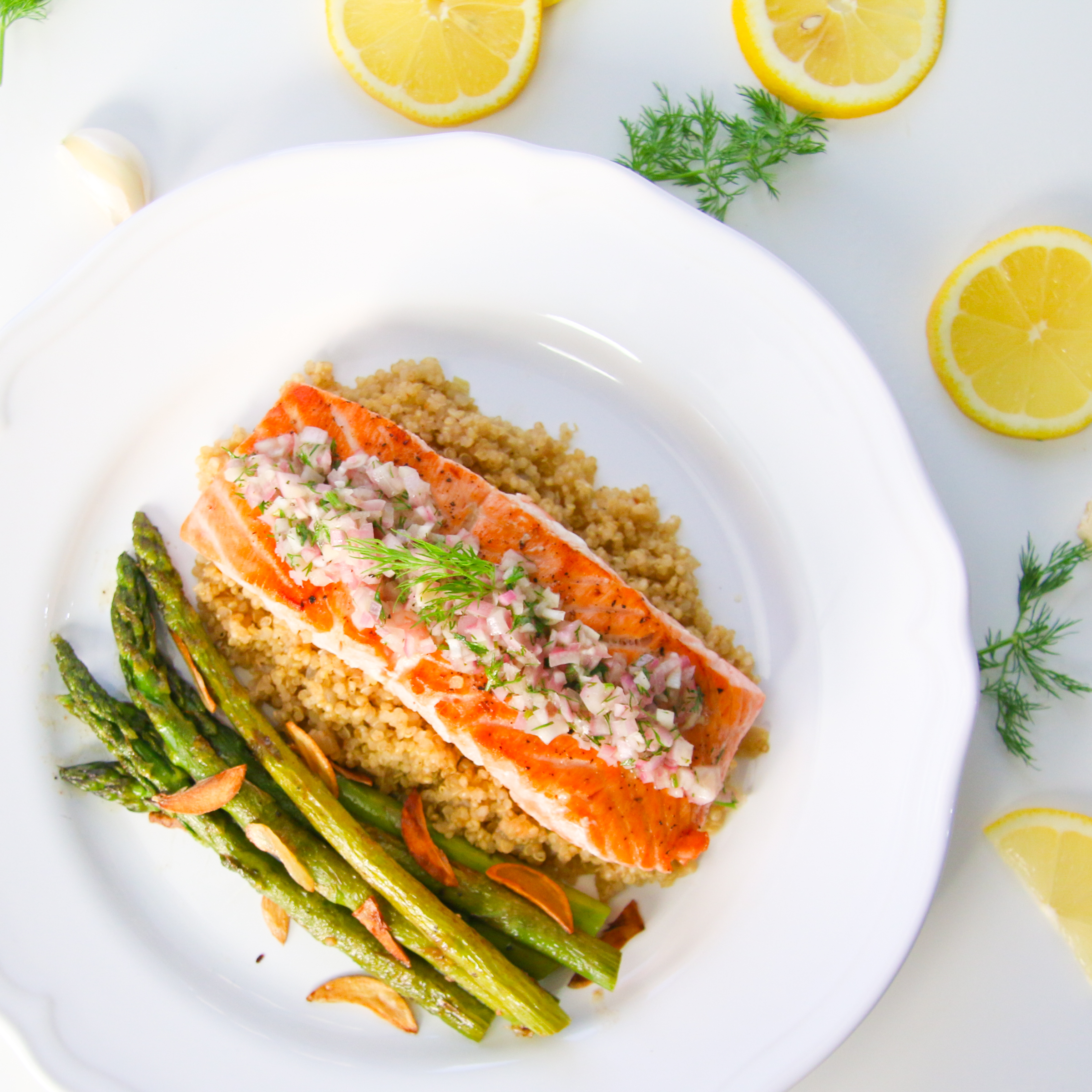 Salmon with Quinoa and Asparagus
This salmon is topped with a sharp herb and shallot dressing and served over a bed of fluffy quinoa with a side of blistered asparagus. Enough said!
Ingredients
Herb Dressing
5 teaspoons lemon juice
1 teaspoon Dijon mustard
1 teaspoon agave
1 tablespoon olive oil
1 small shallot, finely minced
1 tablespoon chopped fresh dill
Salt and pepper

Quinoa Pilaf
1 tablespoon olive oil
1 shallot, diced
½ cup quinoa
1 cup chicken broth
Salt and pepper if needed

Salmon and Asparagus
2 (8 ounce) skinless salmon fillets, 1 ½ inches thick
1 tablespoon olive oil
3 cloves garlic, sliced
1 tablespoon unsalted butter
8 ounces thick asparagus, trimmed
Salt and pepper
Instructions
Make dressing first. Whisk lemon juice, Dijon mustard, agave, and olive oil together in a small bowl. Add shallot and dill. Season with salt and pepper to taste. Set aside.
Make the quinoa pilaf. In a small pot, add the oil and shallot. Cook for 2 minutes until softened. Add quinoa and saute for 2 more minutes. Add broth and bring to a simmer. Cover, reduce to low, and cook for 14-15 minutes or until craters form in the quinoa and most of the liquid is absorbed. Turn off the heat. Place a clean thin kitchen towel on top and replace lid. This will keep it warm and fluffy until your other ingredients are cooked.
Meanwhile, while quinoa is cooking, pat salmon dry with paper towels and season lightly with salt and pepper on both sides. Heat oil in a nonstick skillet over medium-high heat until just smoking. Lay fillets in skillet and cook until browned on first side, about 3-5 minutes, depending on size and thickness of your fillets. Gently flip fillets. Reduce heat to medium and continue to cook until fish is flaky, but still pink and translucent in the center when checked with a tip of a paring knife (for medium-rare), 2 to 4 minutes. Transfer to a plate and tent loosely with aluminum foil to keep warm until ready to serve.
To the oil left in the pan, add the garlic slices and cook over medium heat until fragrant and golden brown. Remove garlic slices to a paper towel-lined plate. Add half of the asparagus to the skillet with tips pointed in one direction and the remaining spears with tips pointed in the opposite direction. Sprinkle with salt and cover. Cook until spears are browned on one side, but still crisp, about 2-3 minutes depending on thickness of asparagus. Uncover and cook while stirring for 1 minute more, or until crisp tender. To plate, add a mound of quinoa pilaf to each plate. Place the salmon fillets on top. Top with the herb dressing, and place asparagus pieces on the side. Top asparagus with the reserved toasted garlic slices.

TIPS: Do not use pencil thin asparagus for this recipe or it will overcook. Do not overcook your salmon. You want the salmon to be medium rare so it stays moist and tender, so just keep an eye on it and don't let the sides get completely opaque.