Chewy Chocolate Chip Pecan Cookies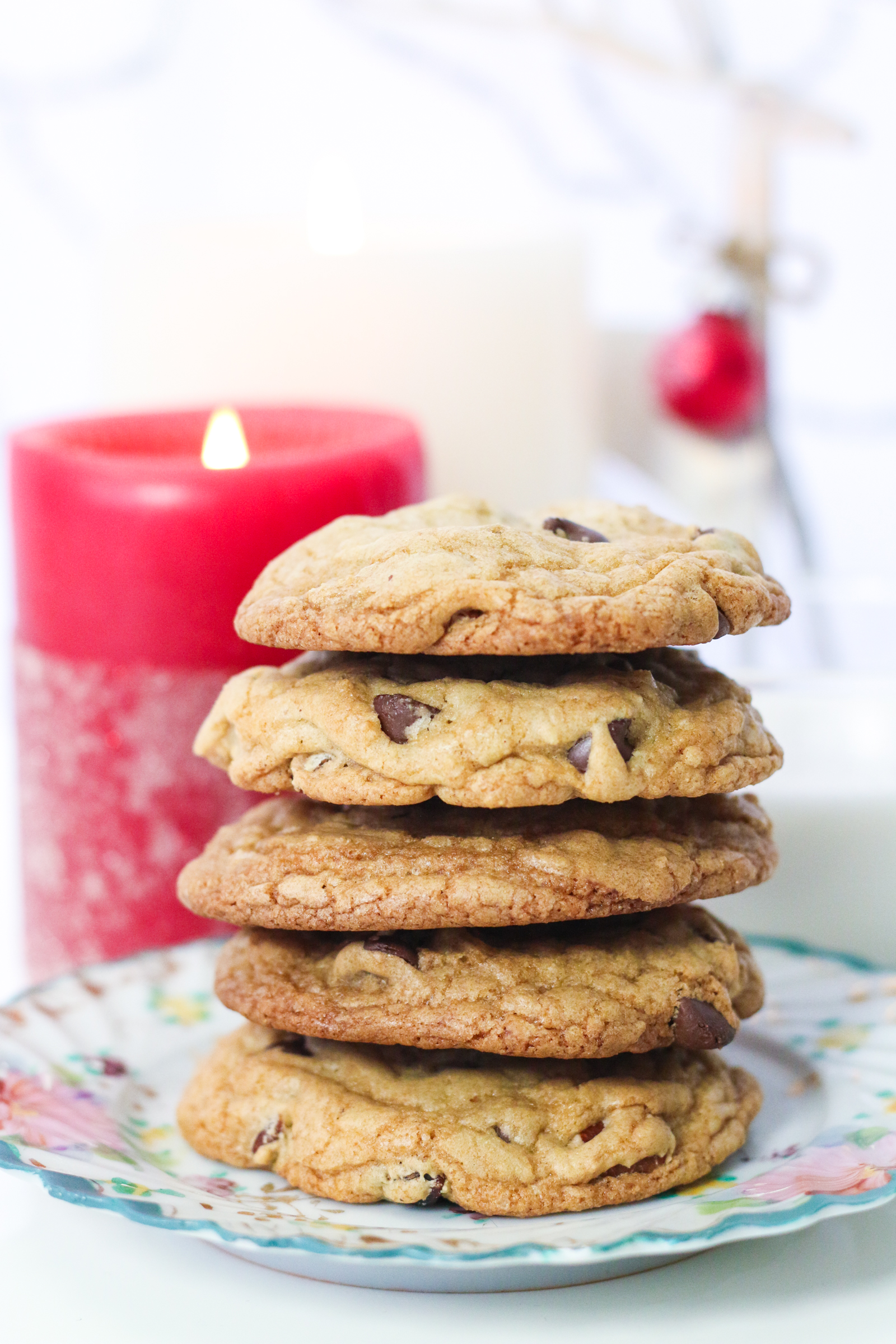 I've been asked for a while if I could post a recipe for chocolate chip cookies, and I totally get it because why wouldn't I have a recipe for them?  But year after year, I've been dissatisfied with different recipes I've tried and tested…until now.  I think part of the problem was that I never wanted to bother testing them unless I went to a party or was planning on giving them away as gifts because usually when you make a batch, we're stuck with cookies for days, and they get stale and brittle before we can eat them all.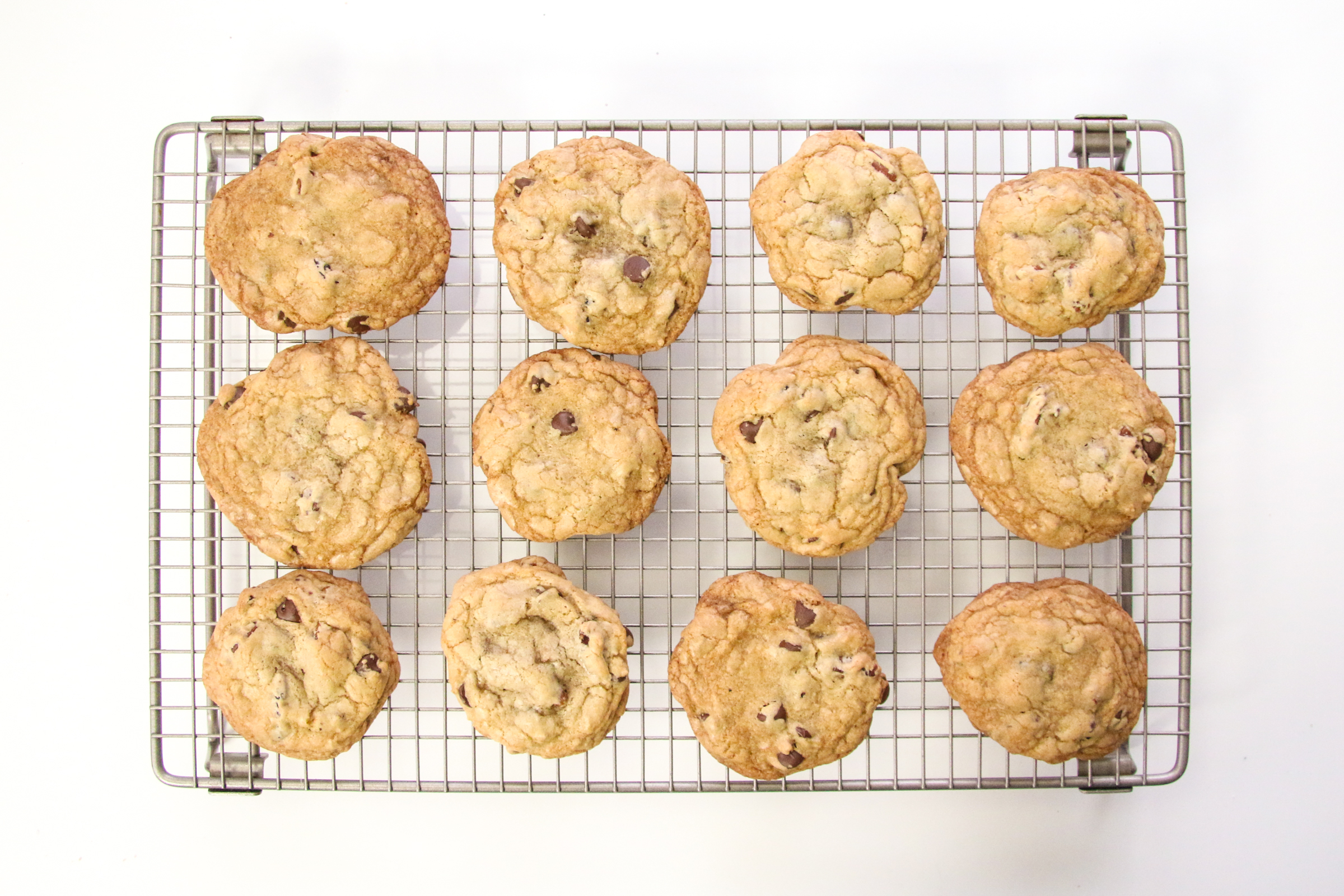 But this batch is small and cute.  It makes exactly one dozen, which is still a lot for two people (maybe not for us), but definitely more manageable.  And I love the taste and texture of these.  It's weird but they almost taste caramelized, or as if they were made with brown butter.  There's something deep and aromatic about them.  But I think that has a large part to do with the toasted pecans.  When you take the time to toast the pecans first, it makes a world of difference.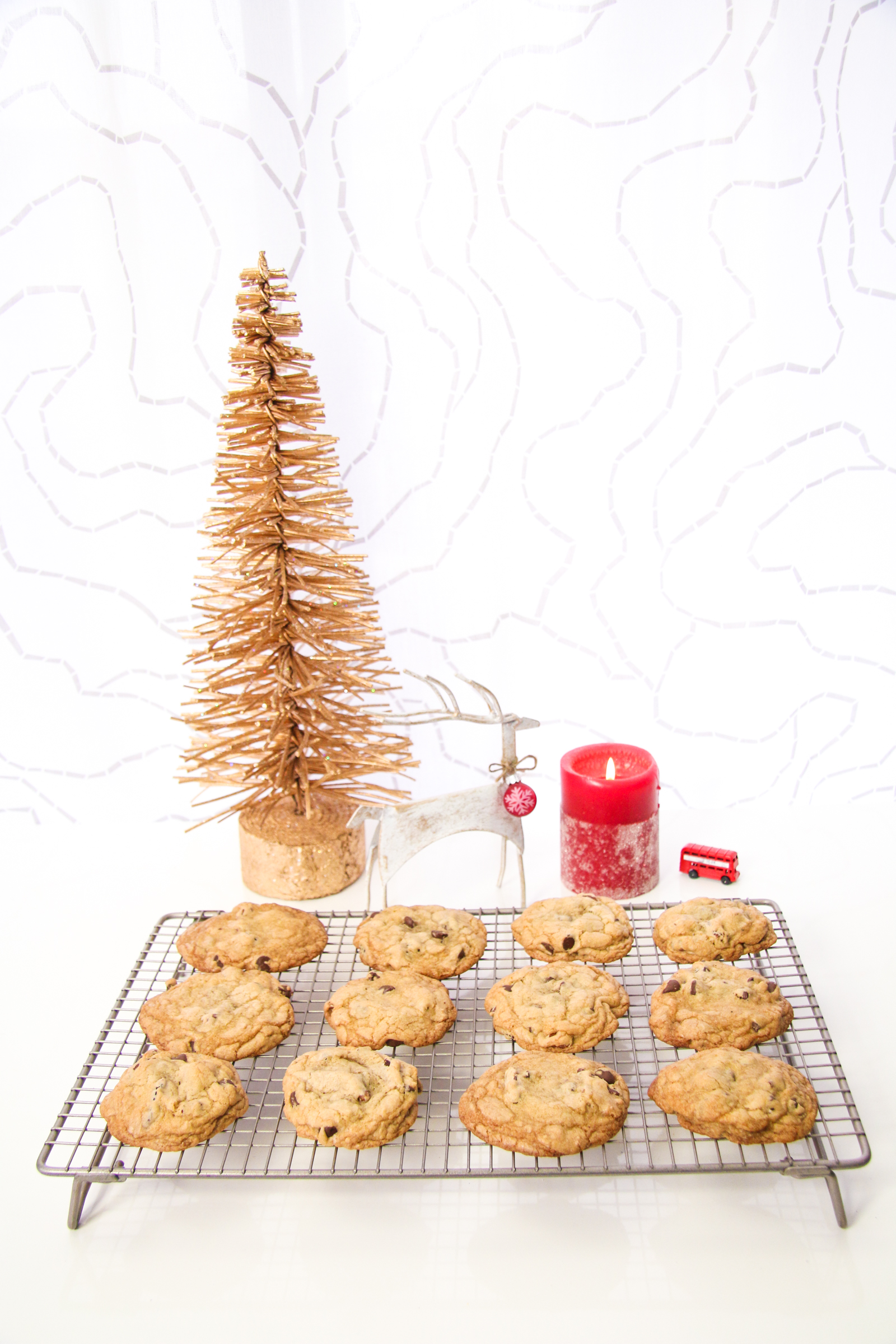 These cookies are crispy on the outside and chewy in the middle.  That's my perfect kind of cookie.  You can see how I make these delectable little suckers in EPISODE 5, our Christmas episode, of Bits & Pieces SEASON 2 below:
WATCH EPISODE 5 HERE:
I'm not the hugest chocolate chip fan in the world, so the level of sweetness and chocolate-to-dough ratio is perfect for me.  Even when I was a kid I always wished that someone would invent the chocolate chip cookie with just the dough part (yeah I guess I was a pretty weird kid).  And the toasted pecans add a savory crunch which makes these cookies special.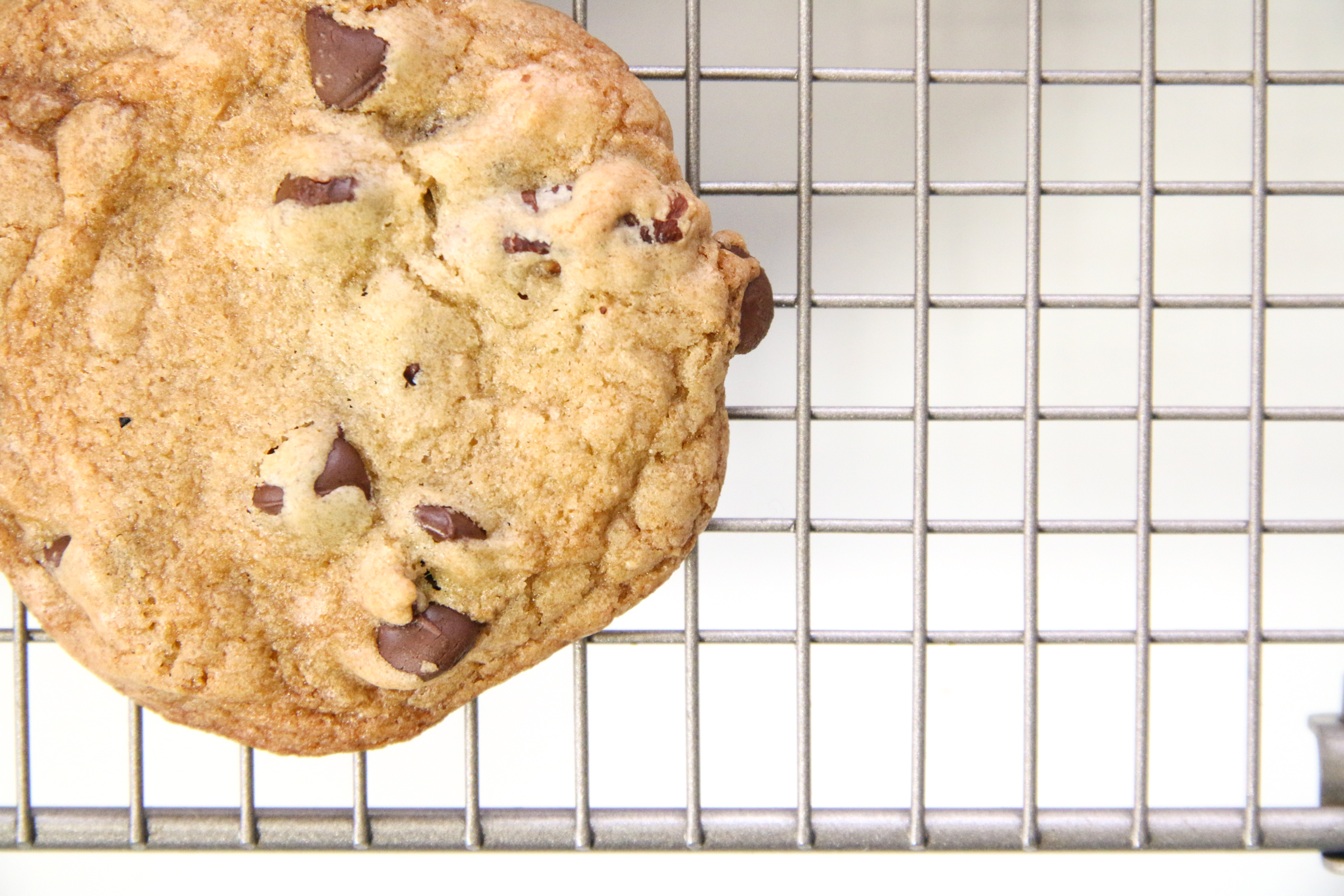 I love how when you take the first bite, you feel and hear a satisfying crunch from the edges, and then it gives way to its soft center, and you feel that satisfying chew.  GAH….I REALLY want a cookie now!
Joe loves these warm straight out of the oven, because they're gooey and chewy.  I'm kind of strange and I like these cookies even better the next day because I think they only get chewier as they cool to room temperature.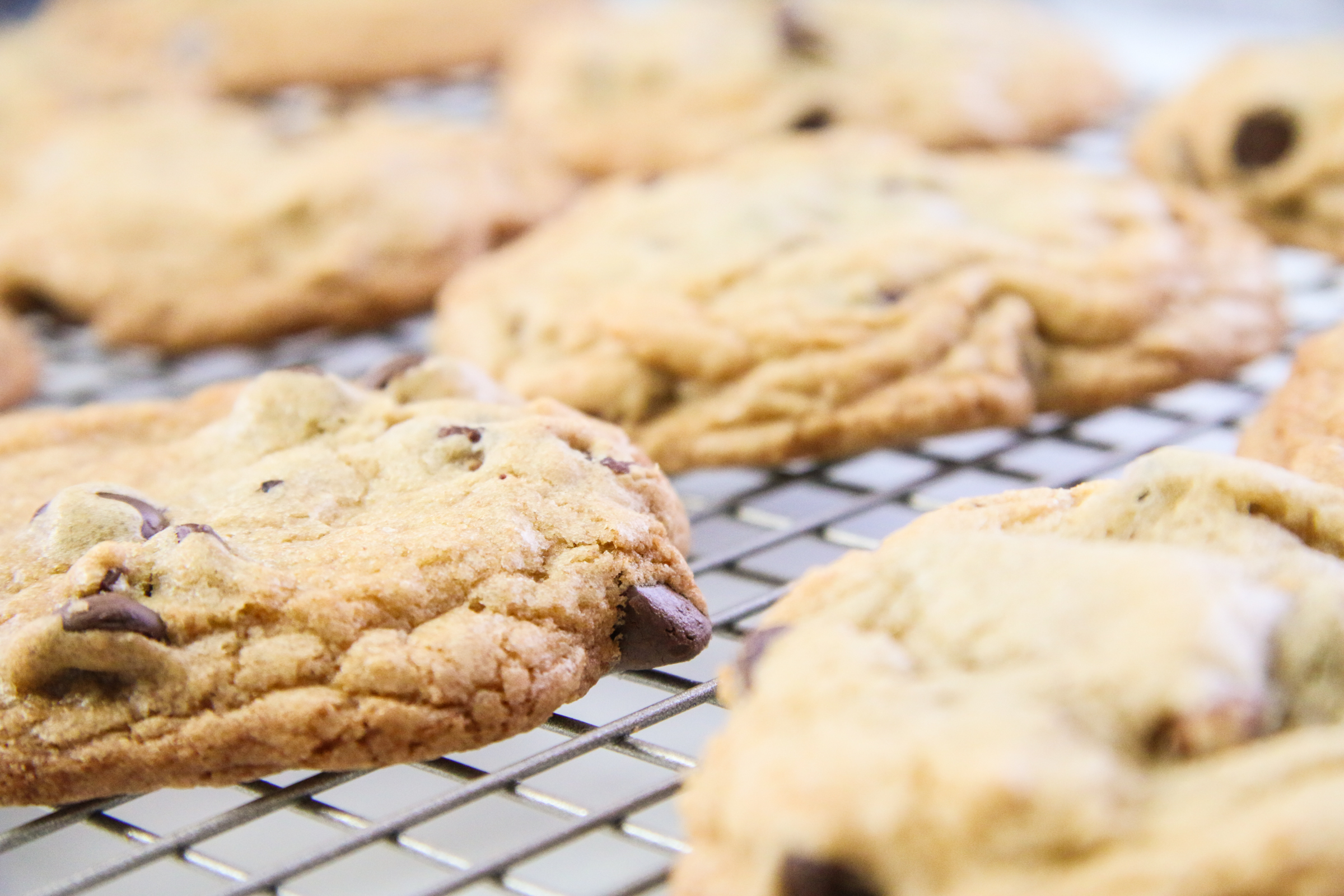 These are perfect for Santa and even better for people like us during the holidays because you still get to bake and fill your entire kitchen with the smells of sweet buttery goodness, but you don't have to go to crazy town and make something complicated with food coloring and sprinkles.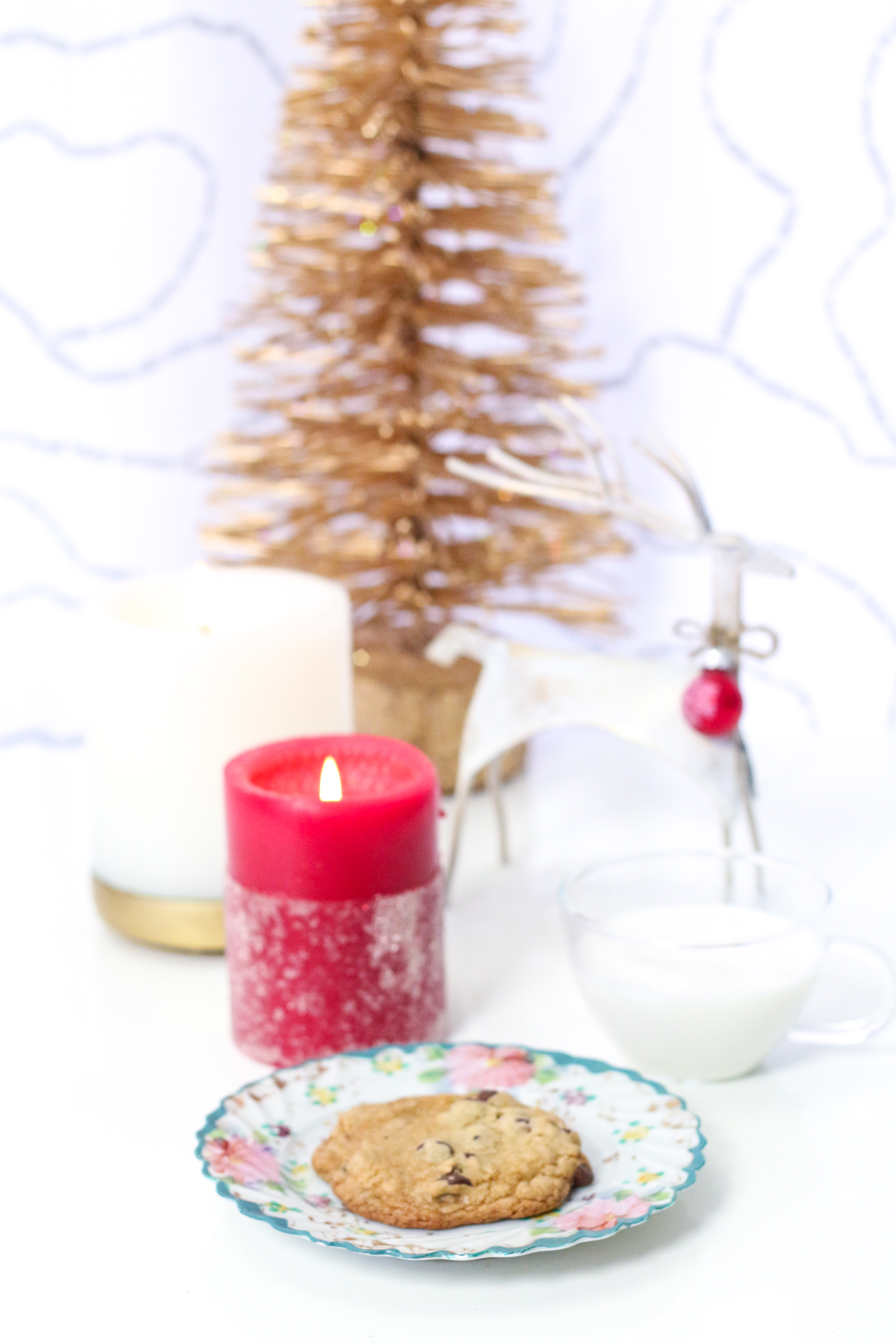 So here you go my friends… a chocolate chip cookie recipe at last.  It only took me about 4 years to get around to it.  You can tell that I care deeply about the recipes I post here, right? I hope you give it a try because every time we're done with a batch, I'm always tempted to make more!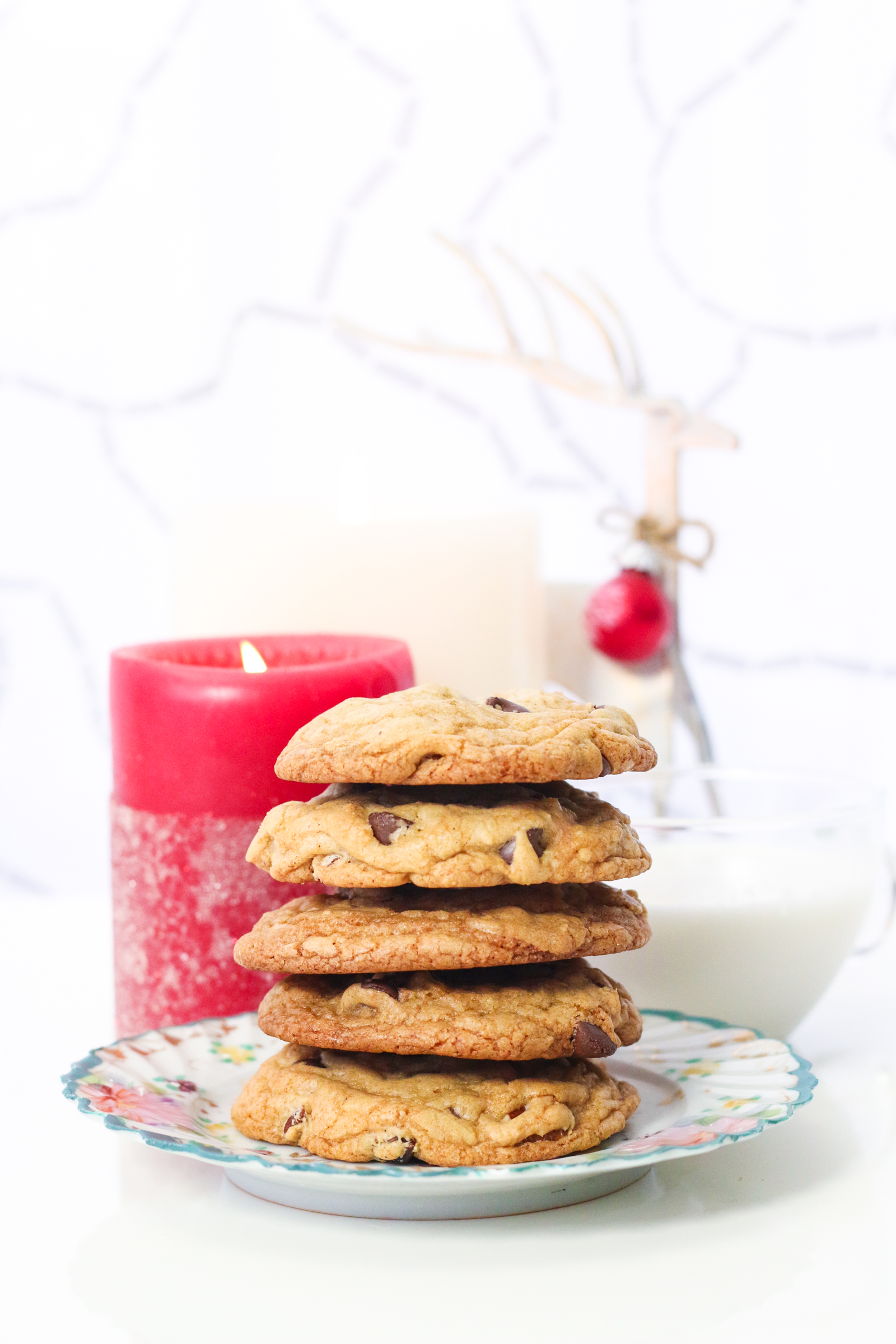 Chewy Chocolate Chip Pecan Cookies
Crispy on the outside, chewy on the inside, toasty, nutty, and pretty much perfect.
Ingredients
1 cup all purpose flour
½ teaspoon baking soda
¼ teaspoon fine salt
¼ cup granulated sugar
½ packed cup of brown sugar
5 tablespoons butter, melted, and COOLED
1 large egg
2 teaspoons vanilla extract
½ cup semisweet chocolate chips
½ cup toasted pecan pieces
Instructions
Preheat your oven to 350 degrees F. Line two baking sheets with parchment paper. In a dry pan, toast your pecan pieces until crisp and aromatic. Leave in large uneven pieces. Set aside.
In a bowl, whisk together flour, baking soda, and salt and set aside. In another bowl, whisk together brown and white sugar. Add melted cooled butter to the sugars and mix until well combined. Add egg and vanilla and whisk again until smooth. Gently fold in flour mixture with a rubber spatula. Fold in chocolate chips and pecan pieces. Place the bowl in the fridge for 10 minutes to ensure the butter is cold.
Working with 2 tablespoons at a time, drop dough onto prepared sheets, spacing them 2-inches apart. Put 6 cookies on each sheet. They need space to spread.
Bake cookies until edges are set but the centers are still a little soft, about 13-14 minutes, making sure to rotate the pans halfway through baking. Let cookies cool slightly on the sheet and then move them off the tray onto a cooling rack. Cookies can be stored at room temperature for up to 3 days.

TIP: The key to making sure the cookies are chewy is to avoid overbaking them. Pull them out of the oven while the centers are slightly underbaked. They will finish cooking on the sheet.