Apple and Avocado Chicken Salad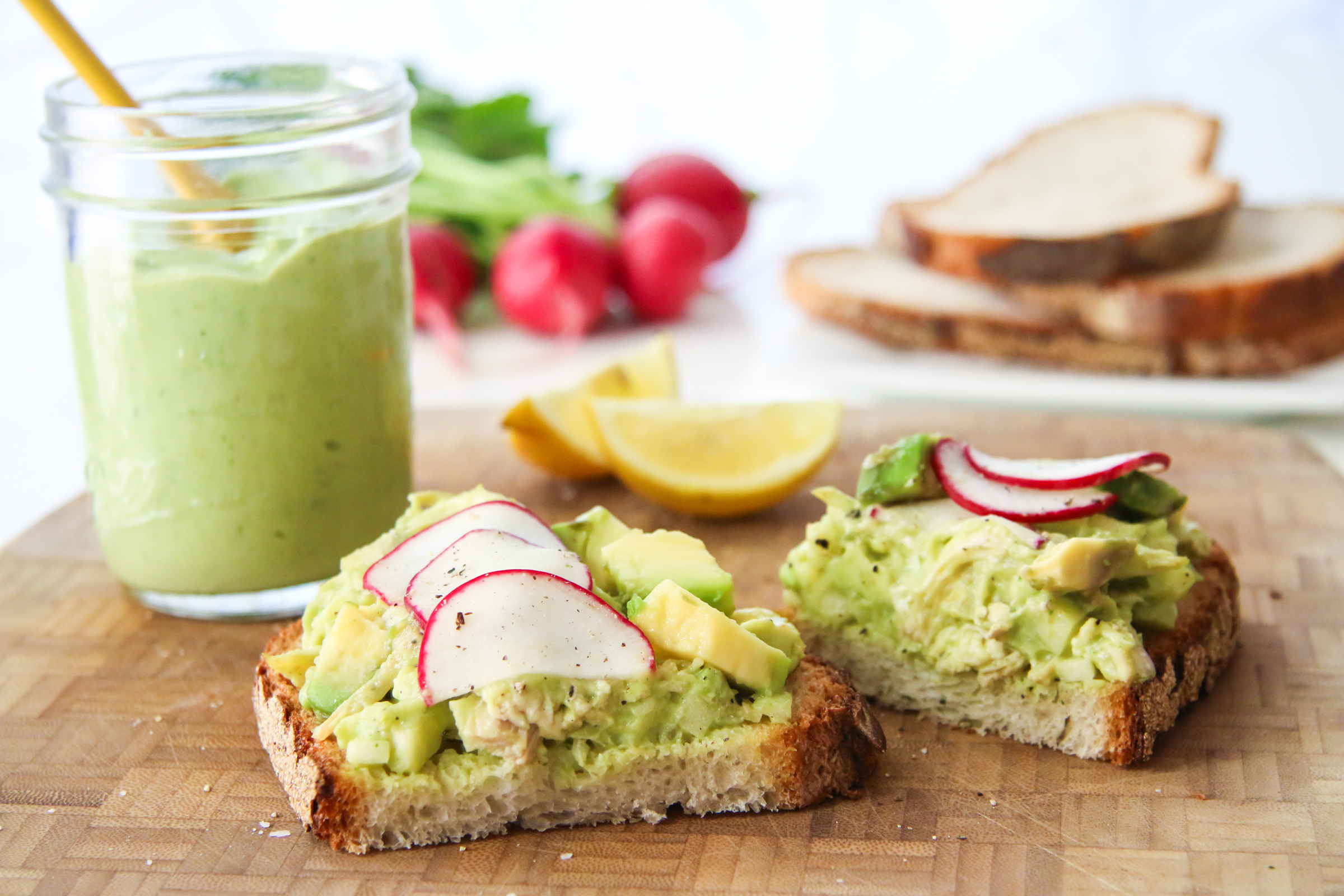 Avocado lovers rejoice!  This one's for you… or should I say, this one's for me?  I LOVE AVOCADOS and if you do too, you'll be fist bumping me after you try this Apple and Avocado Chicken Salad.  First off, if you're scared of the apple in this recipe because you're one of those, "I don't like fruit in my savory dishes" kinds of people, don't walk away just yet.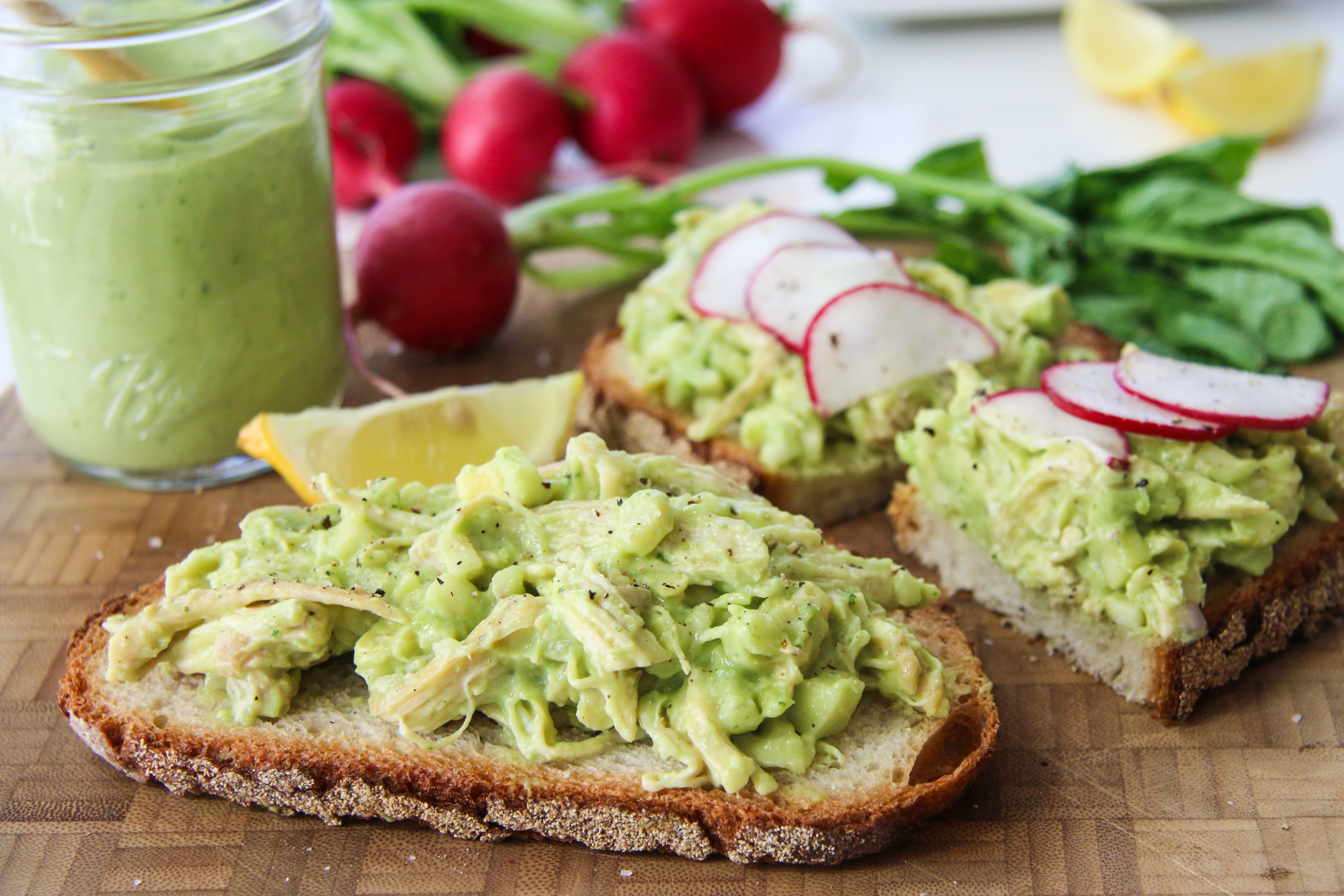 The tart Granny Smith apple kind of disappears into the background and adds just the right amount of sweetness, as well as a great texture and refreshing crunch.  Trust me, along with the creamy cool avocado, it just works.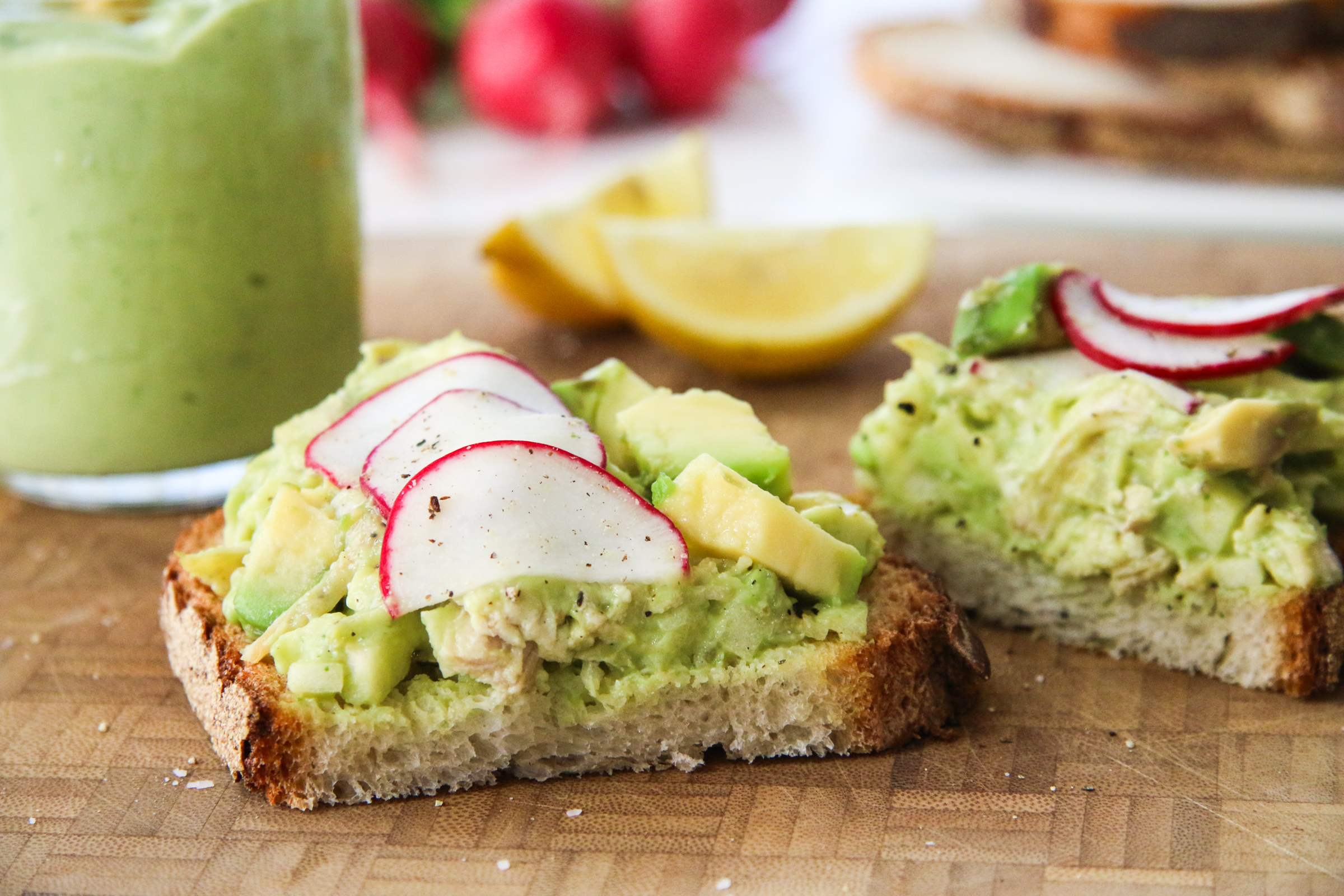 Next, let's talk about the buttermilk avocado dressing.  I just so happened to have leftover buttermilk sitting in my freezer from the time I made my Buttermilk Bacon Biscuits.  But if you don't, don't fret my pet.
Just use regular milk, fill a measuring cup up to almost the amount you need, and top the rest with vinegar.  I always try to share that tip because I know I used to freak out when a recipe called for buttermilk and I didn't have it on hand.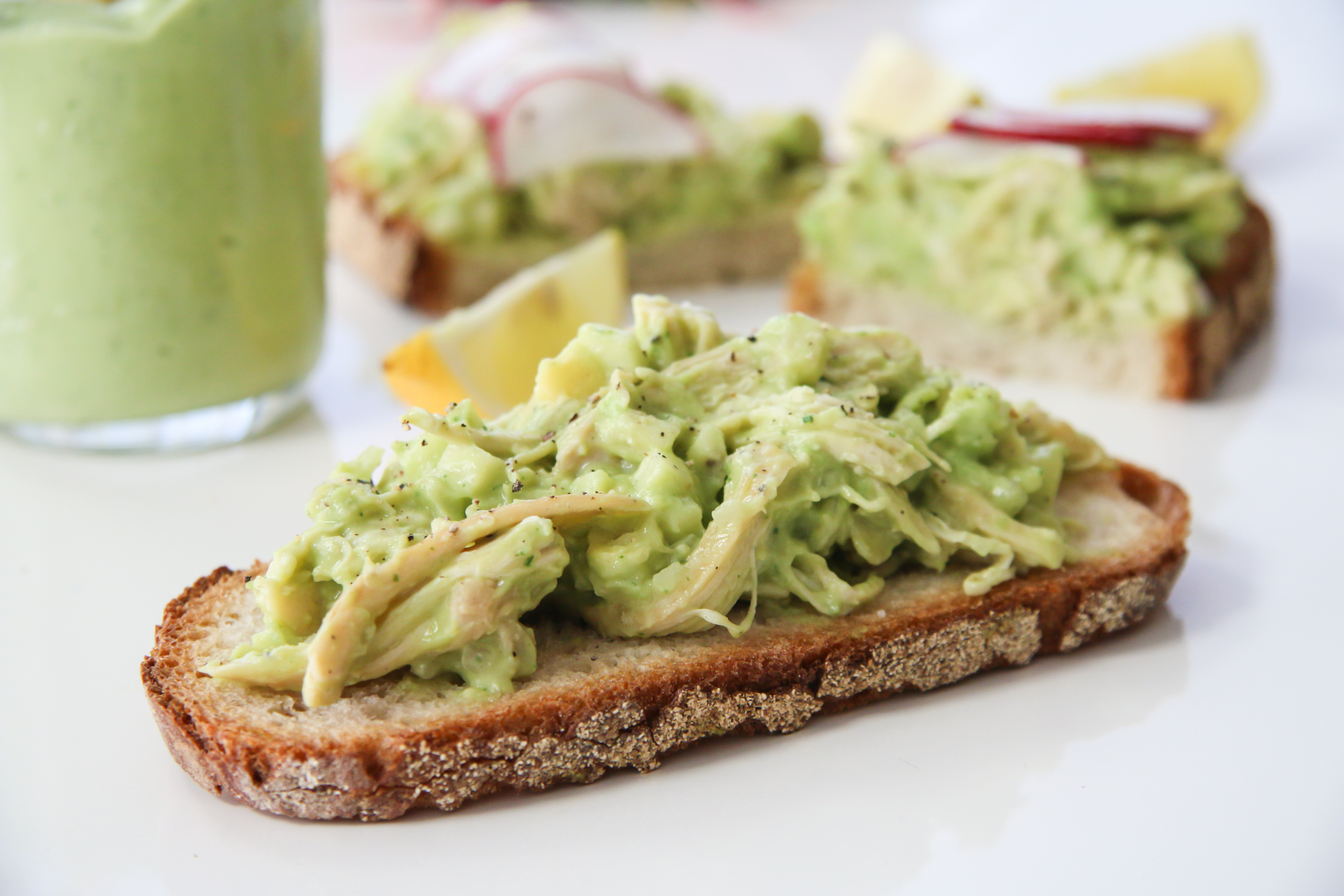 I took the extra few minutes to cook up some chicken breasts, but if you want to make your life easier, use the breast meat from a rotisserie chicken.  I totally would've done that too, but I didn't have one on hand.  Actually, I take that back, because my chicken was well seasoned and juicy, so I think it only helped the situation.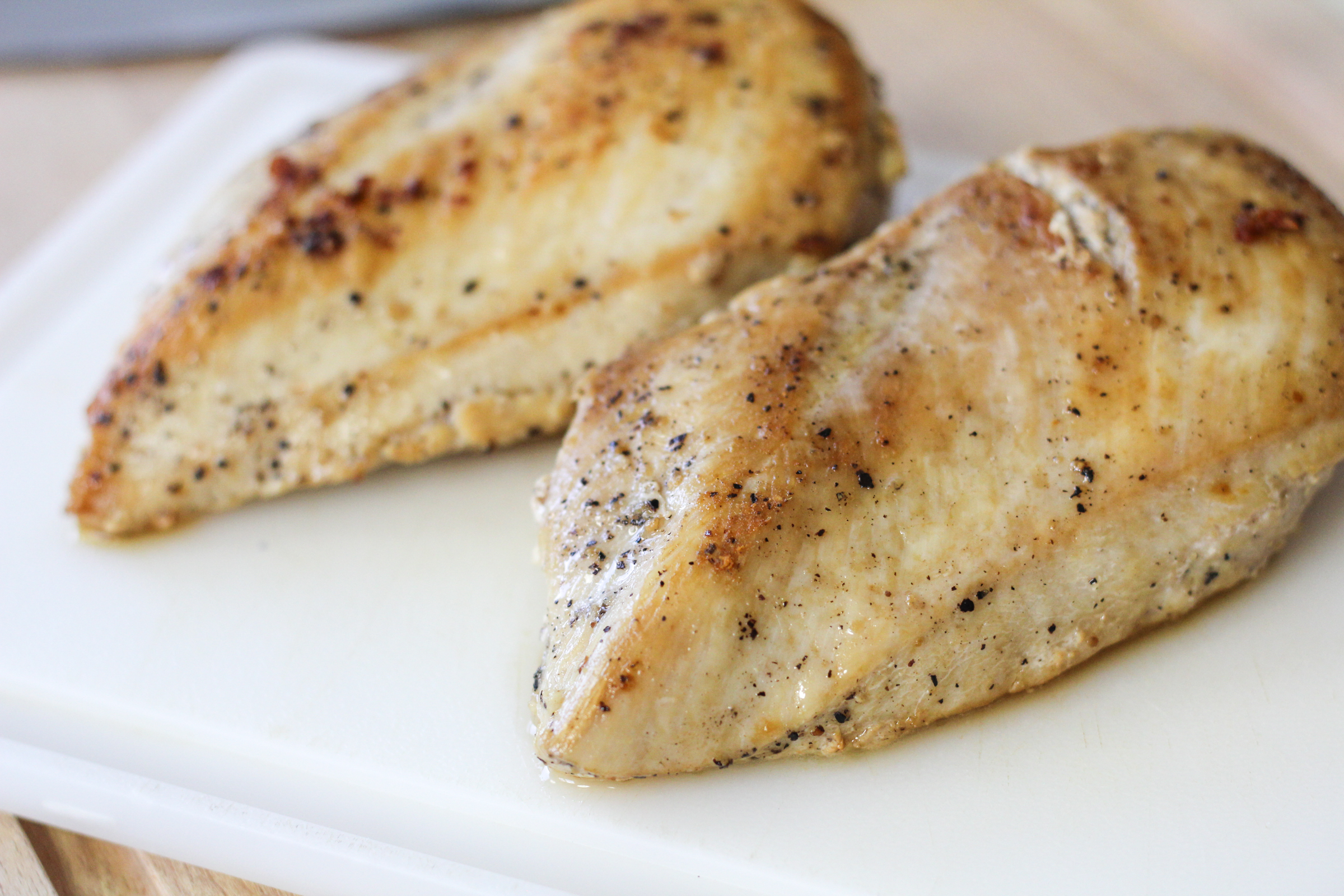 I chose to use toasty Italian bread as my vehicle to transport the chicken salad to my mouth, and I think that's the best decision I've made all year.  But you can go low carb and load it up on some lettuce and eat it as a regular salad with a fork.  You won't be disappointed either way.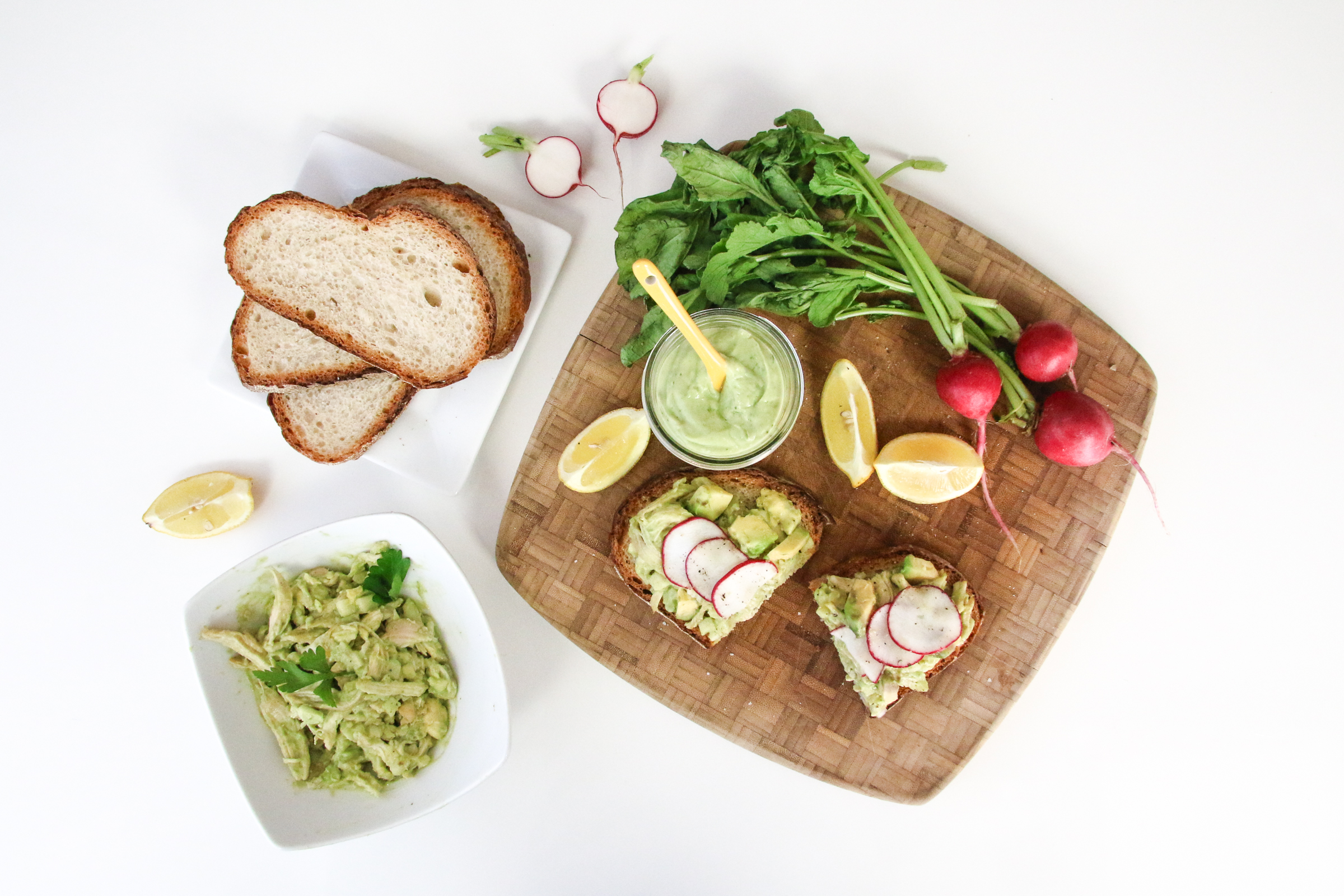 This makes such a simple summer time meal, but it would also be awesome as an appetizer.  So watch how I make this easy Apple and Avocado Chicken Salad step-by-step in EPISODE 19 of Bits & Pieces:
I admit that I chose to top my chicken salad with thinly sliced radishes simply because of the pop of color and contrast to that gorgeous green.  But it actually ended up adding a refreshing slightly sweet and peppery taste, which was really nice.  So I suggest you do the same.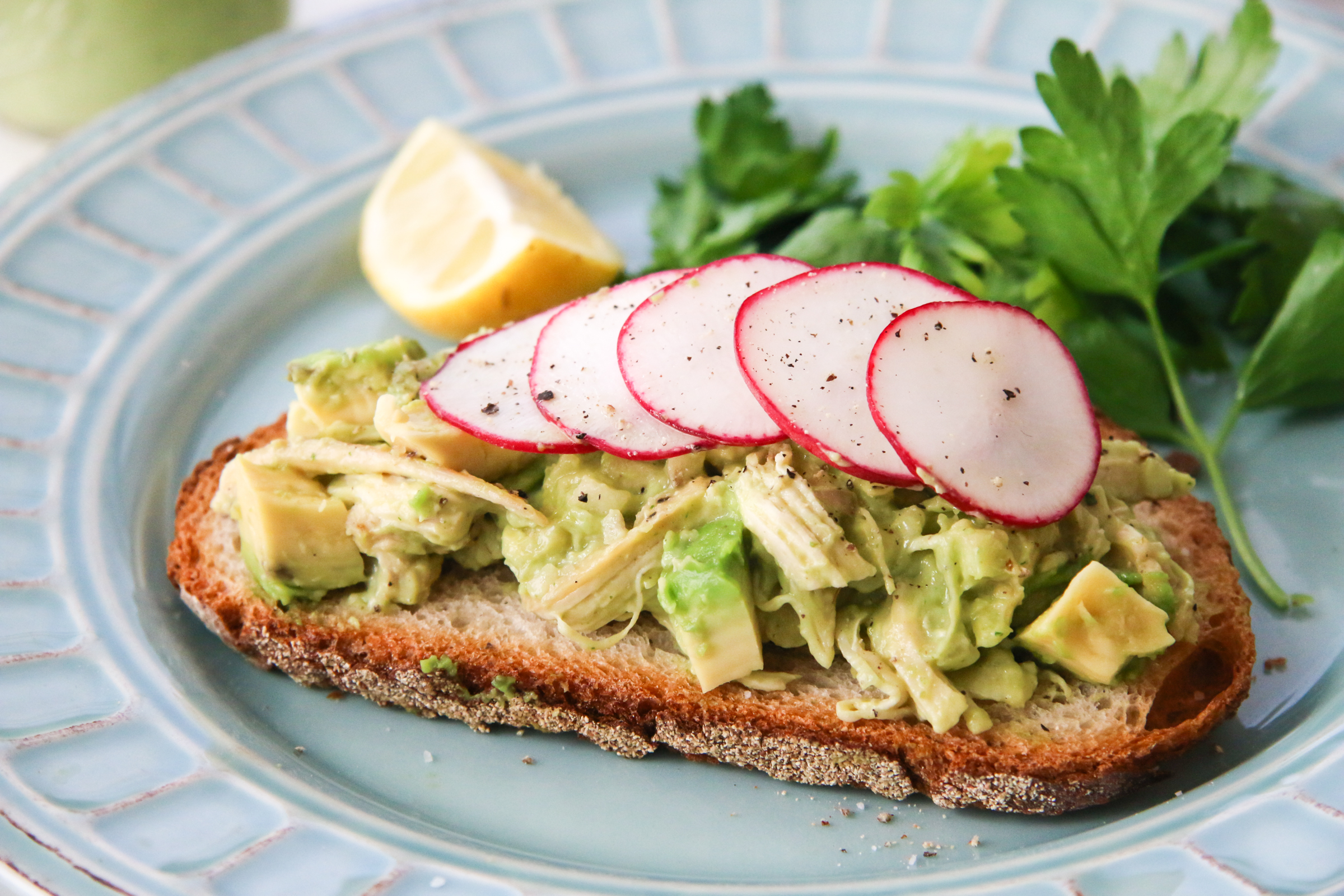 The choice is yours though.  You can top it with tomatoes, sliced hard boiled eggs, fresh herbs, or nothing at all.  It doesn't really "need" anything else, but it's always nice to put a little extra love on top.  It seems like you care.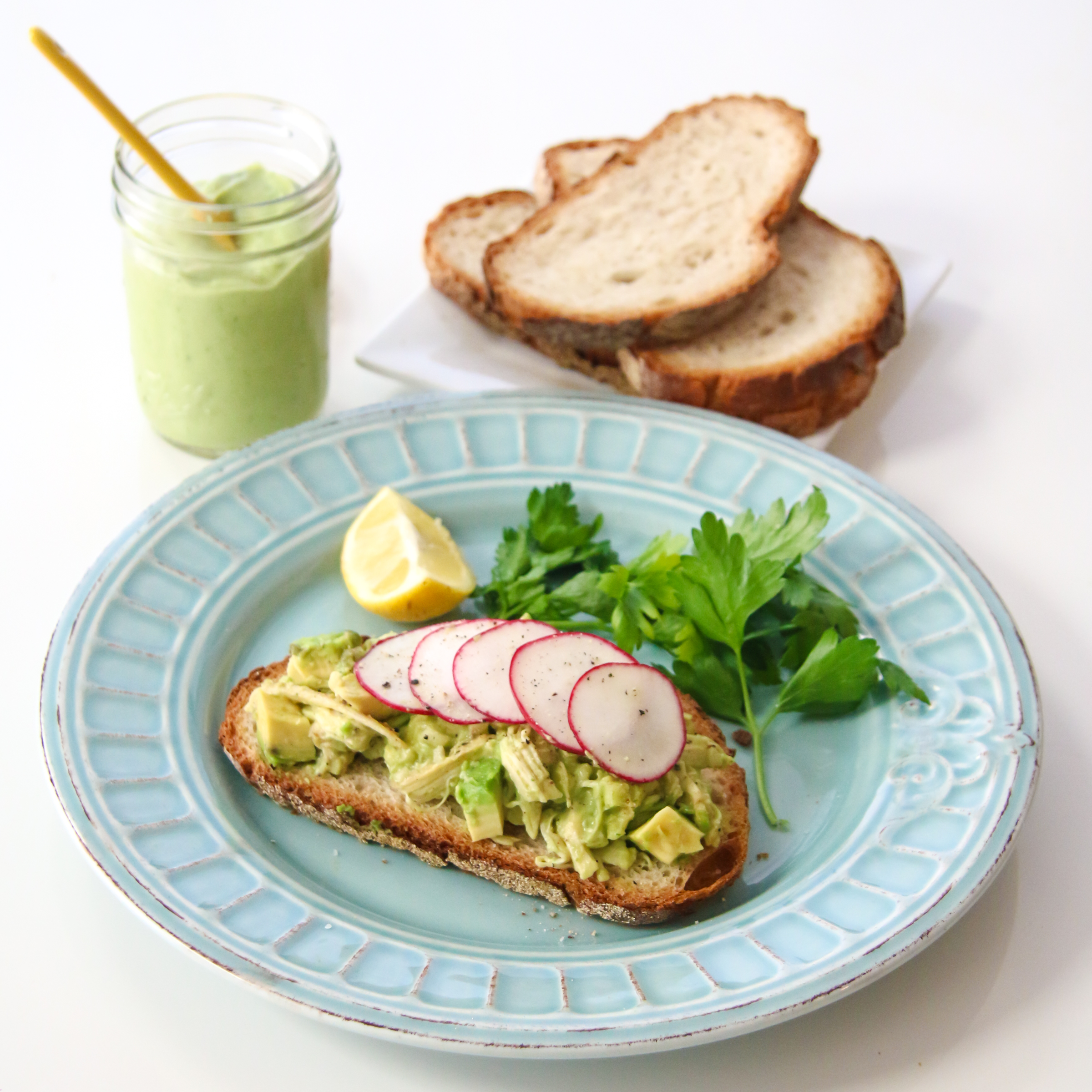 And once you do nestle the chicken salad on your warm crunchy toast, don't forget to add that last sprinkling of salt and pepper on top!  A lot of people forget to do that.  But adding that last shot of seasoning really boosts the flavor to another level.  If I could scream this tip from the mountain tops I would.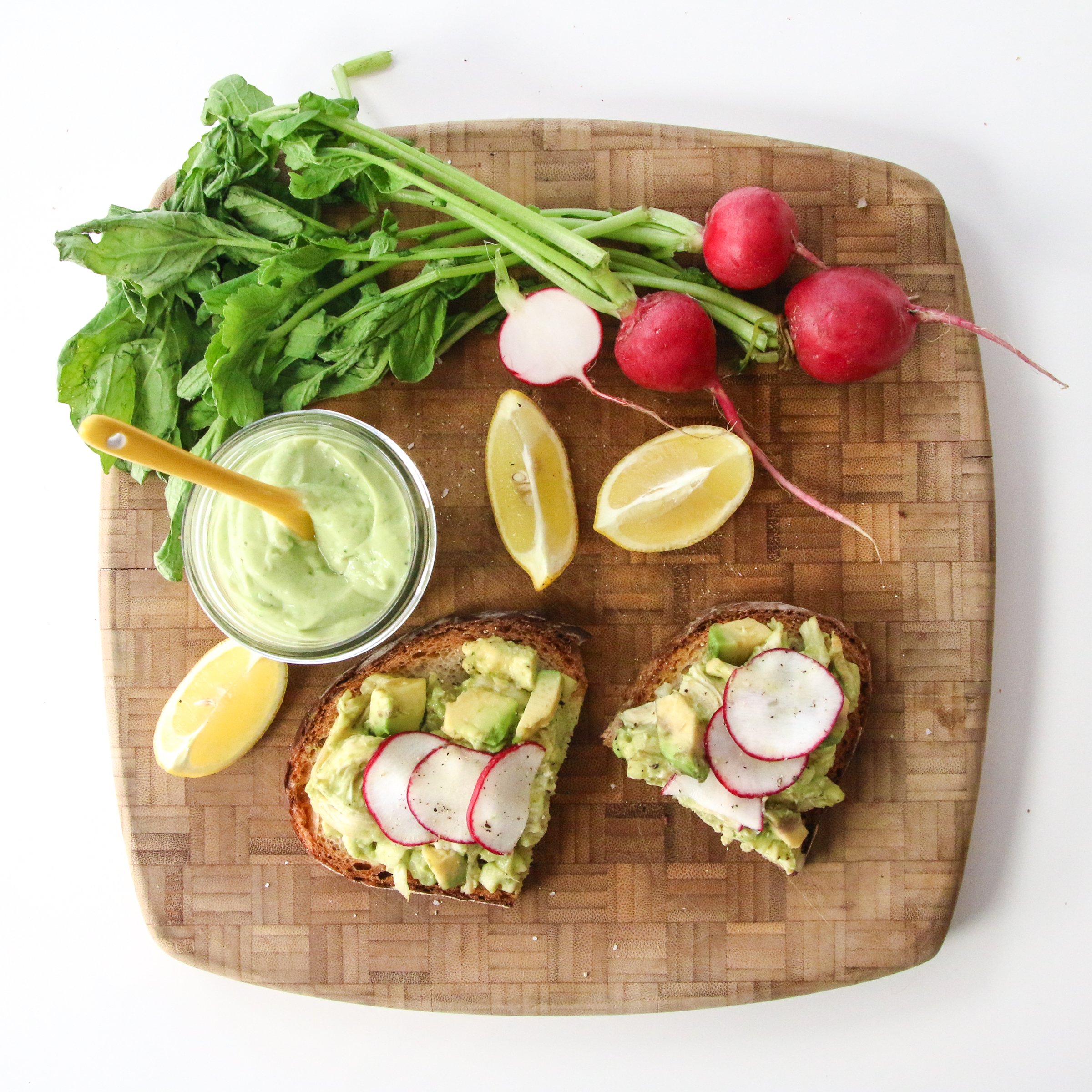 Any leftover dressing can totally be saved in a tupperware or mason jar, for up to 3 days.  Spoon it over fish, steak, or hot grilled chicken!  You can also use it as a regular salad dressing.  But I trust that the avocado lover in you will find some interesting uses for it even without my suggestions.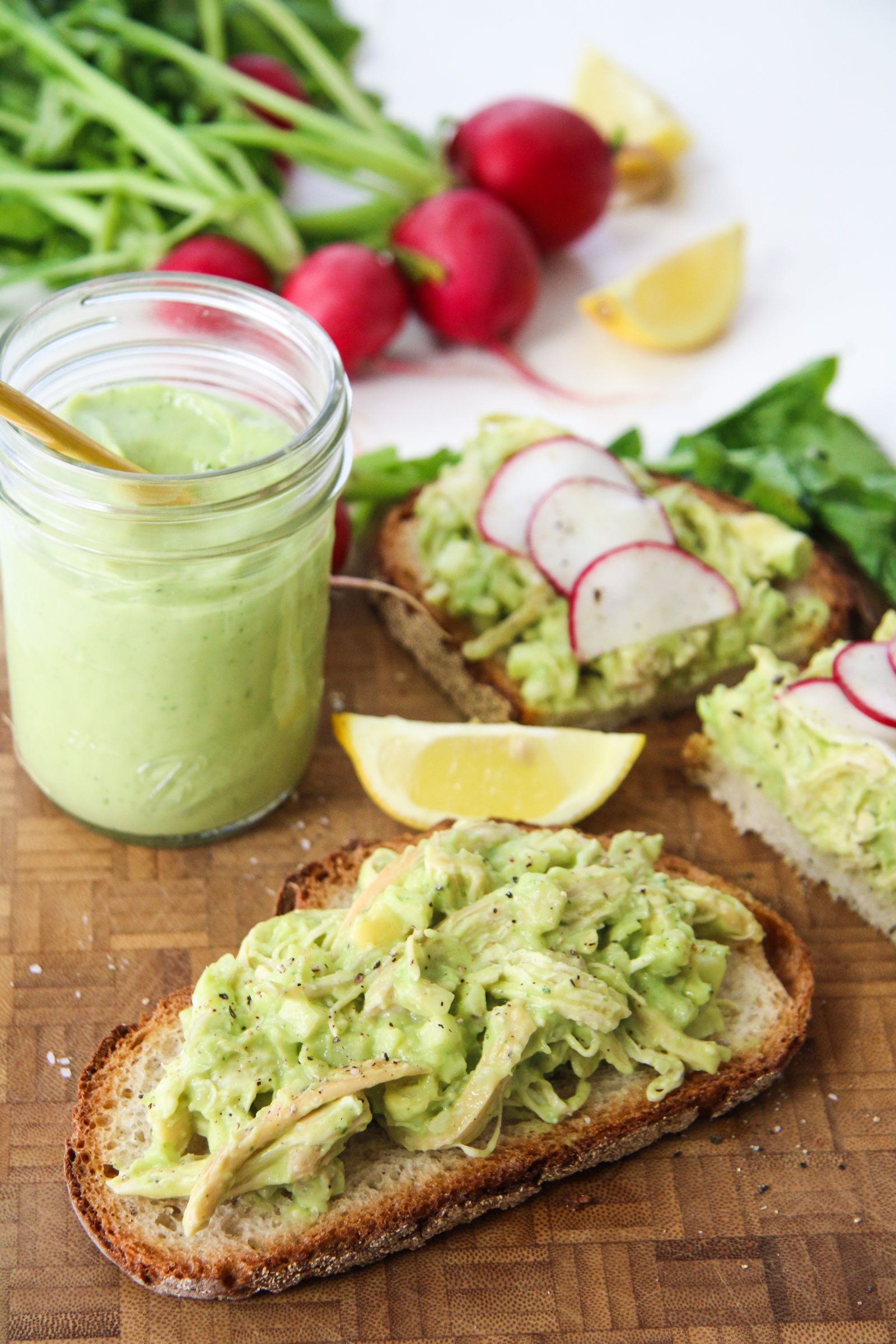 This Apple and Avocado Chicken Salad is simple, yet special.  It's perfect for hot weather lazy days.  Serve it with a side of soup, or munch on it alone.  Whether you make this for a busy week night or a party, I have no doubt that everyone will be giving you fist bumps.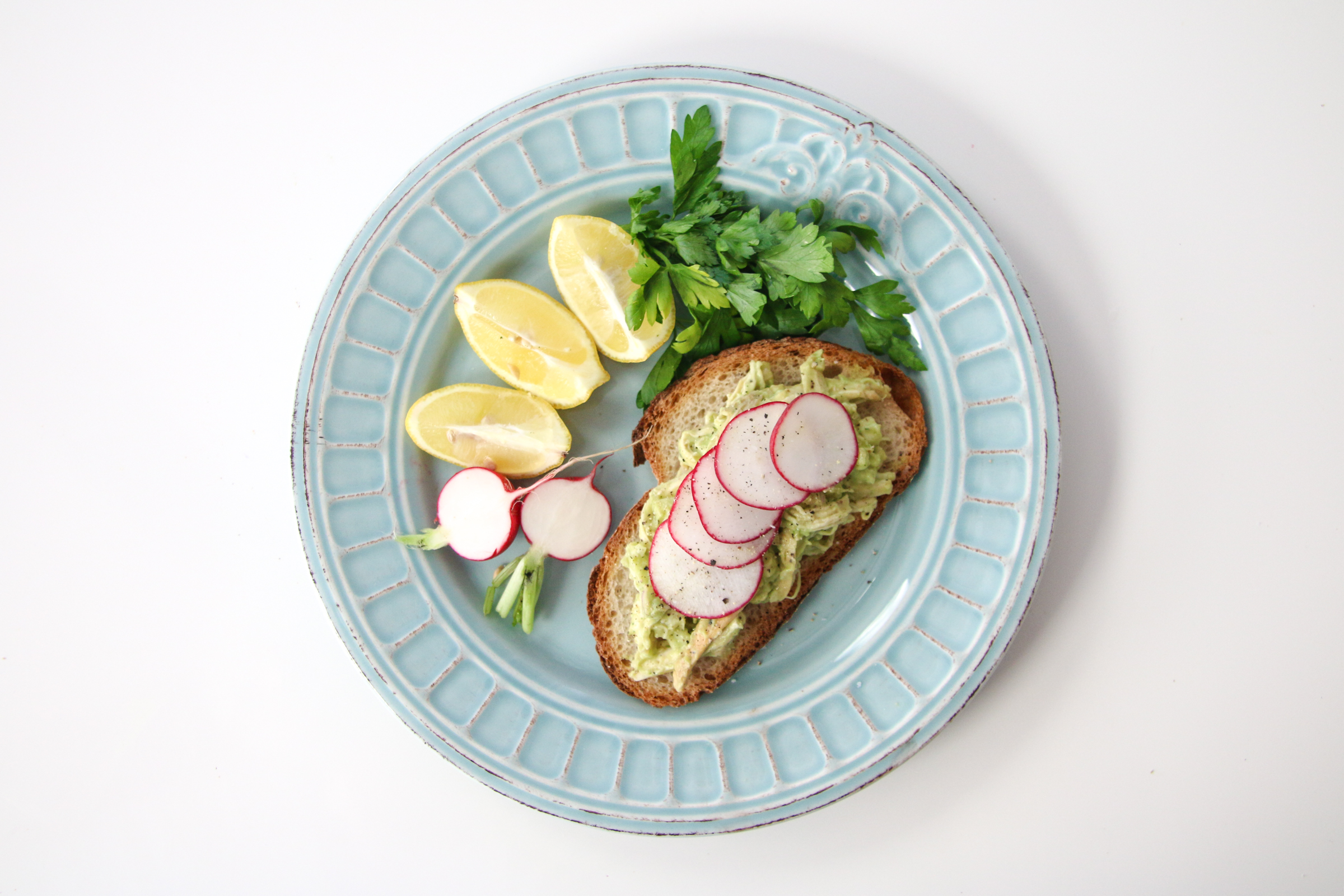 Apple and Avocado Chicken Salad
If you're an avocado lover like me, you won't be disappointed. This is a creamy and refreshing chicken salad made without mayo. It's good on toast, or simply on a fork.
Ingredients
2 boneless, skinless chicken breasts, cooked and shredded
1 shallot, finely minced
1 small granny smith apple, peeled, and finely diced
1 ripe avocado, diced
4 large slices of Italian bread, toasted
Thinly sliced radishes (optional)

Avocado Dressing:
2 ripe avocados
¼ cup coarsely chopped parsley
3 tablespoons fresh lemon juice
1 clove garlic, finely minced
1 cup buttermilk
½ cup water
Salt and pepper to taste
Instructions
In a blender, add the avocados, parsley, minced garlic, buttermilk, water, salt, and pepper. Puree until smooth. Set aside.
In a medium bowl, add chicken, shallot, apple. Add as much of the dressing as you want to coat. Gently fold in diced avocado. Place on toasted bread, and top with radishes. Sprinkle with salt and pepper. Save any leftover dressing in the fridge for up to 3 days and use as a dipping sauce or salad dressing.