Soba Noodle Salad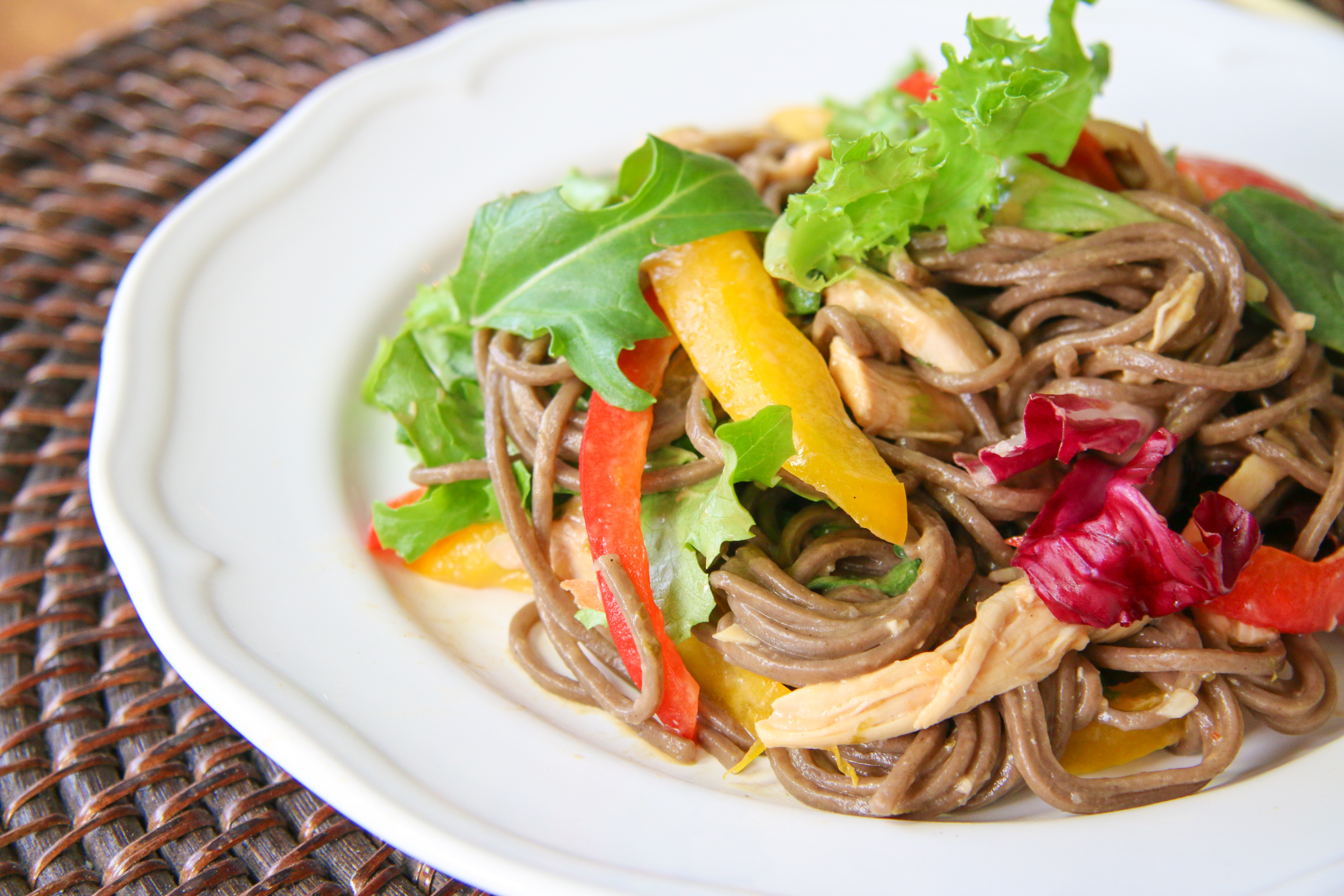 This is another one of those recipes I've secretly held onto and haven't posted because every time I made this dish, it was always when I was feeling too lazy to take step-by-step photos or make a cooking video for it.  But the time has finally come to share it because it got so annoyingly hot in my kitchen and I was not in the mood to film something that required too much cooking time.  So as I dug through my pantry, looking for inspiration, I spotted my trusty soba noodles, aka Japanese buckwheat noodles, and I instantly knew what I wanted to make.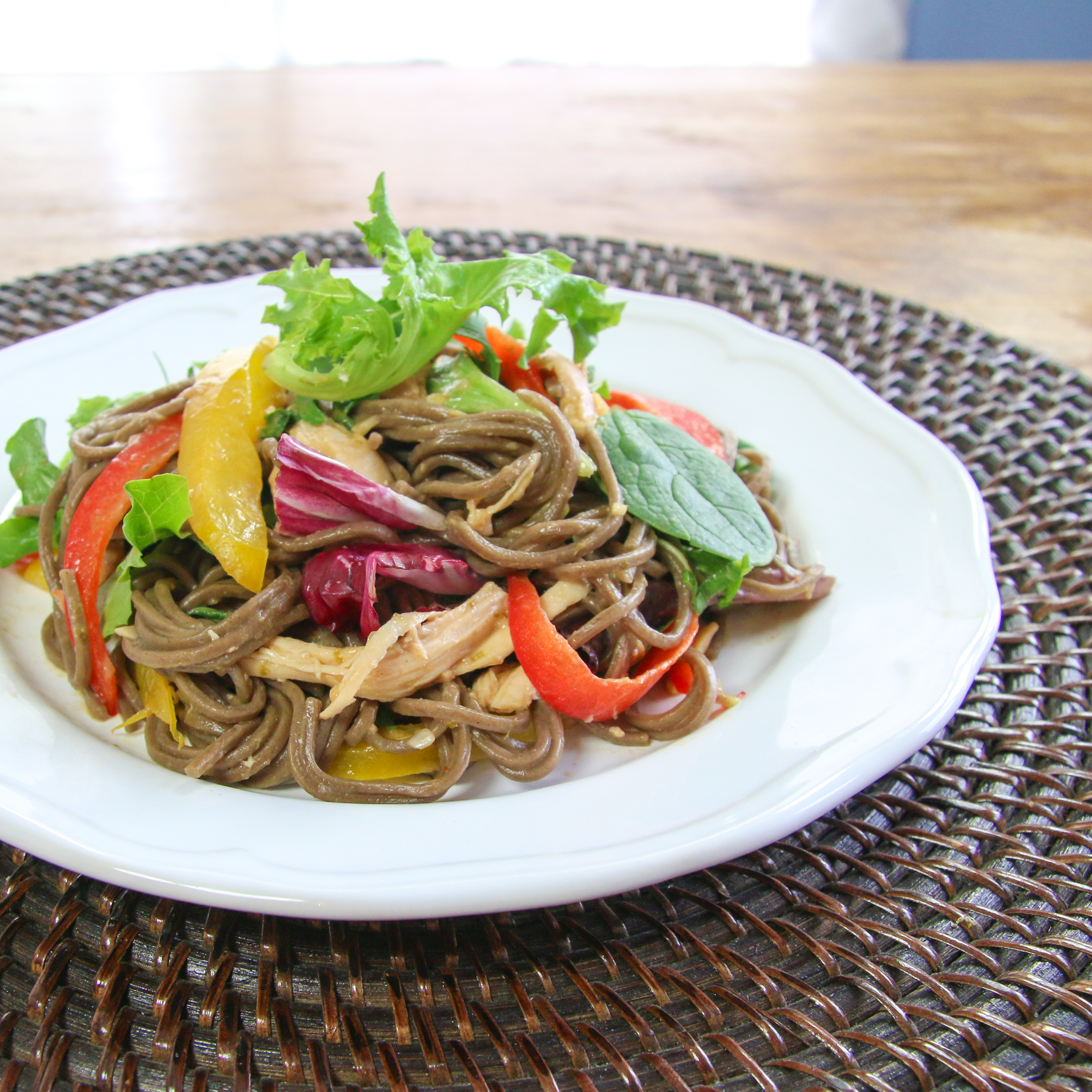 I guess I sorta did share this recipe though, after I made this for a cooking demonstration at an event, back in California.  Some friends who saw the demo asked me for the recipe, so I just emailed it to them.  Eventually, a few of them emailed it out to their friends.  So I guess this recipe is technically "out there" in the world already.  But this time, I thought I'd make a a slight variation of my original recipe, based on what I had in my fridge, so that's what you're getting here today.
I think the best part of this dish is that the only real cooking you have to do is boil the noodles.  The sauce is made in the microwave, and it only takes a minute!  And to save myself even more trouble, I shred up some cold leftover rotisserie chicken instead of worrying about cooking one more thing.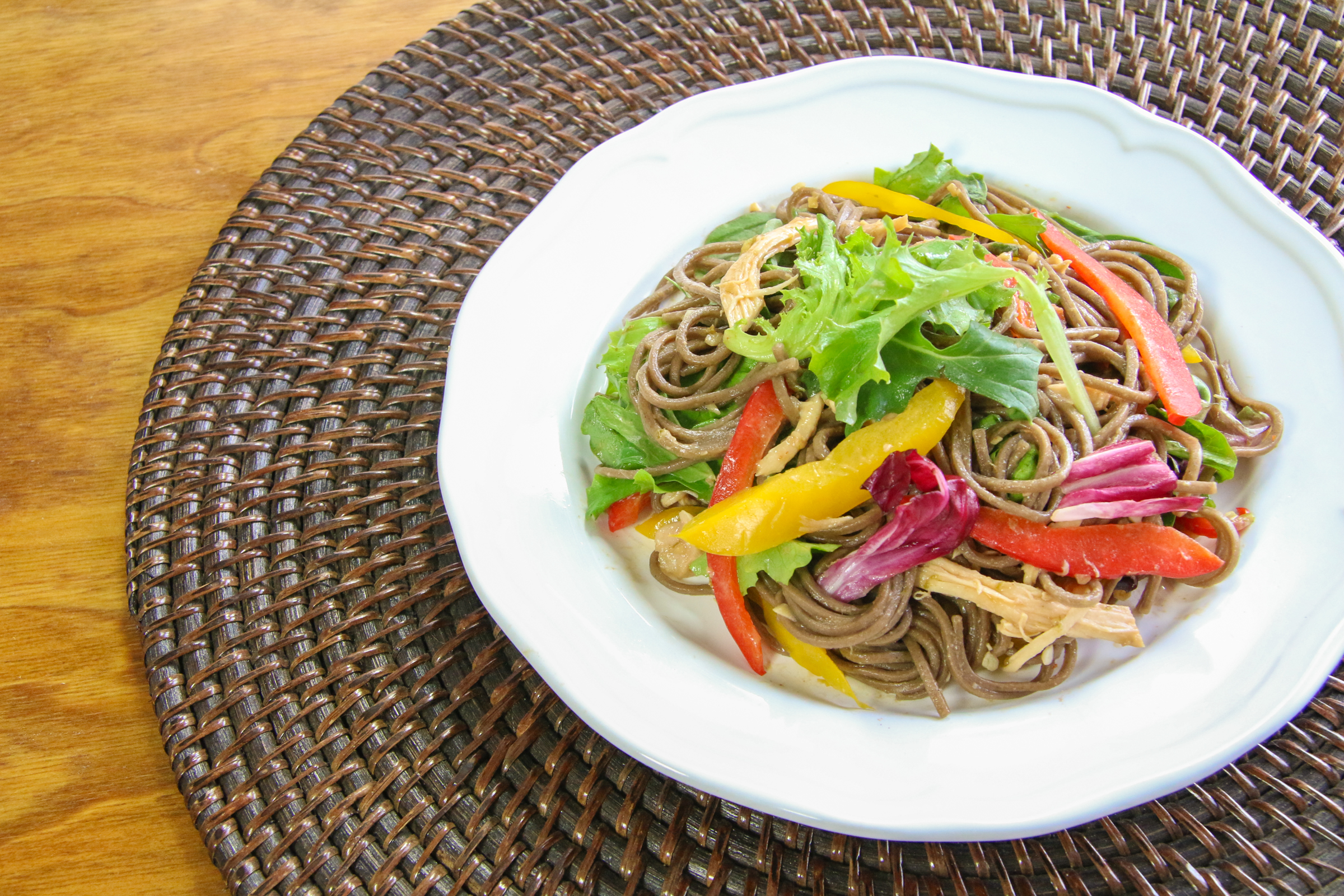 When it's too hot outside to function, there's nothing better than eating a chilled bowl of noodles, chicken, and fresh veggies.  It's crunchy, refreshing, and satisfying.  You can watch how I easily whip up this Soba Noodle Salad in EPISODE 16 of Bits & Pieces:

I think that after you make this once, you will actually start to crave it.  Not only is it easy to make, but it's extremely flexible.  Use any veggies you happen to have on hand, such as carrots, cucumbers, or baby spinach.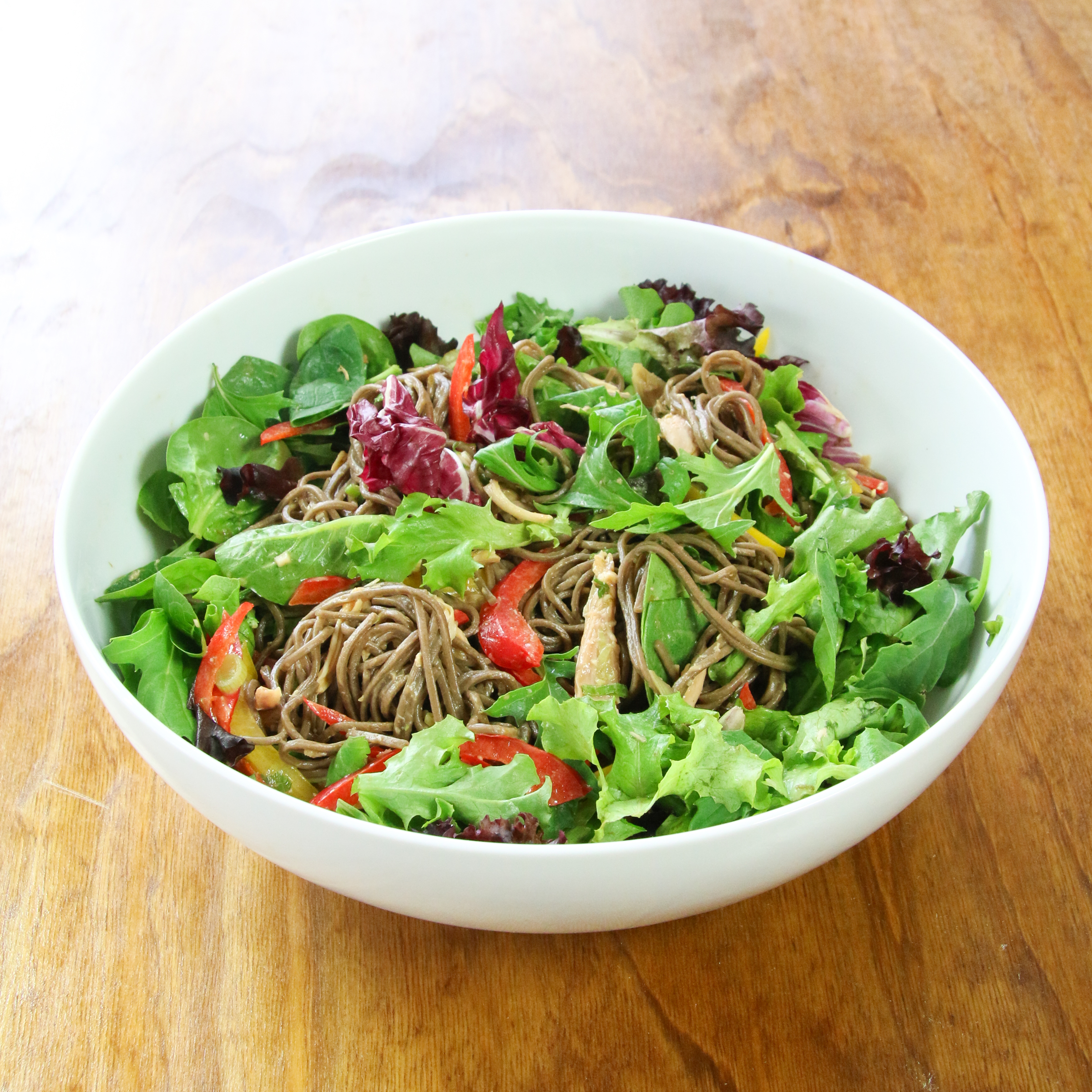 My original recipe actually used carrots, that I shaved into thin ribbons with a vegetable peeler, and a little bit of thinly sliced red cabbage.  But I just happened to have bell peppers on hand, and they worked great because they're juicy and sweet.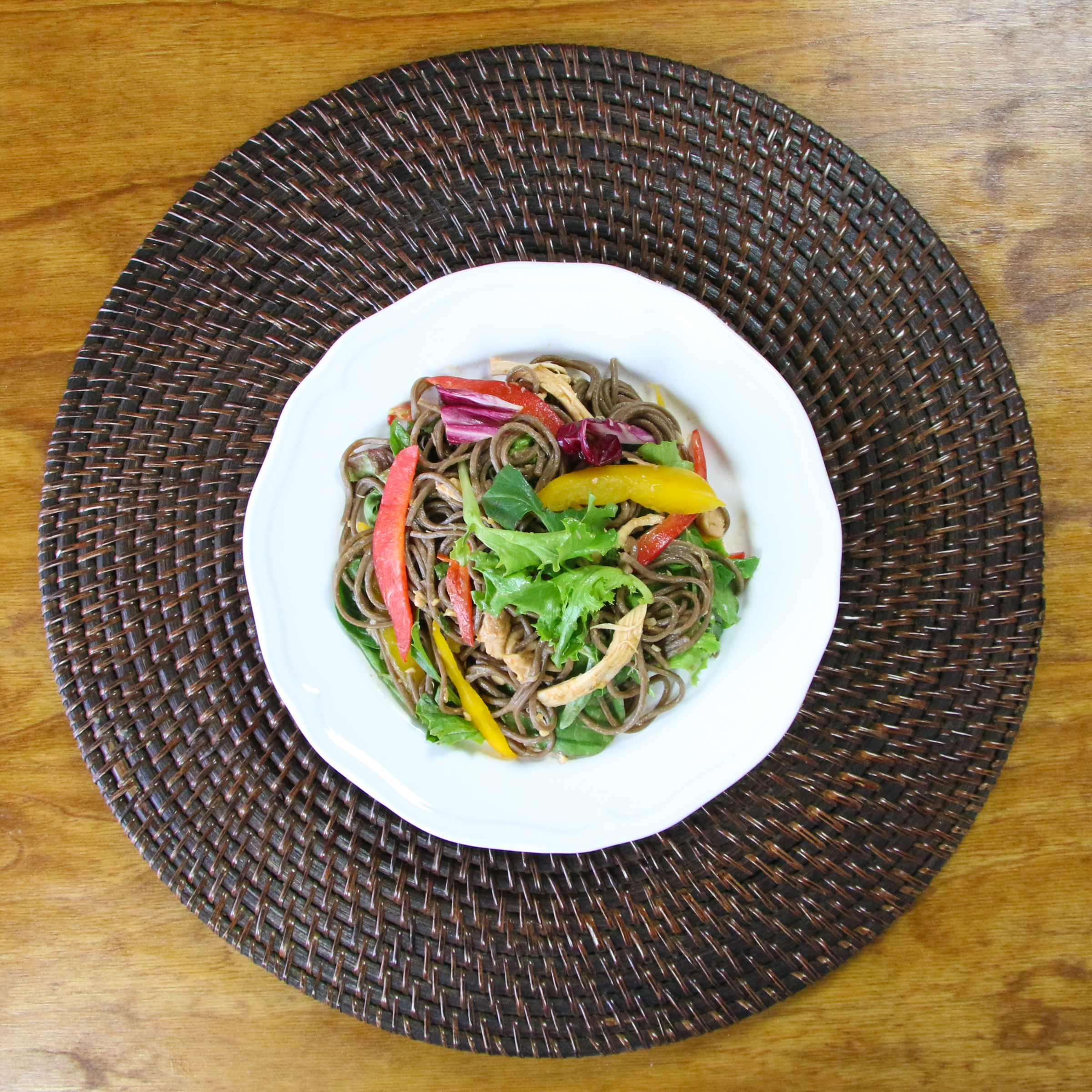 Basically, just add any kind of veggie that has some sort of crunch.  In my opinion, you need that fresh crisp texture against the soft noodles.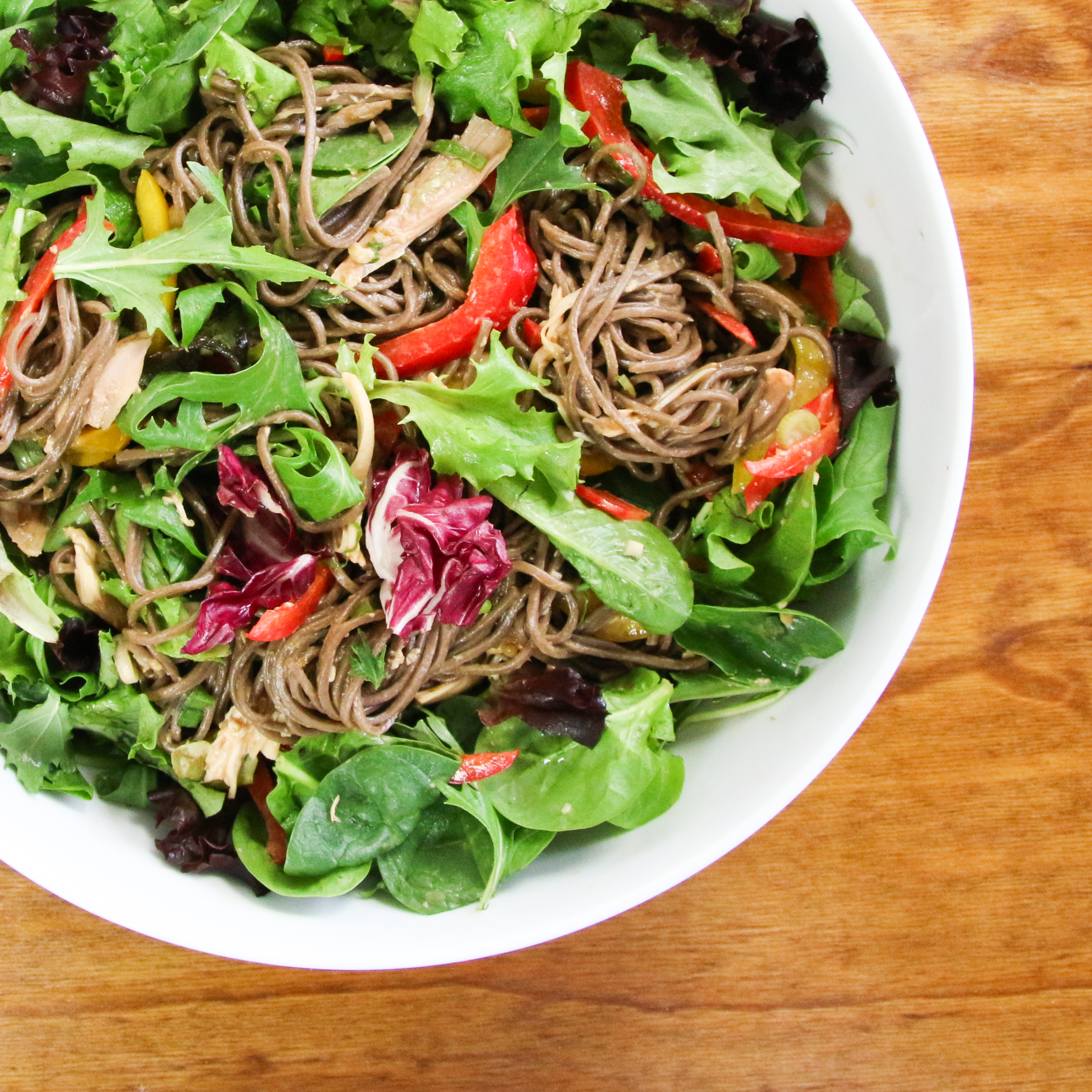 The flavors of this dish are deep, and kinda make you pucker.  I say that's because of the warmth from the ginger, the sharpness from the lime, the slight sweetness of the honey, and the creaminess from the peanut butter.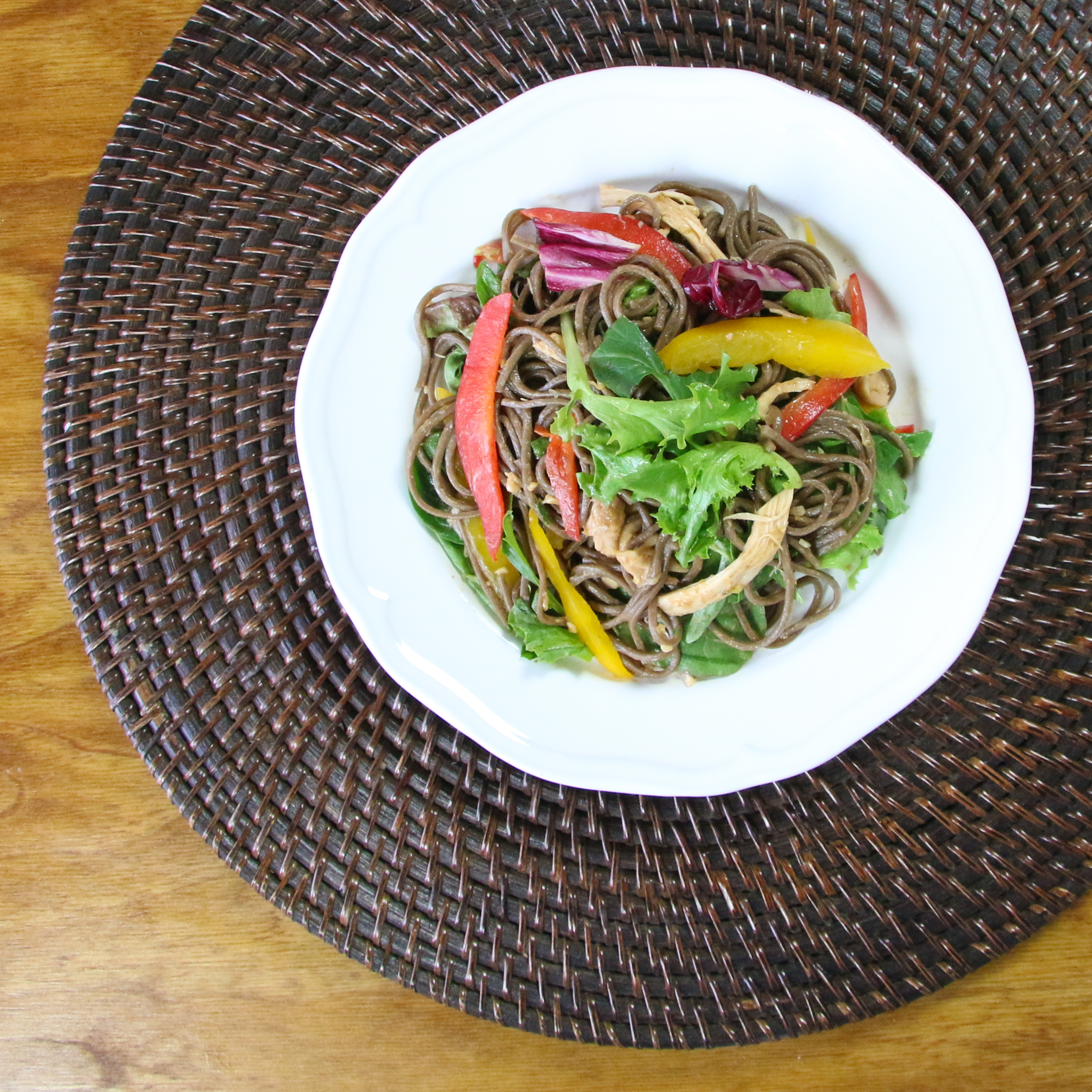 The peanut butter and sesame oil add this nutty umami taste… yeah that right…umami… I'm getting fancy around here.  And the lime makes things a little brighter.  Remember to taste it and adjust things as needed.  You want more soy sauce?  Then add it.  You want it to be sweeter?  Add more honey.  It all depends on preference and how much extra "stuff" you throw in with the noodles.
You can even double the sauce if you want and use what you need.  Any extra sauce can be stored in the fridge and be used as a dressing, or a dunking sauce for summer rolls!  Basically you can't go wrong and this recipe is extremely forgiving.  It's also a great dish to know for your next potluck party because you don't have to worry about it getting cold!  So the next time it's too hot to cook, or you're feeling a little lazy, you know what to make.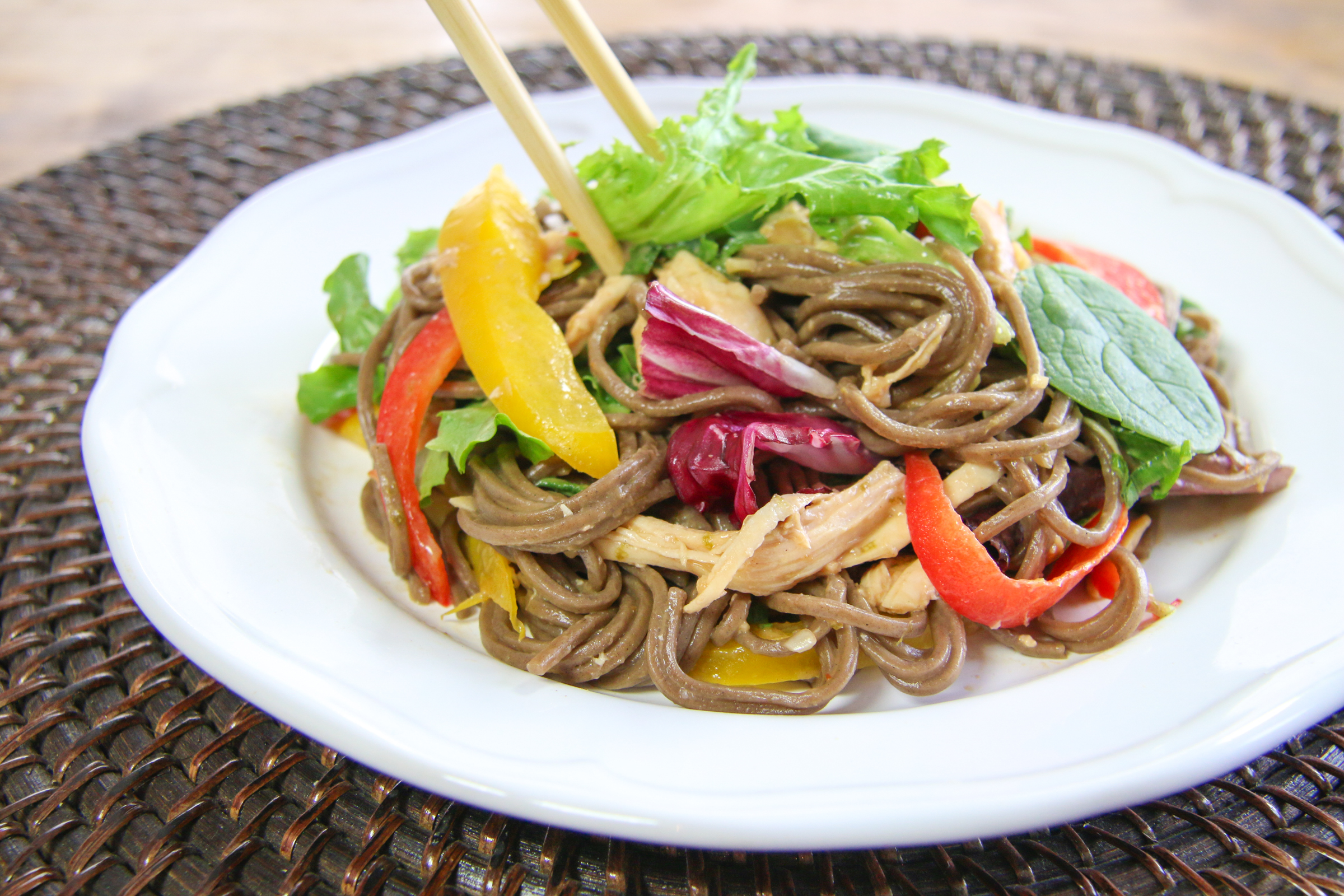 Soba Noodle Salad
This refreshing and crunchy cold noodle salad is a delight to eat when you don't feel like slaving over a hot stove.
Ingredients
4 bundles (roughly 14 ounces) of Soba noodles
2 cups shredded rotisserie chicken, skin removed
1-2 bell peppers, red, yellow, or orange, thinly sliced
3 scallions, sliced thinly
2 packed cups of spring mix lettuce

For the sauce:
¼ cup fresh lime juice, plus the zest of the limes
3 tablespoons honey
2 tablespoons peanut butter
2 tablespoons soy sauce (or more)
2 tablespoons sesame oil
2 teaspoons Sriracha sauce (optional)
2 teaspoons peeled and finely minced ginger
2 cloves of garlic, minced
Instructions
Combine all the ingredients for the sauce in a measuring cup and microwave for 1 minute. Stir to mix. Let it cool to room temperature.
Boil the noodles in unsalted water until they are al dente. Scoop out some of the starchy cooking water, just in case you need it to thin the sauce, and drain. Rinse well in cold water. Set aside.
Combine all the noodles, chicken and vegetables together, except for the spring mix lettuce. Pour the cooled sauce on top and mix well. Use tongs or put on a disposable kitchen glove and use your hand to mix everything together. Taste and adjust with more soy sauce, honey, or lime if needed. Top with the spring mix lettuce. Eat at room temperature or cold.