Fish Tacos with Fresh Salsa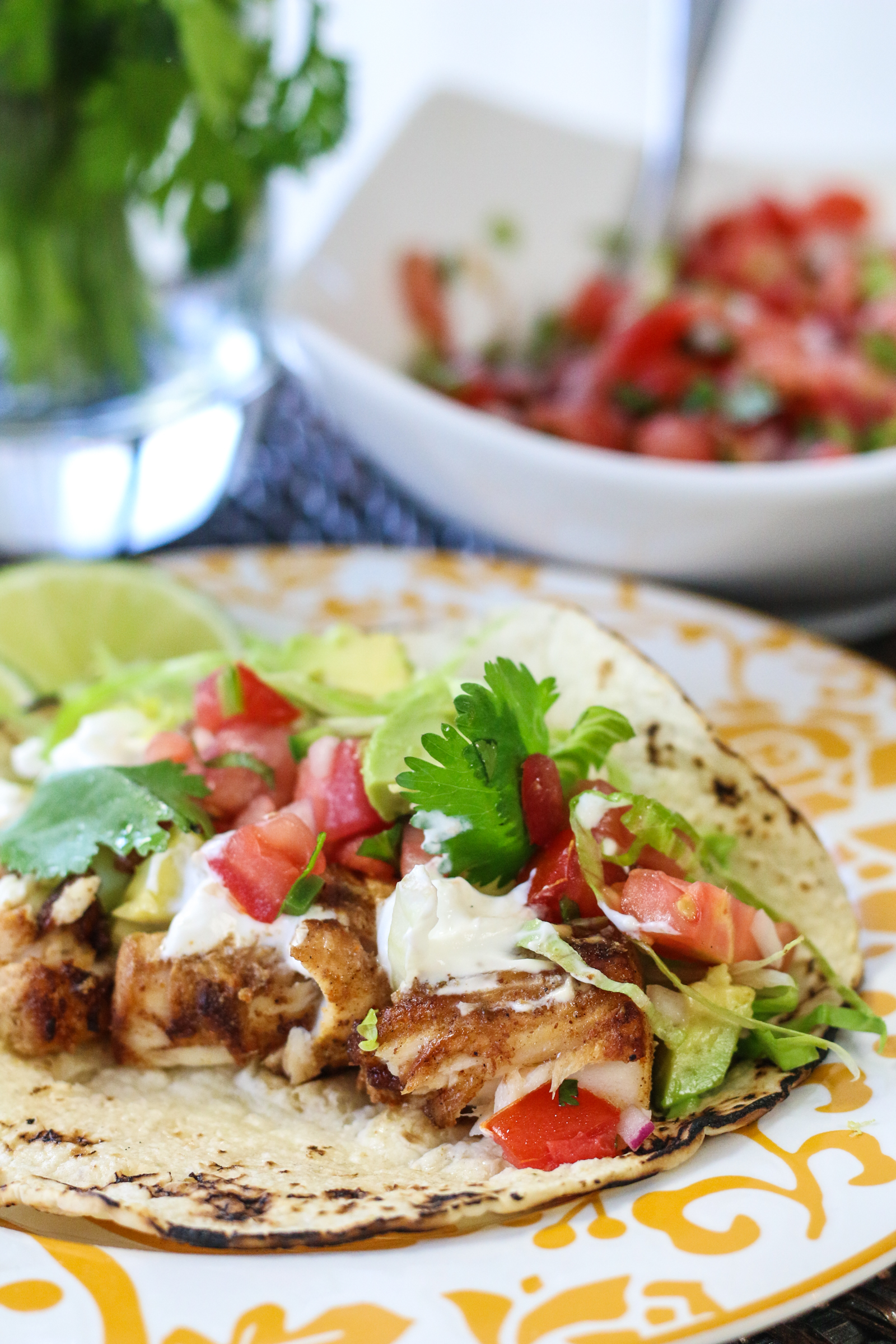 I have to admit that I didn't grow a love for fish tacos until I spent some time living in California, so that wasn't until pretty recently.  And then we moved to Chicago and went through a looong brutal winter, so I forgot all about them!  Isn't that a crying shame?
The good news is that summer is here and it's time to sink my teeth into these babies again.  I know everyone and their mom has a version of fish tacos that they like, but I just try to keep things simple when possible, especially in the summer time.  I love a good fried fish taco with crunchy cabbage slaw too, but today, I wanted to keep things a little lighter, so I opted to go without the batter.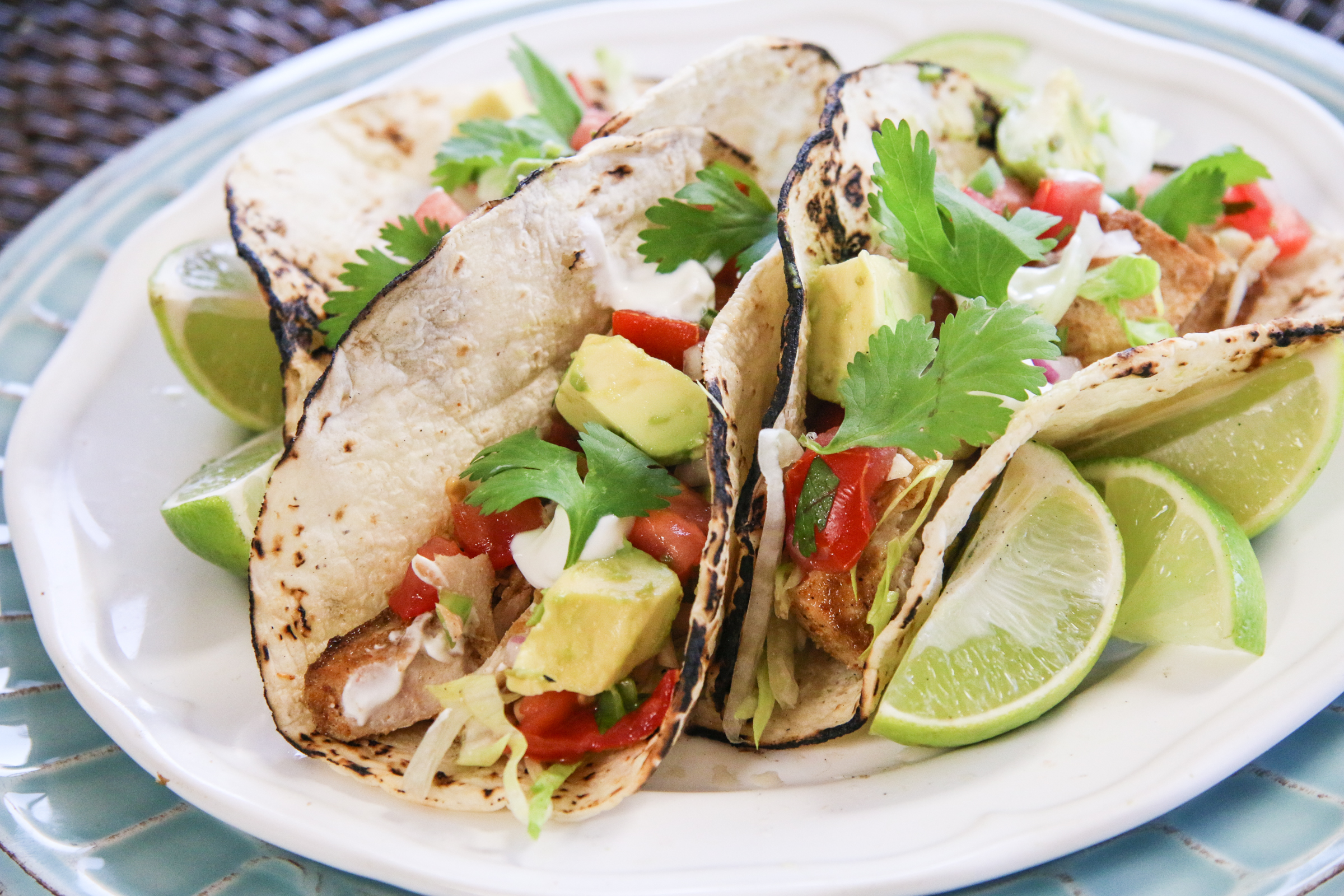 But no batter doesn't mean no flavor.  You know me… I don't do bland.  I chose to use mahi mahi, which I marinated in lime juice, fragrant cumin, and spicy chili powder.  But you can use any kind of firm white fleshed fish that you fancy.  That could mean halibut, tilapia, snapper, or cod.  And I'm going to let you in on a secret… I use frozen fish!
That's right, I'm not mad at frozen fish at all.  It's frozen at the peak of it's freshness and it's convenient.  All I do is thaw it out in the fridge the night before, and it's ready to use.  But by all means, go ahead and use fresh.  I just used some fillets that I had in my freezer from a bag that I bought at Costco.  This is why these tacos can be easily made on the fly, even on a busy weekday.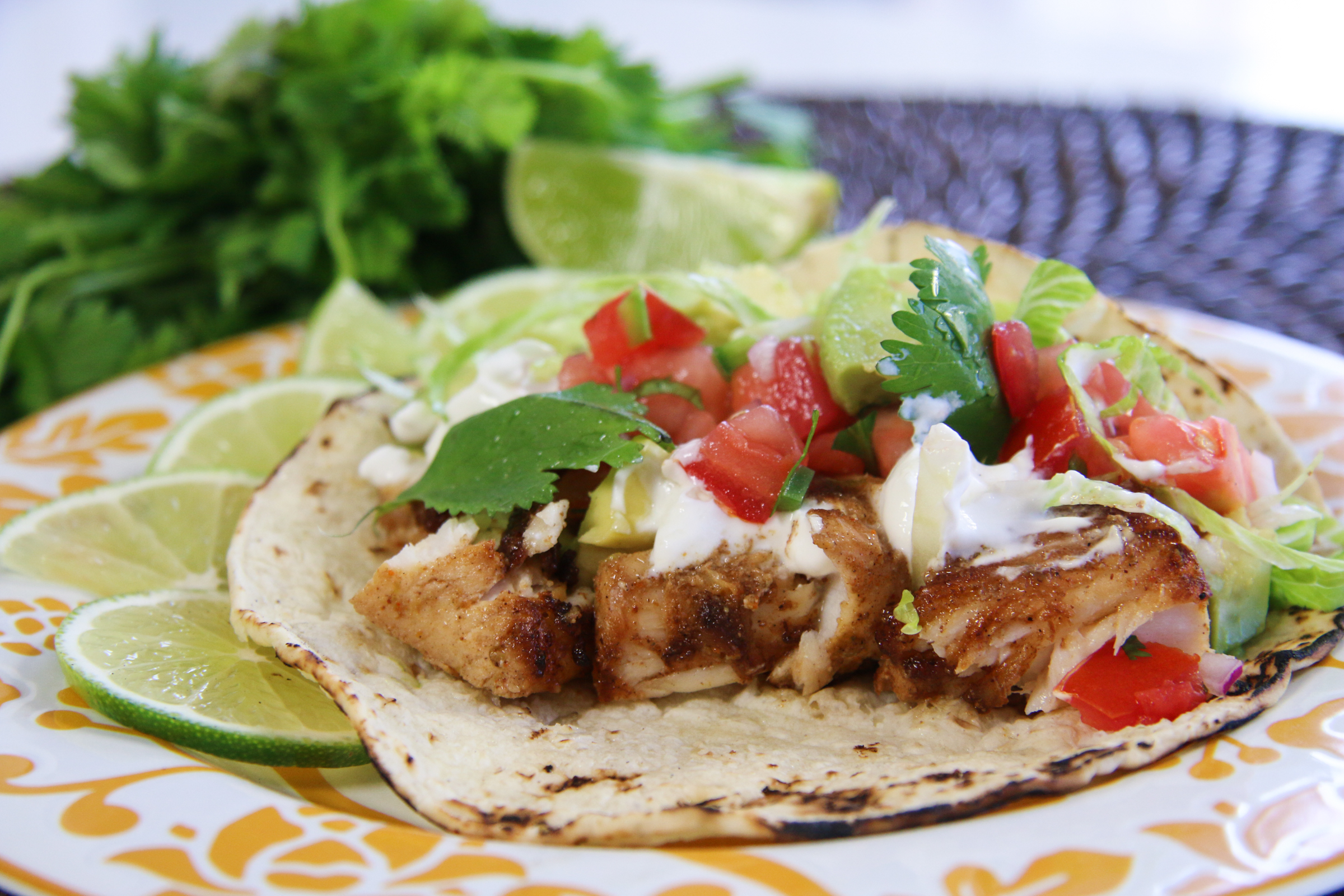 I guess this is kind of a spin off of my other two fish taco-like recipes.  Check out my Spicy Fish Tostadas, and Wasabi Edamame Fish Tostadas recipes, if you're in the mood for some crispy corn tortillas and crunchy cabbage slaw.  By the way, those videos feature vintage Julie.  I sorta cringe when I watch them.
This time I opted for more traditional looking tacos, with soft corn tortillas, refreshing iceberg lettuce, and juicy fresh tomato salsa.  Actually, the idea to film this episode came from one of our Kickstarter backers, Lktoepfer from 6kidsProductions, otherwise known to us as Lee.  This name might sound familiar to you because she produced two of our other episodes.  Remember our Easy Shrimp Pad Thai and our Shrimp and Tofu Coconut Curry videos?  She always has good ideas, and we enjoy collaborating with her.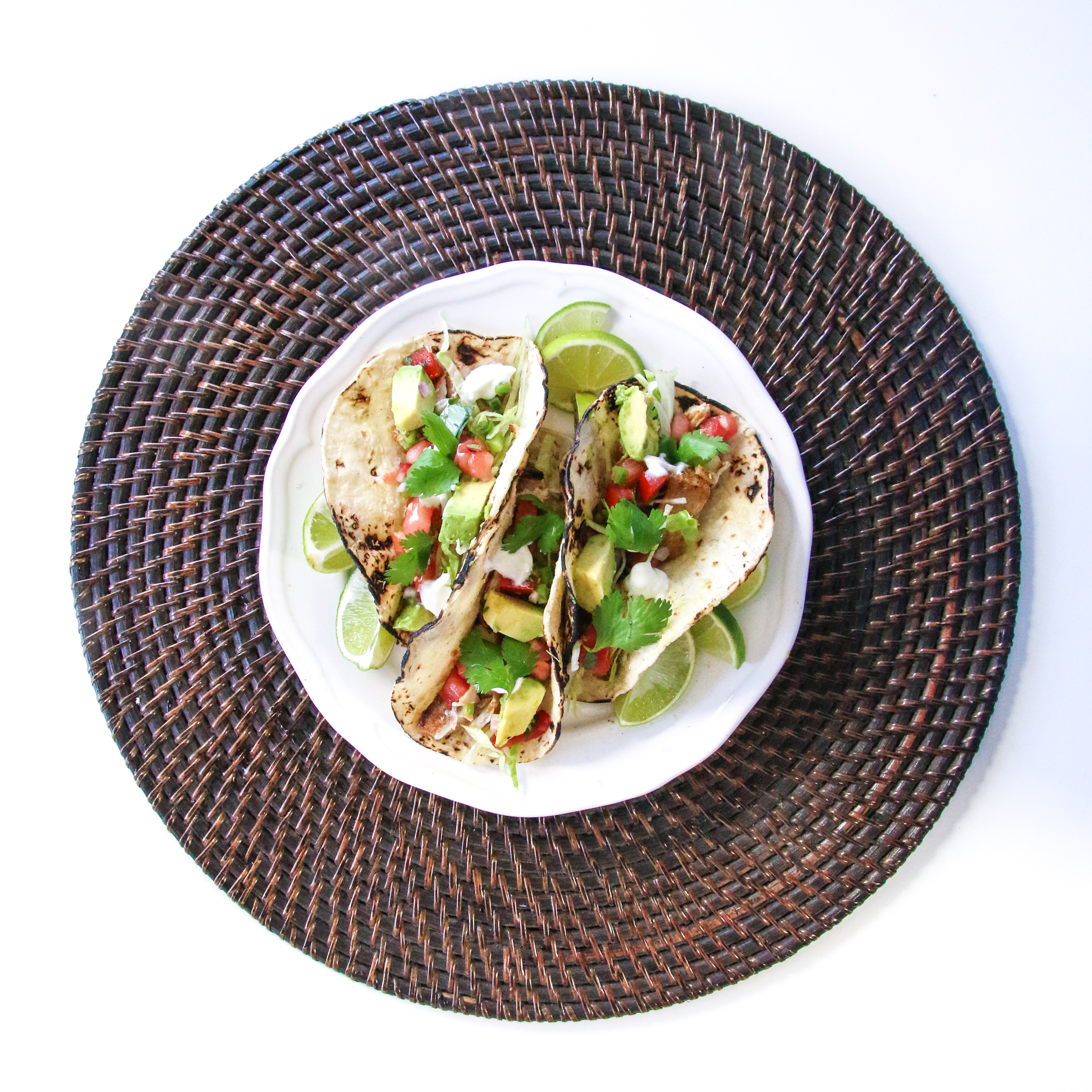 So I was excited when she brought up the idea for this episode to be based off of something she couldn't get enough of on her recent trip to California.  As soon as uttered the words "fish taco," I was already excitedly coming up with a recipe for it on the spot.  So thanks to Lee's cravings, you can watch how I make these Fish Tacos with Fresh Salsa in EPISODE 17 of Bits & Pieces.
I think the best part of this recipe is that you can just cook your fish in a regular frying pan so you don't have to worry about firing up your grill, or fussing with a bubbling vat of hot oil.  This was actually per Lee's request, since she wanted to learn how to make a light and healthy fish taco, but doesn't have access to a grill.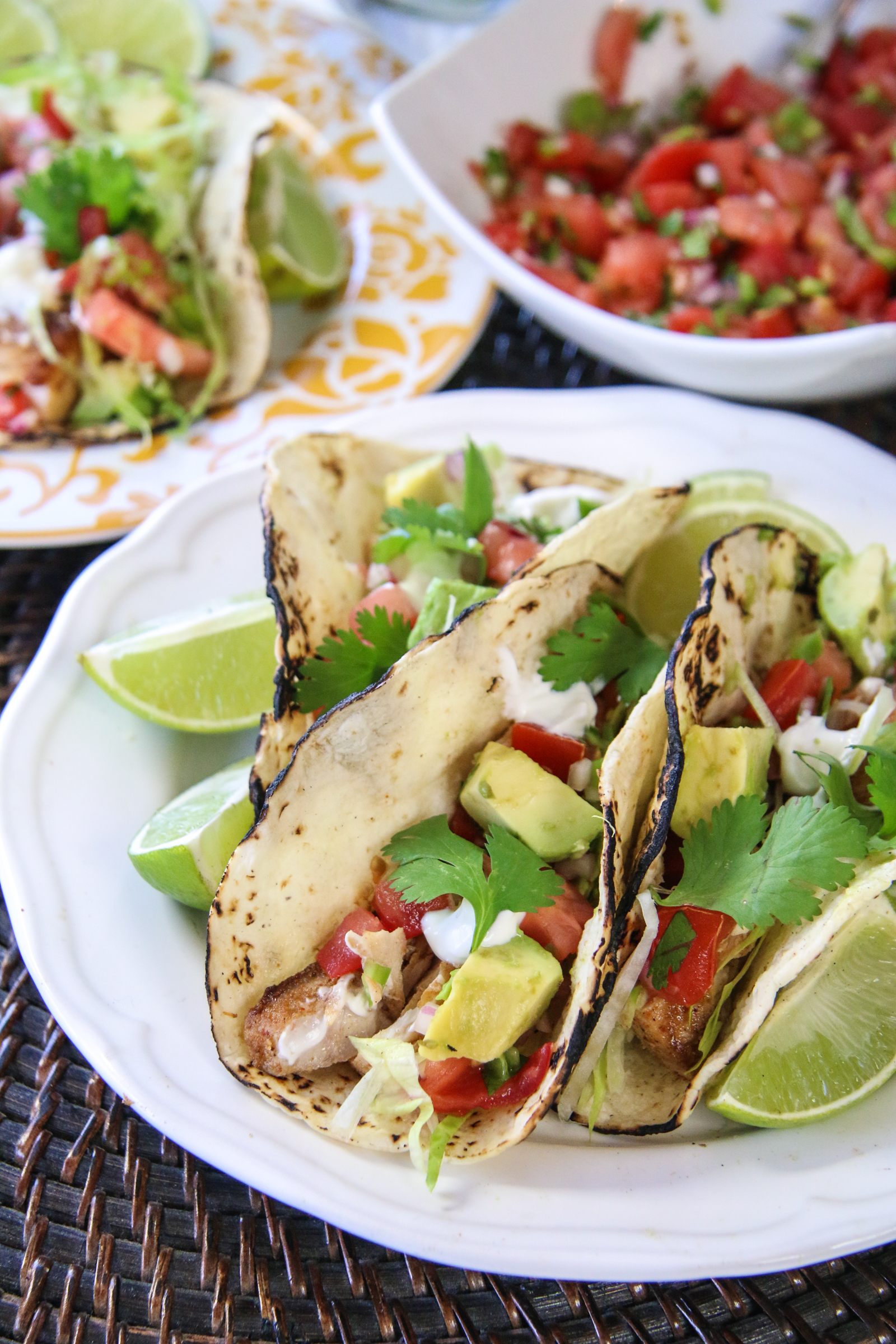 I admit, it might seem like there's a lot of steps and ingredients going on in this recipe, which is kinda not my usual style as you know.  But I promise you every step is easy and the recipe is almost fool proof.
I think the only crime you could possibly commit is over cooking your fish.  Please don't do that.  It's one of my pet peeves actually, especially when I order fish at a restaurant and it comes out dry.  You just need to make sure it's opaque in the middle, but then you're done.  Don't be paranoid.  Take it off the heat as soon as it's cooked through so it stays moist and juicy.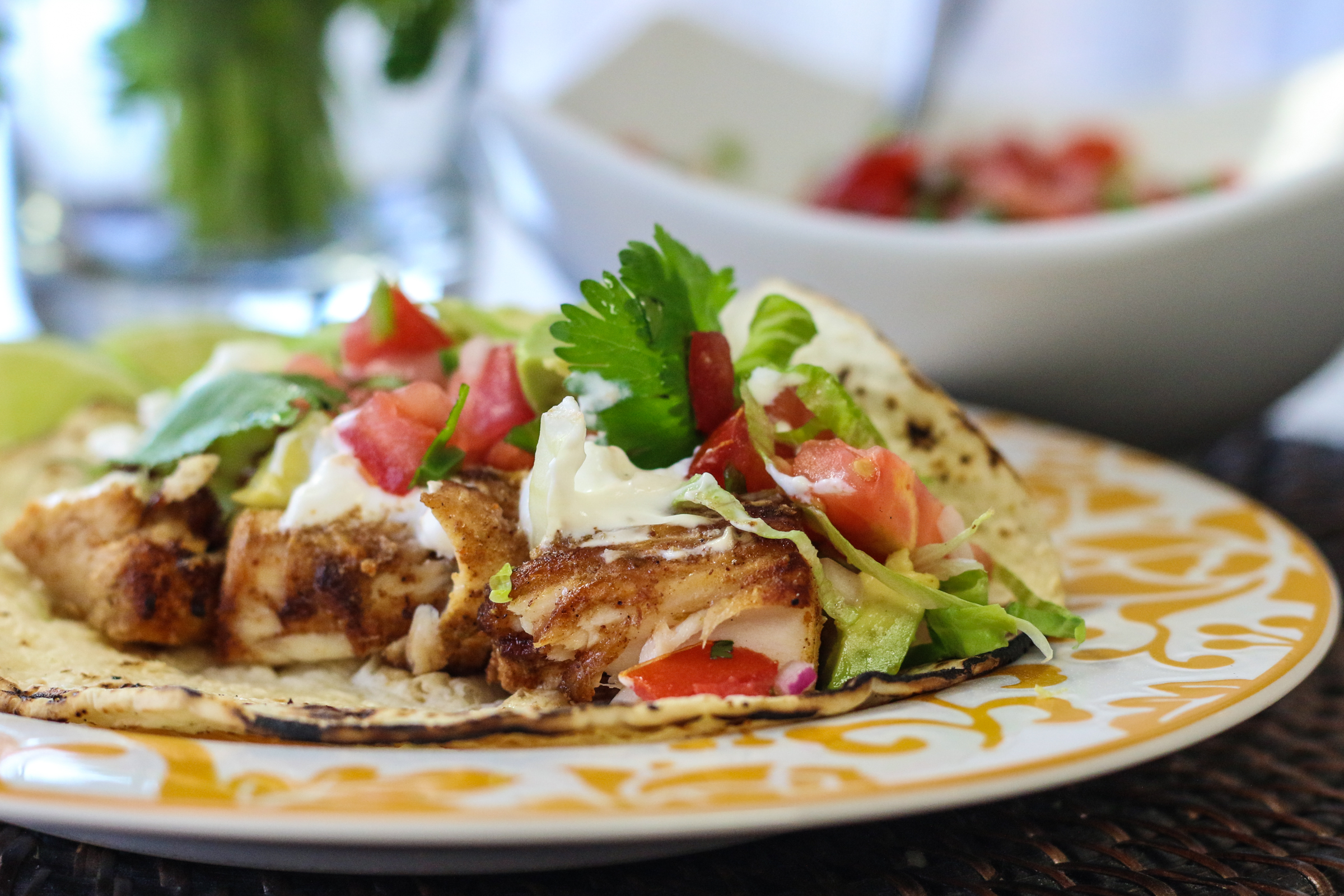 That's why if you're scared to cook fish, this recipe is especially for you!  The best part of eating fish in the form of a taco is that you're just gonna flake apart your fish when you put it in the tortilla anyways, so there's no shame in hacking into it while you're cooking it, if you're not sure.
If you really want to cut down some steps, I guess you could always just buy a fresh salsa.  But this refreshing flavorful homemade salsa is so easy, so I don't think you have an excuse not to make it.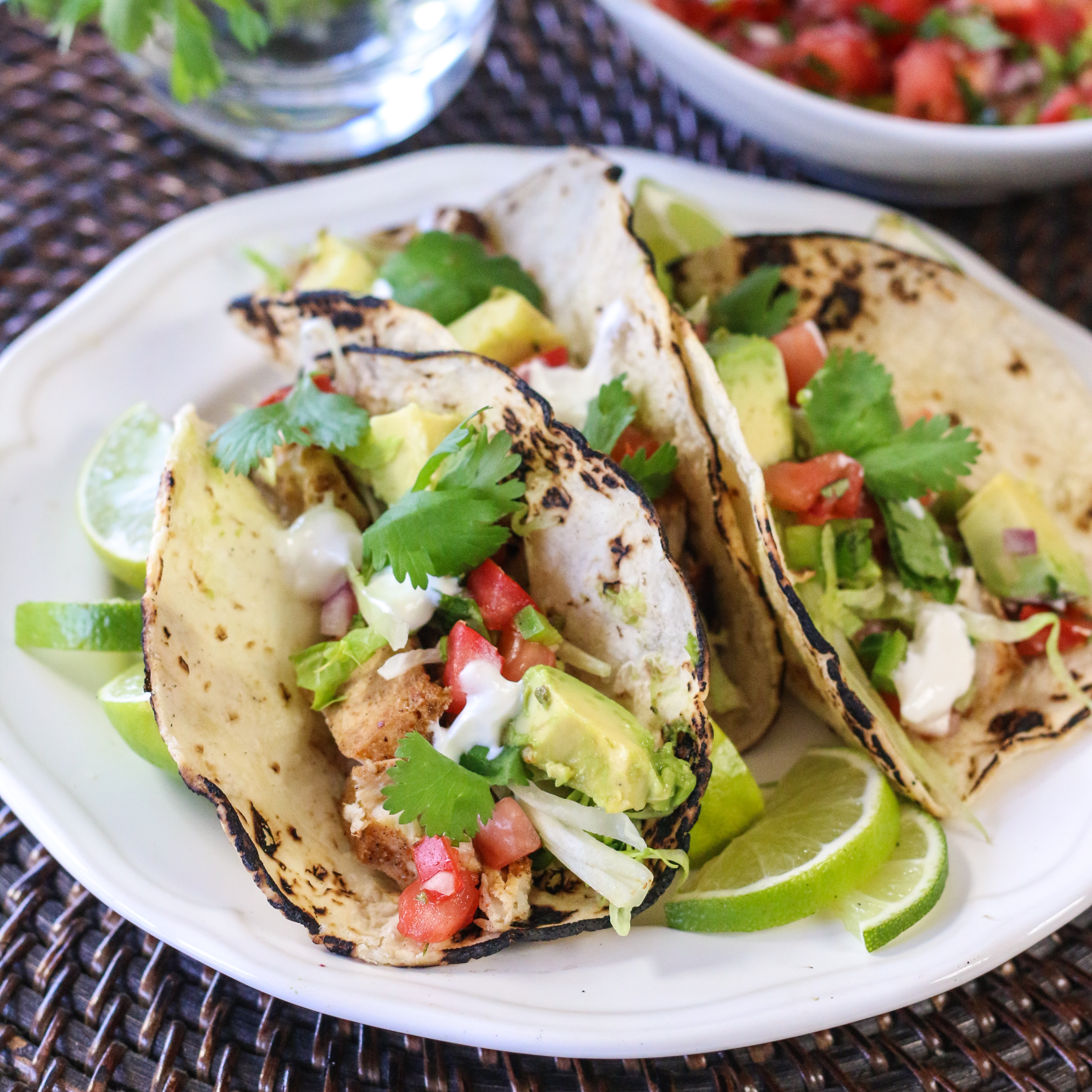 Once you make these, don't be surprised if you start to crave them.  They're just so fresh, flavorful, and light.  I had a hard time editing this video and watching myself eat it because all I wanted to do was go and make fish tacos again.  Together with the salsa, every bite is so bright and balanced.  You can serve them with yellow rice, or you can eat them on their own.  I find that I need nothing else.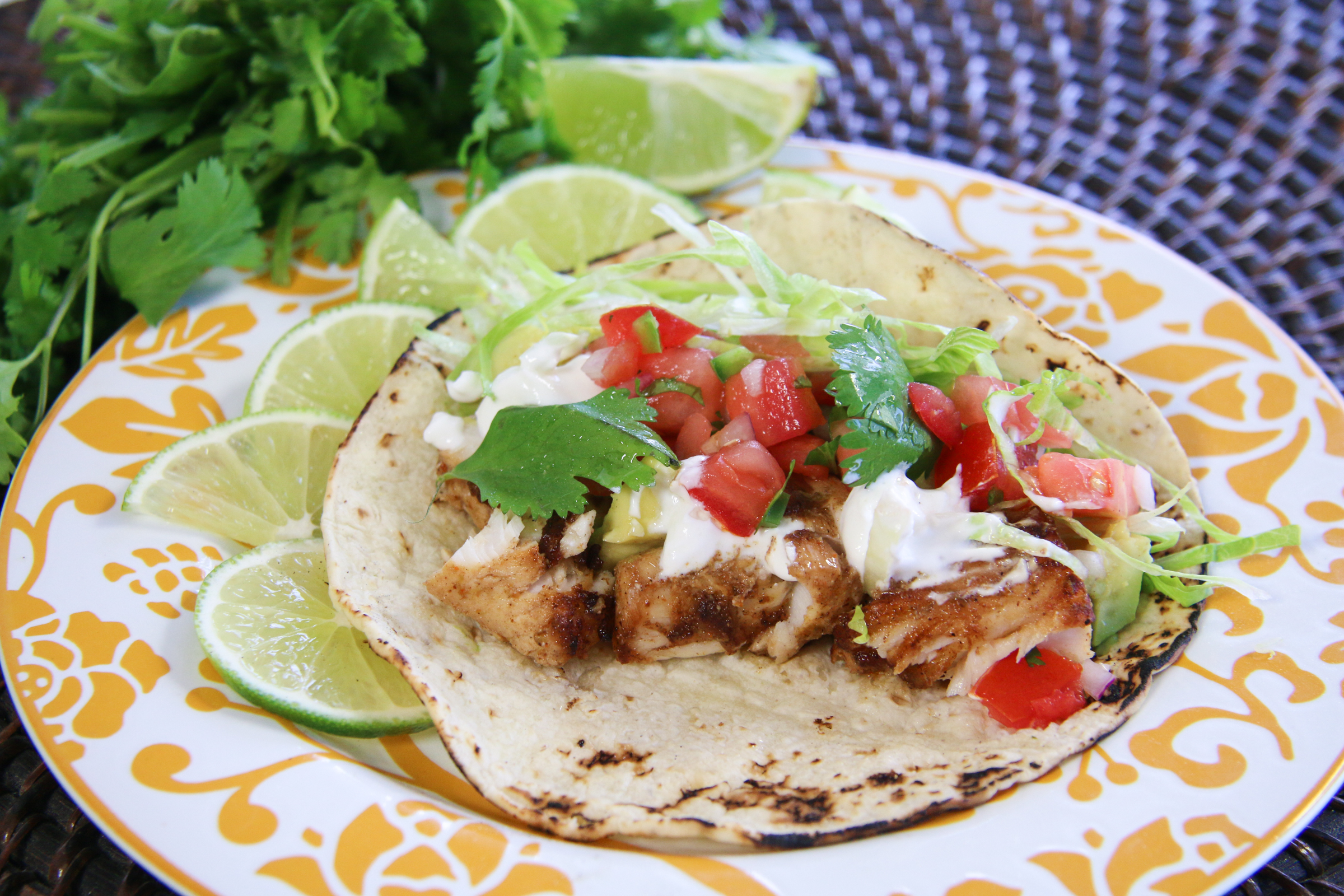 And make them your own.  I chose to add diced avocado and a touch of light sour cream.  But you can go the extra mile and slather on some quacamole, mix it up with sweet mango salsa, corn and black bean salsa, or even pickled jalapenos.  You can't go wrong, and you can't mess it up, so get out of your dinner rut and transport yourself to California tonight.
Fish Tacos with Fresh Salsa
These fish tacos are light, fresh, flavorful, and easy enough to whip up on a weekday. But they feel so special, you'll want to throw a party.
Ingredients
1 pound firm white fish, such as mahi mahi, halibut, tilapia, snapper, or cod
2 tablespoons fresh lime juice, plus ½ tablespoon lime zest
1 teaspoon ground cumin
1 teaspoon chili powder
3 tablespoons canola or vegetable oil
½ teaspoon Kosher salt
¼ head of iceberg lettuce, finely shredded
Soft (6-inch) corn tortillas (about 3 per person)
Light sour cream for topping
Lime wedges for serving
Diced avocado for topping (optional)

For the Fresh Salsa:
3 medium sized beefsteak tomatoes, chopped
2 Jalapenos, seeded and finely chopped
1 clove of garlic, finely minced
½ cup of finely diced red or white onion, finely chopped
¼ cup coarsely chopped fresh cilantro
2 tablespoons fresh lime juice
2 tablespoons apple cider vinegar
1 tablespoon olive oil
1 teaspoon Agave
Salt to taste
Instructions
Make the fresh salsa first. Add the chopped onion to a bowl of hot water for 30 seconds, then drain. Add to a bowl of cold water for 30 seconds, then drain. This will remove their raw spicy bite. Place them in a larger bowl, along with the garlic, jalapenos, tomatoes, and cilantro. Add the lime juice, vinegar, agave, and olive oil. Season with salt to taste. Mix well and let sit for at least 30 minutes in the refrigerator to allow the flavors to meld together. The salsa will get watery. You can serve it with the liquid or strain it. The juice is good served over yellow rice!
In a shallow bowl, or small baking dish, make the fish marinade by whisking together the oil, cumin, chili powder, lime juice, lime zest, and salt. Cut your fish into a couple pieces, just so it's easier to handle, and turn in the marinade until evenly coated. Refrigerate and let marinate for 20 minutes. If you marinate it longer than that, the acid can begin to cook the fish. Meanwhile, slice your lettuce and fixings, and warm the tortillas.
Warm the tortillas by placing them in a dry pan, flipping to warm both sides, about 3 minutes total, or you can place directly on the grate of a gas burner. Wrap the warm tortillas in a clean dishcloth or aluminum foil and set aside while you prepare the fish.
Place a large pan over medium high heat. Remove the fish from the marinade and place on the pan. Cook without moving until the underside of the fish is browned, and the sides are white and opaque, about 3 minutes. Flip and sear on the other side until white and opaque, about 2 minutes more, or until cooked through. Transfer the fish to a plate. It's okay if it falls apart.
Taste the salsa again and season. Drain the liquid if you want to. To construct a taco, break up some of the cooked fish, place it in a warm tortilla, and top it with lettuce, fresh salsa, sour cream, and any optional garnishes.