Mussels in White Wine Sauce
The first time I ever cooked mussels was when I was in culinary school.  We learned to cook them simply with butter, shallots, parsley, and white wine.  But then again, I went to a French school and it seemed like we always used those ingredients!  I just remember thinking that it was one of the easiest and quickest dishes I ever made, and yet, it looked so fancy.  The key is to make sure they aren't overcooked and you're good to go.  There's a world of a difference between a supple tender mussel vs. a tough rubbery one.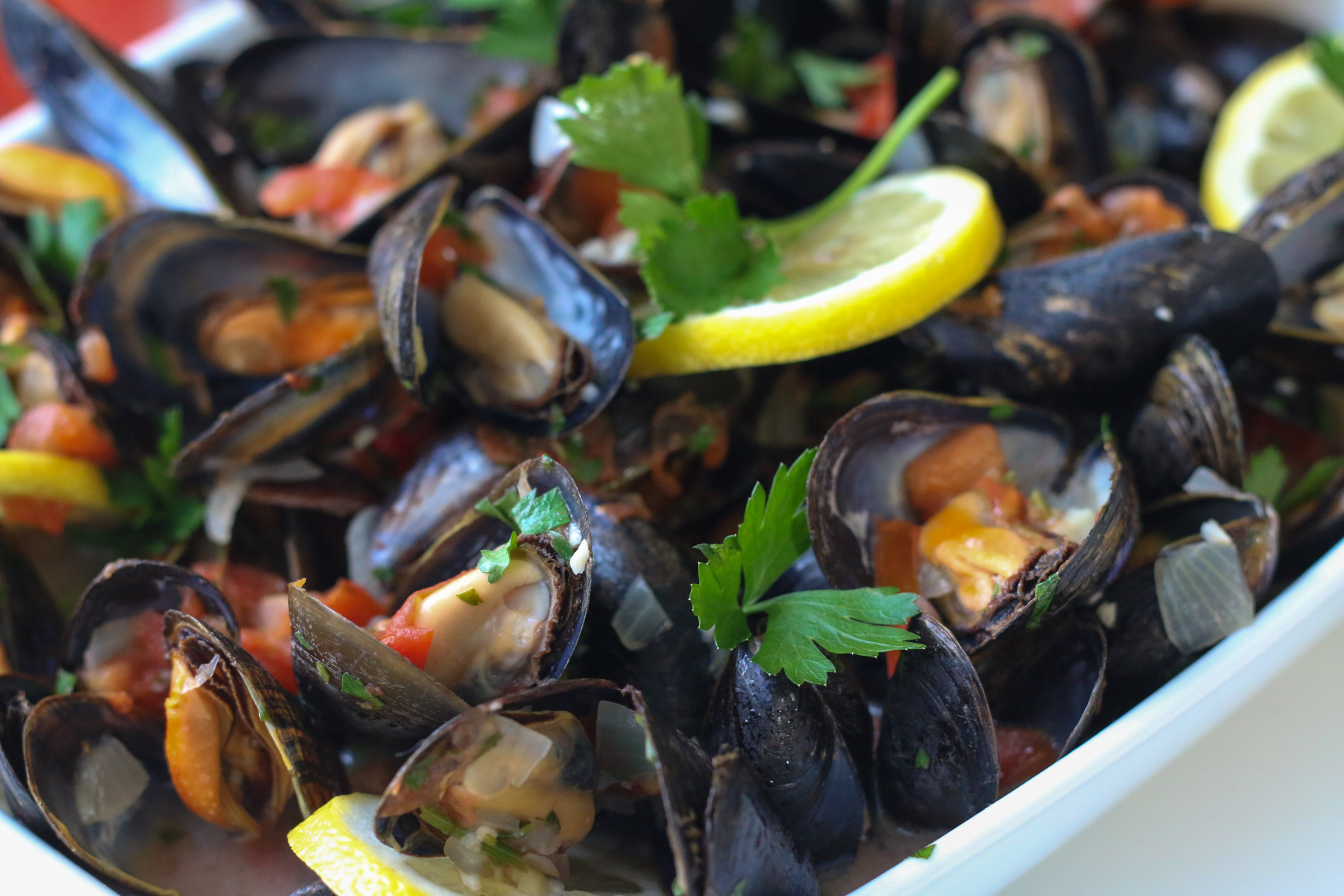 I went on to cook various versions of this recipe.  Sometimes I make them spicy, and other times they're super garlicky, or creamy.  The version I'm sharing with you today happens to include tomatoes because I love sopping up the wine-y fresh tomato sauce with crusty bread.  So grab these ingredients…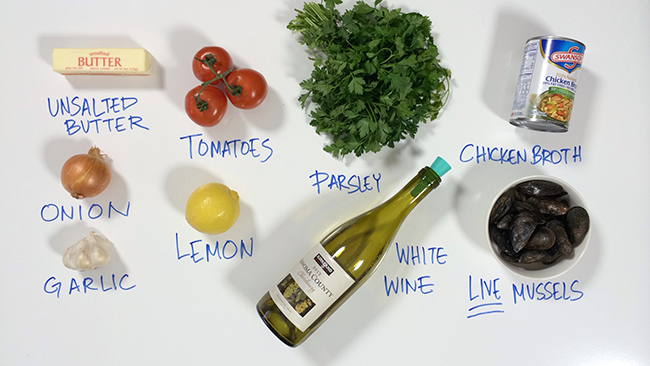 Now watch what I do with them in our Mussels in White Wine Sauce VIDEO, aka EPISODE 9 of Bits & Pieces: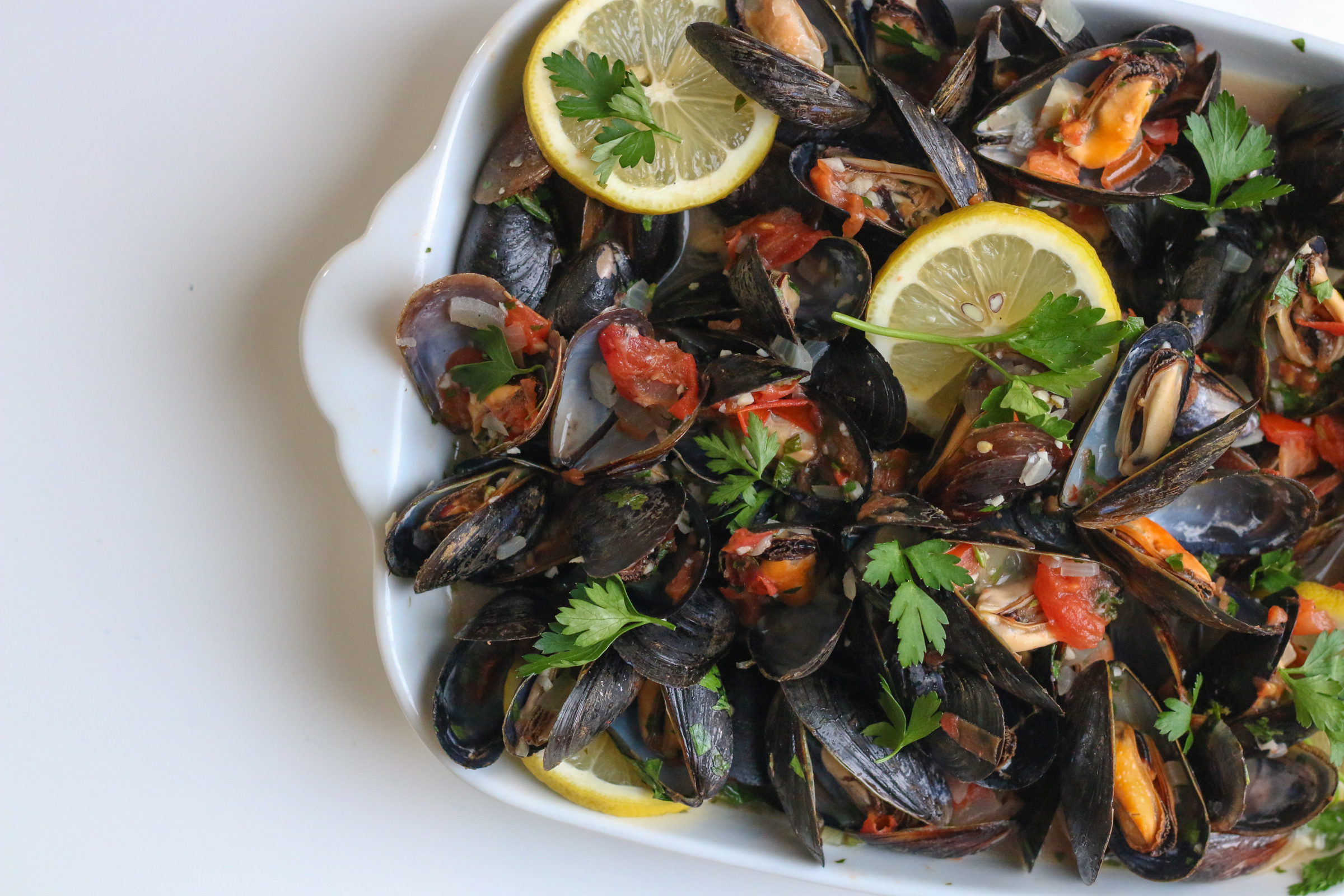 This recipe has been in my back pocket for years and I'm seriously surprised that it hasn't made its way onto here sooner.  I think it's because when we lived on the west coast, we had such easy access to fresh inexpensive seafood, so I kind of took it for granted.
I will always remember our amazing experience of harvesting our own seafood at Whidbey Island, during our trip to Seattle.  You can watch that VIDEO HERE.  We gathered a bucket of mussels and fresh oysters for FREE and brought it back to our cabin to cook.  Talk about being resourceful, right?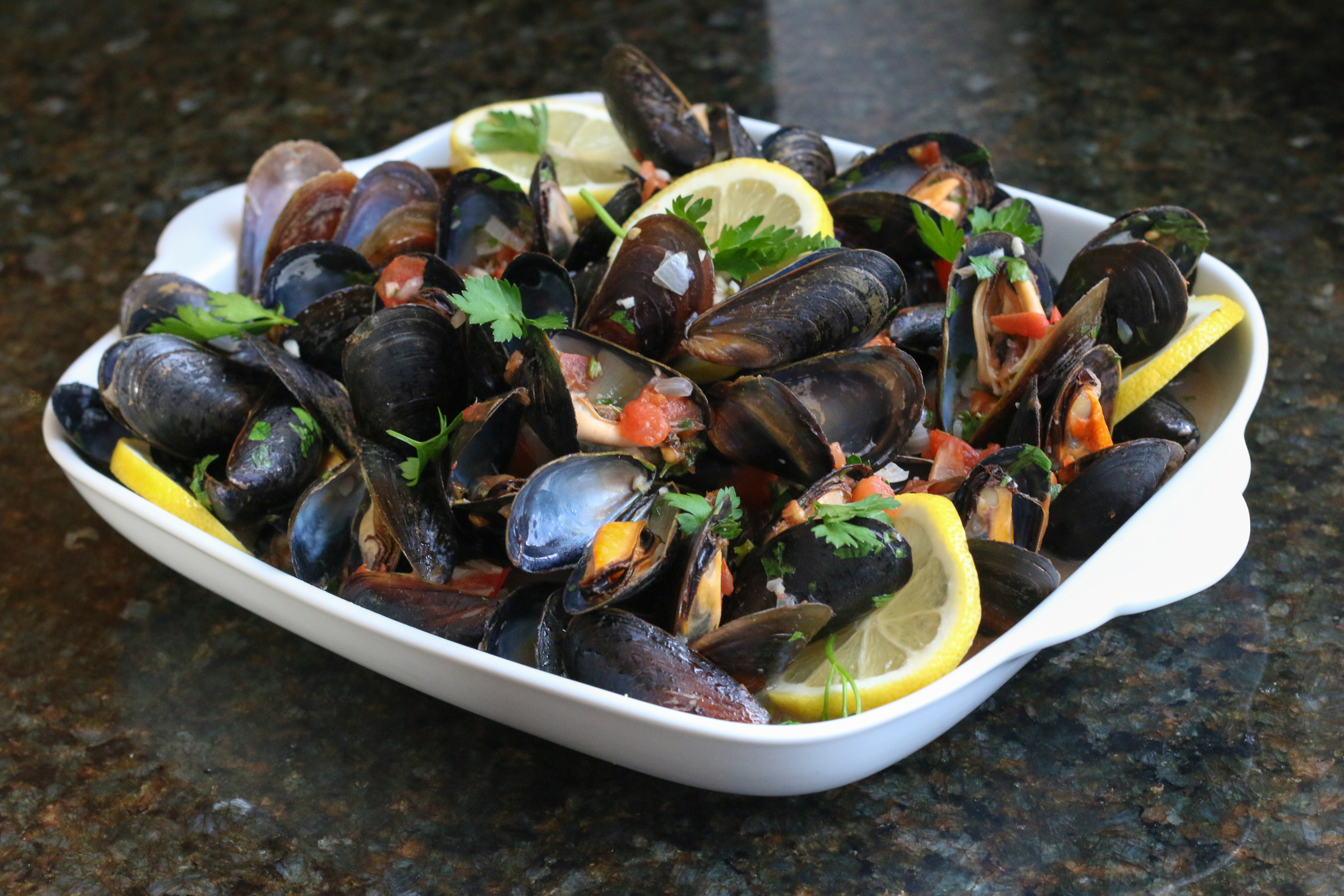 Now that we no longer live near an ocean, live mussels are a little harder to find.  So when I stumbled upon them at Costco,  I nearly pounced on the seafood stand guy.  I walked away with two big bags.  It was nice to eat something light and clean as a welcome change from all the cold weather comfort food.
The truth is, you can't really mess mussels up because all they need is a little steam to open up, and they'll be perfectly cooked.  Adding butter, wine, and tomatoes just gives you an excuse to dunk some crusty bread into your bowl.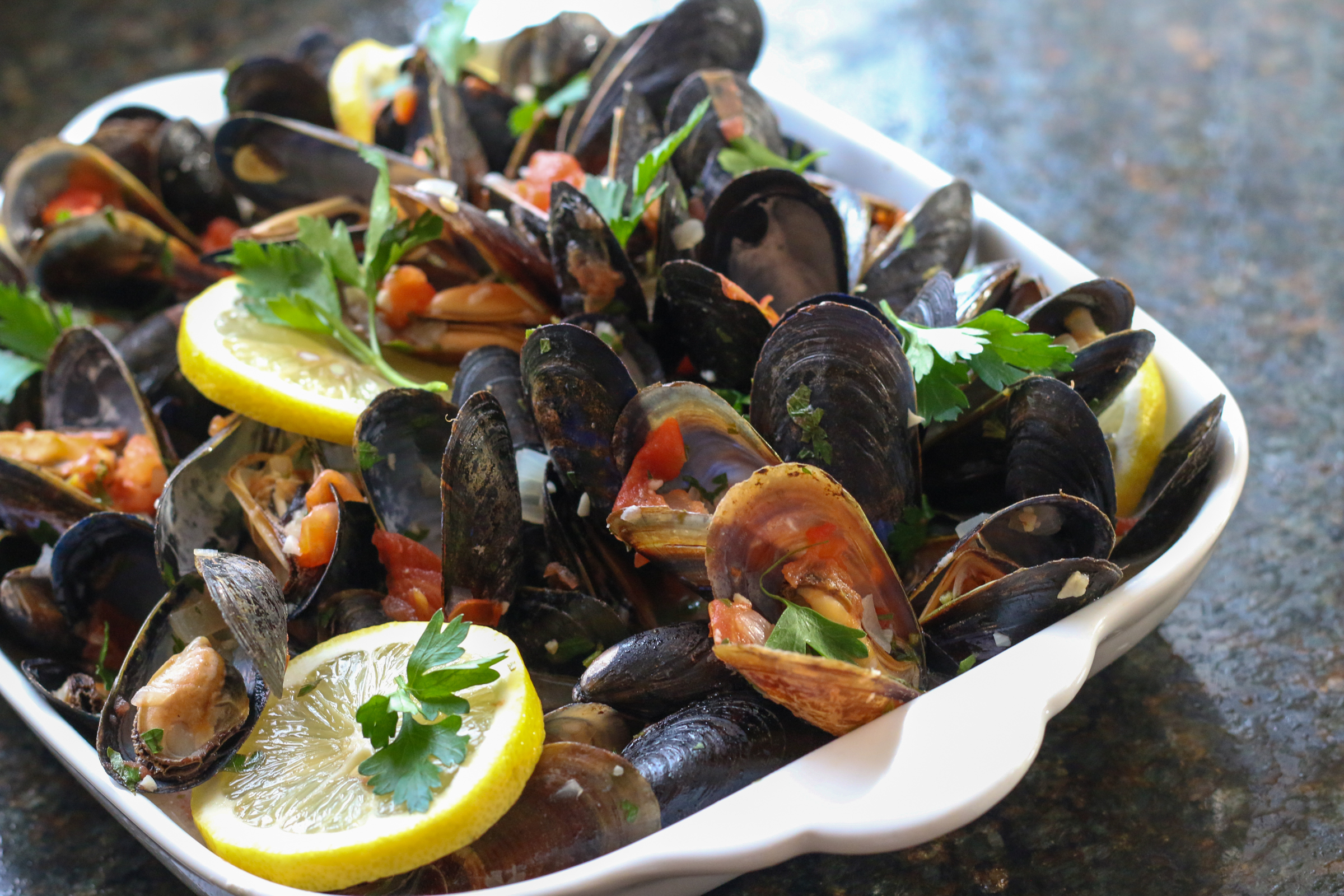 This is a great dish for entertaining because you can pour the sauce over the mussels in a dramatic fashion, right at the table, and give everyone a steamy fragrant facial.  And if you want to stretch a buck, just toss in some pasta and you've got something special going on there my friend.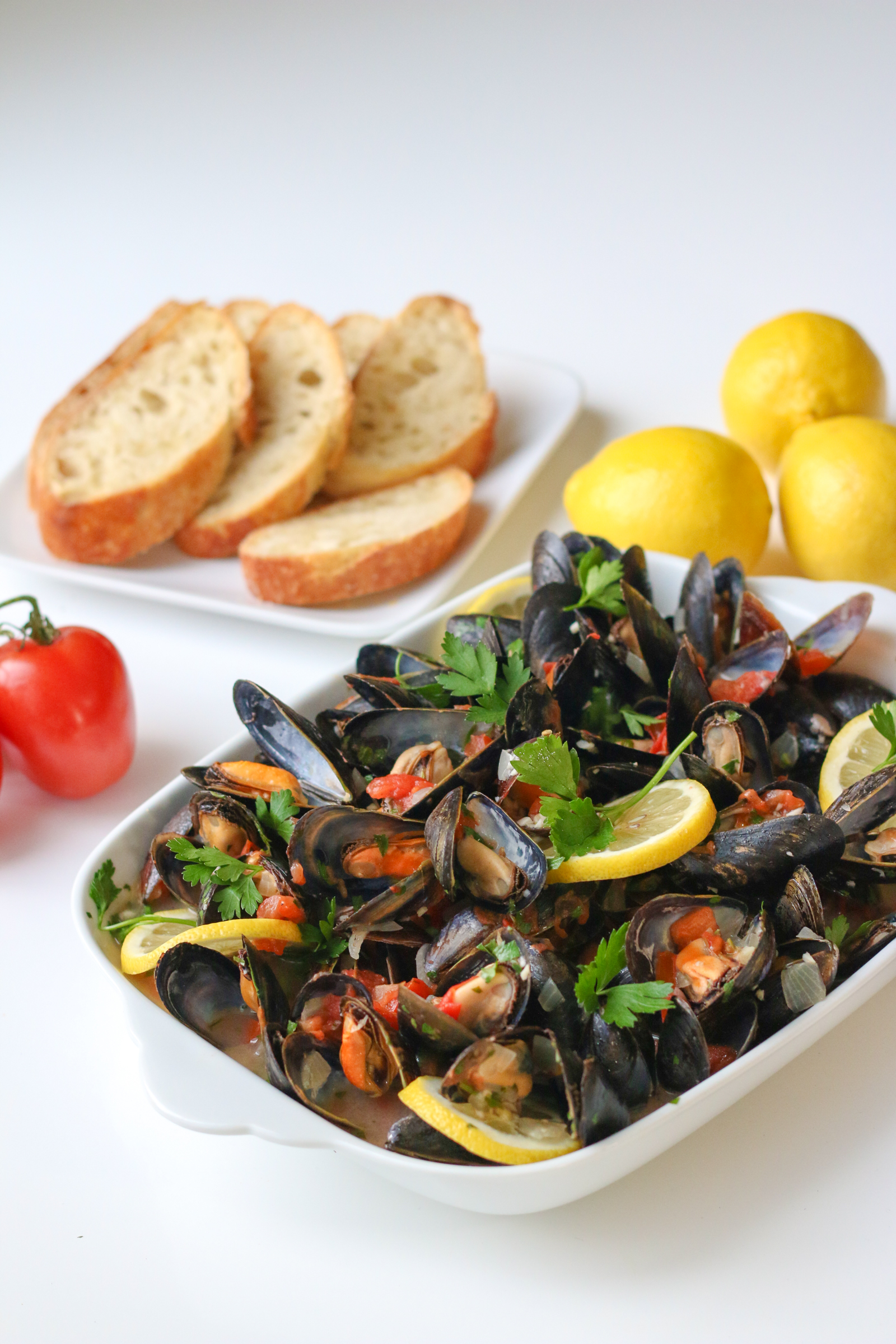 Mussels in White Wine Sauce
These mussels are quick and easy to make. Serve them over pasta, or eat them alone. I add fresh tomatoes to the wine sauce so that I can sop it up with some crusty bread.
Ingredients
3 lbs live mussels
3 tablespoons unsalted butter, divided
3 cloves garlic, minced
1 small onion, chopped
½ cup white wine
½ cup low-sodium chicken broth
½ lemon, juiced
3 plum or roma tomatoes, diced
Fresh chopped parsley
Salt and pepper to taste
Instructions
Clean mussels in cold running water. Remove any beards with a knife. Lightly tap any open mussel at the hinge to see if it closes. If it doesn't, discard it. Discard any ones with broken shells as well.
Add 1 tablespoon of butter to a large wide pot. Add the onion and garlic. Saute until translucent and fragrant. Add the wine and chicken broth. Bring to a boil and add the mussels. Cover with a lid, and reduce the heat to medium. Cook for 5 minutes, or just until the mussels open. Shake the pot once in a while to ensure even cooking.
Add the tomatoes, parsley, butter, and lemon juice. Season with salt and pepper. Give the mussels a gentle stir. When the butter melts, fish the mussels out with tongs onto your serving bowl. Discard any mussels that didn't open. Pour the sauce over the mussels and serve with crusty bread or pour over pasta.