Lemon Ginger Sticky Wings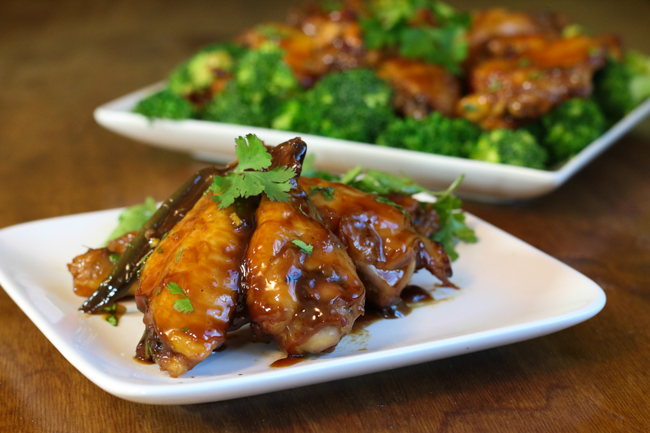 Joe and I were going to a Christmas potluck party, and we were (or should I say, I was) in charge of bringing one of the main dishes.  But since there was no real "theme," to the evening and I didn't know what everyone else was going to bring, I initially felt stumped about what my dish would be.  My general feeling about potluck parties is that I try to bring something that can universally play nice among all the other food on the table.  
So after a bit of pondering, I finally settled on chicken wings.  I figured, hey chicken wings are small, cute, and versatile.  You can eat them with your fingers, and they keep the vibe casual.
Well guess what… it looks like everyone was thinking the same thing because when we arrived at the party, everyone else decided to bring chicken wings too!  It was ridiculous and hilarious.  I've never had that happen to me at any potluck ever!  But I'm happy to say, that believe it or not, mine still got snatched up and even snagged complements!  I think it's partly because mine were gloriously glazed AND nestled on a bed of steamed broccoli, which made them stand out a bit.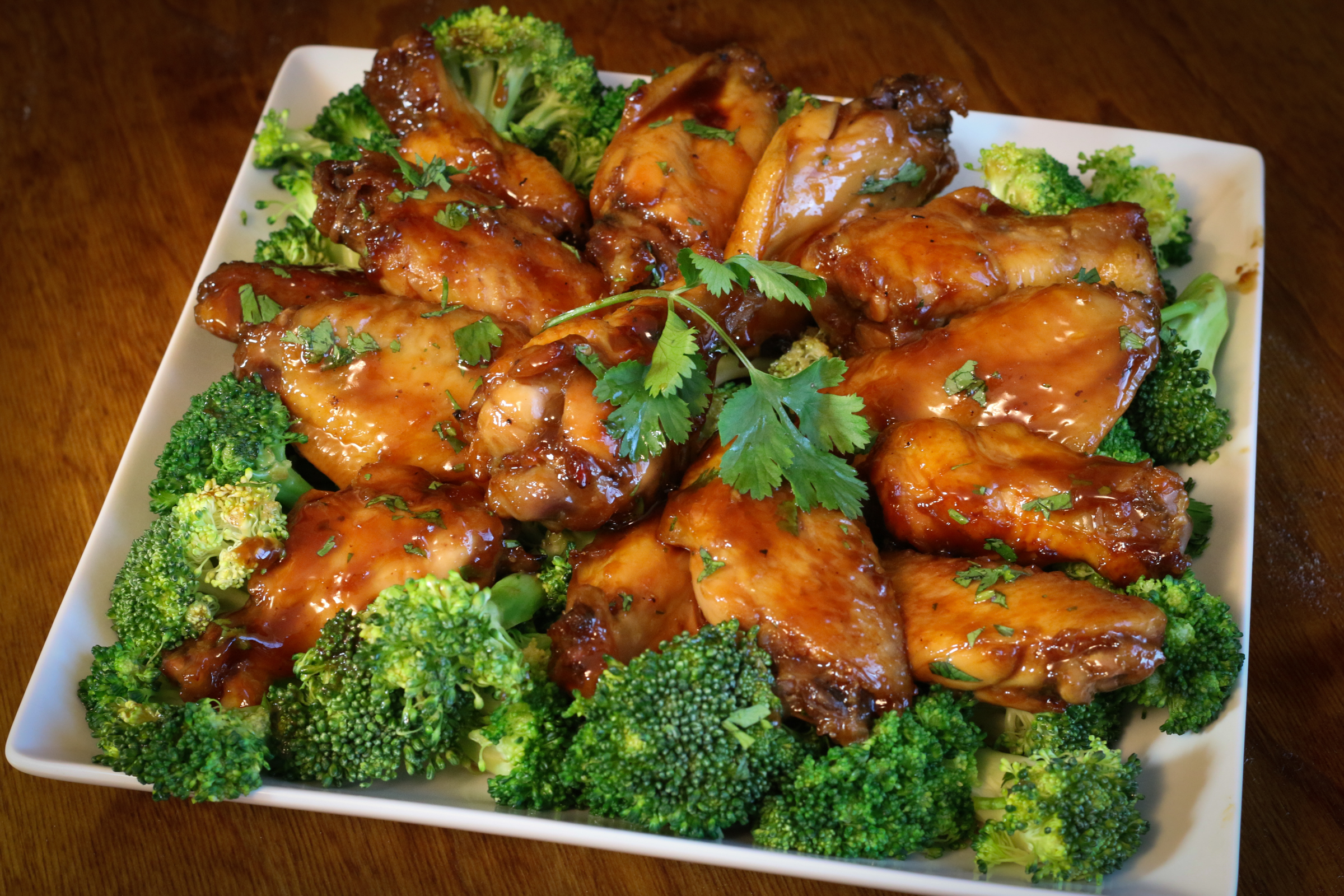 People were pleasantly surprised about the bright lip smacking flavor and kept wondering what was in the sauce.  "Is it lime?" "It's so citrus-y."  But if you want to sink your teeth into these babies and lick your fingers, you can start by watching how I make my Lemon Ginger Sticky Wings in Episode 6 of Bits & Pieces.
You bake the wings in a low oven for an hour in a fragrant sauce.  You let them absorb some of that sauce and get all tender.  Then you crank the oven up and turn that sauce into a glaze.  And then you grab your napkins and demolish those sticky little suckers.
Don't be so concerned if your sauce starts to burn on your pan.  It can't be helped because there is brown sugar in the sauce, and sugar loves to burn.  But you can keep an eye on them and make sure to toss them every so often so that even if your sauce starts to burn on the sides, your wings don't burn.  And don't be so fussy about getting the sauce down to a true syrup-like consistency.  Once they come out of the oven and chill out for a minute or so, the sauce thickens more on its own like magic.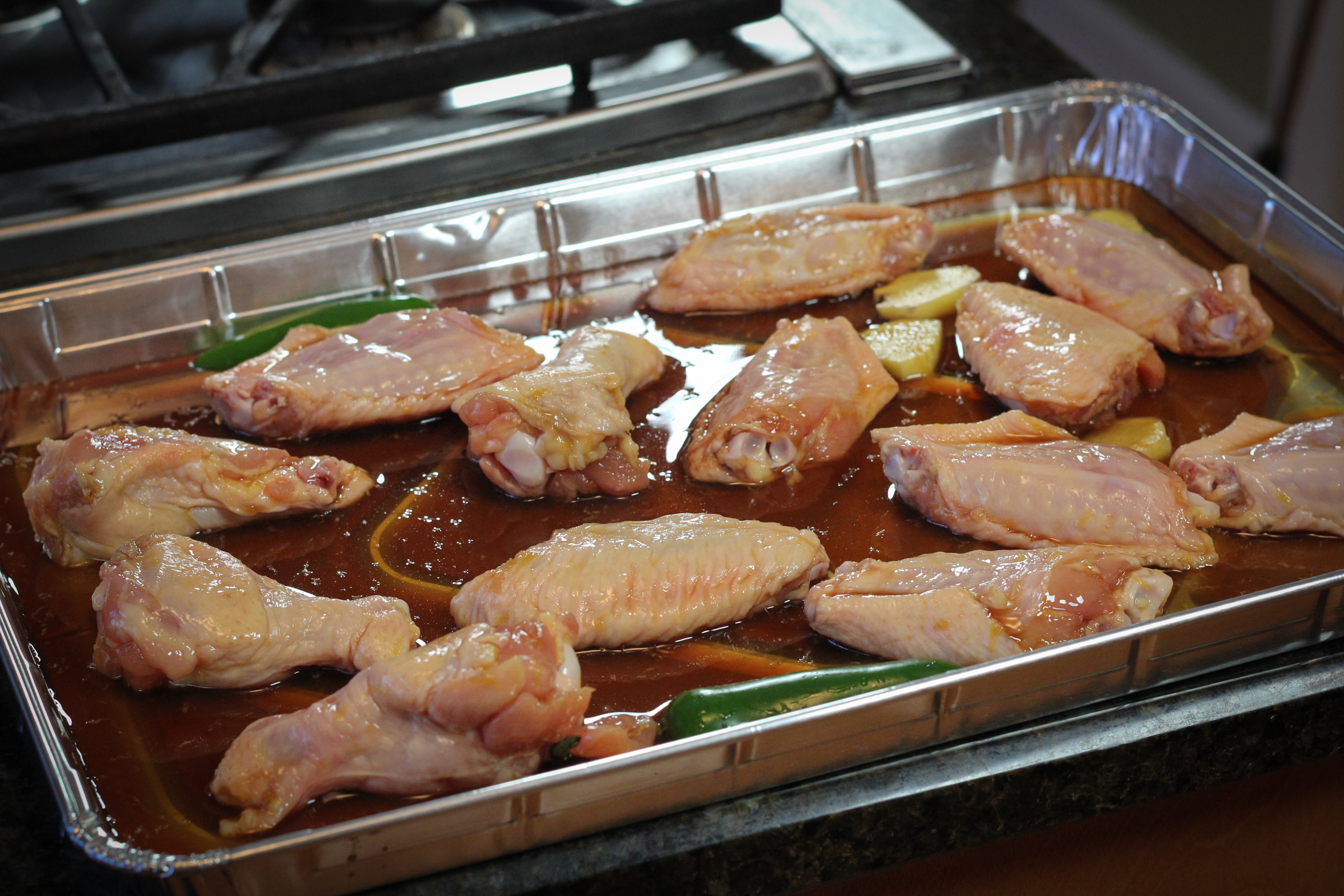 We also had to bring a white elephant gift… you know that game where you pick a mystery gift from the pile or get a chance to steal someone else's present?  So the thing is, I always have bad luck playing this game because for whatever reason, I must have x-ray vision through wrapping paper and gift bags, because I tend to pick the best gifts, and then have them all stolen from me.  Then I end up with the worst gift!  True story.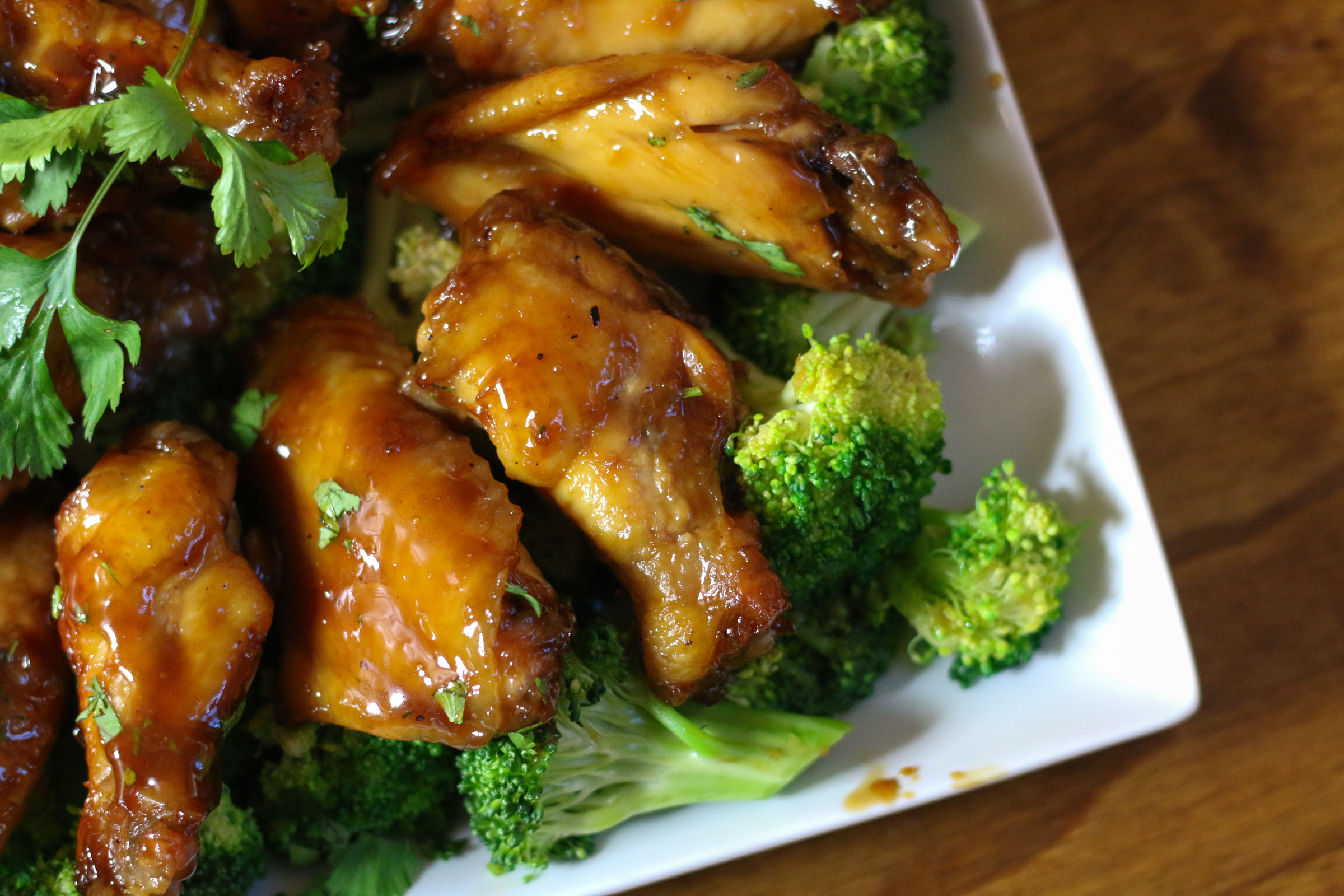 So this time, I told Joe to play for us.  And wouldn't you know… he ended up having 4 gifts stolen from him and we somehow ended up with our OWN GIFT!  Who does this happen to but us?  Who goes to a potluck party full of chicken wings and ends up going home with their own gift they brought?  Good thing it was something I actually needed. Ha.  What a weird and fun night.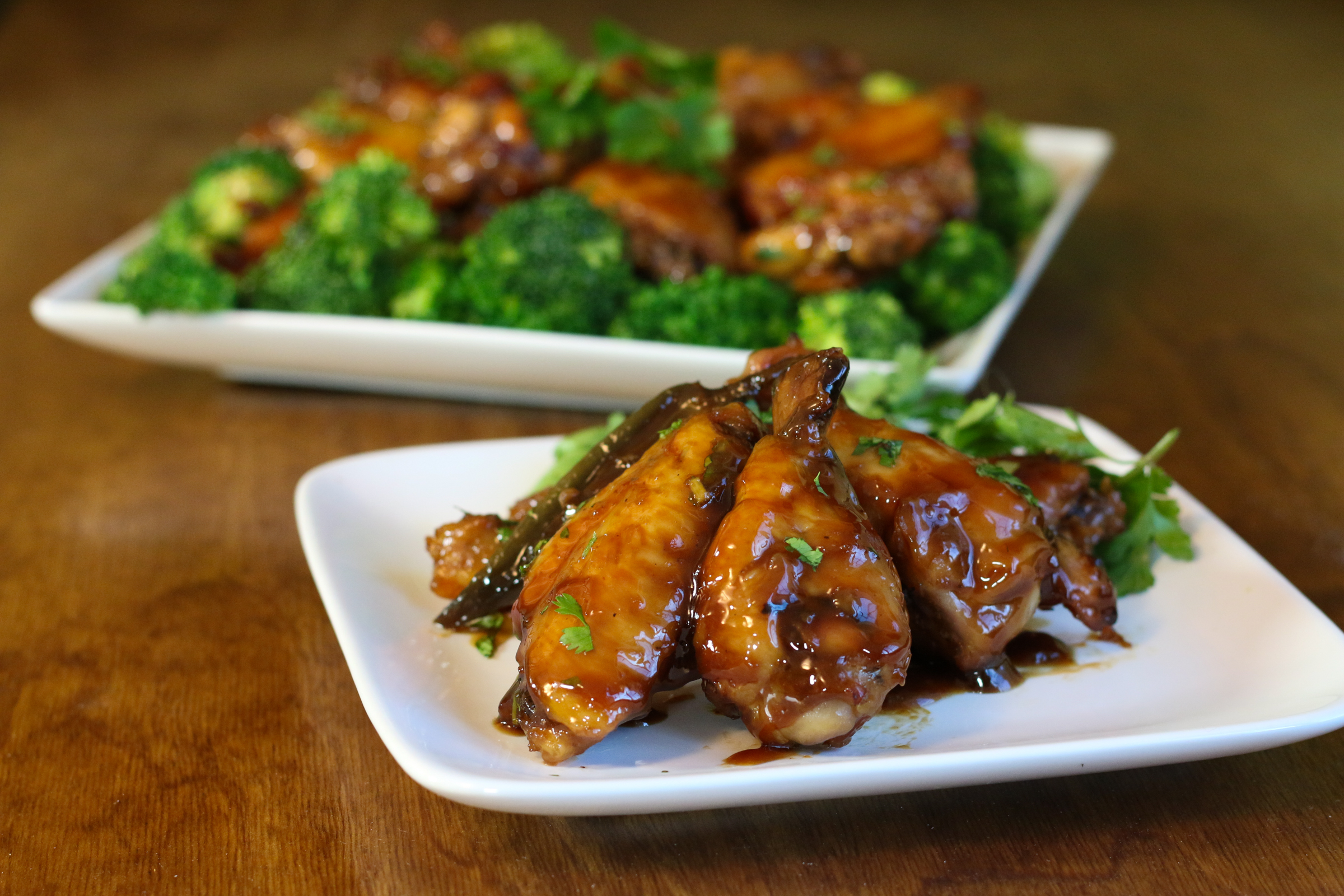 These sweet and sticky wings are perfect for a cocktail party, Superbowl party, or any get-together.  But you don't have to wait until you're invited to a potluck.  You can easily gobble them up with a crisp side salad, some rice, or steamed veggies, and make a real meal out of them.  Just make sure you have plenty of napkins ready and be prepared to smile after the first bite.

Lemon Ginger Sticky Wings
These wings are baked low and slow in a lemony sweet sauce that turns into a glaze. They're fragrant, tangy, and wonderfully sticky.
Ingredients
2 lbs chicken drummettes (chicken wings separated, with the tips cut off)
Zest and juice of 2 lemons
¾ packed cup brown sugar
2 tablespoons soy sauce
4 tablespoons Worcestershire sauce
1-inch piece of ginger, peeled, and sliced
1 jalapeno, halved lengthwise
Chopped cilantro for garnish (optional)
Instructions
Preheat oven to 300 degrees.
In a large bowl, add the lemon zest, lemon juice, brown sugar, soy sauce and Worcestershire sauce. Whisk together until the sugar is dissolved. Add chicken drummettes to the bowl and toss to coat. Add the ginger and jalapeño to a rimmed baking sheet, then pour chicken and all of the sauce over it. Pop tray into the oven and cook for 1 hour. This will make the wings tender and they will absorb some of the sauce. Flip wings once during cooking.
Remove the tray from the oven and raise the heat to 450 degrees. Stir and flip the chicken wings in the sauce once again and pop it back in the oven to cook for an additional 15-25 minutes, or just until the sauce becomes thick and turns into a glaze. During this time, watch your wings and stir and toss them in the sauce occasionally. The sauce might start to burn on the tray, but don't worry, your wings will be fine. Don't let it reduce too much or it will burn.
Let them stand in the sauce on the tray out of the oven for a couple minutes. The glaze will thicken as it stands. Toss then a few times. Remove to a plate and spoon over or brush on any leftover glaze from the tray. You can serve them alone as an appetizer or with some steamed vegetables as a meal.