Sausage and Brussels Sprouts Spaghetti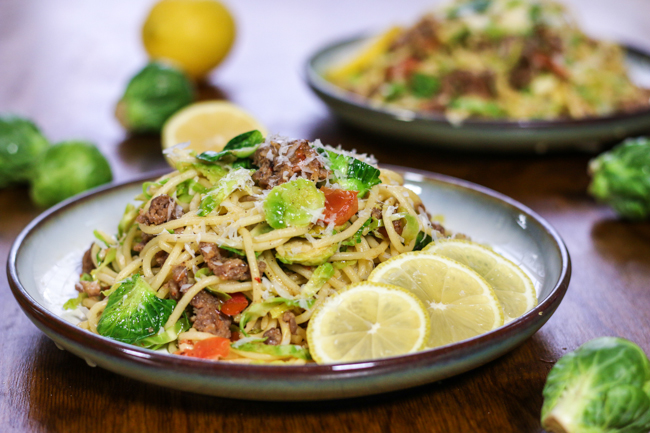 For those of you who absolutely love brussels sprouts, and those of you who don't, you can find peace and break bread together over this dish.  The truth is, I myself am reformed. When I was a kid, I ate a really gross brussels sprout that was flavorless, mushy, and smelled like feet.  I felt the tears well up in my eyes as I fought to choke it down.  But oh how I've wasted many years avoiding them for no good reason.  I've since then gotten over my issues and am quite obsessed with them.  Right now brussels sprouts are everywhere, and when they are kissed with garlic, sprinkled with salt, and lightly sauteed, they're truly scrumptious and exciting.  
But when they're tossed together in a tangle of lemony spicy sausage spaghetti, and sprinkled with Parmesan, the clouds part and all you taste is rainbows and sunshine.  Okay, maybe not, but you can see where I'm going with this.  Just like my Pappardelle with Sausage and Kale recipe, there's just a few simple ingredients involved, yet when you make it right, the flavor is bright and truly intense.  You can see how I bring it all together in EPISODE 4 of Bits & Pieces:
I'm always a little neurotic about keeping my greens bright green when possible.  I definitely eat with my eyes first.  But that's usually hard to do anytime there's lemon involved.  The acid inevitably turns things brown and drab.  So I like to douse my spaghetti strands with the glorious fresh lemon, and cook my brussels sprouts separately.  It might help to invest in one of these fine graters if you don't already have one.  Remember to use the zest of the lemon first before you use the juice.  More flavor.  Then I tumble everything together at the last minute right before serving.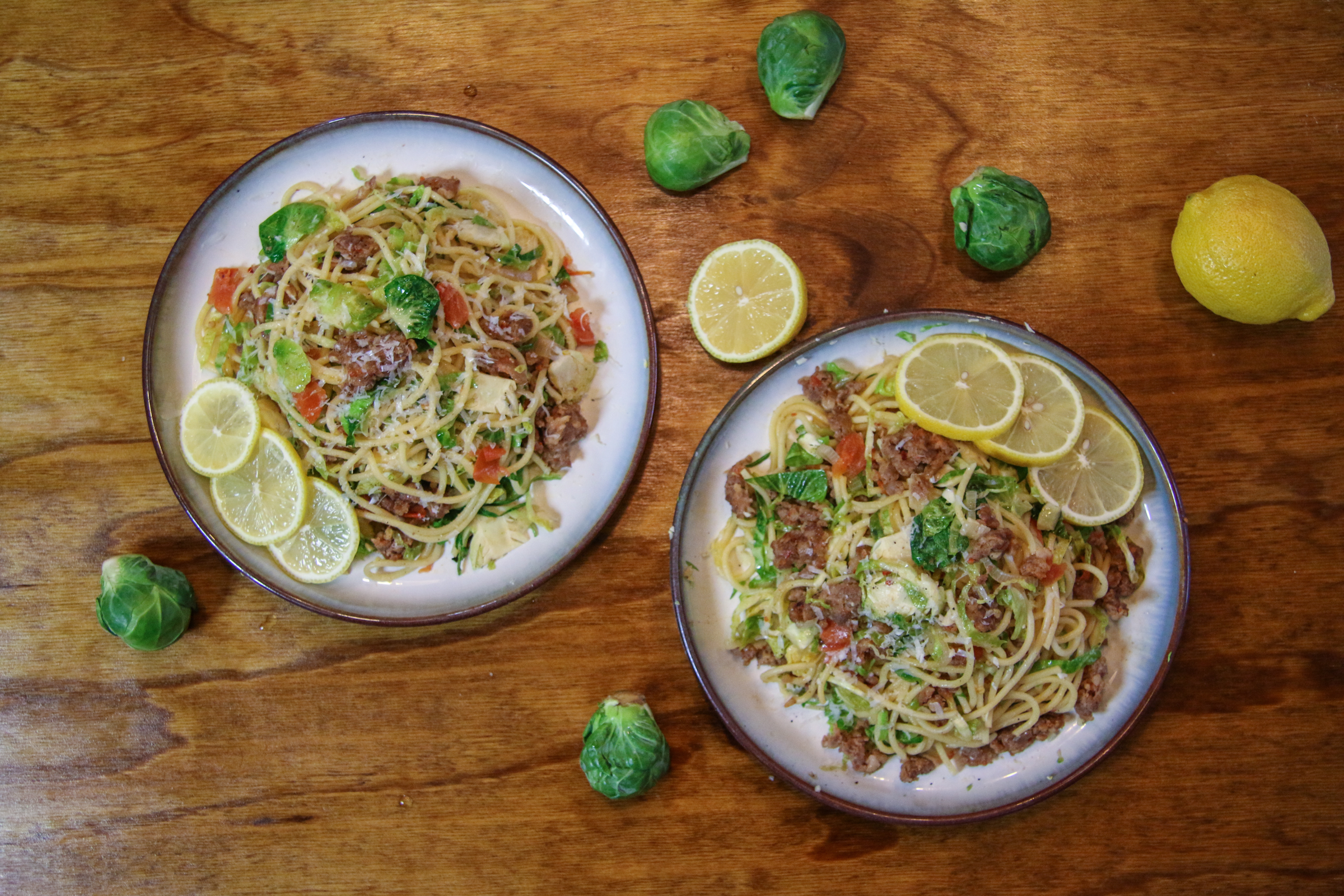 To me, the texture of the crisp tender sprouts works perfectly in this dish because everything else is so soft, so you kind of crave that toothsome bite.  And let's get real people, you can never really go wrong with a squirt of lemon, spicy sausage, and a sprinkling of Parmesan cheese.  So grab a fork and twirl away my friends.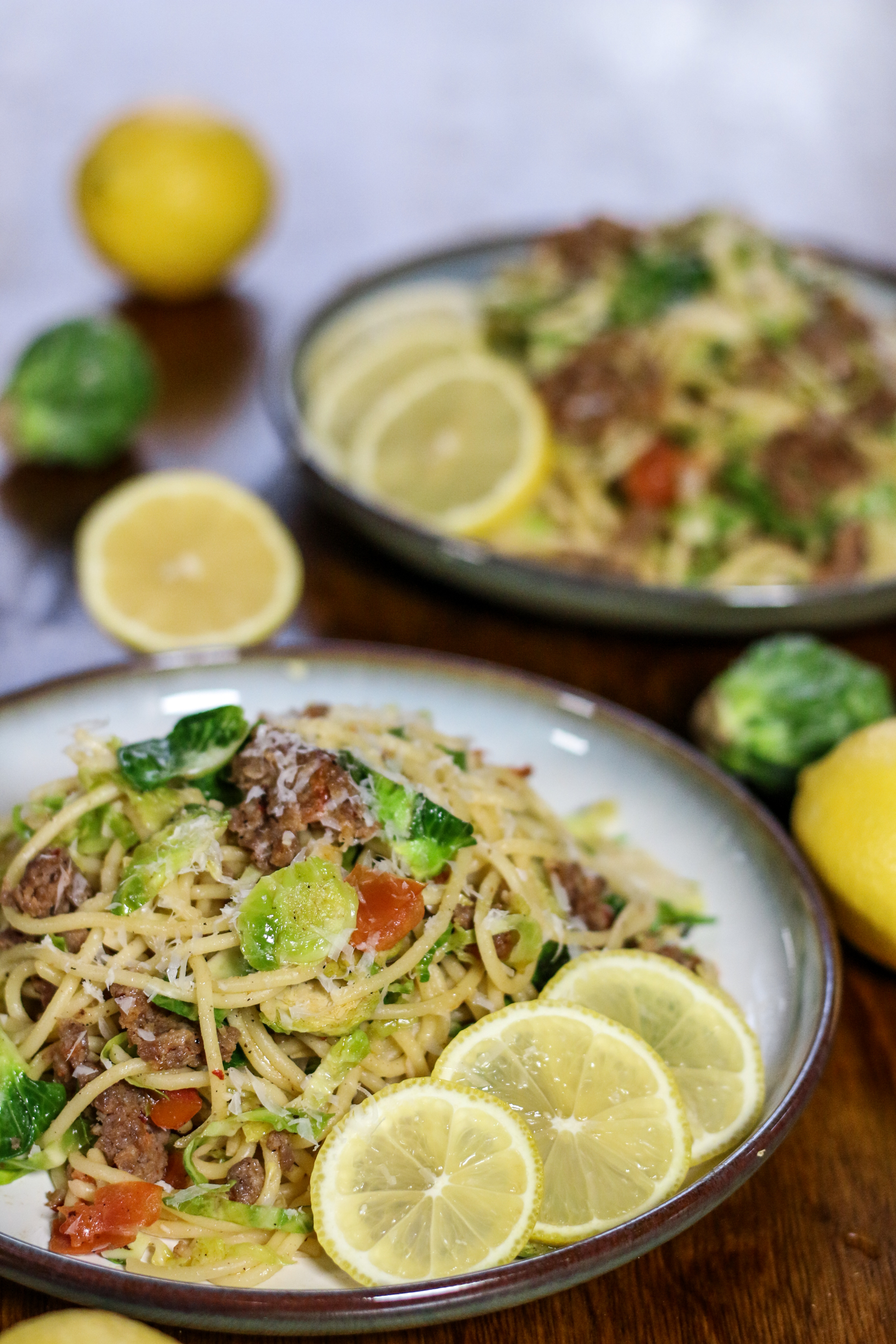 Sausage and Brussels Sprouts Spaghetti
Brussels sprouts redeem their bad rep in this lemony and spicy sausage spaghetti
Ingredients
1 lb hot Italian sausage, removed from its casings
3 shallots, sliced
3 cloves garlic, minced
3 packed cups sliced brussels sprouts (stems trimmed, outer leaves removed)
½ lb spaghetti (half a box)
½ cup salted starchy cooking water (or more if you need it)
1 medium tomato, chopped
½ cup grated Parmesan cheese
1 lemon, zested and juiced
Salt and Pepper to taste
Instructions
In a pot of boiling salted water, add spaghetti and cook until 2 minutes shy of being done. Reserve at least ½ a cup of the starchy cooking water before draining.
Meanwhile, in a large dry skillet, over medium heat, cook the sausage, breaking it up in the pan with your spoon. When it's almost cooked through, add the shallots and cook together with the sausage until shallots are softened and translucent and sausage is cooked through. Remove to a bowl or plate.
In the same pan, add 1 tablespoon of olive oil, then the garlic. Stir, and when garlic becomes fragrant, add the sliced brussel sprouts, along with salt and pepper. Toss together just until brussels sprouts become bright green and soften slightly. You want them to be crisp tender. Remove to a second bowl or plate.
When spaghetti is ready, add the sausage back to the pan, along with the chopped tomato. Toss until tomato softens slightly. Add the spaghetti on top, along with the ½ cup of reserved cooking water, Parmesan cheese, lemon zest, and lemon juice. Toss together. If the spaghetti seems too dry, add more cooking water, or a splash of plain water. Taste for seasoning and adjust with salt, pepper, and more cheese if needed. Add back the brussel sprouts, last minute, and toss gently. Serve immediately.