Holiday Party Cocktail and Appetizer Idea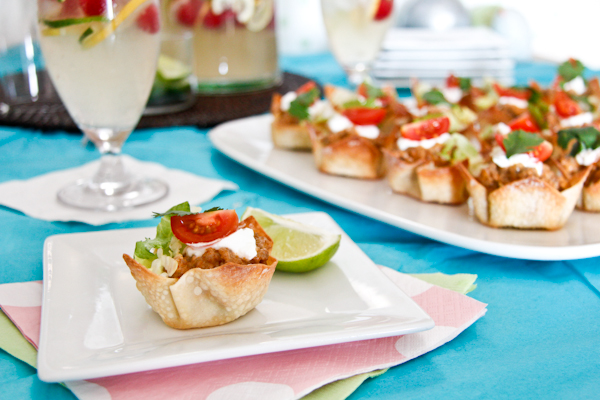 Without intentionally trying to, I zoomed right by Christmas and the month of December without updating this blog…oopsies.  In a nutshell, I've been sick, brainstorming for Small Bites, buying presents, planning a baby shower, decorating my church, entertaining my visiting in-laws, celebrating my husband's birthday, and enjoying the holidays.  Whew.  Okay, now that we're all caught up, I'm racing the clock before New Years Eve to try to get this cocktail and appetizer idea out to inspire you in time for any upcoming or future parties.  
Last year, I was asked by Kokoliving Magazine to come up with a cocktail and appetizer idea for their New Years Eve article.  Because of some logistical issues, the magazine for that month was put on hold.  They felt bad about the work I put into the article, but I told them, "No worries.  I'll just post it on my blog next year."  I waited a whole year to publish this entry and guess what, I almost forgot about it until yesterday!  So forgive me if I didn't publish this earlier, but better late than never, right?
To ring in the new year, I decided to make fizzy lemonade champagne cocktails with raspberries, and festive mini beef tostadas.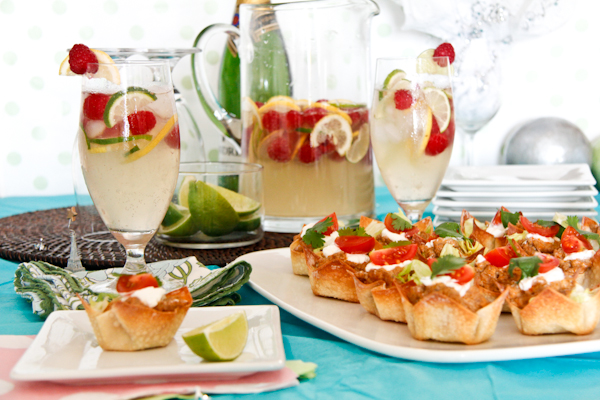 After moving here to California, my appreciation for Mexican food has increased.  It never really used to cross my mind when I was living in Pennsylvania, New Jersey, and New York.  When I was living on the east coast, it was all about Chipotle and Taco Bell.  Now I love all the little mom and pop Mexican restaurants EVERYWHERE.  Maybe that's why I'm so obsessed with tostadas.  Yep, I have two other tostada recipes on this blog.  You can check out my Spicy Fish Tostadas and my Wasabi Edamame Fish Tostadas.
This time, I wanted to make a mini version using my favorite go-to appetizer ingredient, wonton skin wrappers!  If you have a muffin tin and some wonton wrappers, you are golden my friend.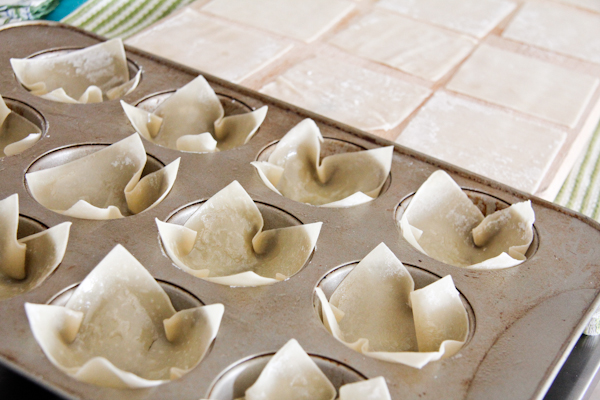 They are perfect crispy little cups that can hold just about anything you can imagine.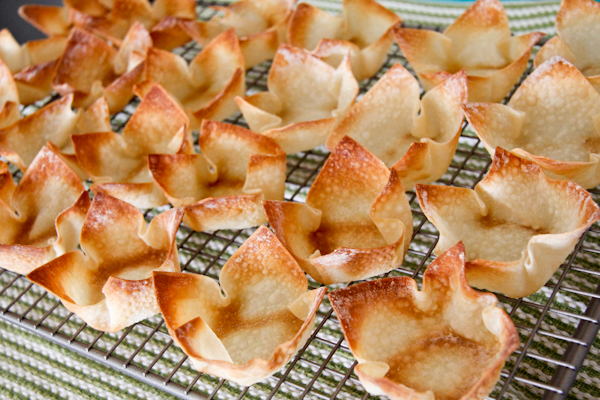 I have a love for mini foods and appetizers.  When I used to cater, that would be my trade mark.  In fact, if you hired me, you could guarantee that the table would be filled with nothing but appetizers.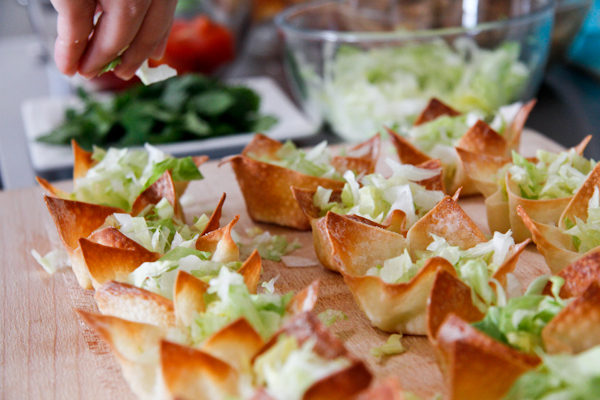 You would think I'd have more appetizer recipes written down on this blog, but I don't, because at the time that I was catering, I never wrote my recipes down!  I know… But I DID write this one down for you!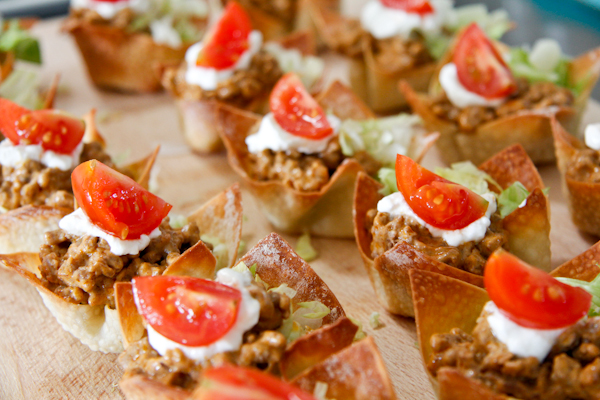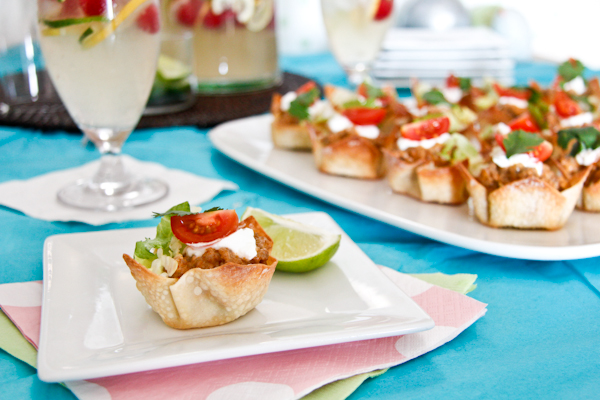 The neufchatel cheese is what holds the ground beef together, and prevents it from spilling out of the cup with every bite.  So it ends up being a mini taco salad, except your guests can eat it with their hands.
The best part is that everyone assembles their own cups and serves themselves!  Just put out a basket of the wonton cups, keep the beef warm in a covered pot, and set out a small buffet of different kinds of toppings.  Let everyone choose what they want to put on top, while you relax.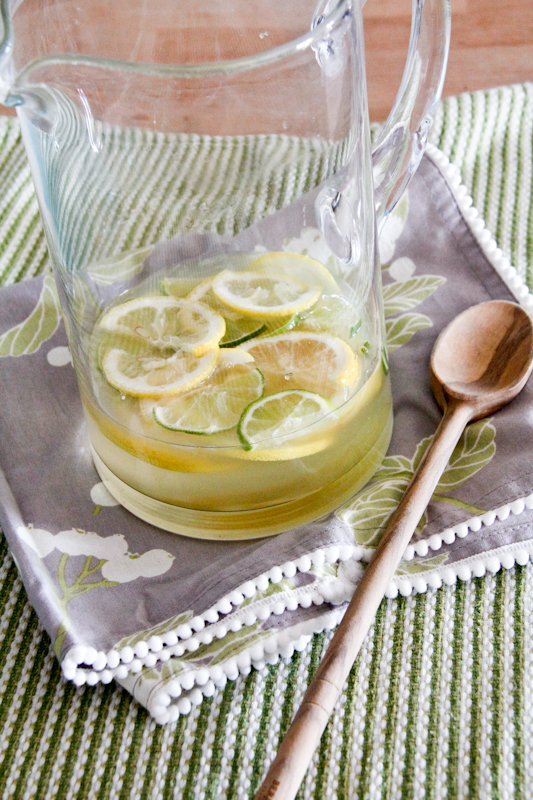 And you gotta wash down these beefy crispy cups with some good bubbly for the New Year.  Why not make it more festive by adding some citrus and fruit?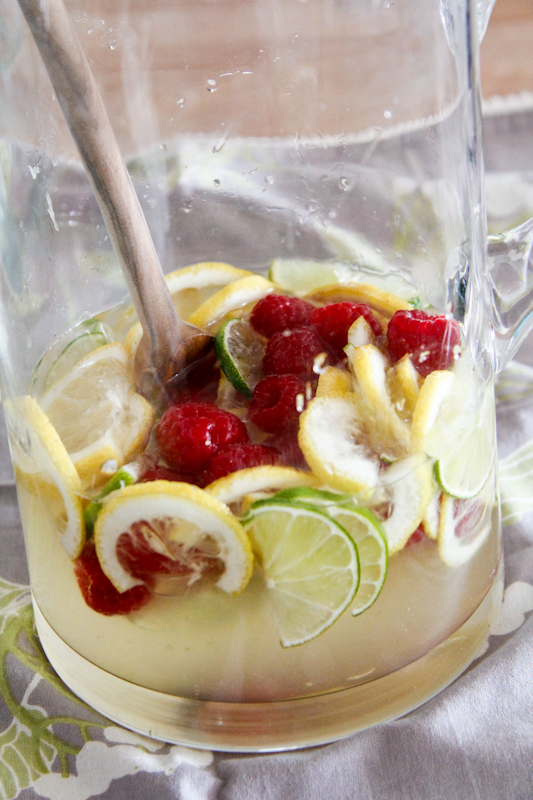 If you don't like raspberries, you can swap them for strawberries… whatever floats your boat. Lemon and lime slices add extra punches of color, along with fresh flavor. And if you wish, a sprig of fresh mint would make it taste more like a mojito! Have fun. Be creative. It's all good.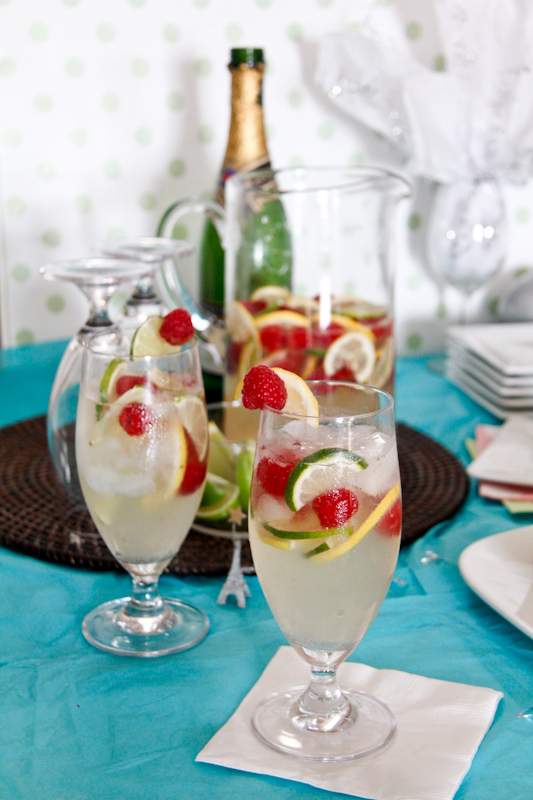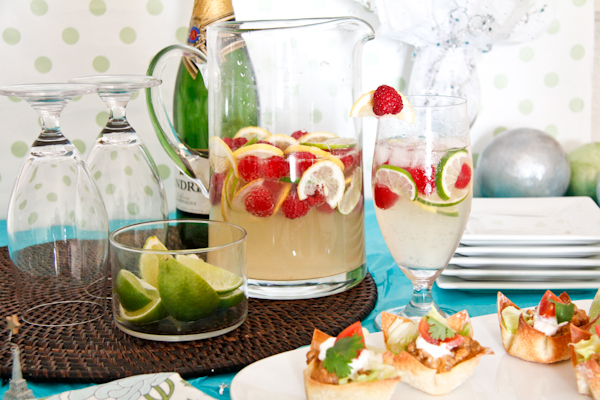 This is perfect to make if you're just like me and don't own any shakers or special muddling tools.  All it requires is a little easy to make simple syrup and fresh fruit.  It's also a sneaky way to stretch that bottle of Champagne and still treat your guests to something spectacular.
Both recipes are scrumptious and really easy to make.  Don't let the wordy directions get you frazzled.  To me, that's the key to entertaining.  You can still be an amazing host or hostess, but don't have to be busy and flustered while everyone else is having fun.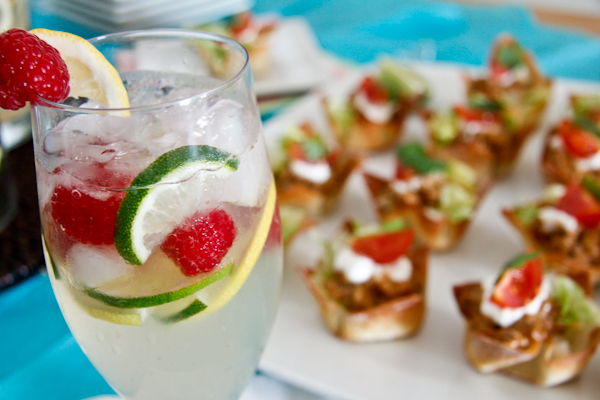 Add some veggies with dip, cheese with crackers, cocktail weenies, store-bought dessert, and voila!  Just set everything up in advance, turn on some music, kick back, and welcome the New Year with your family and friends.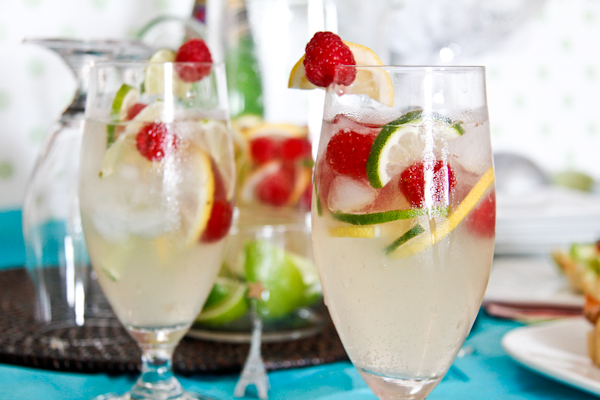 Cheers to the new year because life is delicious!

Mini Beef Tostadas
Your party guests will love their individual bite sized taco salads made out of wonton wrappers. This recipe make 24 mini tostadas.
Ingredients
1 package of wonton wrappers
Nonstick cooking spray
1 lb ground beef
1 package of taco seasoning
1 tablespoon sugar
⅔ cup of water
4 oz of neufchatel cheese, (or ⅓ less fat cream cheese)
1 lime squeezed
¼ of a head of iceberg lettuce, very finely chopped or shredded
6 cherry tomatoes, cut into quarters, to make 24 pieces total
Light sour cream for topping
Fresh chopped cilantro for garnish
Lime wedges for squeezing on top
Hot sauce to taste
Kosher salt and pepper to taste
Instructions
Preheat the oven to 350 degrees.
Pull wonton wrappers out of the fridge and let stand at room temperature for about an hour so they become more flexible. Spray both sides of 24 wonton wrappers with nonstick cooking spray and place gently into the cups of 2 muffin tins. Pop into the oven for 5-7 minutes, or until the edges start to turn lightly golden brown. They can instantly go from pale to burnt, so watch them carefully. Pull them out of the tins and let them cool on a wire rack.
Brown the ground beef and remove excess fat from the pan by absorbing it into a paper towel. Add the taco seasoning, sugar, and water. When most of the water evaporates, add the neufchatel cheese until it completely melts into the beef. Squeeze on the lime, and taste for seasoning. Add salt and pepper as needed. Feel free to add a couple dashes of hot sauce into the mixture for a kick. Keep the beef warm in a covered pot for guests to serve themselves.
Let the guests assemble their own cups by filling each one with a little lettuce. Top with a spoonful of the beef mixture. Place a small dollop of sour cream on top and garnish with the cherry tomato and cilantro. Serve with a bottle of hot sauce on the side and extra lime wedges for guests to squeeze on top. Feel free to be creative and add any additional toppings you want, such as salsa, guacamole, sliced black olives, chopped green onions, or pickled jalapeno slices.
Holiday Party Cocktail and Appetizer Idea
These cocktails are fizzy, fruity and fun. They'll make your guests feel special.
Author:
Lemonade Champagne Cocktails with Raspberries
Ingredients
1 (750-ml) bottle Champagne, chilled
½ cup fresh squeezed lemon juice (about 3-4 big lemons)
1-2 cups simple syrup, recipe follows
1 lemon halved and sliced thinly
1 lime halved and sliced thinly
1 small container of fresh raspberries
Crushed ice cubes

For the Simple Syrup: yield: 2 ½ cups
2 cups sugar
2 cups water
Instructions
Make the Simple Syrup
In a small pot, combine the sugar and water over medium heat. Bring to a boil, reduce heat, and simmer for 5 minutes, stirring occasionally, until the sugar has dissolved. Remove the pot from the heat and allow the syrup to cool for 30 minutes. This will make about 2 ½ cups of simple syrup, but you will only need about 1 or 2 cups of it for the cocktail.

Assemble the Lemonade Raspberry Champagne
In a large pitcher, combine the lemon juice, lemon and lime slices, and 1-2 cups of cooled simple syrup. This depends on how sweet you like it. Start by adding 1 cup, and add more as needed at the end. Add the raspberries. Pour in the whole bottle of Champagne and mix.
Fill glasses with crushed ice and pour the cocktail on top. Serve immediately.
TIPS: If you want the Champagne cocktail to have more of a pink hue, muddle some of the raspberries first and let them gradually turn the drink pink as it sits. If you want each glass to have fruit inside them, garnish each individual glass first with some of the citrus slices and raspberries. Then add ice when guests arrive and pour the cocktail on top.