A Healthy Halloween Party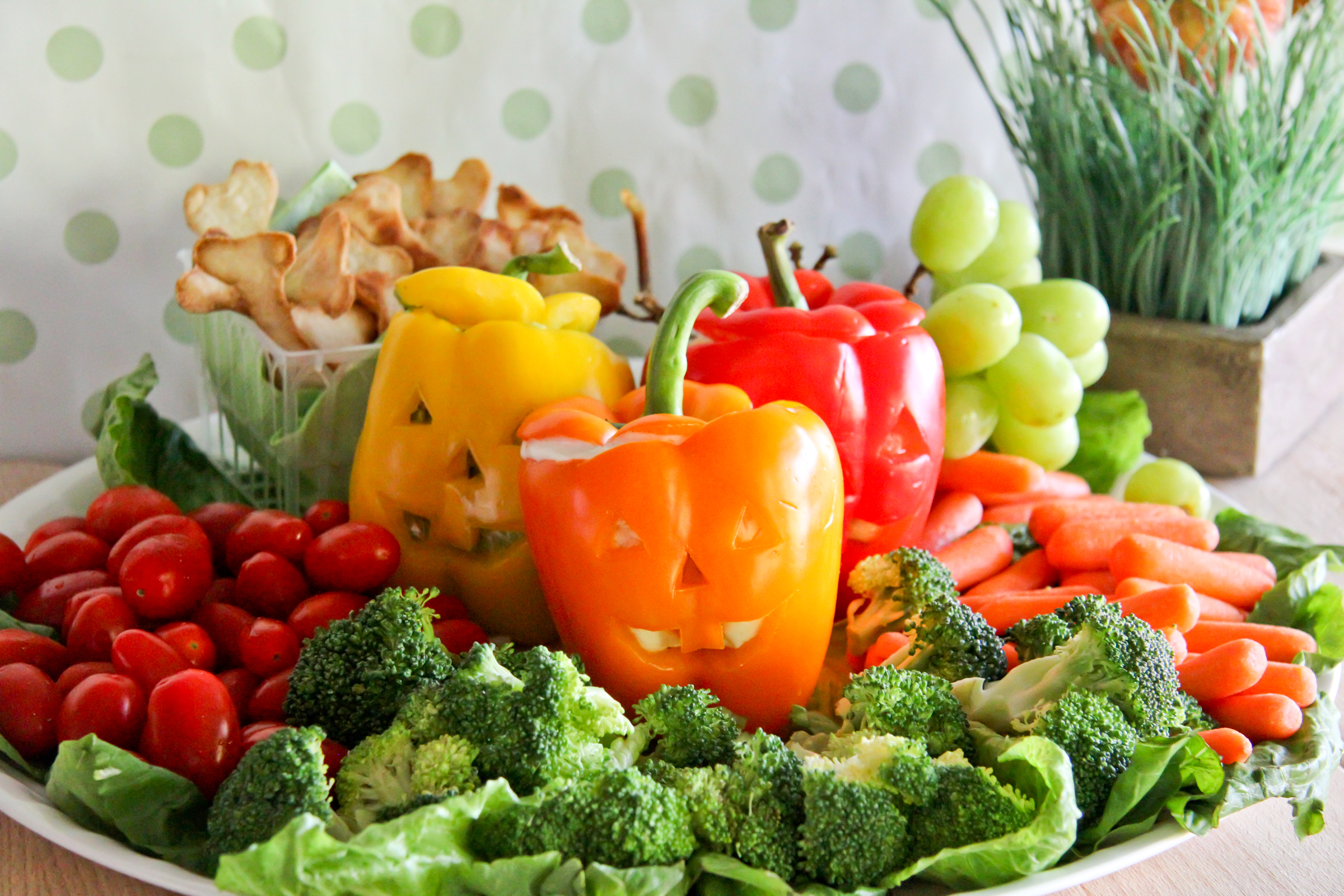 Last year I posted an entry on how to make Halloween cupcakes using marshmallows and boxed cake mix.  My cupcakes were featured on Kokoliving Magazine and since then, have been popular on Pinterest, so if you're in the mood for sweets, go check that recipe out as well.  When I was a kid, Halloween was so much fun.  Every year, a bunch of us would gather at my friend's house and have a pre trick-or-treating party that included mulled hot apple cider and healthy snacks.  I think my friend's mom knew that we'd all be hyped up with candy anyways, so she made sure to serve us good things like cheese, carrot sticks, and grapes.  
So with that spirit in mind, I wanted to share with you some ideas for what you can make if you wanted to throw a healthy Halloween party this year.  The rule is to keep it simple.  No one wants to be a frazzled host!  When I used to cater, I often used Bell peppers as bowls to hold dip.  You can do the same thing for a Halloween party, but with a twist.  All you have to do is carve out faces in order to create your own cute pepper jack-o-lanterns!  These little guys make an ordinary crudite tray look extra festive, without a lot of effort.  You may even get the kids to eat their veggies before going out and gorging on candy.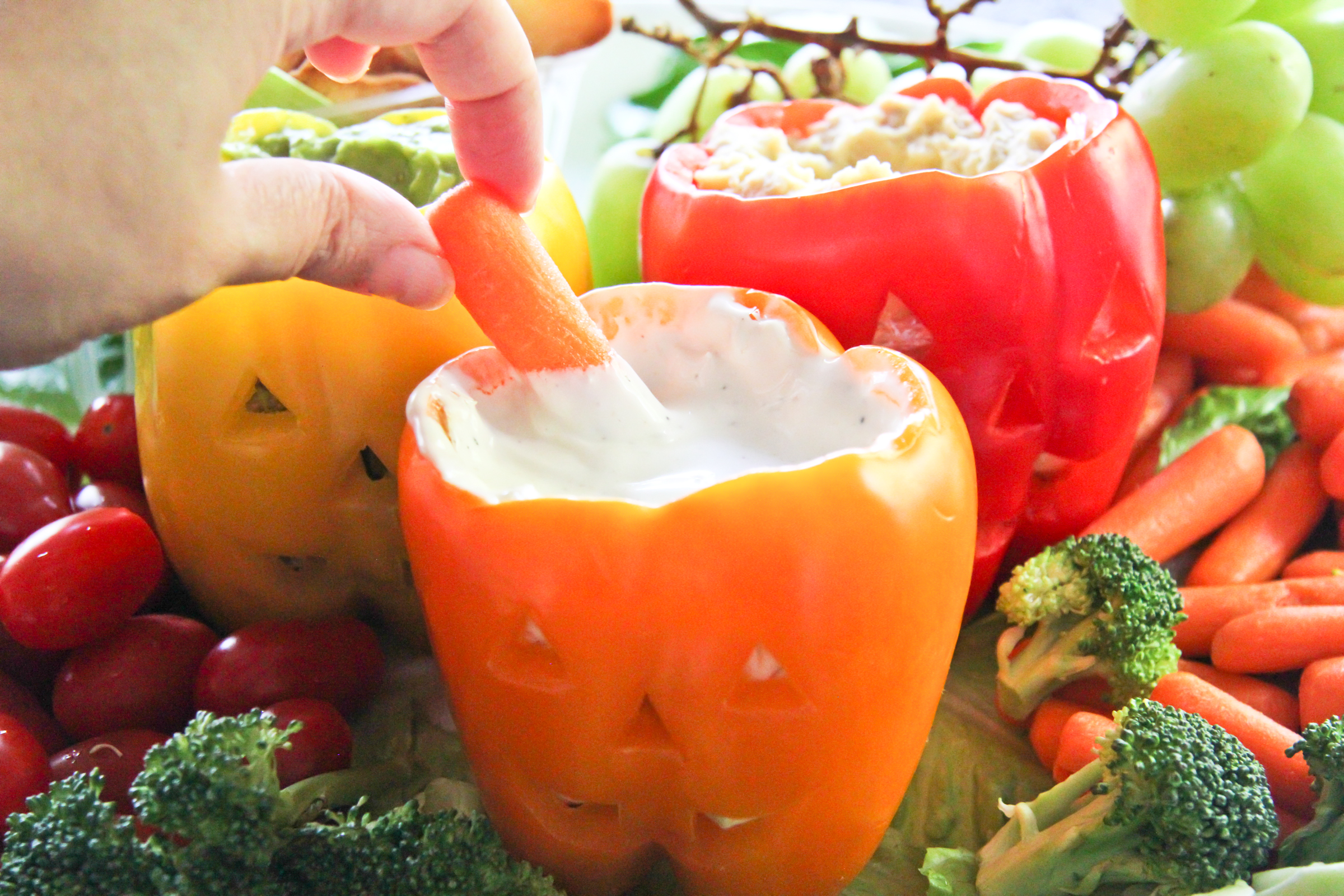 Like I said, all you need are bell peppers.  You can use any colors you want, but I think a trio of red, orange, and yellow peppers look super cute and bright huddled on the tray together.  You want to carve out the faces of your jack-o-lanterns before doing anything else.  If you take the tops off first, the peppers will get a little unstable and be harder to carve.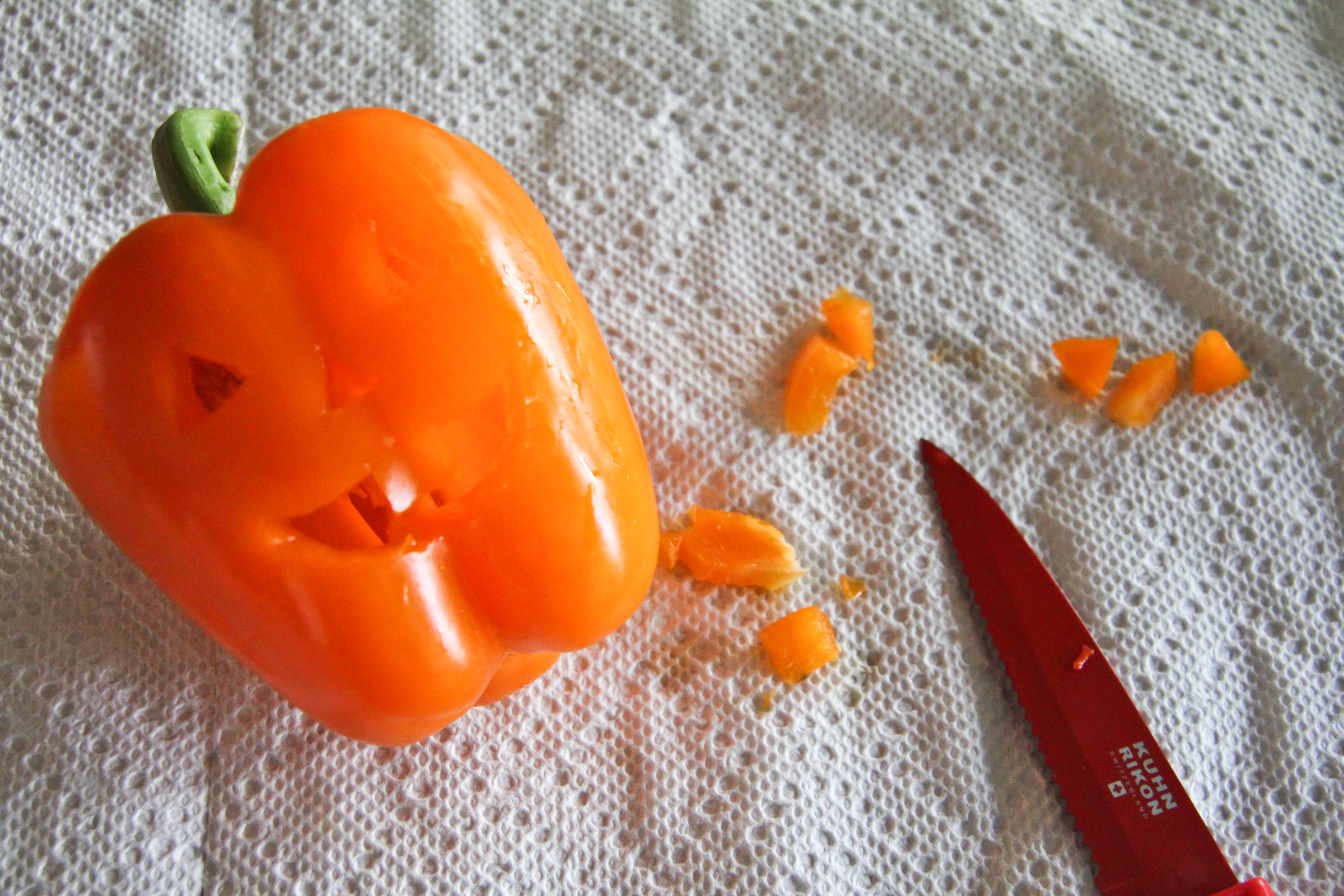 Next give the peppers a haircut, but save the tops.
Remove the seeds and "guts" of the peppers, and carefully shave off some of the bottoms to allow them to be able to stand up evenly on their own.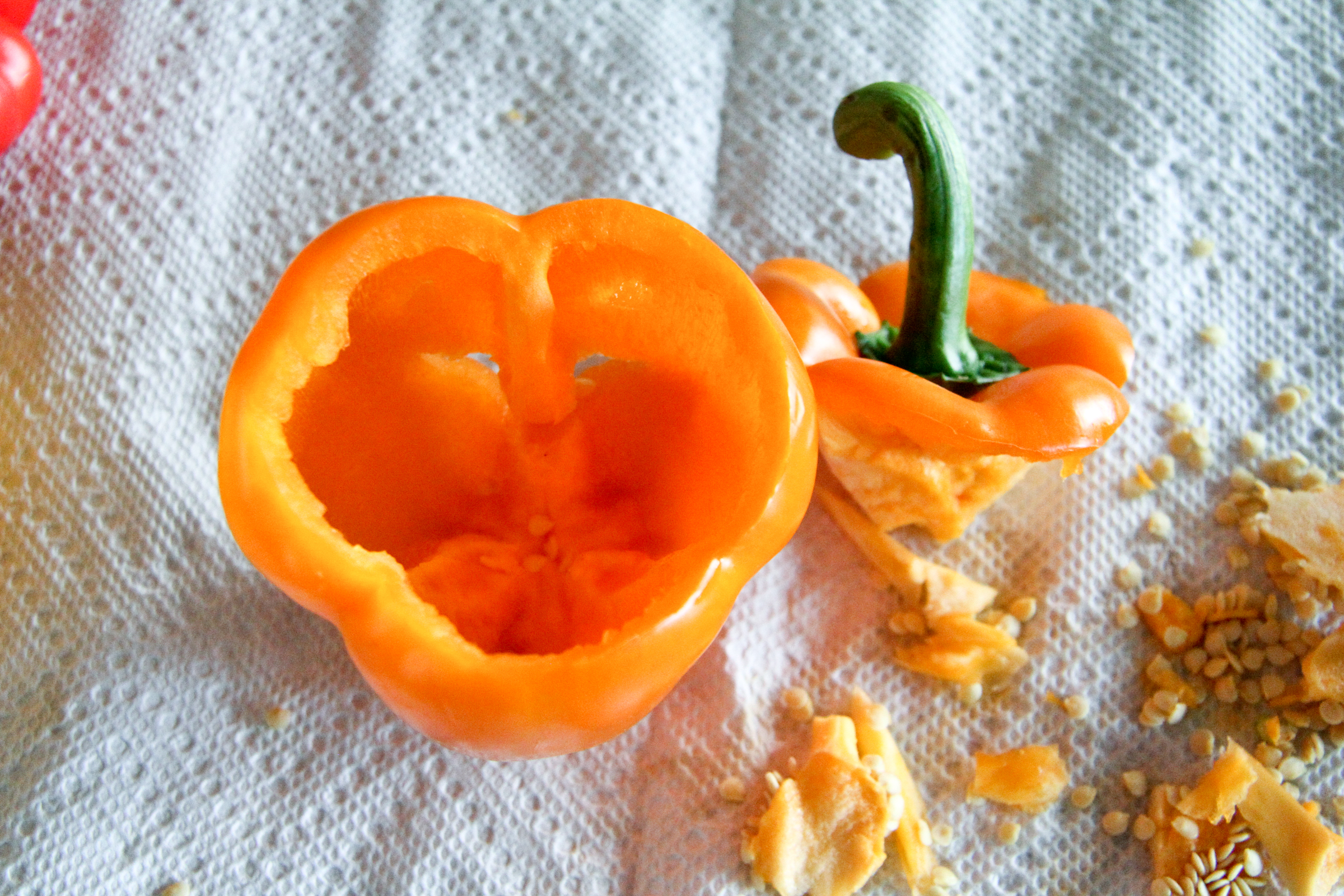 Line the insides with saran wrap.  This will ensure that the dips don't come squirting out of the faces.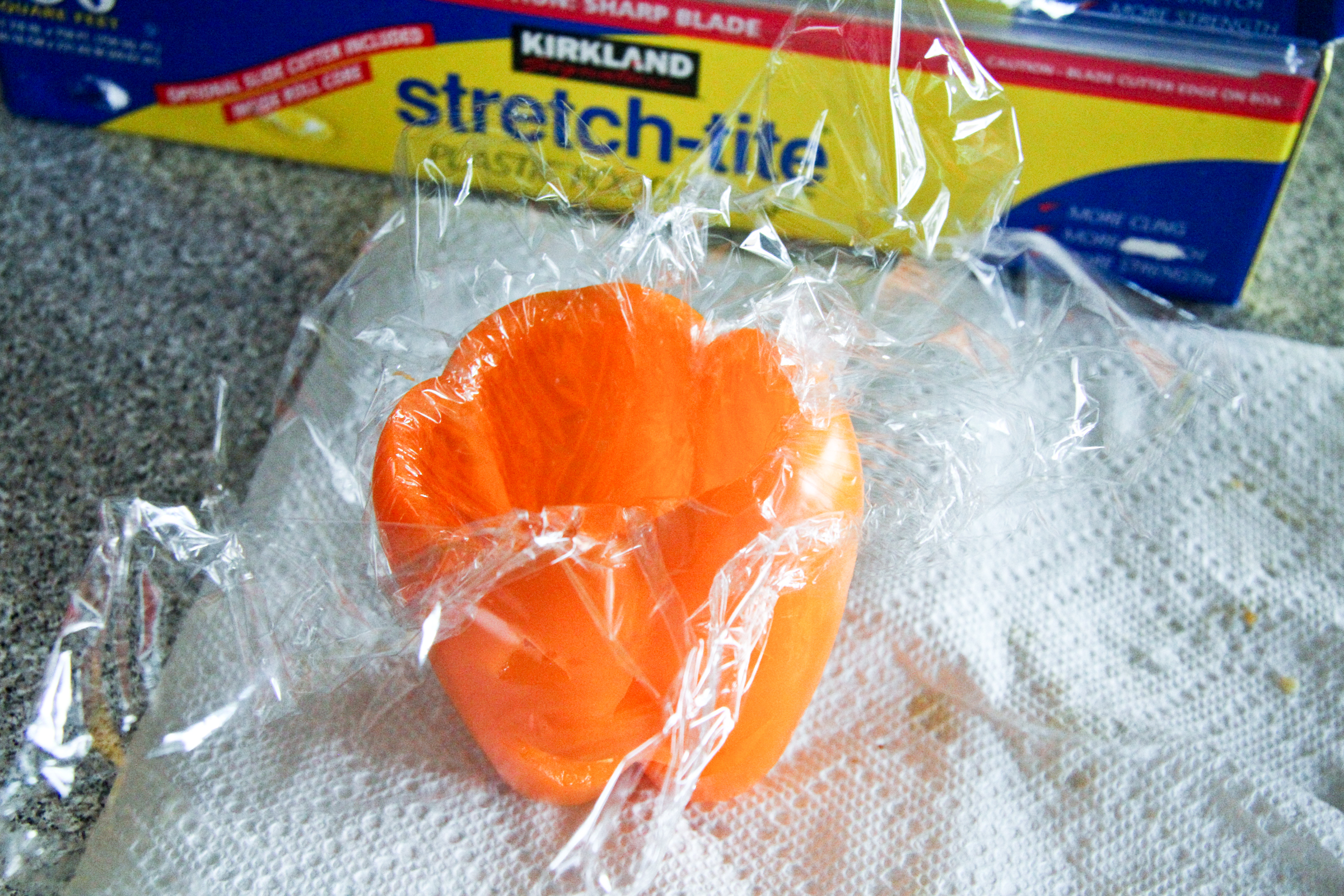 Repeat with all the peppers.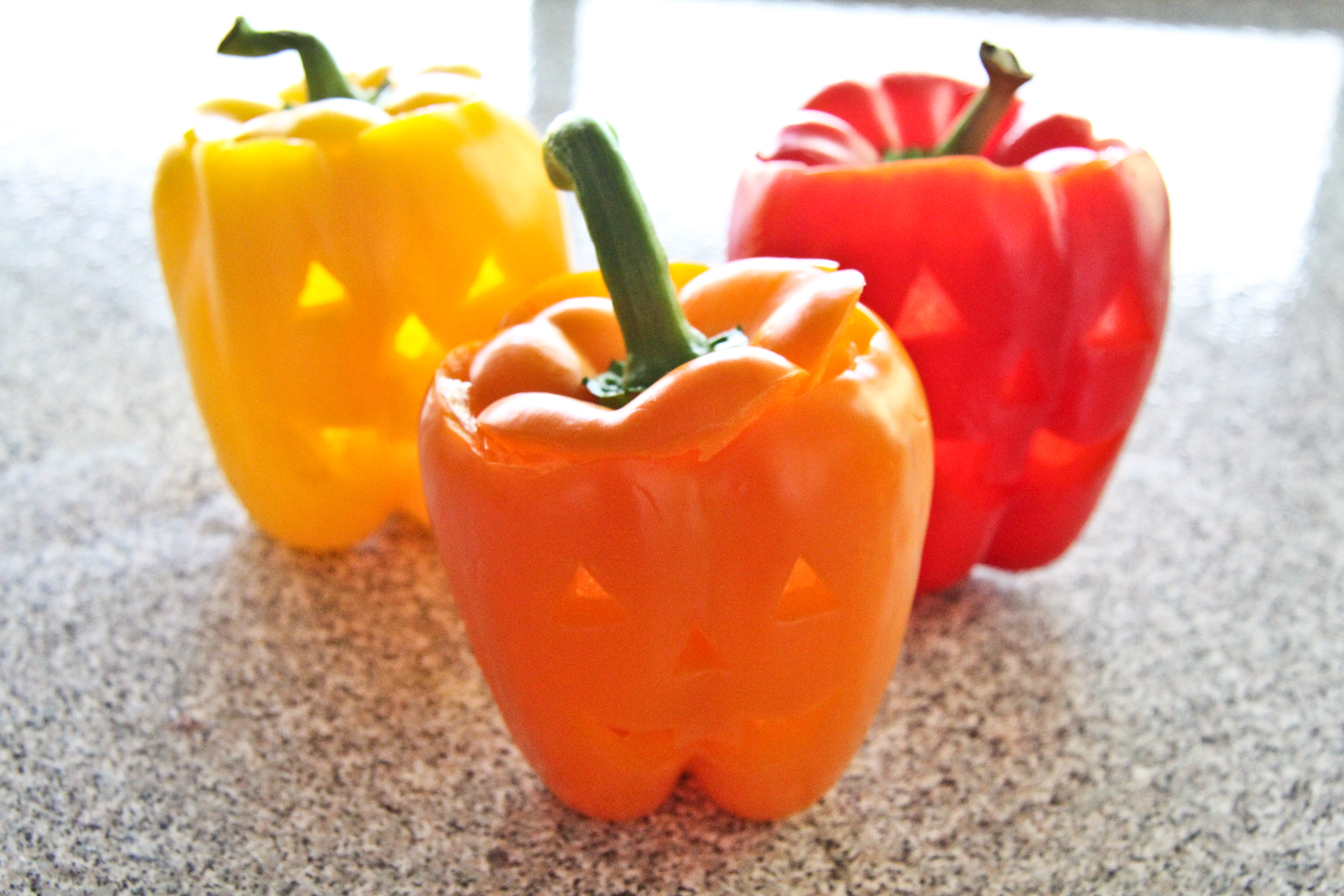 Move onto making the "slime" and "sludge" dips.  For the "sludge," drain one can of chickpeas and give them a rinse.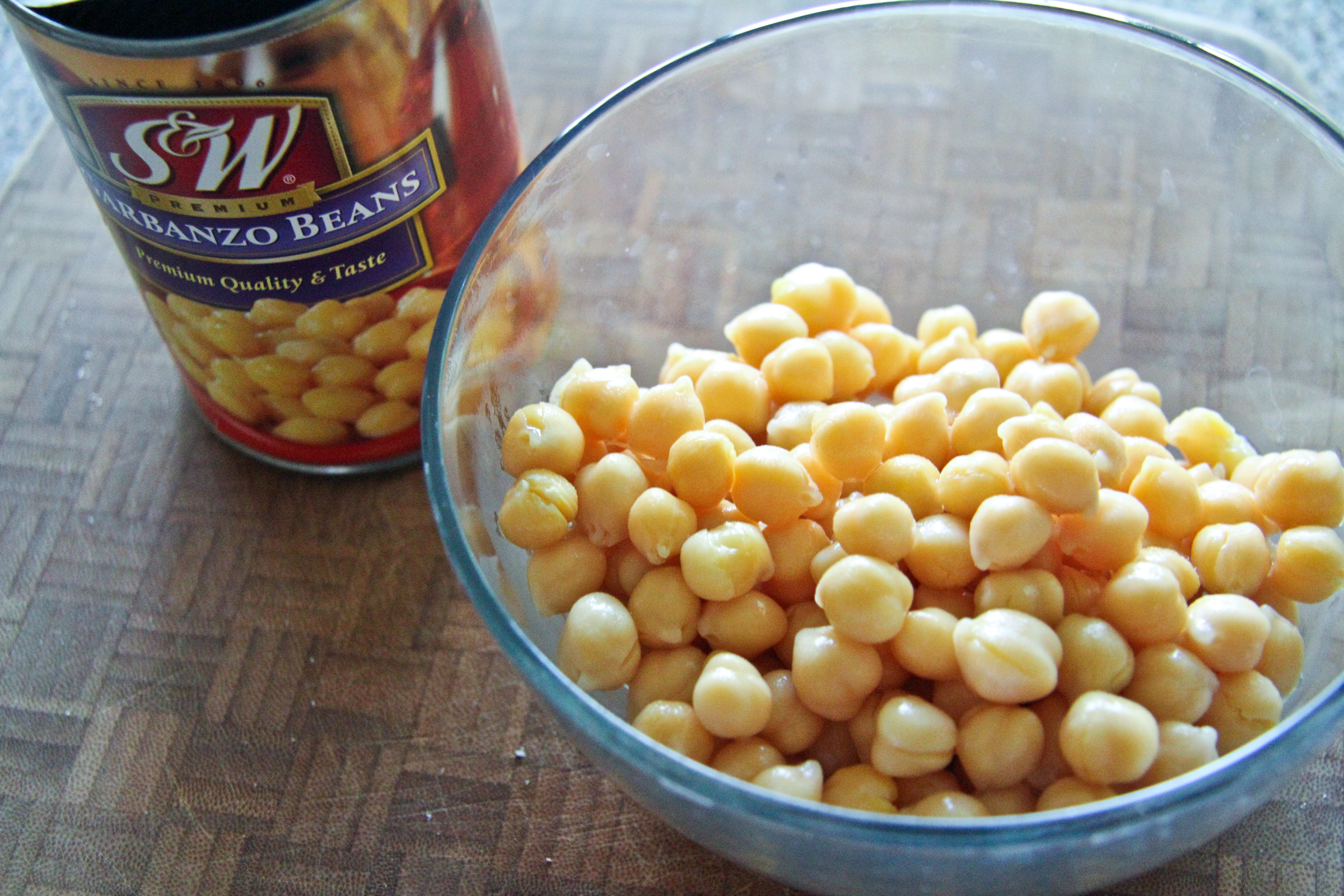 Add them to the bowl of a small food processor, along with the juice of half a lemon, and a 1/4 teaspoon each of kosher salt and black pepper.  Coarsely puree the chickpeas.  Then add 4 tablespoons of olive oil and whiz it again until smooth.  You've got sludge my friend.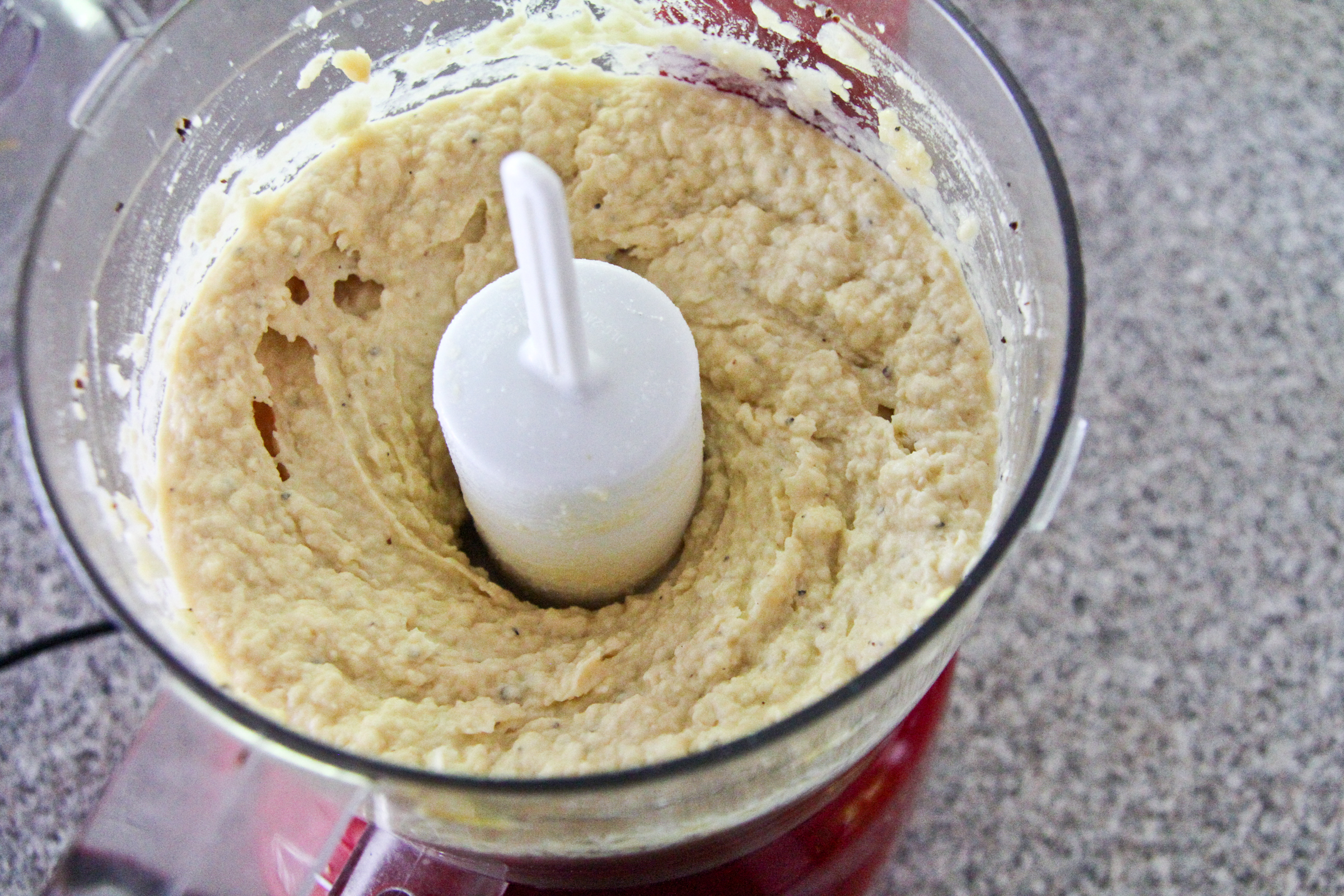 For the "slime," grab two ripe avocados, the juice of the other half of that lemon, and a 1/2 teaspoon each of kosher salt and black pepper.
Give everything a whirl and there you have it.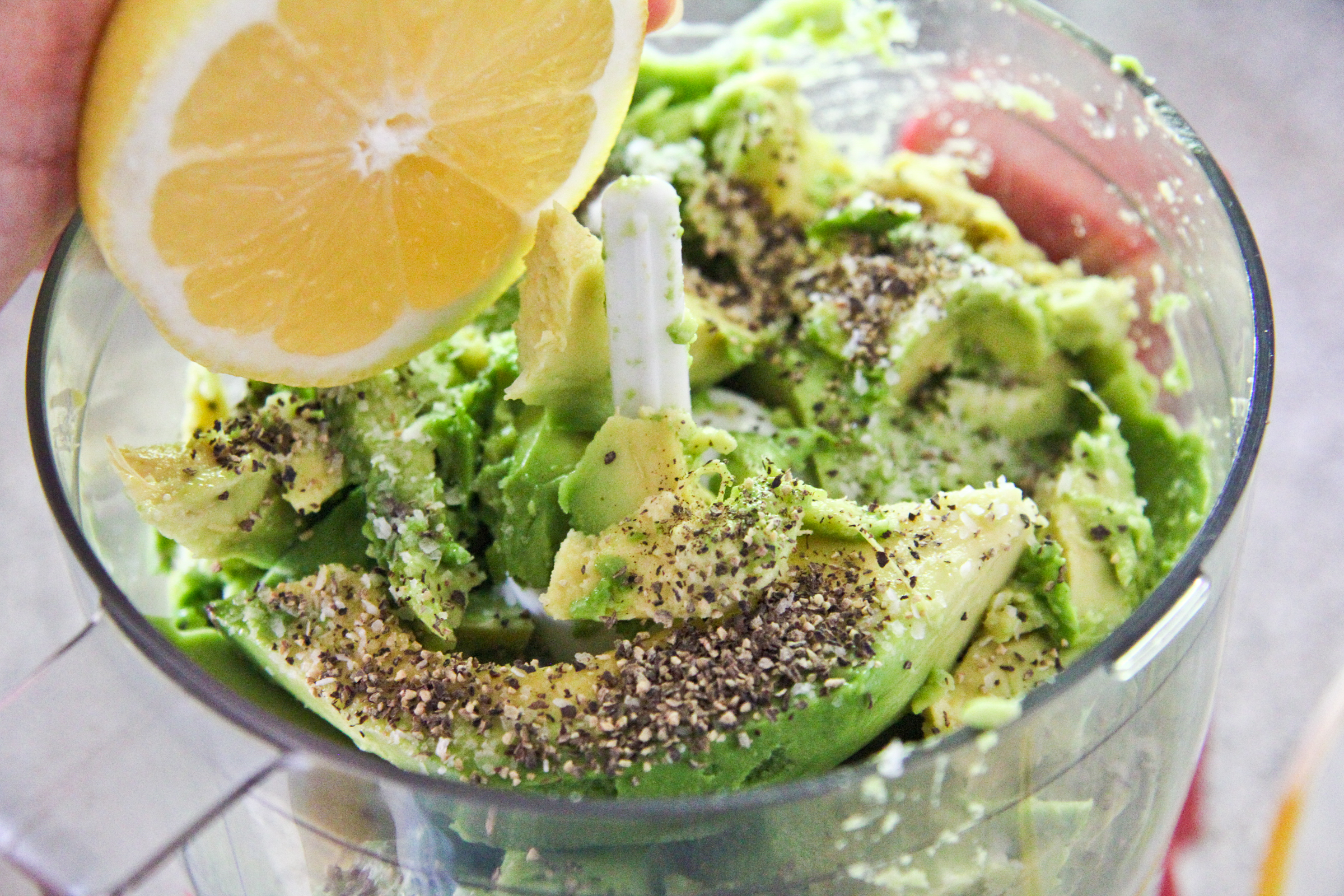 Creamy, dreamy and scream-y.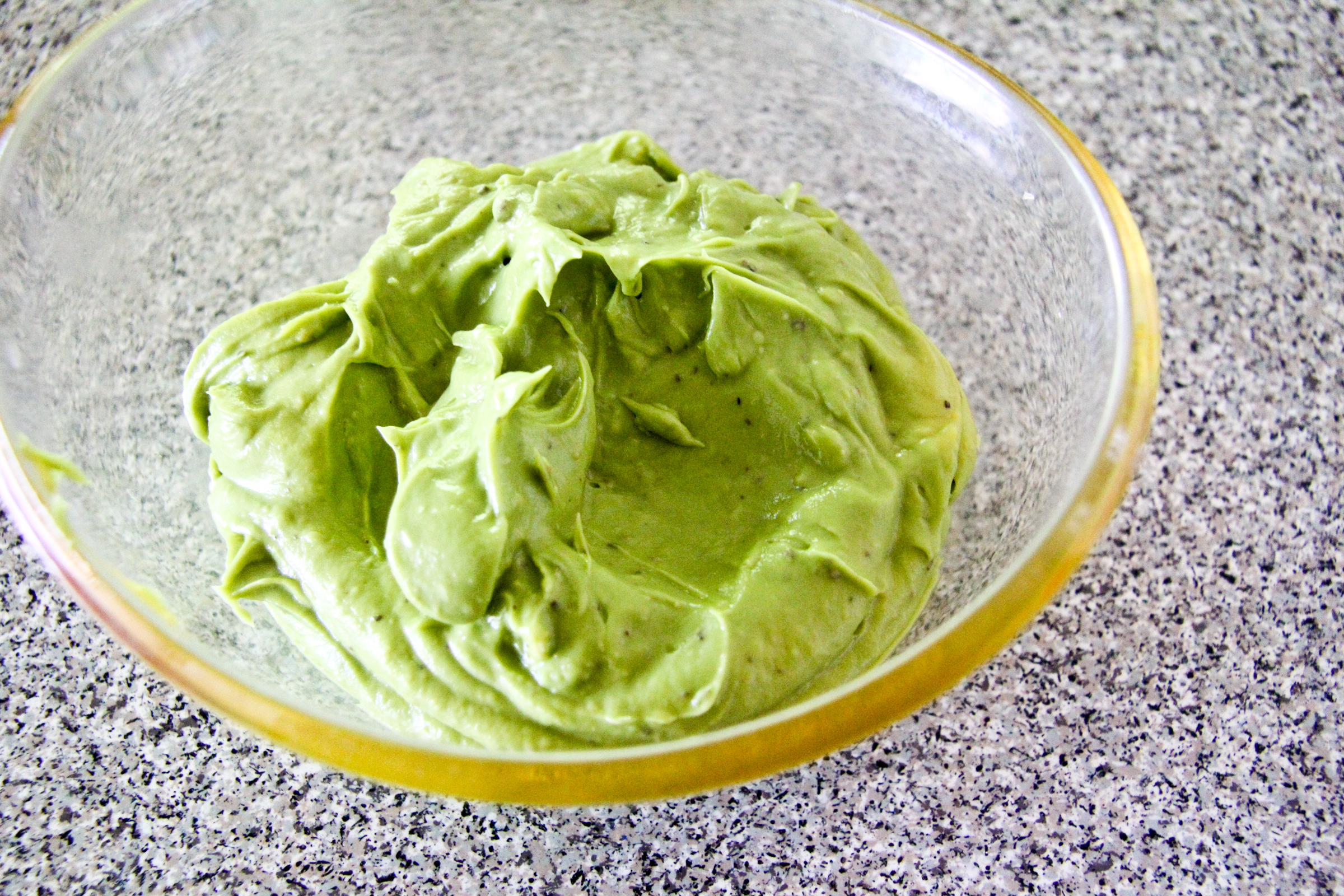 Fill each of  your pepper jack-0-lanterns with the dips.  You can use store bought Ranch dressing for the last pepper.  No need to make things more complicated.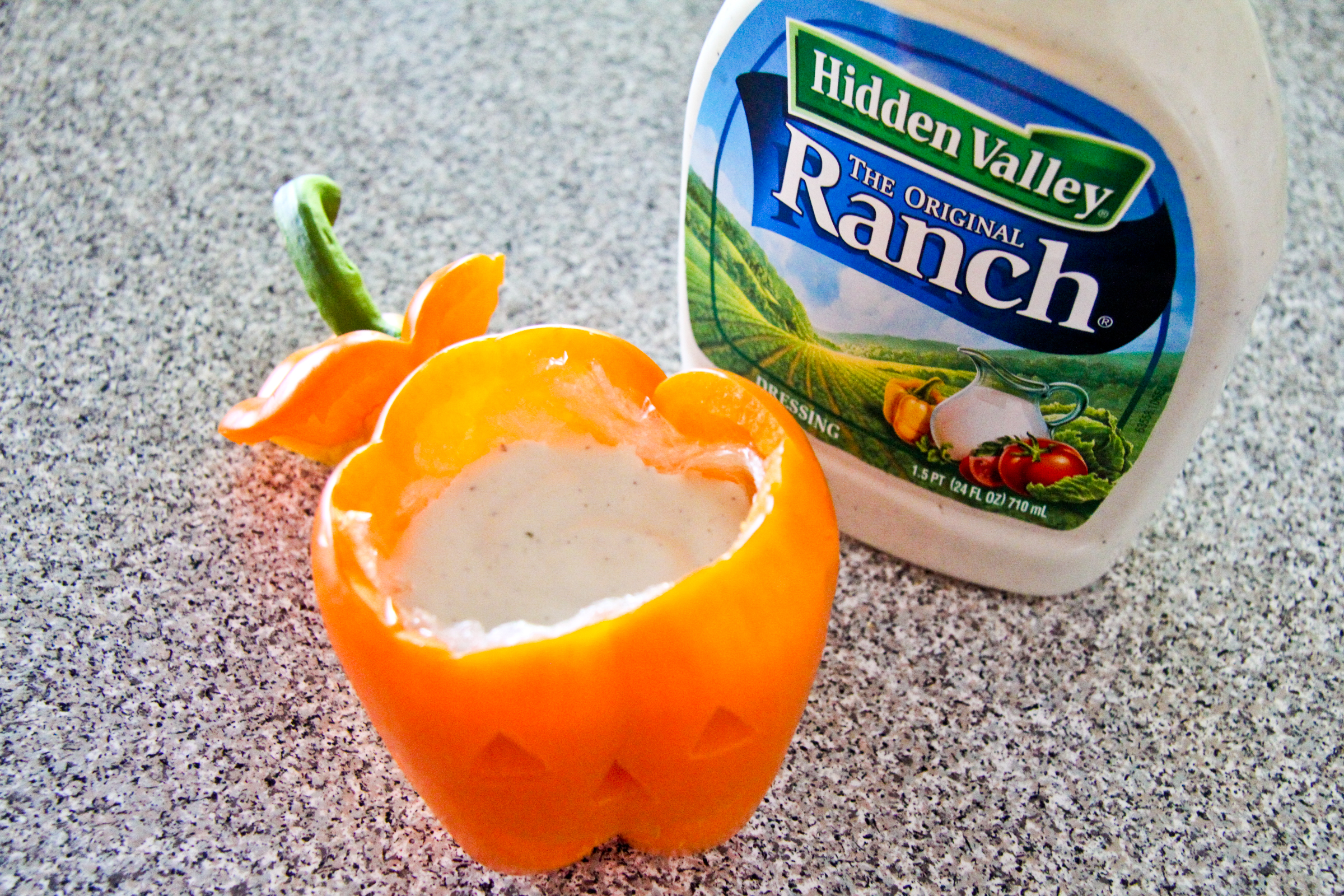 All of these dips are good with veggies, but the slime and sludge taste extra delicious smeared on a tortilla bone.  You can use any kind of tortillas that you like, but I like the flexibility of flour tortillas.  If you have a bone-shaped cookie cutter, by all means, save yourself some time and stamp away.  But if you don't, then simply make a template of a bone out of a note card or piece of card stock like I did.
Then use a pairing knife to trace around your template.  If you're feeling daring, you can even stack a few tortillas on top of one another and cut out two or three at a time.  I wasn't feeling that gutsy.  Yes, it took me a long time to do. You can do this the day before and keep them in a Ziplock bag until you're ready to bake them the next day.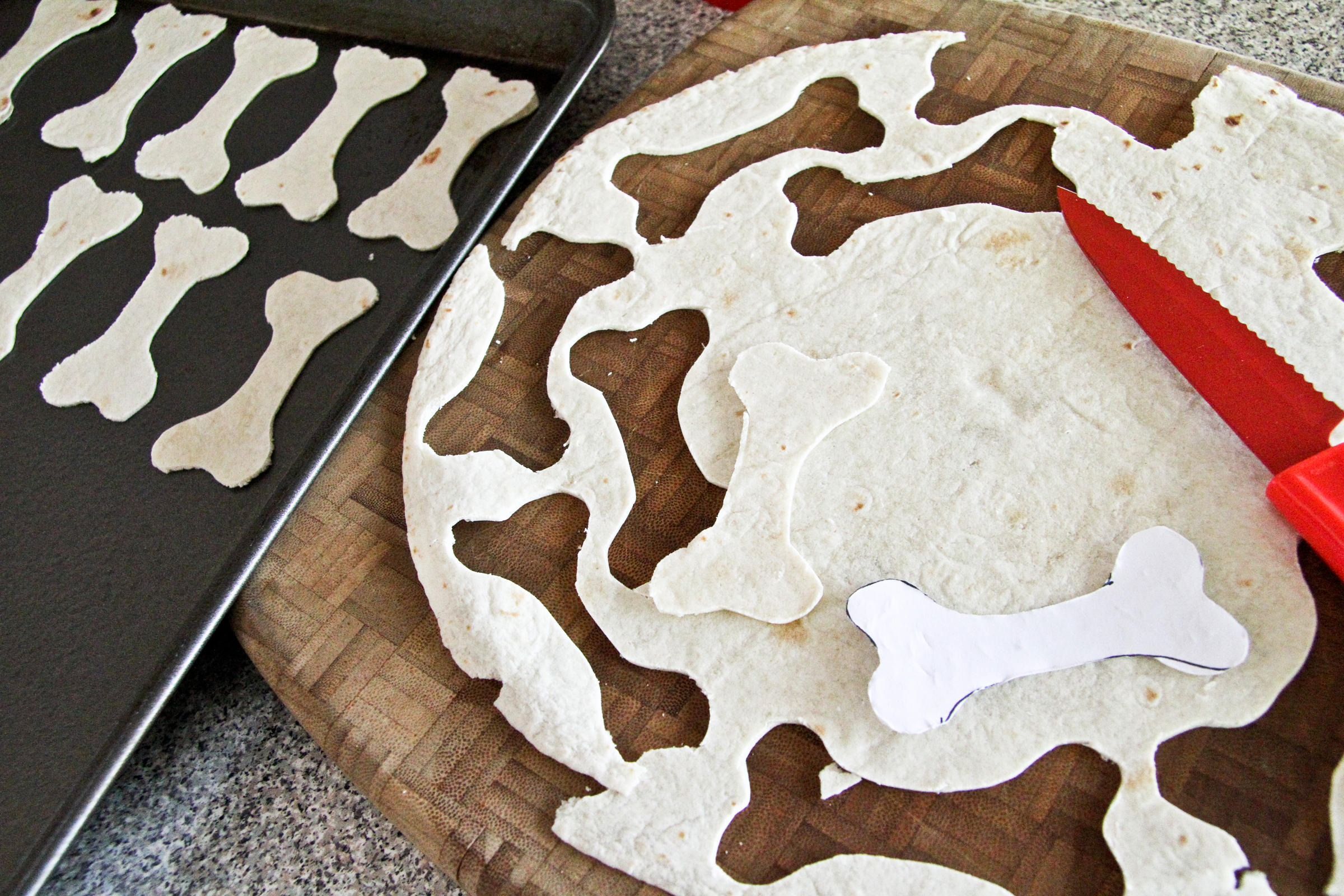 Spray a baking sheet with some PAM, and place the tortilla bones in a single layer.  Generously spray the bones again.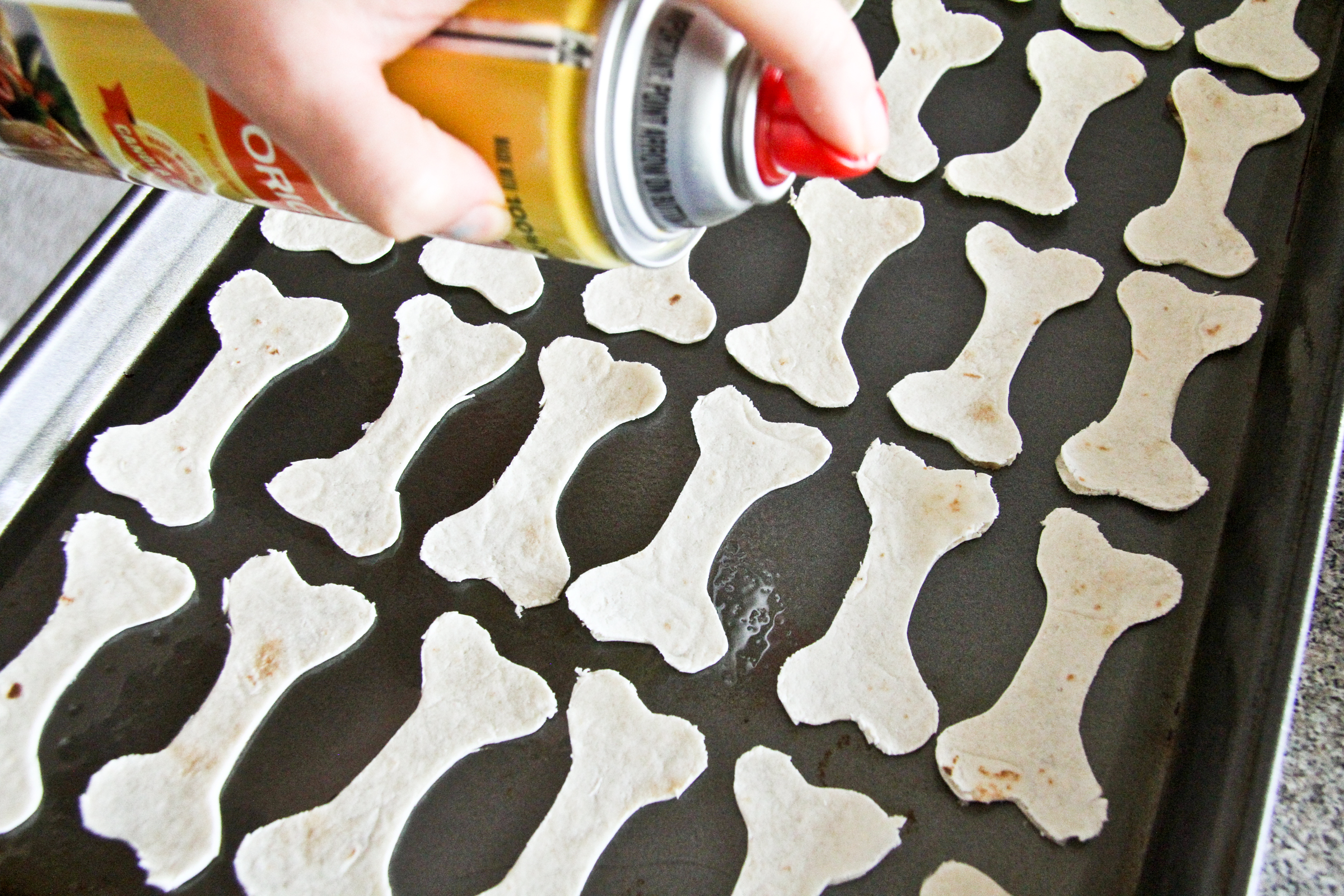 Use a light stingy hand to sprinkle some kosher salt on top.  Go easy.  You don't want your guests gagging on salty bones!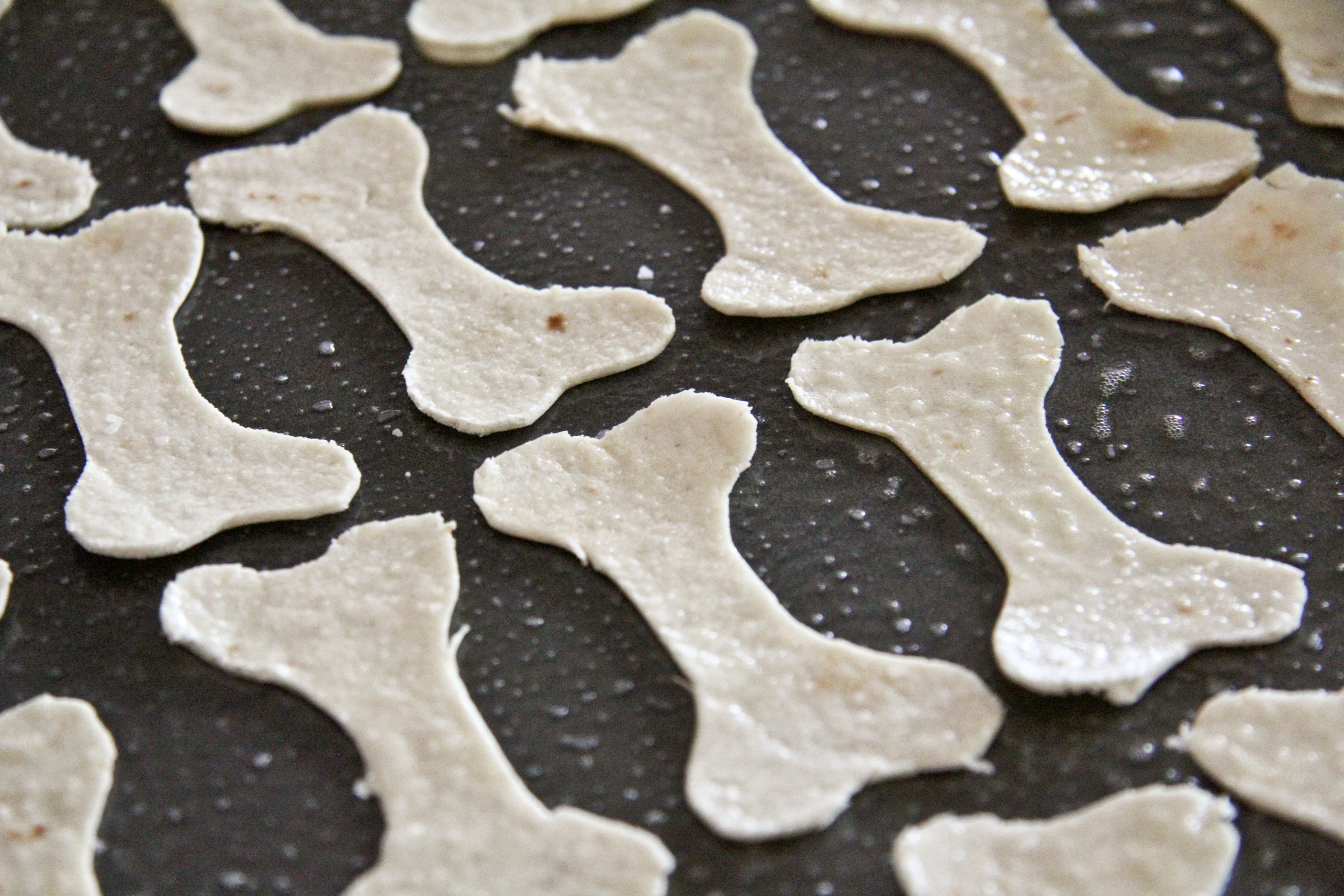 Bake them in a pre-heated 400 degree oven for 2-3 minutes, depending on the sizes of your bones.  Mine took about 2 1/2 minutes per batch.  You don't want your hard work to burn, so it's best if you hover over the oven and check up on them after every minute.  They can go from "not brown enough" to "burnt to a crisp" in an instant.  They're ready when they're light brown on the edges and crisp to the touch.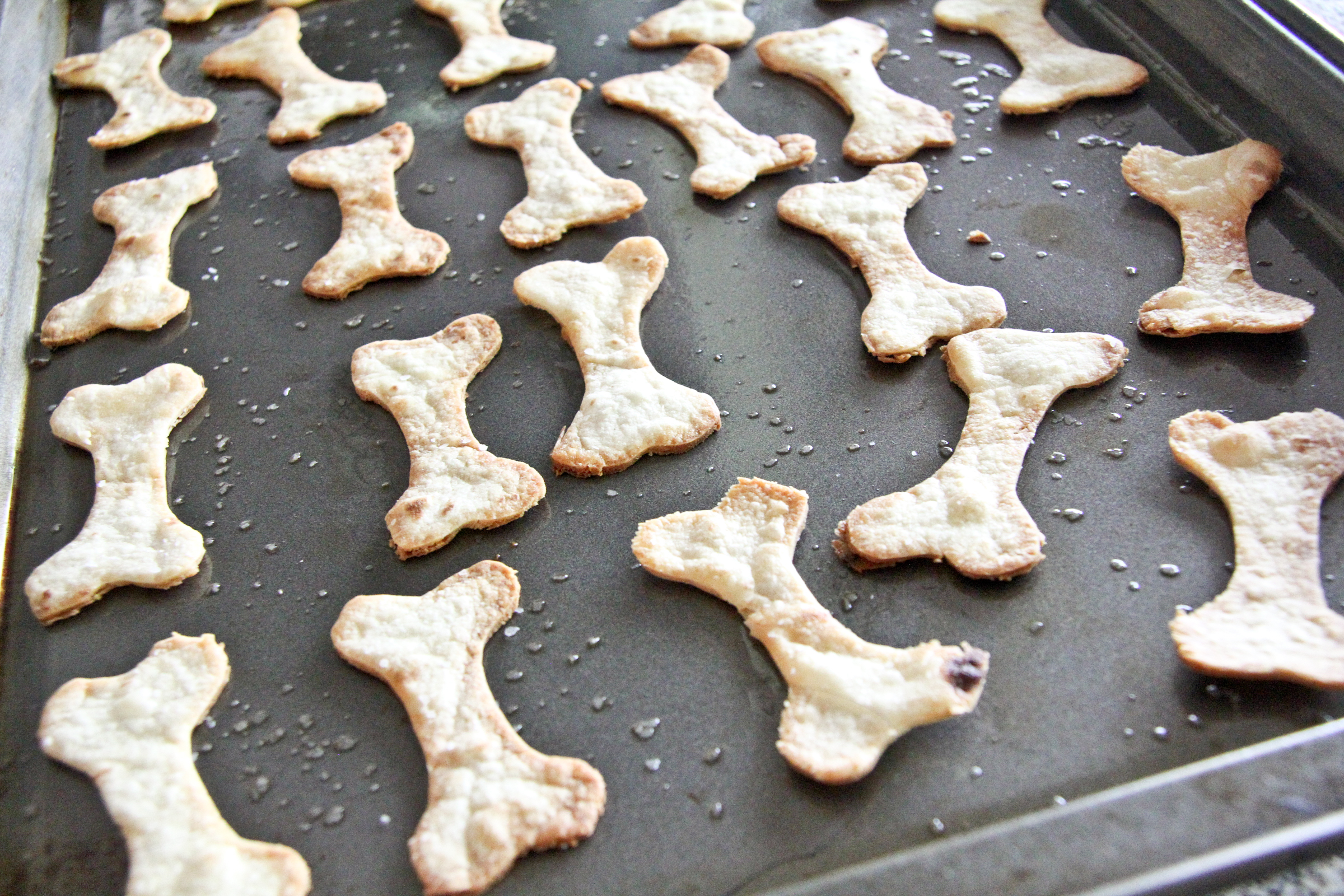 You can use an old strawberry basket lined with a green napkin to hold your bones.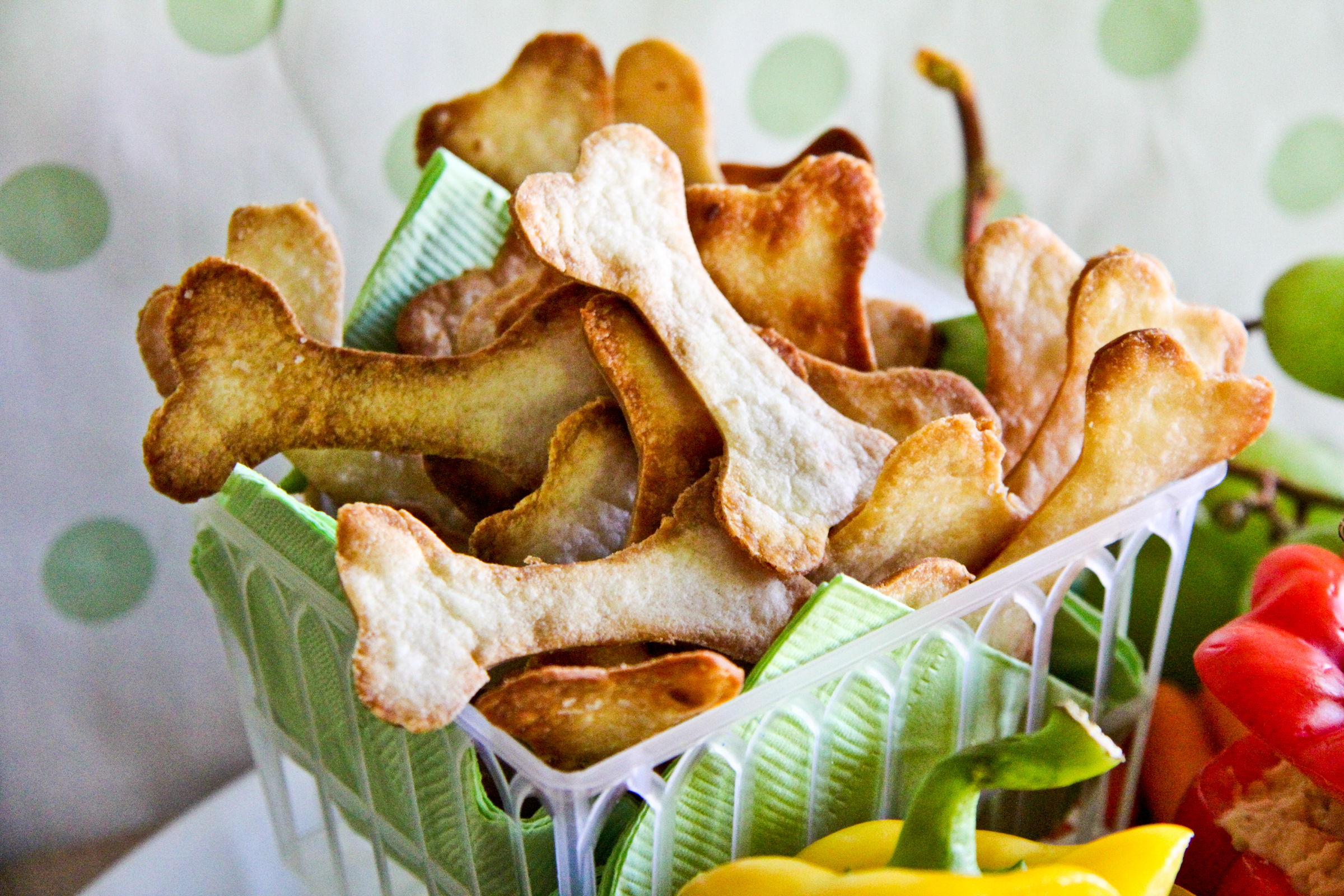 Place your basket of bones on the tray along with the veggies and dip, then wait for your guests to arrive.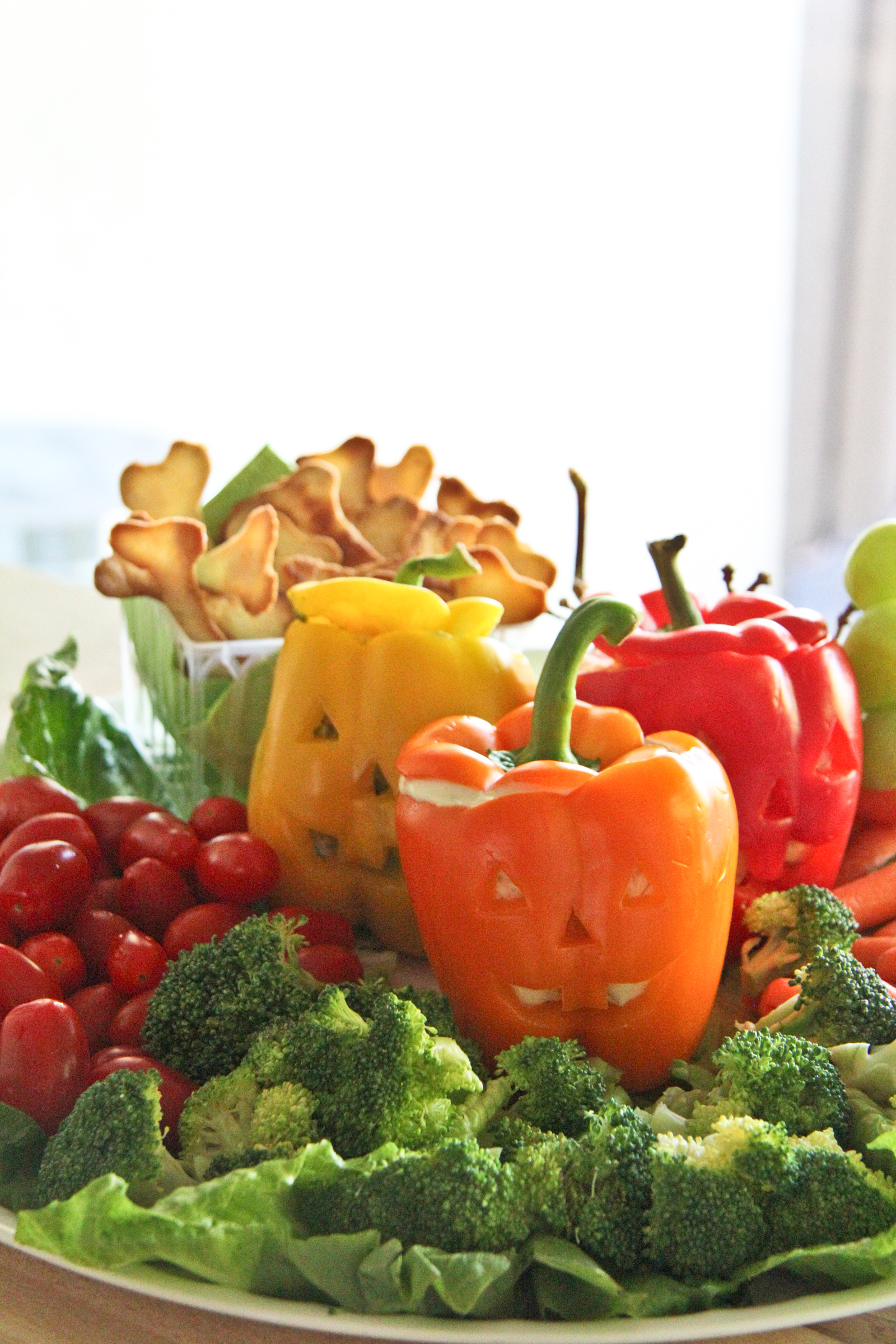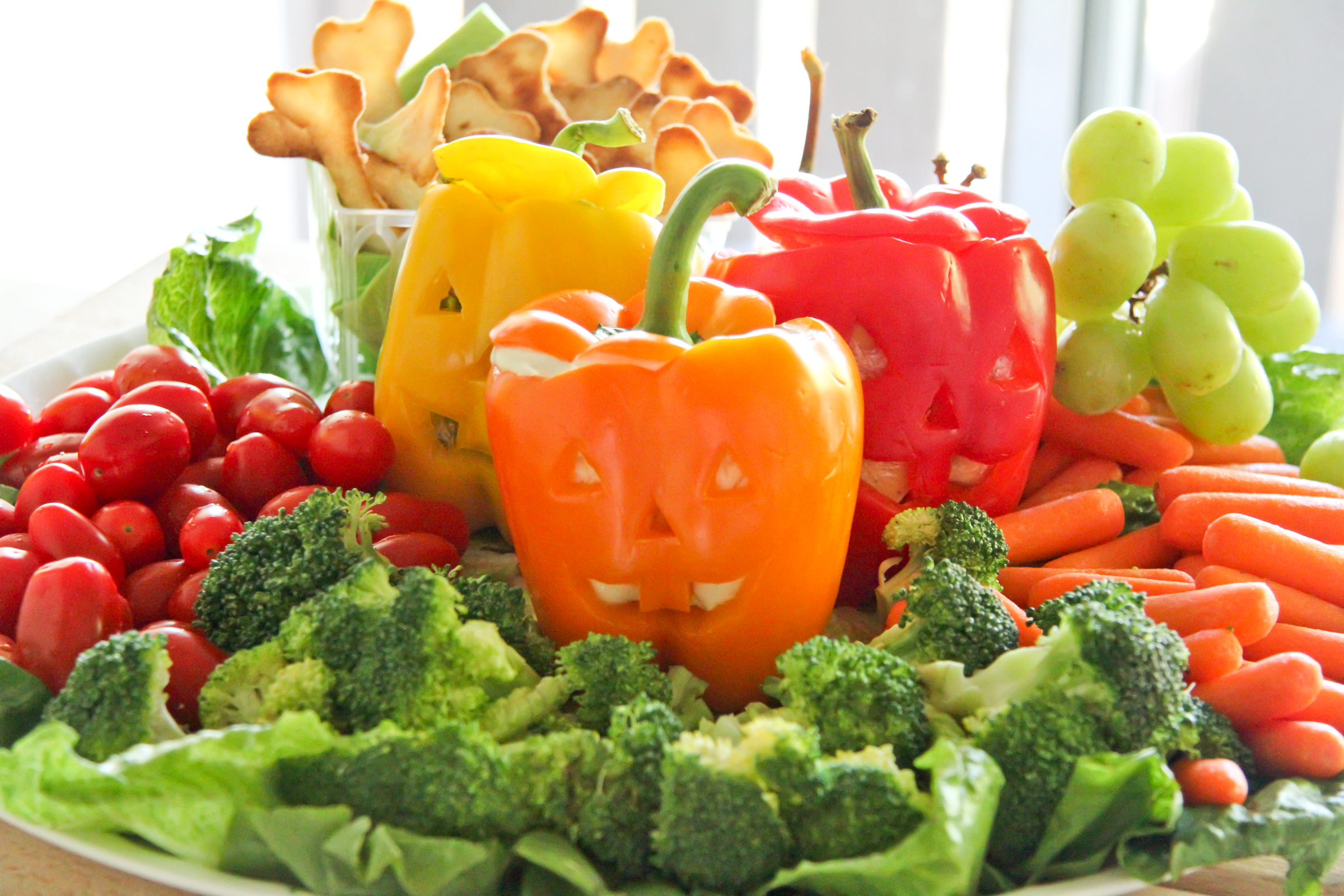 Remove the tops of the peppers when everyone's ready to dive in and dunk!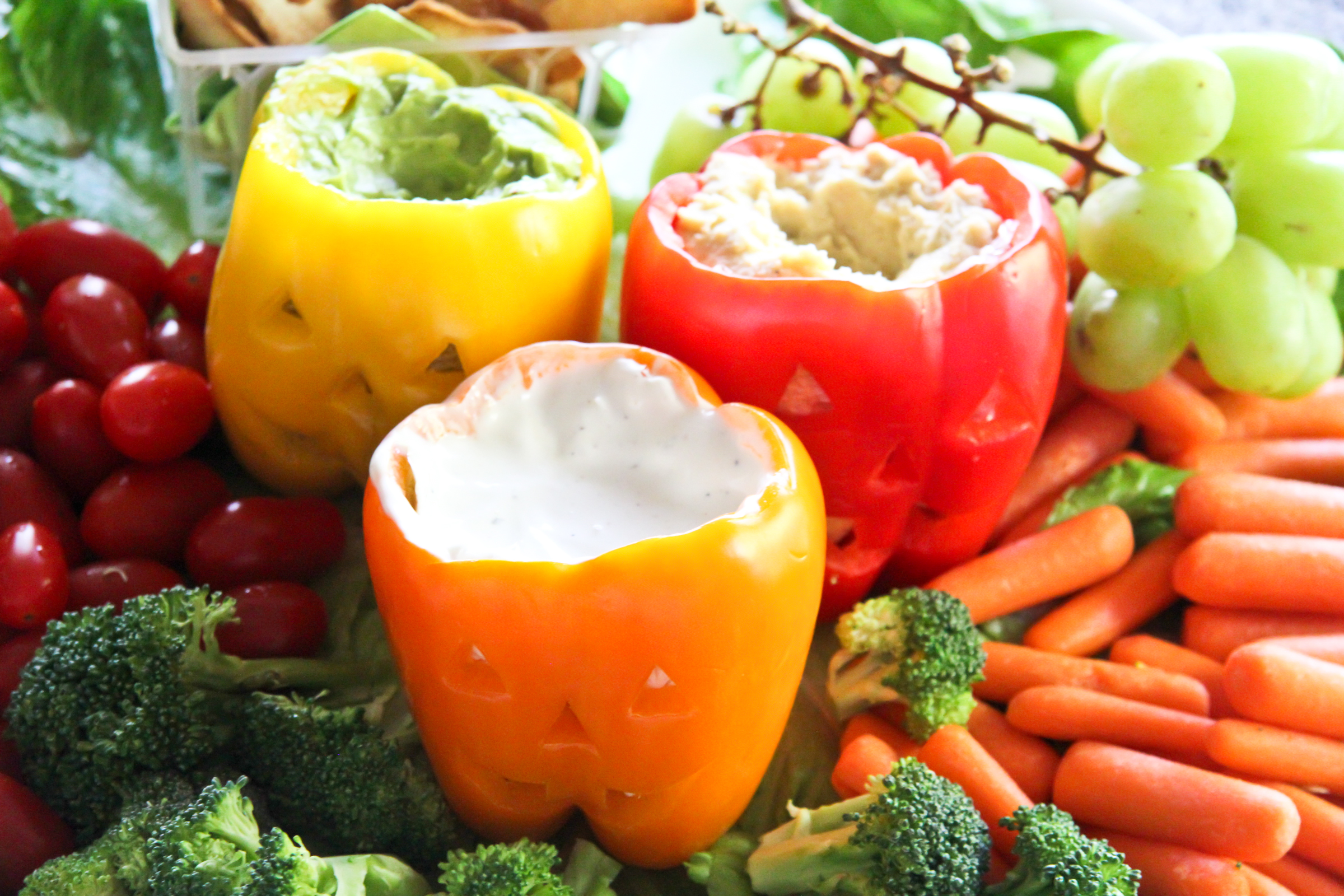 Your friends will have fun trying all the different dips and be amused by your cute homemade chips.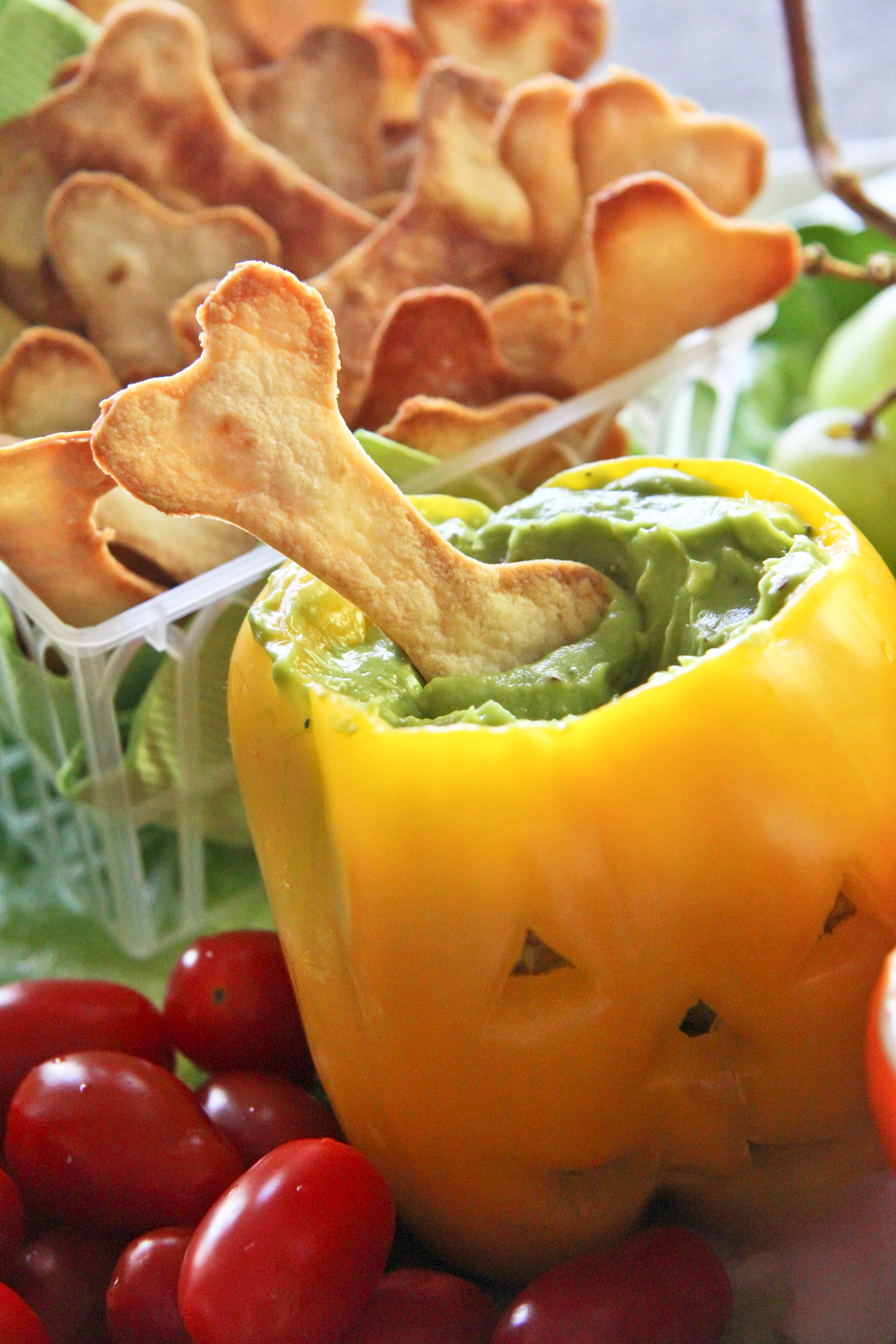 But if they're really craving something sweet, throw them a "bone" and bust out the candy… hey it's Halloween after all!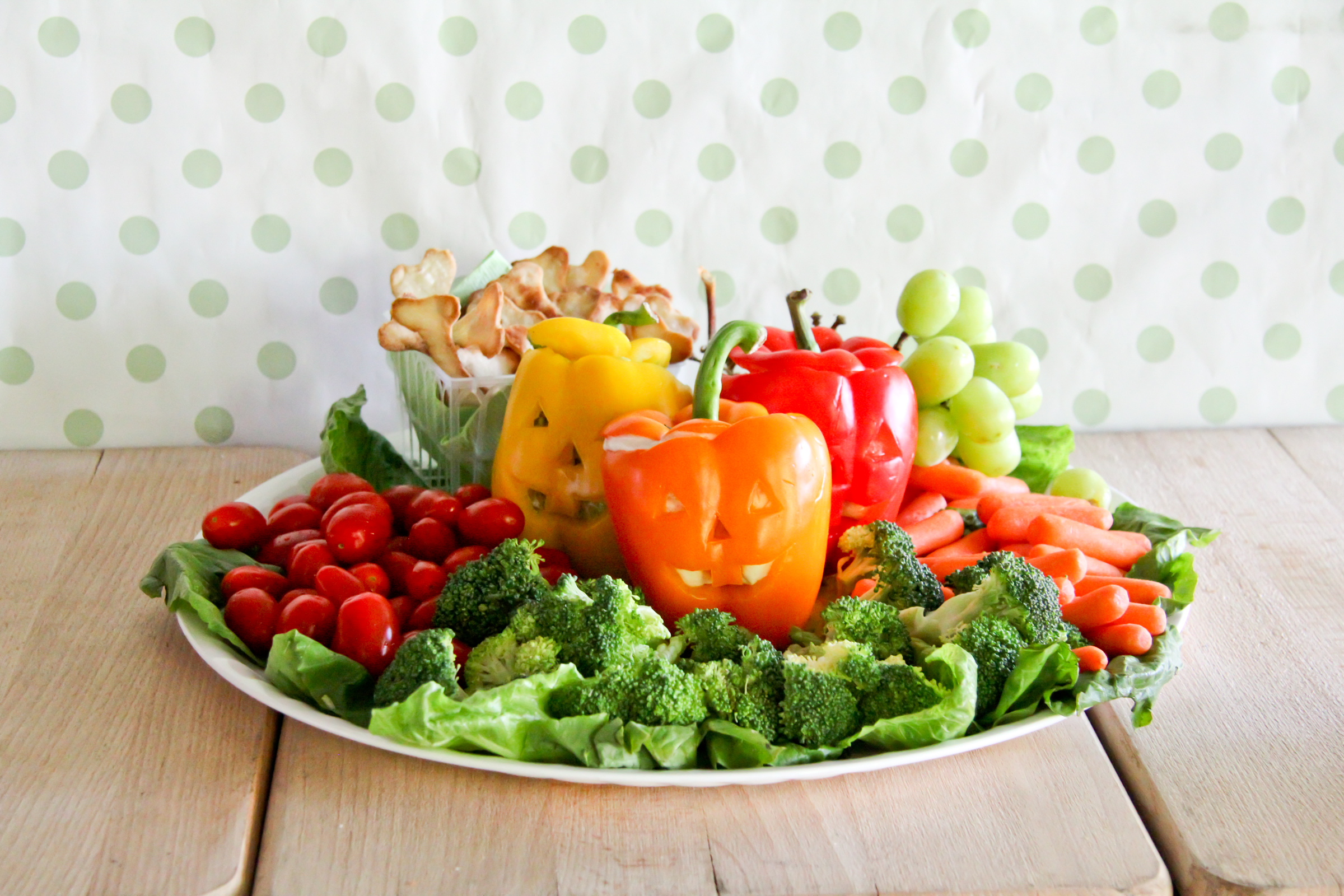 So what are your plans this year?  Whatever you do, have a safe, healthy, and happy Halloween!

A Healthy Halloween Party
Have a healthy Halloween with these cute pepper jack-o-lanterns.
Ingredients
You will need
1 red bell pepper
1 yellow bell pepper
1 orange bell pepper
Saran wrap
Small pairing knife

For the "Slime" (Avocado Puree Dip)
2 ripe avocados
½ teaspoon each kosher salt and pepper
Juice of ½ a lemon

For the "Sludge" (Chickpea Puree Dip)
One 15 ounce can of chickpeas, drained and rinsed
¼ teaspoon each kosher salt and pepper
Juice of ½ a lemon
4 tablespoons olive oil

For the Tortilla Bone Chips
Flour tortillas
Bone shaped cookie cutter or template cut from a notecard
Baking sheet
Nonstick spray
Kosher salt
Instructions
For the Pepper Jack-o-lanterns
With the pairing knife, carve faces out of the peppers.
Cut off the top of the peppers. Remove all piths and seeds. Save the tops.
Carefully shave off a thin layer of the bottoms of the peppers to make them level.
Line the inside of the peppers with saran wrap to prevent dips from coming out of the faces.
Fill each one with a different dip, such as bottled Ranch dressing, "Slime"- avocado puree dip, and "Sludge"- chickpea puree dip. Serve with assorted vegetables, grapes, and tortilla bone chips.
For the "Slime"
In a small food processor, puree all the ingredients together until smooth and creamy. Taste, and adjust seasoning if necessary. Spoon into one of the pepper jack-o-lanterns
For the "Sludge"
In a small processor, puree the beans first with the salt and lemon juice. Add the olive oil and puree again until smooth. Taste and adjust seasoning if necessary. Spoon inside one of the pepper jack-o-lanterns.
For the Tortilla Bone Chips
Cut out the bone shapes from the tortillas using the cookie cutter or tracing around the template with a pairing knife.
Spray the bottom of the baking sheet with the nonstick spray. Place bones on top in one even layer, then spray the bones again. Sprinkle very lightly and evenly with kosher salt. Do not over-salt.
Bake in a preheated 400 degree oven for 2-3 minutes, depending on how big the bones are and how hot your oven gets. Hover over the oven and check on your bones after every minute. You don't want to burn your hard work! The bones are done when the edges are golden brown and crisp. Serve with the dips.