Chicken Orzo Soup
When we moved to Southern California, we did not sign up for triple digit weather AND humidity.  It's been crazy hot here lately, but I think it's slowly starting to cool down now.  So in the spirit of the hopefully soon-to-be chilly weather, I thought I'd give you a good ol' chicken soup recipe.  This is another one of my "non-recipes" as it is made from store bought chicken stock and chunks of rotisserie chicken.  But if you want chicken soup for your soul with minimal effort, this is the way to go.  
The key to this soup is dill.  It adds such a distinct flavor.  If you have fresh dill, then that's even lovelier.  But if you only have dried on hand like me, it's perfectly fine.  Or if you don't have dill at all, don't let that stop you from making this soup.  Just don't use it… no big dill!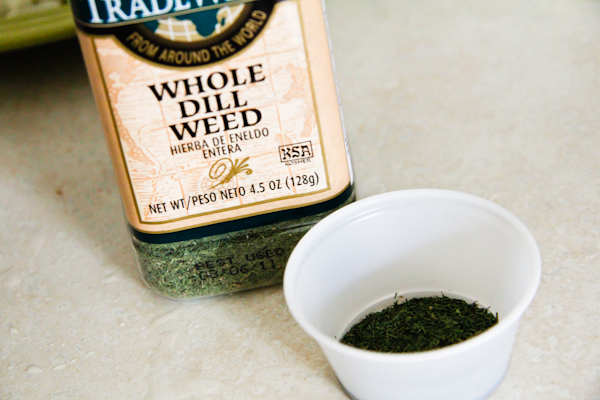 Orzo looks like rice, but it's actually pasta.  I use it often, like in my orzo salad with roasted tomatoes recipe.  Using orzo makes this soup like a cross between chicken noodle and chicken and rice soup.  It's thick, hearty, and comforting.  If you want the soup to be more brothy, and less hefty, then add only ¼ cup of orzo instead of a ½ cup.
Next, remove the skin and bone from some store-bought rotisserie chicken and dice or shred up the meat, until you have about 2 cups worth.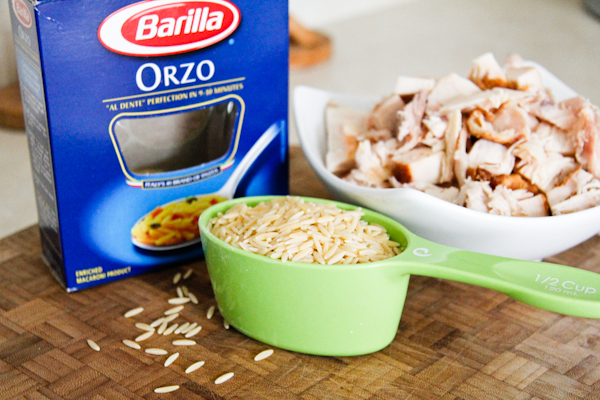 You chop up some carrots.  I've already mentioned a few times that I adore buying baby carrots and using them in place of regular carrots.  You don't have to peel them and they're already bite-sized.  So you just have to give them a quick chop.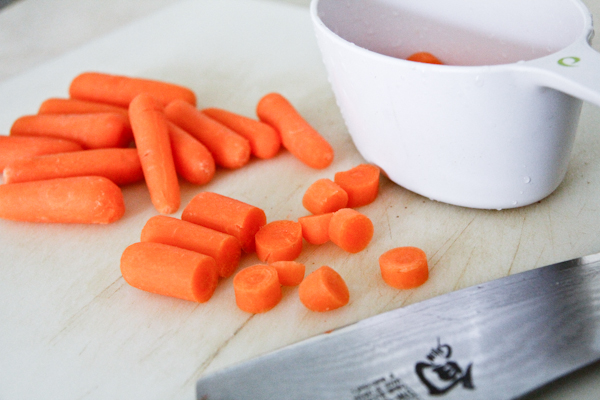 Dice up some celery and onions as well, so that they're the same size as the carrots.
In most cases, I like to use reduced sodium chicken stock, but in this case, I prefer to use the regular kind and just dilute it with a little water.  I find the overall taste of the soup is richer and more flavorful this way.
This is how I really like to cook.  I prep everything out onto a plate or bowls so it's ready to go.  Then the cooking part is easy and effortless.
Grab a soup pot and saute your veggies in a little olive oil, salt, and pepper.  Once the veggies are translucent and slightly softened, you add the chopped chicken.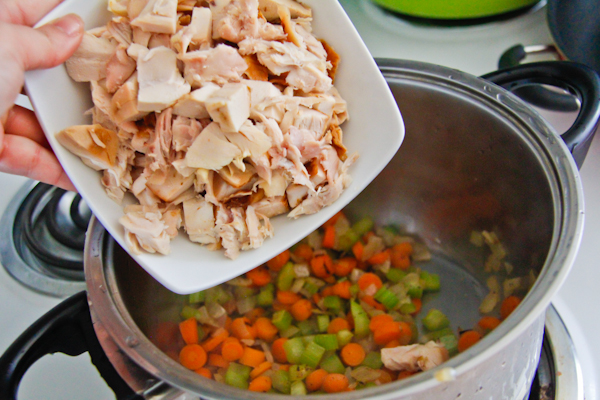 Toss in the dill.  Your kitchen will instantly become so fragrant.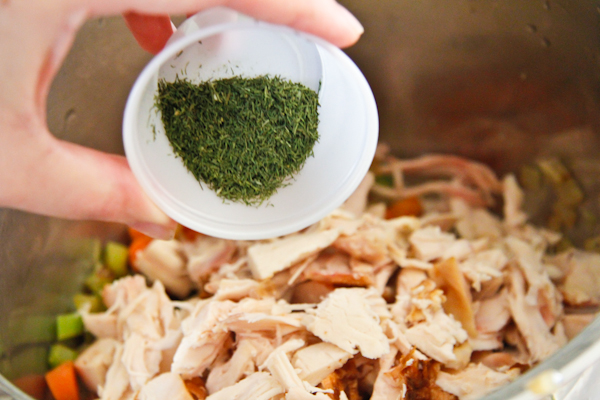 Then all that's left is to add the stock.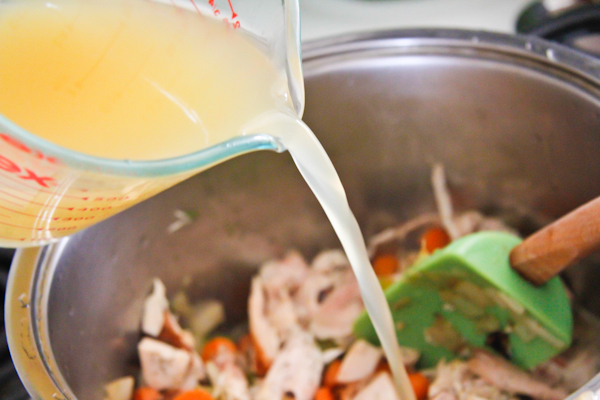 And a little water.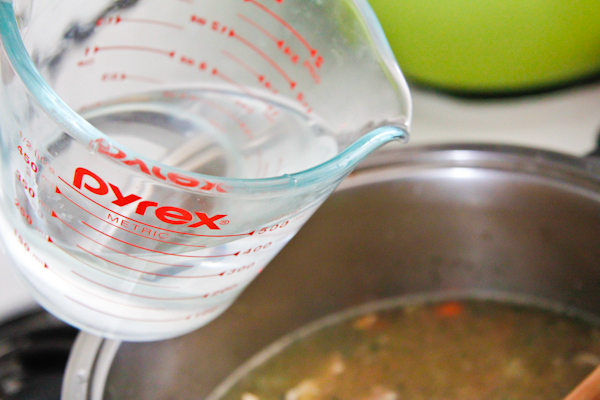 Once everything comes up to a rolling boil, you pour in the orzo.  Cook the soup for about 9 minutes or until the orzo is al dente.  Stir occasionally so the orzo doesn't stick to the bottom of the pot.  The starches from the orzo will make your broth a little thick and almost creamy.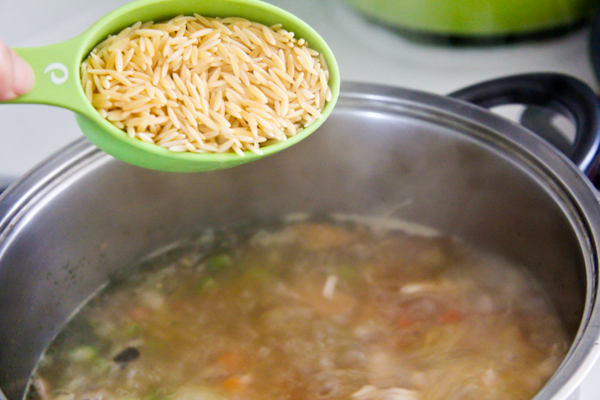 And that's it.  Ladle up your soup and enjoy your hearty bowl of happiness.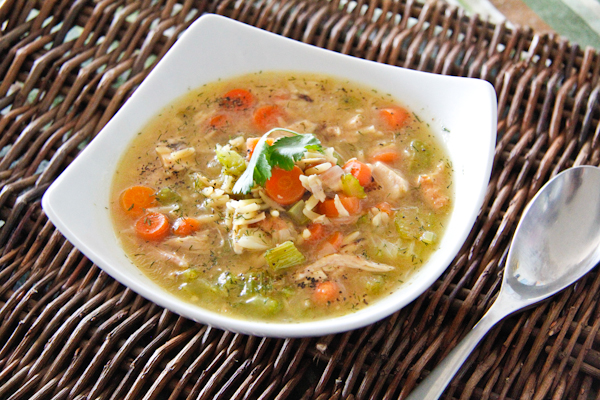 This chicken orzo soup is PERFECT when you have a cold, when you had a bad day, or you just want a little hug in your stomach.  It tastes even better when you eat it curled up on the couch, watching TV.  Hope it starts cooling down soon.  I'm ready for some soup!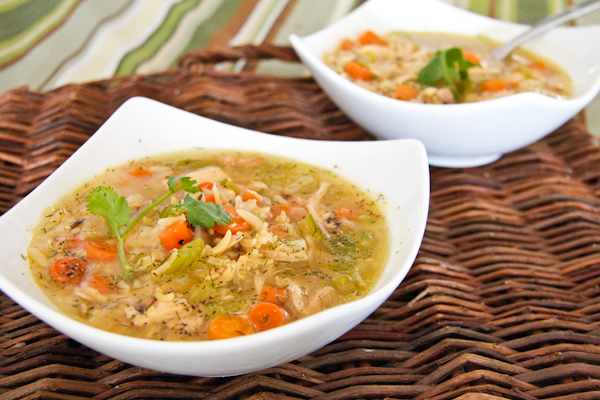 Chicken Orzo Soup
This chicken soup is comforting, satisfying, and easy to make.
Ingredients
1 tablespoon olive oil
1 cup diced carrots
1 cup diced onions
1 cup chopped celery
2 cups chopped or shredded rotisserie chicken, skin removed
1 teaspoon dried dill, or 2 teaspoons chopped fresh dill
4 cups chicken stock + 1 cup water
½ cup uncooked orzo (¼ cup if you want the soup to be more brothy)
Salt and pepper to taste
Instructions
In a soup pot, saute the vegetables in the olive oil and some salt and pepper until translucent and slightly softened.
Add the chicken and dill. Add the chicken stock and water. When it comes to a rolling boil, add the orzo and stir. Cook for about 9 minutes or until the orzo is al dente, making sure to stir occasionally. Taste and adjust the seasonings with salt and pepper if necessary. Serve hot!

TIP: If you want to have leftovers, it's better to cook the orzo separately in boiling water first. Then place the cooked drained orzo in the bowls and ladle the hot soup on top. That way the orzo wont bloat and get mushy as it sits in the whole pot of soup.