Chicken with Chickpeas and Arugula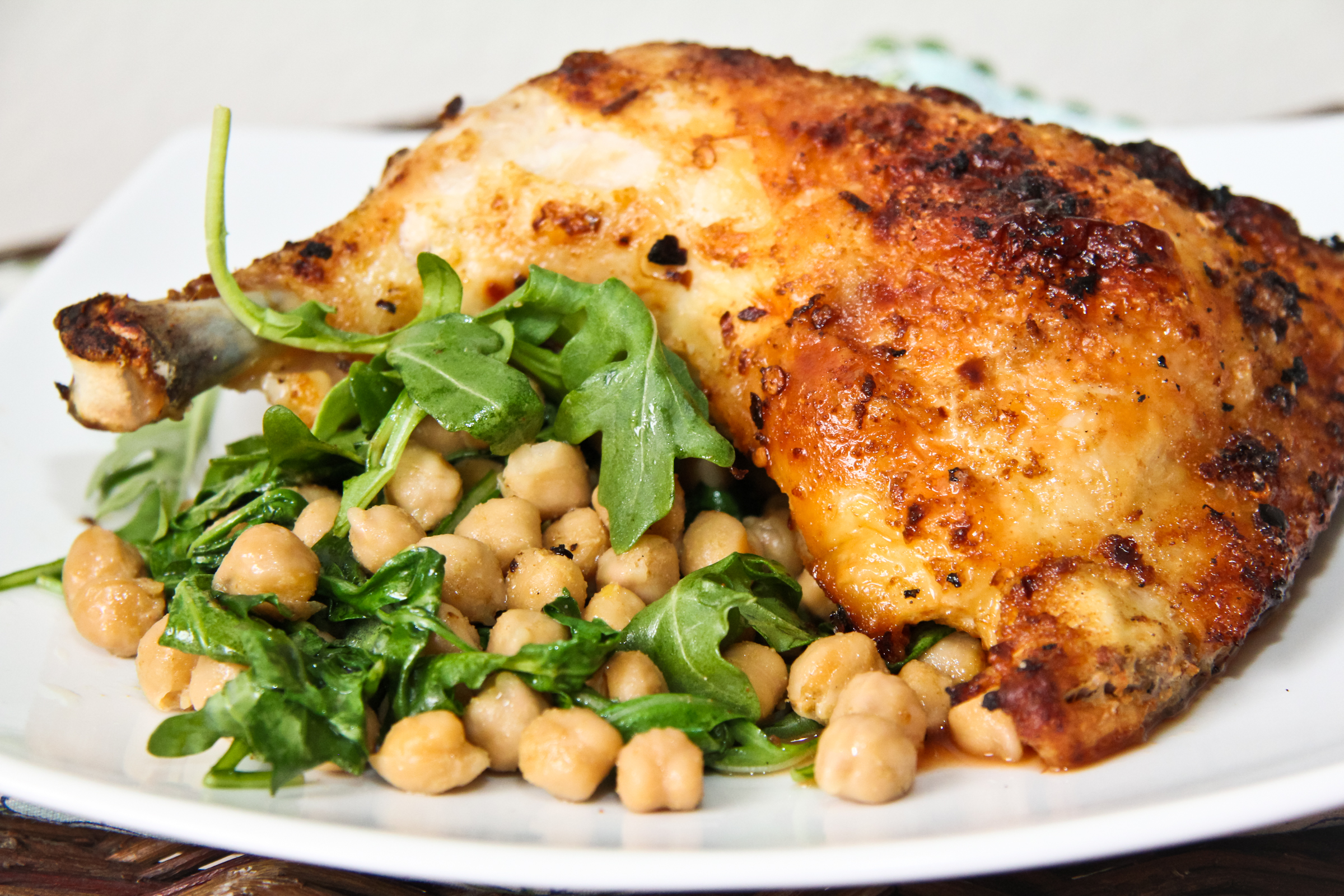 I try to eat low carb meals every now and then, even though I'm not on Atkins, South Beach, or any other kind of food-specific diet.  Come on now, I can't give up on my bagels, cookies, or pasta completely.  However, I do like to keep a couple low carb staples in my pantry whenever I feel like cooking something on the lighter side.  One of those staples is canned chickpeas!  
I was fortunate enough to work in the kitchen at a health and weight loss center in LA for a few weeks.  The one surprising ingredient that we would utilize for our clients' meals over and over again were canned chickpeas!  Chickpeas (also known as garbanzo beans) are high in fiber and have that ability to make you feel satisfied, kind of how potatoes would, but without all the extra starch and sugars.  Because of  my time in that kitchen, I usually make sure to stock up on canned chickpeas.
Now let's talk about arugula.  I have no idea how it all started, but I AM SO IN LOVE WITH ARUGULA!  I usually get the bagged arugula from Trader Joe's, or any grocery store, and throw it into everything, from salads, to pastas, to sandwiches.  It's awesome, and I adore that peppery bite.  And lemons? Forget about it. You all know I'm OBSESSED with them. Maybe that's why I decided it would be a great idea to combine chickpeas, arugula, and lemon together in one dish. Fabulous!
'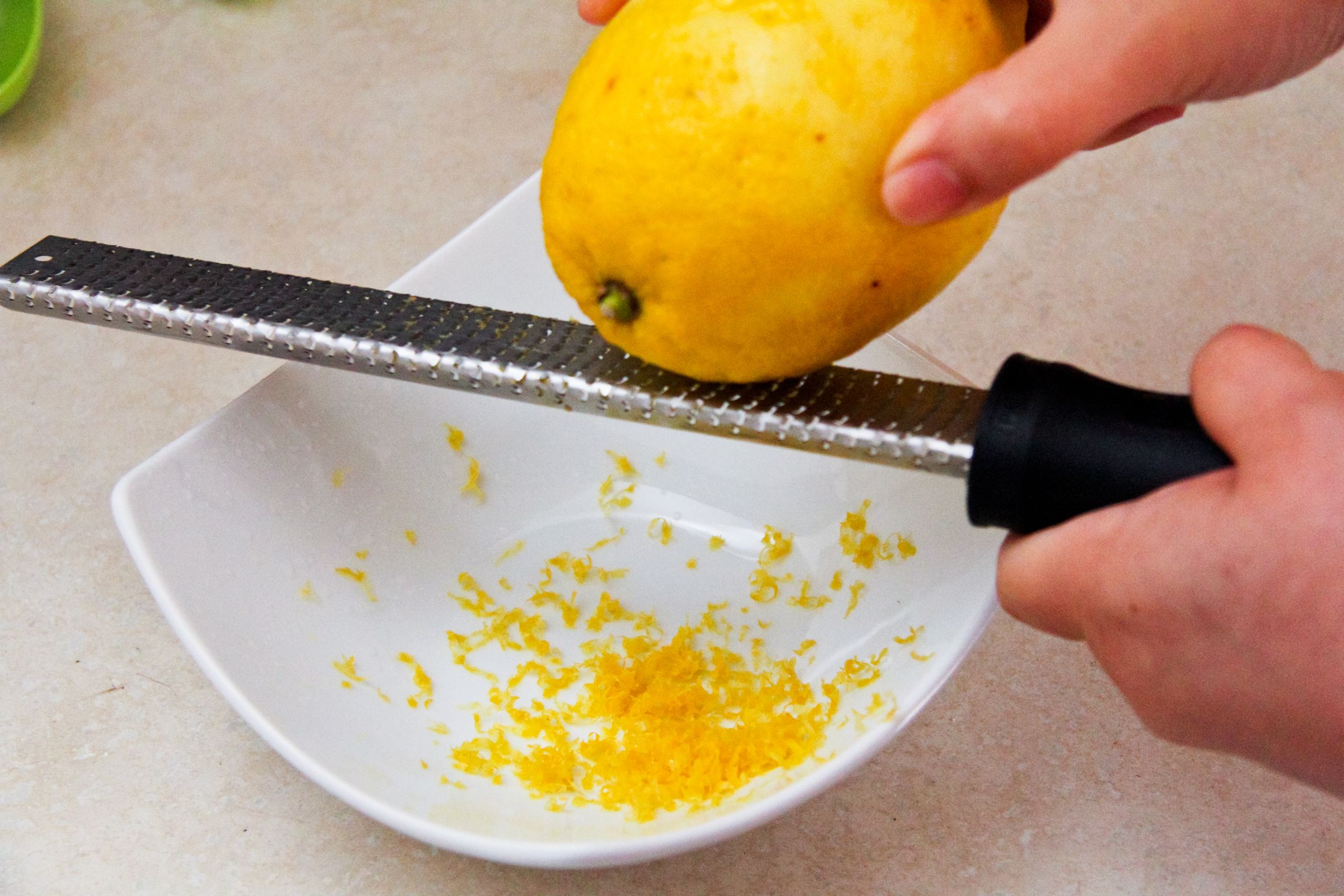 So for this meal, I actually came up with the side dish first, and then had to conjure up the main entree by digging through my fridge.  I figured that since I'd be using lemon juice for the side dish, I may as well use the lemon zest too.  Lemons make me think of chicken and I so happened to have two chicken leg and thigh quarters in the fridge.  FYI, these pieces of chicken are usually SUPER cheap at the grocery store, and they're easy to cook.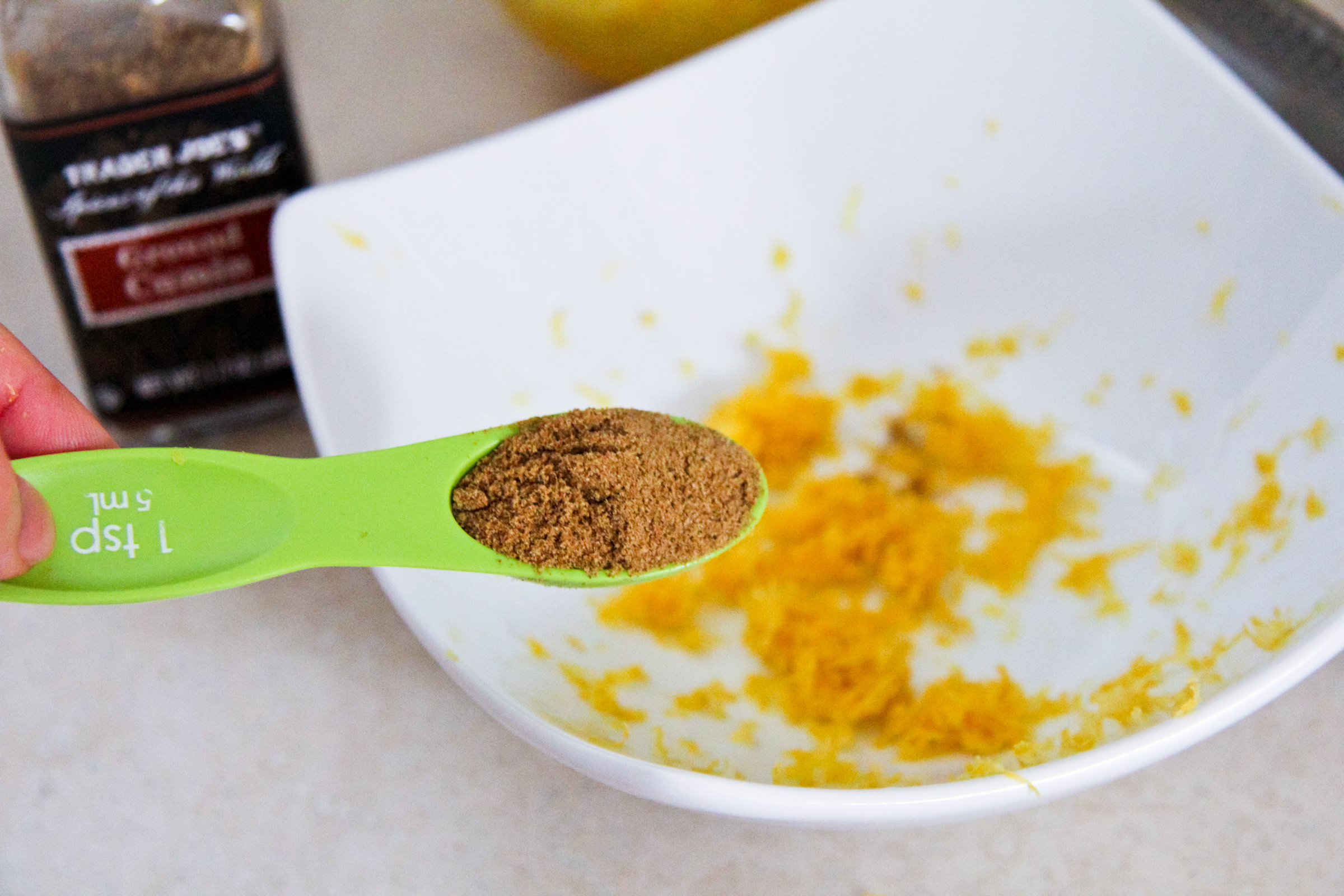 So that's where my lemon zest went, along with kosher salt, and my usual spices of choice, ground cumin and crushed red chili flakes.  The chili flakes add heat and the cumin adds smoky warmth.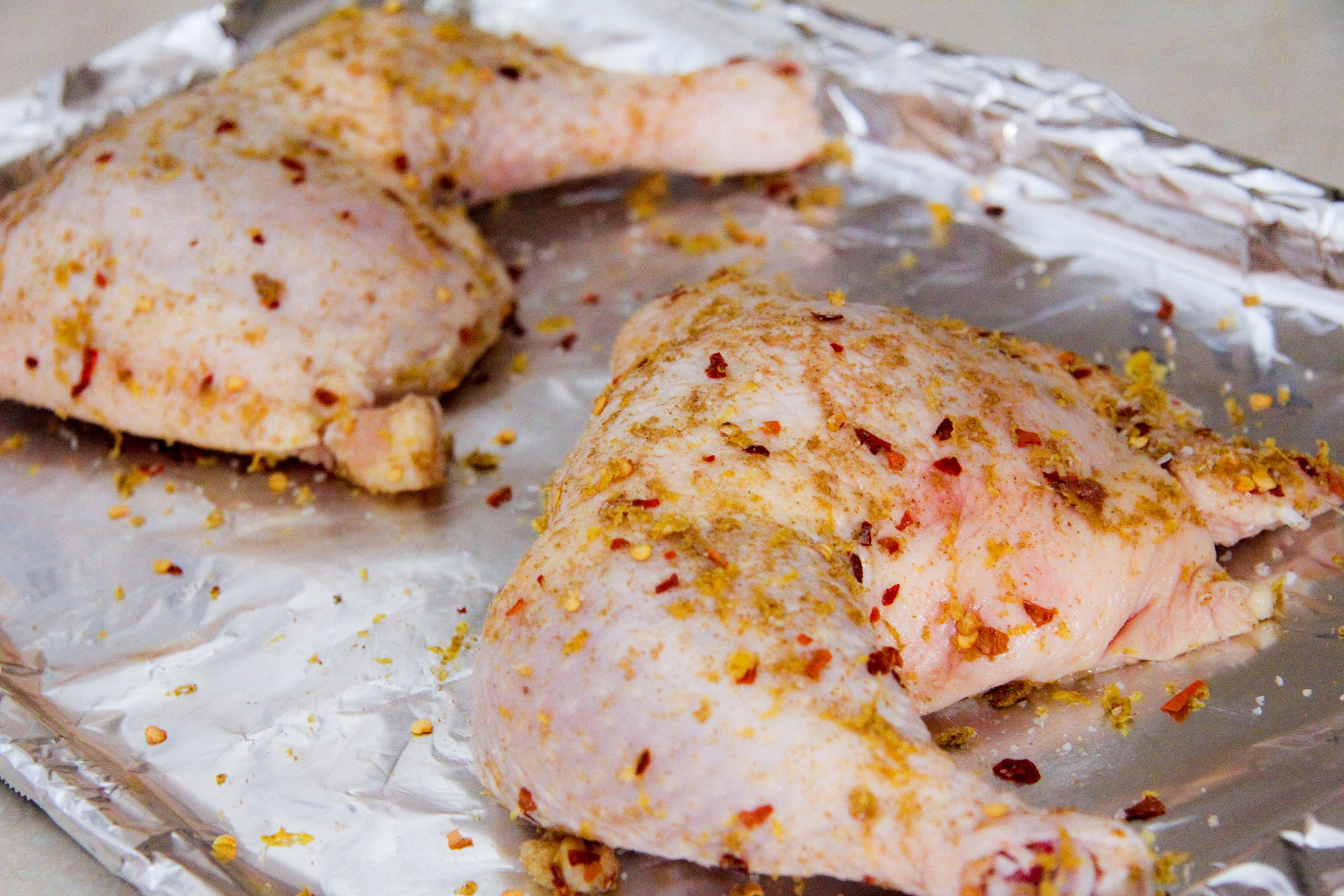 Two skin on, bone-in chicken leg and thigh quarters got a spice massage, then placed on an aluminum foil lined baking sheet.  No extra oil required, thanks to the natural fat from the skin.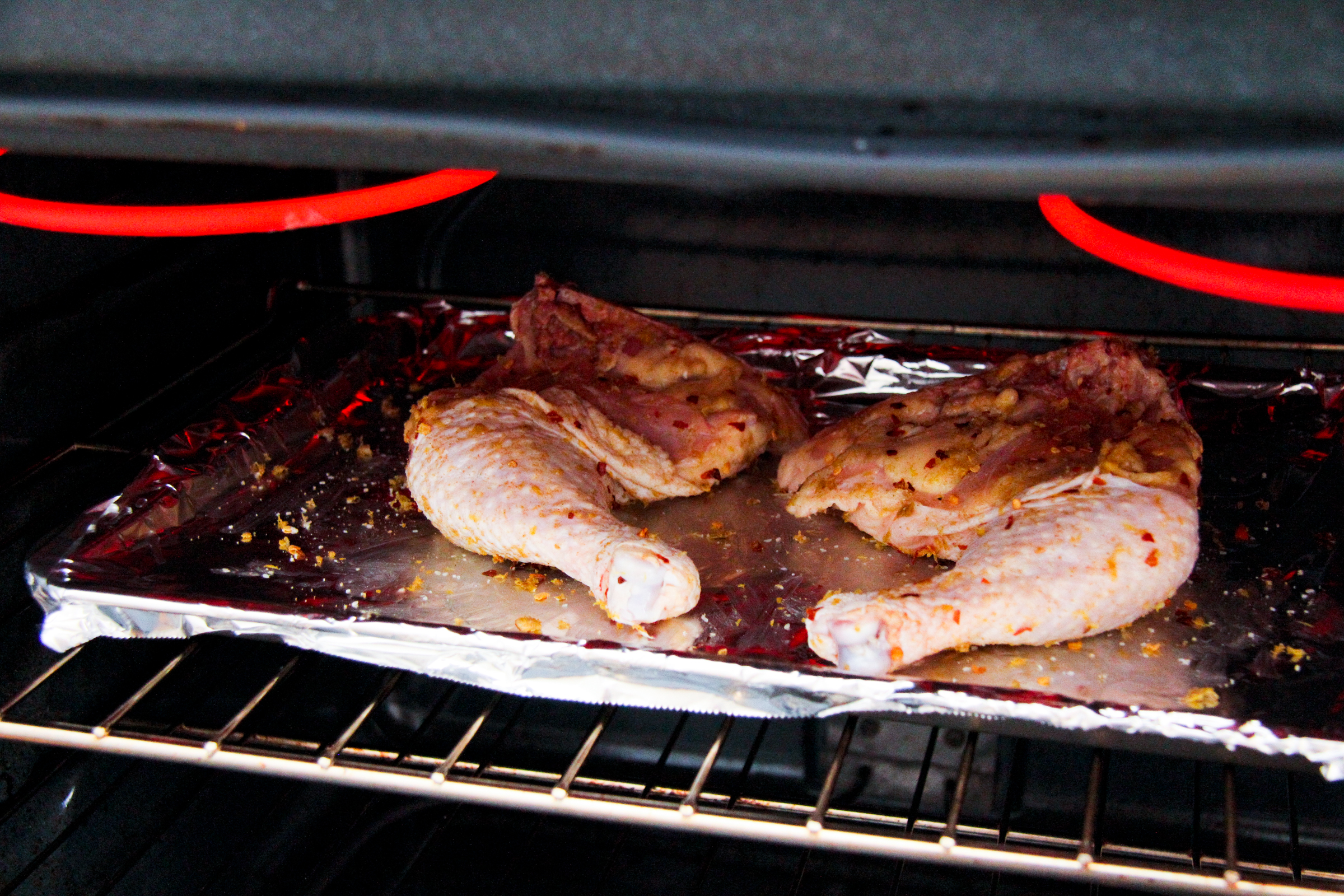 You turn on your broiler and set your rack on the second to the highest rung.  You want it close enough to the broiler, but you don't want it to scorch too quickly.  The important step is to first flip your chicken quarters "upside down," or skin side down.  Then place them under the broiler.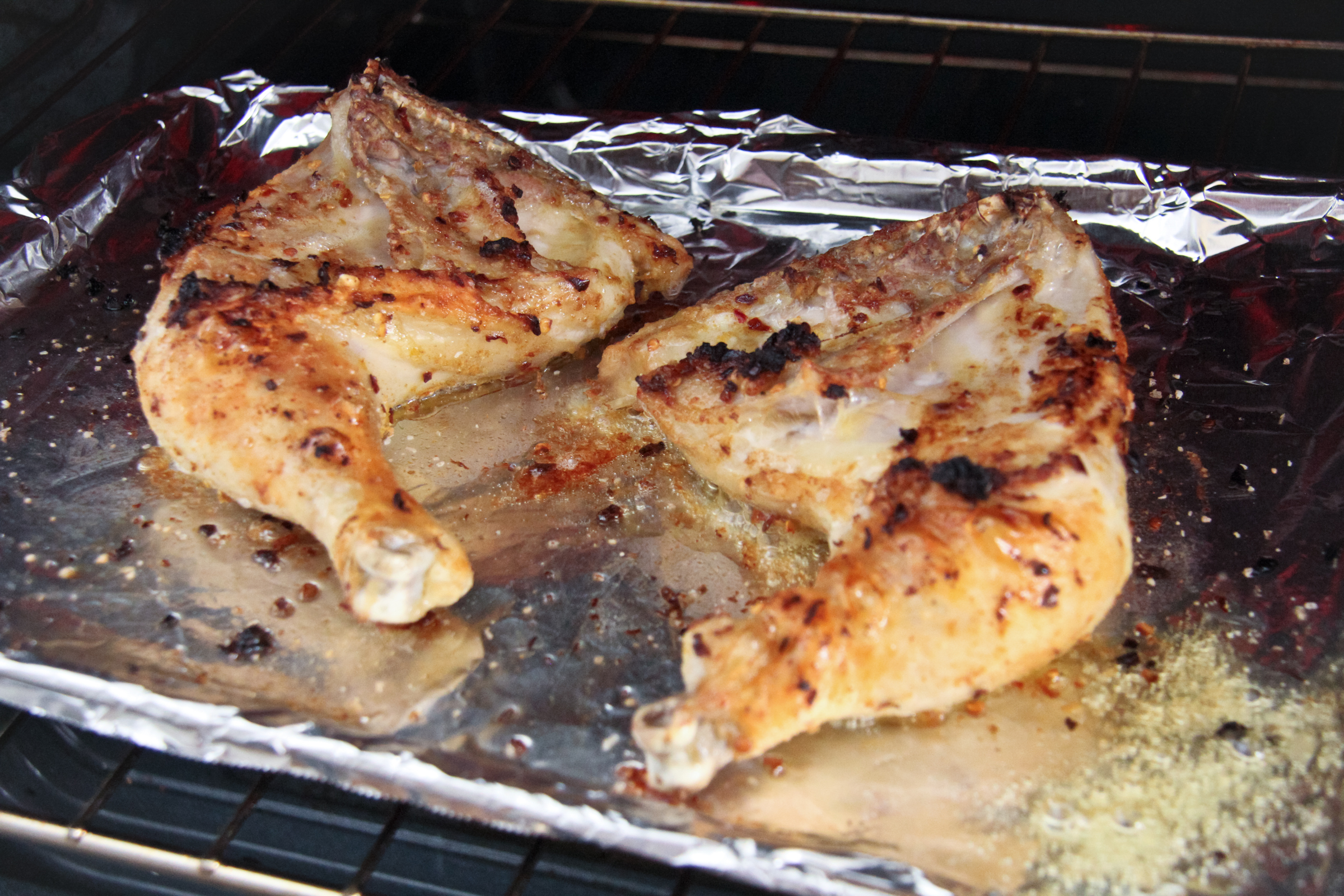 8-10 minutes under the broiler will make your chicken nice and toasty.  Just watch it carefully to see that it browns, but doesn't burn.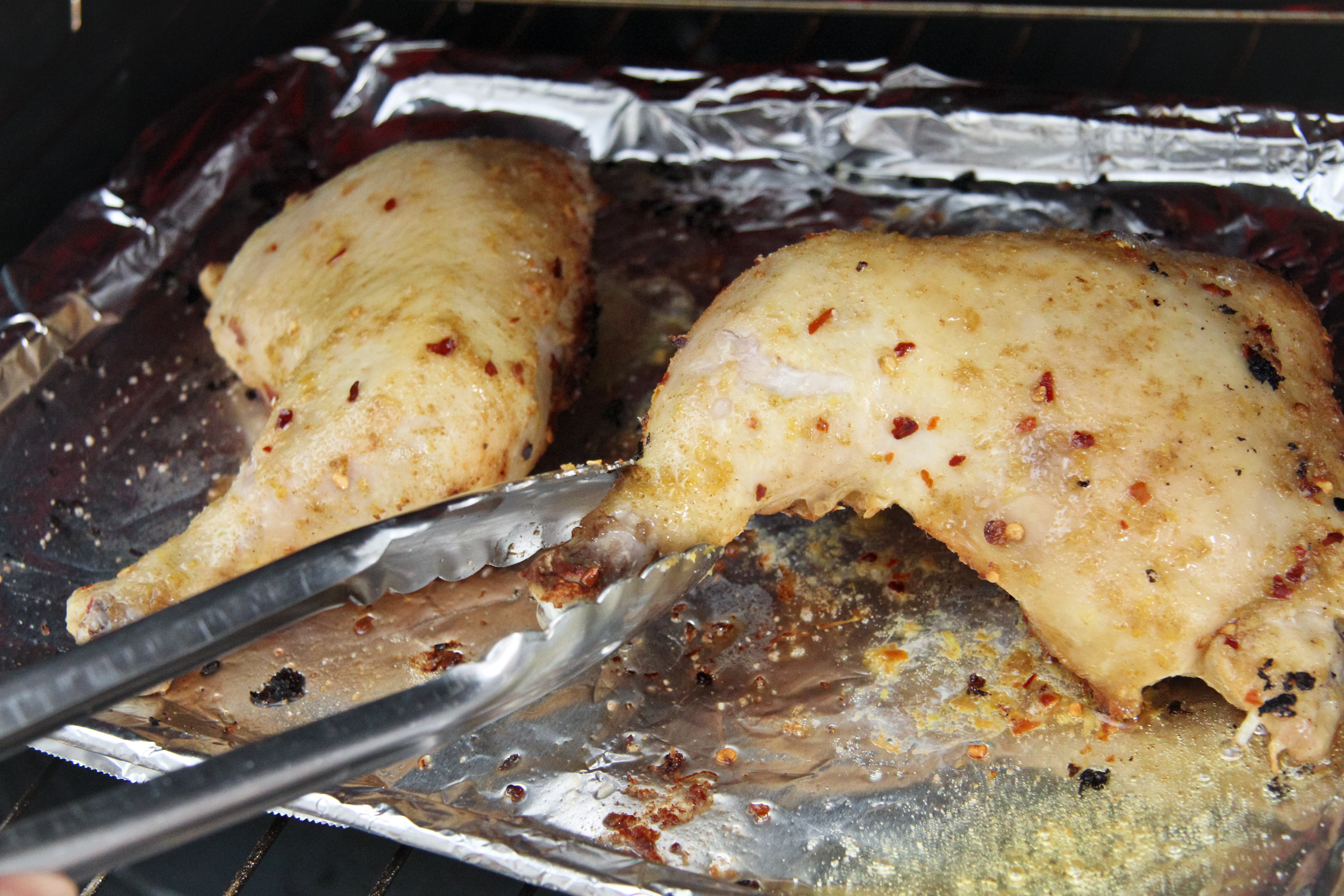 Flip the chicken on the other side, skin side up, and broil for an additional 8-10 minutes until the chicken skin is browned and crispy.  Pull it out of the oven and let the chicken rest for 5 minutes on the sheet tray before cutting into it.  Give the juices a chance to redistribute.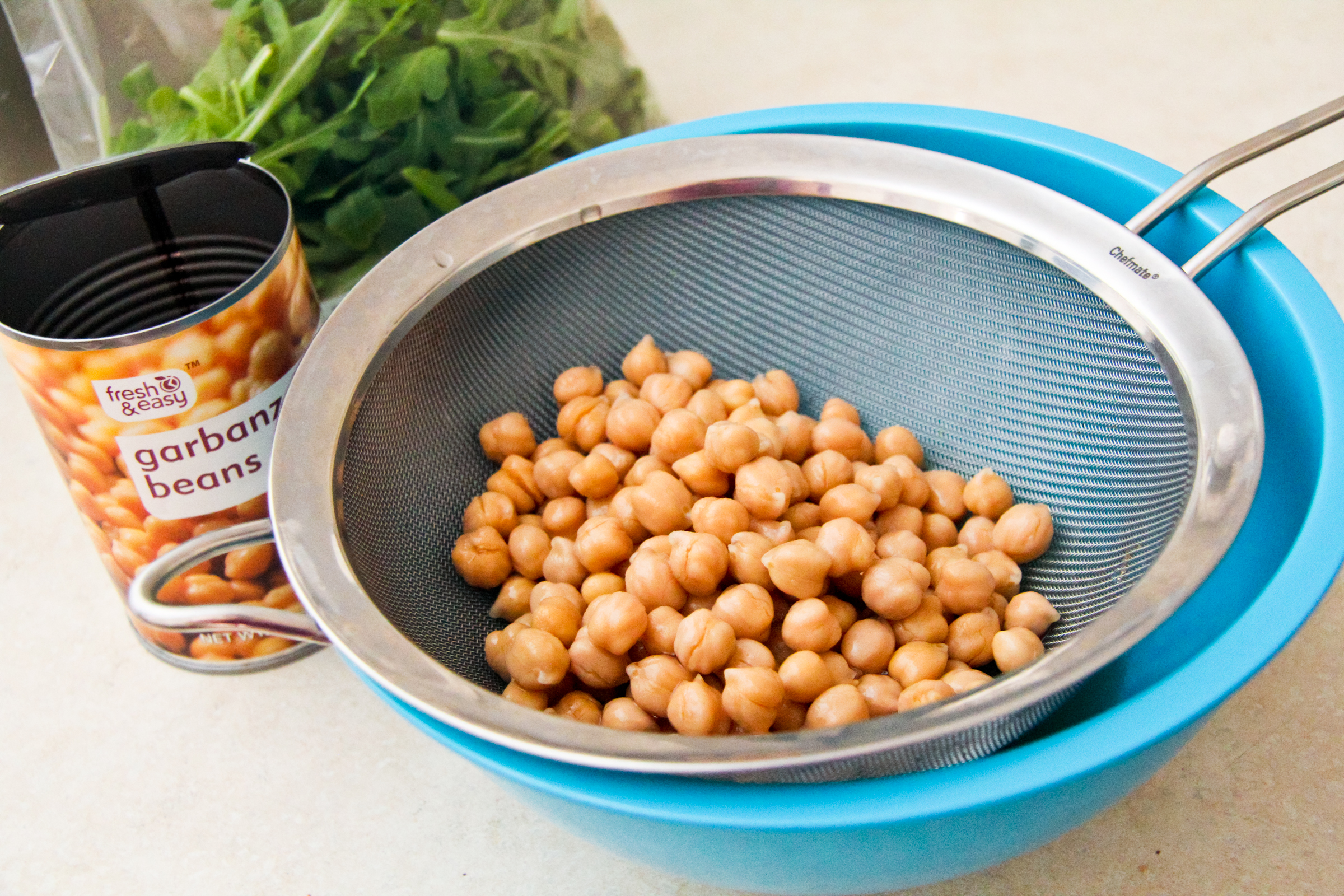 The chicken cooks quickly, but so does your side dish.  Drain your can of garbanzo beans, and give them a rinse.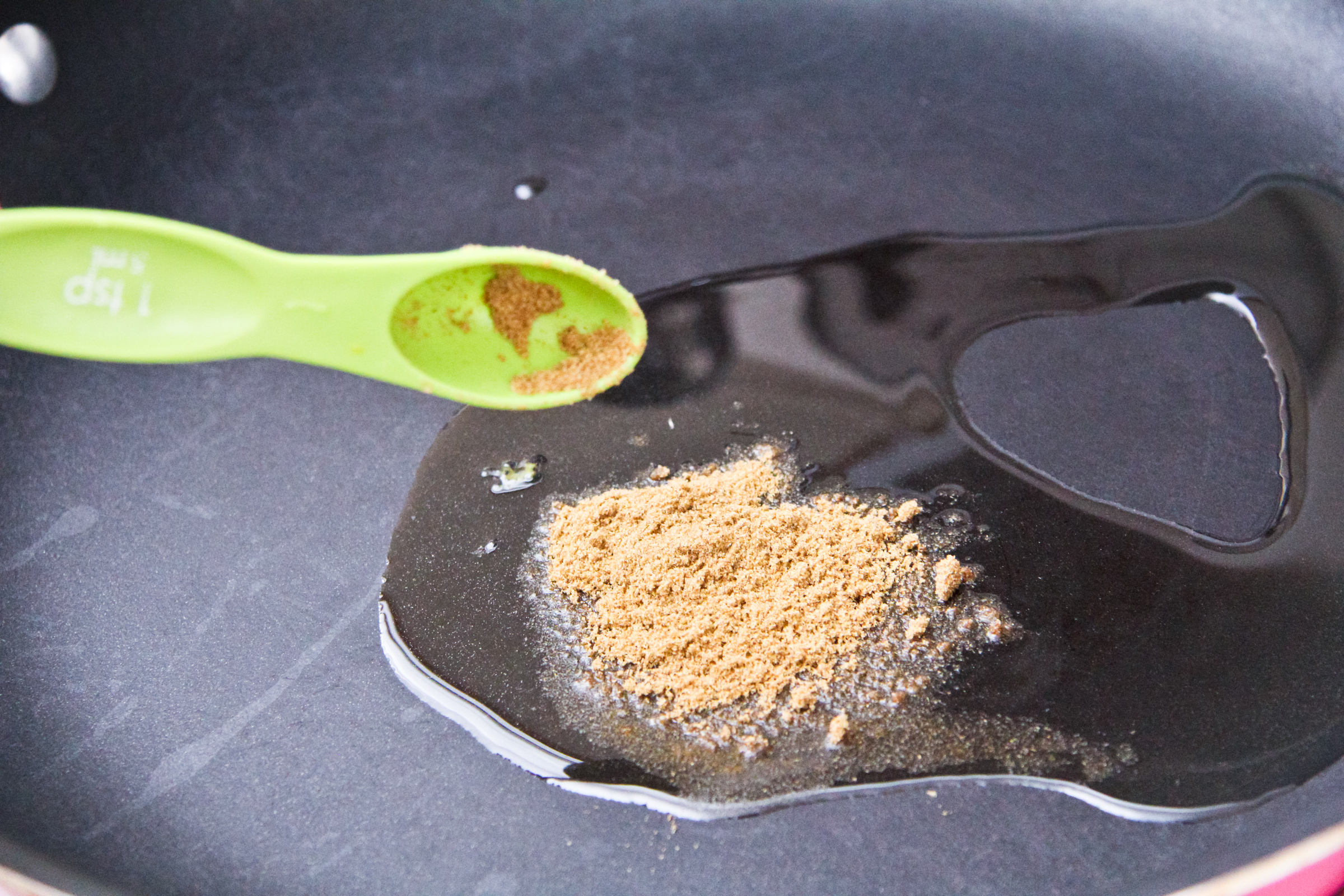 Add 1 tablespoon of olive oil to a pan and toast your ground cumin for a few seconds.  Give it a stir and let that warm spice infuse your oil.  Then you can add your drained chickpeas.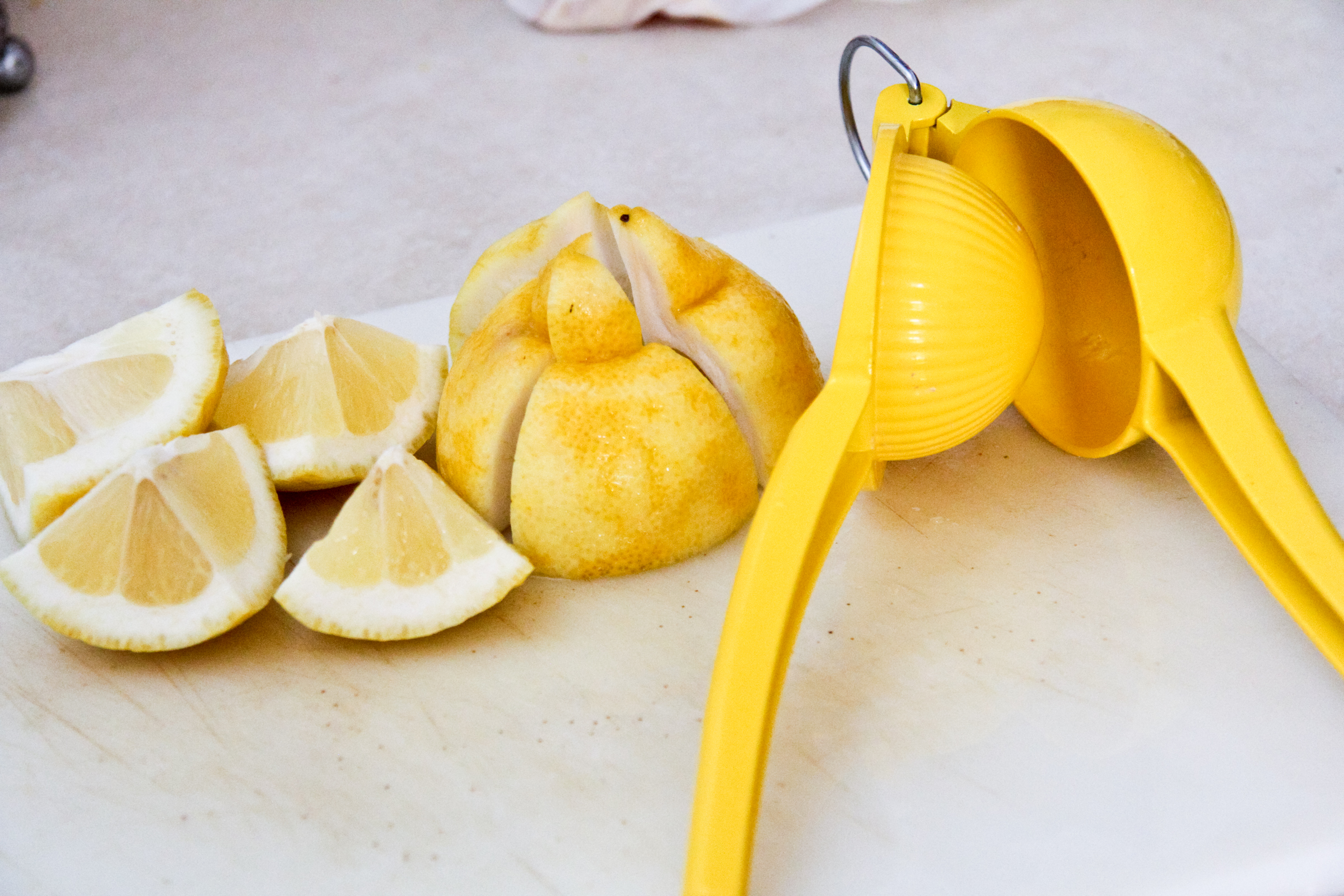 Now take that lemon you used for the zest, and add the juice to the pan.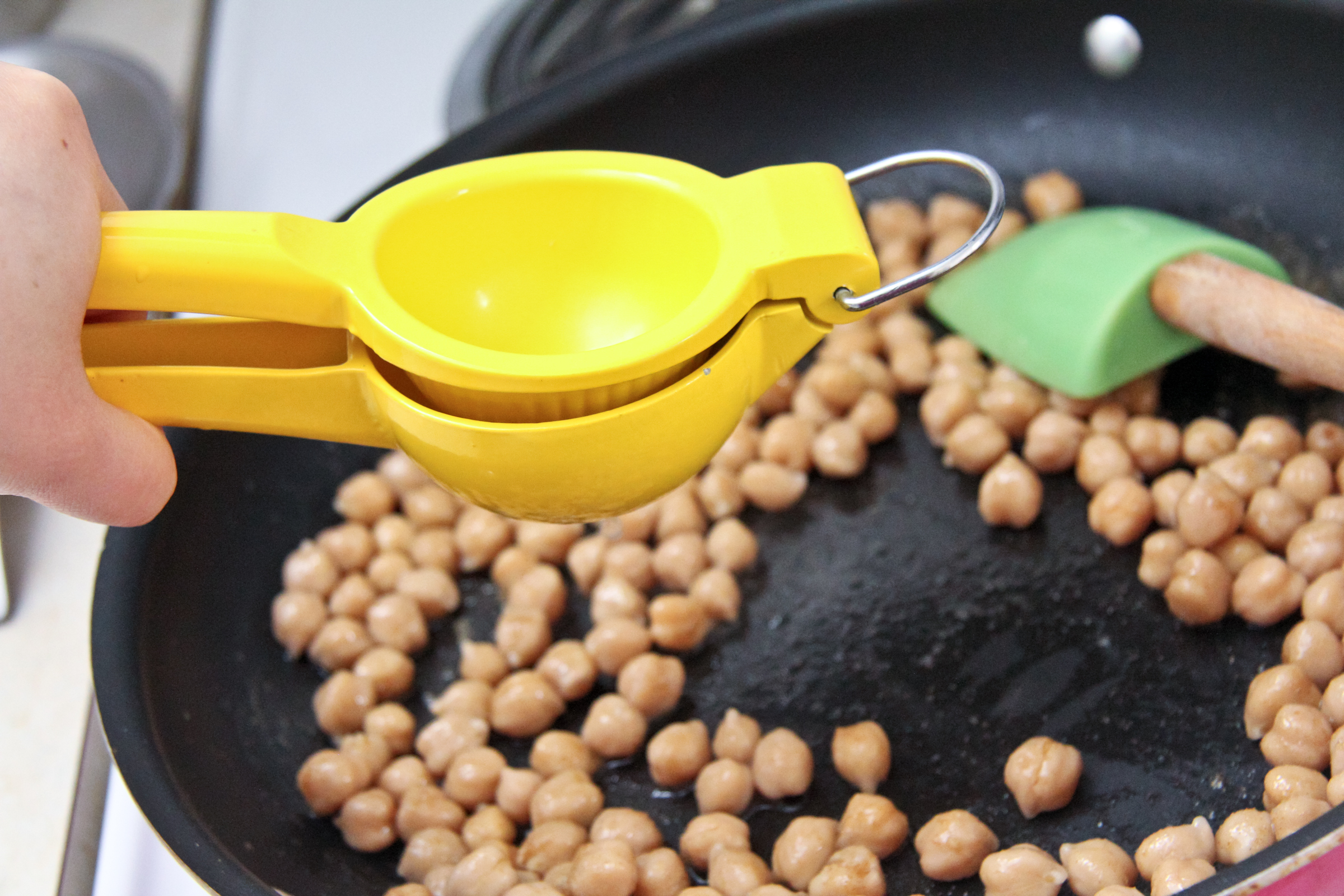 You only need the juice of HALF of a lemon, but if you really like to pucker up, you can use a whole one.  It's up to your preference.  Start with half, and then add more at the end if you want it.  Finish with salt and toss, toss, toss.
Turn the heat off your pan, and tumble in your gorgeously green arugula.  You don't need much heat to wilt the leaves.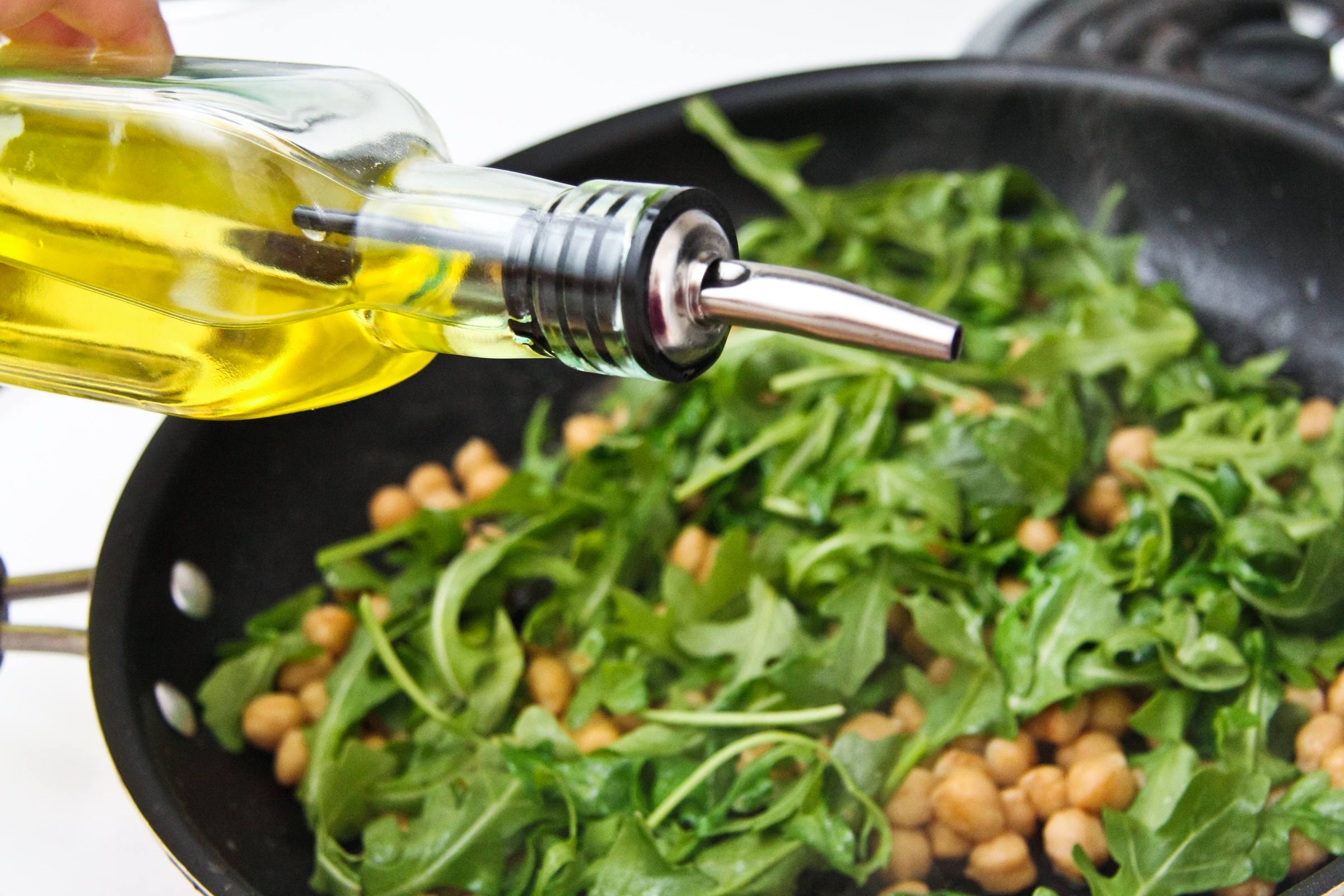 Add in another tablespoon of olive oil and toss gently.  The arugula is delicate, so a couple tosses will do.  Then you're ready to plate.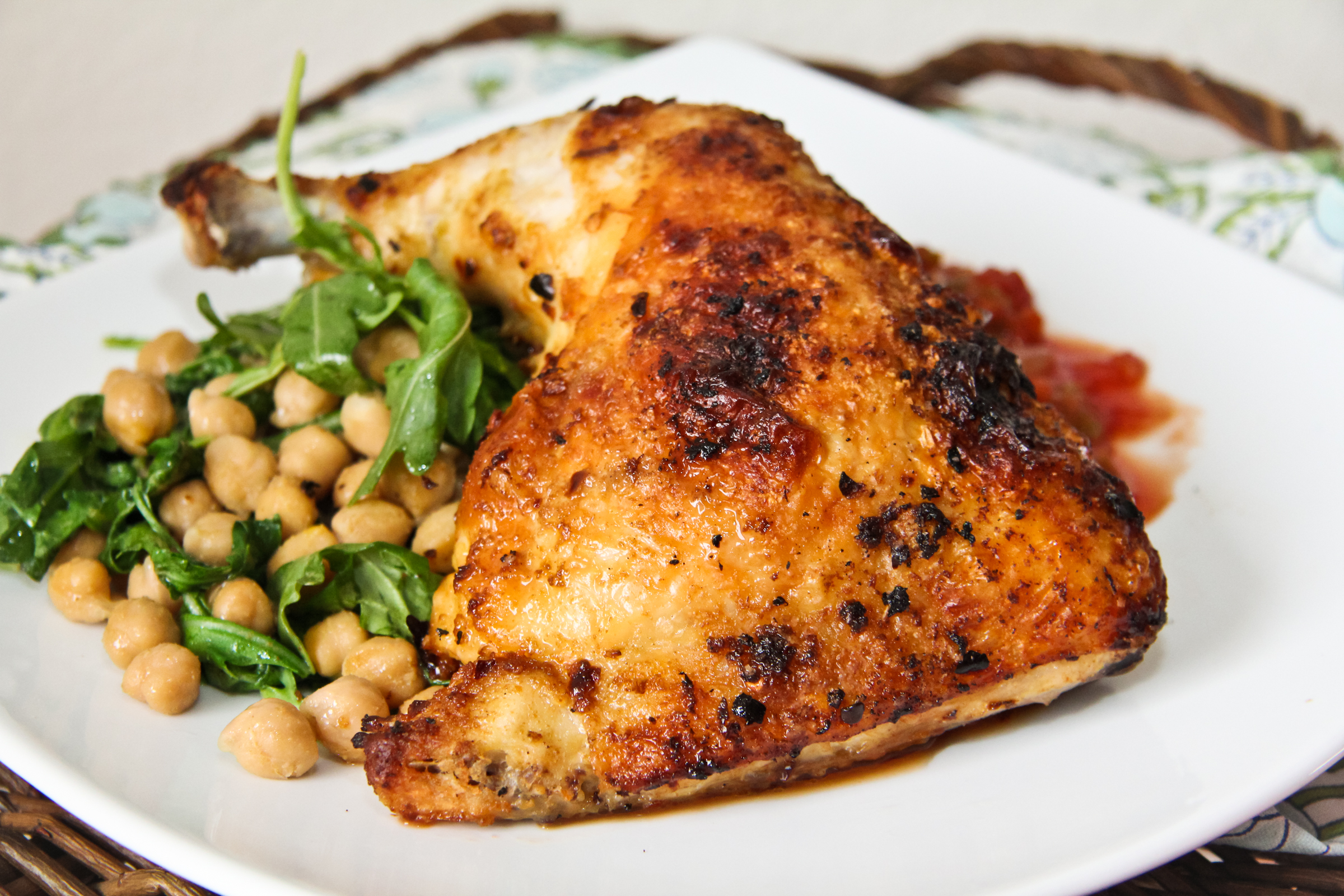 You can serve the crispy spice-rubbed chicken alone with the chickpeas and arugula, or with a dollop of salsa on the side, for an extra flavor punch.
The chicken is moist, flavorful, and fragrant.  The warm chickpea and arugula salad is a lemony and satisfying side dish that compliments the chicken.  This dish is easy enough to prepare on any night of the week, but still looks impressive for a dinner party.  If you want to heft it up, just add some mashed potatoes or rice pilaf.
But if you want to keep things low carb or on the lighter side, you really don't have to add anything.  My husband was fine without any extras, and the tasty meal still felt comforting.  My friend, I'm telling you, this is one delicious diet that's easy to do!

Chicken with Chickpeas and Arugula
This meal is easy to make, low-carb, and tasty. Winner winner chicken dinner!
Ingredients
For the chicken:
1 tablespoon freshly grated lemon zest
1 teaspoon ground cumin
1 teaspoon kosher salt
1 teaspoon crushed red chili flakes
2 skin on, bone-in chicken leg and thigh quarters

For the chickpeas and arugula:
1 15-ounce can chickpeas (garbanzo beans), drained and rinsed
2 tablespoons olive oil, divided
1 teaspoon ground cumin
½ teaspoon kosher salt
The juice of half a lemon
2 packed cups of baby arugula
Instructions
Turn on your broiler and place the oven rack on the second to the highest rung. Make the dry rub for the chicken by combining the cumin, salt, chili flakes and lemon zest. Rub the mixture all over the chicken quarters. Place the chicken quarters skin side down on an aluminum foil wrapped sheet pan.
Broil for 8-10 minutes, until the skin turns brown, but watch it so it doesn't burn. Flip the chicken skin side up and broil for 8-10 minutes more, or until the skin is nicely browned and crisp. Let the chicken rest out of the oven on the sheet pan for 5 minutes before cutting into it.
Meanwhile, in a saute pan, heat 1 tablespoon of olive oil and add the ground cumin. Stir it around for a few seconds in the oil. Add the drained chickpeas, along with the salt and lemon juice. Turn the heat off and add in your arugula, along with the remaining 1 tablespoon of olive oil. Toss to wilt the arugula slightly and serve with the chicken. Serve alone, or with a little salsa on the side.