Shrimp with Lime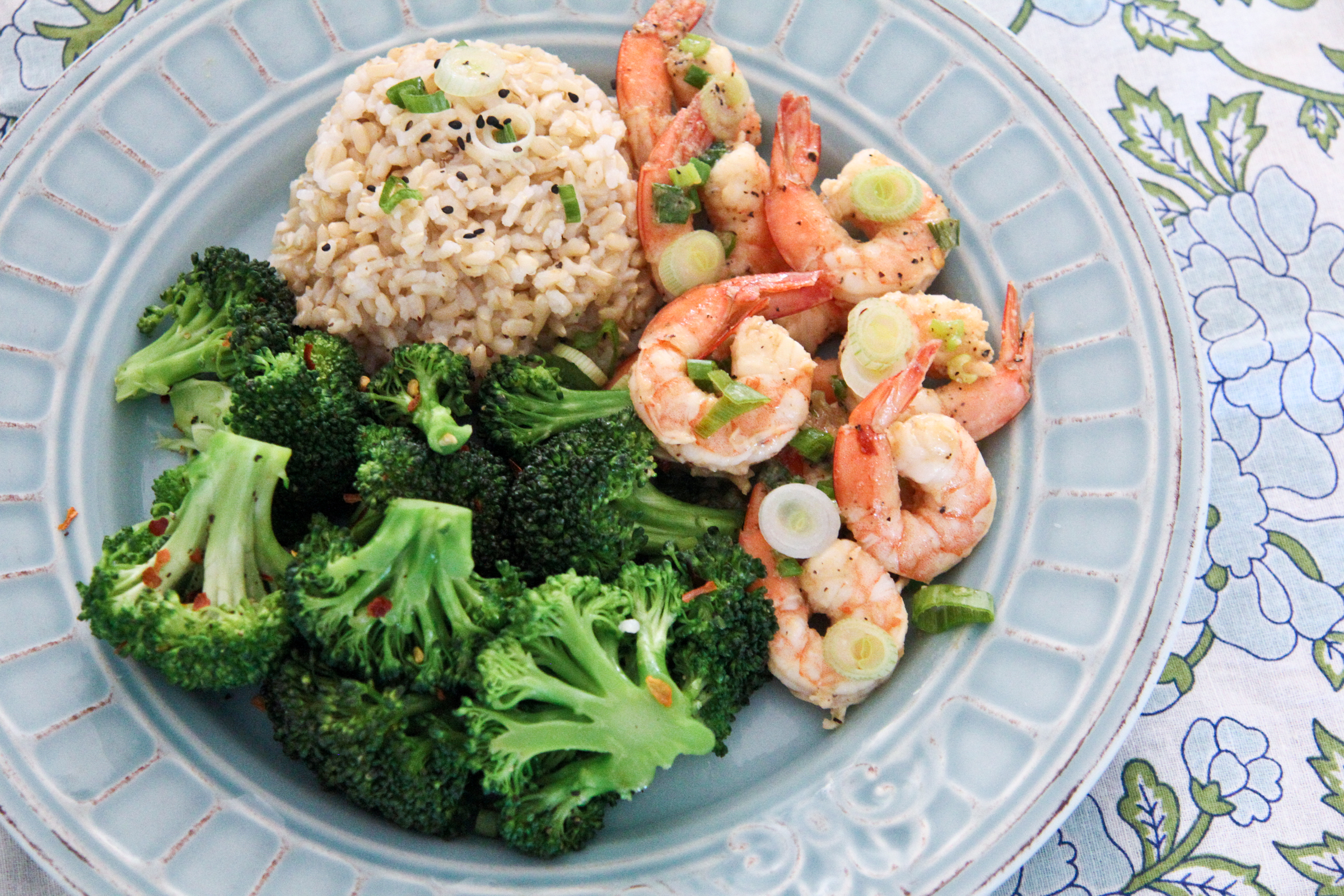 Lately, I've been trying to eat more balanced meals and less carbs.  Thus, I am grouchy.  I suddenly realized that I have to squeeze myself into a bridesmaid dress next month so I have to step up my game and be more disciplined.  I'm dragging poor Joe into it with me because frankly, he has no choice.  It's kind of sad because I look over at him and can tell he's hungry even after we eat dinner.  I'm hoping for both of our sakes that it gets easier soon!  
On top of these hunger games, I'm trying to take walks everyday.  On one of my recent walks, I started thinking about dinner.  Yes, I'm ALWAYS thinking about food.  I even read food magazines while I'm on the elliptical machine at the gym.
While I was finishing up my walk, I thought about shrimp.  What…don't you?  You all know that I love keeping frozen shrimp in the freezer.  It only takes minutes to defrost, so as soon as I came back in, I was ready to test out a new recipe idea.  It ended up being a really easy and tasty dinner for two, that was light, but satisfying.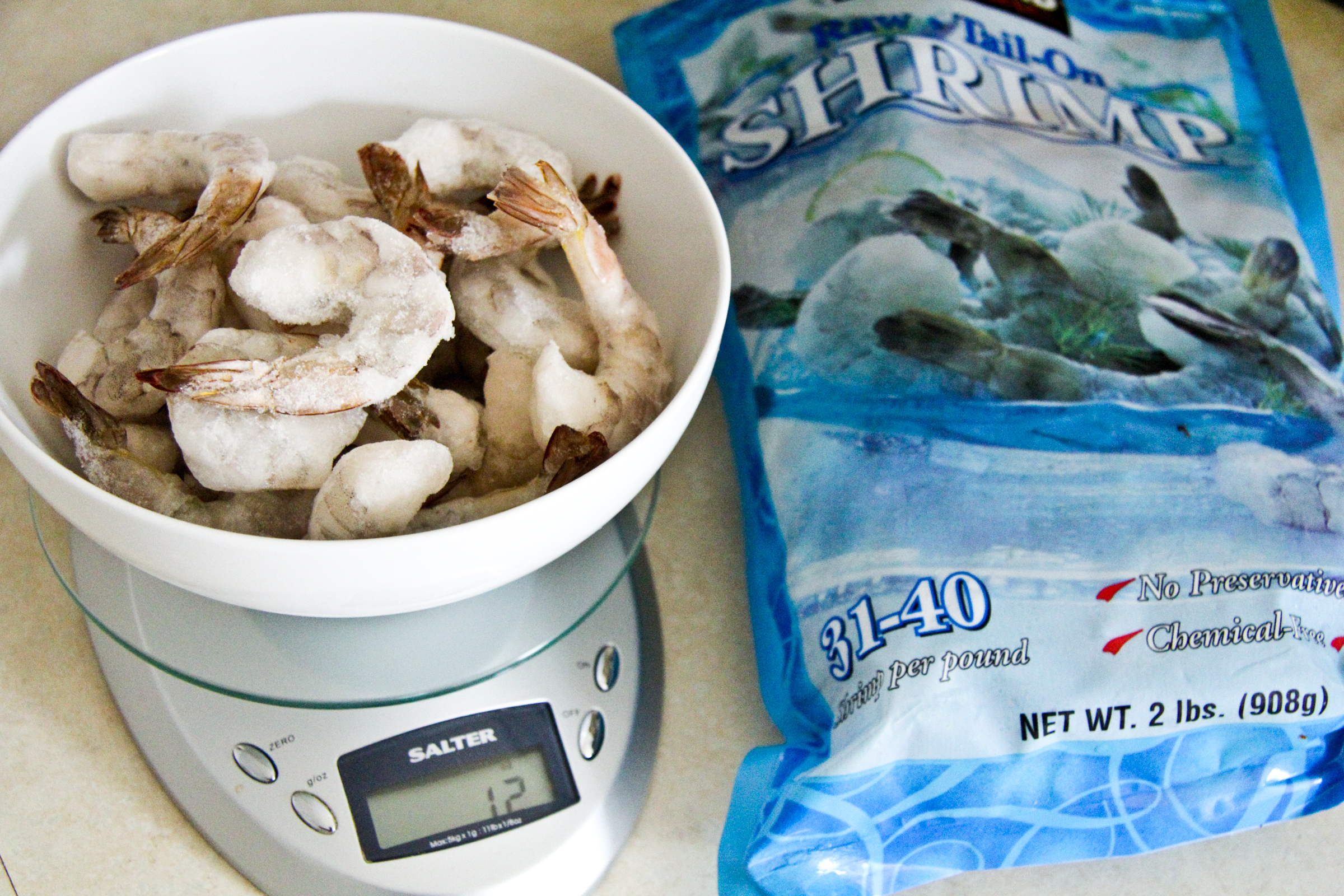 For diet reasons, I purposely whipped out my food scale to make sure we wouldn't eat too much, but If you want to make it for four, or don't have to fit into a bridesmaid dress like me, you can simply add more shrimp or double the recipe.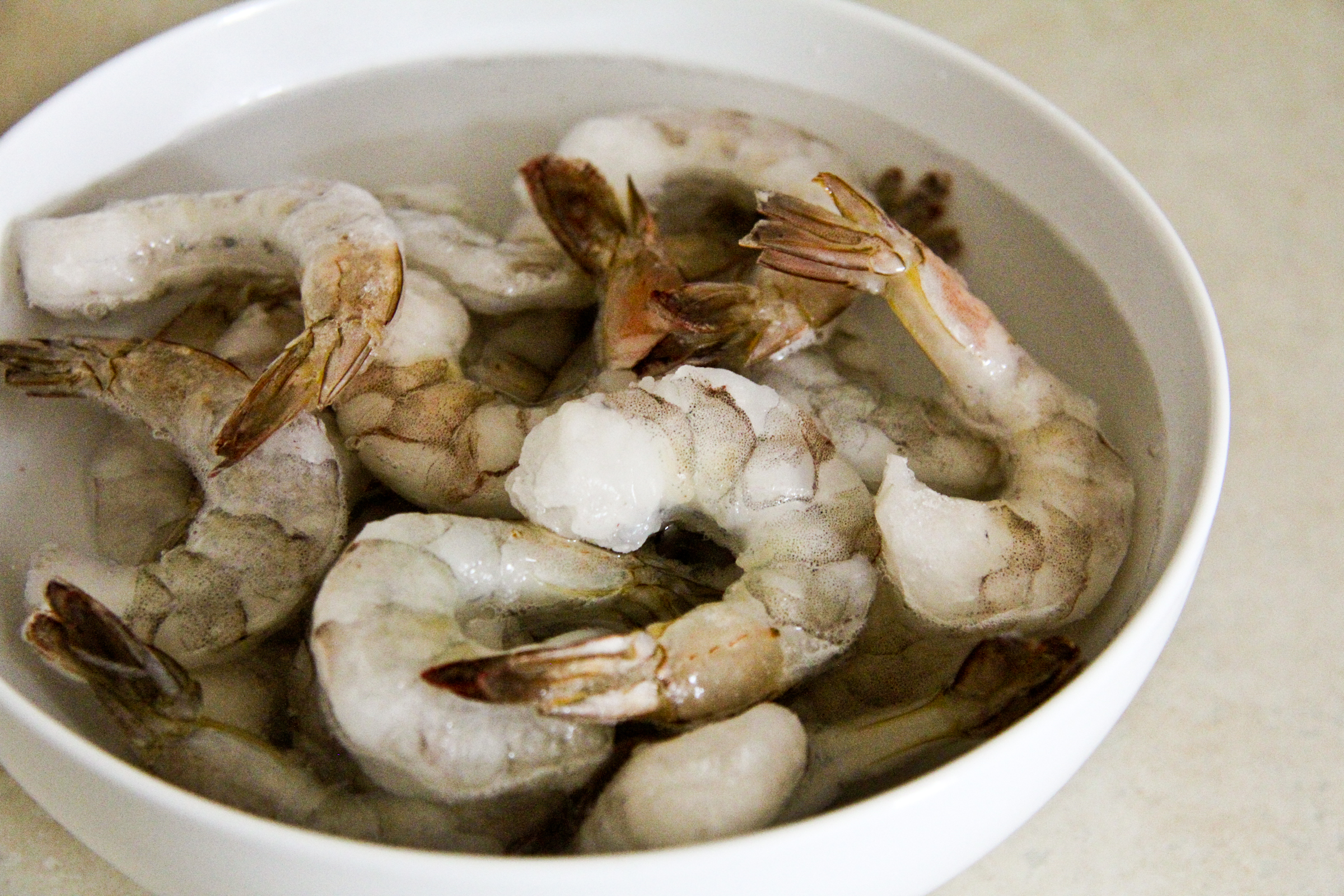 Dunk your frozen shrimp in COLD water for about 10 minutes or so, or until the ice melts away.  Then you can peel and devein them using kitchen shears if you need to.  Remember my frozen shrimp entry?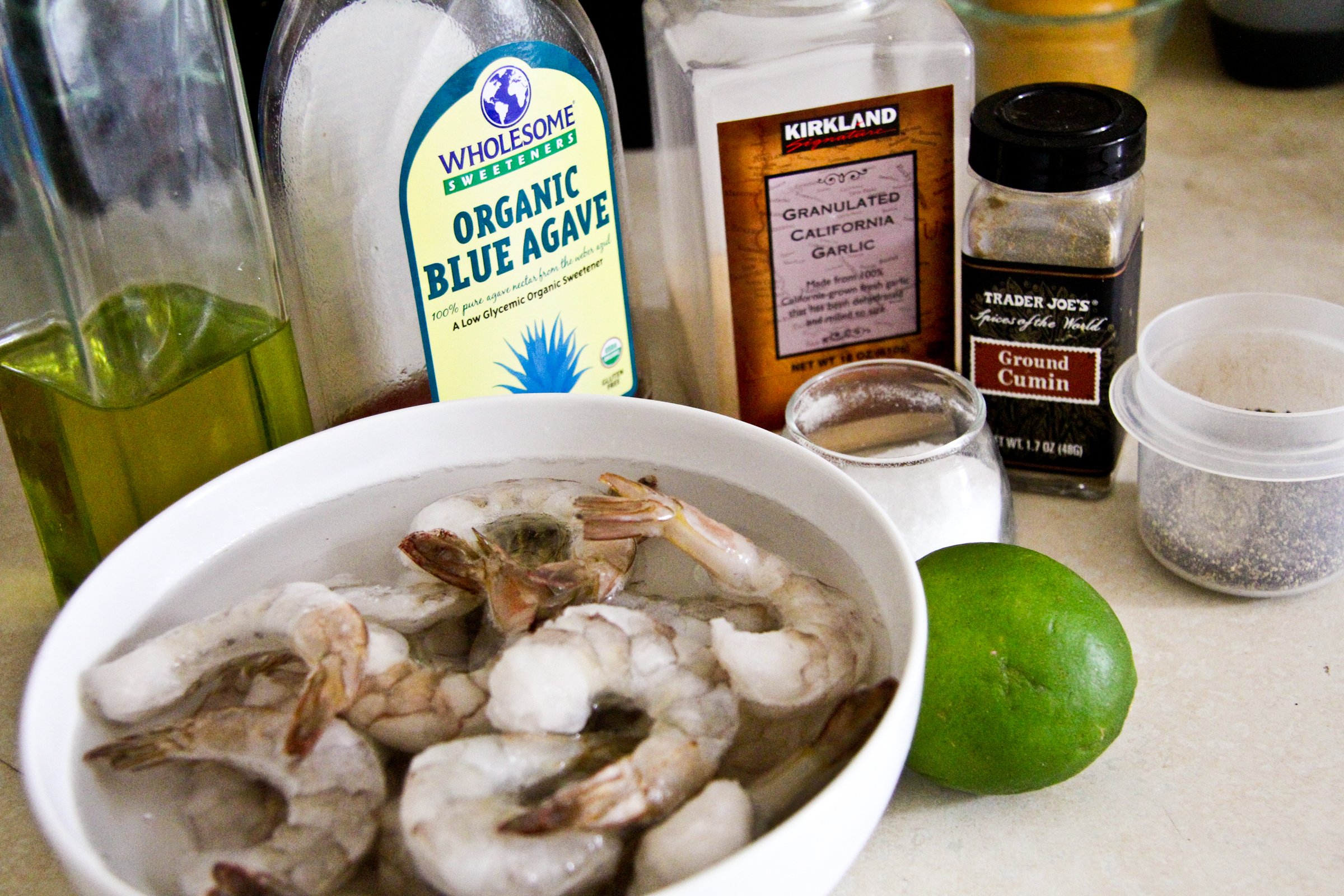 Then gather up all your Mexican influenced flavors such as naturally sweet agave, cumin, and lime.  If you don't have agave, use honey or sugar.  If you don't have cumin, use chili powder, or any warm spice you have.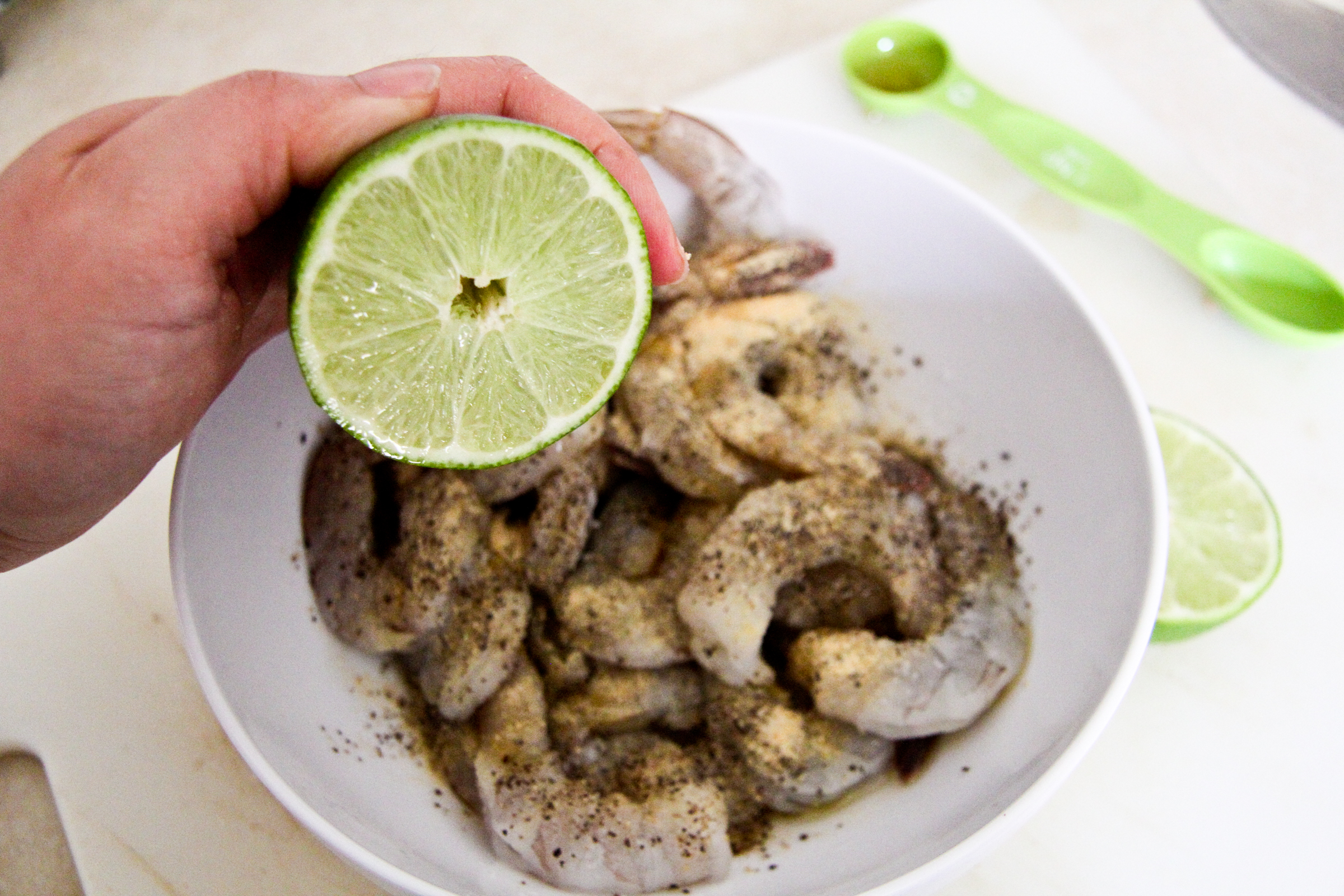 Next you pretend you can actually properly squeeze a lime with your left hand so that you can take a picture of it.  And you let the whole thing marinate for 20 minutes exactly.  If you find that you need to let it go longer, then don't add the lime.  Add it when you're about to cook it.  WHY?  Because lime cooks shrimp.  Think ceviche… you don't want that in this case.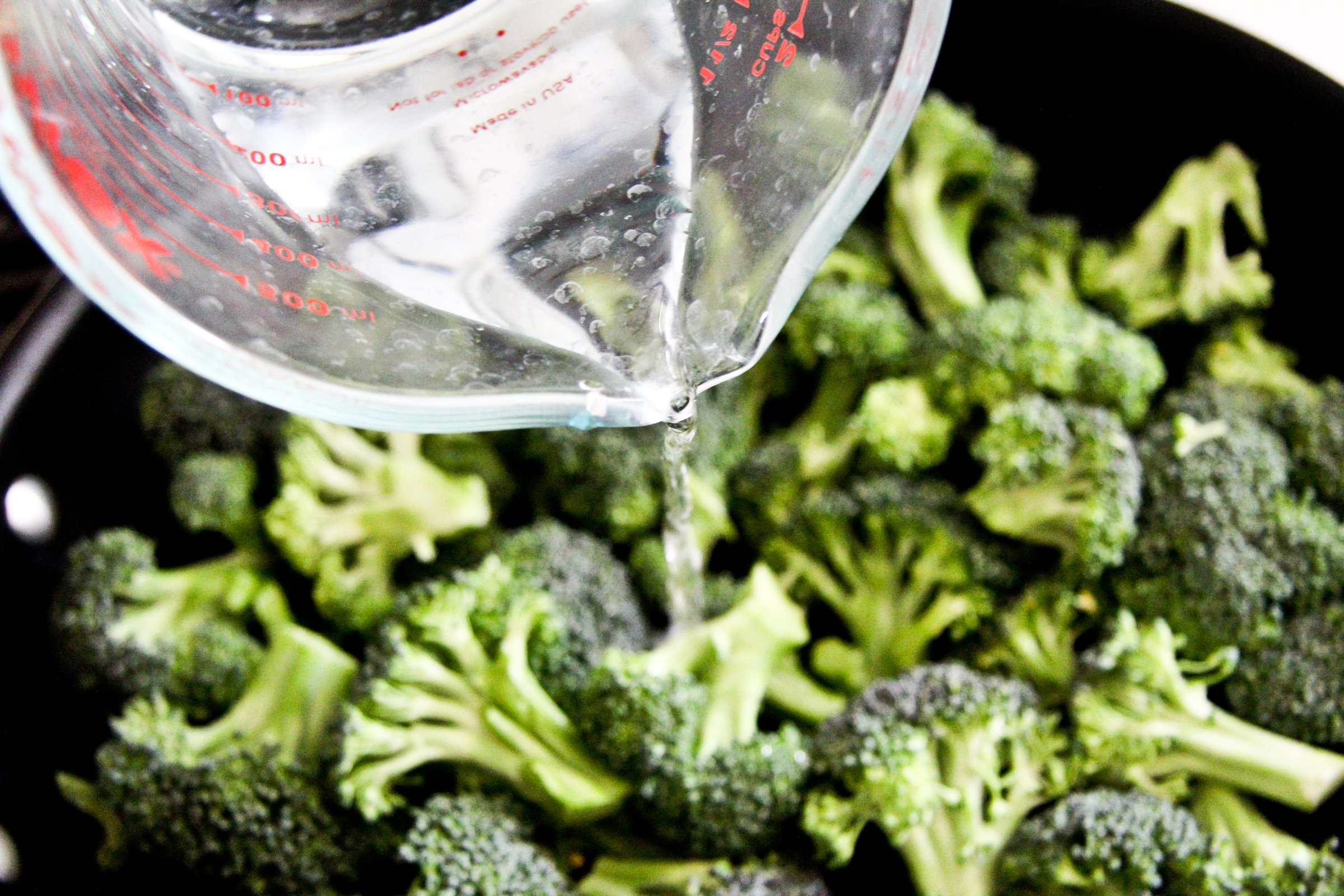 While you're waiting, you may as well steam up some broccoli, or any veggies you like.  My easy way of doing it involves using the same pan I'm going to cook my shrimp in, to minimize clean up.  So I start out with a dry pan, add the florets over high heat and pour in 1/4 cup of water.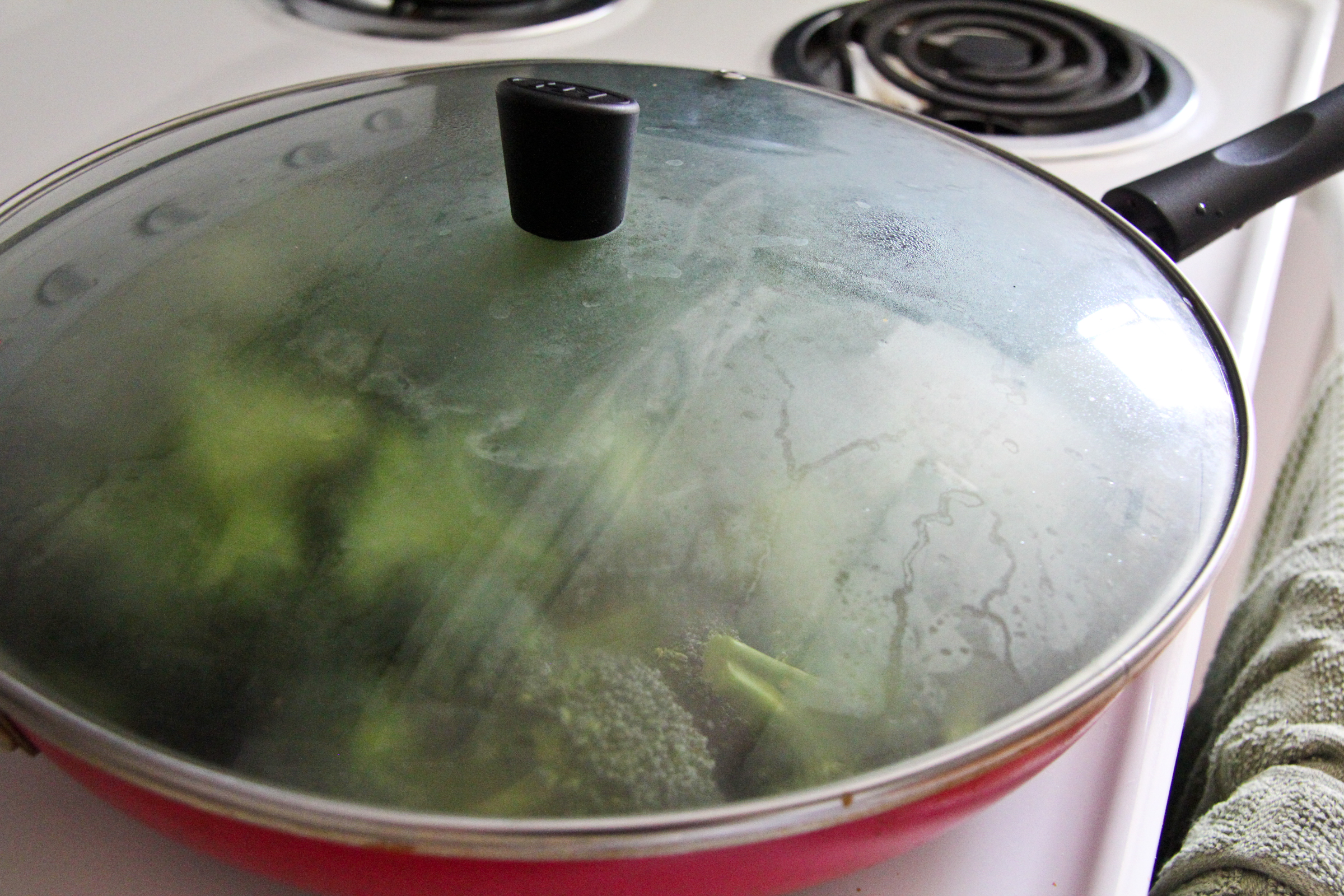 Then I clamp on a lid and let the broccoli steam for about 2 minutes or until it's crisp-tender.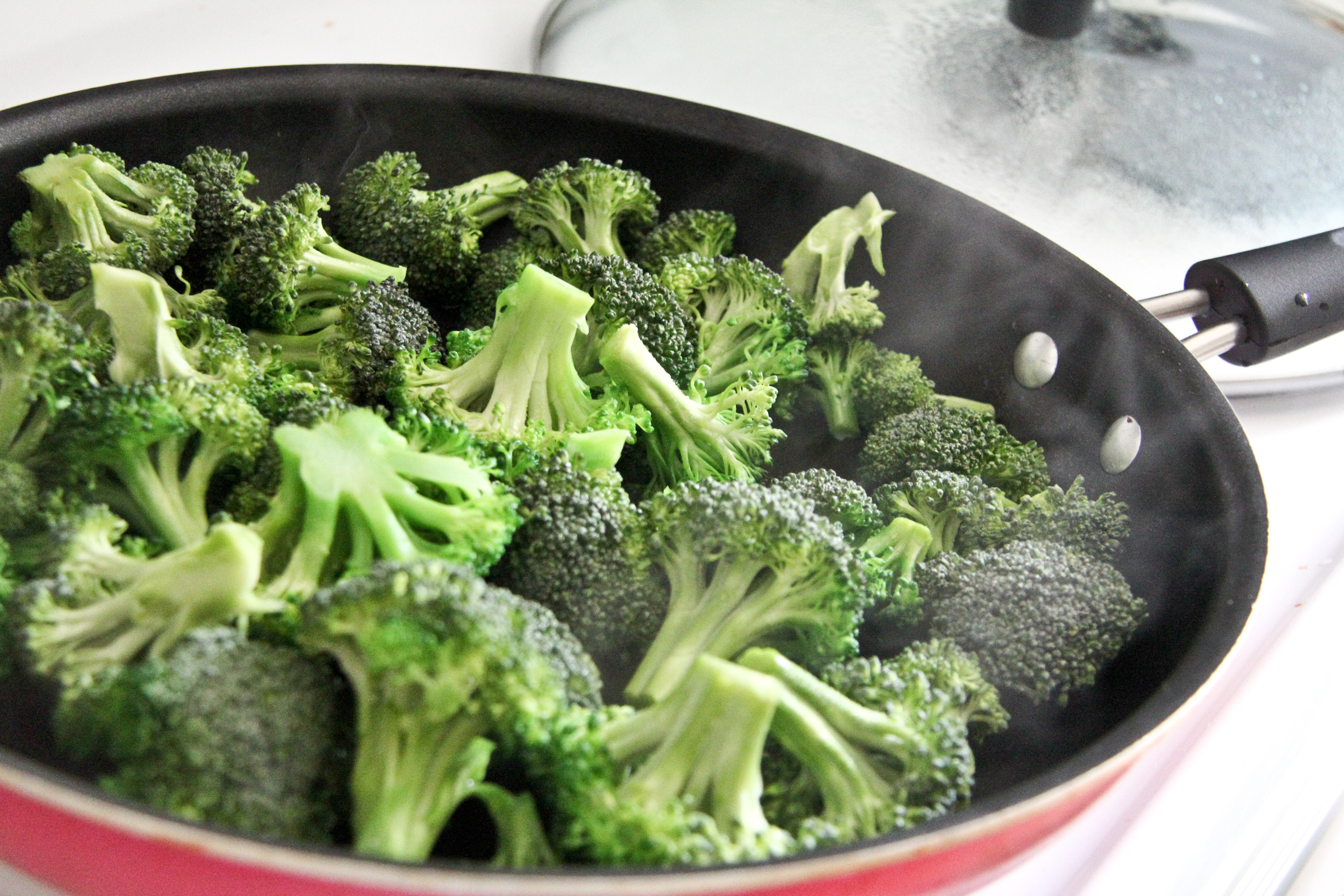 Then I remove the lid, and let the rest of the water evaporate.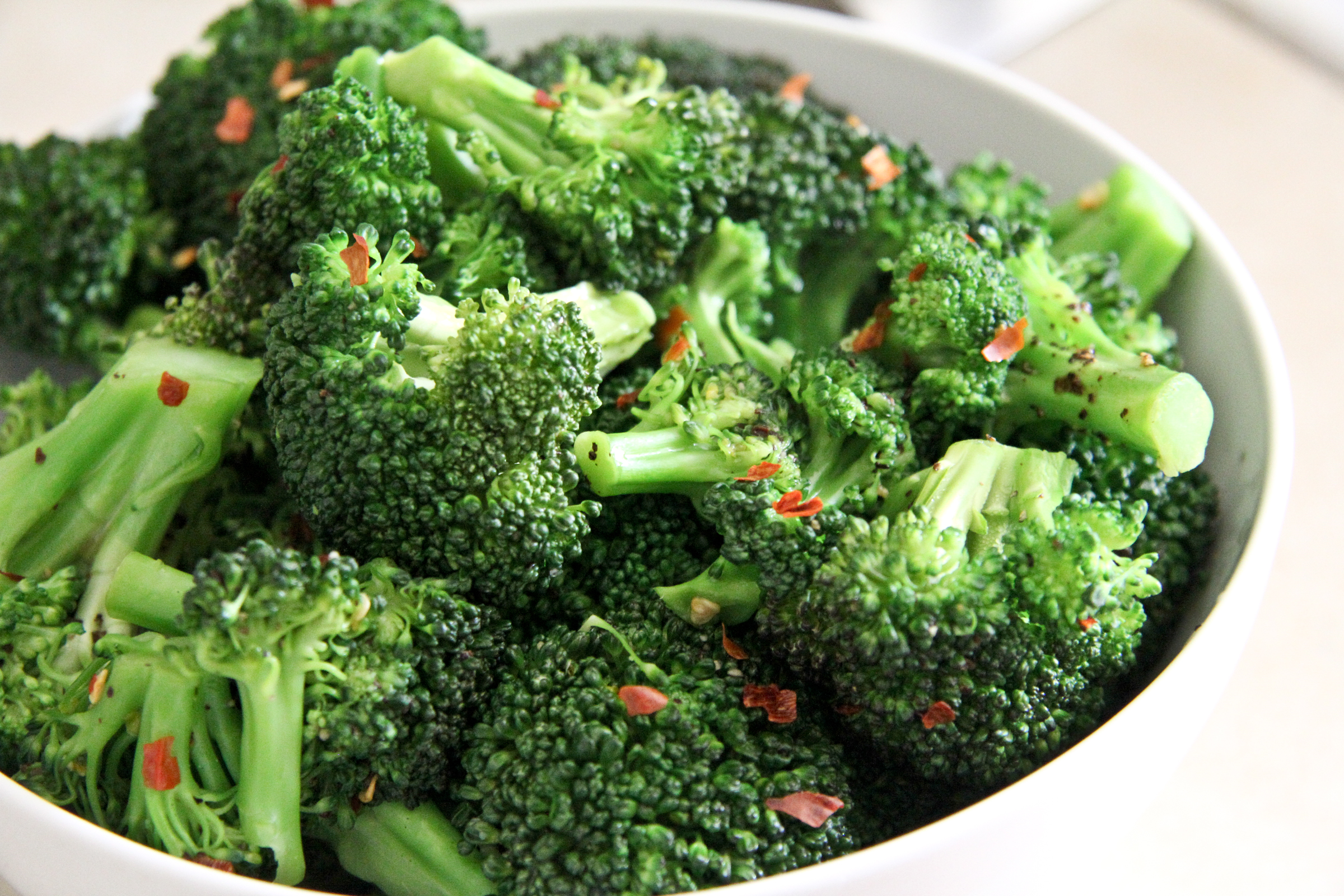 Toss with simple seasonings while the broccoli is still hot, such as salt, pepper, and crushed red chili flakes for a little excitement.  You can keep the broccoli warm by covering it with foil.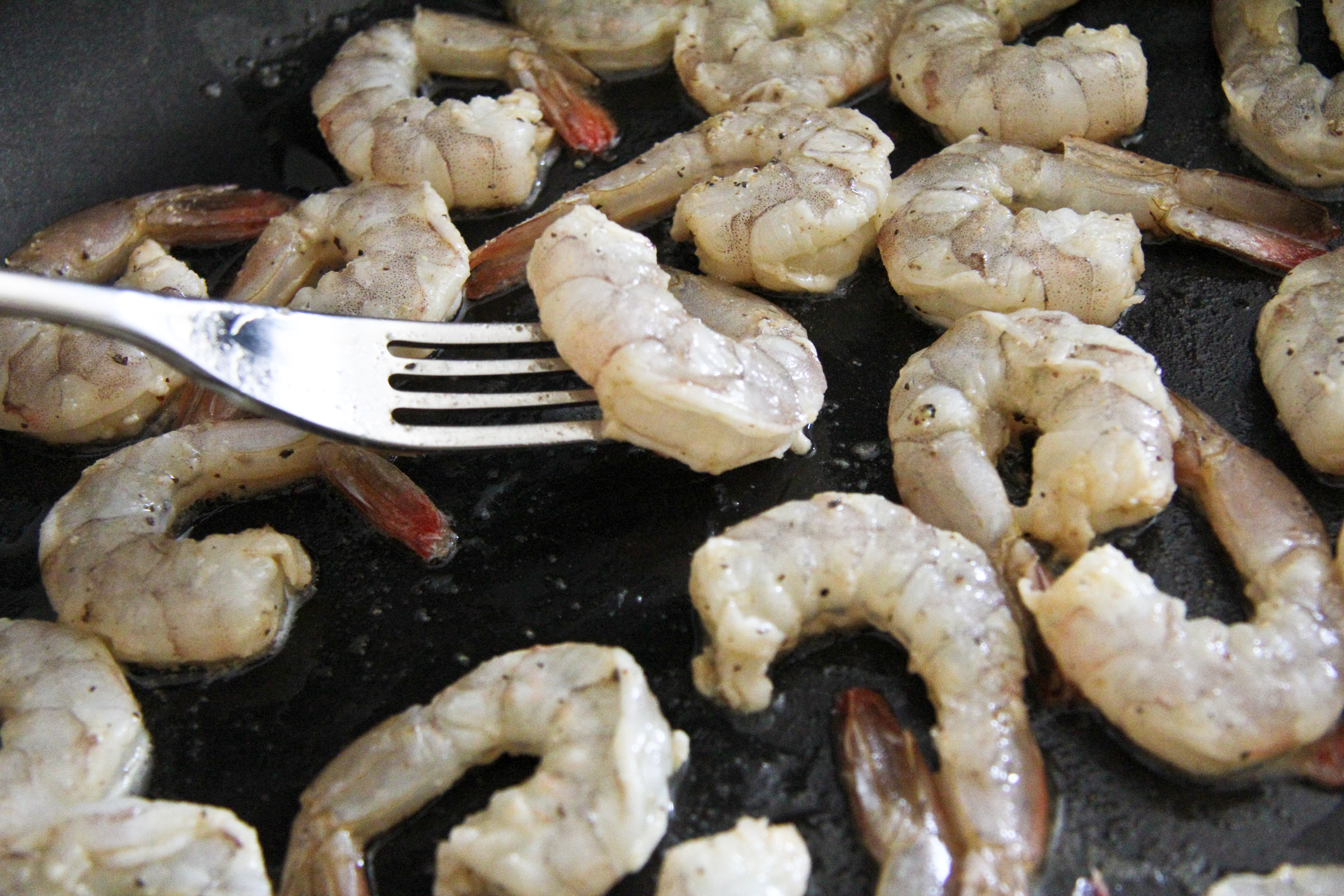 When the shrimp are ready, I wipe the pan dry, and fish out the shrimp with a fork.  The reason is because I don't want all the excess liquid to boil the shrimp.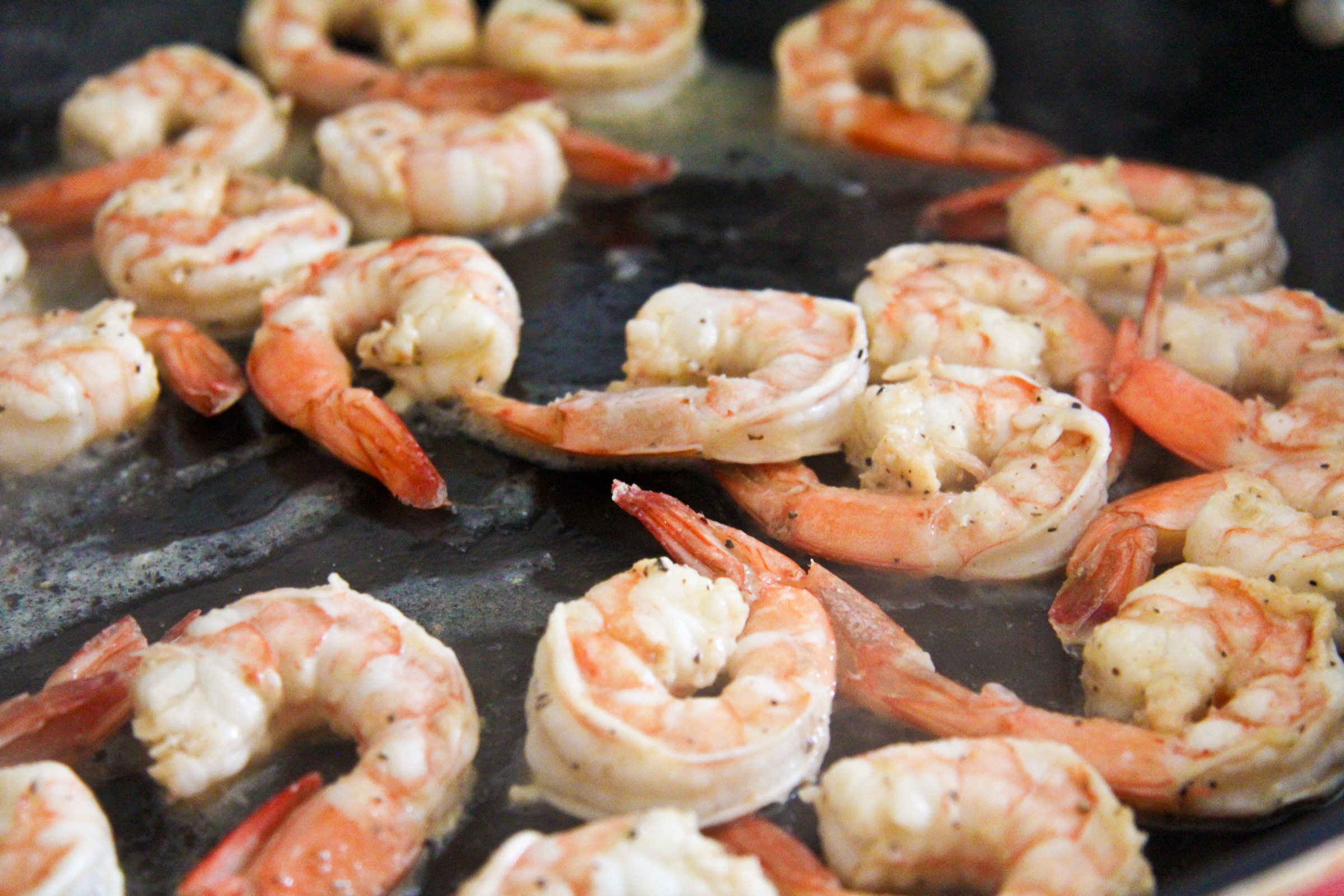 Flip the shrimp and make sure the tails curl, and they just turn pink.  You don't want to over-cook them, or they will be tough, rubbery and not juicy.  Shrimp cooks a lot faster than you'd think.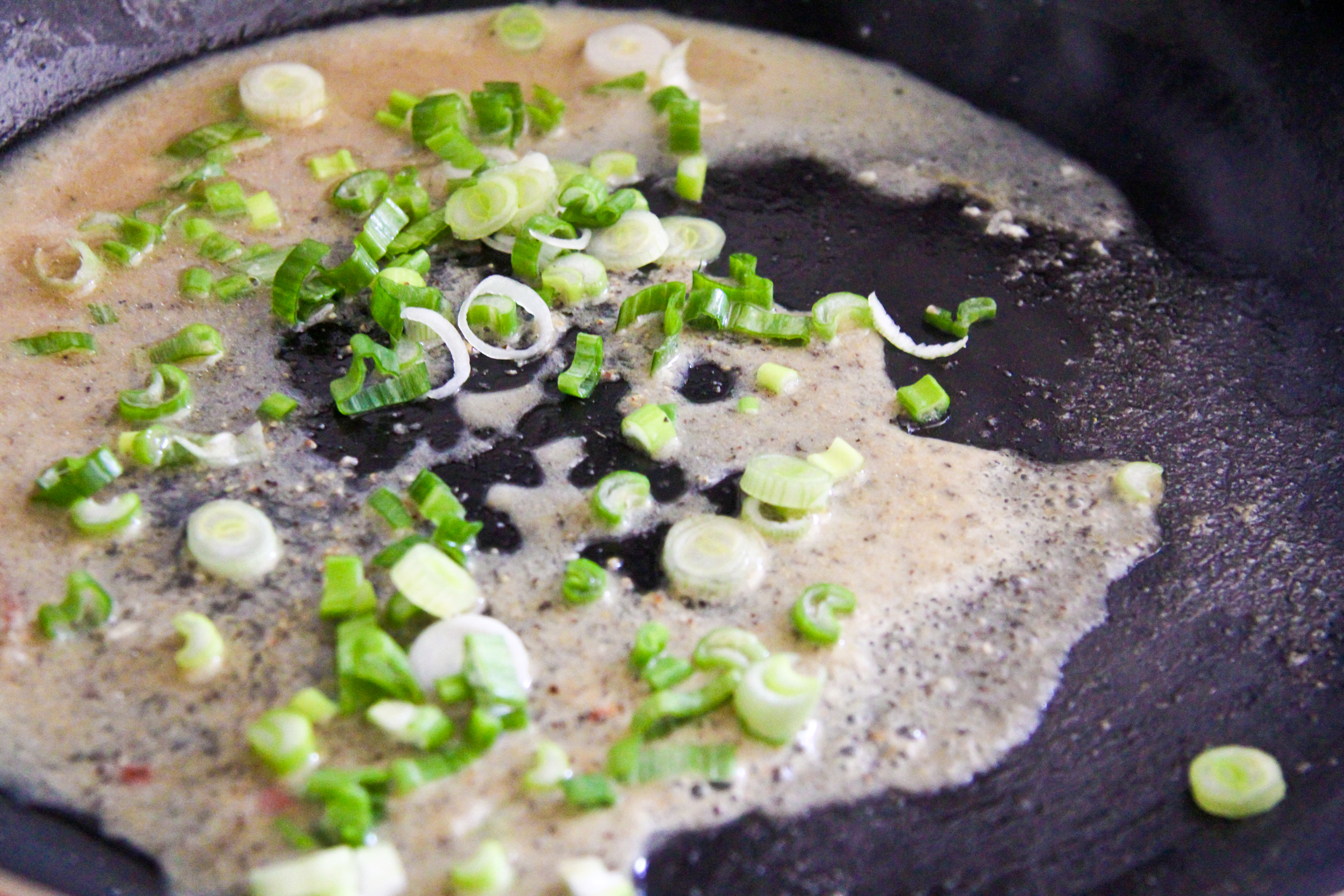 Set the shrimp aside on a plate and dump in the remaining juice/ marinade from your bowl.  Cook it until it bubbles and thickens up a bit, about a minute or so.  Toss in some fresh chopped scallions at the end.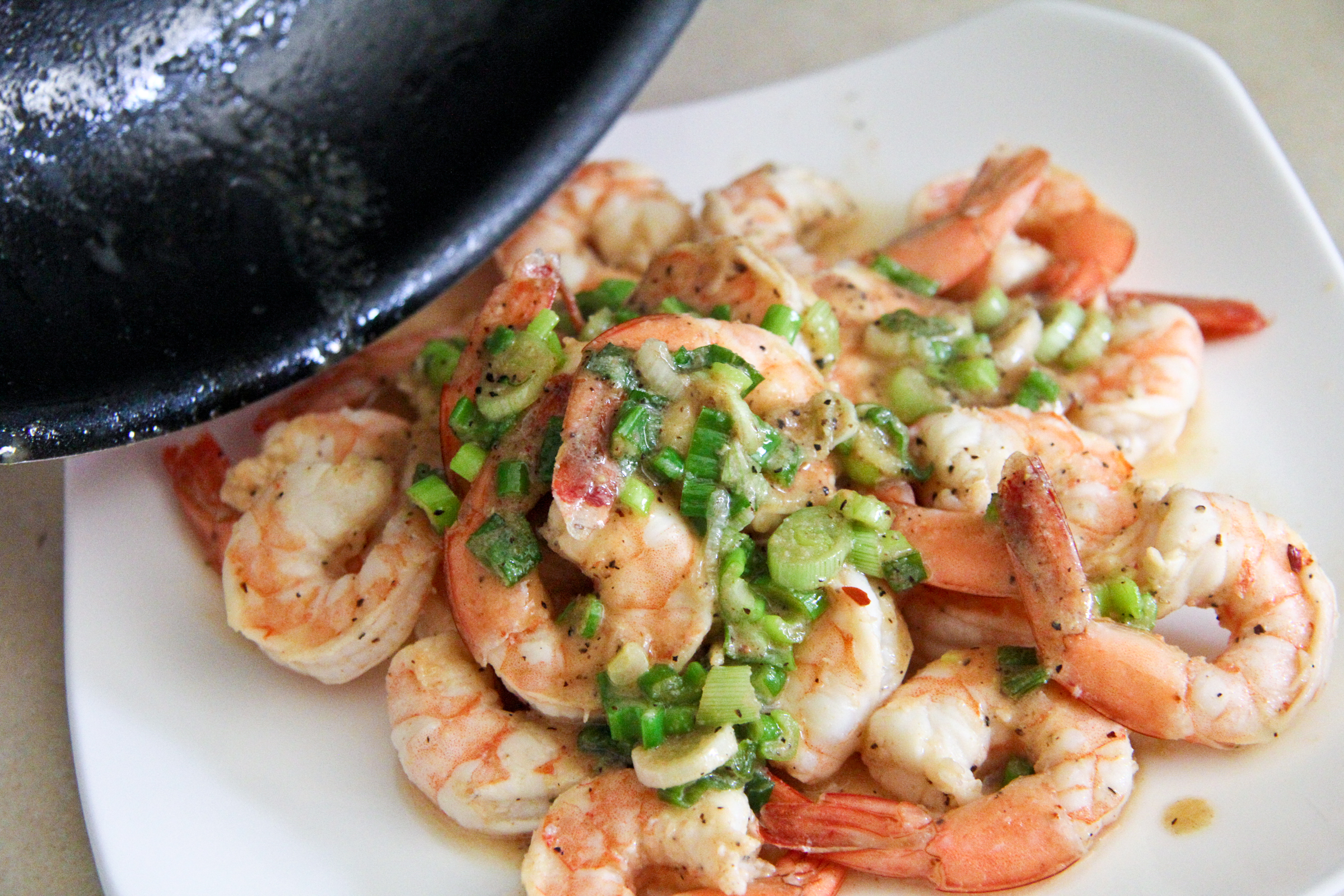 And drizzle that sauce over your shrimp.  There won't be a lot of sauce, but it will be concentrated with flavor, so a little goes a long way.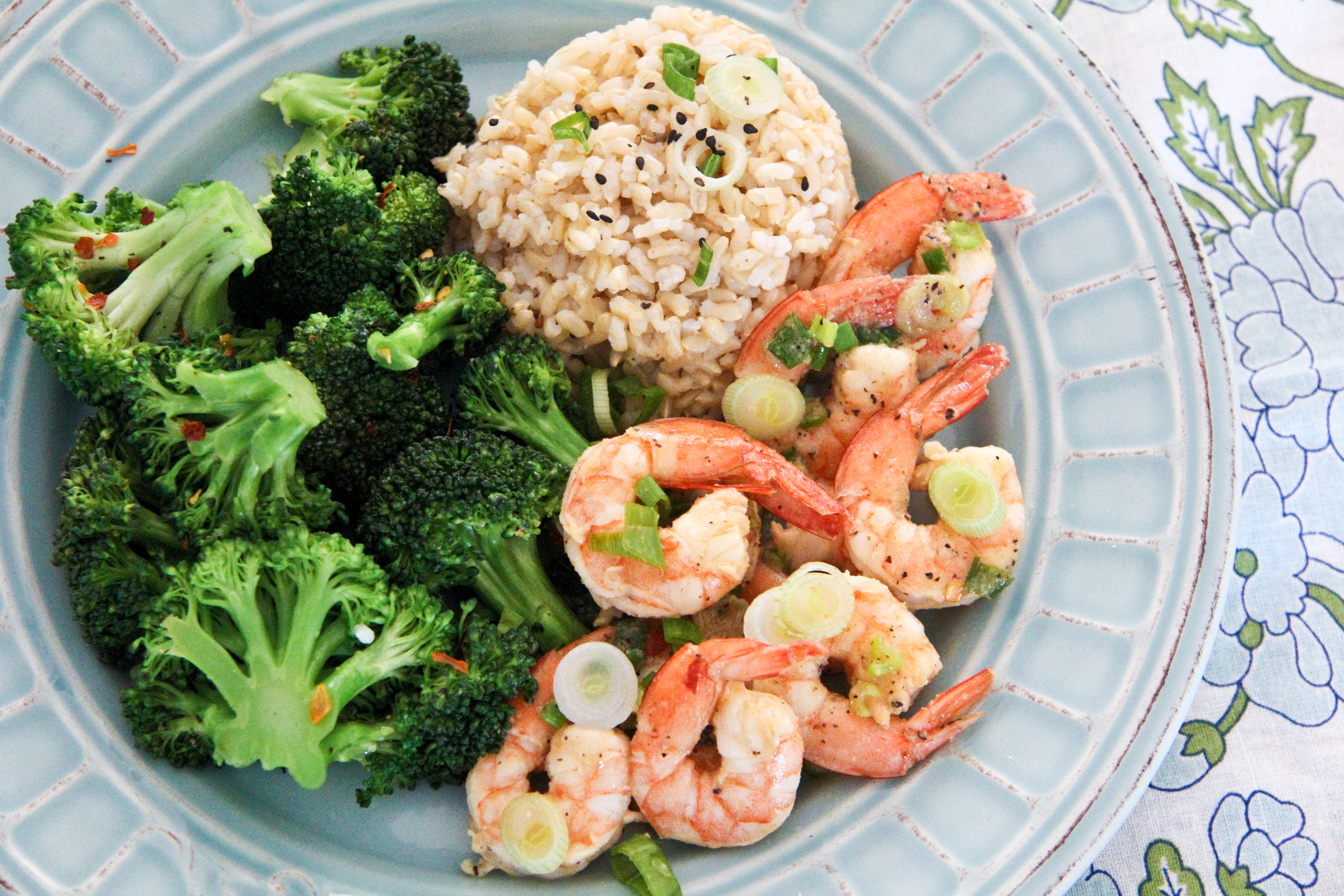 And then go heavy with the veggies, easy on the rice, and moderately with the shrimp.  You will be a happy camper.

Shrimp with Lime
This shrimp dish is so simple and flavorful, you'll be making it all the time.
Ingredients
¾ lb medium sized frozen shrimp, (about 2 dozen)
¼ teaspoon each salt and pepper
½ teaspoon garlic powder
½ teaspoon ground cumin
2 teaspoons agave nectar (or honey)
1 lime, squeezed
1 tablespoon olive oil
Chopped scallions for garnish
Instructions
Defrost frozen shrimp in a bowl of cold water for 10-15 minutes. Drain, peel and devein shrimp. Add back to the bowl. Add the rest of the ingredients, except for the scallions, to the shrimp. Massage and toss the shrimp with your hands and set aside to marinate for 20 minutes. If you need to let them marinate longer than 20 minutes, then do not add the lime juice until ready to cook or else the lime juice will cook the shrimp.
Fish the shrimp out of the marinade with a fork or slotted spoon and add to a pan. Cook until just pink on both sides. Avoid over-cooking or they will turn tough. Remove from pan and set aside on a plate. Then add in the juices from the bowl and cook for about a minute or until it thickens slightly. Toss in the chopped scallions and pour the sauce over the shrimp. Serve with a little brown rice and a generous helping of steamed vegetables.
And just in case, here's the easy steamed broccoli "recipe."
Steamed Broccoli with Chili
A quick side dish ready in minutes
Ingredients
Broccoli florets
¼ cup water
Salt, pepper, and crushed red chili flakes to taste
Instructions
Add broccoli florets to a pan over high heat. Pour in the water. Cover with a lid and let steam for 2 minutes or until crisp tender.
Remove the lid, let the excess water evaporate and toss with seasonings.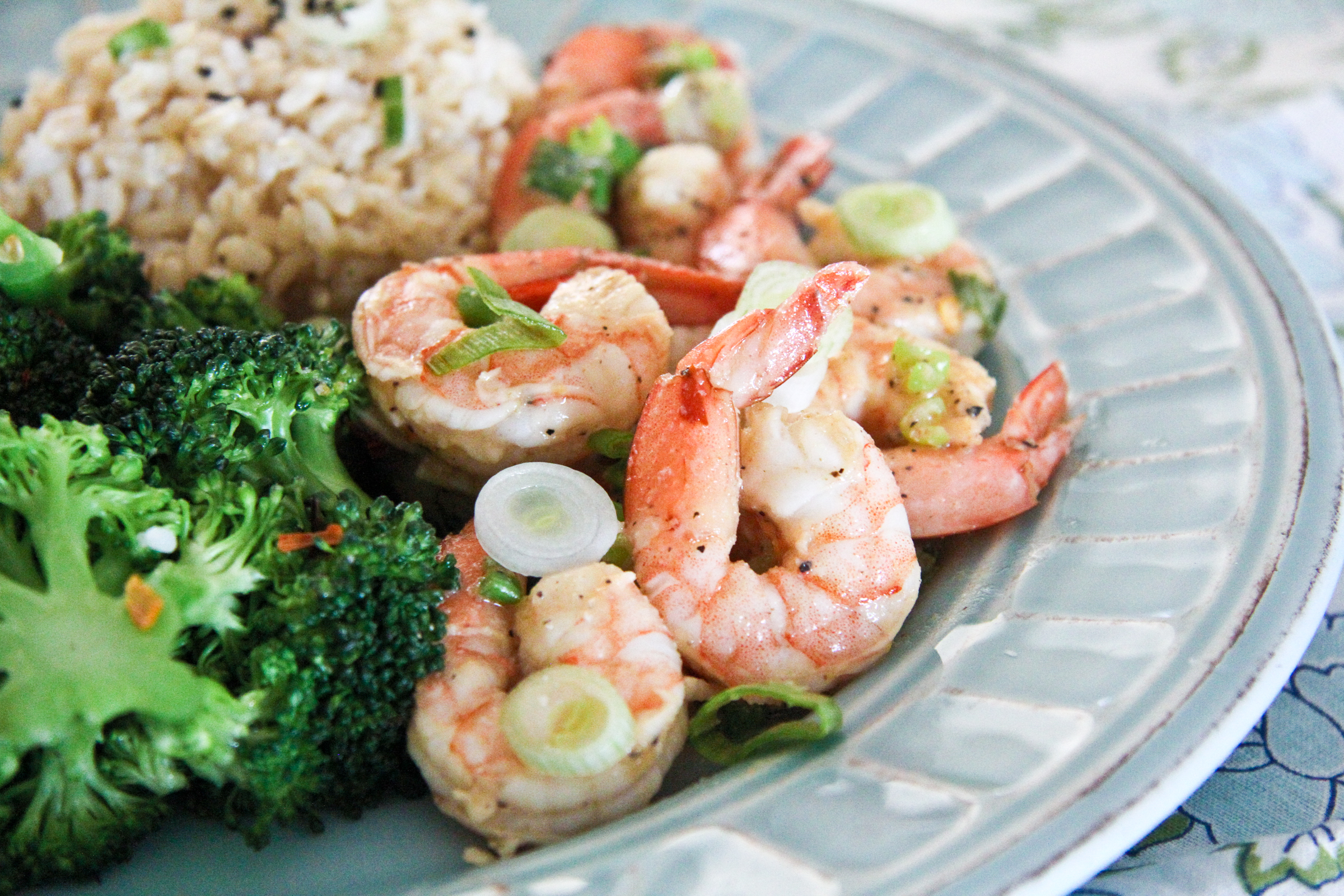 I just realized that the shrimp has Mexican flavors, but I served it in an Asian way.  But if you want, you could take the tails off of the shrimp and stuff it inside of a tortilla to make a shrimp taco or burrito with all the fixin's.  That would be FANTASTIC.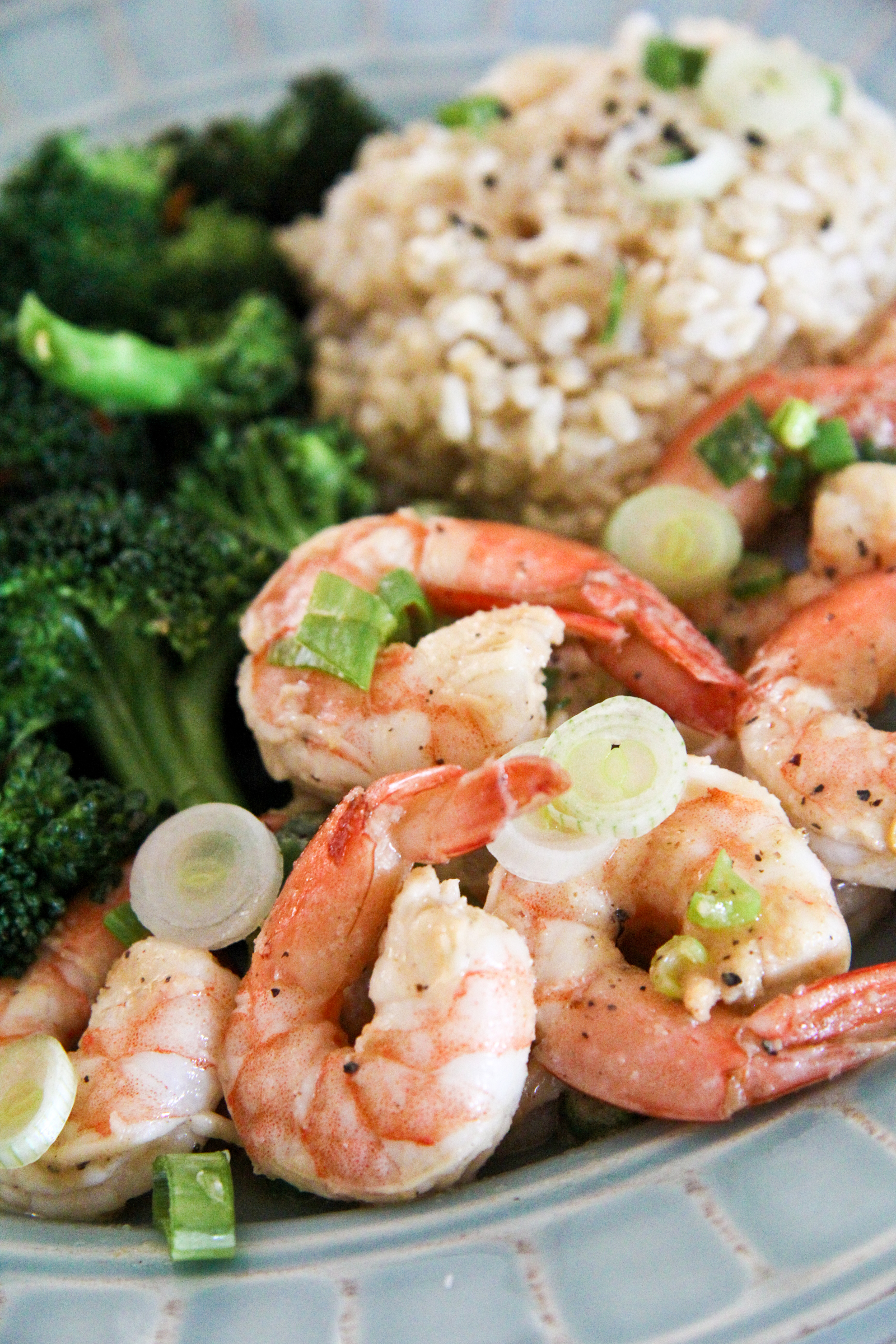 If you massage, marinate, and cook the shrimp right, it will be super juicy, succulent, sweet, flavorful and satisfying.  It's definitely light, so the fiber from the broccoli and the brown rice helped keep us satisfied for a well-balanced meal.  Joe kept saying, "mmmm" while eating.  Maybe that was the hunger talking… I dunno.  But with flavor like this, this is a diet I can definitely do!