Baked Chicken Legs with Tomato Salad
When I was a newly graduated young adult, and my friend Yong Mi was still in college, she made me a delicious and memorable meal from her dorm apartment.  The thing that impressed me the most was the fact that she didn't have a real kitchen.  But that didn't stop her from making me a complete dinner with one little rice cooker!  Did you know that you could saute things inside your rice cooker?  I never knew that until she did it in front of me.  But I guess it makes sense.  It's kind of like a small electric griddle.  To this day, I still remember exactly what she made me: buttered rice with sauteed chicken breasts and tomato salad.  
Years and years later, we are now both married, Yong Mi has two kids, and we live across the country from one another.  During my recent trip to Philly, I had to make time to see her and guess what she decided to make me…rice and tomato salad, but this time we had it with steak.  Hey, we're not in college anymore.  We gotta get fancy now!
The meal brought be back to her dorm room days and when I got home, I had to make a twist on that recipe.  I could've made buttered rice, but I find that there's enough flavor in the tomato salad to complement plain rice.  So if you want to eat it over rice, just cook up a batch like I did.  Otherwise, this meal would be tasty with some crusty garlic bread or roasted potatoes.  It's really up to you.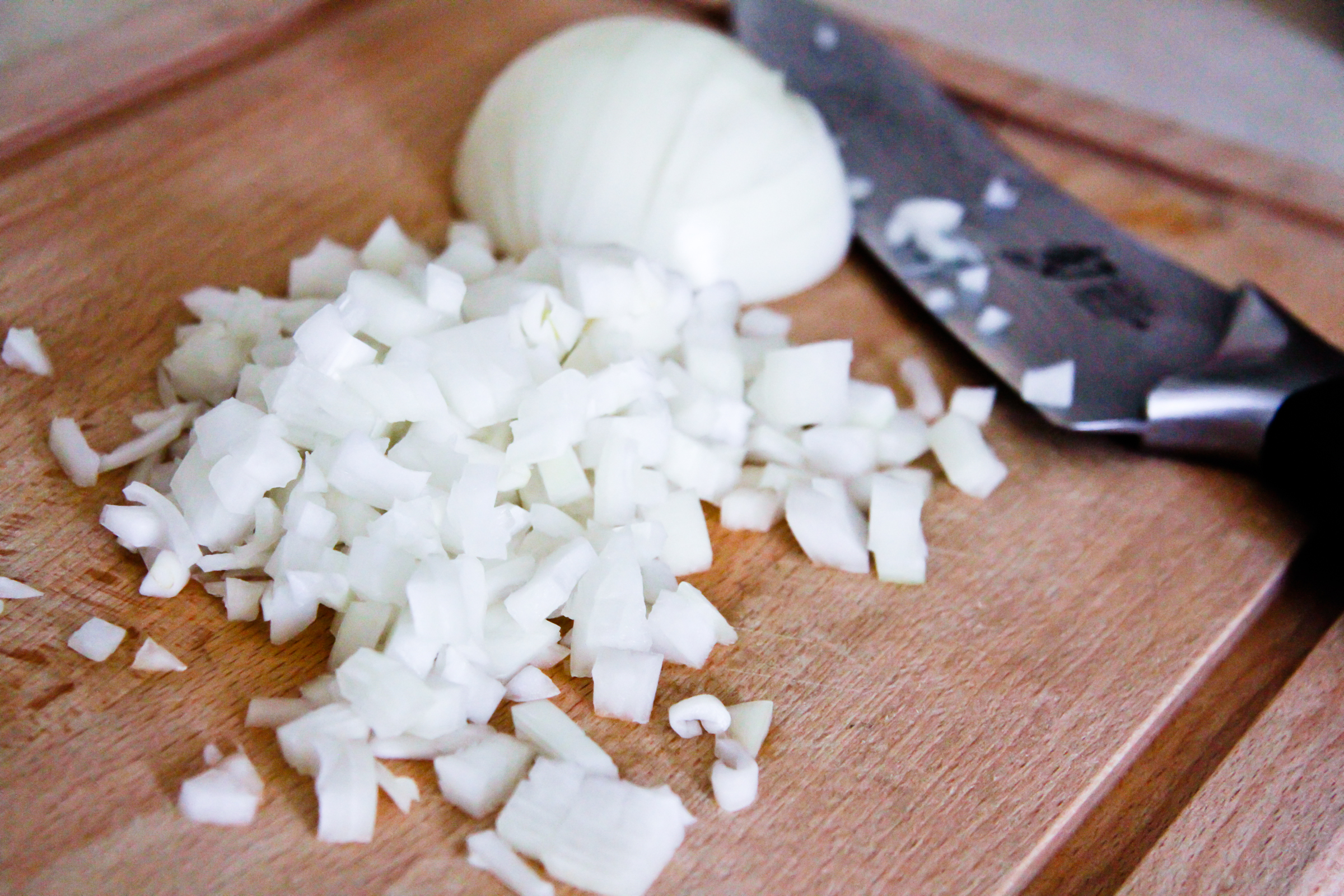 Yong Mi learned the recipe for tomato salad from her mom in Chile.  Yong Mi is half Korean and half Chilean, which means, she often makes the most fabulous fusion cuisine!  Everything she makes I love.  She's a fantastic cook.  This time, she verbally shared a rough recipe with me and I brought it home and gave it my own twists, and measurements.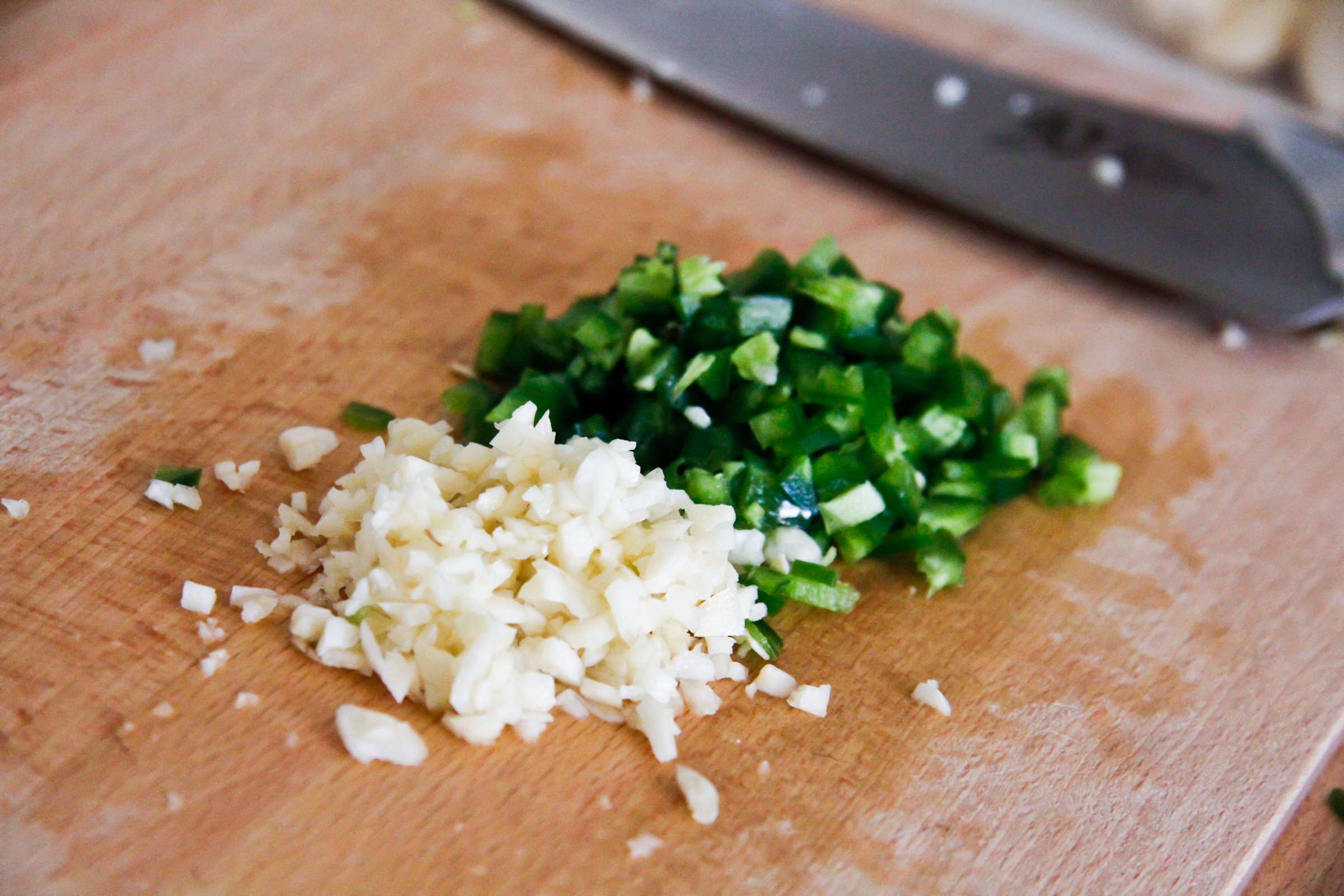 If you think about it, tomato salad is essentially salsa with lemon instead of lime, and a couple pinches of dried oregano.  But what I love about it is how garlicky fresh it is, and the fact that the watery sauce that forms from the tomatoes is used to liberally douse over rice.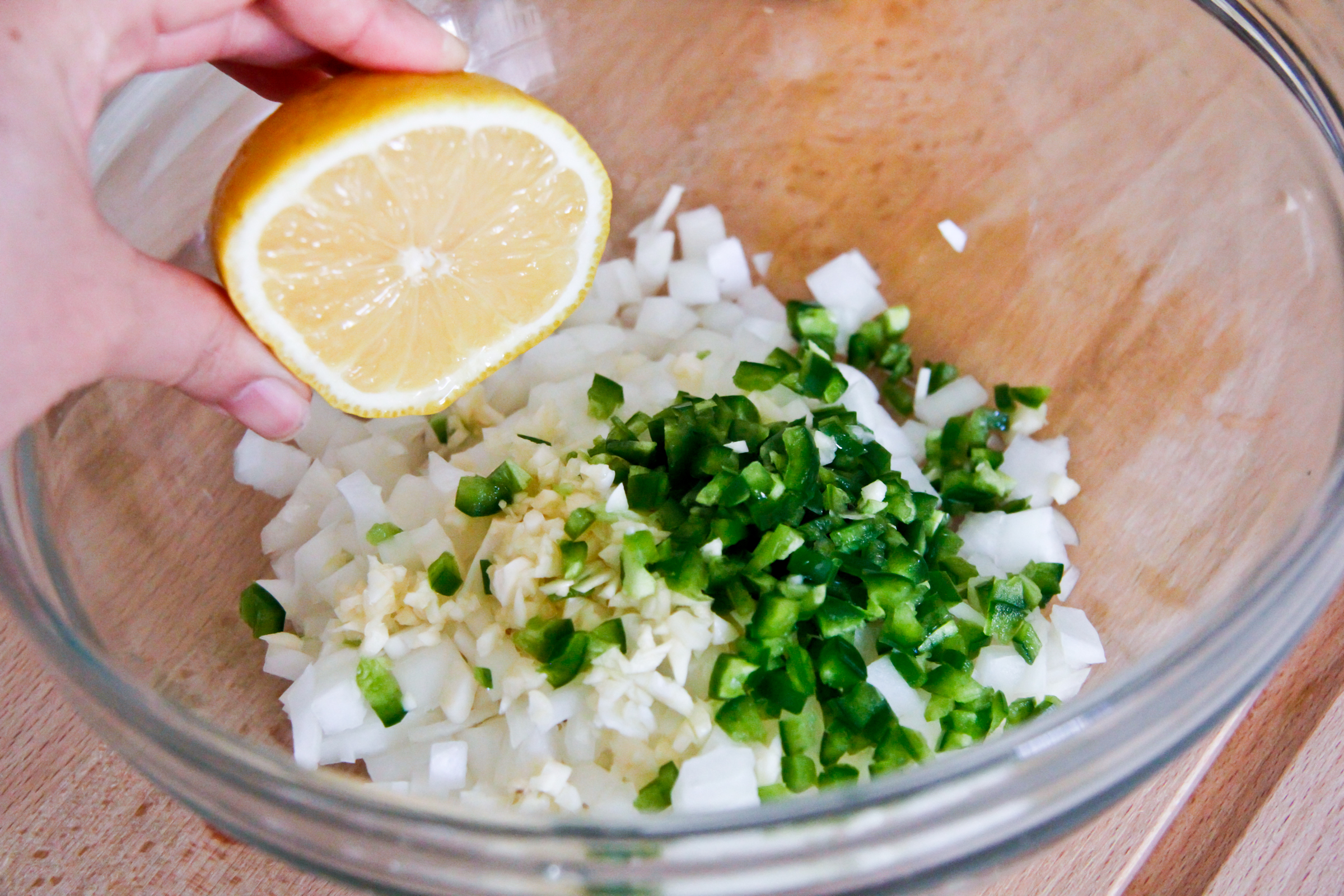 My twist is that I take the chopped onion, garlic, and jalapeno, and squeeze half a lemon over it.  This neutralizes the spicy raw flavor and tones it down a bit.  If you like your onions to taste like they're biting you back, skip this step and leave them alone.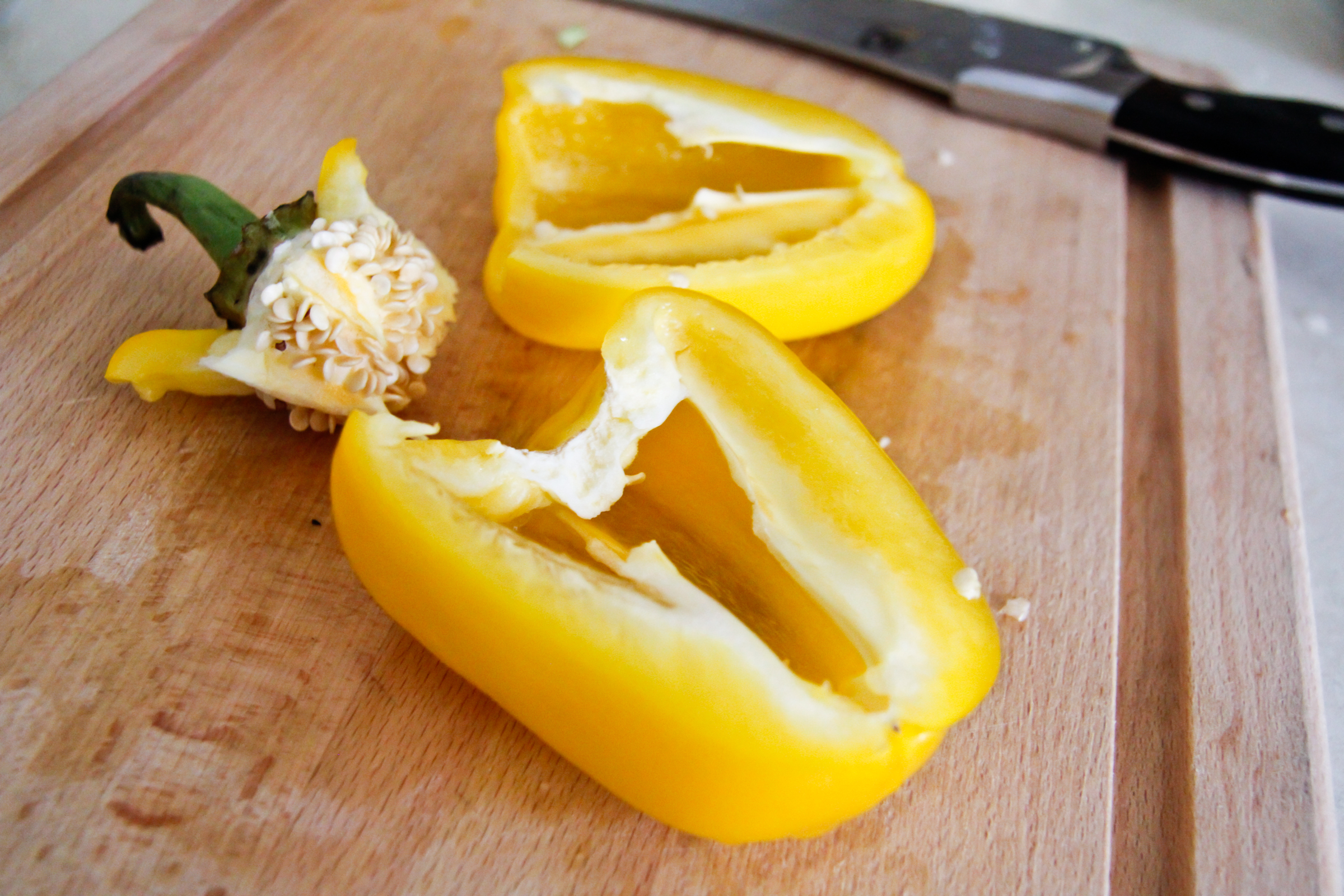 Then you move on to your sweet yellow bell pepper.  You can essentially use any colored bell pepper you want, but really, why would you use red when there are red tomatoes, and green is boring too.  So yeah, use a yellow one.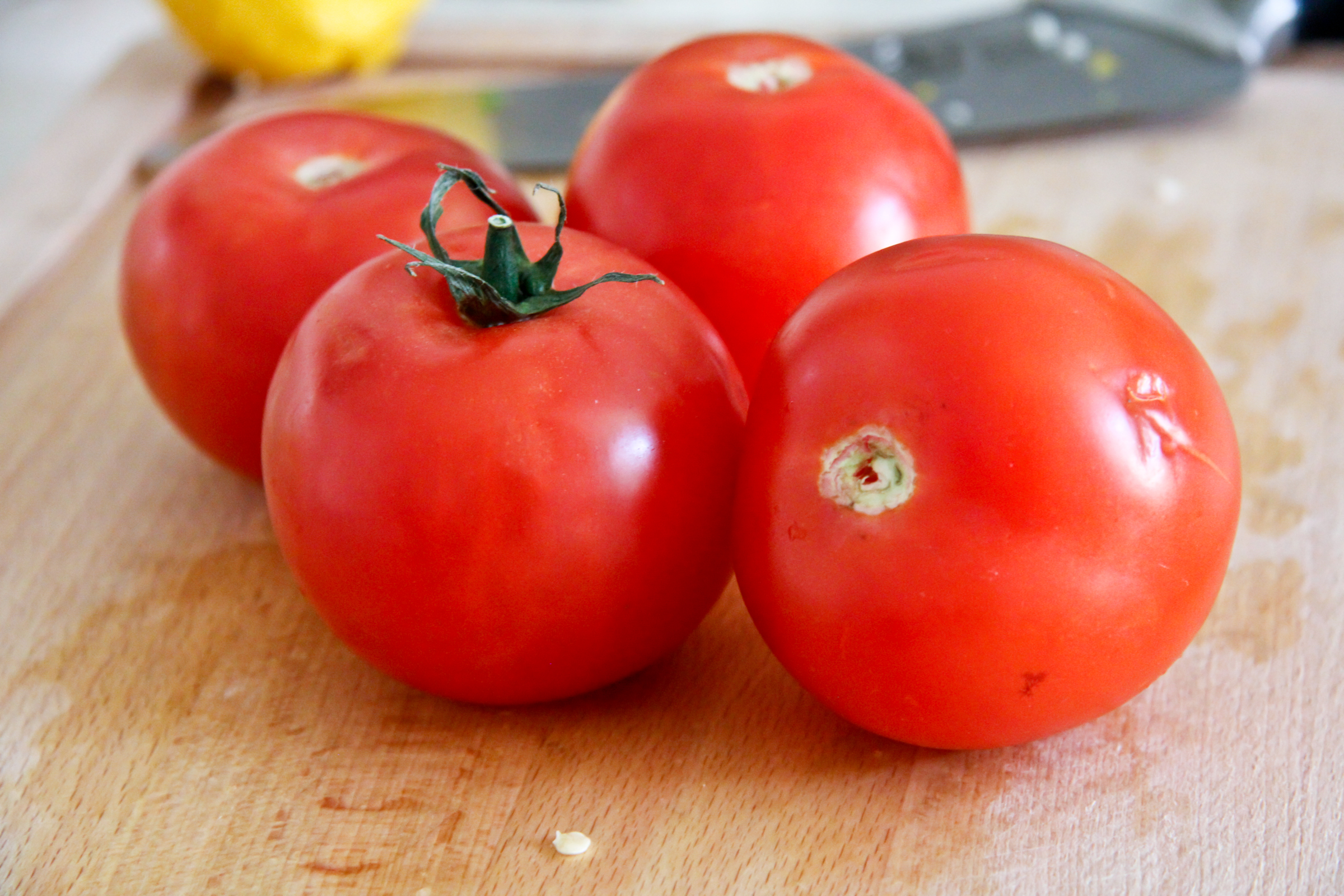 Then get four or five vine-ripened tomatoes, depending on their size.  I used four, but then I realized later that I should've used five since my tomatoes were pretty small.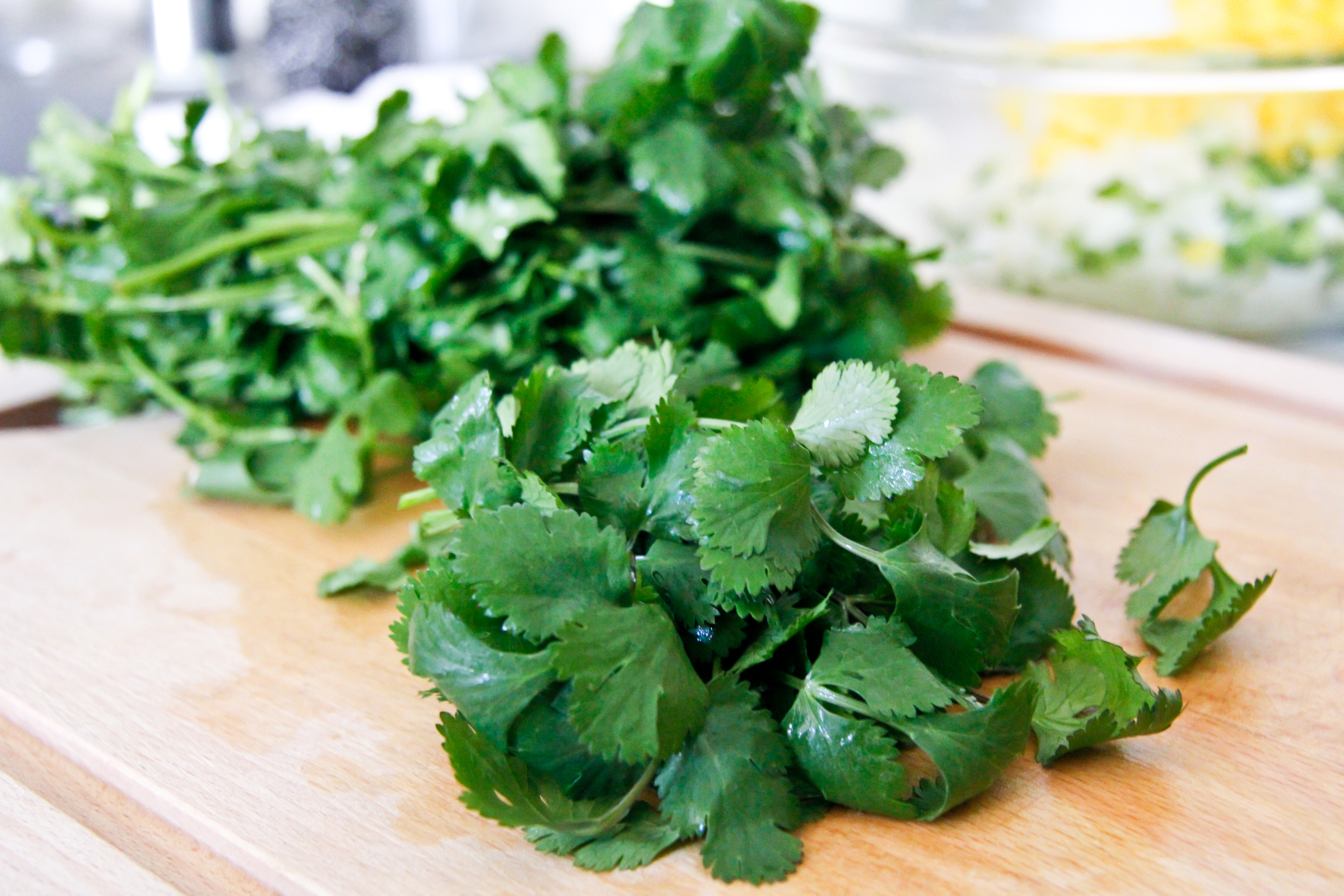 Then here's my nod to salsa.  I added chopped fresh cilantro because I love it.  Yong Mi didn't add it to hers, but I like the fresh herbaceous flavor that is characteristic of salsa, so I added some.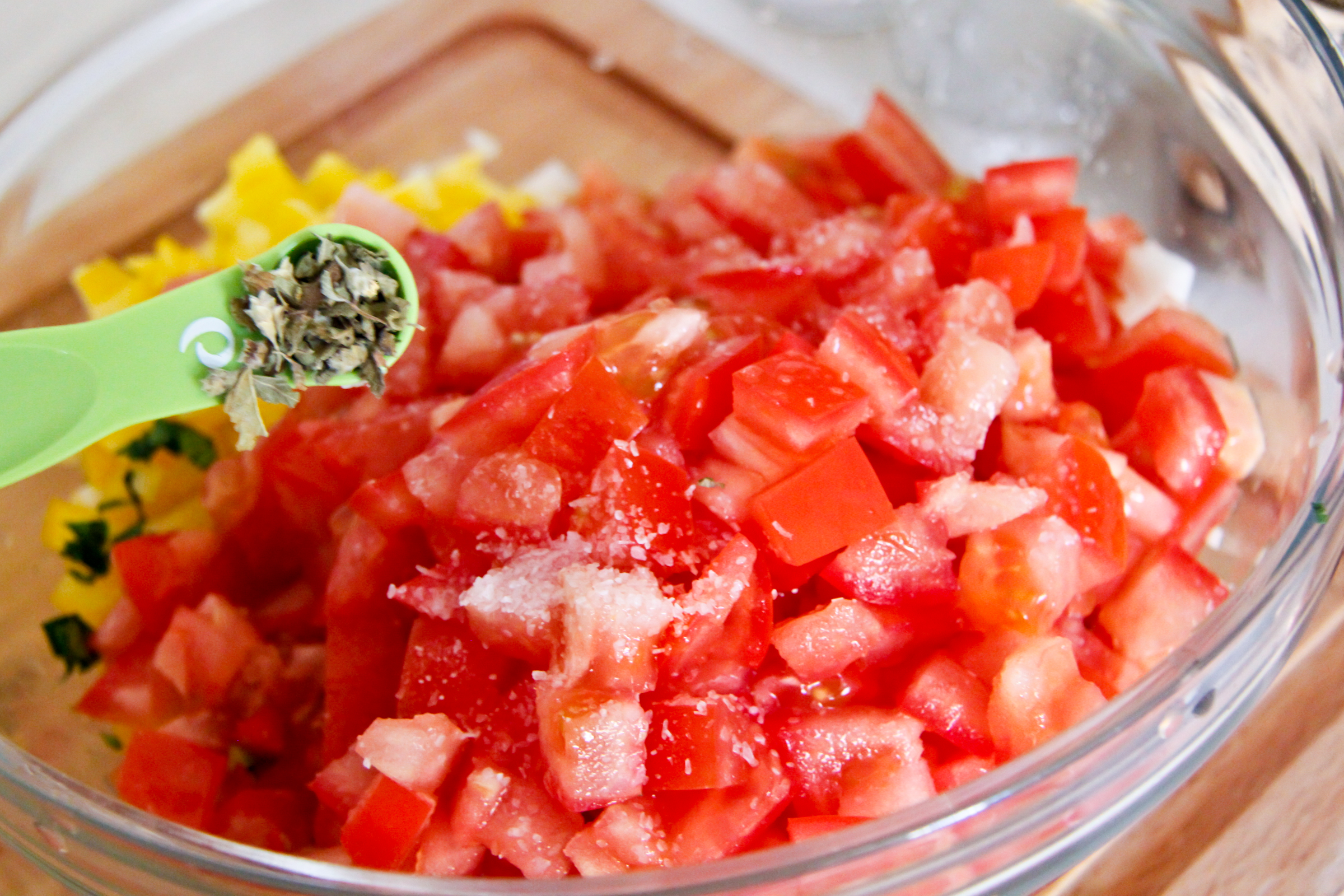 Sprinkle on some kosher salt and add in a ½ teaspoon of dried oregano.  This was the surprise ingredient to me.  My oregano is in the form of whole leaves, so I make sure to crush it in between my fingers before adding it in order to release its maximum flavor.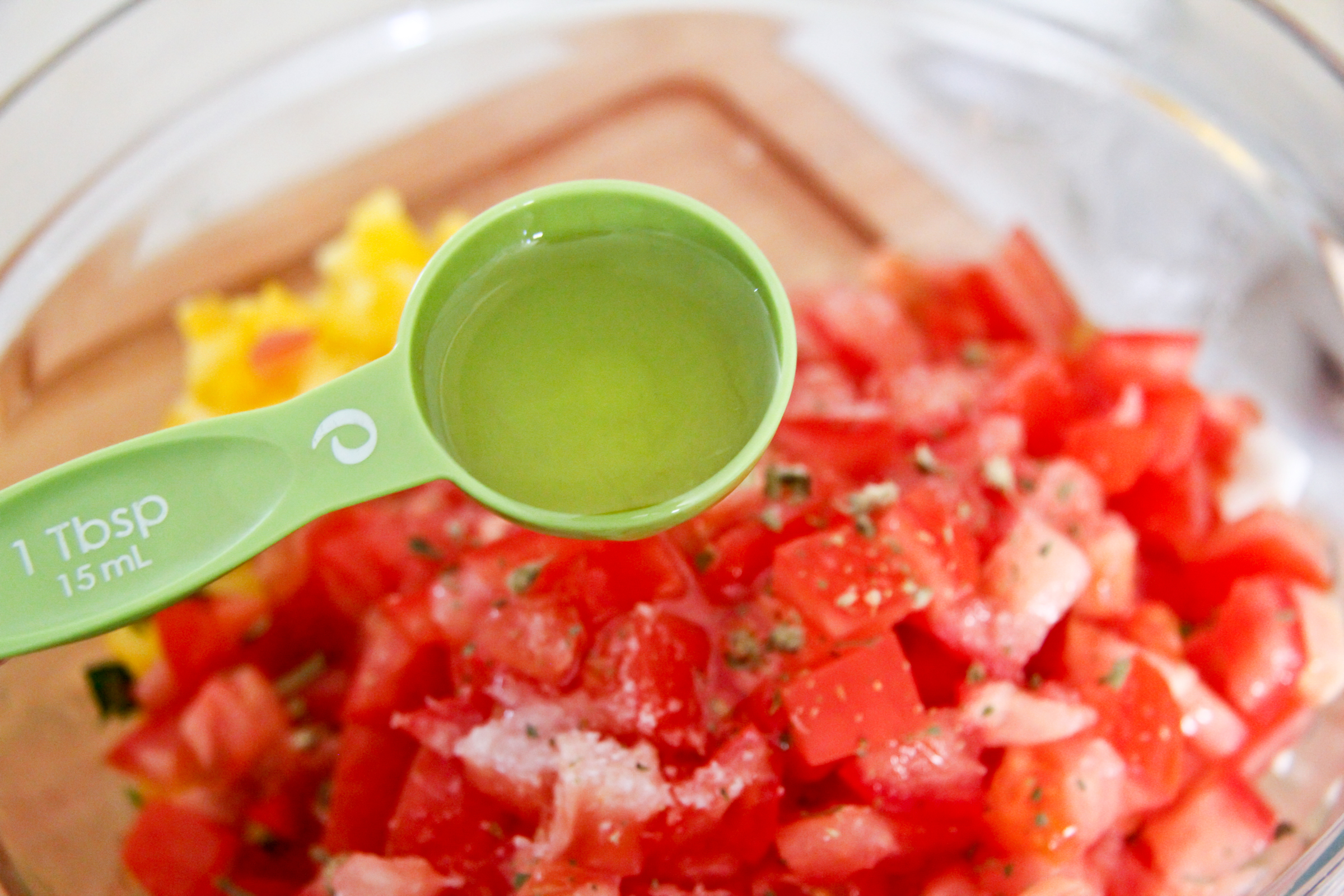 Then drizzle on the glossy rich olive oil and toss well.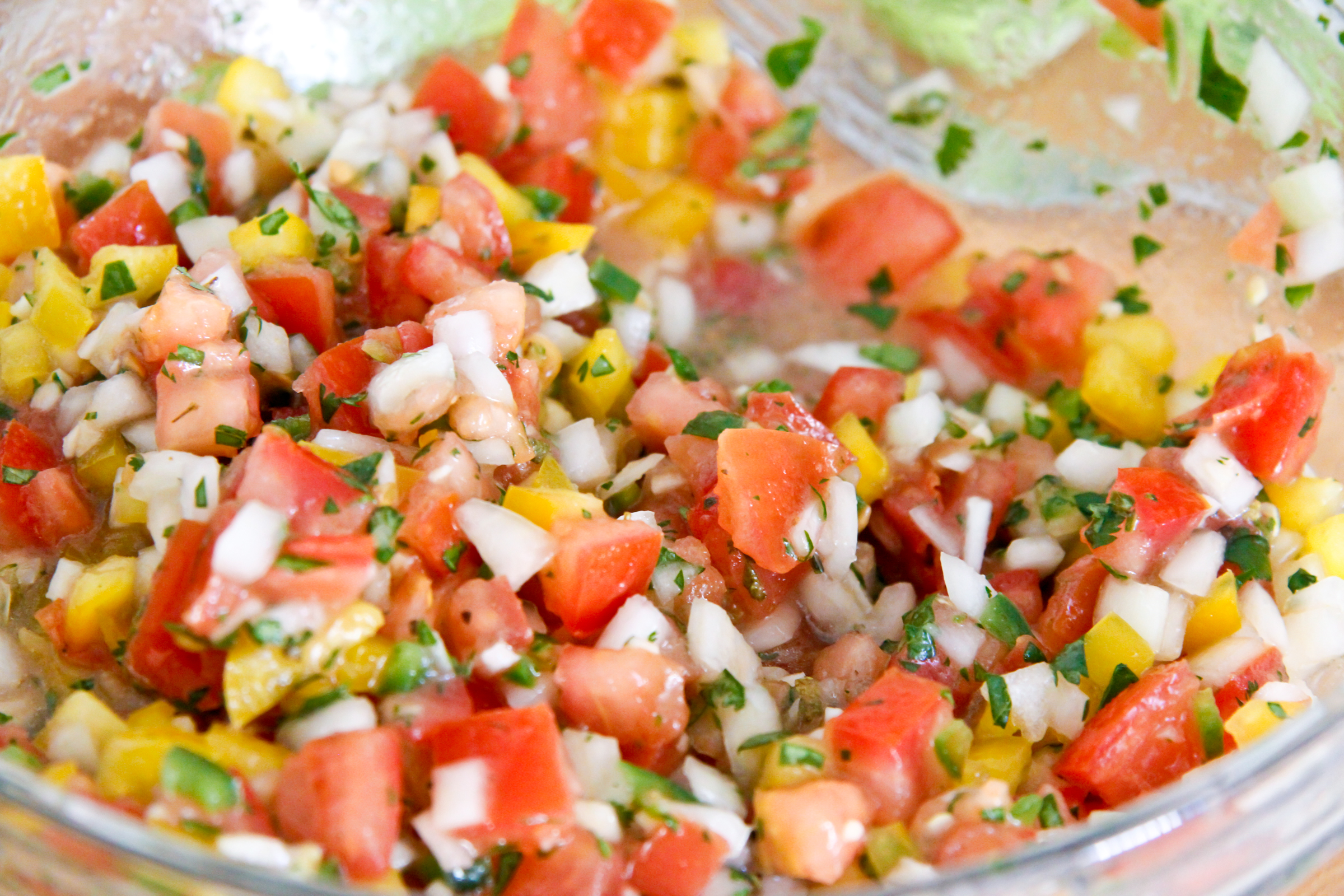 You let the whole shebang rest in the fridge and let the flavors develop together.  Before serving, give it a quick taste and adjust the seasoning by adding the other half of the lemon if you want, or a little more salt.  You want the flavors to be bold.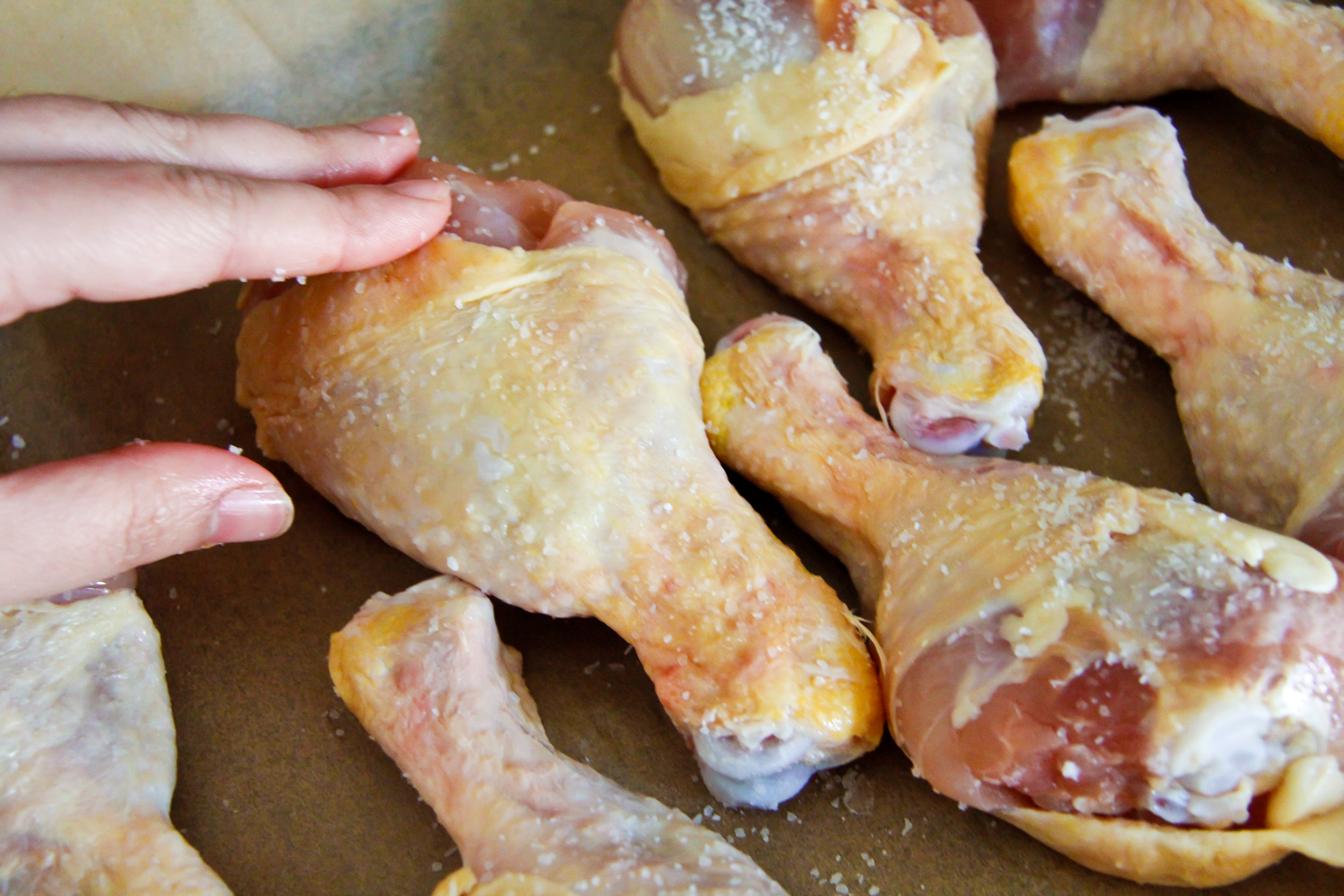 Okay, here's the thing.  For the sake of the flow of this entry, I put this picture out of order.  Really, you want to do this step WAY in advance before you start anything else.  Place your eight chicken legs on a parchment paper or aluminum foil lined tray.  Sprinkle one teaspoon of kosher salt divided evenly over all of the legs and then use your hands to massage it into them.  Then let them rest in the fridge for at least two hours, or even overnight.  The point of this is to allow the salt to penetrate through the meat and season it all the way on the inside too.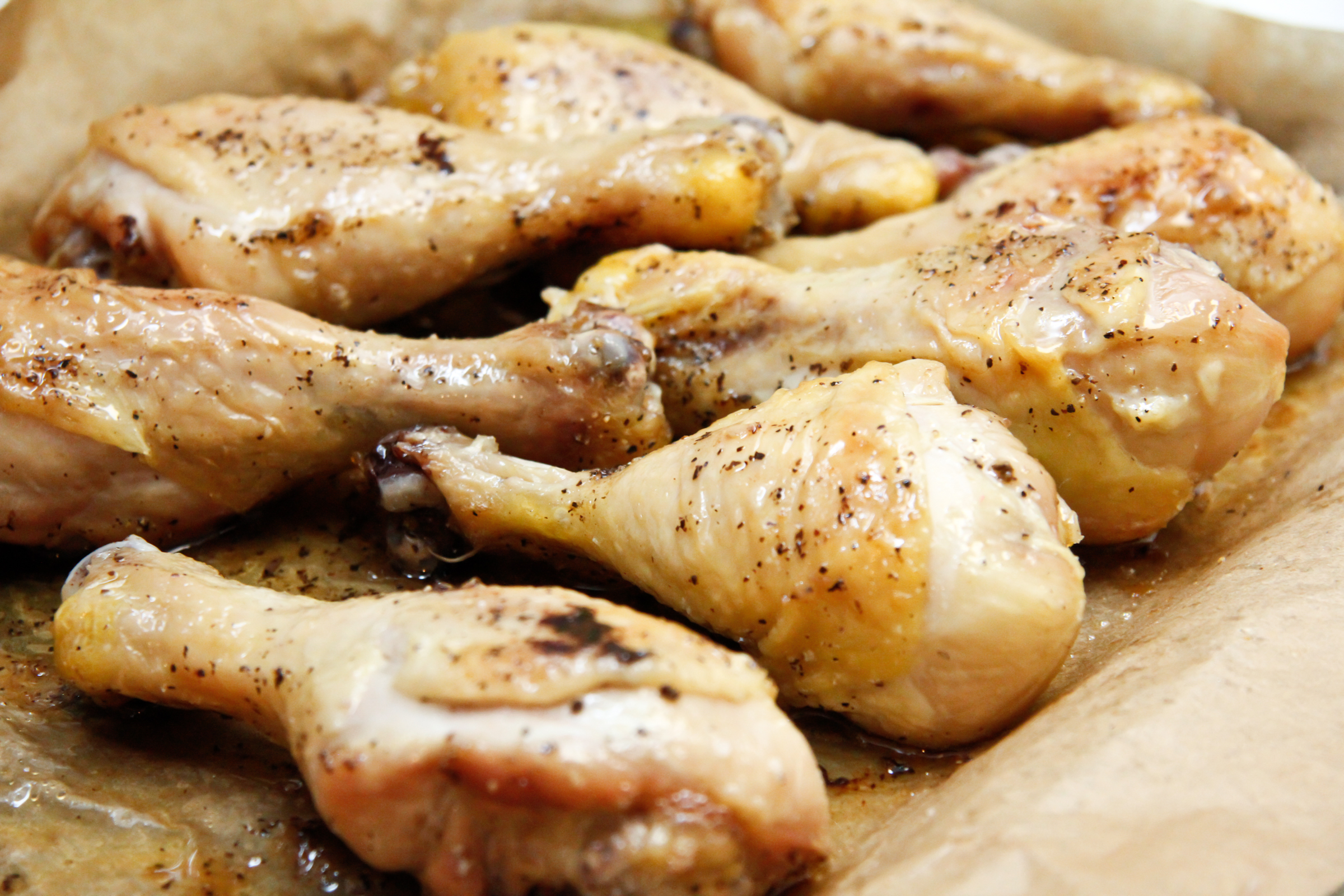 Then you bake it with NO OIL for 15 minutes to allow the skin to brown on it's own.  Pull it out, drizzle the olive oil evenly on both sides, and sprinkle with a ½ teaspoon of pepper and just a little more salt for extra seasoning. Bake for an additional 30-45 minutes.  Serve it with your tomato salad and some rice.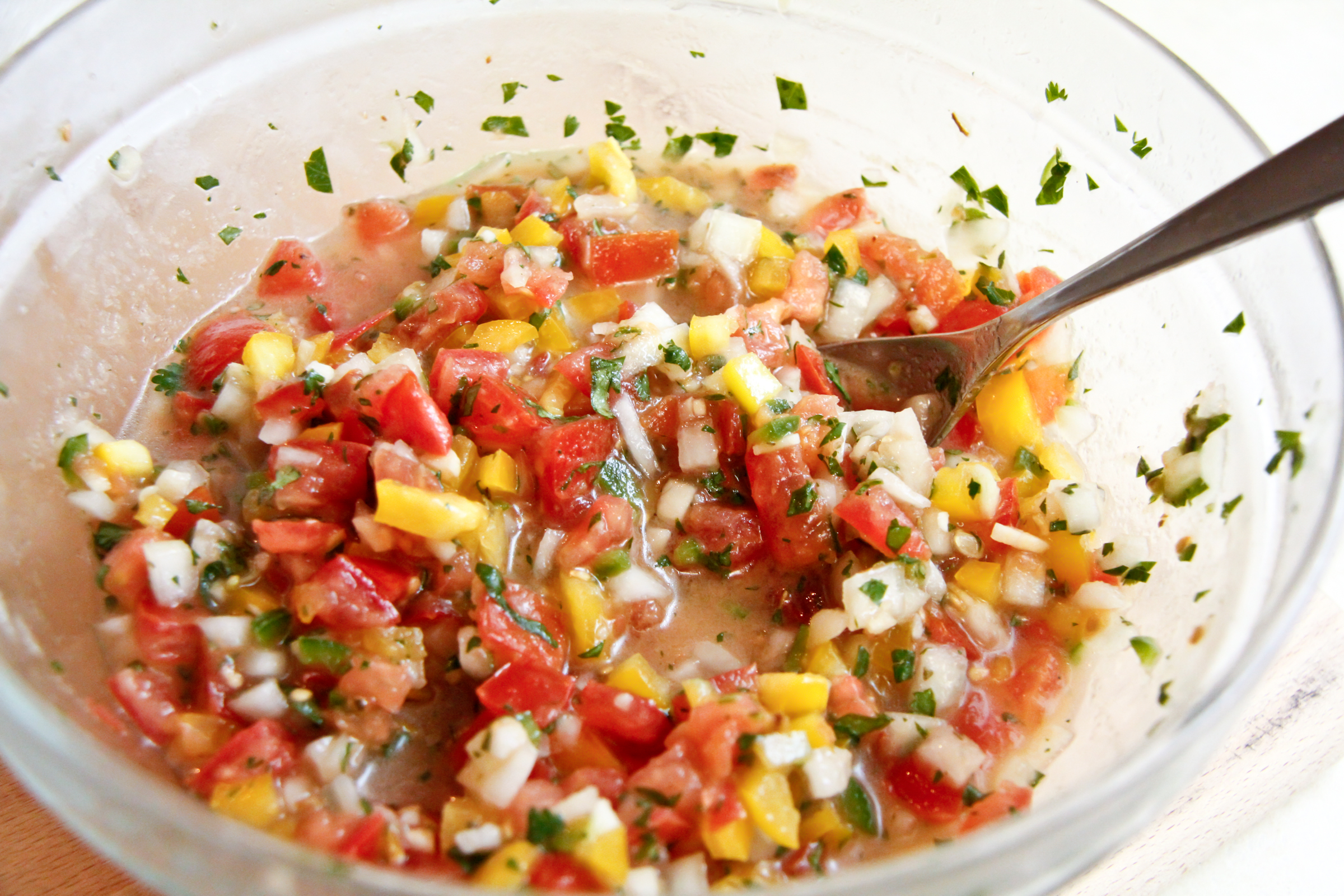 Don't be worried when your tomato salad turns soupy.  It's better this way because you use all of that gorgeous sauce to drizzle over your rice or even to enhance the juiciness and flavor of your chicken.  Since the chicken is so simply seasoned, this bright tomato salad is the perfect complement.  You can even store it in your fridge for up to 2-3 days.  It only gets better with time.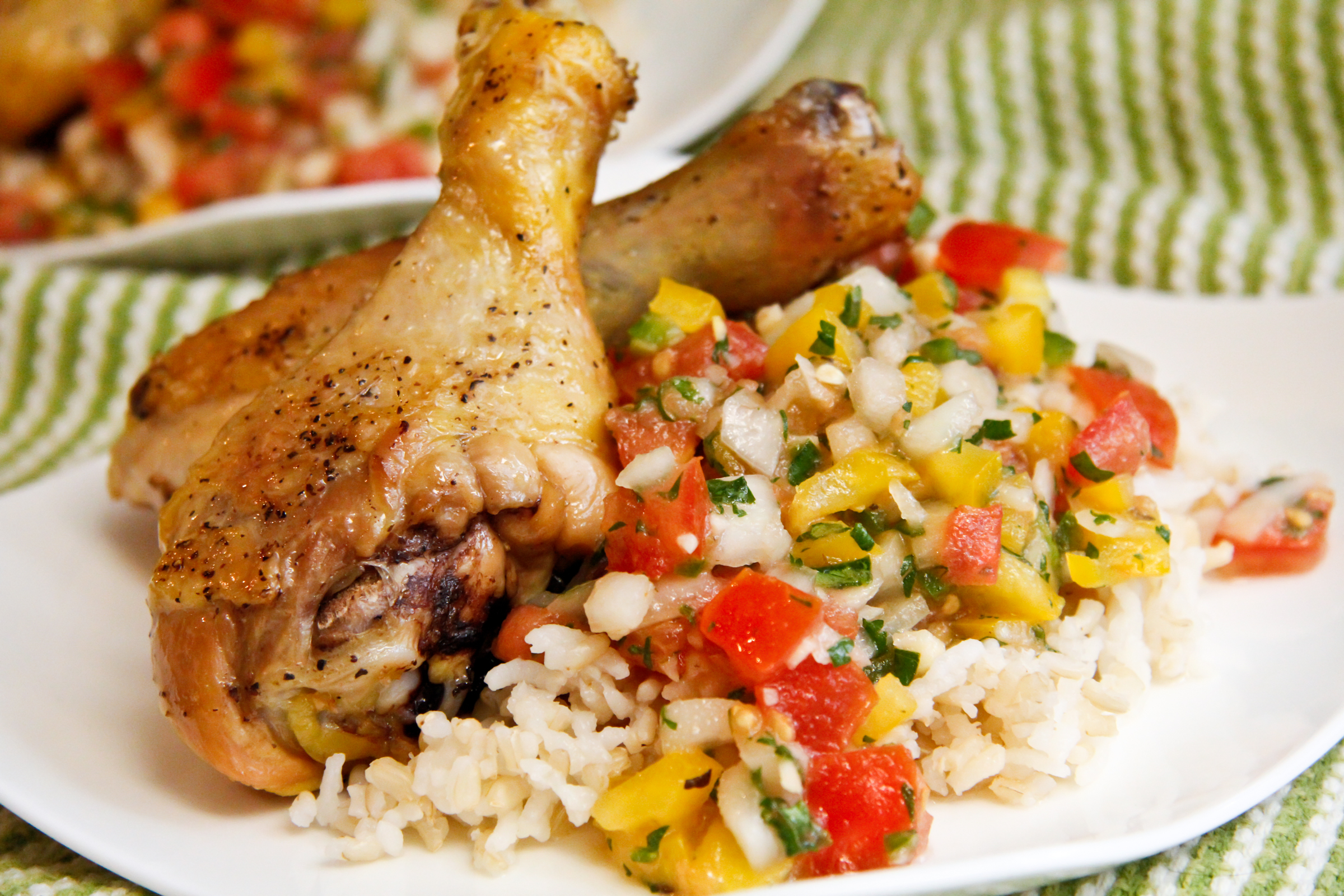 I easily became a fan of tomato salad the moment Yong Mi first introduced it to me a decade ago, and I know you will be one too.  You'll even find creative ways to use it.  One night, Joe brought home a Papa John's pizza, and all I did was saute up my leftover tomato salad in a pan and strew it over the hot cheesy pizza!  It added such a zing and freshness to each bite.  We both loved it.
And if you take the time to really let that salt sink into the chicken before you bake it, you'll be surprised at how much flavor develops with simply olive oil, salt, and pepper.  It's perfectly balanced with the light and refreshing flavorful tomato salad.  To me, this is why a meal like this is so memorable.

Baked Chicken Legs with Tomato Salad
The chicken is seasoned simply, but when it's paired with the fresh salsa-like tomato salad, your taste buds will dance.
Ingredients
For the chicken legs:
8 chicken legs
1 tsp kosher salt, divided, plus more for sprinkling
½ tsp black pepper, divided
3 T olive oil, divided

For the tomato salad:
½ of a medium sweet onion, diced small
3-4 cloves garlic, minced
1 jalapeño seeded, ribs removed, and finely chopped
1 lemon squeezed (use only ½ at first & use the other half if needed)
1 whole yellow bell pepper, seeded and diced
3T chopped cilantro (optional)
4-5 firm, ripe vine ripened tomatoes, chopped
1 tsp kosher salt, or more to taste.
½ teaspoon dried oregano.
2 tablespoons olive oil
Instructions
Place legs on a parchment or aluminum foil lined baking sheet. Sprinkle 1 teaspoon of salt divided evenly over each of the legs. Rub salt in by hand on all sides. Place in fridge for at least 2 hours, or even overnight.
Move on to your tomato salad. Add the diced onion, minced garlic, and finely chopped jalapeno to a large bowl. Squeeze half of the lemon over it to neutralize the raw spiciness. If you like the heat of raw onions and garlic, skip this step and add lemon juice at the end for seasoning only.
Add the diced yellow pepper to the bowl. Chop the cilantro, and add it to the bowl. Add the chopped tomatoes to the bowl. Sprinkle with the salt and dried oregano. Drizzle with olive oil. Mix well and let sit for at least 10 minutes. Taste and add more salt if needed. Also, squeeze the other half of the lemon on top if so desired. Mix well. The mixture will start to get "soupy" and create a sauce, which will be great when poured over rice.
Preheat your oven to 400 degrees. Pop the chicken into the oven for 15 minutes to give the chicken skin a chance to brown and crisp up on its own. Pull it out of oven and drizzle olive oil over all legs evenly. Sprinkle with the black pepper and a little extra kosher salt. Pop it back into the oven for 30-45 minutes or until browned and fully cooked through.
TIP: Keep any extra tomato salad in the fridge for up to 2-3 days. Eat it with rice, pork, chicken, beef, or fish. Even try it inside of a grilled cheese sandwich! Yum!